Venice — there's no place quite like it.
Known as one of the most romantic cities in the world, it's been dubbed the Jewel of the Adriatic. One look and you'll know why. Aside from the architecture, its impressive bridges and iconic network of canals make it a mainstay on every traveller's bucket list.
Sure, Venice is a small city, but there are a lot to see and do. It's also possible to visit the key attractions in one day. So if you only have 24 hours to spend in Venice, here are six things to do to make the most of your stay there.
1. Feast your eyes on Piazza San Marco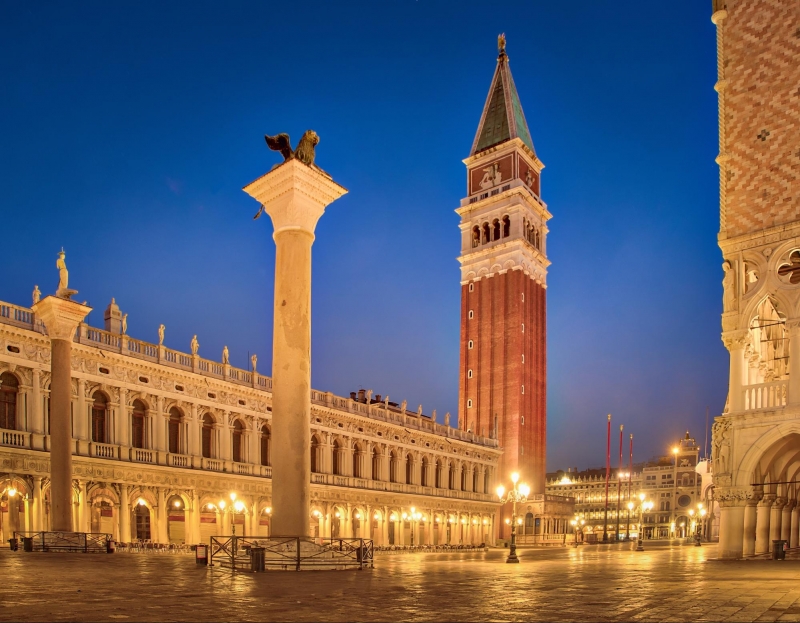 A must-visit for anyone stopping by Venice, Piazza San Marco or St. Mark's Square is the biggest and most significant landmark in the city. It's the city's main meeting place and the design showcase for Venice's aristocracy. Located at the mouth of the Grand Canal, simply standing in the middle of the piazza is quite the experience. Piazza San Marco is surrounded by three of Venice's major sites: Basilica San Marco, Campanile di San Marco, and Doge's Palace. Busy but beautiful, it is the perfect place to take in the sights and go people-watching.
2. Cross the Rialto Bridge
Cross the Rialto Bridge, an icon of the city and perhaps Venice's most popular bridge. It spans the magnificent Grand Canal and connects the San Marco and San Polo districts. The Rialto Bridge was designed by renowned architect Antonio da Ponte and his nephew, Antonio Contino. The marble structure is said to be supported by 12,000 wooden pilings. Walking along the historical bridge doesn't only take you to another side of the city, it transports you back to sixteenth century as well.
3. Admire the Grand Canal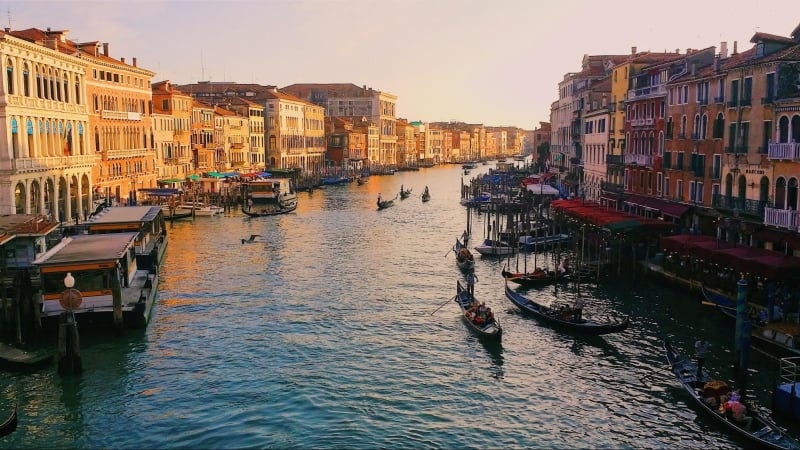 You cannot miss it or avoid it. The Grand Canal, Venice's lifeblood and most important waterway is a bustling metropolis dotted with vaporettos, gondolas, and other watercraft. Dubbed the city's most eventful street, the three-kilometre strip of gleaming water is never idle. This monumental canal passes under four bridges and is able to take visitors to various markets, restaurants, museums, churches, and other iconic structures.
4. Take a gondola ride
The quintessential Venetian experience, nothing conveys the romance of Venice quite like a proper gondola ride. Top that with gondoliers in striped shirts singing romantic songs, and you're sure to get a boat ride that's one for the books.
The gondola used to be a form of transportation during the 12th century. It wasn't until the late 20th century that speedboats and water taxis were introduced in the canals. Now, gondolas operate not as a means of public transportation, but as mini-cruises for tourists.
For a fee of €80 to €100 (roughly US$120), you can cosy up with your loved one as a gondolier takes you on a 30-minute ride along the Grand Canal and its smaller waterways. You'll pass by faded mansions, aged churches, stone bridges, and intricately designed palazzos, all while being serenaded by your gondolier.
It's admittedly a bit expensive, but if you have the money, I suggest you do it. You're in Venice, after all.
5. Visit the Bridge of Sighs
Another must-see bridge in Venice is the Bridge of Sighs, one of the city's most notable historical landmarks. This famous bridge, made of white limestone with lattice-like screens, connects the interrogation rooms in the Doge's Palace to the New Prison. According to folktales, criminals who crossed the bridge would cast one last glimpse at Venice and sigh as they faced long-term imprisonment. They say this was how the name "Bridge of Sighs" was coined.
Today, the Bridge of Sighs has become a symbol of love and happiness. It is said that if a couple riding a gondola would kiss as they pass under the bridge, their love will last forever.  
6. Eat cichetti
A great way to experience a slice of local life is by enjoying several plates of cichetti. Cichetti are small plates of tasty snacks usually paired with a glass of wine. Similar to Spanish tapas, it's typically treated as something to nibble on before dinner. If you're a light eater, you can even have cichetti for supper.
Snack on some local ciccheti at All'Arco, a favourite spot among the gondoliers and one of the most famous bacari (small local bar) in the city. If you get the chance to dine in All'Arco, try the hot sandwich with boiled beef sausage and mustard.
Once you've seen all the main sights, you can wander the streets and follow the crowd's flow. Bring a guidebook if you wish, but getting lost in Venice is more of a treat than a problem. With its maze-like alleyways and bridges, Venice is the perfect place to do just that.
Also read: 5 Tips I Gathered During My First Trip to Venice, A Modern Day Fairytale