As travellers, we know that travel presents never-ending seasons of joyful and memorable experiences, all of which enrich our lives and make us more curious to explore a world full of surprises. This is why at TripZilla, we dedicate our days to learning about destinations, things, and people. Every day, we strive to share our knowledge to you, our readers, in the hopes that you will gain a deeper love and understanding for the many layers of our diverse countries and cultures.
It's only fitting then, that we shine a spotlight on the travellers who take it up a notch and go into diplomatic professions, living out and establishing goodwill between nations. We're sure many of you have asked yourselves this question at some point in your adventures: What's it like to be a foreign diplomat? Diplomats, after all, travel a whole lot as part of their work. 
Well, we've been wondering too. So, we approached one and asked plenty of questions that might assuage your curiosity! 
Introducing the diplomat and Ambassador
We're very lucky to have spoken with a retired Ambassador who can walk us through the experience of being a diplomat from start to finish. Melita Sta. Maria-Thomeczek, or simply known as Ambassador Millie, was born and raised in the Philippines and was an active diplomat from 1991 to 2018. 
She graduated from Maryknoll College with a degree in AB Communication Arts. She pursued further studies and attained two Masters degrees on Literacy Communications and Public Administration from Syracuse University, New York, and the University of Speyer, Germany, respectively. 
And here's a fun fact, she pursued the diplomatic profession in her mid-30s, a bit late for a career shift in the standards of today. That didn't really daunt her from doing what she wanted to do. But we will let her tell you the rest. Without further ado, here's what Ambassador Millie has to share! 
(Hint: read until the end to get some travel tips too!)
1. What made you want to become a diplomat?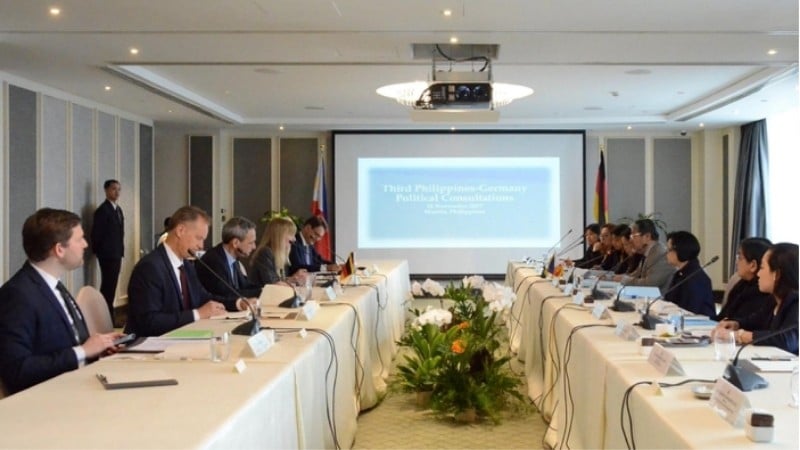 The interest came naturally due to family exposure, education, a desire to serve, and knowledge of a foreign language.  
Our parents exposed us to a life abroad while we were growing up. Our father was always stationed abroad because he was a doctor and Malaria specialist at the World Health Organization. We spent our summers wherever he was assigned: South Korea, Malaysia, Vietnam, with extra trips to Singapore, Japan, and Taiwan.
I was serving as a Project Director at the Development Academy of the Philippines when I was given a scholarship by the German government for a Master's degree in Public Administration. 
Coming back home from my Masters in Germany, I knew I had to make further use of my knowledge of the German language. My studies also exposed me to international relation issues.  So, my decision to take the Foreign Service Examinations came naturally. 
By the time I took the Foreign Service Examinations in 1989, I was already in my mid-30s.  Yes, it was definitely alright for me to have a career change that late, I was still going to do what I wanted to do.  
2. What was the Foreign Service Examination like back then? How is it different from the exam today?
I took the exam in 1989. Back then, we were individually interviewed. Then we had written tests on a foreign language (I chose German, of course), English, Philippine conditions, international trade, and two or three other exams.  
After passing the written tests,  we underwent a series of oral tests. These included an individual interview by a panel, a group discussion exercise, and finally, a formal dinner.  After dinner, they gave each candidate a topic. We talked about it extemporaneously for about three minutes. This last one was really nerve-wracking.
Is it harder or easier now? What makes you say so?
Perhaps it has become more tedious today because they need to take a psychological and qualifying test, which we didn't have back then.
3. Is learning a foreign language a requirement? What are your thoughts on it?
It will certainly be a big plus if a young officer is adept at a foreign language. If one is not, the Department of Foreign Affairs (DFA), along with the Departments of Tourism and Trade/Investments, offers a lot of opportunities for one to learn a foreign dialect. These include studying that language in the country of origin. Speaking another language gives you a feel of the heart, soul, and mindset of a nation; this contributes to a better appreciation and understanding of their culture and peoples.
4. What was your first job as a diplomat and what did it entail?
We officially become diplomats of our country when we assume our Post abroad. So being a diplomat actually begins when one takes on the position in another country. 
My first assignment was as Third Secretary and Vice Consul at the Philippine Embassy in Bonn, Germany. The capital was still in Bonn at that time as it was preparing to move to Berlin.
I learned hands-on the rudiments of consular affairs: passports, visas, legalisation of documents, assistance to nationals, etc. Along with this, I got involved in cultural and community relations; I wrote reports on developments in Germany while I observed current political issues. I was exposed to economic diplomacy tasks and did a lot of work on assistance-to-nationals. 
In 1998, our Embassy moved to Berlin and we retained an Extension Office in Bonn to service the many Filipinos in the western region of Germany. I became the Officer in Charge of our Extension Office, with the rank of 1st Secretary and Consul, until the end of my tour of duty in 2001.
5. Can diplomats choose where they are going to be assigned? How were you assigned to Germany?
Many factors come into play depending on existing regulations and the urgent needs of the Service. One's qualifications play an important role. During my years in the Service, there was at one point, a regulation that junior officers should all experience assignments in Asia first. 
Male officers had to be considered first for war-torn countries or hardship Posts.  The facility of a foreign language is a big consideration too. 
I spoke German, so being assigned to Germany came easy. Before signing my Assignment Order, then-Secretary Roberto Romulo asked me if I really wanted to be assigned to such a laid-back city (I was still single at that time). I firmly said yes. 
Also read: 10 Dazzling German Castles That Are Straight Out Of A Storybook
6. How did you feel leaving family and friends behind?
My first tour of duty was six full years, from 1995 to 2001. My excitement over assuming a post at the Embassy, and that I was going to live on my own and fend for myself, was quite overwhelming. There was really no room for the sadness of leaving family and friends; also because I knew that they would come over to visit me. We had our telephones to keep communication alive too! 
I had become used to such temporary goodbyes when I studied in New York and Speyer. When we were growing up, our parents were always abroad and we would visit them wherever they were. I think in the case of my foreign assignments, it was sadder for those who were left behind.    
What did you do to prepare for your tour of duty abroad?
Since my first assignment in the Philippines, which we call Home Office, was as Director of the Personnel Management Division, I learned the rudiments of administration work, which were useful in running a foreign post. These were lessons on personnel and administration issues, fiscal matters, properties, etc. 
In the area of substantive work, I attended seminars before the foreign posting to complement my growing knowledge of foreign service. These included a two-month internship at the Philippine mission in New York during the 1993 UN general assembly, and one week of hands-on training at the Philippine Embassy in Bonn. 
7. Instant messaging was yet to emerge back then. How did you cope?
In the '90s, we had the fax machine and gradually, the scanner. As we were approaching the 21st century, we got introduced to the Internet and email.  That was a big development. That was our instant messaging channel then. We could easily send pictures and inspirational messages. We formed groups — you know, like Yahoo groups, which became our chat rooms!
I remember so well that when Ambassador Roberto Romulo became the new Secretary of Foreign Affairs in 1992 under President Fidel Ramos, he introduced an interoffice network system where communication could be done via computer. That meant putting a computer on the table of every Assistant Secretary and Undersecretary. There was initial resistance from the bosses; it meant they had to learn new technology. But it took off eventually.
8. What do diplomats do back home when they're not assigned abroad?
When in the Home Office, we are not called Consuls or Ambassadors (although, you'll take the latter title with you everywhere you go, once you acquire it). We take on executive titles in the Philippine government bureaucracy. Thus, our positions are Assistant Secretaries, Undersecretaries, Division Directors, Special Assistants, Foreign Affairs Advisers, etc.
With these positions, we get to head offices, work on all issues relevant to the DFA mandate, recommend foreign policies to the President of the Philippines, coordinate with the rest of the government on all matters affecting the Philippines vis-à-vis other nations and on matters pertaining to the running of DFA.
9. Where was your second assignment? How different was it from the first one?
My second assignment was as Deputy Consul General at the Philippine Consulate General in New York, from 2004 to 2011. One day, the Consul General-to-be in New York called me to talk about the soon-to-be-vacant second position of that post. She invited me to join her team. That surprised me. It never entered my mind to pursue an assignment in the Americas. 
I was married by then, to my late husband Benno Thomeczek who was a German, and I guess I had my eyes set on Europe for the next foreign assignment. This was also in consideration of him. My husband was surprised too. But in the end, he said, "Let's go to New York. What matters most is that you and your boss can work well together." 
10. What was it like to be a diplomat in New York?
From the "parochial" laid-back city of Bonn, Germany, New York was an explosion!
There was an invigorating kind of energy and stimulus in the Consulate and in the "City That Never Sleeps". We were a good team under the leadership of then-Consul General Cecille Rebong. The team has retained a good and nostalgic friendship to this day. There was never a dull moment both on the professional and personal level. 
We gave about 200 plus services every day, from passports to visas, Filipino citizenship reacquisitions, to assistance to nationals and the legalisation of documents. Then we had an active cultural diplomacy/community relations program with the vibrant Fil-Am communities. 
Can you elaborate about your work with Fil-Am communities?
Simultaneously with my role as Deputy Consul General, I also became the Manager of the Philippine Center in New York; we had regular art exhibits for Filipino artists both from the Philippines and the United States. There were book launching, film festivals, lectures, and seminars. Every summer there was a Paaralan sa Konsulado, for Fil-Am kids to learn Philippine dances, songs, poems, and most of all, basic Filipino.
There was never a free weekend during all those years (except for holiday weekends) because we were visiting Filipino communities in the whole Northeastern Seaboard, from Maine down to Delaware. We were partners of the vibrant Fil-Am community in conducting the annual Philippine Day Parade every first Sunday of June on Madison Avenue midtown, and the last Sunday of June in Jersey City, NJ.  
The one sad note, my husband passed away in NYC in May 2005 due to lung cancer, six months from when it was first discovered.  That was truly a sad period for me; the year that followed was really a time of mourning. But the energy and hecticness of New York, and my friends and relations, helped me go through that difficult grieving period.
11. How did you adapt to the new cultures you were exposed to?
One cannot really put a clear line to distinguish peoples anymore. We have become a global people. And modern cultures have become eclectic of sorts. To my amusement, I have noted how the German language has Germanised some English words. I noted how Asian food is now so accepted in Europe. Our Christian faith binds us with Europe because Christianity is part of their heritage too. 
We have universal values; there may be differences but we have many commonalities. With each encounter, I had a sense that our hearts and minds were working in the same direction although at different degrees: a sense of love, compassion, understanding, acceptance, kindness, a wish to be productive and useful, and a wish for friendship and goodwill.
If you want to be happy and productive, you have to understand and adapt. Looking back, I did not have to change who I was because of these new cultures. I just let them be; I learned from them and discerned well so that I could improve myself for the better. But they never swayed me away from my very foundation: Filipino and Catholic. Maka-tao, makabayan, maka-Dios. (For people, country, and God)
12. What did you seek to accomplish on your last tour of duty?
I was assigned to Berlin, from 2015 to 2018. I was the head of Post, the Philippine Ambassador to Germany. My generation of officers and Ambassadors anchored our work along the four pillars of Philippine Foreign Policy: promoting national security, enhancing economic diplomacy, protecting the rights and welfare of Filipinos abroad, and cultural diplomacy.
Our economic diplomacy team worked hard, travelling to many parts of Germany, to introduce Philippine creative industries and the country as an ICT hub. The implementation of the Triple Win Program (recruitment of Filipino nurses for the German Health Sector) took off after birth pains. Then-Labor Secretary Rosalinda Baldoz saw to it that the program could be a model for future recruitment undertakings. Trade Secretary Ramon Lopez and Transportation Secretary Arturo Tugade led business delegations to meet with German counterparts.
We proudly presented Cecile Licad, Raul Sunico, culinary experts, and Filipino artists from the Philippines and Germany. We cooperated with young Filipino professionals in conducting the first-ever Filipino film festival in Berlin. Our team helped the visiting choral groups from the Philippines perform in various towns and cities. We promoted the country to young Filipino-Germans so they could appreciate their heritage more and be future champions of the Philippines in Germany.
Fun fact: One of the very first moves the Ambassador did when she assumed Post was to liaise with the German Embassy and the German-Philippine Chamber of Commerce to ship a massive piece of the Berlin Wall to Manila. This portion of the wall was donated by the City of Berlin to the City of Manila in the late '90s when the Walls fell and German Reunification happened. It is now at the Andres Bonifacio Monument Park in Manila!
What about representation and ASEAN work?
I also addressed German communities during cultural and religious events. I fondly remember the talks I gave to German women in far-flung towns of former East Germany to introduce the Philippines to them. The remarks were delivered in German. Yes, that was a thrill. I was proud that the Philippines was in the same league with the Japanese, Chinese, and other Ambassadors who were so fluent in the language. 
I was invited to talk in seminars in the context of economic work and the Association of Southeast Asian Nations (ASEAN). 
The ASEAN Ambassadors and I did a good deal of representation work to talk about our region and its economic prospects. I remember those wonderful excursions to the different German States and meeting high officials as they were introduced to our countries. Through the six-month Chairmanship of the Philippines in the Berlin ASEAN Committee (BAC) in 2017, we conducted culinary festivals, ASEAN film festivals, and seminars on ASEAN as an economic region in various parts of the country. This was also the year when ASEAN celebrated its 50th Anniversary. 
13. What should diplomats expect when representing the country?
Networking and building good relationships, both at home and in the host country, are very important. In Berlin, for example, when ASEAN came together as a force, we got — more often than not — more attention and leverage.
You also have to see yourself as the number one salesman and PR person for the Philippines in the host country. So every opportunity should count; every move strategic.
Fun fact: In the three years the Ambassador was in Berlin (2015 – 2018), she and her team undertook a project to buy a property and construct a Philippine Embassy building in Berlin, the country's very own. This was inaugurated in February 2019 and is located at Luisenstrasse 16, 10017 Berlin, near Parliament and the Chancellor's Office. 
14. What was your hardest challenge?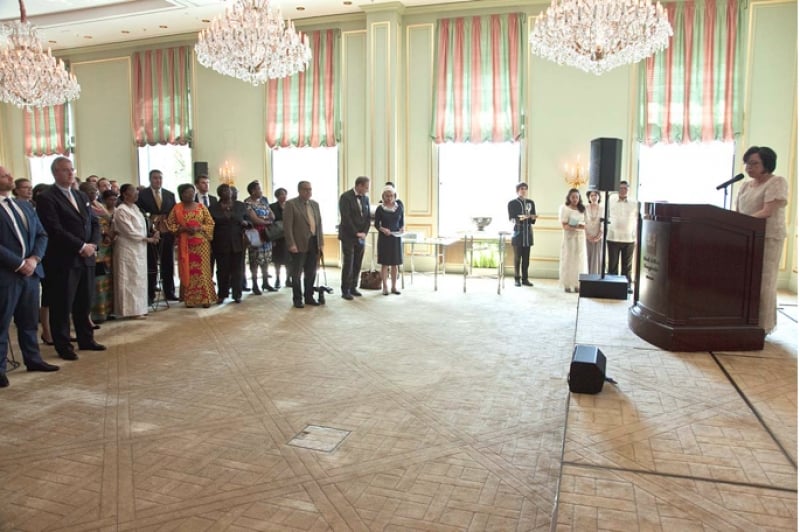 Implementing our mandate to inform German publics why we took the Philippines vs. China case to the Permanent Court of Arbitration in The Hague was a challenge. 
From 2015 to 2016, we embarked on a campaign to present our side to German Parliamentarians, to the Filipino community, to government, and to academe. We realised that the issues had to be further discussed to many parliamentarians in the Foreign Affairs Committee. Our region was quite far to elicit continuing interest in our issues.
When the Chinese Ambassador published China's stand against that case in an article on the Op-ed page of the prestigious Frankfurter Allgemeine Zeitung, we had to do a rebuttal. The newspaper also gave me a space to explain the Philippines' side. On 10 June 2016, they featured our article "Right instead of Might in the South China Sea"  in their Events-of-the-Day section. The Court gave us our victory on 12 July 2016.
On that date, I remember sitting at the airport waiting for my flight to Karlsruhe, waiting anxiously for the results of the case. When The Hague verdict came out, and as I read the unbelievable results which were all for the Philippines, tears were streaming down my face.
That afternoon, I proudly announced the results to the Karlsruhe Chamber of Commerce before I delivered my talk on the ASEAN region. There was just a long applause and I savoured every minute of it. It was a proud moment.
15. How did you juggle work-life balance?
As much as I could in Manila, I went to the gym at least once a week. In New York, I jogged or brisk walked on Sunday mornings by the Hudson River. In Berlin, I took walks around a lake in our neighborhood. On weekends too, I took the S-Bahn (street trains) and walked to reach that much sought-after 10,000 steps. 
I gave time for my spiritual welfare. If there were no other schedules, I would attend Mass every day after office. Sunday masses saw me exploring and going to the various Catholic churches in Berlin. Peace, quiet, silence. Very important for the soul.
16. What's the best thing about being a diplomat? Why do you say so?
Representation work became memorable. I loved showcasing the Philippines, its arts, food, artistic talents, music, culture, and its people. The mission of building goodwill for the country was ever-present in everything we did.
I also enjoyed the community experience. I met dynamic groups of Filipino communities abroad and I cherished the time spent to assist nationals in their cares and problems. There was time to study, to travel (while working), to meet new peoples and cultures. I had the opportunity to have a vision on what I wanted to see happening and I saw them — well, not all — come to fruition. Most of all, I loved the public service side of our work.
17. What do you think makes a great diplomat? Any advice for aspiring diplomats?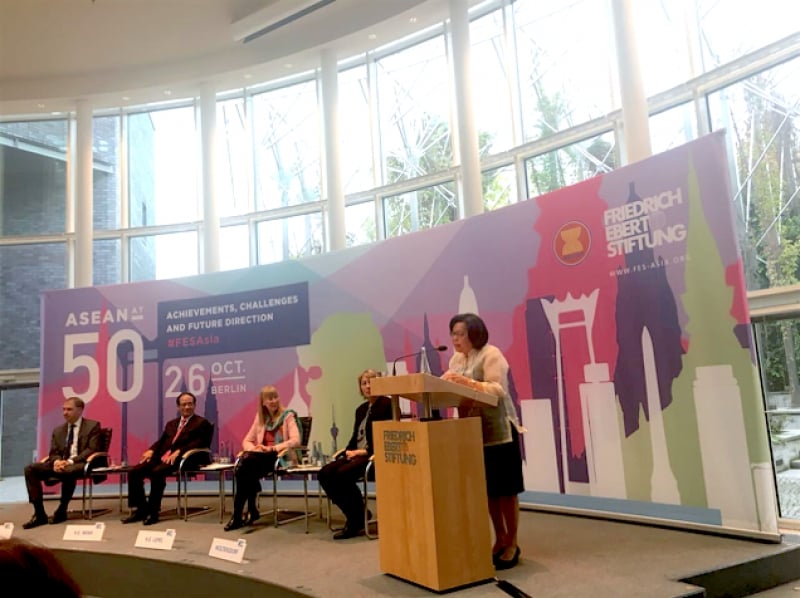 I always say for a start that you must really love your country to truly enjoy and excel in the profession. The career will have its moments of joy and moments of sacrifices. Being in government will not make you rich like those who go into business. You should prepare for that, but you will live well nevertheless. There is also a lot of positive psychic income in knowing that you are serving, helping, and creating goodwill.
In my 27 years in the Foreign Service, I saw our officers excel in multilateral and/or bilateral work, as generalists and/or specialists. Our good diplomats were forever studying and learning, including learning from mistakes. We needed to be clear on Philippine positions, but still be able to craft statements when things were not clear.
I believe we have to remain grounded on our core values, the good values. If we can lead and serve at the same time, be a team player, are able to listen, accept, understand, manage a project, be at home in creating goodwill, in developing relationships, have a good sense of humour, and most of all, humility, we will be fine. 
Diplomats are not born. We are trained, honed, and moulded to have the tools which allow us to excel in our own unique ways.
Travel tips
1.  When you packed for another tour of duty, what were your top five essentials?
Philippine-made furniture, with their unique Philippine designs, for my living and dining rooms.

Philippine works of art, from new/young Filipino masters, which I have collected through the years. (Plus some German paintings of my late husband.)

Philippine-made outfits

Philippine gift items

Philippine drinks including calamansi and

dalandan

juice. These are actually very popular. And I like it served hot or cold, truly Filipino.
 Every officer knows that the above "must-haves" are important when going on a foreign assignment. At the minimum, we have to have some Philippine fixtures and original works of art at our homes abroad.
2. What's your favourite luggage and airline? Why?
I love Bric's Milano. Their products are light, simple yet classy, and have durable material.
I must admit that the Gulf carriers (Etihad, Gulf Air, Emirates, Qatar Airlines) are notable in terms of service, amenities, comfort, and they have shorter routes vis-à-vis the Philippines. Turkish Airlines, I discovered, had the shortest flight time for Manila to Berlin, compared with others. I like any airline I take as long as they make me comfortable, they don't have a long travel time to my destinations, and food is good.
Also read: A Guide to The Best Luggage and Backpack Brands for Every Traveller
3. Any tips and recommendations for winter wear?
I'm a natural fabric person. Natural fabrics, such as cotton, wool, and silk, "breathe" and are therefore good for the skin. I love cotton; in winter, it gives you warmth. In summer, it still keeps you cool. Cashmere wool for winter is still the best for me. It's soft, light, has fine texture and is really warm to the skin. Merino wool comes in second in terms of softness and lightness. Silk is a delicate fabric but can also keep you warm in cool weather.
4. Rank your top five favourite destinations.
It's hard to single out the top five!
Europe has a rich cultural and Christian heritage. This is where Christianity really prospered, not only in terms of faith, but in terms of Christian influence in the arts. That is why it has always fascinated me. Europe is therefore a favourite destination.
ASEAN countries, as well as Japan and Korea, are all favourite destinations too. In the Middle East, Israel. The antiquity and rich cultures of Lebanon, Syria, and Jordan, fascinated me as well.
5. Where was your favourite assignment and why?
Since I was in foreign service for only 27 years, I was assigned to only two countries during my three tours of duty abroad: the United States and Germany. Both are favourites to me — new world, old world!
6. If you were to recommend a less popular destination based on your travels, what would it be?
One should start appreciating Eastern Europe. It's rich in history, Christian links, has beautiful nature and landscapes, and it's new in the community of nations. Travel to destinations like Croatia, Montenegro, Bosnia-Herzegovina, Hungary, Poland, etc.!
Also, see Beirut and Jordan. Appreciate all the historical places and connections to Christianity. The ruins of the ancient city of Petra (400 BC) in Jordan with its rock-cut environs is a must-see!
Being a diplomat is one of the most gratifying professions there is
After reading about Ambassador Millie's career experiences, there's no doubt in our minds that being a diplomat is one of the noblest professions a person working for the government could have. You'll be miles away from your nearest and dearest. But to have the honour to show other nations what your country is made of, on a national level, is a rewarding experience in itself. 
On top of it is the opportunity to immerse in new destinations, fall in love with different cultures, and meet new people who will help you adjust to a change in environment. Being a diplomat is hard work, yet you're going to have quite an eventful and fulfilled life. If you think you have the potential, why not try it? 
Like what the Ambassador said, as long as you have a deep love for your country, are willing to be moulded into a good representative, and have an affinity in developing relationships with humility and good humour, you will be fine!