Everyone who goes to Singapore says their favourite part of visiting is the food. What is it about Singapore's food?
Simple. It's just great food all around! Being a culturally-rich country, Singapore has some of the best food heritage influenced by Chinese, Indian and Malay cultures. Hawker centres flood the streets and crowds of people are always seen queuing up at various stalls every time of the year, including dusk and dawn and public holidays.
We've done a poll and here are the top 15 local dishes that the folks at TripZilla love.
1. Chicken rice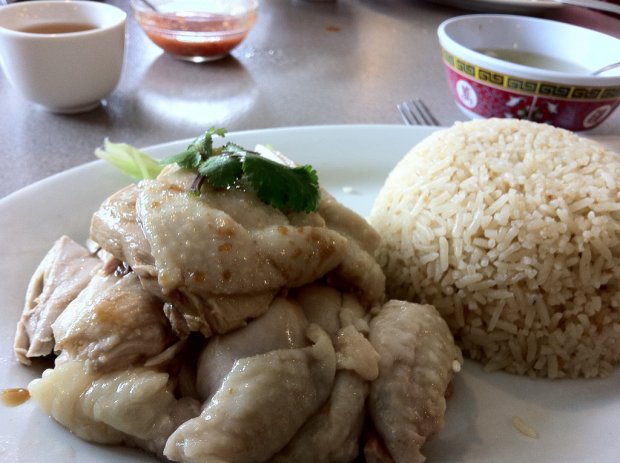 Image credits: http://bit.ly/1gGLqSR
Chicken rice is perhaps Singapore's most well-known dish. When one comes to Singapore, one simply does not leave without tasting chicken rice. Soft and yummy, the chicken bursts into a million different flavours as you munch on it. One of the best places to have chicken rice is Ming Kee Chicken Rice & Porridge at 511 Bishan Street 13, Singapore 570511. Here the dish is both tasty and affordable!
2. Dim sum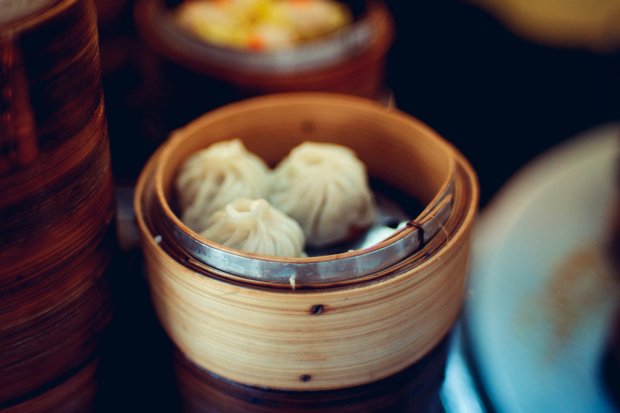 Image credits: http://bit.ly/1mVkOFX
What do Xiao Long Bao, Chee Chong Fun and Siew Mai have in common? That's right, they're all part of the Dim Sum cuisine! Although it originated from Shanghai, this dish has fast become well-sought after in Singapore as well. Come taste these soft, delicious dumplings. My personal favourite restaurants to go to are Din Tai Fung and Yum Cha. However, a much cheaper alternative is Wen Dao Shi located at 126 Sims Ave, Singapore 387449.
3. Roti prata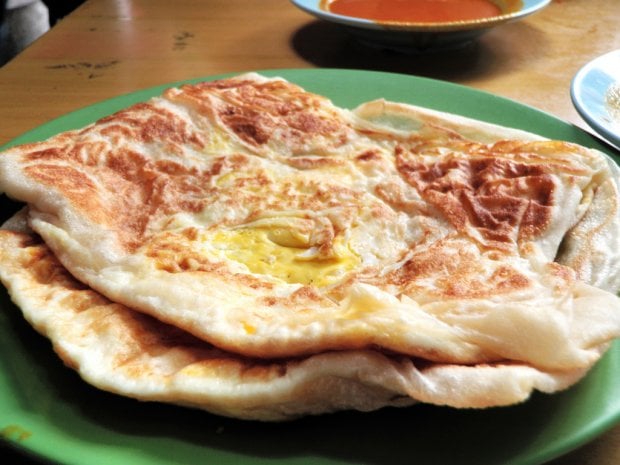 Image credits: http://bit.ly/1kFp0p0
This is one of the most delicious dishes I've come across in Singapore. Part of the Indian cuisine, roti prata is a thin and crispy piece of dough that is dipped into curry before eaten. You can get many variations of prata – cheese prata, egg prata, chocolate prata – you name it! You can get really good prata all over Singapore, but one of the best places is The Roti Prata House at 246M Upper Thomson Rd, Singapore 574370.
4. Laksa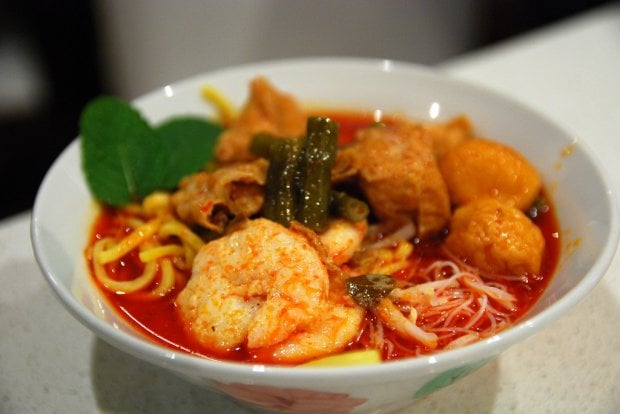 Image credits: http://bit.ly/1g2ff0X
Mmm! Laksa is the spicy product of the Chinese-Malay food culture. While a predominant dish in Singapore, laksa is also well-liked in near areas like Malaysia. One of the tastiest places for laksa-lovers is 328 Katong Laksa at 51/53 East Coast Road, Singapore 428770.
5. Chicken satay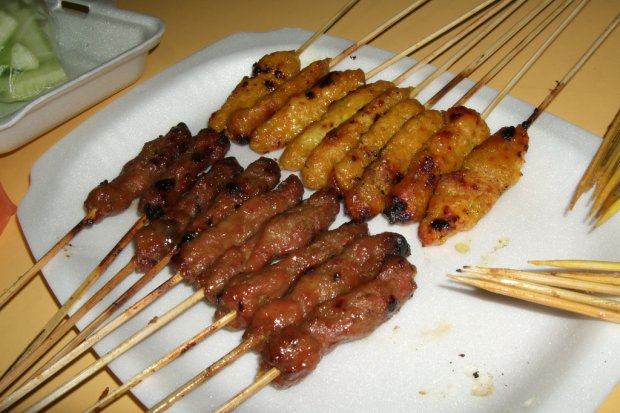 Image credits: http://bit.ly/1ecwwt7
This is every Singaporean's favourite snack! You'll see these yummy chicken-on-sticks at every BBQ party. Satays can also come in pork, mutton and even beef and is mainly sold by Chinese stall owners. A famous satay stall is Haron Satay at 1220 East Coast Parkway, East Coast Lagoon Food Village, Singapore 468960.
6. Biryani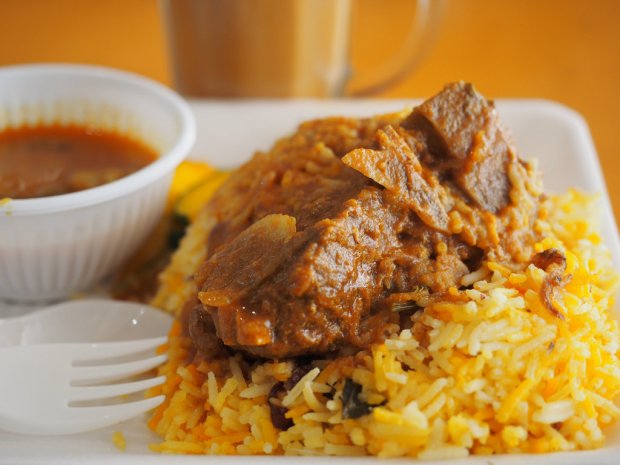 Image credits: http://bit.ly/1qiXmjc
This is an Indian-Muslim dish often made using Basmati rice. Frequently seen on Indian tables, Biryani comes with chicken but can also come in beef and fish. Many spices are used in this dish allowing it to have a diversity of flavours. You can usually find this cuisine at Indian restaurants like Taj Authentic Indian Cuisine at 214 South Bridge Road, Singapore 058763.
7.  Tau huey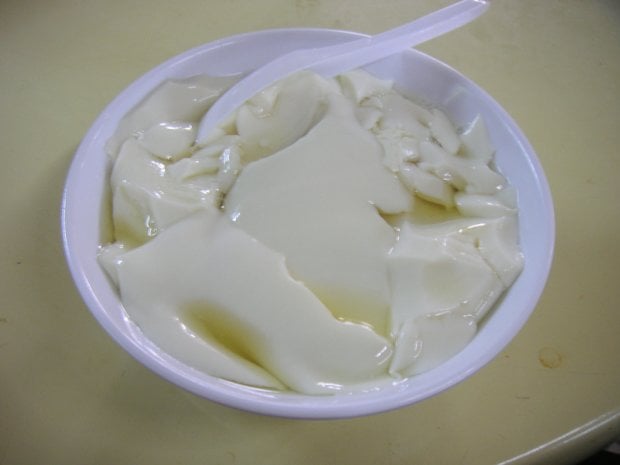 Image credits: http://bit.ly/1g36mEn
Finally we're at desserts! Tau Huey is basically beancurd tofu soaked in sugar syrup. It can be both heated or cooled and is a delight to have with Tang Yuan, grass jelly or Soya bean milk! Tau Huey is a Chinese dessert that makes everyone crazy. Come down to Selegie Soya Bean at 990 Upper Serangoon Road, Singapore 534734 for some great Tau Huey!
8. Ice kacang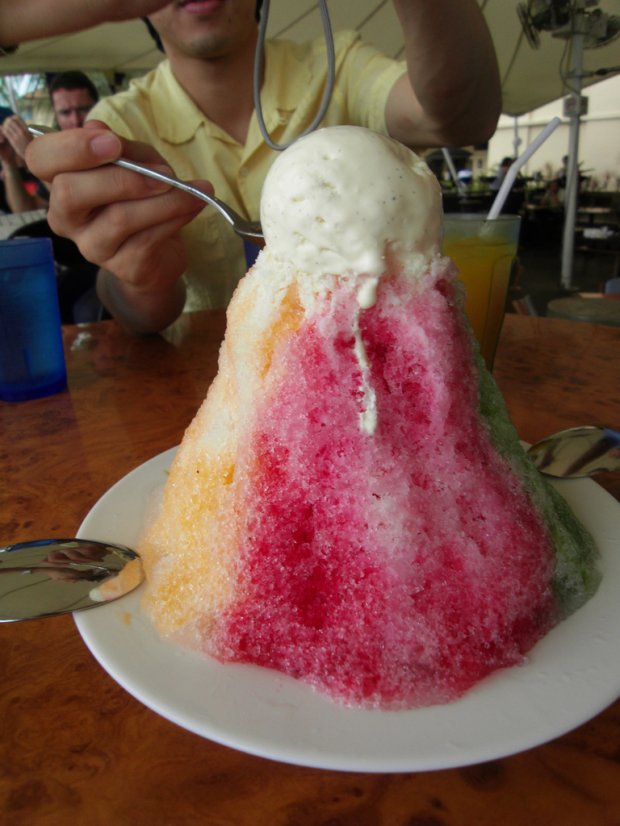 Image credits: http://bit.ly/1jpJylZ
More desserts! Ice Kacang is a bowl full of ice-cold sweetness. Containing jelly, red beans, sweet corn, attap chee and lots and lots of shaved ice, Ice Kacang is another favourite amongst locals. This tasty dessert is topped with rainbow syrup and and condensed milk. Try some at Food Republic at Wisma Atria Level 4, Wisma Atria 435 Orchard Road Singapore 238877.
9. Chilli crab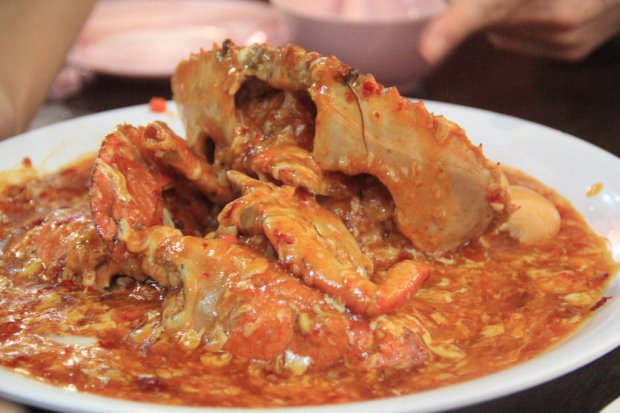 Image credits: http://bit.ly/1mXNk6S
Who has been waiting for this? Chilli crab is one of the most awesome dishes in Singapore! It takes real courage to swallow one of these babies but one of my uncles comes to Singapore just for this! Crunchy and soft at all the right places, chilli crabs are a dish that will knock you out. Red House Seafood Restaurant at 68 Prinsep Street, Singapore 188661 has some of the most scrumptious chilli crabs!
10. Wanton mee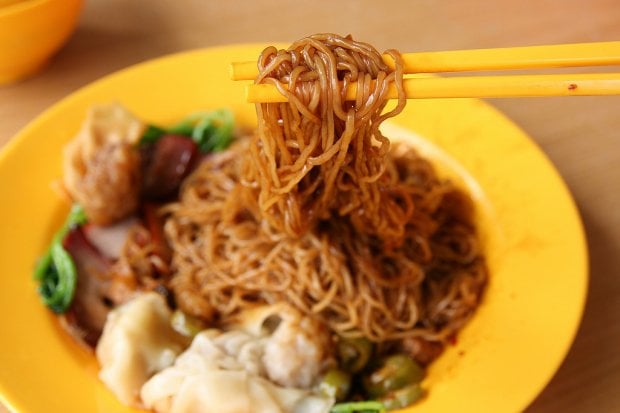 Image credits: http://bit.ly/1qfE1RU
This is also a dish that originated elsewhere but made itself home right here in Singapore. As opposed to its Hong Kong style, Wanton Mee is eaten dry in Singapore and is drenched in yummy sweet sauce. I recommend having Fei Fei Wanton Mee at 62 Joo Chiat Place, Singapore 427785.
11. Nasi lemak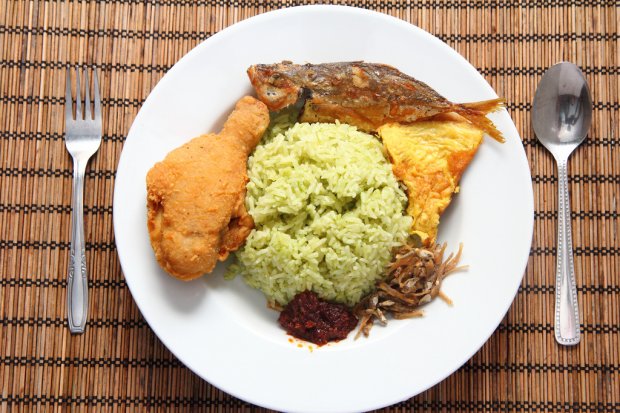 Image credits: http://bit.ly/1qiXFdV
Did you know – this dish used to only be eaten at breakfasts! Now its widely eaten for lunch and dinner as well. Nasi lemak is a traditional Malay coconut rice dish that usually comes with Ikan Bilis (another Singaporean favourite!), peanuts, egg and sambai. Chong Pang Nasi Lemak at 447 Sembawang Road, Singapore 758404 is a great place for Nasi Lemak!
12. Rojak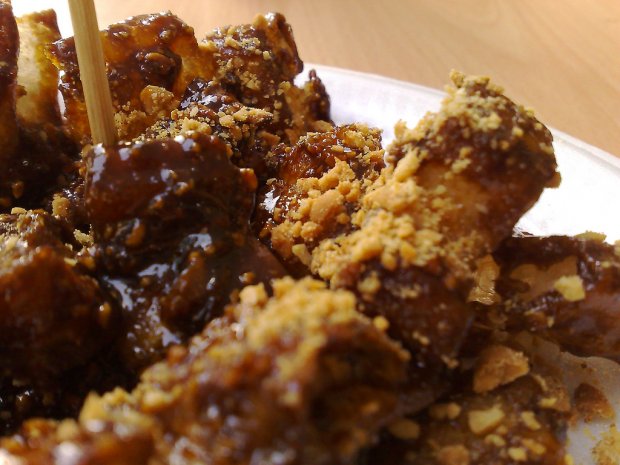 Image credits: http://bit.ly/1kFp0p0
Another Chinese-Muslim influenced dish, Rojak has a wild blend of you tiao (dough fritters), bean sprouts, tau pok (beancurd puffs), roast peanuts and vegetables and fruits like pineapples, radish and cucumber. Indian Rojak is very similar except it includes red gravy, potato, peanut sauce and spices and leaves out you tiao. A very culturally-harmonious dish! A good Rojak place is at Blk 51 Old Airport Road, #01-108, Old Airport Road Food Centre, Singapore 390051.
13. Char kway teow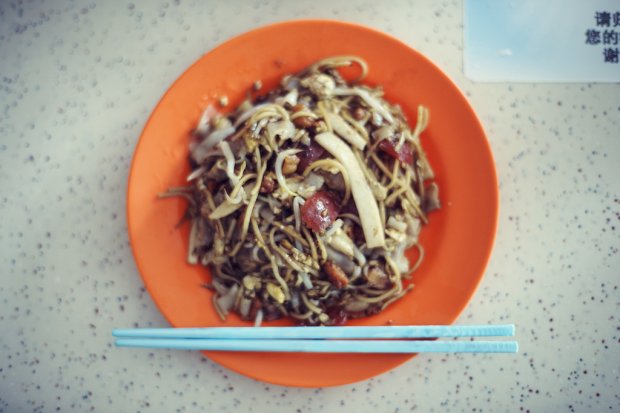 Image credits: http://bit.ly/1mVkOFX
Char kway teow is a flat-rice-noodles dish soaked in sweet dark sauce. It is made with stir-fried egg, pork lard, chinese sausages and fish cake. A unique dish, Char Kway Teow used to be a cheap source for fats (energy) in the past. It is an aromatic dish with a blast of different flavours and greatly liked by all SIngaporeans. I recommend going to Blk 20 Ghim Moh Road, #01-12, Ghim Moh Market And Food Centre, Singapore 270020.
14. Fried carrot cake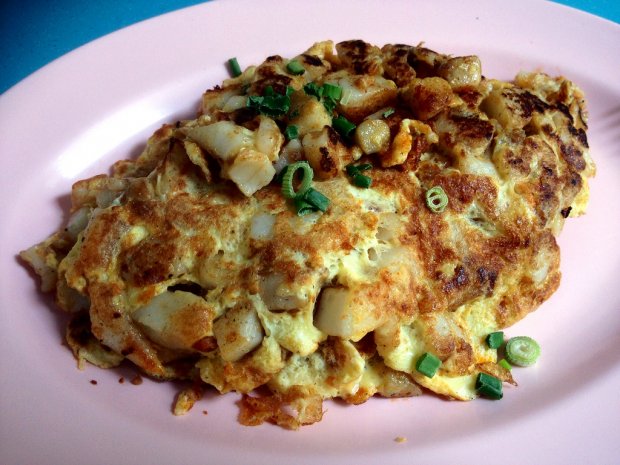 Image credits: http://bit.ly/1jXM4AW
This is not what you think it is! Singaporean Fried Carrot Cake is solely made up of eggs, preserved radish and white radish flour cake. Crispy, yummy and all things happy, you'll get a taste of crust, chunks of cake and lots and lots of egg. Its tastiest stalls are located at Carrot Cake, 20 Kensington Park Road, Chomp Chomp Food Centre, Singapore 557269  (closed on alternate Tues)
15. Sugarcane juice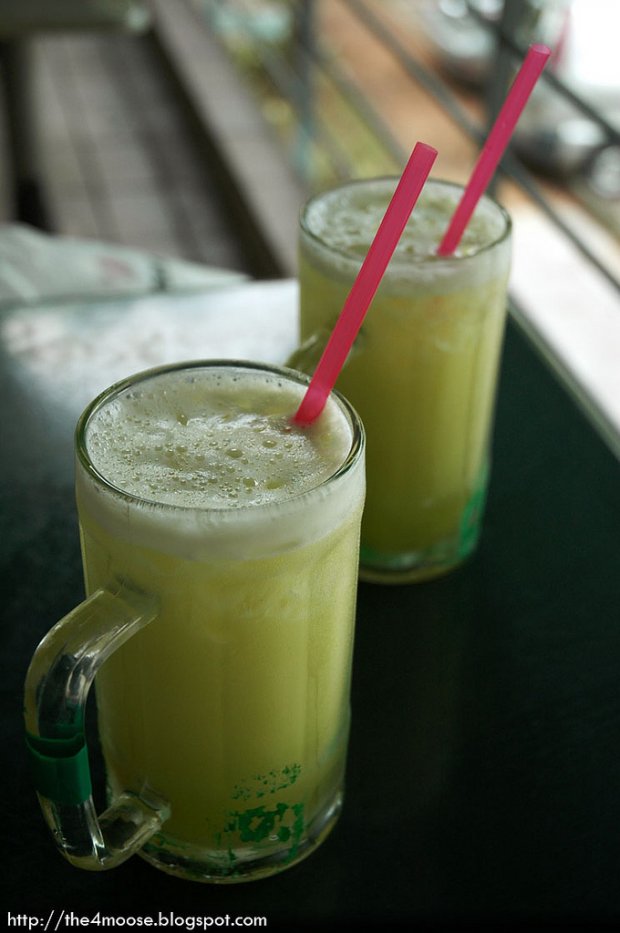 Image credits: http://bit.ly/1e75Mdt
Why not end a long day with a fresh, cooling drink of Sugar Cane Juice? This drink is created by repeatedly running sugar cane through a small mill that grinds the cane till it releases juices. After this it is filtered to remove residue fibres. This is an extremely sweet treat and Singapore's signature drink! I've always preferred the sugarcane juice in my own neighbourhood; come down to the Fresh Sugar Cane Juice stall at 20 Kensington Park Road, Chomp Chomp, Singapore 557269.
What kind of food do you want to share with us?
Also Read
Singapore's Favourite Local Drinks
When in Singapore, Do as the Singaporeans Do – Your Guide to Ordering Kopi and Teh