As a precursor to the Museum of Ice Cream Singapore that will open its doors in Dempsey this August, a pop-up store has been set up in the heart of Singapore's bustling shopping district — Orchard Road. Located in Design Orchard, this preview is but a taste of the plethora of vast interactive exhibitions that will be displayed in Dempsey! 
Also read: New Attractions to Debut in Singapore
When can I visit the Museum of Ice Cream Singapore pop-up store?
From now till Thursday, 27 May 2021, you too can enjoy this sneak peek into what will be the eventual Museum of Ice Cream Singapore in Dempsey! If you're galavanting along Orchard Road, why not stop by this pop-up store? Skip the usual malls and hop on over here instead for a unique shopping experience while you support your local brands. 
Did we also mention that admission to this pop-up store is free? 
Opening hours: 10.30am–8.00pm daily 
Address: Design Orchard, 250 Orchard Road, Singapore 238905 
Why Design Orchard?
Home to local brands, Design Orchard is an integrated retail and incubation space. Within a modern and minimalistic space, you're greeted with pastel pink from wall to ceiling and a sweet aroma (think ION Orchard) as soon as you step through its doors. Reflective of Museum of Ice Cream's brand identity, these sensory overloads are accurate preludes to what you're about to experience! 
What you can expect from the Museum of Ice Cream Singapore pop-up store
Friendly 'ice cream guides'
These guides have name tags that are embellished with a distinctive ice cream flavour — a constant reminder of the Museum of Ice Cream Singapore! With quirky personalities, the ice cream guides reminded me of my university's orientation group leaders, or OGLs. If you're heading out during the weekend and see some friendly folks dancing at the entrance of Design Orchard, they will most likely be the ice cream guides!
With enthusiasm, they'll greet you as you enter, and will bring you around the pop-up store as they explain which homegrown retail brands are featured. The pop-up store even houses one of the 14 immersive installations that will be displayed at the Museum of Ice Cream Singapore this August! 
Locally inspired retail merchandise
Of course, expect to see some of Museum of Ice Cream's most popular retail merchandise with their brand logos. 
With a unique Singaporean twist, however, you can also snatch up some locally-inspired designs on merchandise such as cropped tanks and sports bras from Kydra Activewear, plus caps and tote bags! 
Fun fact: This tote bag is reversible; you get two different designs on both sides of the tote bag. Talk about getting the most bang for your buck, right? Also, the tote bag is exclusive to this pop-up store so be sure to head on down soon – fastest fingers first!
Retail Price: Tote Bag: $30, Sports Bra: $55, Leggings: $85, Cropped Tank: $39, & Unisex White Tee: $42
Museum of Ice Cream Singapore has also partnered Artisan of Sense to design a candle made of 100% pure soy wax. With a unique formulation to create a citrus grapefruit candle, this intense, sweet scent is sure to fill up your entire house with a pleasant aroma that will last for hours! 
Retail price: $33 per candle
Uniquely flavoured ice cream
Paying homage to local brands, the ice cream & cookie co., a local supplier of premium ice cream, gelato, and sorbet, delights with flavours that are locally inspired, too. Their offerings contain all-natural ingredients and we're sure there's a flavour profile that best suits your palate. Choose from Taro Milk Tea, Malty Boba, and Lychee Bandung.
I was lucky enough to sample all three flavours, and my personal favourite was the Taro Milk Tea! It was the right balance of sweet and milky, with delightful mochi golden pearls that give you a satisfying chewiness amid the creaminess of the ice cream. 
However, unlike pearls that you get at bubble tea shops like KOI and LiHo, the pearls in this ice cream were really big and plump, giving you the pleasure of enjoying this delightful combination of textures! Surprisingly, even though it's a milky, creamy ice cream, the lightness of the taro flavour makes it a refreshing option to battle the Singapore heat. 
The Malty Boba ice cream is Horlicks-based with plump, brown sugar pearls that are generously spread throughout the ice cream. The Lychee Bandung ice cream is a delightful balance between the lychee and rose flavours, and is an option for you if you prefer fruitier flavours! 
Retail price: $6 per cup
Also read: Top 10 Dessert Spots to Visit in Singapore
Locally brewed beer
Some of you might be familiar with Brewlander, but did you know that they've got a local brewery distillery plant located in Tuas? Together with the Museum of Ice Cream team, they've concocted their very own beer exclusive to Design Orchard! With raspberry and pink guava, you won't have to worry about the beer being too sweet as it's a subtler flavour profile and is certainly a refreshing option to battle our heat. What's unique too is the pink colour of the beer, which is naturally coloured; no artificial ingredients, please! 
Retail price: $7.90 per can
Lifeguard tower
As just one out of the 14 interactive displays that will feature at Museum of Ice Cream this August, the lifeguard tower installation starts with an introduction by a cheerful ice cream guide who goes by the name of 'See (her surname) Salt Caramel'. 
Assuming the role of a lifeguard, See Salt Caramel encourages you to join in her warm-up sessions (you're at the beach, after all!). Before you ascend the tower, she'll ask for your 'ice cream name' (mine was Cookie Dough). After which, she'll invite you to head on up! 
She gives you the disclaimer that a little surprise awaits you at the top of the tower: Here's a picture of the lifeguard tower with a window into the surprise (Obviously, the surprise itself is something that you will have to see for yourself!). 
Level 3 Rooftop — Yoga al fresco
Head on up the stairs to the third floor of Design Orchard, and you can continue to enjoy the Museum of Ice Cream, but al fresco! Here, you'll find pink palm trees with waffle cone trees — take a look underneath the palm leaves and you'll see fruit hanging from above. 
Get comfortable and take a seat under the tree while you enjoy your ice cream and beer: This rooftop oasis will certainly make a nice respite from Singapore's sunny weather as you enjoy the view of Orchard Road! 
Did you know that as part of Museum of Ice Cream Singapore's pop-up, they've even collaborated with ClassPass to hold a series of yoga classes during its stay at Design Orchard? With each class at a duration of one hour, pick from their Yin, Vinyasa, or HITT type classes as you take working out in style to a whole new level! 
Price: 10 classpass credits (includes choice of ice cream cup or 330ml can of Brewlander beer!). Class bookings are to be made on the Classpass app or website.
Class timings: 
Wednesday, 12 May, 6pm–7pm (Twilight Flow)

Sunday, 16 May, 9am–10am (Vinyasa Flow)

Tuesday, 18 May, 6pm–7pm (Yin & Yang)

Wednesday, 19 May, 6pm–7pm (Yin & Yang)

Sunday, 23 May, 9am–10am (Yoga HIIT)

Tuesday, 25 May, 6pm–7pm (Yoga HIIT)
What do I need to bring? 
Yoga mats and blocks are provided; you'll just need to show up in your activewear and a ready attitude for the class.
Furthermore, class sizes have a capacity of 25 people with 2m in between each mat. Rest assured you'll be working out safely and sufficiently distanced from each other. 
Also read: 10 Best Yoga Classes & Meditation Podcasts to Start Your 2021 Self-Care Habits
How do I book a visit to Dempsey's Museum of Ice Cream Singapore?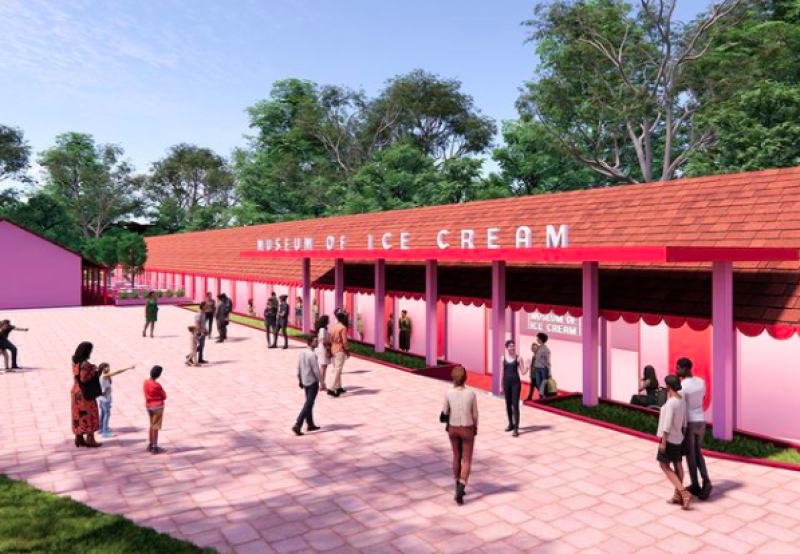 Image credit: Museum of Ice Cream Singapore Official Instagram Page
Tickets to Museum of Ice Cream Singapore's full Dempsey experience may be reserved online by clicking here. You may also book a ticket by visiting the Design Orchard pop-up store. 
Unfortunately, tickets for the month of August have been met with overwhelming public interest and are currently sold out; you can still book a ticket for September. Be sure to reserve your tickets quickly! 
Opening hours (from Friday, 13 August 2021): 10am–11pm daily (closed on Tuesdays)
Address: 100 Loewen Road, Dempsey, Singapore 248837
Ticket prices start from $38. Admission is free for children aged 2 and under. 
P.S. Stay tuned for announcements on Museum of Ice Cream Singapore's website or Instagram page, as there are plans underway for you to purchase tickets using your SingapoRediscovers Vouchers!
---
Featured image credit: Museum of Ice Cream