Ever heard of avo-on-toast or barbies? If you haven't, then it's time you revisit Australia for a taste of some of its yummy local treats!
Home to the world's coffee capital, host of the World's 50 Best Restaurants awards in 2017, Australia's vibrant food scene is constantly transforming to meet today's changing palates. Be it brekkie, al fresco Australian dining, or simply a cuppa coffee, there are countless unique places to enjoy your food. Get your phones ready to snap Instagrammable shots to beautify your feed, because Australia is a #foodstagram heaven you'll never want to leave.
We've narrowed down a few of the major states and cities in Australia, each of which has their own unique food scene and elaborated more on what travellers should look for in the food there. You'll be salivating over your keyboard and itching to book a trip Down Under ASAP!
Melbourne: Cafes in hidden laneways
You might feel like Alice in Wonderland in Melbourne's laneways: you never know what lies around the next corner. Apart from the colourful street art you can find in the laneways, you will discover quaint cafes that are hidden at the backstreet, or even smell the aroma of freshly roasted coffee.
Melbourne has long been acknowledged as Australia's best foodie hub, with its claim to fame being the plethora of brunch spots owned by young, passionate chefs. The artisan coffee scene here is exceptional, so rest assured your travels here will not be short of good quality caffeine.
1. Pillar of Salt, Richmond
Of exposed brick walls and good company in a cosy corner of Church St, Richmond, Pillar of Salt serves up a devilishly good smashed avocado toast, complete with runny poached eggs. If this isn't your thing, they have tons of other eclectic offerings for you to savour while basking under the sun in their adjoining courtyard. How does a plate of creamy mushroom gnocchi or tiger prawn linguine sound?
Address: 541 Church Street, Richmond, Victoria 3121 Australia
Website: http://www.pillarofsalt.com.au/
2. Miss Marmalade, Brunswick
Miss Marmalade, whoever she is, is an absolute genius we must say. On top of scrumptious brunch classics like pancake stacks and embellished toasts, the pastries here are top notch. If you like the look of dishes like this, you'll be overjoyed to know that Melbourne is abundant with brunch spots just like this one. And to complement these sweet offerings, treat yourself to a delightful macchiato, along with some lovely coffee art.
Address: 126 Union Street, Brunswick, 3056 Victoria, Australia
Website: http://www.missmarmalade.com.au/
Sydney: Hatted restaurants and artisan desserts
If Melbourne is the hip food haven of Australia, Sydney is her classier older sister. A little bit more upscale and refined, the number of hatted restaurants here should be more than sufficient to backup that point. If you're not in the know, Chef Hats are akin to localized Michelin stars in the restaurant rating world.
Indulging in fresh seafood while enjoying the stunning sea view is an al fresco dining experience enjoyed by both locals and travellers. Try the local lobsters, blue swimmer crabs, freshly shucked oysters and moreton bay bugs! Or if your sweet tooth prefers desserts over all else, Sydney will be the sugar to your plum. With no shortage of dessert joints here, it's safe to say that Sydneysiders know their sugar well.
1. Ormeggio, Mosman
Dishing up contemporary fine dining cuisine by the waterfront, this two-hatted establishment makes for the perfect culinary experience in the company of a romantic partner. Sun, sand and wagyu – Sydney has it all. Soak in the splendid views of yachts, seagulls, and languid strolls along the pier as you tuck in.
Address: D'Albora Marinas The Spit, Spit Road, Mosman NSW 2088, Australia
Website: https://www.ormeggio.com.au/
2. Koi Dessert Bar, Chippendale
Behind KOI, Sydney's most popular dessert bar, are the esteemed Poenormo brothers. With a slew of culinary achievements behind their backs, rest assured you can leave your taste buds in their hands. And instead of walking around with a glass of rose wine all day, what better way to ingest it than as a rose-shaped mousse? These delicate creations are almost too pretty to be eaten!
Address:  46 Kensington St, Chippendale NSW 2008, Australia
Website: http://www.koidessertbar.com.au/
Perth: East-meets-west fusion dishes and cocktail bars
With its flourishing dining scene and laid-back beaches, Perth is the up-and-coming ultimate food destination to watch out for. Its multi-cultural population has also greatly influenced its food scene; you will notice a diverse array of international cuisines, from Thai to Chinese, Italian, and Mediterranean dishes.
1. Rice Baby, Subiaco
Rice Baby serves food for the modern Asian, drawing inspirations from different cultures across Southeast Asia. A great example of the modern, aesthetically pleasing genre of Asian cuisine representative of Perth, available statewide.
Address:  483 Hay St, Subiaco WA 6008, Australia
Website: http://ricebaby.com.au/
2. The Flour Factory, Perth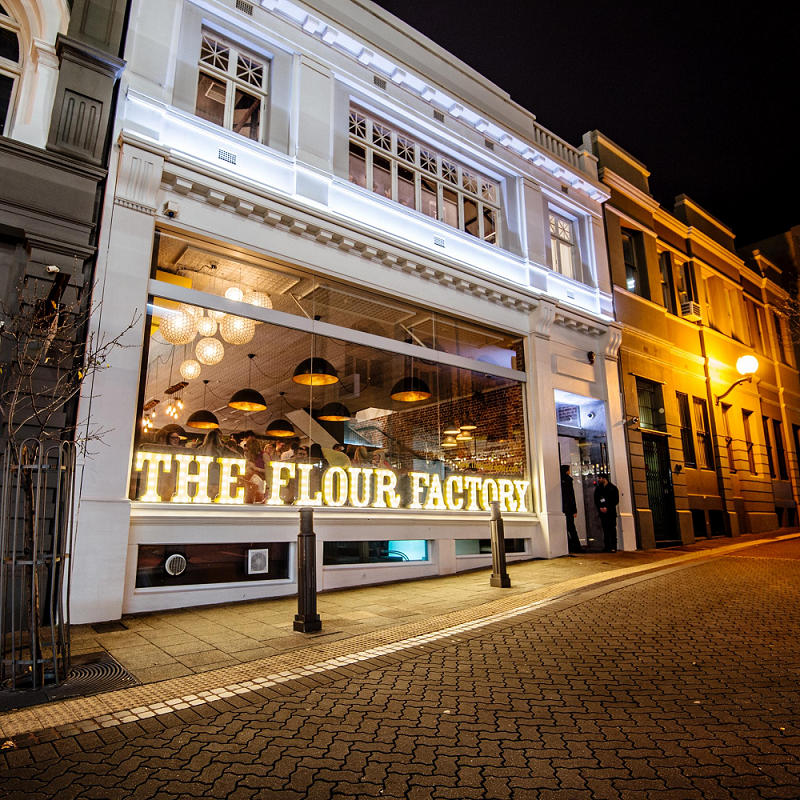 Home to the city's largest gin collection, and housed within a 100-year-old flour mill in the city centre, The Flour Factory is an absolute must-visit in Perth for an evening tipple or two. Try out amazing specials like the house-infused pink Gin & Tonic Cupcake surprise for a sweet rush! With soft leather seats, timber tables, a long bar and warm lighting, you'll be so entranced by the soothing ambience, you wouldn't want to leave at all.  
Address: 16 Queen Street, Perth, Western Australia 6000
Website: http://theflourfactory.com/
Adelaide: Quaint Cafes, Food Markets, Wine & Cider
The City of Churches has everything its sister cities have – good food, wineries, music and arts scene (but at a portion of the price), and a lot more festivals! Fantastic dining comparable to Melbourne's best, Adelaide is a secret city of sorts for foodies looking for good food without having to fork out an arm and a leg.
The prominent wine and cider scene here stands out, cementing the city as one of the great wine capitals globally. Its rolling hills and climate make it perfect for cultivating the succulent fruits which form these exact products. And before we forget to mention, the city is simply abundant in food markets! So expect the lovely hustle and bustle of festivals and markets, paired with some of the best wine around.
1. Lost in a Forest, Uraidla
A wood oven and unlikely upholstery transform this old church into the hippest hangout around for all-around good food, wine and rustic wood-fired pizzas. Don't let their quirky selection of pizza topping variations shock you. "Bahn Mi" and "Buzzbomb" are some of their biggest hits to date.
Address: 1203 Greenhill Rd, Uraidla SA 5142, Australia
Website: http://lostinaforest.com.au/
2. Adelaide Central Market, Adelaide City
A bustling hubbub of food and culture for almost 149 years, the Adelaide Central Market is a must-visit for all avid foodies. Featuring more than 70 stalls offering fresh produce, artisanal goods and multicultural cuisine, it's a one-stop destination for anyone looking to fill their tummies with Adelaide's best.   
Address: 44 – 60 Gouger Street, Adelaide SA, 5000
Website: https://adelaidecentralmarket.com.au
3. Lot100, Adelaide Hills
Calling all beer and cider lovers – Adelaide's the place to be! The Adelaide Hills region is home to numerous apple and pear orchards, as well as passionate craft beer brewers, so it's not surprise that beer and cider are the stars here. Come December 2018, Lot100 will be the newest and coolest place in Adelaide to be at, because it will be a cellar door, restaurant, bar and venue all-in-one. Sample handcrafted ciders and beers from local breweries and cider makers from the region for a refreshing afternoon!  
Address: Lot 100, Chambers Road, Nairne, South Australia 5252
Website: https://www.adelaidehills.org.au/beer-cider-spirits
Brisbane: Modern Bistros, Food Trucks
Just like Adelaide, Brisbane is not to be looked down upon. Their take on gastronomy is vibrant, inquisitive and on an altogether different laneway. It goes without saying that the city has built a cosy food scene for itself, shying away from the pomp and glamour of Sydney and Melbourne.
With new restaurants constantly popping up, chefs here are passionate and not afraid to push the limits. Furthermore, the delish food truck scene here makes for a lovely outdoorsy experience.
1. Pearl Cafe, Woolloongabba
Crispy duck with paris mash, cherry jus and chestnut lardons…you can never go wrong with Pearl, a Woolloongabba favorite. Patrons have also raved about the coffee and dining ambience here. We're talking modern bistro dining PLUS an outdoor terrace to soak up all that Brisbanian sunshine.
Address: 28 Logan Rd, Woolloongabba QLD 4102, Australia
Website: https://www.facebook.com/pearl.cafe.brisbane 
2. Food Trucks
Filling city spaces with unique and creative food experiences, Brisbane's cultural diversity is eminent through its vibrant food truck scene. From buffalo wings to sushi rolls, wood-fired pizza to cheeseburgers, you'll be thoroughly spoilt for choice when you're deciding what to eat for your next meal. The Brisbane City Council has also kindly created a comprehensive guide for you to check out which food trucks are serving now or later, their locations, and their opening timings – so just refer to the link below to choose which one you want to visit before heading down!
Address: Varies
Website: https://www.bnefoodtrucks.com.au/about
Every state and city has its own unique spin on food. We haven't mentioned the other parts of Australia yet – there's just so much to explore and feast on! But the next time you think of traversing the globe for the sole purpose of satisfying your palate, make sure you don't fly past Australia and all its delish food options!
P.S. Don't forget to download the DBS Lifestyle app which lets you activate your card's magnetic stripe! It's just so convenient. Simply download the app, look for Card Services under the More tab, and select your card. It'll automatically be activated when you travel, and de-activated when you're home. Download now!
---
Brought to you by DBS and Tourism Australia