Sitting on the shores of the South Island's Lake Wakatipu is the majestic region of Queenstown, New Zealand. Staying at an Airbnb is surely the perfect way to experience all that Queenstown has to offer, from historic mining towns and adventure sports to skiing slopes in the winter.
The ideal getaway for nature lovers wishing to escape the hustle and bustle of everyday life, Queenstown is the perfect place for unwinding and resetting yourself. We've compiled a list of Queenstown's most stunning Airbnbs that offer you magnificent views of mountains and lakes right from the comfort of your accommodation! 
Also read: 15 Useful Māori Phrases & Basic Greetings for Your Future Trip to New Zealand + Fun Facts!
CHECK BOOKING OPTIONS IN QUEENSTOWN
Stunning Airbnbs in Queenstown for friends and families
1. The majestic London Lane villa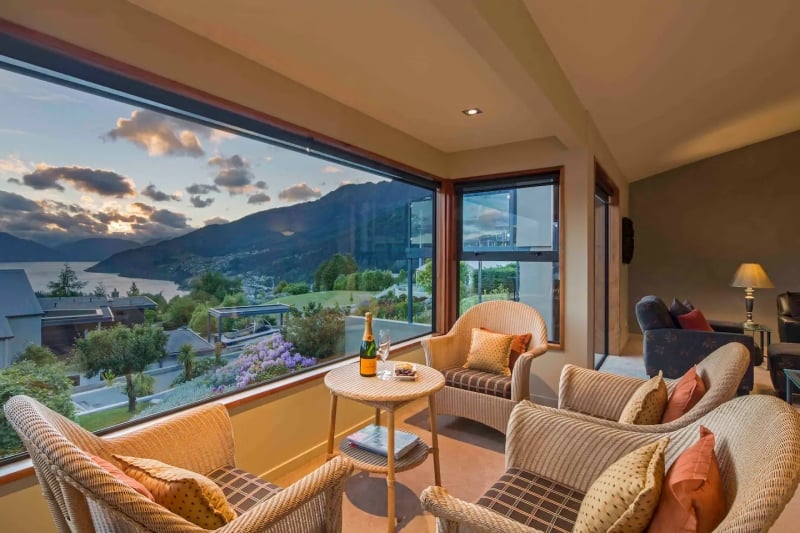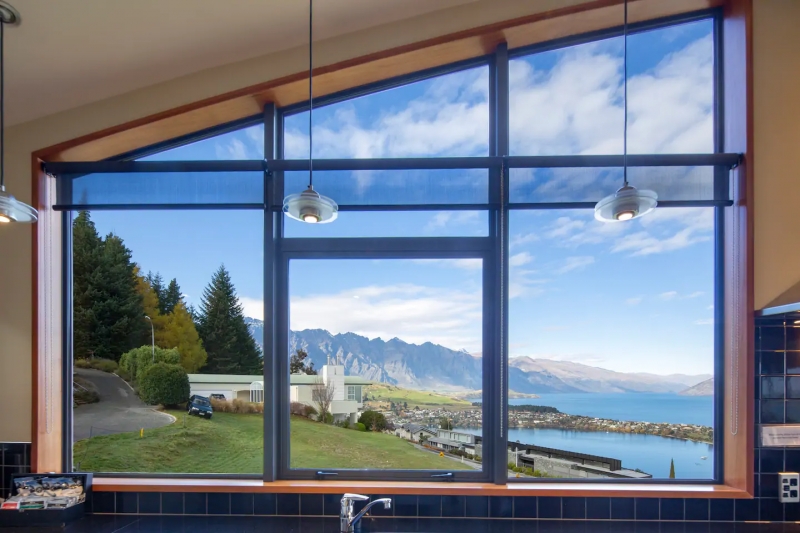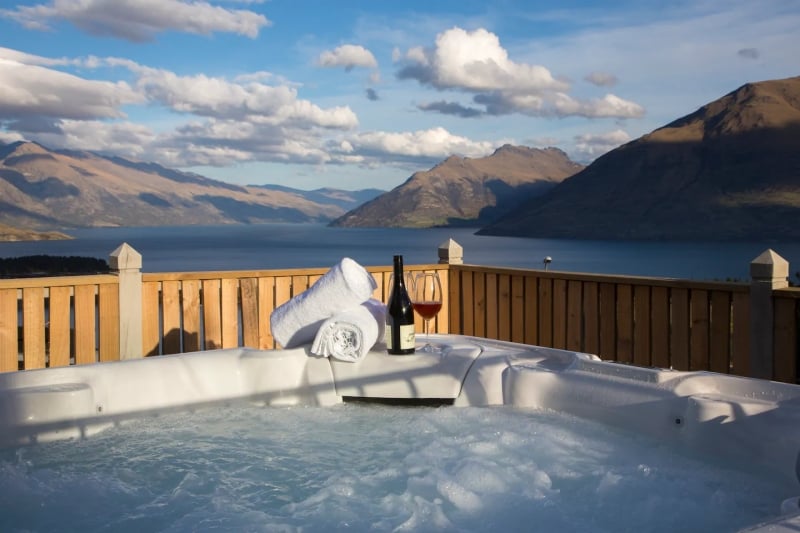 Listing type: Entire villa
Max. no. of guests: 4
No. of bedrooms: 2
Built in 2004, this superb villa is the perfect retreat for you if you're looking to travel with friends or family! With floor-to-ceiling windows and two patios, you'll get to enjoy the majestic views of the sunset against Lake Wakatipu and The Remarkables from every angle of the property. After a long day on the slopes of The Remarkables or Coronet Peak ski areas, or the Milford or Routeburn Tracks, unwind in the property's hot tub. Afterwards, sleep your night away on the super-king beds that you can find in both bedrooms. 
Feeling hungry? Why not dine in style in the Airbnb's private, fenced garden by utilising the Heston Blumenthal barbecue grill? You can also choose to enjoy some entertainment by feasting your eyes on the 65" smart TV! During your stay at this Queenstown Airbnb, you might find yourself agreeing with what many other guests have said: The photos do not do this majestic property justice. 
2. The designer pad with award-winning architecture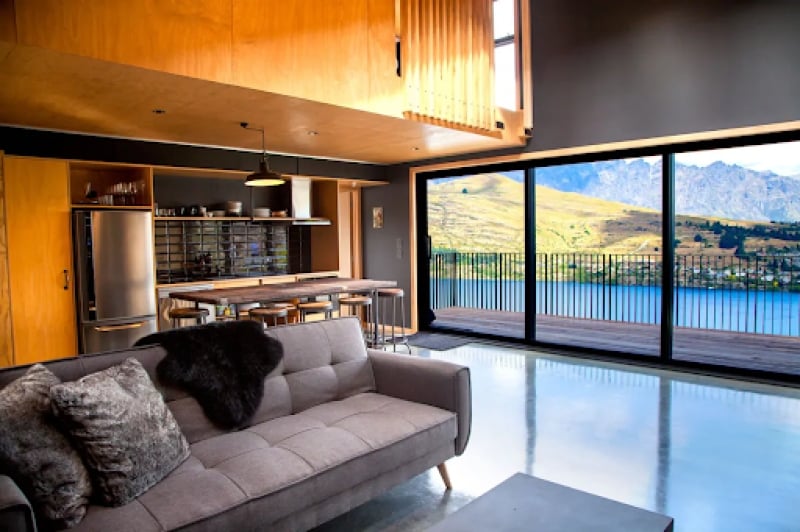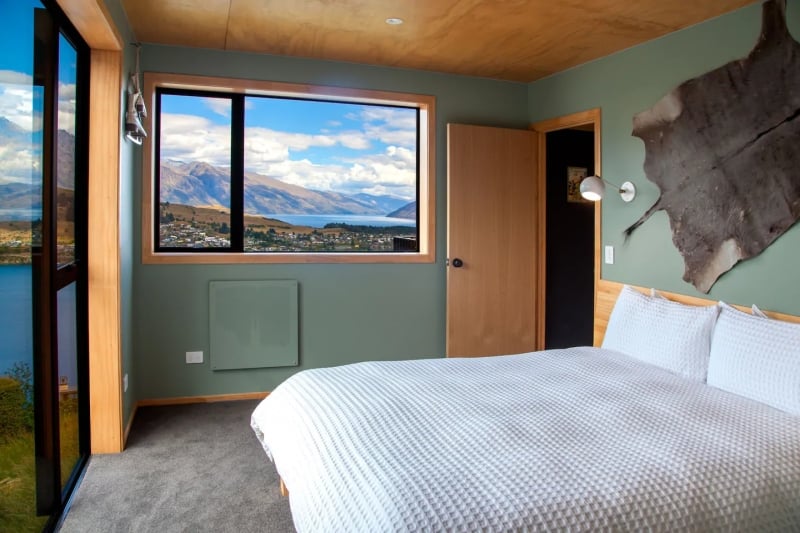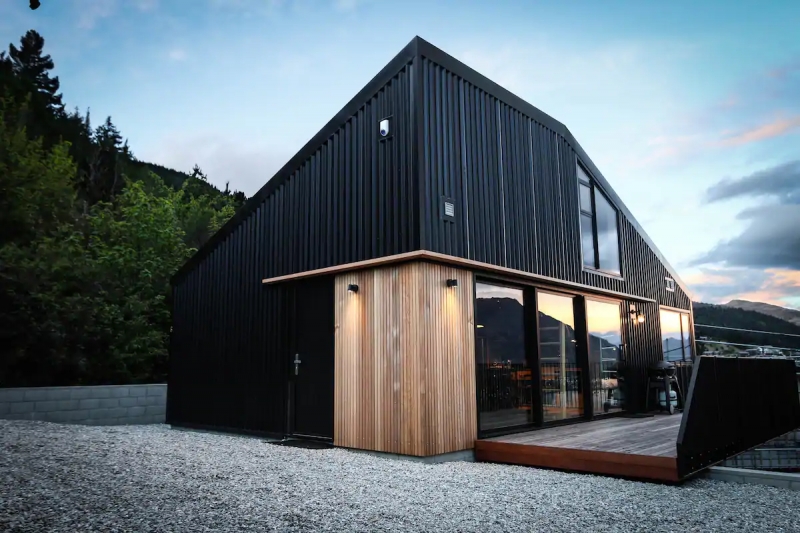 Listing type: Entire flat
Max. no. of guests: 4
No. of bedrooms: 2
Located a seven-minute drive from the Queenstown town centre is this award-winning architecturally designed home! With two awards under its belt — the Residential Compact New Home Architectural Design Award and the Residential Interiors Architectural Design Award — this home boasts wooden furnishings and warm lighting fixtures on its exterior and interior. Also, this loft-style apartment is extremely spacious, making it a perfect and homey getaway with your friends.
With an outdoor balcony, lounge skylights, and floor to ceiling windows, the spectacular views of The Remarkables range and Lake Wakatipu are sure to greet you from every nook and cranny of this Queenstown Airbnb.
Fun fact: One bedroom in this listing can only be accessed from a ladder. Time to tap into your inner child! 

3. The modern home overlooking Cecil Peak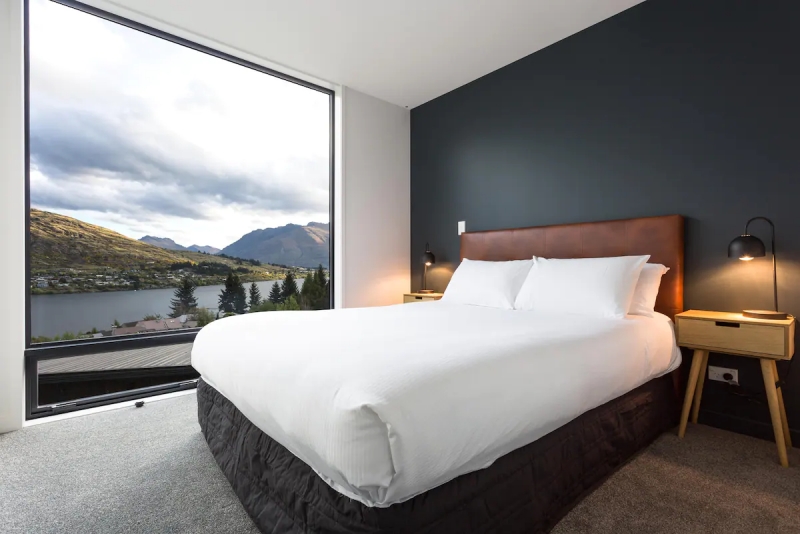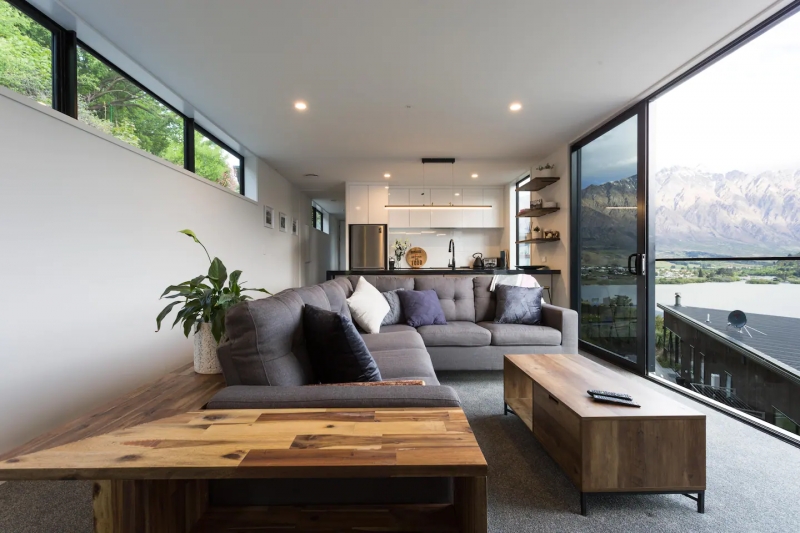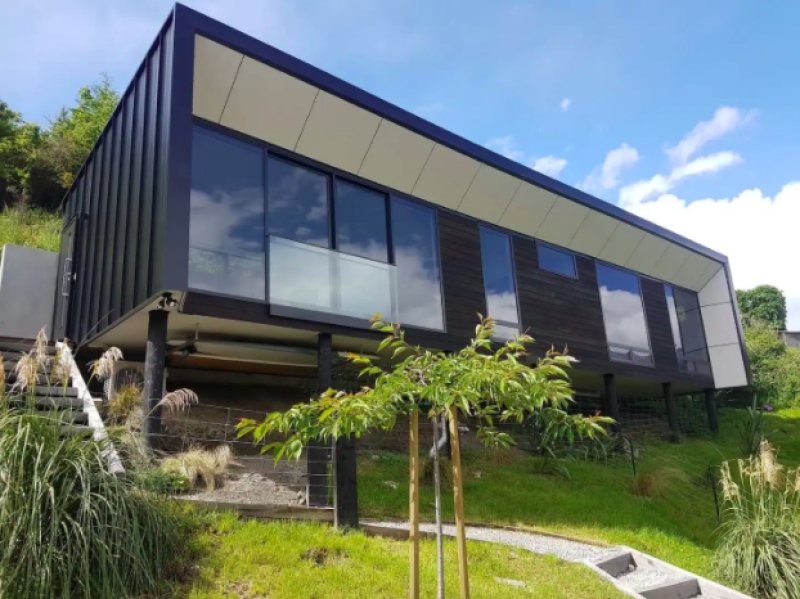 Listing type: Entire home
Max. no. of guests: 4
No. of bedrooms: 2
With a living area that quite literally opens up to views of Lake Wakatipu, The Remarkables mountain range, and Cecil Peak, this Queenstown vacation home makes it the perfect place to unwind. Enjoy the nearby Frankton city centre, a growing central hub that boasts fantastic cafes, restaurants, supermarkets, and popular retail shops.
An Airbnb for the fit, it's worth noting that the property has a very steep access up the hill via three sets of stairs and pathways. However, the privacy and tranquillity that this Queenstown Airbnb offers are certainly well worth the short climb.
4. A tasteful apartment compound perfect for bigger travel parties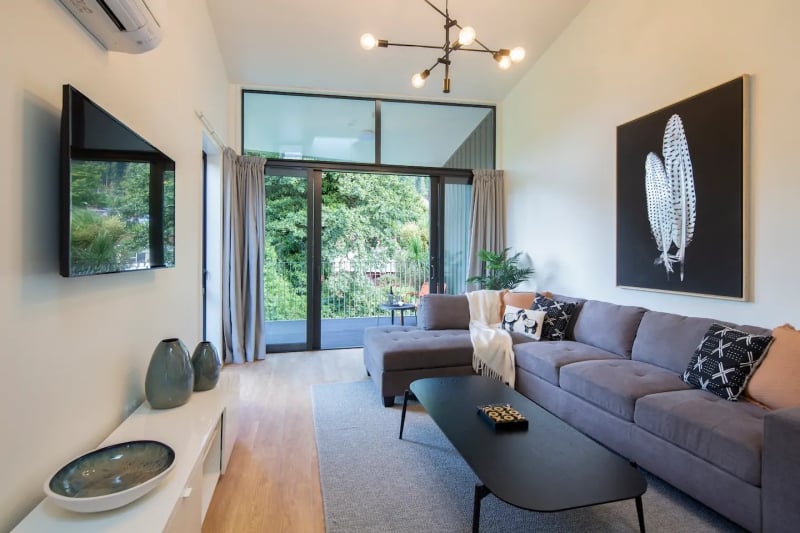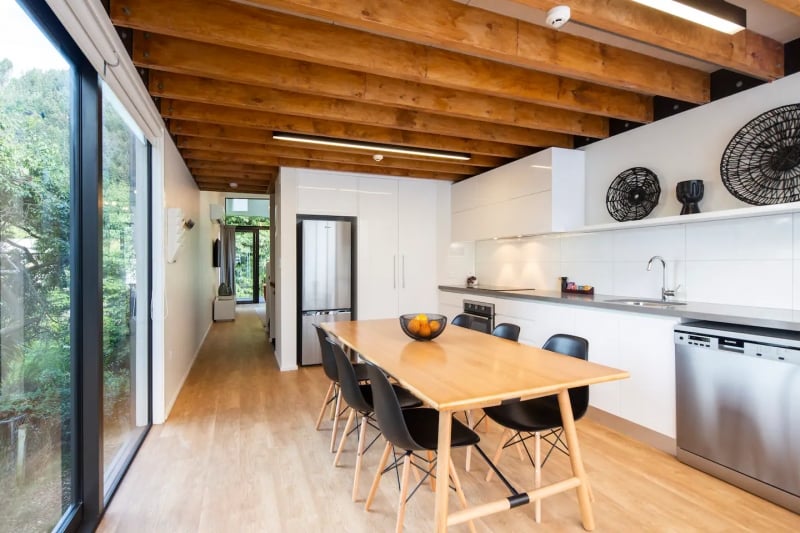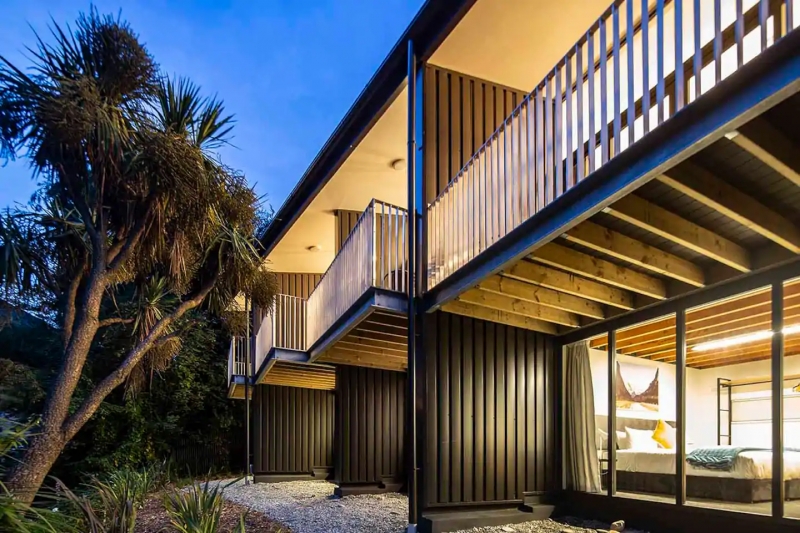 Listing type: Entire serviced apartment
Max. no. of guests: 6
No. of bedrooms: 3
Located a five-minute walk from central Queenstown is the Koura Apartments compound! Here, each of Koura's six self-contained apartments contains three bedrooms, an en suite bathroom, and a kitchen. While a single apartment can certainly fit an entire family, Koura Apartments also makes it easy for bigger travel parties to stay in one area. This container style en suite Airbnb is the perfect group accommodation as you relish the wooden furniture and fixings, modern artwork, and high ceilings!
Even though it's a self-contained getaway in absolute privacy and quietness, the city centre's main restaurants and shops are simply a stone's throw away if you wish to enjoy the local cuisine. Although this Airbnb listing is for a single apartment booking, you can always get in touch with your Superhost if you wish to book more than one of the Koura Apartments.
Cosy Airbnbs in Queenstown for couples
5. A quaint cabin in the forest equipped with amazing amenities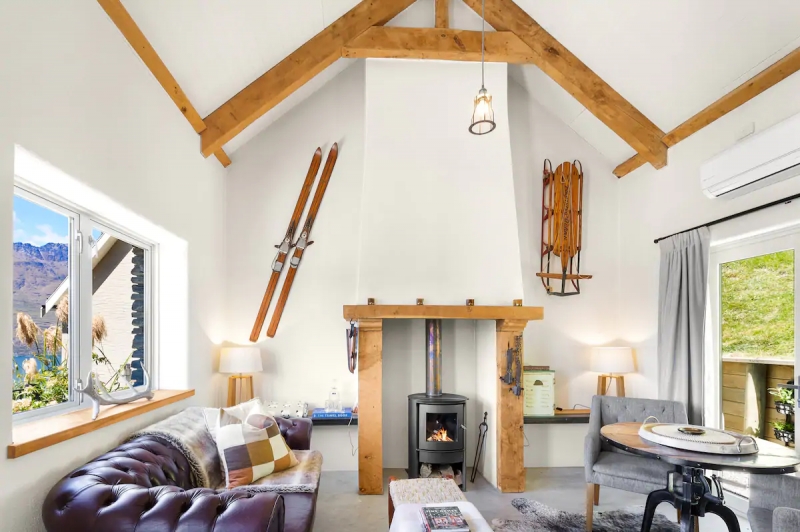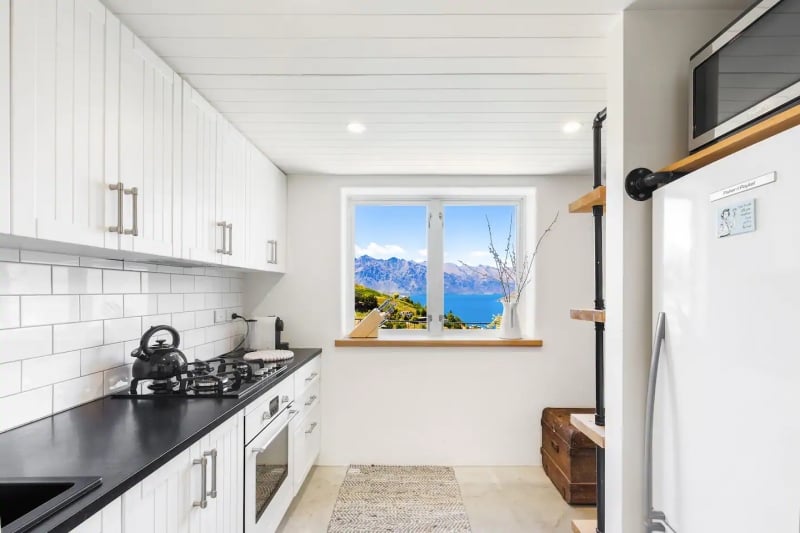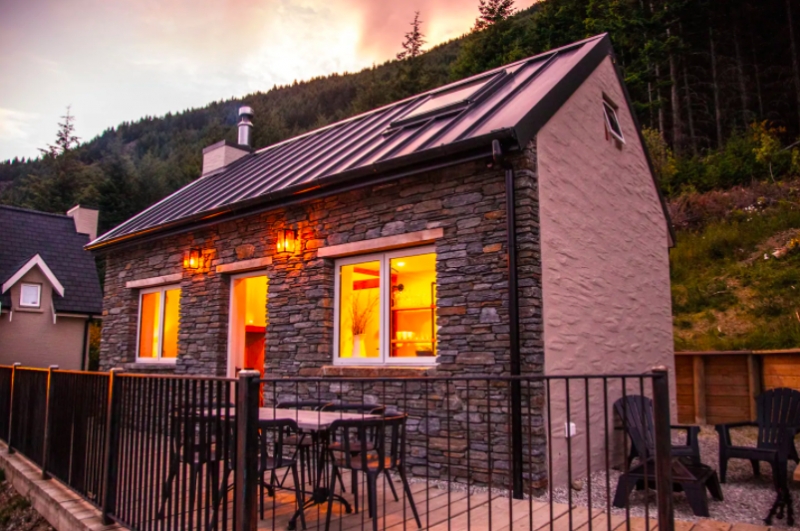 Listing type: Entire flat
Max. no. of guests: 2
No. of bedrooms: 1
Located in the local suburb of Fernhill is the small yet cosy stone cabin, aptly known as — you guessed it — The Cabin! With a log-burning fireplace, The Cabin's living area is the perfect place to unwind after a long day of hiking through Ben Lomond. The Cabin is situated right at its base!
Enjoy spectacular panoramic views through the rooftop window, at The Cabin's private deck by the fire pit, or in the private oval cedar hot tub. With endless amenities, The Cabin is certainly an impressive yet cosy Airbnb in beautiful Queenstown. 
6. The 1880s luxury cottage that boasts bikes and breakfast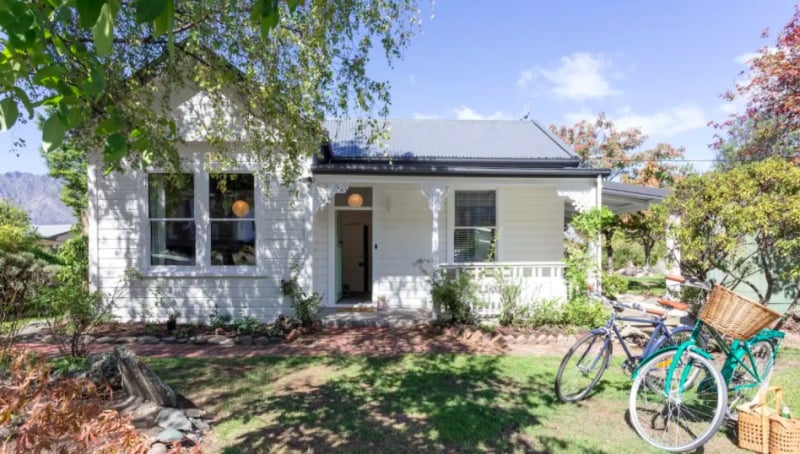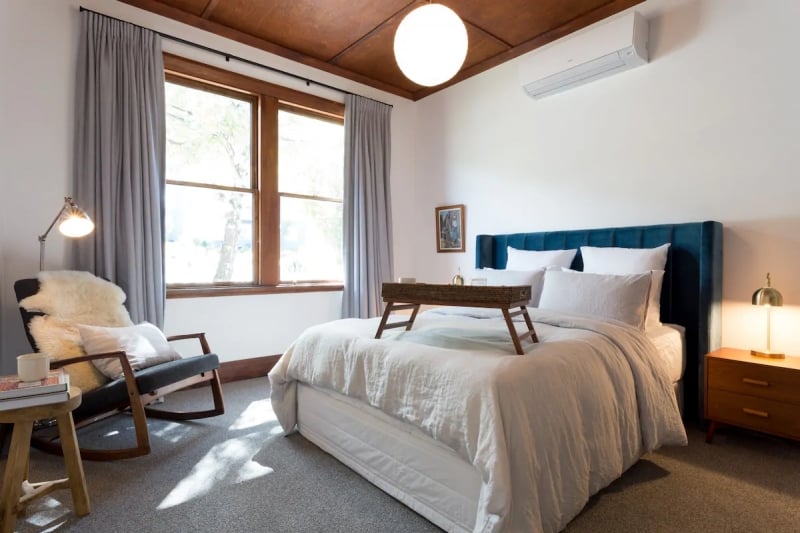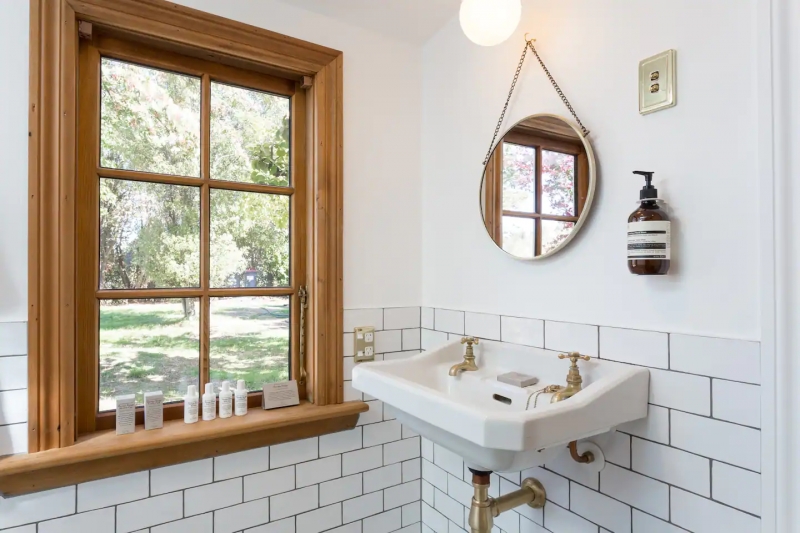 Listing type: Entire cottage
Max. no. of guests: 2
No. of bedrooms: 1
How about something quaint, cosy, and vintage as you venture to the southern town for a getaway? Enter this 1880s luxury cottage that comes ready with enjoyable features! From your very own veranda and al fresco hot tub to two bicycles free for you to use, the amenities of this Queenstown Airbnb are certainly endless. 
Picture the start of your day: After your morning exercise at the nearby lakeside trail, you can head to the neighbourhood hidden gem, The Boatshed Cafe. Order a cuppa joe and soak in your holiday. When you're back at the cottage, refresh your senses with the heated floor pad cum skylight walk-in shower! Fluorescent artificial lights, who? 
7. The cosy and tranquil suite right next to Lake Hayes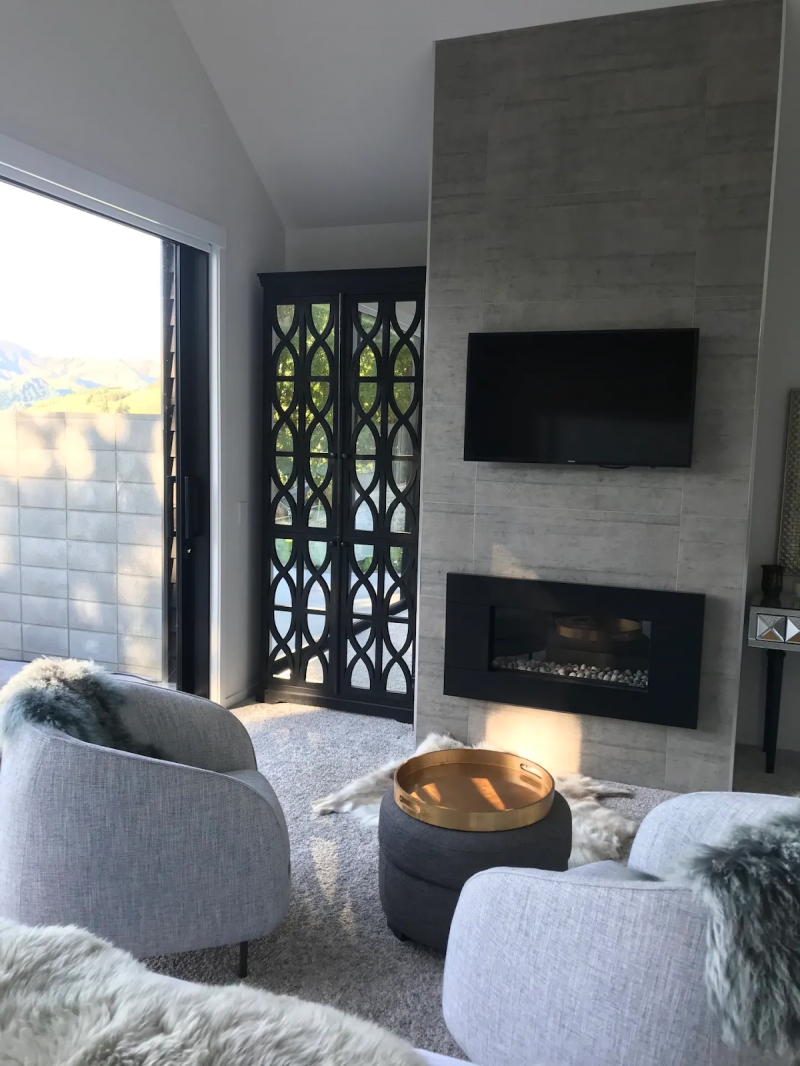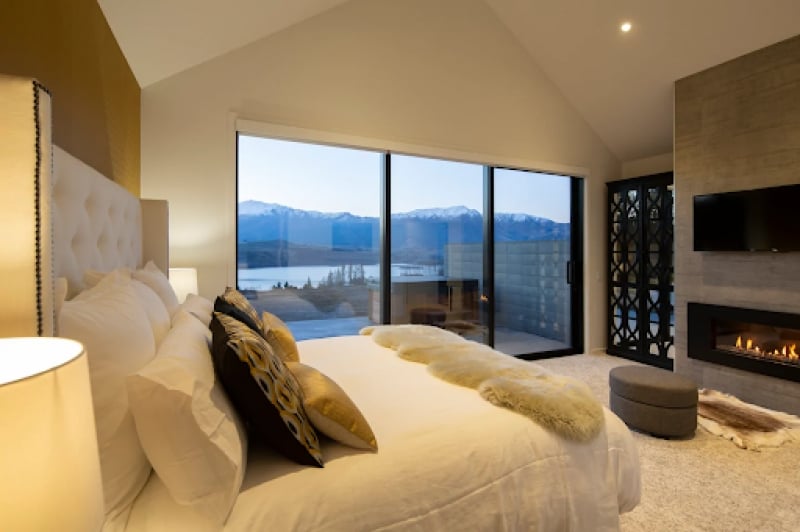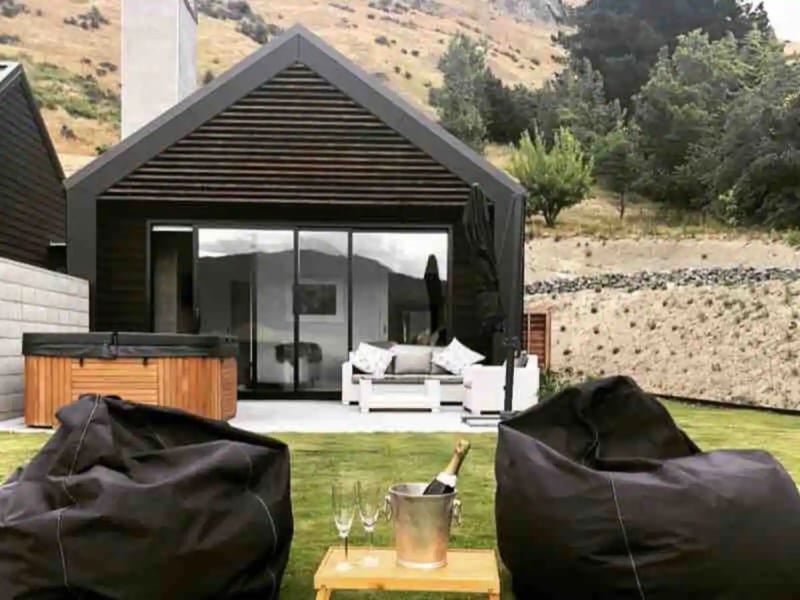 Listing type: Entire guest suite
Max. no. of guests: 2
No. of bedrooms: 1
A cosy hideaway for two, this compact yet luxury private suite offers outstanding views of Lake Hayes and Amisfield vineyard. Whether you choose to unwind by the property's fireplace or the private balcony, you'll have the whole property to yourself — allowing you a peaceful and tranquil stay. 
If you're looking to enjoy some local cuisine, head on down to the nearby outstanding restaurants within the town centres of Arrowtown and Queenstown! 
Luxurious Airbnb penthouses in Queenstown for couples
8. The lakeview penthouse on Queenstown Hill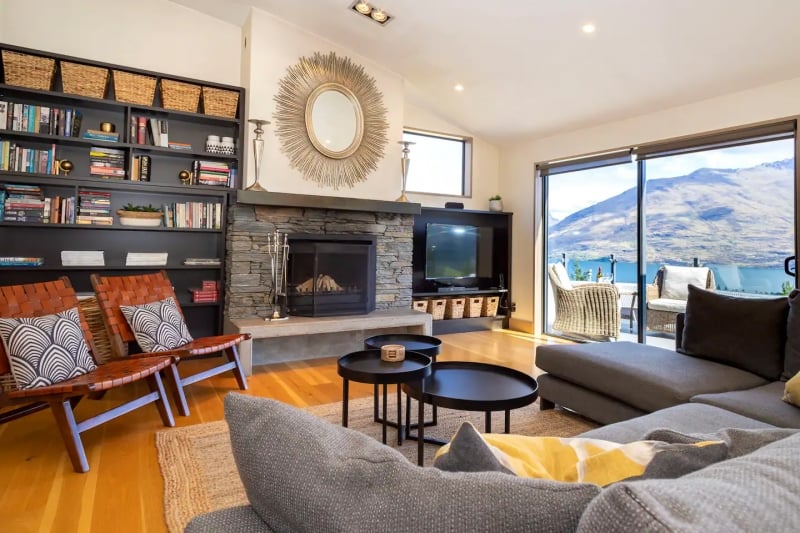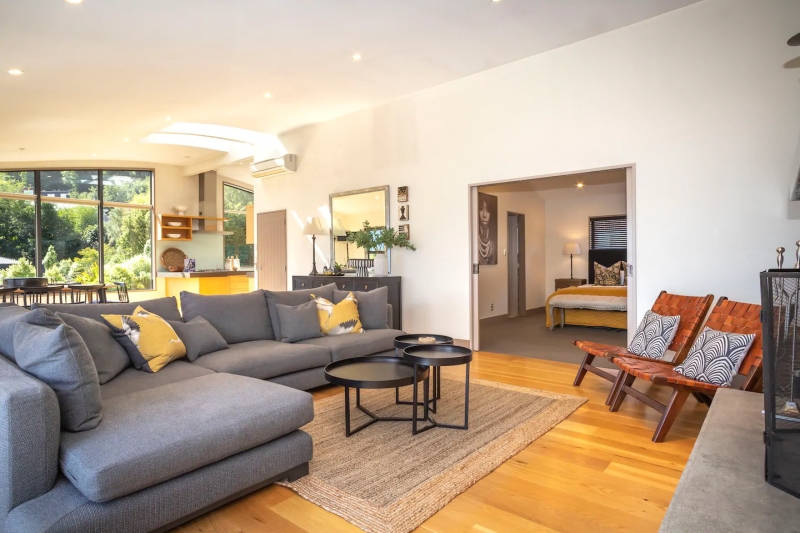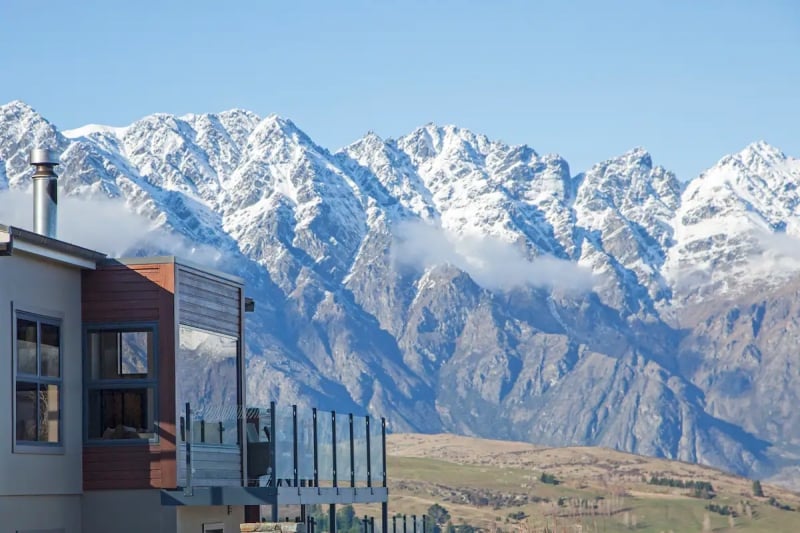 Listing type: Entire townhouse
Max. no. of guests: 2
No. of bedrooms: 1
Very popular with couples, this penthouse is extremely spacious and beautifully furnished with dark wooden fixtures and pops of yellow. After your day at the Coronet Peak Ski field or The Remarkables Ski field (both of which are a 30-minute drive away), head on over to the double garage to store away your equipment. End your day by the penthouse's roaring fireplace, which will certainly warm up even the chilliest nights. 
Also, you're not only situated just a five-minute walk away from the famous Queenstown Hill walk, but also located a stone's throw away from Queenstown's CBD! Have your pick at the local restaurants, bars, and cafes for a taste of some of Queenstown's delicacies. 
9. The romantic getaway with access to the woods nearby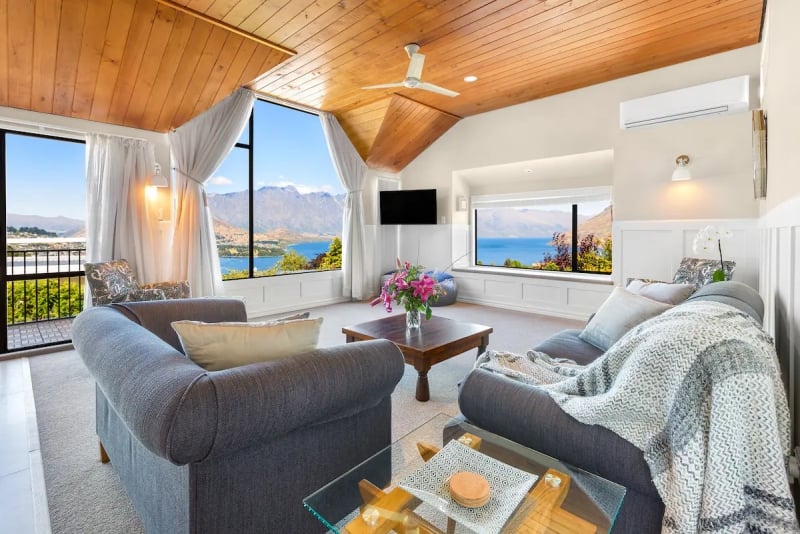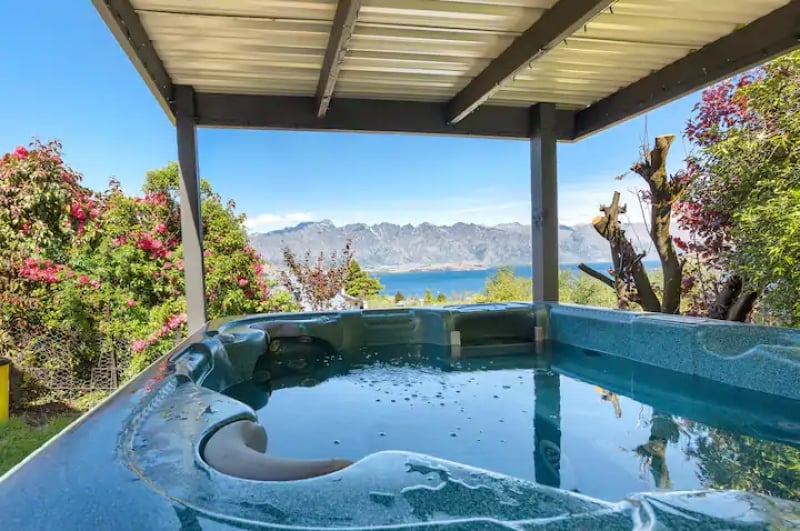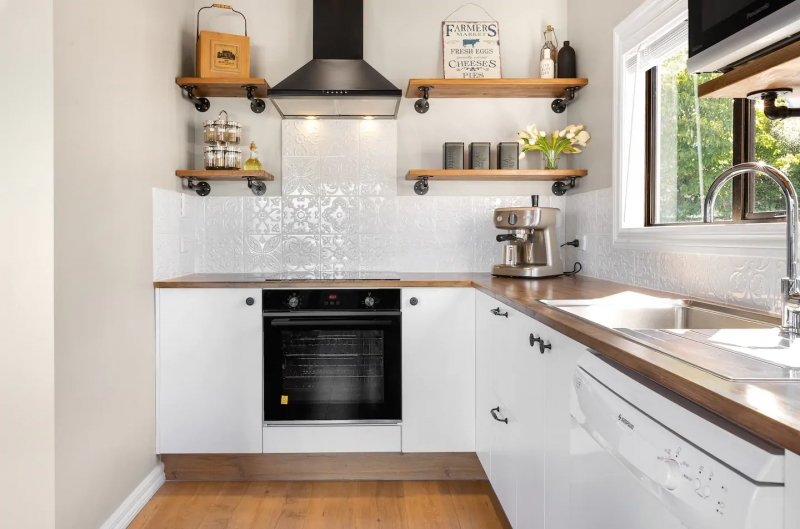 Listing type: Entire flat
Max. no. of guests: 2
No. of bedrooms: 1
At this living space perfect for travelling duos, the wash of natural light from the vast windows and wooden ceiling makes it a warm and inviting one. Looking for the ideal spot to enjoy the breathtaking views of The Remarkables and Lake Wakatipu? Head on out to the deck, which is fully equipped with your very own private spa! 
Also, if you're familiar with how to work a fireplace, why not end your day by relaxing in the spacious lounge in front of the warm fireplace? It's also an opportunity for you to venture into the woods as you're required to look for your own timber and cardboard. 
10. The luxury penthouse atop Lake Wakatipu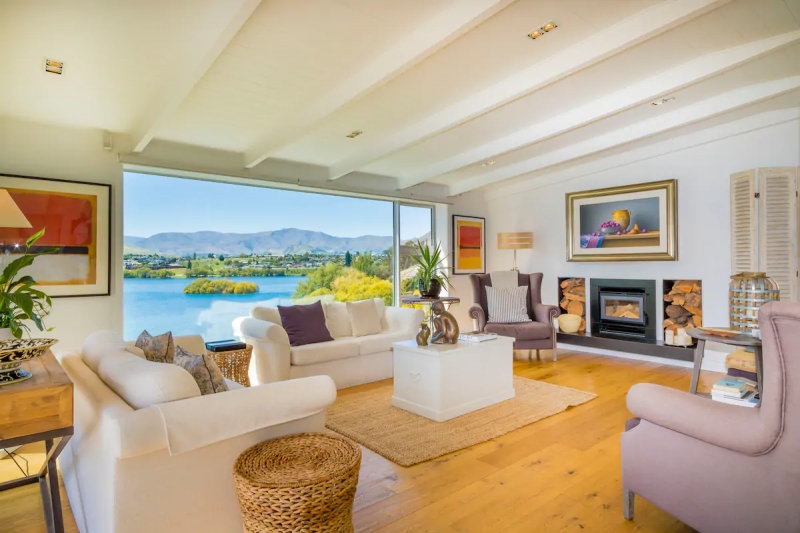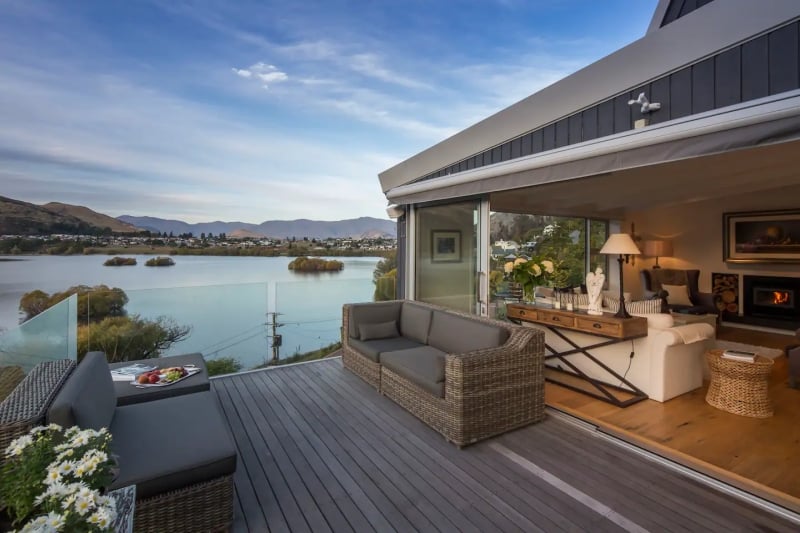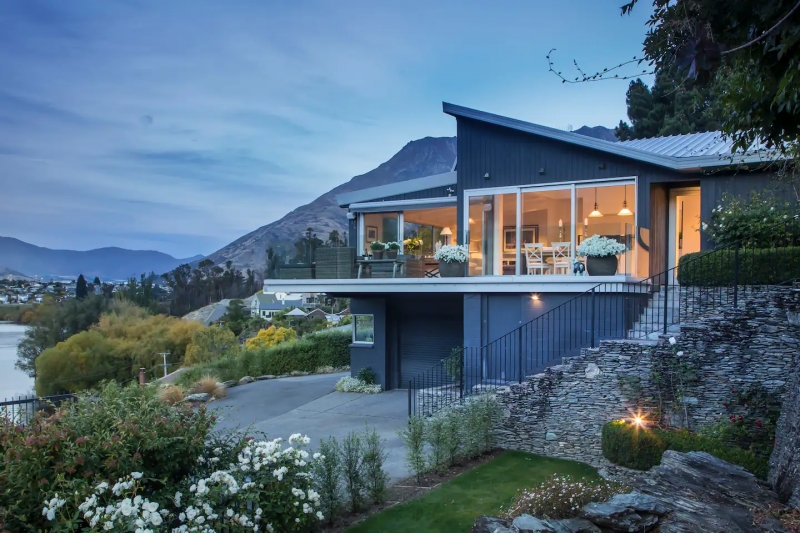 Listing type: Entire house
Max. no. of guests: 2
No. of bedrooms: 1
Are you a fan of natural lights and high ceilings? If your answer is a resounding yes, then this luxury penthouse in beautiful Queenstown is the Airbnb for you! Unwind at the spacious lounge with unique New Zealand art pieces and a warm fireplace. Hoping to take your relaxation outside? This property has not only one, but two sun-filled decks! The living room opens up into a patio with uninterrupted views of Lake Wakatipu and The Remarkables. 
Simply head down the property's private staircase, which will take you to the courtyard —fully equipped with a private spa! Recharge for a new day of adventures by resting in the property's super king suite with a walk-in wardrobe.
Rustic Airbnb townhouses in Alpine Village, Queenstown
11. The spacious lakeview townhouse that situates you near the Southern Alps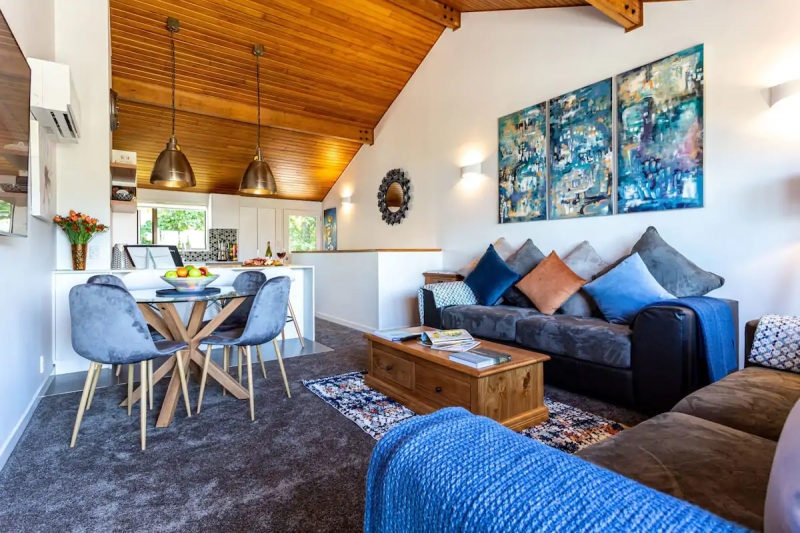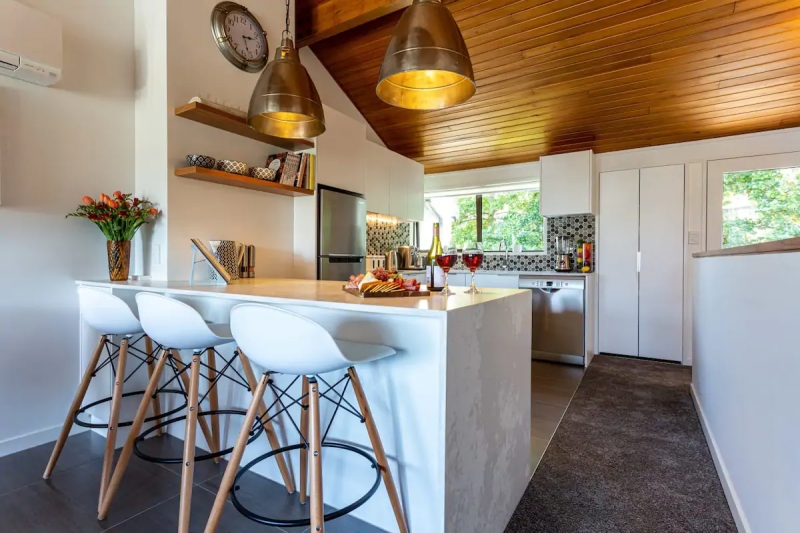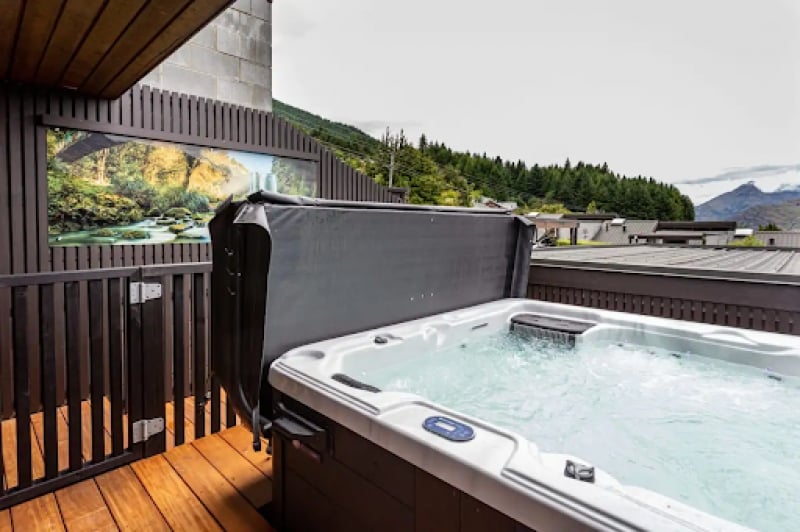 Listing type: Entire townhouse
Max. no. of guests: 4
No. of bedrooms: 2
It's time to call this cosy yet spacious Airbnb your home away from home! Here, you'll never be bored as it's equipped with wooden fixtures, quirky mosaic wall art, and bright pops of colours! Take a soak in your very own private al fresco spa as you enjoy the breathtaking views of Lake Wakatipu and nearby mountains. 
Situated in the Alpine Meadows compound and elevated from lake level, this Airbnb is the opportune spot to enjoy panoramic views. Just a brisk three minute walk away, you'll have the option to dine on fine Italian cuisine or at a local fish and chip shop! 
12. The lakeview townhouse equipped with a large outdoor deck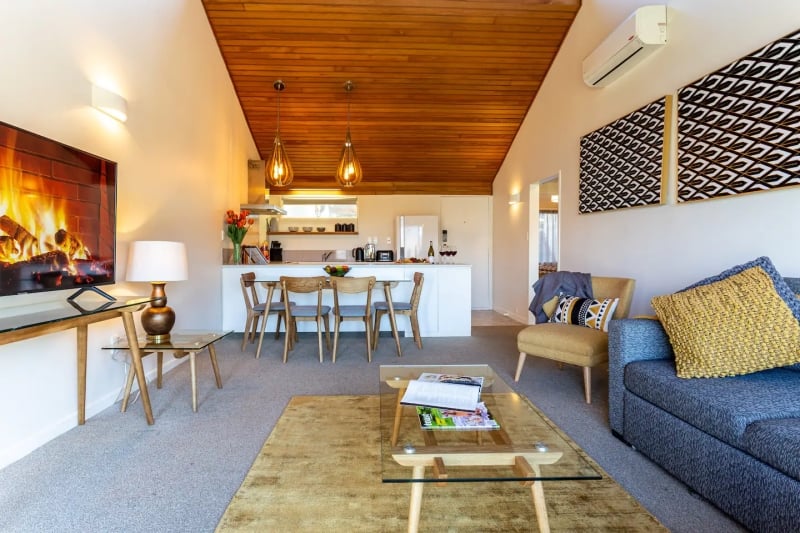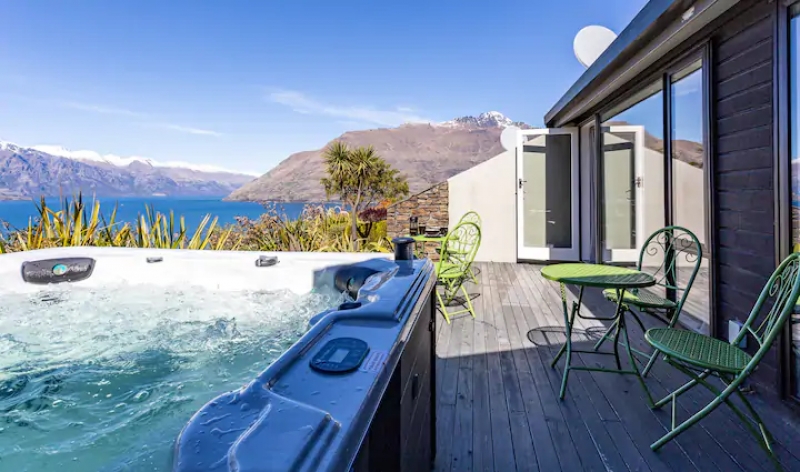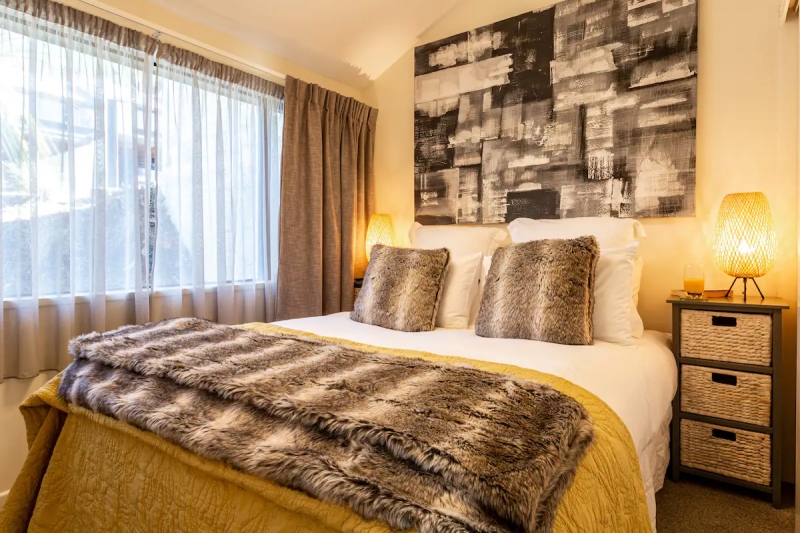 Listing type: Entire townhouse
Max. no. of guests: 4
No. of bedrooms: 2
An alternative to the previous listing, this Alpine Townhouse boasts gold and timber furnishings, pops of yellow, and warm lighting fixtures. Full of character, this listing is certainly a bright and cheerful oasis as you vacation in Queenstown. With a vast outdoor deck, unwind your day away while you read a book or enjoy a glass of local New Zealand wine. You even have the option to dine al fresco with an outdoor barbecue! 
13. The private oasis in Alpine Village with majestic views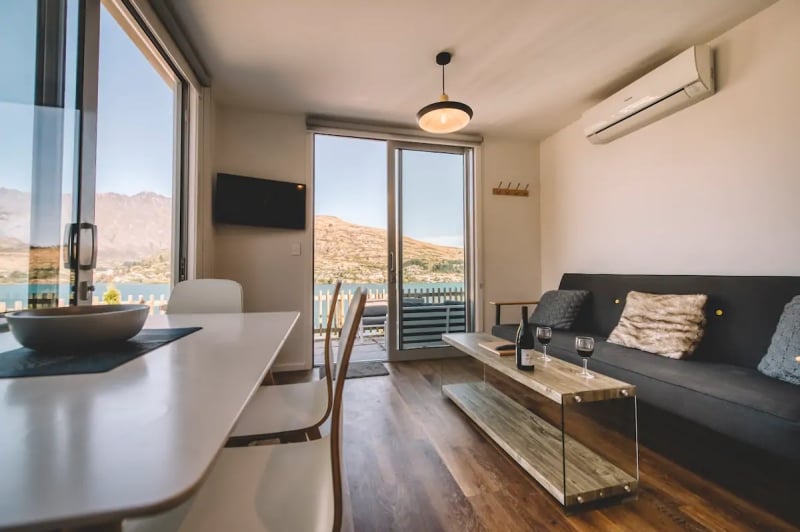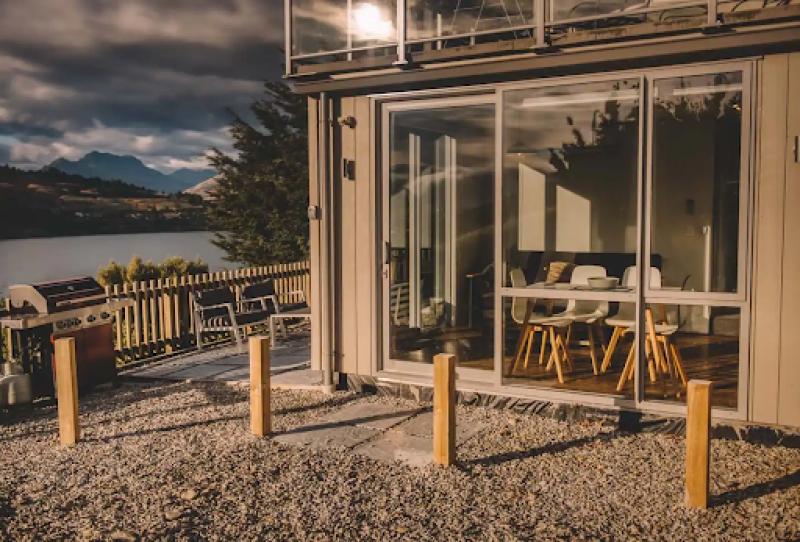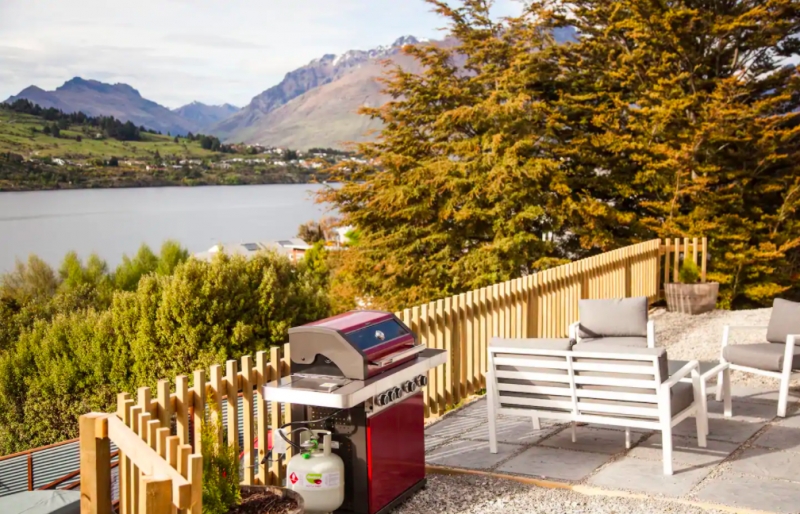 Listing type: Entire guest house
Max. no. of guests: 5
No. of bedrooms: 2
Wake up to incredible views from every room and angle of this apartment located in the picturesque lakeside Alpine Village. Situated on a private road, this property experiences very little traffic, making your stay here an uninterrupted and private oasis away from the hustle and bustle of city life. Change up your evening dinner by prepping your meal at the outdoor patio, equipped with a four gas burner barbecue pit! Talk about dining in style as you bask in the views of Lake Wakatipu. 
 Also read: 10 Stunning Airbnbs in Auckland for a Relaxing New Zealand Vacation
CHECK ACCOMODATION OPTIONS IN QUEENSTOWN
And there you have it — 13 stunning Airbnbs in Queenstown that offer you majestic views of Lake Wakatipu and The Remarkables mountain range! Hike, ski, and cycle away in these parts of New Zealand. Perfect for those who enjoy being one with nature, Queenstown will surely have an Airbnb that'll be the perfect complement to your southern adventure.