Forget Revlon, L'Oréal, Estée Lauder and other international beauty brands! Local beauty brands in Asia are rapidly gaining popularity, with brands like IOPE and Chikuhodo producing cult products that have drawn the attention of beauty addicts all over the world. Unfortunately, these brands tend to not be freely available overseas, and often carry hefty shipping fees when purchased online.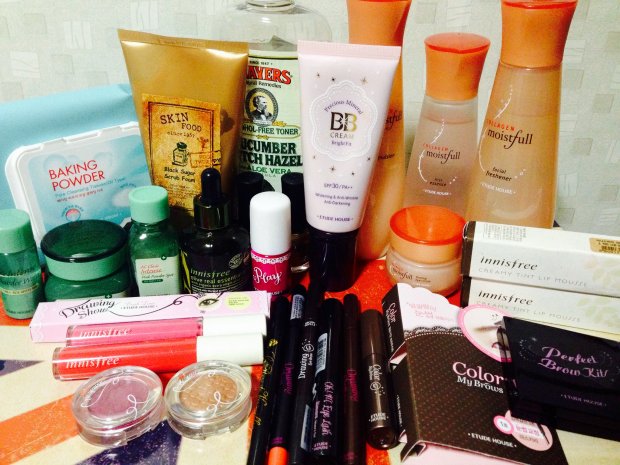 Image credits: http://bit.ly/1oEKIuS
Beauty addicts thus make it a mission to search for these hard-to-find brands when travelling Asia, but the overwhelming number of local beauty brands can make it difficult to figure out what the must-buys actually are. We understand your pain, and have done the research for you (and well, for ourselves too): here's our list of the best hard-to-find Asian beauty brands and the cult products that you need to buy while travelling Asia. Read on and start planning your own shopping list – just don't blame us for the hole burnt in your wallet!
Thailand
The beauty industry in Asia has largely been dominated by East Asian countries, but South East Asian countries should not be forgotten about – local beauty brands are rapidly popping up across South East Asia, and it is definitely worth looking at some of their beauty products while there!
Oriental Princess Society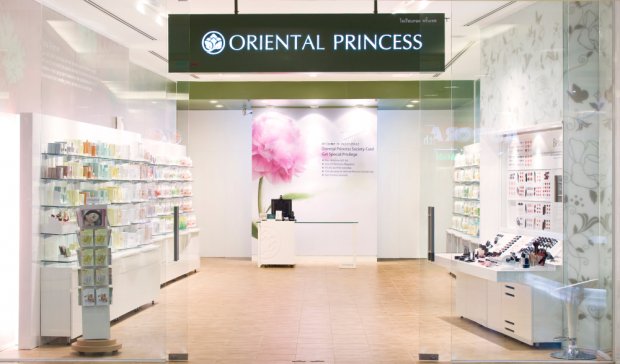 Image credits: http://bit.ly/WH5rGL
Oriental Princess has a staggering number of stores in Thailand, with over 50 outlets in Bangkok alone. Their products are all naturally produced using locally grown herbs and natural extracts, and will hence be suitable for those with sensitive skin. As the largest cosmetics manufacturer in Thailand, this is a brand that you should definitely make time for when shopping there.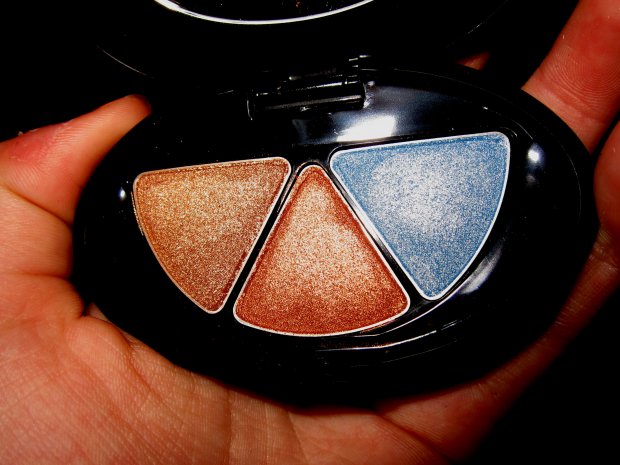 Image credits: http://bit.ly/1p5SlMV
One product to consider buying from Oriental Princess is their eyeshadows, which are highly pigmented yet soft with little fallout. Considering the reasonable prices, there's no reason not to grab one or two palettes from one of their numerous outlets!
Price:  <USD 15 (for basic makeup products)
Beauty Buffet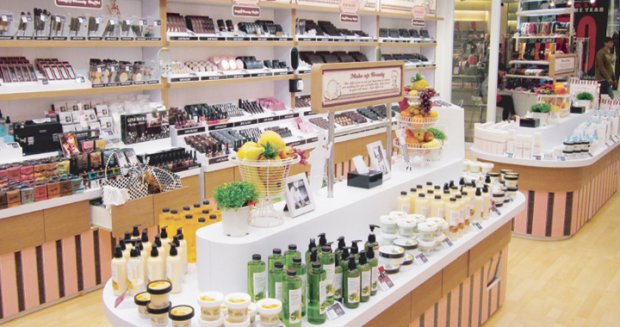 Image credits: Megabangna
Beauty Buffet products are produced in Korea but packaged in Thailand for the locals, and have proved to be popular with them, with over 150 stores in the country. A variety of makeup lines are available under Beauty Buffet, and one line that you should get your hands on is the Gino McCray line.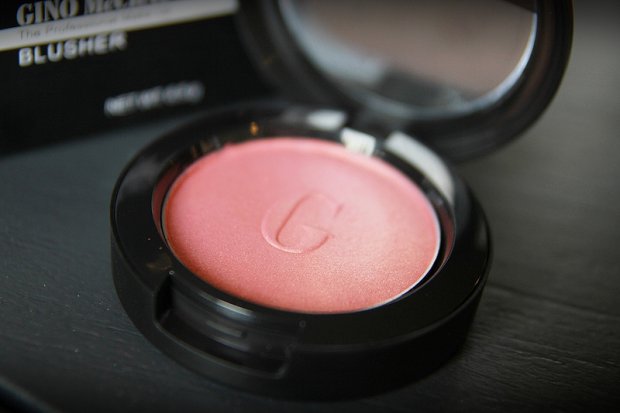 Image credits: http://bit.ly/1myPIi1
Gino McCray blushes are some of their best known products, with the two main lines being The Professional and Heritage. The Heritage Blush, which goes for THB 379 (USD 12), is highly pigmented and suitable for Asian skin, with just the right amount of shimmer to it. The Professional Makeup Blusher in the peachy pink Sandra Rose (No. 4) shade has also been claimed as a dupe for the famous NARS Orgasm, and at the price of less than USD 10 for a generous amount of product, it is great value for money!
Price: <USD 15 (for basic makeup products)
Taiwan
With variety shows like Lady First (女人我最大) being one of their most popular television shows, and various makeup artists achieving celebrity status, it is evident that Taiwan is a beauty-obsessed country. While their local brands may not be as dominant as Japanese and Korean brands, many of them have still amassed a loyal following across Asia, and are definitely worth buying!
Facial Sheet Masks: My Beauty Diary, LoveMore, Dr. Morita, FaceQ and more
If there's one beauty product you need to get when you're in Taiwan, it'll be their facial sheet masks. Much like other Asian countries, Taiwan is highly passionate about skincare, and in particular, facial care is an area in which Taiwanese beauty brands have excelled in. My Beauty Diary is perhaps the most well known facial sheet mask brand originating from Taiwan, but don't forget to try out some of their other popular brands too, such as LoveMore and Dr. Morita!


Image credits: Cosmed
Of course, there are other Taiwanese brands besides those listed above that manufacture sheet masks too – just drop by one of the numerous Watsons or Cosmed drugstores and you'll be treated to an overwhelming variety of sheet masks. Other than being used to pamper yourself, these sheet masks will make great gifts for your family and friends too. Just remember to set aside some space in your luggage for the boxes of masks you'll inevitably buy!
Price: <USD 2 for one mask sachet
Japan
When it comes to beauty and fashion, Japan always seems like it's a step ahead of the rest of Asia. It's thus unsurprising that some of the most famous (and expensive) beauty brands originate from Japan, such as SK-II, Shu Uemura and Shiseido.
There are still many lesser-known Japanese brands that have yet to expand overseas, however, and here, we'll introduce you to various cult products that you need to add to your haul when visiting Japan!
FAIRYDROPS
If you're a beauty addict, chances are you've already heard of Fairydrops, and in particular, their Scandal Queen Mascara. Japanese cosmetics brands have consistently produced excellent mascaras, with various brands like Dolly Wink, Heroine Make and Majolica Majorca coming up with many well-reviewed mascaras that have quickly made their way to the shores of countries all over the world.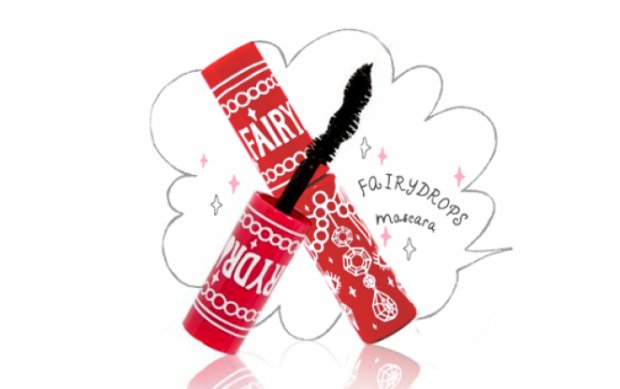 Image credits: Fairydrops
Fairydrops has however remained largely confined to Japan and the online retail world, and it can be difficult to get your hands on their products. The Scandal Queen Mascara combines curl, length, volume and is also waterproof, with the unique three-puff arched brush helping to reach all of your eyelashes. Five treatment essences in the mascara formula also protect and nourish your lashes – what more could you ask for in a mascara?
Price: ~USD 25 for Fairydrops mascaras
Hakuhodo, Chikuhodo, and Suqqu
Brushes galore! Some of the world's best makeup brushes are produced by Japan, as attested by many beauty bloggers and vloggers. Brushes produced by Japanese brands like Suqqu (manufactured by Chikuhodo) have found their way into the makeup kits of many professional makeup artists – for example, renowned makeup artist Lisa Eldridge has listed many Suqqu brushes as staples in her kit.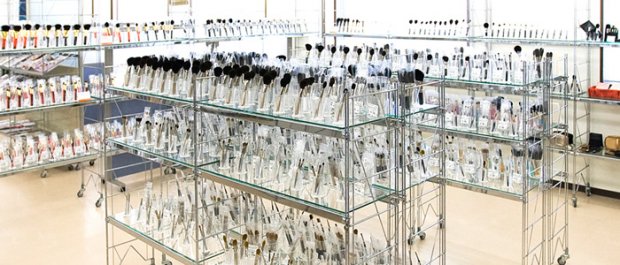 Image credits: Hakuhodo
What makes these Japanese brushes so good? All brushes manufactured by these Japanese brands are handcrafted, and thus have tapered tips. Compared to the usual machine-cut brushes, they are likely to feel less harsh and scratchy, and many reviewers have contended that these brushes are well-worth their higher price tags.
Here's a rundown of the Japanese brush brands you should look out for: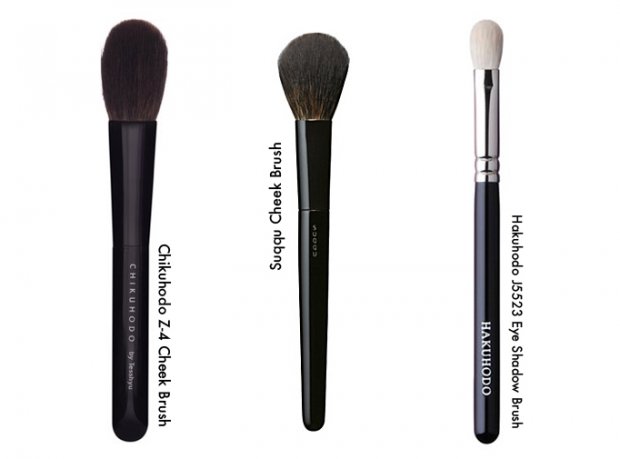 Chikuhodo utilises traditional Japanese brush making styles for their handmade brushes, and has built a reputation as one of the most respected brush makers in the world. Every brush is handmade by 100 artisans over one week, and are a luxurious indulgence for makeup users. Their Z-Series is one of their most well-known brush ranges, and despite costing up to USD 200, are still highly sought after all around the world.
Suqqu's award-winning, lightweight brushes can be identified by their black lacquered handles, and their most famous brush would be their cheek brush, which costs around USD 145. This brush supposedly diffuses and blends out colour beautifully, leading to many declaring it as their all time favourite blush brush.
As compared to Chikuhodo and Suqqu, Hakuhodo would be a more budget friendly brand, with their B, J, K and G series going at similar prices to MAC. A few of their eye brushes have also been named as dupes for MAC brushes – for example, J5523 is a MAC 217 dupe, and J242G is a dupe for MAC 239, while both being softer and less scratchy than the MAC counterparts. Their Yachiyo brushes (traditional japanese blush brushes) are also fantastic for multitasking depending on their sizes, and have been said to be suitable for pigmented blushes, applying colour that looks soft and well-blended.
Price: USD 15-500+ (depending on the brush series)
Jill Stuart
The Jill Stuart makeup line is exclusive to Japan with Kose acquiring the exclusive licensing rights for this brand. Products you should try from Jill Stuart include their Mix Blush Compact and Jelly Eye Colour N, a jelly-like eyeshadow.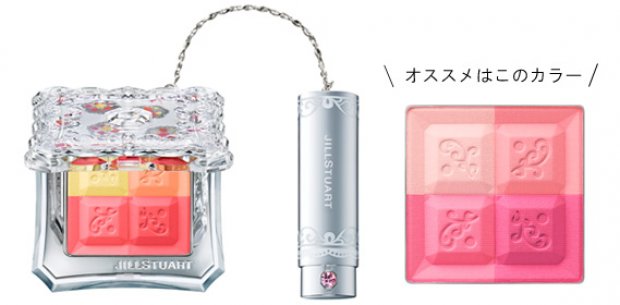 Image credits: Jill Stuart
The blush compact comes with a high quality goat hair brush, and has four different colours in a single compact. The brightest, pigmented colours would be great as long-lasting blushes, whereas the lightest colours can be used as a highlight as well.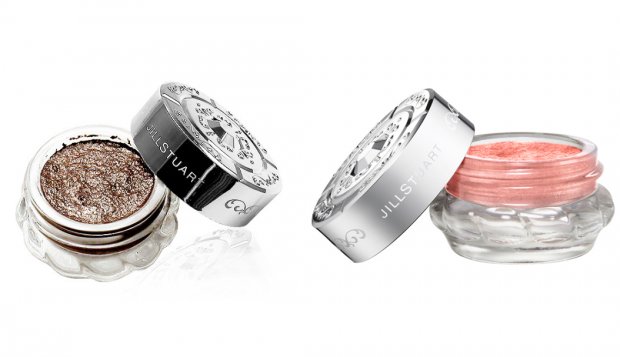 Image credits: Jill Stuart
Jelly Eye Colour N is a shimmery eyeshadow, and can be used as a topcoat to add shine onto your first layer of eyeshadow. Its finish has been compared to the famous Giorgio Armani Eyes to Kill Eyeshadow – with 13 shades to choose from, you'll be tempted to get multiple pots for your makeup collection!
Price: USD 44 (Mix Blush Compact), USD 22 (Jelly Eye Colour N)
Korea
Korean cosmetics brands are perhaps some of the trendiest in the world right now, no thanks to the Hallyu Wave and the ensuing popularity of Korean pop and drama stars. Millions in Asia are turning to Korean beauty products in a bid to achieve the porcelain-perfect skin of Korean stars, and brands like Etude House have taken advantage of this trend, opening one store after another in various Asian countries.
Besides Etude House, brands such as The Face Shop, Skin Food and Nature Republic are also likely to sound familiar to you, but these more well-known brands are far from all that Korea has to offer. There are plenty of lesser-known Korean beauty brands that are highly popular domestically but have not made the leap overseas – if you are visiting Korea, do make sure to grab a few of these much raved about products and find out for yourself if they live up to the hype!
IOPE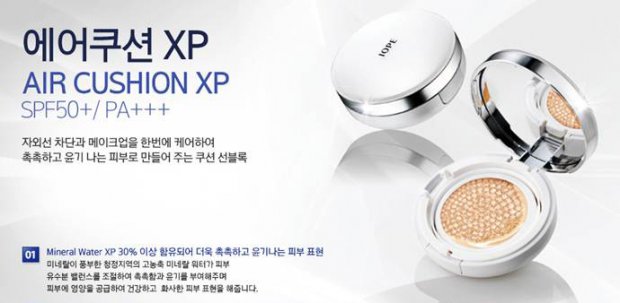 Image credits: IOPE
IOPE is the first Korean cosmedical brand, and has been steadily growing in prestige around Asia. IOPE's best seller is the IOPE Air Cushion XP, which contains multiple vitamins and gives a dewy finish while evening out skin tone. This foundation is moisturising and contains SFP50+/PA+++, meaning that it can also double as a sunblock as well. Being compact and portable, no extra tools are needed besides the included puff, which makes it great for touch ups on-the-go!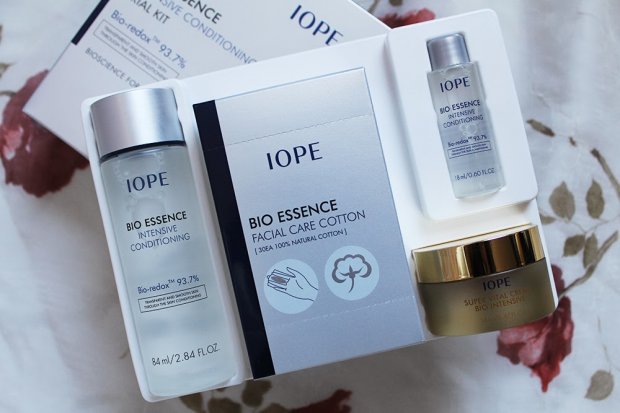 Image credits: http://bit.ly/WuHpic
Other products to try include their Bio Essence Intensive Conditioning, an essence which promises to restore your skin condition, giving you clear and smooth skin within three days, and their Whitegen skin care line, which brightens your skin tone and removes blemishes.
Price: USD
Benton
If you're looking for skincare rather than cosmetics products, Benton is a Korean brand that you should take a look at. Some of their best-reviewed products include the Snail Bee High Content Essence and Snail Bee High Content Steam Cream – yeah, you read that right – this essence uses snail (yes, snail) and bee extracts! Extracts from these two animals have been proven to be incredibly beneficial for skin, and products from Benton have utilised them to great effect, becoming some of the most hyped-up skin care products online.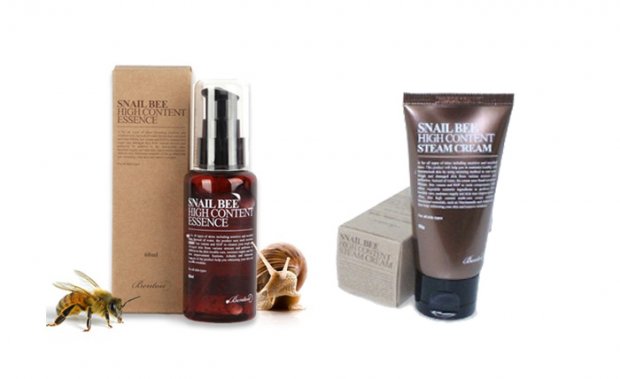 Image credits: Benton
The Snail Bee High Content Essence is a serum that is marketed as being anti-acne, anti-wrinkle, whitening and brightening. It is supposedly good for troubled and sensitive skin, with many bloggers crediting it with helping them with their acne issues. The Steam Cream, on the other hand, is a moisturising cream that promises to help with multiple skin issues, and has similarly been well-reviewed online. We are kind of cheating with this brand, since it's also only available online in Korea, but the products will reach you a lot faster if you're there rather than overseas, so you should think of ordering this if you happen to be there!
Price: ~USD 15
Aritaum
Aritaum is a cosmetics store owned by Amore Pacific, retailing many of their mid-range brands including Laneige and IOPE. However, this does not mean that they do not have their own products as well – Aritaum's Wannabe Cushion Tint, released in 2013, is one of their most popular products. With its sponge smudging applicator that helps with blending, the Wannabe Cushion Tint makes creating the trendy Korean gradient lip much easier.

Image credits: Aritaum
This tint is a matte lip product with a creamy, pigmented formula that applies smoothly, and comes in 21 shades. At the affordable price of KRW 9000 (USD 9), be sure to grab a few of these tints while in Korea! Another lip tint to try from Aritaum would also be their Honey Melting Tint, a tinted lip balm which has garnered great reviews since its launch this year.
Price: <USD 10 (for their lip tints)
Mamonde
Mamonde's Real Skin Founder has been receiving much love from various beauty bloggers and vloggers recently, especially after Yuri, a member of the popular K-pop group SNSD, posted a photo of herself on Instagram using this very product. Real Skin Founder comes in a classy looking compact, and the product itself is a combination of foundation and powder, which promises to give your skin a natural glow while covering any blemishes on your face.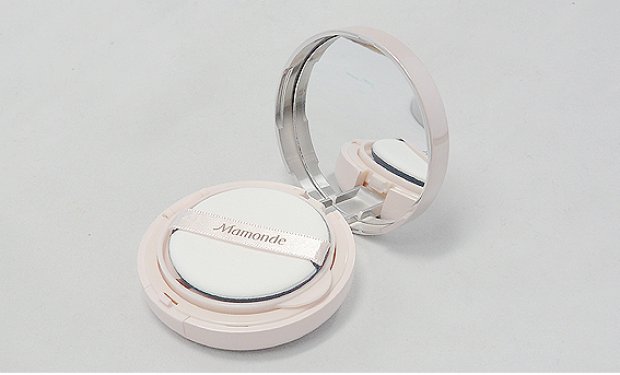 Image credits: http://bit.ly/UoJ0Ev
Mamonde products are known for their high quality, and while the company expanded to China back in 2005 and Thailand recently in 2013, most countries in Asia (and needless to say, the rest of the world) have not had the pleasure of welcoming this brand to their malls. Do pick up their Real Skin Founder if you happen to be in Korea, China, or Thailand! Another product worth putting on your shopping list is their First Energy or First Flower Serum, which uses pure flower extracts to revitalise and nourish skin.
Price: ~<USD 30
Banila Co.
Many have said that Banila Co.'s stylish packaging is reminiscent of Benefit Cosmetics, the immensely popular American brand, and that is definitely a plus for Banila Co. in our books. Banila Co.'s best selling products are their CC creams and primers, such as the It Radiant CC Cream and Prime Primer.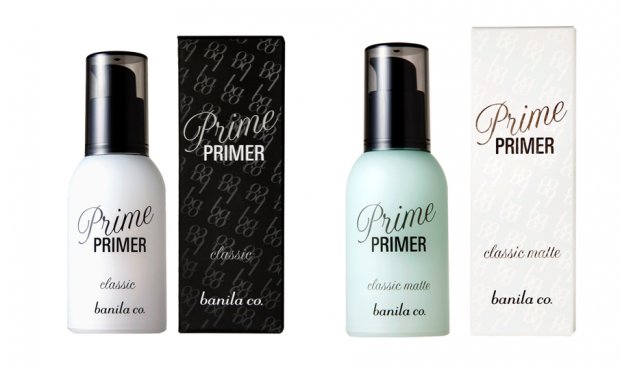 Image credits: Banila Co.
Banila Co.'s primers are considered some of the best in Korea, and the Prime Primer is marketed as being great for sebum control and of course, makeup maintenance, ensuring that your makeup remains intact throughout the day.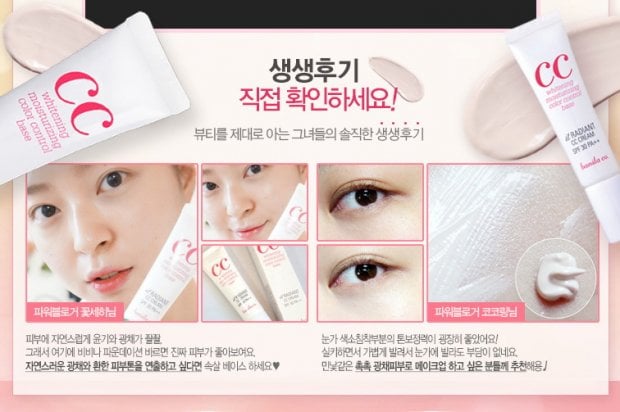 Image credits: Banila Co.
The It Radiant CC Cream, on the other hand, is not only Banila Co.'s best selling product, but also one of the best selling CC creams in Korea – no mean feat, considering the level of competition in the Korean beauty industry. CC creams differ from BB creams in that they serve to combat issues such as redness and sallowness, as their name suggests (CC stands for Colour Correcting), and tend to be lighter on the skin compared to BB creams. If you're looking to try a CC cream, Banila Co.'s It Radiant CC Cream should probably be at the top of your list.
Of course, these are still only a small introduction to the brands available in Korea, but it'll be a good start to take a look at these brands and products if you're ever visiting this beauty-obsessed country!
Price: ~<USD 30