Koh Kret is just a short distance from the hustle and bustle of the chaotic Thai capital of Bangkok, yet the peace and tranquillity on the river island make it seem almost a million miles away. Once part of the mainland, the island was created in the 1720s when a canal was built to shorten the travelling time and ease navigation along the river. Now completely surrounded by water, the only way to reach the community is by boat.
Here's everything you need to know for an enjoyable day on the quaint island:  
People of Koh Kret
Koh Kret has historically been home to people from the Mon ethnic group who are typically associated today with the neighbouring country of Myanmar. It is, however, a group that once also lived in the central areas of Thailand. Islanders still retain many of their old customs and traditions, and it is fairly easy to see differences between religious practices, food, clothing, and language.  
Pottery making on Koh Kret
Koh Kret is famous for its traditional Mon-style pottery, known as kwan aman. Detailed terracotta pieces include bowls, vases, candlesticks, incense holders, and lanterns. Several pottery villages and homes are dotted around the island. Watch as craftspeople create intricate items ready to fire in large kilns. There are also plenty of opportunities to purchase locally made pottery. The small pottery museum close to the main pier and Wat Poramaiyikawas is a good place to take a peek at the different types of wares produced on the island. It may not be that informative, but it's interesting for a quick stop nonetheless. Kwan Aman Pottery Museum is another place to add to your Koh Kret travel list if you are interested in the island's pottery heritage.
Spiritual sites on Koh Kret
In addition to the plentiful shrines and spirit houses that can be found almost everywhere around the island, Koh Kret is home to two significant temples: Wat Poramaiyikawas and Wat Sao Thung Thong. Wat Poramaiyikawas, a popular pilgrimage spot, is the largest temple on the island and it's a good place to get a taste of the Mon Buddhist practices. Many of the monks chant in the Mon language and sacred texts can be found written in the Mon script. On top of a long reclining Buddha, a large seated Buddha, and many smaller statues of the Lord Buddha in various postures, the temple also houses one of Koh Kret's most well-known landmarks: a gleaming white leaning chedi, draped in a vibrant red cloth. Wat Sao Thung Thong dates back to the Ayutthaya period and combines traditional Mon and Thai elements. Wat Chimplu Suttahawat, on the eastern side of the island, Wat Phai Lom, and Wat Salakun are also worth quick photo stops.  
Nature on Koh Kret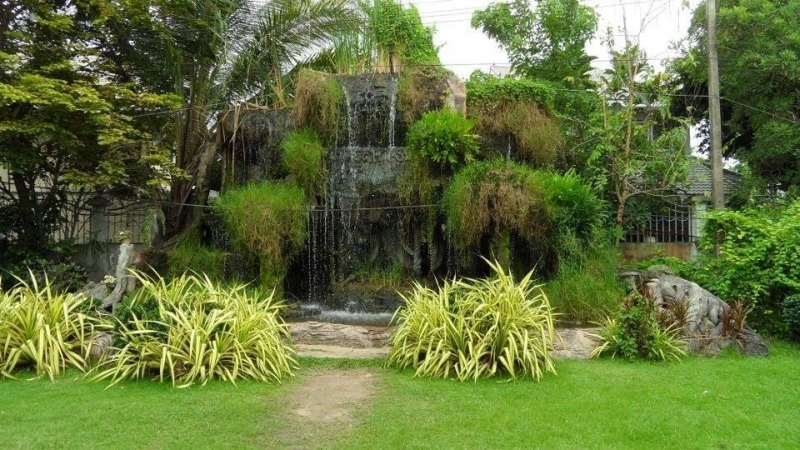 Koh Kret is a rustic and rural island, with bountiful orchards, lush gardens, watery patches of lotus plants, tall trees, and a rather rugged feel, especially when compared with Bangkok. Chickens peck at the ground, dogs nap at the edges of pathways, cats snooze in doorways, and various bird species fill the air with joyous song. Simply follow the marked trail around the island and you will quickly find yourself in the heart of nature.
The Demonstrative Local Vegetable Plantation provides a good overview of farming practices on the island and different produce grown on Koh Kret, and the artificial waterfall and pretty park next to Wat Phai Lom make for lovely pictures. The benches and well-tended grass may also tempt you to rest your feet for a while and take a break.   
Market on Koh Kret
If you visit Koh Kret on a weekday you will find a small selection of local shops and restaurants and will be able to enjoy the island at its most serene. The weekend, however, is a great time for shopaholics and bargain hunters to visit, as the island hosts a large riverside market each Saturday and Sunday. The narrow lanes through the market can feel quite claustrophobic, though, as many fun-seeking Thais also have the same idea to escape the city for a few hours. As soon as you're away from the market, the island's peace and quiet returns.
The market sells a huge variety of items, from clothing and kids' toys to souvenirs and, of course, pottery. There are also many different foods and drinks to sample as you meander from place to place. Fried fish cakes, fermented eggs surrounded by fish cake, the Mon delicacy of khao shae, and coconut sweets are especially abundant on Koh Kret.  
Performance on Koh Kret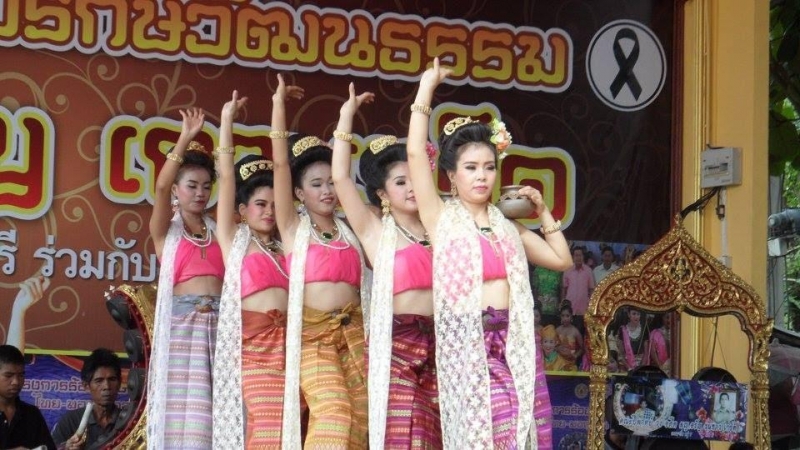 Small traditional dance performances are held at various times over the weekend on a small stage at the far end of the weekend market. Dancers wear traditional outfits and they dance to tunes played by live musicians. Truly celebrating the island's industry (or, perhaps, playing up to visitors' expectations?), the dances feature small terracotta pots!   
How to get around Koh Kret
There is no public transportation on Koh Kret, though several motorbike taxis do zip along the narrow lanes. A six-kilometre walking trail leads around the island, and bicycles are available to rent if you don't fancy using your feet all day. Several smaller tracks lead away from the main trail, letting you immerse yourself even more in nature and the peaceful lull of local island life.  
How to reach Koh Kret
While several operators make stops at Koh Kret as part of longer trips along the waterways, travelling to Koh Kret on your own isn't as difficult as you may at first think. Catch a city bus out of central Bangkok to Pak Kret, an area within Nonthaburi province. Once in Pak Kret, you can catch a tuk tuk or taxi to the pier. Alternatively, it is just a short walk of around half a kilometre. While the pier may not be very well signposted, the temple of Wat Sanam Neua is easy to find; the pier can be found towards the rear of the temple. Services are frequent during the daytime, and the crossing time is just a few minutes.