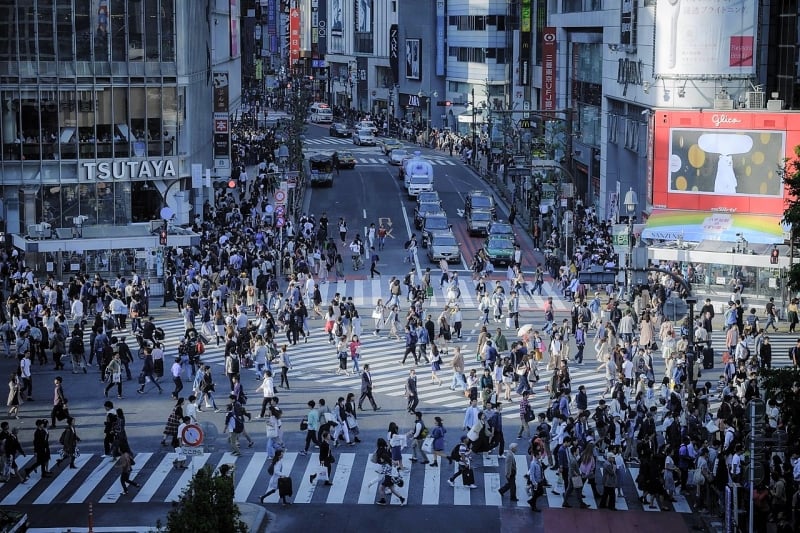 Shibuya is one of Tokyo's more iconic districts with its extremely photogenic scramble crossing, bright lights and vibrancy. As a tourist, it's a must-go spot when visiting Japan, not just for the trademark crossing, but the abundance of shopping, dining and rich nightlife!
There's no lack of food options in this bustling area, but everyone knows that sometimes the best food isn't found in the fanciest of restaurants; rather, you can sniff out the most authentic (and affordable) eateries by following the locals. Here's our guide to eating like a local on a budget in Shibuya.
1. Katsuya – かつや
Katsuya is only a five-minute walk from Shibuya station and offers a range of crispy katsu meals. Choose between a katsudon (fried pork cutlet with egg rice bowl) or a tori katsu (fried chicken cutlet) with tasty Japanese curry and served with steaming rice among heaps of other options! An establishment mainly frequented by locals, prices go from 500 yen to 900 yen, depending on what you order.
Address: Tokyo, Shibuya, Dogenzaka 2-9-2, Masami Building 1F
Opening Hours: 7:00am – 4:00am daily
Phone: +81-3-5459-2481
Website: http://www.arclandservice.co.jp/katsuya/ (Japanese only)
2. Tou Soba – 唐そば
Ramen is a staple in Japan and this well-loved store near the Hachiko exit of Shibuya station dishes out flavourful and comforting bowls of ramen at affordable prices. Their tonkotsu broth is rich yet irresistibly addictive and has the right amount of umami to make you want to kaedama (add noodles). Their tsukeman, (a dipping version of ramen) is also very popular and a fun way to get your noodle fix!
Address: Kowa Build. 1F, 2-22-6 Shibuya, Shibuya-ku, Tokyo
Opening Hours: 11:00am – 11.00pm daily
Phone: +81-03-3486-0147
3. Negishi – ねぎし
Negishi offers a classic Japanese delicacy: beef tongue, grilled to perfection and alongside tororo (sticky Yamato yams) and pearlescent barley rice. Before you get squeamish about it, you should know that beef tongue is a crowd favourite in Japan due to it being a much less fatty option compared to steak, with a unique texture and rich taste. It may be slightly pricier compared to other lunch deals you might be able to get around Shibuya, but for the quality that you're getting, it's a really affordable luxury meal of sorts.
Address: Tokyo, Shibuya, Dogenzaka 2-29-8, Dogenzaka Center Building B1
Opening Hours: 11:00am-11:00pm daily
Phone: +81-3-3770-0227
Website: http://www.negishi.co.jp/US/index.html
4. Hashidaya – はし田屋
Specialising in chicken and eggs, Hashidaya only has three things on the lunch menu and a very, very long queue. Featuring fresh produce, order the Oyakodon and expect to receive a bowl of white rice with tremulous, golden egg and succulent chicken chunks for 850 yen. Alternatively, get the Nanban chicken which is chicken deep fried in egg batter served with fluffy rice. Drooling yet?
Address: 3-15-4, Shibuya, Shibuya-ku, Tokyo, Japan
Opening Hours: 11:30am – 3:00pm, 6:00pm – 12:00am
Phone: +81-3-5774-4105
Website: http://www.hashidaya.com/shibuya/index.html (Japanese only)
5. Nadai Fuji Soba – 富士そば
Whether you crave a piping hot bowl of soba on a cool day or a cold soba to ease the summer's heat, Fuji Soba has exactly what you need and an assortment of ingredients to suit your mood. If you're not a big fan of soba, they also have udon, Japanese curry rice and other rice bowls. A favourite with locals for a quick meal, it's also extremely affordable with prices starting at 300 yen. Don't forget to try the tempura that's been lightly fried to perfection!
Address: 1-14-15 Mori Building 1st Floor, Shibuya-ku, Tokyo
Phone: +81-03-6276-3852
Website: http://fujisoba.co.jp/ Japanese only)
6. Sutadonya – 伝説のすた丼屋
Bring your stomach to Sutadonya, an eatery that serves up sutadons, meaning stamina bowls, that seem like a foodie's dream come true. These bowls come heaped with rice with a hearty, fragrant mixture of pork, egg and veggie sitting atop in a small mountain. Even if you aren't ravenous, the aroma of garlic will pull you into the shop and you'll find yourself devouring your stamina bowl, no problem! Expect to pay upwards of 600 yen depending on how much you add on or choose to upsize!
Address: Tokyo, Shibuya, Dogenzaka 2-6-7, Dogenzaka T Building 1F
Hours: 11:00am – 11:00pm daily
Phone: +81-3-6416-1587
Website: http://sutadonya.com/shop/shop12/ (Japanese only)
7. Shibuya Gyoza – 渋谷餃子
Specialising in thin-skinned gyozas, Shibuya Gyoza is the definition of go hard or go home. You can order six gyozas for 290 yen or… 20 pieces for 880 yen, 30 pieces for 1290 yen and 40 pieces for 1680 yen. Your choice.
If you're slightly hesitant about ordering that many, sample from four different styles of gyoza ranging from fried to boiled, although a word of warning, the spicy gyoza soup is not for the faint-hearted. There is also a wide selection of other side dishes and rice staples that you can choose from, including 600 yen fried rice!
Address: 30-3 Udagawachō, 宇田川町 Shibuya-ku, Tōkyō-to 150-0042, Japan
Opening Hours: 11:00am – 5:00am (Mon – Sat), 11:00am – 11.30pm (Sun)
Phone: +81 50-5788-7125
8. World's 2nd Best Freshly Baked Melon Pan Ice Cream – 世界で2番めにおいしい焼きたてメロンパンアイス
Japan is rife with bakeries that tout this delightful bun, the melon pan. But in Shibuya is where you will find the world's second-best freshly baked melon pan, with the world best being their master's! For a quick snack, stop by this shop to get melon pan straight out of the oven, gently crisp and sweet on the outside and fluffy on the inside for 200 yen. To experience the vaguely confusing and overall fascinating mouthfeel of warm melonpan and ice cream, choose from a range of ice creams to have with your bread and you will be given a straw-spoon to savour every bit!
Address: 1-15-9 Iwase Building, Shinjyuku-ku , Tokyo 150-0041, Tokyo Iwase Building
Opening Hours: 11:00am – 10.00pm daily
Website: http://melonpan-ice.com/ (Japanese only)
9. Uoriki Kaisen Sushi – 魚力
Located in the basement of the Tokyu department store, Uoriki is known for their incredibly fresh seafood at reasonable prices. Their 10 piece sushi set is 990 yen while other sushi sets including fatty tuna and an extremely generous chirashi don (sashimi rice bowl) priced at 1390 yen. While it's not charging exorbitant prices like other sushi places, it's not the cheapest thing on this list either, but for the outstanding quality, brilliant service and hearty portions, it's worth every yen.
Address: B1 Tokyu Department Store,2-24-1 Dogenzaka, Shibuya, Tokyo 150-0002, Japan
Opening Hours: 10:00am-9:00pm daily
Phone: +81 3-3477-4633
10. ToriKiZoku – 鳥貴族
Torikizoku is a popular chain of outlets that serve skewers and beer all at 298 yen! Although their signature skewers are chicken, you can also find an assortment of beef and pork skewers in various marinades and a good number of side dishes to go with that tall mug of beer. This is perfect for a late night supper although if you don't make reservations in advance, be prepared to queue!
Address: 5th Floor 1st Aibo Building, 1-7-1 Dogenzaka, Shibuya-ku , Tokyo 150-0043
Opening Hours: 5:00pm-5:00am
Phone: +81-3-6416-3622
Website: https://www.torikizoku.co.jp/ (Japanese only)
Being a food lover's wonderland, Japan is gold standard with indecently large portions, excellent quality, hospitality that puts everyone else to shame and a spread of choices that you'll inadvertently eat your way through your trip there.
With this list, you don't have to worry too much about bankrupting yourself as you hunt for some of the best food in the Shibuya district! Ready, get set, go eat!