Frequently dubbed as the Fifth Avenue of Japan, Ginza in Tokyo is one of the poshest districts in the country. Valued at ten million yen (approximately S$120,000) per square meter, Ginza is arguably one of the most expensive real estates in the country. You wouldn't want to miss the sights, attractions, and atmosphere Ginza has to offer!
Shopping:
1. Ginza Chuo-dori Street
 Chuo-dori Street is the main street that runs through the Ginza District, spanning almost two kilometers, flanked by boutique stores like HERMÈS and Louis Vuitton. With the road closed on the weekends, shoppers get to free-roam on the streets and are treated with street performers littered along the path to liven the atmosphere. As you stroll down the street at night, you'll get a taste of what it's like to be at Time's Square in NYC and Hongdae in Seoul!
Address: The ends of Chuo-dori Street are at Shimbashi station and Kyobashi station, with Ginza station in the middle of the stretch. Visitors can visit the street from either of the stations.
2. Ginza Ito-ya
Ito-ya is Japan's oldest chain of stationery stores and its flagship store in Ginza is the largest in Tokyo, boasting 7 floors of aesthetically designed space with a different category of items on each of them. It's easy to spend hours in there just admiring the aesthetics and taking part in their activities, such as customising your own notebook, or sending a wooden postcard that can be turned into a kokeshi doll! After browsing the selection of stationery that they have, you can head up to the café on the top floor of the building to chill and have a taste of locally grown vegetables that the grow just a level below the café!
Address: 2 Chome-7-15 Ginza, Chuo-ku, Tokyo
Website
 3. Ginza Mitsukoshi
Mitsukoshi is the oldest surviving department store chain in Japan, and the branch at Ginza has been standing since 1930. 12 stories high, the Ginza Mitsukoshi has everything you possibly need/want/can imagine! If you get tired of walking through consumer products, head down to the food hall and supermarket at B2 and B3 to indulge yourself in a wide variety of foods and pack home some snacks for the family back home!
Address: 4 Chome-6-16 Ginza, Chuo City, Tokyo, 104-8212, Japan
4. Uniqlo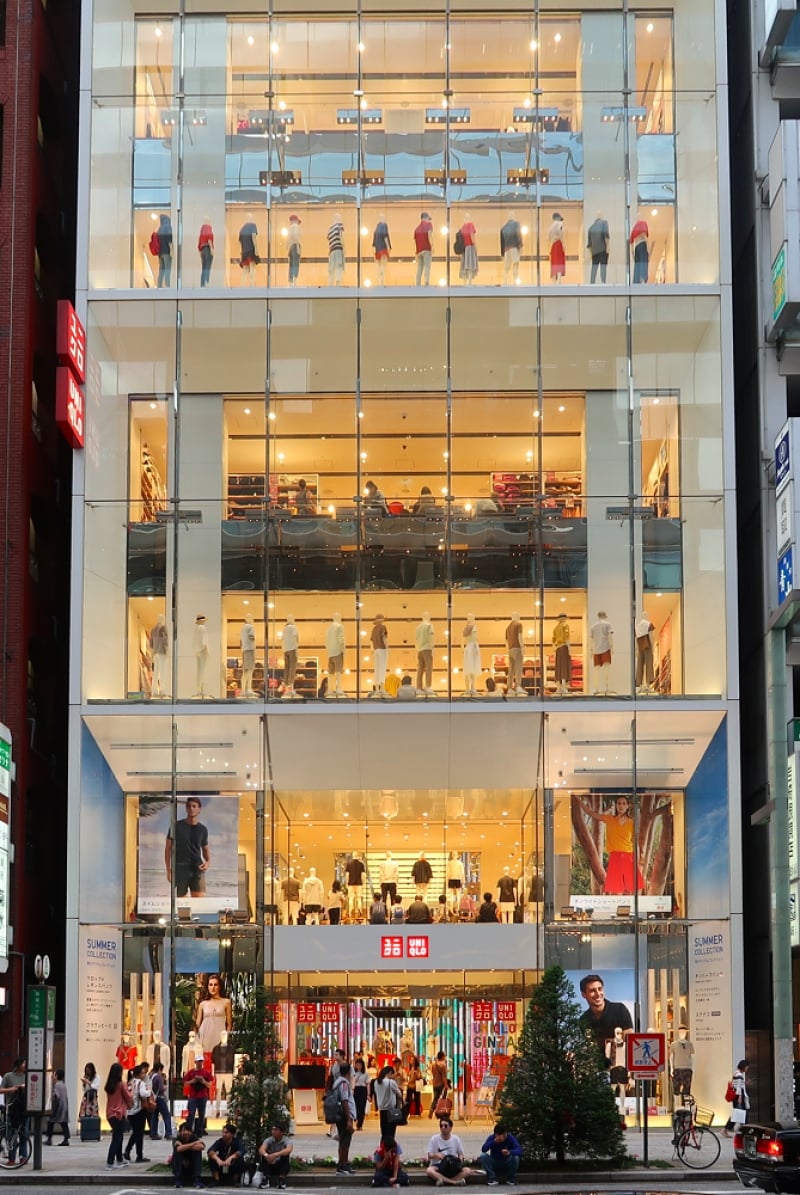 "The best uniqlo in the world" can be found right here in The Ginza! With 12 storeys, this is the fullest Uniqlo shopping experience you will ever have! Don't forget to leave the store with the items unique only to Japan, like the Yukata! 
Address: Japan, 〒104-0061 Tokyo, Chuo City, Ginza, 6 Chome−9−5 ギンザコマツ東館1-12F
Food:
5. Bvlgari Afternoon Tea
If soaking up the posh atmosphere of The Ginza is not enough and you want to bring your fanciness up a notch, check out the Bvlgari IL Bar's Afternoon Tea Box! It is a 3-layed box with scones, sliders, sandwiches, served with homemade jams, compotes, and the famous Bvlgari chocolate gem. Way to experience the Japanese high life!
Address: 2 Chome-7-12 Ginza, Chuo-ku, Tokyo
Website
6. Eat at Sukibayashi Jiro – 3 Michelin-starred restaurant
Sukibayashi Jiro in Ginza is one of the most famous sushi restaurants in the world. With a 3-star Michelin status, Sukibayashi Jiro gives a special omakase experience with sushi-master Jiro Ono and his son, with many A-list celebrities like Arnold Schwarzenegger, Tom Cruise and David Beckham as patrons. The restaurant also has its own documentary: Jiro Dreams of Sushi, and is also one of the reasons for its popularity.
Reservation queues are as long as they get, and they usually have to be made at least one month in advance so remember to book early!
Address: Japan, 〒104-0061 Tokyo, Chuo City, Ginza, 4 Chome−2−15 塚本総業ビルB1階
Website: https://www.sushi-jiro.jp/shop-info/
7. Bar Lupin
Lupin is a coffeeshop-turned-bar that opened for business in 1928. Since its beginnings, Lupin has been a gathering place for intellects, drawing famous names such as Satomi Ton, Izumi Kyōka, and other well-known personalities in the arts scene. The bar has an old rustic 1930 feels to it and is always packed with customers knocking back a few after work. The bar is also home to some of the best bartenders in Japan,. It's definitely one of the more unique bars in Ginza and worth checking out!
Address: 5 Chome-5-11 Ginza, Chuo City, Tokyo 104-0061, Japan
8. Ginza Gyuan
Gyuan Ginza is home to the most affordable quality Kobe Beef in the area, with lunch prices as low as 1,000 Yen (~S$13)! Be spoilt for choice with a variety of cooking styles – hamburg, steak, sukiyaki, and shabu shabu; it is a definite must-go if you are stopping by Ginza.
Address: 6 13, 6-chōme, Ginza Chūō-ku, Tōkyō-to, 104-0061, Japan
9. Ginza Kitafuku
Ginza Kitafuku is the place to go for the freshest Red King Crabs you can find! It is the second branch of the Kitafuku chain, with the first branch having a 1-star Michelin status. It is so fresh that you can see the crabs swimming right before your eyes moments before you receive them on your plate, cooked (or uncooked) the way you want! Yes, they serve it as sashimi if you like yours that way.
Address: Ginza 745 Building 3F, 7-4-5, Ginza, Chuo, Tokyo, 104-0061, Japan
Website: http://kanikitafuku.com/ginza/index.html
10. Haneda Ichiba Ginza Seven
Haneda Ichiba Ginza Seven serves the freshest Edo-style sushi in Tokyo as compared to other sushi restaurants, as they have a special method of obtaining their fish. Unlike other restaurants that rely on land and sea delivery systems, Haneda Ichiba Ginza Seven has their fish air-flown to ensure the best and freshest fish reaches the plates of their customers. Besides the freshness of the fish, another pull factor of this restaurant is the all-you-can-drink sake while you enjoy your meal! How great does that sound!
Address: 7-14-15 Ginza, Chuo-ku, Tokyo
Things to do:
1. Ginza Yon-Chome (4-Chome) Intersection
The Ginza Yon-Chome Intersection is a less crowded, but equally as exciting intersection as the Shibuya Crossing. Lying in the center of the Ginza District, this is the intersection of the Chuo-dori street and the Harumi-dori street, landmarked by the Ginza Mitsukoshi department store and the Yako Clock Tower. This is also one of the best photo spots in Ginza!
12. Ginza Place
Standing out from the other buildings in the district, Ginza Place boasts stunning architecture and is the tallest building in the area. It has a Nissan showroom where car enthusiasts can go to check out the newest electric cars from the manufacturer. But that is not the main highlight of the building. The true attraction of this place is the balcony on the 3rd and 7th floors, where visitors can hang with a view over the district, and taking insta-worthy shots for the gram.
Address: 5-8-1 Ginza, Chuo-ku, Tokyo
Website
13. Kabuki-za Theatre
If you have some time on your hands, why not catch a traditional Kabuki performance at the Kabuki-za Theatre? The Kabuki-za Theatre was proclaimed as an intangible heritage possessing outstanding universal value by UNESCO in 2005, and has a different performance every month! Make sure to catch a show there if you are interested in traditional Japanese culture, but if you're not into these things, it does serve as a nice photo spot too!
Address: 4-12-15 Ginza, Ginza, Chuo 104-0061, Tokyo Prefecture
Website
14. Ginza Haccho Shrines
Before it became the modern-day Ginza of commerce and affluence, Ginza used to be a neighbourhood with many shrines where people worshipped. There are 11 shrines in total by the side of the streets and there is an annual pilgrimage in November where people would visit all 11 shrines over the span of 3 days! These are good places to check out for a taste of pre-modern Japan!
15. Tsukiji Hongan-Ji Temple
Less than 10 mins walk away from Ginza is the Tsukiji Hongan-Ji Temple. It is a very modern temple reconstructed in the 1930s after the original temple was destroyed in a massive fire. Take in the beauty of a temple with rich history from the Jodo Shinshu Buddhist religion, coupled with modern architecture of the 20th century!
Address: 3-15-1 Tsukiji, Chuo-ku, Tokyo
Website
16. Ginza Shusshe Jizoson
The Ginza Shusshe Jizoson has had a rather interesting history. It was first discovered in a river during the Meiji period, and has no origin story to tell. It is now enshrined on the roof of Ginza Mitsukoshi and people often go there to pray for success in their jobs as superstition that because it was elevated from the dirt to the roof, people who pray at the jizo would receive similar blessings.
Address: 4-6-14 Ginza, Chuo-ku, Tokyo 
17. Wako Clock Tower
The Wako Clock Tower is one of the distinct landmarks in the middle of the Ginza District, overlooking the Yon-Chome Intersection. Modelled after the first clock tower that was destroyed in the Great Kanto Earthquake of 1923, the current Wako Clock Tower completed construction in 1932 and has stood tall ever since. It is one of the 'must see' things in Ginza and if you didn't snap a picture with/of it, were you even in Ginza?
Address: 4 Chome-5-11 Ginza, 中央区 Tokyo 104-8105, Japan
18. Tokyo Metropolitan Police Museum
If you have children, the Tokyo Metropolitan Police Museum will be a nice place to take them to, to learn about policing in Japan, and also taking pictures with uniformed policemen and police vehicles such as cars, motorcycles and a helicopter! It is a place to learn more about history, and also for some family bonding time!
Address: 3-5-1 Kyobashi, Chuo-ku, Tokyo
Website
19. Ginza Natsuno Main Store Konatsu
If you are someone who is into artsy things, do check out Ginza Natsuno, a shop that specialises in customised chopsticks. It holds more than 2,500 different styles of chopsticks and chances are that if you get a pair, no one within miles from you will own a pair with the same design! This is also where you can get unique souvenirs for your loved ones back at home.
Address: 1F, 6-7-4 Ginza, Chuo-ku, Tokyo 〒104-0061
Website
20. Hama-rikyu Gardens
At the outskirts of Ginza lie the Hama-rikyu Gardens, a nice park to stroll and unwind to escape from the hustle and bustle of the city. In the middle of the park is a teahouse where visitors get to enjoy fragrant matcha tea and desserts, along with the chance of experiencing the traditional Japanese tea ceremony. It is definitely a place not to miss!
Address: 1-1 Hamarikyuteien, Chuo City, Tokyo 104-0046, Japan
Don't forget to explore the rest of Tokyo too! Read 30 Fun Things to Do in Tokyo on Your First Visit [Updated 2019] for tips!