Located in the island of Kyushu, Fukuoka boasts rich history, gastronomical delights that will delight your taste buds, rich history that played a part in shaping modern Japan, and sights that will long be embedded in your memory.
While many choose to visit more popular cities like Tokyo, Osaka, and Hokkaido, Fukuoka is an equally modern city just waiting for a chance to shine. From expansive underground malls and performances featuring actual robots themselves to drinking from a longevity well, these are just some of the many things you can experience in Fukuoka.
We've planned a three day itinerary for first time visitors to Fukuoka that's guaranteed to make you come back for more. Don't believe us? Try it!
Day 1
Go Ramen hunting!
After being on the plane for countless hours, you must be famished. One word: ramen! Did you know that Fukuoka is actually the birthplace of tonkotsu ramen (or hakata ramen in Fukuoka)? "Tonkotsu" meaning pork bone, is the base for the ramen's rich, flavourful broth. The tonkotsu ramen is usually topped with a perfectly half boiled onsen egg, and generous slices of succulent pork belly.
Fill your bellies with this heartwarming dish and chase those hunger pangs away. Some travellers even claim that the ramen stores in Fukuoka surpass the standards of famous Ichiran and Ippudo. Be your own judge and see if you agree!
Learn about culture at Kyushu National Museum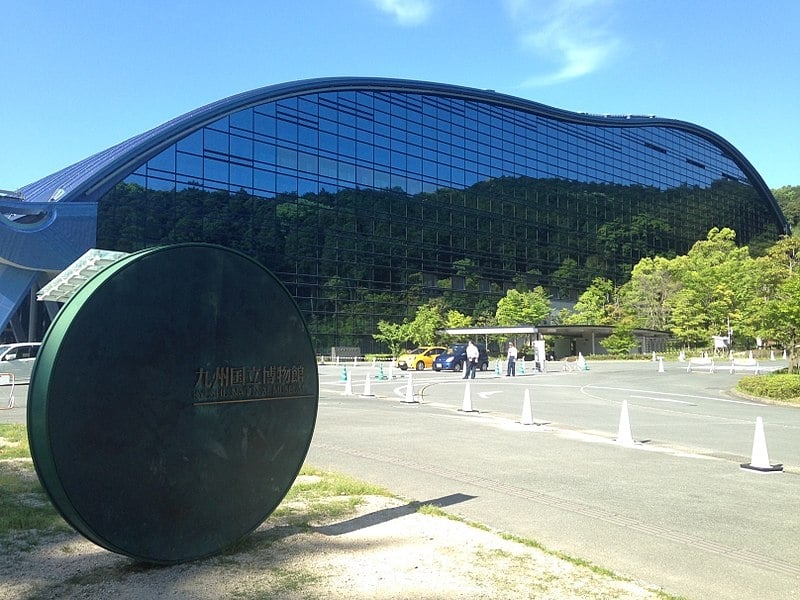 Now that your belly is full, head to the Kyushu National Museum for a relaxing afternoon while discovering the history behind various Asian civilisations. You may think that Kyushu National Museum only showcases monuments from Japan but that's where you're sorely mistaken! The fourth floor of the museum is dedicated to a Cultural Exchange Exhibition. You'll find various artifacts from all across Asia which showcase the cultural exchanges between Japan and other nations. You can also learn about Japanese history that spans from the prehistoric era to the Edo period at the main exhibition on the fourth floor.
Special exhibitions can be found on the third floor, and the best part is that the items on display change periodically so you will never come across two of the same artifacts. Throughout the museum, you will also find mini theaters that display short movies about Japanese and cultural history. One great example will be Silk Road, the Buddhas of Dunhuang which showcases the famous Silk Road, colourful Buddhist art and fascinating murals.
On the first floor, there is an Ajippa, a free interactive gallery, where visitors can experience an array of cultures and history all in one place. Feel like you've been transported to an Asian market surrounded with household goods, toys, and apparel. Workshops are often held here too, so you'll never get bored.
Address: 4-7-2 Ishizaka, Dazaifu City, Fukuoka, 818-0118
Opening Hours: 9.30am – 5pm (Tuesday – Thursday and Sunday; last admission at 4.30pm), 9.30am – 8pm (Friday and Saturday; last admission at 7.30pm)
Nearest Station: Dazaifu Station
Pay your respects at Dazaifu Tenmangu Shrine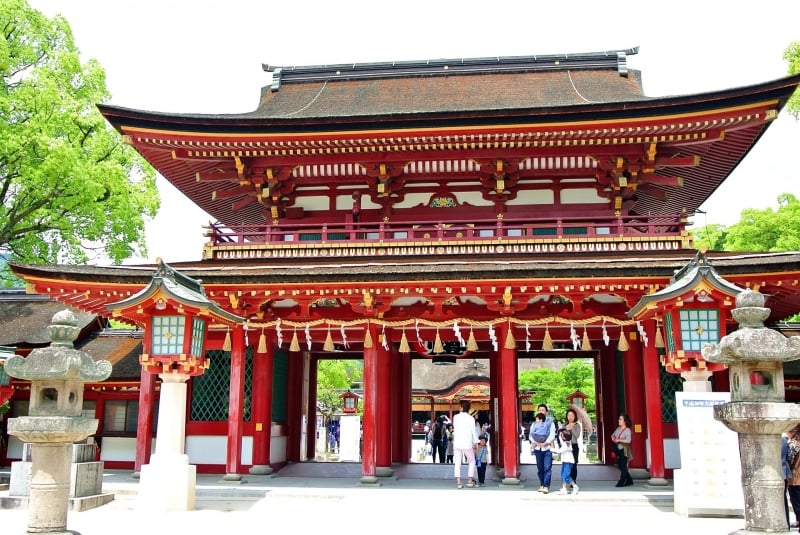 End your day by visiting the Dazaifu Tenmangu Shrine, home to the burial site of Sugawara Michizane who was a government official, prominent scholar, and a master calligrapher. Legend has it that In 903CE, he was wrongfully exiled from Kyoto, and passed away unhappily in Dazaifu. Soon after, Kyoto was plagued by disasters and the Government ruled that it was the doing of Michizane's restless spirit. The Government ordered the reinstatement of Michizane, and built a shrine where his body rests in memory of him.
Visitors will find over 6,000 plum trees of 197 variations scattered across the temple grounds. The most prominent is the one to the right of the Hondem (main shrine), name Tobiume, or the flying plum tree. Every year, in early January, Tobiume will be the first to bloom, and the remaining thousands of plum trees will follow suit to create a spectacular sea of pink and white flowers.
Address: 4-7-1 Saifu, Dazaifu-city, Fukuoka, 818-0195, Japan
Opening Hours: 6am – 7pm, Daily
Nearest Station: Dazaifu Station
Day 2
Feast on fresh seafood at Yanagibashi Rengo Market
Start your day bright and early with a visit to the Yanagibashi Rengo Market, also known as "the pantry of Hakata". This market is indeed the heart and soul of the locals. The first delivery arrives at 5.30am, and shop owners scramble to get their stalls ready for their first customers when doors open at 8am.
The Yanagibashi Rengo Market is a small market spanning only over 50 specialty seafood stalls, but vendors here truly pride themselves in quality over quantity. This is the perfect breakfast spot with plenty of local snacks to savour. Relish some mouth-watering mentaiko (hake or cod roe), fresh sashimi, abatteramo (dried fish) or opt for the gyoroke (fried fish).
Address: 1-5-1 Haruyoshi, Chuo, Fukuoka 810-0003, Japan
Opening Hours: 8am – 6pm, Monday – Saturday
Nearest Station: Hakata Station
Go crazy at Tenjin Underground Shopping Mall
Shopaholics, this will be your paradise! The Tenjin Underground Shopping Mall is linked to nearly 20 above-ground buildings and shopping malls, such as Daimaru, Tenjin Core, and Mitsukoshi. 150 shops line the subterranean cobblestoned walkways that serve as a mall and place of refuge in case of inclement weather.
You'll find a wide variety of the latest Japanese fashion trends, restaurants, and a food hall where stalls offer samples of various Japanese confections, such as mochi and other sweet treats for your tasting.
There are a few specialty shops namely the Hello Kitty shop where you can find anything and everything Hello Kitty-related, Suzunoya where you can purchase quality kimonos and accessories to complement and Sault where you can find quirky European-styled gifts and knick-knacks. Be sure to note that the prices here are slightly more expensive than regular malls, but it's still one to check out nonetheless!
If you get bored at the underground mall, simple head to the countless other malls and shop to your heart's content, or till you go broke, whichever comes first.
Address: Underground No.1 – No.3, Tenjin 2, Chuo-ku, Fukuoka City, Fukuoka Prefecture
Opening Hours: 10am – 8pm, Daily
Nearest Station: Tenjin Station
Relax at Kego Park and Kego Shrine
If you decide you need a break from all the shopping craze, head to Kego Park and Kego Shrine which is located right beside Tenjin Station. Kego Park is where many shoppers and business professionals snag a break from the bustle of malls and work. You'll find many people chilling in the park with a cup of coffee in hand while revelling in the serenity.
Located within Kego Park, Kego Shrine played a huge part in historical events such as the revolt of Fujiwara Sumitomo, and the Toi Invasion. Although the Kego Shrine is located amongst one of the busier districts in Fukuoka, visitors will be pleasantly surprised at how calm and quiet the shrine area is. The Kego Shrine was said to have been founded during Empress Jingu's conquest of Korea. But because her conquests are widely believed to be legendary, and not so much historical, the actual historical origins of the Kego Shrine still remain a mystery till today.
Come by the Kego Shrine in spring to catch a glimpse of the cherry blossoms in bloom! The best part about this place is that not many would make a trip down to see this obscure little shrine, so if you're lucky, this could become your secret hideout during sakura season.
Address: 2-2-20, Tenjin, Chuo-ku, Fukuoka
Opening Hours: 9am – 7pm, Daily (Kego Shrine)
Nearest Station: Tenjin Station
Experience the nightlife in Tenjin
Fukuoka may seem like a laid-back city but did you know that it is actually home to some of the craziest clubs promising unforgettable nightlife experiences? The vibrant streets of Oyafuko-dori come to life at night with numerous clubs lining the streets, such as Happy Cock, and The Dark Room, which are popular among youngsters and adults alike. Oyafuko translates to "Disrespectful Child Street", and the name originated from the 1970s when prep schools were opened along Oyafuko to help students pass entrance and high school exams. It became a popular hangout spot for teenagers after school, even long after the prep schools had closed down.
The peculiar name attracted young businesses such as music shops, bars and clubs. The clubs grew bigger and the street clearly became the center or Fukuoka's nightlife scene. You'll often see party-goers sporting over-the-top outfits, wigs, and eye-catching makeup along this street. Go crazy with your getup and embrace fun in epic proportions!
Address: between 3-chome Tenjin and 1-chome Maizuru
Nearest Station: Tenjin Station
Day 3
Pay your respects at Kushida Shrine
The Kushida Shrine is home to the protective God of Hakata and also the beloved child of the locals who affectionately refer to the shrine as "Okushi-san". Famous summer festivals in Hakata such as the Hakata Gion Yamakasa and the Hakata Okunchi are centered around this shrine.
Legend has it that if you drink from the well in Kushida Shrine, you will be granted longevity or eternal youth. The well is surrounded by three cranes, and is located right by the main shrine building, near the entrance, where you would pay your respects. You have to drink the water in three steps, first for your own longevity, next for your family and finally for your friends or partner. The water is abundant in natural salts. If you really want to live longer, we suggest not drinking too much.
You can also test your strength here with the Chikara-ishi, stones that used to help farmers predict the weather for harvesting. As time passed, the purpose of Chikara-ishi changed and became a test of strength instead. In the past, a sumo wrestler in Hakata demonstrated his strength by lifting up a large stone, then dedicating it to the god of Kushida Shrine. It then became a custom, and many sumo wrestlers dedicate their own stones to the shrine till this day. The Chikara-ishi is located behind the Kazari Yamakasa (festival floats). You can test your strength by (attempting to) lift a stone that is marked with the words "trial stone". Remember that this should be the only stone you touch!
Address: 1-41, Kamikawabata-machi, Hakata-ku, Fukuoka
Opening Hours: 4am – 10pm, Daily
Nearest Station:  Nakasu-Kawabata Station or Gion Station
Play with robots at Robosquare
If you've always been fascinated by artificial intelligence and the world of robots, feed your curiosity by heading to Robosquare! Robosquare houses 100 types of robots totalling to a whopping 250 robots. The robots take turns in the spotlight, with each of them having their own unique charm.
There are many types of robots, such as rescue robots, therapeutic robots that played a huge part in victim trauma relief after the East Japan earthquake and even generations of the famous AIBO dog that took Japan and the world by storm! The main star is Pepper: a humanoid robot. This adorable robot can be fed commands through her monitor, play games, speak tongue twisters, and even dance with you! What makes her even more fascinating is that her movements are very natural, and not robot-like.
Performances for guests are also scheduled at Robosquare. You might spot robots dancings and cartwheeling to the music. How cool is that?
Address: 4-2-1 Ropponmatsu, Chuo-ku, Fukuoka City
Opening Hours: 9.30am – 9.30pm, Daily
Nearest Station: Ropponmatsu Station
Go Yatai Stall Hopping on Nakasu Island
To commemorate your last night in Fukuoka, indulge in delicious local delicacies from yatai food stalls – meaning small mobile food stalls! Yatai food stalls are typically set up during evening time along pedestrian walkways, and will be closed come morning time. Diners order from the food booths, and sit along sidewalks while sipping on beer, and chatting about their day. It's the perfect place for salarymen to unwind after a long day at work. Each stall typically only seats six to nine people at a time, so be prepared to walk for a while if you want to indulge in this experience!
While the food stalls can generally be found across touristy areas in Fukuoka, we heard that the best place to enjoy yatai food stalls is on Nakasu Island. Here you'll be greeted with over 20 yatai stalls that are situated along the river so you can enjoy the view while you feast.
Popular dishes include yakitori (grilled chicken skewers), oden (hot pot), and Hakata ramen. Japanese beers can also be found here and are great pairings to wash your food down. The average price of food from yatai stalls is around 500 yen (~S$6.14), and they typically don't exceed 1000 yen (~S$12.28). Some stall don't display their prices on the menu, so we recommend you asking for the price before ordering lest you end up breaking the bank!
Most close on Sundays, but it varies from stall to stall. On Fridays and Saturdays, you may find long queues outside the more popular yatai stalls too.
Address: 3 Shimokawabatamachi, Hakata Ward, Fukuoka Station, Fukuoka Prefecture
Nearest Station: Nakasu Kawabata Station and Minami Tenjin Station
Bonus
Fukuoka Tower
You cannot say you've been to Fukuoka without stopping by the Fukuoka Tower. The Fukuoka tower was built in celebration of the city's 100th anniversary using 8,000 half mirrors. This 234-metre tower is the tallest seaside tower in Japan!
The Fukuoka tower is open to visitors at all times. There is a lover's sanctuary where you will be greeted by a heart-shaped arch made from 100 fresh flowers. In the middle of the sanctuary lies the Lover's Compass. It is said that when you stand at the centre of the compass and send a wish to the person you love, he or she will receive your wishes and blessings.
The Fukuoka tower's observation deck is a whopping 123 metres above ground and boasts a 360-degree panoramic view of the city. The view from the observation deck at night is even more spectacular and one that you will never forget. On special occasions like Christmas, and Valentines' Day, the mirror panels will put on a gorgeous display that's bound to make passers-by stop and stare.
Address: 2-3-26, Momochi-hama, Sawara-ku, Fukuoka
Opening Hours: 9am – 10pm, Daily
Nearest Station: Nishijin Station
Admission Price: Adults (aged 16 and above): 800 yen (~S$9.82) / Children (aged 6 – 15): 500 yen (~S$6.14) / Infants (aged 4 and 5): 200 yen (~S$2.46) / Seniors (aged 65 and over): 500 yen (~S$6.14)
JR Hakata City
JR Hakata City is the home to Hakata Station, but you'll be surprised as to what else it has to offer! You are bound to pass by Hakata Station during your trip in Fukuoka, especially since it is a five-minute ride away from Fukuoka International Airport. Instead of just passing through the station, we recommend that you stay and explore JR Hakata City.
JR Hakata City comprises of a cinema complex, Amu Plaza – which is owned by Tokyu Hands, one of Japan's top lifestyle departmental store, Hakata Hankyu, a clothing brand shop that has been gaining a lot of attention in Japan, along with a whopping 215 other stores.
If that's not a compelling enough reason, it also has an urban garden on its rooftop that offers a bird's eye view of Fukuoka and poses as the perfect place to catch the sunset. The most quirky place here has to be the shrine dedicated to trains where people come to pray for traffic safety.
Address: 1-1 Hakataekichuogai, Hakata, Fukuoka 812-0012, Japan
Opening Hours: 10am – 11pm
Nearest Station: Hakata Station
Different cities in Japan have their own unique charms that set them apart. You will be surprised that although Fukuoka is a cosmopolitan city, there are many shrines that showcase Japan's intriguing history and culture. In certain places, it almost seems like as though Fukuoka is frozen in time. Take a step back from the city life and appreciate all that there is to this fascinating city.
Next time you're planning a trip to Japan, give Fukuoka a shot. It might just be your most favourite city in Japan yet.