Matcha is not just any ordinary tea.
For starters, matcha is not consumed via soaking tea leaves or tea bags in water. Instead, it is served as finely ground powder that is dissolved in either milk or water. In addition, due to the nature in which the matcha plant is grown, this variant of green tea contains a higher level of caffeine than others. The flavours of matcha are also complex – it is slightly bitter, but leaves a sweet aftertaste in your mouth. Simply delicious!
The Japanese take their matcha very seriously, and their love for this unique tea has permeated their everyday lives. In particular, they have started to incorporate matcha into their food and snacks, and these products have become increasingly popular among both locals and tourists.
So, what kinds of matcha snacks and desserts are actually available? Here are ten matcha products that you can't miss in Japan!
SNACKS
1. Matcha Pocky
We are no stranger to the wonders of Pocky – this sweet cookie stick is extremely addictive, and Japan boasts a unique assortment of flavours like cookies and cream, cherry blossom and milk. Matcha is a new addition to the mix, and has become one of the best-sellers in Japan. Since the matcha coating is not too sweet, it complements the biscuit perfectly. With such a light snack, you'll find yourself going at it stick after stick. Before you know it, the entire box will be gone!
2. Matcha Oreo
Another familiar cookie is Oreo – remember; twist, lick and dunk! Japan offers a twist on the typical creamy white centre, by offering a matcha filling. Experience the sense of nostalgia as you pop these cookies in one after another, and be refreshed by the new and unique combination of flavours.
3. Matcha Puchi Choco Chips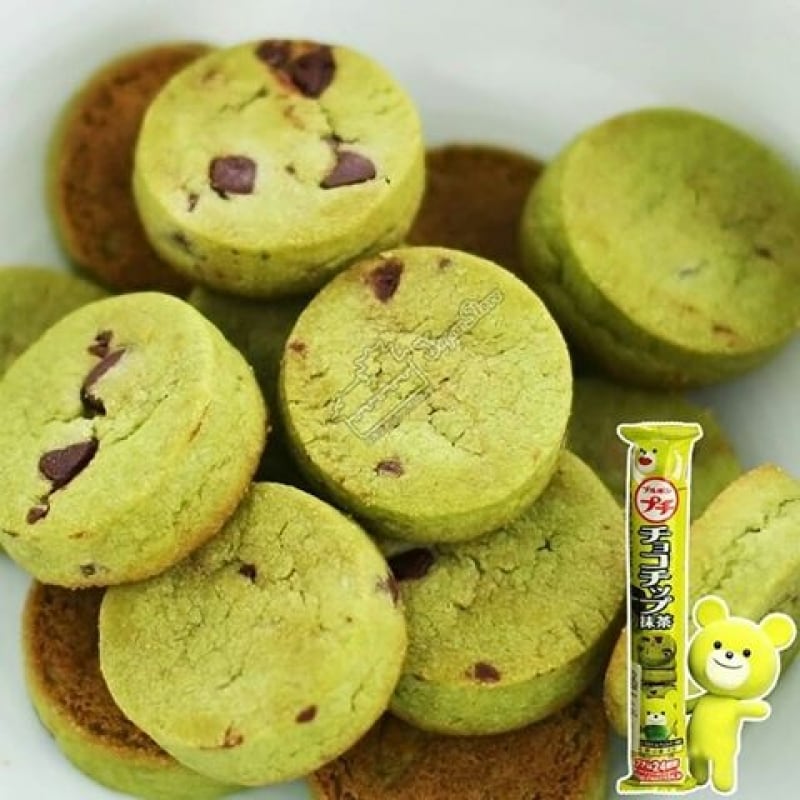 One of Japan's best selling brand of snacks is Puchi, which offers a wide range of fuss-free tidbits like chocolate chip cookies, chocolate biscuit sandwiches and potato chips. Their fun-loving bear mascot denotes their different products, and they have introduced an adorable green bear for their matcha line! These matcha chocolate chip cookies have a more subtle flavor, and the chocolate chips add an additional burst of sweetness.
4. Calbee Matcha Potato Chips
Potato chips are one of everyone's favourite snacks – nothing is better than crisp, thin chips that are coated with a dust of savoury seasoning. But wait, how does matcha fit in with any of this? You might think it is bizarre to have potato chips that taste sweet instead of savoury, but the amalgamation of flavours and textures actually work unexpectedly well. The matcha complements the saltiness, and brings a freshness with every bite. It's definitely not something you get to try everyday!
5. Garrett's Matcha Popcorn
Garrett has earned a reputation for revolutionizing the popcorn industry with its diverse range of flavours. Whether it's classic flavours like caramel, or more novel combinations like smoked bacon and cheese, they never fail to stir up a gastronomic storm. Garrett in Japan has taken it one step further with their matcha popcorn. Imagine firm popcorn coated in a sticky, sweet layer of matcha goodness, what's there not to love? Head down to Garrett Popcorn Shinsaibashi to get your hands on this exclusive flavour!
CHOCOLATES
Chocolate is one of the most timeless flavours of all times – so it is only natural that Japan has experimented and tried pairing it with matcha. To the delight of everyone's taste buds, this combination works perfectly! Here are some of the matcha-chocolate combinations that you must try.
6. Matcha KitKat
The matcha Kitkat is one of the most sought-after souvenirs from Japan, and for good reason. This cult favourite has been given a makeover, and made better than ever with its matcha formula. Instead of normal milk chocolate, matcha is infused with white chocolate to form a luscious matcha coat over the crispy biscuit wafer. Once you have tried it, there's no going back!
7. Matcha Alfort Chocolate Biscuits
If you are feeling a bit more adventurous and want a more potent matcha experience, the Alfort Chocolate Biscuits are just what you need. A layer of aromatic matcha chocolate coats a piece of chocolate shortbread, giving rise to a perfect combination of flavours and textures. The bitterness of the matcha cuts through the sweetness of the chocolate, so you don't have to worry it being overly cloying.
8. Meiji Matcha Meltykiss
As its name suggests, the Meiji Meltykiss really melts in your mouth. Each bite-sized piece consists of a matcha ganache center coated with a dark chocolate dust, which readily falls apart as soon as it hits your tongue. Prepare yourself for an explosion of flavours; you first taste the bitterness of the chocolate, before the rich and creamy matcha spreads all around your mouth. Forget about having just one piece, you're sure to be left wanting more!
OTHERS
Apart from snacks and chocolates, the Japanese have also incorporated matcha into many of its desserts. Its distinct flavour profile has allowed it to go well with many other dessert elements, and it is now a quintessential component of Japanese desserts.
9. Matcha Ice Cream
You simply cannot go to Japan without having a taste of their matcha ice cream. It is so ubiquitous that it can almost be considered the country's national dessert! Whether it is served in a cup or a cone, savour the rich flavour of matcha, and delight in the creaminess of Japan's fresh ice cream. Many cafes offer matcha ice cream with other toppings such as azuki (red bean), mochi (rice cake) and matcha powder. Be sure to give those a shot as well!
10. Matcha Pancakes
To end the list with a bang, try out matcha in its most unconventional form yet – pancakes! The Japanese have reinvented this classic dessert by adding matcha to their batter, giving rise to quirky, green stacks of pancakes. Apart from being aesthetically pleasing, the subtle flavour of matcha will help to elevate your dessert and give it an extra edge. It's a feast for both your eyes and tummy!
So there you have it, a list of all-things matcha that you have to try in Japan. Many of these products can be found in convenience stores or supermarkets (that's how common they are), or at any dessert shop you pop in to. Before you know it, you'll love it very matcha.