"Breakfast is the most important meal of the day." 
I'm sure most of us have heard of this phrase, be it in English or in our own native language. As cliché as it may sound, the phrase is actually scientifically proven. A good breakfast not only boosts your energy levels for the rest of the day, it also improves your metabolism, helps stabilise blood sugar levels, and can even indirectly help with weight loss! 
Unfortunately, many of us tend to skip breakfast regularly because of our busy lifestyles. Needless to say, skipping breakfast is a bad habit that warrants changing. After all, we need our bodies to be at optimal strength to stay healthy and safe! 
However, you don't have to cook up a storm to enjoy a hearty, nutritious breakfast. All you need is a yummy breakfast smoothie! Not only do breakfast smoothies contain plenty of vitamins and nutrients, they're also easy to make and often require only three main components: a base flavour (in this case fruit), a liquid, and an optional sweetener. You also don't need to be a masterchef to make them. All you need is a blender! 
If you're the type of person who's too busy (or can't find the motivation) to cook up a decent breakfast, this one's for you! Here's a list of delicious breakfast smoothies to help you start your day just right. Bonus point: they're all easy af to make! 
Also Read: 13 Yummy Microwave Recipes That Are Easier Than You Think
1. Classic Breakfast Smoothie
Ingredients: 
1 cup of plain yogurt
1 medium-sized banana 
½ cup of orange juice (or ½ cup of almond milk) 
5 to 6 fresh or frozen strawberries (optional)
Of all the breakfast smoothies on this list, this one is easily the most popular. In fact, some even claim that this recipe is the best in the world! Not only does it taste good, but it also provides a healthy balance of protein and fibre, which are essential for muscle and digestive health. The addition of strawberries would also make this an antioxidant-rich drink, perfect for starting off your day! 
2. The Orange Dream
Ingredients: 
1 navel orange 
¼ cup of fat-free milk/yogurt 
2 tablespoons of orange juice concentrate 
¼ teaspoon of vanilla extract, ice
Speaking of breakfast, another staple at most breakfast tables in the morning is orange juice. Back in the day, when I had breakfast with my family, my parents would be sipping on coffee while I downed OJ while watching cartoons. The Orange Dream is a low-calorie, citrusy breakfast smoothie which helps cool down the body. So, if you're the type of person who likes to exercise before breakfast, this will be your new favourite post-workout breakfast! 
3. Frozen Raspberry Blast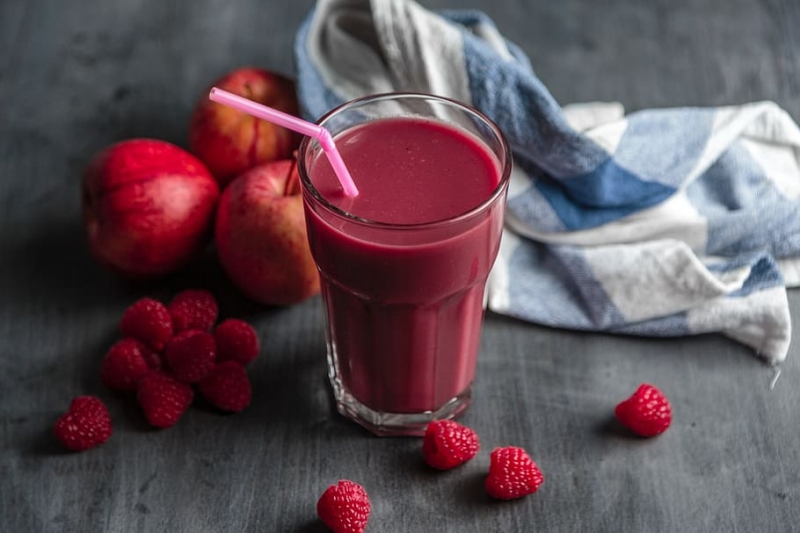 Ingredients: 
¾ cup of almond milk (dairy or soy works too)
¼ cup of frozen raspberries
1½ tablespoons of honey
2 teaspoons of fresh lemon juice
2 teaspoons of grated ginger (optional) 
If you've never tried a frozen raspberry, it basically tastes like a mini popsicle. If you're looking for a flavoursome smoothie that kind of reminds you of a sherbet, this is it. The fruity aroma of the raspberries combined with the sweetness of honey and tartness of lemon give it a balanced flavour. If you want an extra (subtle) kick, you can add in some grated ginger too! 
4. Fruity Green Tea 
Ingredients: 
1 green tea bag
2 tablespoons of honey
1½ cup of blueberries
½ a medium-sized banana
¾ cup of milk (soy milk works best) 
From possibly helping in weight loss to promoting heart health, the benefits of green tea appear to be endless. So imagine my surprise when a friend of mine came to me with this antioxidant-rich recipe! It tasted really good and the flavours were really delicately balanced. The only downside is the prep-work. You can't just dump a tea bag into a blender and hope everything combines, after all. 
Instructions: 
Start with three tablespoons of hot water in a bowl (or more if you don't mind a bit of wastage) 

Add your green tea bag into the water and let it brew for about two to three minutes. 

Remove the tea bag and add in the honey. Stir until it dissolves completely. 

Blend up the rest of the ingredients and add the tea mixture in the end. Blend once more to combine. 
5. The Pineapple Punch
Ingredients:
1 cup of low fat yogurt (vanilla-flavoured preferred)
1 cup of ripe pineapple chunks
ice
As much as I'd like to add some coconut rum to it, let's keep this list in the healthy breakfast section, eh? The yogurt, combined with the ice and pineapple chunks, will give this smoothie a slightly thicker texture. But don't worry, it's not going to taste weird or chunky. In fact, the pineapple actually gives off a real subtle aroma as it slides down your throat. I personally like it! 
6. Pear & Spinach Immune Booster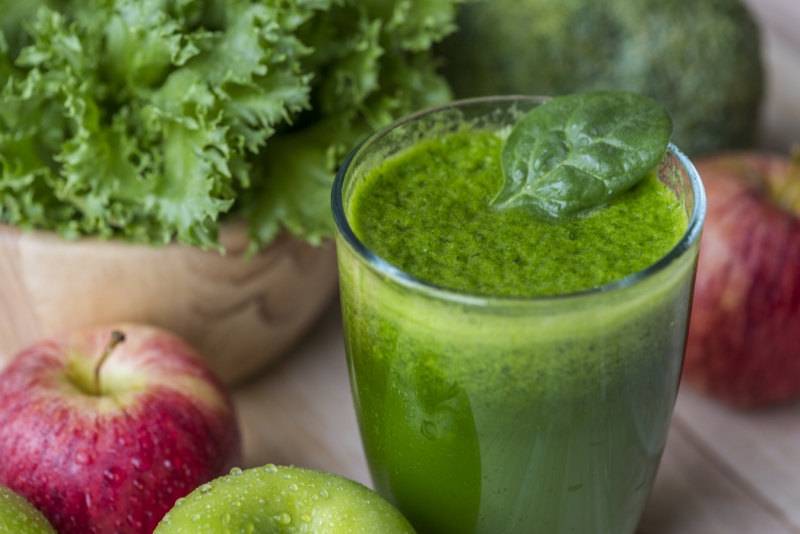 Ingredients: 
1 cup of spinach
¾ cup of Greek yogurt
1 pear
ice 
Let me start by saying there is no proven medical research which says you can "boost" your immune system. More accurately, what you can (and should) do is to take in sufficient vitamins to ensure that your immune system is functioning optimally. To that end, this smoothie is a must-try. Not only does it taste refreshing, it also contains 25% of your daily Vitamin C intake. You can also add ginger to ease cold and flu symptoms*!
Note: This is not a cure for your illness. If you feel sick, seek medical help!
7. The Green Strawberry
Ingredients: 1¼ cup of apple juice
1 ripe banana
1 kiwi
a handful of strawberries (frozen)
1½ teaspoon of honey 
As they say, an apple a day keeps the doctor away. However, the star ingredient in this recipe is the kiwi. This little green fruit is like a pocket dynamite: rich in Vitamin C, fibre, and heart-healthy polyphenols. Combined with the other ingredients, this smoothie makes for a satiating breakfast! 
8. The Classic Oatmeal Smoothie
Ingredients: 
1¼ cup of uncooked oats
½ cup of Greek yogurt, ¾ cup of frozen mango
¾ cup of frozen strawberries (or ½ cup of frozen blueberries)
¾ cup of milk
I know, I know, not everybody likes oatmeal. I'm not much of a fan either. But I have to admit that oddly enough, this recipe works — most likely because of the sweetness of the mango. That aside, you'll be loading up on plenty of essential nutrients with this one drink, which is reason enough to give it a try. If you want, you can even use this recipe to make overnight oats! 
9. Triple Berry Sensation
Ingredients:
½ cup of strawberries
½ cup of blackberries
¼ cup of Greek yogurt
½ a banana
½ cup of raspberries
¾ cup of almond milk
Now these are the breakfast smoothies I look forward to the most! Not only does this recipe contain plenty of berries that are rich in antioxidants, the end result also promises a stunning shade of colour. You could even say it's too pretty to drink! Here's a tip, while you can use fresh berries, I recommend freezing them and using the frozen berries instead. Not only does it give it a sherbet-like texture, it also turns your smoothie into an icy cold drink! 
10. Le Decadent
Ingredients:
1½ cup of raspberries
2 tablespoons of peanut butter
½ a banana
¼ cup of Greek yogurt
ice water
Breakfast is supposed to be your first meal of the day, but that doesn't necessarily mean that you can't treat yourself to something sinfully sweet once in awhile! In fact, there are plenty of breakfast smoothies that double-up as a delectable treat! This creamy recipe incorporates peanut butter in the smoothie, which gives it a slightly thicker texture while the fruits and yogurt help bring out the flavour. If you really want to pamper your taste buds, top it with some chocolate chips! Go on, you're an adult, you can do that if you want. 
11. The Mocha Smoothie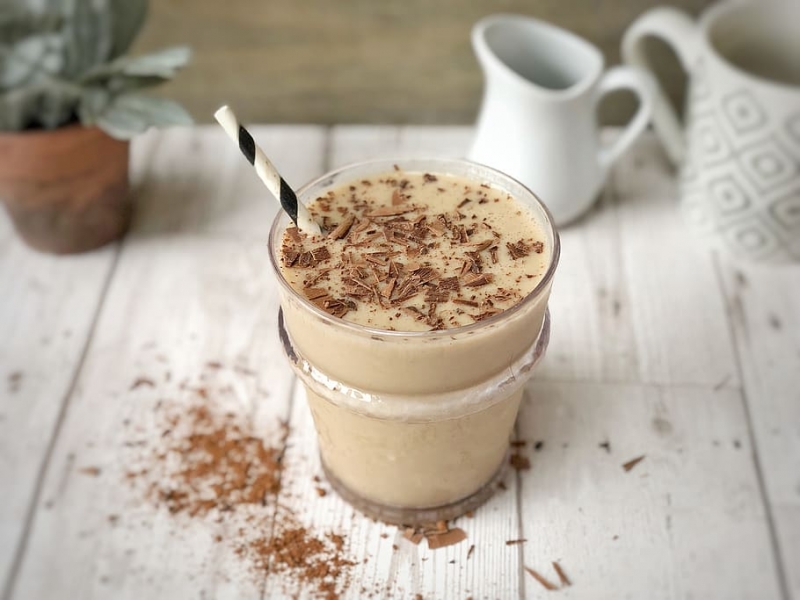 Ingredients:
coffee ice cubes
1 banana
½ cup of rolled oats
1 tablespoon of cocoa powder
⅛ teaspoon of cinnamon
1 cup of milk
1 teaspoon of honey 
For those who can't function in the morning without their coffee, don't worry, I've got you covered. This smoothie uses frozen coffee as a base, along with a banana and some oats to add to the flavour. The addition of cinnamon adds depth and the cocoa powder adds a hint of bitterness. There is some work you need to do beforehand but don't worry, it isn't as tedious as making Dalgona Coffee!
Instructions: 
Brew some coffee and pour into an ice tray. Freeze it overnight.

Add the frozen coffee cubes and the rest of the ingredients into a blender and blend until smooth. 
12. The Weekend Breakfast 
Ingredients:
1 cup of soy milk
½ cup of blueberries
½ cup of cornflakes
1 frozen banana
For many of us growing up, breakfast on the weekends usually meant feasting on milk and cereal while watching cartoons on the Disney channel. Well then this recipe will certainly feel nostalgic. The only thing you need to take note of is to blend it until smooth. Otherwise, you'll have to deal with chunky cornflakes swimming around in your mouth! 
Also Read: Home Cook Heroes – 5 professional & healthy recipes to elevate your culinary skills
13. Simple B & B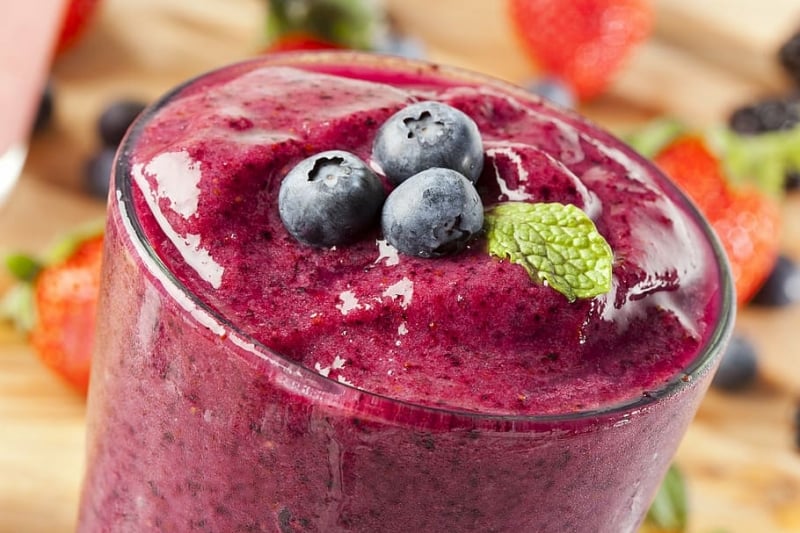 Ingredients:
1¼ cup of milk
½ cup of blueberries
½ a frozen banana
1 teaspoon of vanilla extract (optional) 
I'm sure by now you've realised that most of our recipes contain bananas. That's because bananas are packed full of flavour and nutrients! So, to round off our list, we have this simple recipe that calls for only four ingredients! The vanilla extract is optional but if you have it, I definitely recommend adding it. It doesn't look like much, but it certainly elevates the taste!
The perfect quick breakfast
So there you have it, 13 quick and easy breakfast smoothies you can make in ten minutes or less! No matter how busy you are in the morning, it's no excuse to keep skipping breakfast! Which of these breakfast smoothies are you most eager to try? Let us know!