As we've all seen these past few weeks, the world has had to adjust to a more homebound lifestyle for health and safety reasons. Of course, the feeling of growing boredom is all too inevitable as we're compelled to stay at home. That said, many have turned to finding new and interesting things to do, sometimes beyond their usual hobbies. So, this time, how about whipping up yummy creations in your own kitchen — without having to cook or bake? 
Yup, you read that right! All you need is your trusty ol' microwave — or as I'd like to call it, the ultimate kitchen essential for any millennial. Seriously, there's so much you can do with it that I'll probably take all day before I can finish enumerating. But for now, let's stick to the cool part: fun and simple microwave recipes. From the usual suspects to unexpected ones, these all have fuss-free steps that will leave you feeling proud of yourself — like that hilariously iconic 'shef' meme (see below). 
Microwave recipes for sweets and snacks
1. Classic s'mores
S'mores are arguably the most basic yet also the most iconic among all microwave recipes. Nothing beats the classic combo of graham crackers, marshmallows, and chocolate bars! And if you haven't tried this yet, then you're seriously missing out. Some of you probably remember it best from your childhood camping trips; but hey, who needs a campfire when you have your trusty ol' microwave? 
Steps:
On a microwaveable plate, place one to four

graham cracker squares

.

On top of each cracker square, put one

marshmallow

and one

chocolate piece

.

Microwave on high for 15 seconds (or until the marshmallow puffs).

Remove from microwave then cover each with another cracker square.

Eat it like how you would eat a sandwich!
Note: For those who want their s'mores less gooey and messy, you can substitute the regular chocolate bar with Choc Nut pieces instead! 
2. Chocolate peanut butter mug cake
Mug cakes are probably one of the best things to happen in the realm of convenient, fuss-free desserts. I remember how mind-blown I was when I first discovered that such things existed. (You mean I can make yummy cakes at home, even if I don't know how to bake? ) So, how about going all out by having it in chocolate and peanut butter? Honestly, I can't think of other microwave recipes that are as decadent as this!
Steps:
Melt two tablespoons of

butter

and another two tablespoons of

peanut butter

in a separate small dish.

Mix an

egg

, a half teaspoon of

vanilla extract

, and two tablespoons of

sugar

in a mug, until well combined. 

Mix the two tablespoons of

flour

, three tablespoons of

cocoa powder

, a pinch of

salt

, and 1/8 teaspoon of

baking powder

in a separate bowl. Then add to the mug. 

Add the peanut butter/butter mixture to the mug, and then add three tablespoons of

chocolate chips

. Mix everything well. 

Microwave on high for one to two minutes, or until you reach your desired texture. 

Optional: add some more

chocolate chips and peanut butter as toppings. 
3. Oatmeal bars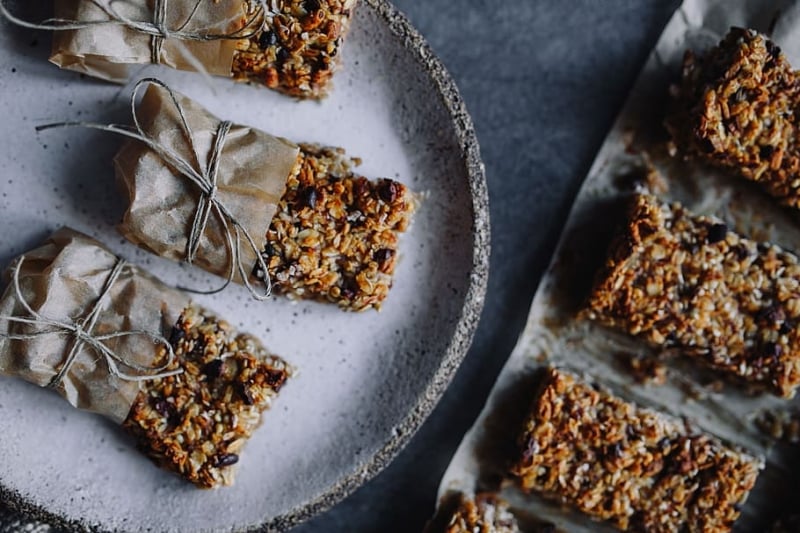 Chewy treats that come in easy microwave recipes? Don't mind if I do! And it's a good thing that it's what these oatmeal bars are all about. No need to go to a nearby convenience store to satisfy your fibre-rich cravings! And unlike the commercial versions, these ones have a lot less artificial ingredients. It's the perfect snack to keep your energy up all day — especially those who are working from home! 
Steps:
In a big bowl, put two cups of

quick-cooking oats

and a half cup of

brown sugar.

Add a half cup of melted

butter

and 1/4 cup of

corn syrup.

(

Optional: a half teaspoon of vanilla extract for more flavour.

)

Mix everything well, then transfer to a square or rectangular microwave-safe casserole. 

Microwave uncovered and on high for about one minute. Rotate a half-turn, then microwave for another one minute.

Add a cup of

chocolate chips

on top. Then microwave again, this time at 30% power, for four to five minutes (until the chips have melted). 

Take out of the microwave, then spread the melted chocolate chips evenly. 

Refrigerate for 15-20 minutes. Don't forget to cut into squares! 
4. Chocolate chip mug cookie
Sweet chocolate chip cookies make for yummy treats, especially during summer days. (Cookies paired with ice-cold milk or fruit shake? Divine!) However, there's the hassle of baking at home during this time of the year, especially in tropical countries. But what if I told you that you can avoid a hot kitchen and still have your cookie fix? Yes — there are actually microwave recipes for these as well! So, no need to go to a nearby bakery or even wait for a bake sale-slash-fundraiser. 
Steps:
Coat a medium-size mug or ramekin with some

cooking spray

, butter, or coconut oil for protection.

Mix together the following ingredients first: one tablespoon of melted

butter

or

coconut oil

, one tablespoon

each

of

brown

and

white sugar

, a pinch of

salt

, and one

egg yolk

. Putting these first helps make the batter less crumbly.

Gradually stir in  1/4 cup of

flour

and two tablespoons of

chocolate chips

. 

Microwave for one minute at 80% power. The top should look light and yellow; it should be soft and a bit bouncy when you tap it. Serve it warm! 

Optional: add a scoop of vanilla ice cream for extra decadence. 
5. Sour cream and onion veggie chips
How about a healthy(-ish) crunchy snack for a change? And while there are certainly lots of veggies to choose from, these are some of my picks: starchy ones like sweet potatoes and carrots, as they come out the most crispy; and softer but tastier ones like zucchini and squash! Although I'd say it's best to have a combination of both types, for a yummy variety. Either way, it's one of those microwave recipes that are easier than you think! 
Steps:
Cut each piece of vegetable into thin slices. Lay them all flat on microwave-safe plates, separated per type. Then sprinkle each with

oil

or

cooking spray

. 

Optional: if you want to ensure an extra crunch (especially with softer veggies), you can sprinkle your vegetables with salt. Leave for 15 to 20 minutes.

In a medium-size bowl, mix 1/3 cup of

powdered buttermilk

, one tablespoon of

rock salt

, one tablespoon of

onion powde

r, and two tablespoons of

parmesan

. Sprinkle this seasoning over the veggies. 

Microwave on high for four to six minutes, or until the veggies start to turn brownish — but be careful and don't let them get too brown. Repeat with each veggie type.

You can either eat all the

veggie chips

in one go, or store in an air-tight container! If it's the latter, best to eat them within 24 hours to maintain their crunchiness. 
Also read: Top 10 Dessert Spots to Visit in Singapore
Breakfast faves with easy microwave recipes
6. Omelette cups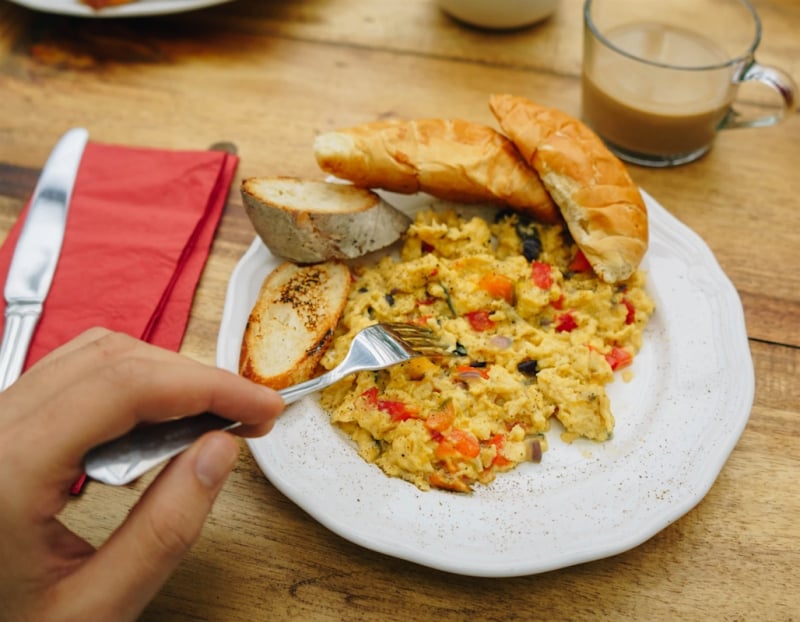 Finally, a fun fuss-free way to make omelettes. It's especially ideal for weekday mornings when you don't have much time to prepare breakfast. (Sure, most of us are working from home nowadays. But let's be real — waking up late is still inevitable at times.) You can either have it as it is, or pair 'em with some ham and toast for a good ol' breakfast sandwich! And the best part? It has way fewer calories than your usual fried eggs!
Steps:
Opt for a large, microwave-safe mug (around 12 to 16 ounces) to avoid spills when the egg expands. Coat the inside of the mug with

cooking spray

or

olive oil

.

Crack

two eggs

into the mug, then add one tablespoon of

milk

. Beat with a fork until they're all mixed well. 

Add a tablespoon

each

of

grated cheese

,

chopped ham

,

mushrooms

, and other add-ons of your choice. You can also sprinkle some

salt

and

pepper

for more flavour. Stir with a fork until mixed well. 

Microwave on high for 20 to 30 seconds. Remove from the microwave and stir again with a fork. Repeat the process until the omelette has set, or until you've reached your desired firmness. (From my experience, it took three rounds).   
7. French toast in a mug
Ahh, french toast — as great-tasting as it is fancy-sounding. There's just something about it that makes you crave right away upon hearing its name. And from the way I see it, it's almost impossible to make terrible french toasts; there are only relatively 'just okay' ones and truly delicious ones. So, how about an extra twist by making it in a mug? 
Like with regular french toast, it's best to stick to sturdy types of bread. Some good examples would be brioche, French baguette, whole wheat bread, and challah. Best to steer clear of regular white bread since it's too soft! 
Steps:
Slice your

bread

into small pieces, around one to two inches in width. The next few steps are made for about one cup of these

bread pieces

. (If there are more, just make another batch.)

In a large microwave-safe mug, add one teaspoon of melted

butter

, three tablespoons of

whole milk

, one tablespoon of

maple syrup

, 1/4 teaspoon

each

of

cinnamon

and

vanilla extract

, a pinch of

nutmeg

, and one

egg

. Whisk until everything is mixed well. 

Add the

bread pieces

into the mug and gently stir until they're soaked with the mixture. Then leave for around one minute, so the bread pieces can absorb the liquid. 

Microwave on high for 60 to 90 seconds, until the mixture turns firm. This will depend on your own preference and microwave wattage, so observe closely.

Optional: spruce it up with some of your favourite toppings. (Personally, I like mine with

berries

,

banana slices

,

nuts

, and

powdered sugar

!) 
8. Banana bread in a mug
This goes out to those who love banana bread, but don't want to commit to a whole loaf. Say, those who rarely eat at home and/or live alone with no one to share food with. Or, you know, you just don't have that big of an appetite (which is totally fine as well!). This could also apply to those who always end up with at least one overripe banana in the pantry. Yep, the struggle is real! So, why not whip up banana bread in a mug? 
Steps:
Opt for a large, microwave-safe mug. Coat with

cooking spray

.

Put three tablespoons of

flour

, two tablespoons

each

of

brown

and

white sugar

, a pinch of

salt

, and 1/8 teaspoon

each

of

baking powder

and

baking soda

. Whisk until they're mixed well. 

Crack one

egg

and combine it with the previous dry ingredients. 

Mix in 1/4 teaspoon of

vanilla extract

, one tablespoon

each

of

milk

and

vegetable oil

, and a single

mashed ripe banana

.  

Microwave on high for up to three minutes max. You'll know it's done when the mixture starts to rise and it's no longer runny! 
Also read: 8 Scrumptious Traditional Breakfast Meals Around the World
Microwave recipes you can have all-day
9. Loaded baked potato
Baked potatoes are perhaps the king of all dinner-type microwave recipes. Not only are they yummy and filling, but they're also quite easy to prepare! Then again I could be just biased here. Because if I remember correctly, this is the first microwaveable dish I learned how to make when I was living in a dorm during uni. And even until now, it's still one of my top picks when I'd rather stay at home and 'cook' my own dinner. 
But hey, enough about me. Generally, marble potatoes are a lot easier to bake in a microwave. But when it comes to a loaded baked potato, you definitely have to go for the larger russet potatoes — A.K.A. the typical ruddy-skinned potatoes you see in cartoon drawings and such. 
Steps:
Wash the

potato

skin thoroughly. Then using a fork, poke holes in it and try to cover every side. (This allows steam to escape when you're microwaving it.)

Optional: rub a bit of salt and olive oil on the potato.
Wrap the potato in a paper towel, as to prevent it from shrinking. Then place on a microwave-safe dish.

Microwave on high for around 10 minutes. Flip the potato and microwave for another 10 minutes. You'll know it's done when, upon tapping gently with a fork, it pokes through easily. 

In a separate microwave-safe dish, place two strips of

bacon

. Cover it with another dish to prevent oil from splashing the inner walls of your microwave. 

Microwave on high for four to six minutes, depending on your preferred crispiness for the bacon strips. Crush the bacon afterwards. 

Slice the potato in half. Fluff up the insides a bit using a fork. 

Sprinkle a half cup of

grated cheddar cheese

in the middle of the potato. Microwave again for around 30 seconds.

Top off with the crushed

bacon bits

. Feel free to add other toppings like

sour cream

,

butter

,

rosemary

, and/or

chives

!
10. Chinese steamed buns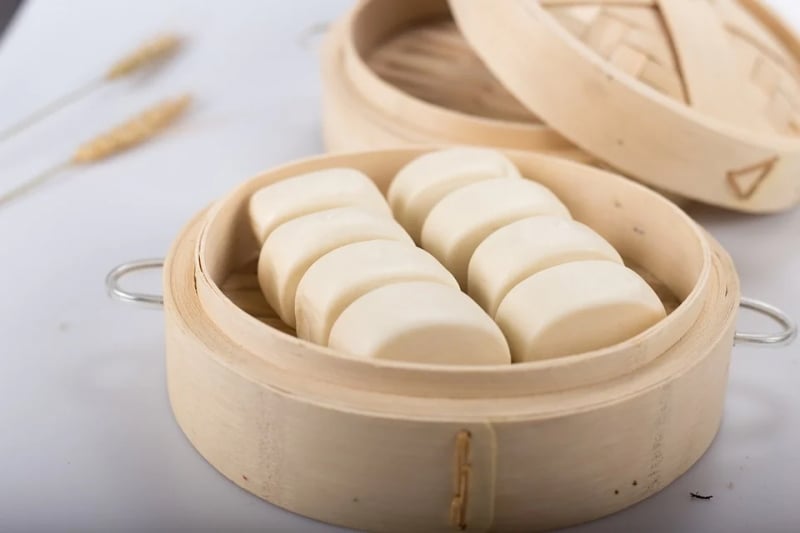 Chinese steamed buns are a staple in East Asian cuisine. They come in different forms; some have fillings, some are rolled into a spiral shape, while some are plain but delicious as they are. This latter variant is called mantou, and it's traditionally white, fluffy but dense, and has a mild sweetness. 
It's also perfect for any time of the day: paired with congee for breakfast; filled with dried meat for lunch and dinner; or dipped in condensed milk as a dessert or snack!  But did you know that you can also make mantou without a steamer or even using yeast? And yes, these microwave mantou taste quite like the OG version! 
Steps:
In a microwave-safe mug, mix 1/4 cup of

all-purpose flour

, 1/4 teaspoon of

baking powder

, one tablespoon of

condensed milk

, and three tablespoons of

non-fat milk

. Whisk until batter is smooth and thick, and there are no more flour chunks.

Microwave for one minute. The top of the bun should look dry. 

Alternatively, if you're using small ramekins, you can fill each one with batter at around 2/3 full. Then microwave each ramekin separately for about 30 seconds.
11. Salmon fillet
This is arguably the healthiest among all the fuss-free microwave recipes I've included here. And honestly, you can never go wrong with salmon fillet! Not only is it packed with health benefits and rich flavour, but it also makes for a good treat-yourself meal — sans the hefty price tag and/or arduous prepping. This simple recipe for salmon in lemon butter is best paired with a salad or other veggies. But hey, if you want something more filling, you can serve up some good carbs like brown rice or sweet potatoes along with this.   
Steps:
Place two to four

salmon fillets

on a microwave-safe casserole or large plate. 

Sprinkle each fillet with

lemon pepper seasoning

. Then top each with one tablespoon of

butter

or

margarine

.

Optional: add a pinch of

rock salt

, especially if your lemon pepper seasoning is salt-free.

Cover the dish and microwave on high for up to three minutes.

Using a fork, check the centre of each fillet for their doneness. If there are still some uncooked parts, microwave for another 30 to 45 seconds. 

Optional: add some

chopped parsley

and

lemon slices

on top!

Check the center of the filet for doneness with a fork. If there is any uncooked fish, microwave for another 30-45 seconds. Garnish with additional parsley and lemon wedges.
12. Mac and cheese

Yes, you can make your own mac and cheese using your microwave! While there are instant, ready-to-cook versions offered by commercial brands like Kraft, nothing beats making your own at home. Aside from the fact that you'll be making it with real ingredients, you can also alter it according to your own preferences! Ready to dig into some gooey, cheesy goodness?
Steps:
In a microwave-safe bowl or large mug, put a half-cup

each

of

macaroni

(

elbow

or

shell

, most preferably) and

water

. Add a pinch of

salt

— though if you think it could use some more, you can always add later on. Mix it all together. 

Microwave on high for two to four minutes. Check every now and then if the pasta is already soft and fully cooked. Always keep a close eye to make sure the water doesn't overflow. Stir afterwards.

Add three tablespoons of

milk

, four tablespoons of

grated cheddar cheese

, and a pinch of

pepper

. Again, you can add some more of these later on.

Microwave again for 30 seconds and then stir. Check if the amount of milk, cheese, salt, and pepper are already to your liking. If not, feel free to add more and microwave for another 30 seconds.

Optional: sprinkle some

chives

as garnish
13. Beef and cheese enchiladas
Whether it's a typical weeknight meal, potluck with friends, or weekend movie night, these beef and cheese enchiladas have got you covered. And fret not, because it's easier to prepare than it looks! It's also so good that you might want to have it all for yourself, even though this recipe is technically for sharing. But hey, who am I to stop you, right? Life's too short to scrimp on delicious food, after all. 
Steps:
Place a half-pound of

ground beef

on a two-quart casserole, then add

chopped onions

. 

Cover the dish and microwave on high for three minutes, or until the beef is no longer pink. Stir to break up the meat, then drain.

Add one cup of

shredded cheddar cheese

, 1/4 cup of

enchilada sauce

, and one tablespoon of

chopped green chillies

. Mix together with the beef.

On a separate plate, place four to six

tortilla wraps

. Put the beef mixture on the centre of each tortilla, then roll up. 

Coat a separate microwave-safe dish with

cooking spray

or

oil

. Then transfer the four wraps, with the seam sides down. Top off with more enchilada sauce.

Cover the dish and microwave on high for five to six minutes. Sprinkle with another cup of shredded cheese afterwards. 

Put back inside the microwave for another one to two minutes. Don't put on a cover this time. 

Optional: spread one tablespoon of

sour cream

and

diced tomatoes

on top!
Also read: 10 Food Places That Have Some of The Longest Queues in The World
So, there you have it. This list definitely proves that good things can happen with just a microwave! Who says you need to be a kitchen master in order to whip up yummy creations? These easy-peasy microwave recipes say otherwise. 
Which of these interesting microwave recipes have you already tried before? Or better yet, which ones are you most curious to try out soon? We can't wait to hear about your 'shef' ventures afterwards!