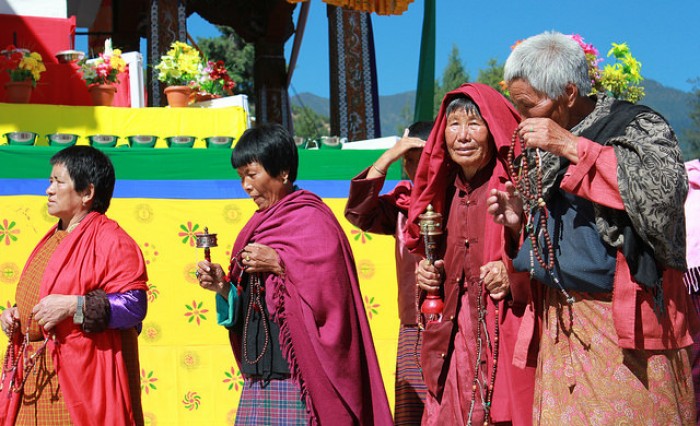 Image credit: Arian Zwegers
The mystical Tibetan landscape has always been a source of fascination and reverence, whether you are a Buddhist pilgrim seeking enlightenment or a traveller trading the deafening humdrum of modern life for a little taste of zen-like tranquility. Whatever your motives are, its ways are often shrouded in mystery, tucked behind snow-capped mountains and lurking clouds that overlook both lush plains and arid ground alike. Peaceful and majestic it may be, yet neighbouring nations do not often share that same pacifistic nature. China and Tibet; India and Bangladesh; conflicts well-documented; the Roof of the World sheds its tears. Yet, in an inconspicuous cul-de-sac lies a country seemingly unfazed by the disturbance that surrounds it.
Enter Bhutan, country of the happiest people in the world.
Essentially an extension of the Tibetan mystery, Bhutan only opened its doors to foreigners in 1974 in a bid by the government then to facilitate revenue as well as to showcase its unique culture and traditions. Indeed, insight into the Bhutanese way of life was much needed by an ever-modernising and depressing world, cumulating in an emotional barometer that is globally adopted today: Gross National Happiness (GNH).
Also Read: Bhutan Myths Debunked! Things to Know Before Visiting the Happiest Country on Earth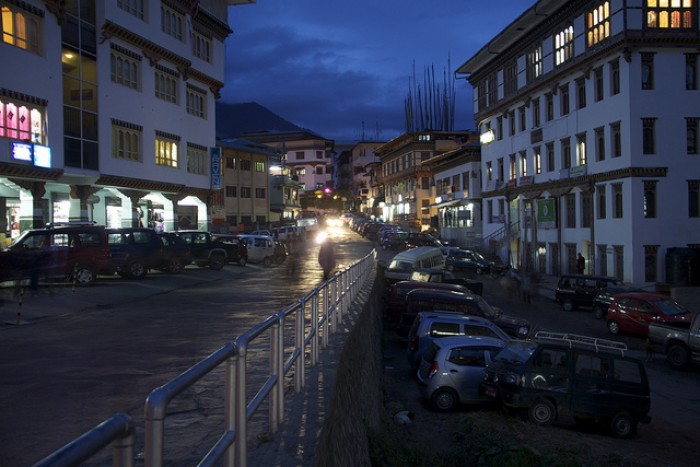 Not-so-rural Thimpu City | Image credit: Zachary Collier
The core principle of GNH lies in the equal importance that is placed on personal well-being, wisdom, health, and other intangible essentials of human life alongside material gain.This, however, does not automatically make Bhutan irrelevant to the rest of the modernised world.
Contrary to popular belief, it is not completely rural and devoid of technology. What makes it special is the ability to uphold the same values in spite of the influence of globalisation.
With every young Bhutanese seen engrossed with a smartphone, you also see gorgeous Dzongs and Chortens with traditional masonry-inspired architecture from its cultural roots, and with every bustling pub, there is also a quiet monastery filled with devout, meditating Buddhist monks.
The first inkling of Bhutanese tradition held firmly can be found in the clothes they proudly wear — the traditional Bhutanese dress. A woman stands by the curb of one of the many busy roads in urban Thimpu. She fidgets somewhat anxiously, as if waiting for a date. Although she checks the time on her sleek digital watch, she is beautifully clothed in a Kira, the national dress for women. Her companion finally shows up wearing an elegant Gho, Kira's male, kimono-resembling counterpart. "Gom ma te (sorry)!" he says, with an apologetic smile on his face. Her pout disappears; it always works on her. They then set off for one of the six cinema halls in the Bhutanese capital. Tonight is movie date night. Unlike the movie industry of westernised countries, Bhutanese cinema was strongly influenced by its neighbouring Bollywood blockbusters for more than a decade, but it is now, thankfully, an authentic medley of films in traditional Bhutanese style, Buddhist teachings and all.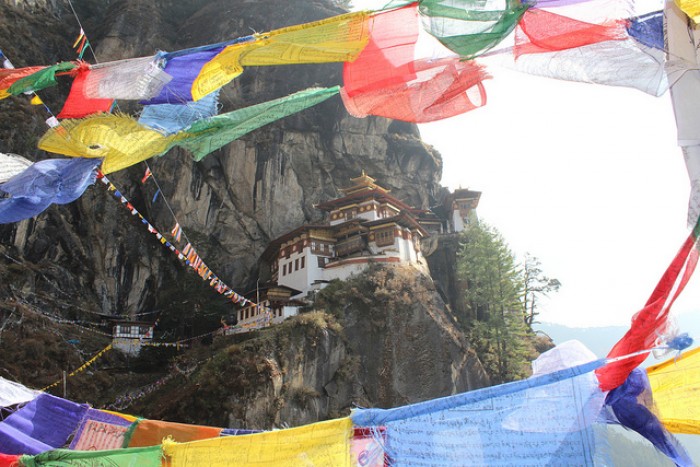 Image credit: Juliette's
Of course, you will not be able to make one of Bhutan's many fabled hikes from the confines of the cinema hall. Everywhere you look, mountains form the backdrop of the view before you; they never fail to remind you of their existence, and the very reason you are paying US$200–250 per day, a mandatory fee that covers virtually all aspects of your trip — accommodation, food, licensed guide, internal transport, and camping equipment for trekking tours. Today's clouds hang low and clustered, just the weather you need to make the slightly tough but thoroughly satisfying ascent from the city of Paro to the oft-frequented Paro Taktsang Monastery, some 900 metres above the Paro Valley.
Do not let the throngs of tourists flocking to this sacred site put you off; it is popular for good reason, because nowhere else in the world has quite the mesmerising view as that of a 16th century temple, perched precariously atop a steep cliff and surrounded by thick pine forests. From afar, it looks like an almost otherworldly place that is impossible to reach, but trudging up a dirt path, you will soon come face to face with the mighty temple, aptly nicknamed Tiger's Nest. Inside, it is only a matter of picking a vantage point from one of its many rooms that allows you to gaze at the valley below, and as you do so, you learn one of the many Bhutanese secrets to happiness — enjoying the moment. Here it is insisted upon, as photo-taking is prohibited in the temple's premise.
Bhutan is not only about Paro Taktsang, though; its extensive range of mountains offer tailor-made treks that range anywhere from a mere day to two weeks, from gawking at pristinely clear lakes to sizing up the Bhutanese Himalayas.
Also Read: 17 Hiking Trails in Bhutan Every Hiker Should Complete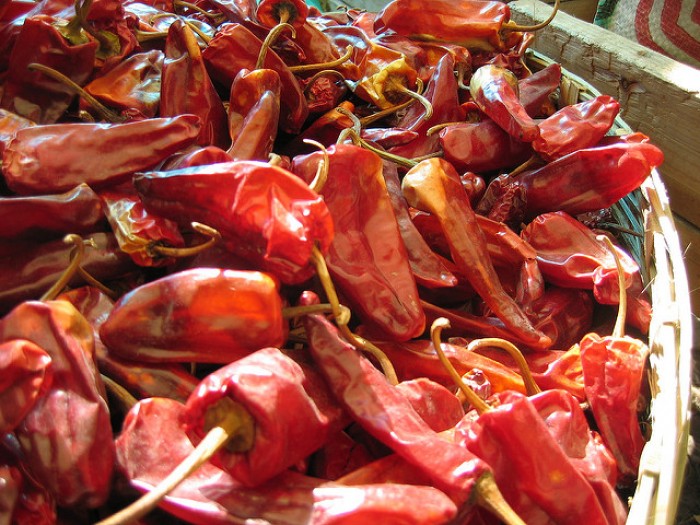 Image credit: T N
Back on level ground in rural villages, the spirit of Bhutanese hospitality awaits you in the form of a home-stay. Although a 3-star accommodation is guaranteed, tourists can opt for a more rustic living experience. If you are able to get past the lack of what to you are basic necessities like electricity and running water, you will be able to feel the warmth of your Bhutanese hosts as you sit together with them around a dining mat laid neatly on the floor, feasting on traditional Bhutanese dishes like Ema Datshi (spicy chillies and local cheese) and Phaksha Paa (tender pork cooked with spicy red chillies). You must either have: an unhealthy love for spicy food, or plenty of milk — it quells spiciness better than water.

Image credit: Caleb See
In truth, Bhutan radiates happiness in all facets of its everyday life.
What we ought to know is how happiness is defined — the excitement that is exuded during one of its numerous festivals; the meditative contentment that is collectively felt, from the monks atop the hills to the village farmer; even the eagerness from your hosts to share their lives and home to you.
Helped on by the Buddhist teaching of simple living that has been ingrained in them for countless generations, the Bhutanese people have learnt to live with what they have — never idle, but never pining for what they do not have. Perhaps, the anti-consumerism approach to life is what we occasionally need to compensate for moments of happiness lost because for want of a material gain.
Also Read: 10 Reasons Bhutan is the Most Underrated Destination in this World