Bhutan is not a place where mass tourism reigns and this is perhaps why it has been able to retain its air of magic and mystery. It is a beautiful place where the mountains rise majestically from the aura of peace and spirituality.
Since you must get a tourist visa and pay by the day, some see Bhutan as an expensive holiday destination, but the value is far better than you might expect.
It is a mistake to underrate or underestimate the charms of this relatively unknown country. Here are ten reasons why we can feel safe in calling Bhutan the most underrated destination in this world, and why you should consider the beautiful country of Bhutan for your next holiday.
1. Natural beauty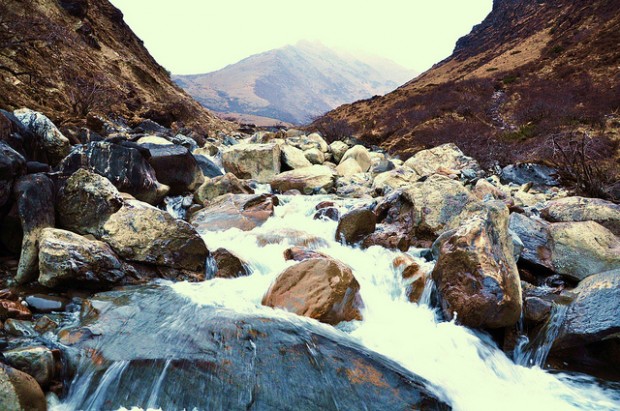 Image credit: Inga Vitola
Bhutan is a dramatic and mountainous Himalayan country that can show you glimpses of the rooftop of the world. Snow-capped peaks rise gracefully above forest-clad slopes teeming with wildlife. Unique architecture is offset by the stunning backdrops and the clean air swirls above a landscape of immense natural beauty. Rhododendron bloom vividly in spring along the high passes and shadowy gorges are cloaked in the glorious green of ancient woodlands. By law, at least 60% of the country must remain forested for future generations, so you can rest assured that the picturesque and intensely beautiful landscape here will remain for posterity.
2. Variety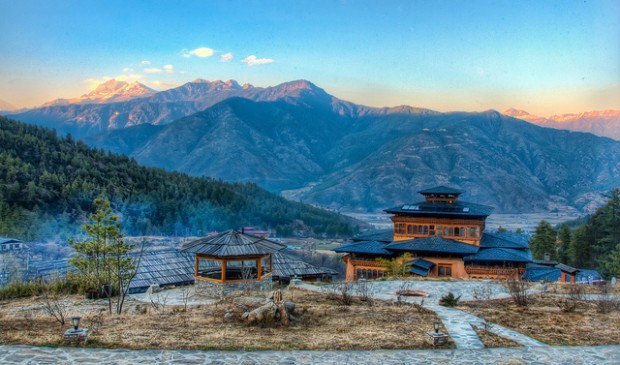 Image credit: Aymaan Ahmed
This country manages a feat that few are capable of. It is at once a country of tradition, spirituality, magic and mystery and a modern civilisation with happy, well-educated and well-connected people, diverse flora and fauna and cities that retain an ancient feel. The variety found here in the landscape, the wildlife and the geography is one of the things that make this country so fantastic for a short stay or to live in.
3. Climate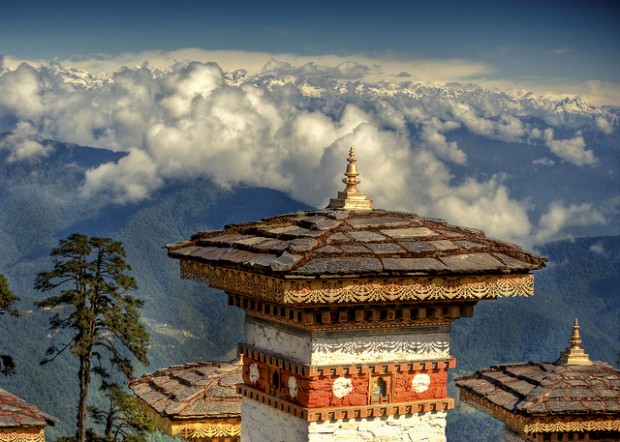 Image credit: Göran Höglund (Kartläsarn)
The climate of Bhutan is also extremely varied and is another attraction. The sub-tropical climate experienced in the south of the country keeps the temperatures between 15 and 30 degrees Celsius year-round. There is a monsoon season in the southern reaches that brings huge amounts of rain between late June and late September. In the central regions, with temperate and deciduous forests, there are warm summers and cool, dry winters, and further north still, as the altitude rises, the temperatures are cooler and peaks are capped with snow.
4. History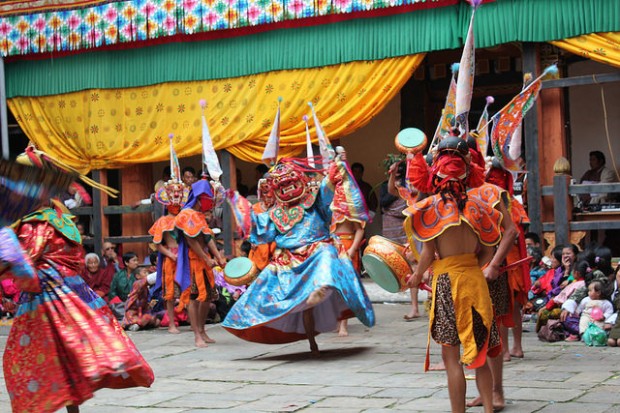 Image credit: Arian Zwegers
The introduction of Tibetan Buddhism to Bhutan in the 9th Century has shaped much of the country's history. Many historic sites can be seen across the country that date from this period and from the following decades. Those interested in history and tradition will find a lot to love in this country that is proud of its heritage and has done what it can to retain it. Historically, Bhutan is interesting because it is one of the few countries in the world that have never been conquered, invaded, or governed by an outside power, but have remained independent throughout the ages.
5. Spirituality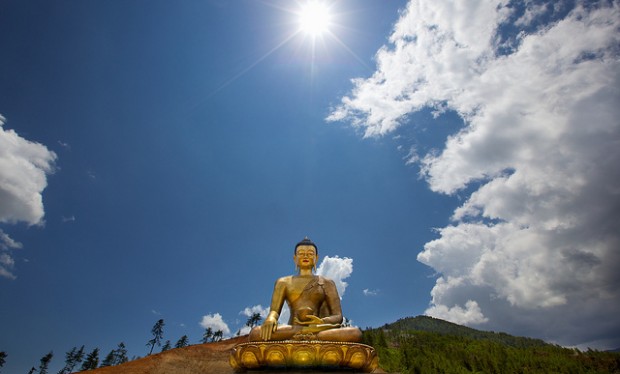 Image credit: Michael Foley
Of course, Buddhism is important in this deeply spiritual country. Those seeking some sort of spiritual solace will find it in the religious buildings and the natural beauty of the landscapes of Bhutan. The whole country is dotted with fortress monasteries, called Dzong, and temples, many of which are chief among the country's many attractions. On high mountain passes, chortens help you to connect with Buddha and focus your meditations as you gaze out over the ever-changing and infinitely spectacular Himalayan panoramas.
6. Trails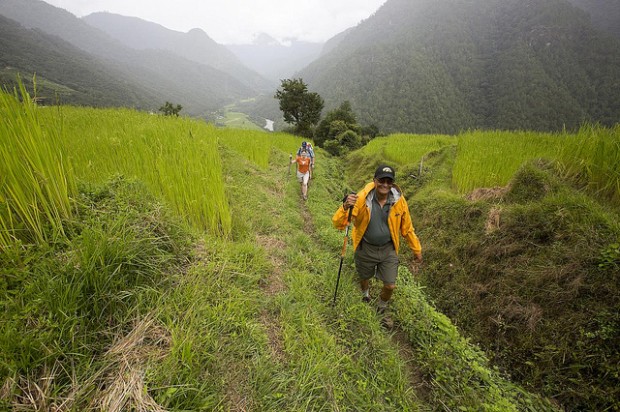 Image credit: Christopher Michel
If you wish to take a geographical journey as well as a spiritual one, then Bhutan has hiking trails galore for you to enjoy. Stroll through lush valleys, climb to ancient monuments, or hike high into the mountains and take on the challenge of the Himalayan peaks. This fairytale land is wild and utterly unspoiled, a place of pilgrimage for those who enjoy a trek in the mountains. Take the unchallenging Druk path, the intense Snowman trail, or the popular nine-day Yaksa trek through glorious mountain scenery. Though peaks are off limit – deities live there.
7. Adventure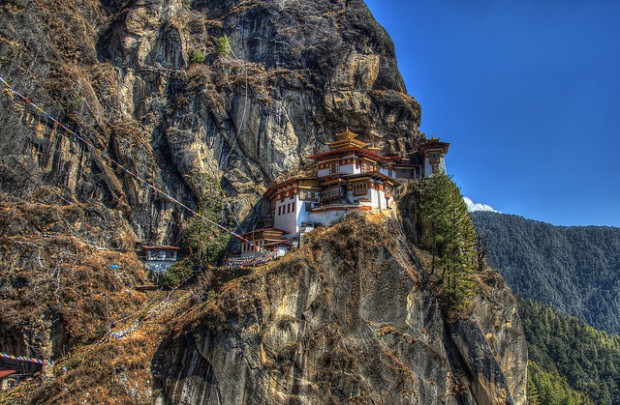 Image credit: Aymaan Ahmed
Hiking can provide much adventure, of course. Bhutan affords challenges for even the most fit and experienced of mountaineers and trekkers. Even by road, adventure is easy to come by in Bhutan, as you traverse one of the exciting mountain passes. Travel six to eight hours to reach remote corners where monasteries cling to cliffs, or visit mountain villages where little has changed since the country cautiously opened its doors to foreign visitors around three decades ago.
8. Wildlife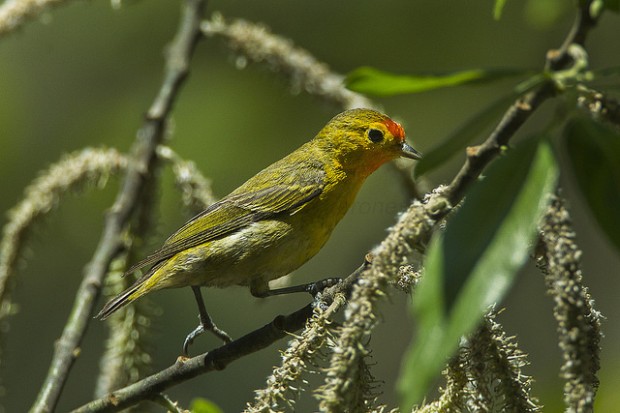 Image credit: Francesco Veronesi
Bhutan's awe-inspiring landscape is filled with abundant and diverse life. Botanical riches thrive alongside unique mammals and birds and are protected in several national parks. Tigers, one-horned rhino, snow leopards, common leopards, wolves, black bears, red pandas and many more creatures live quietly in the unique and fortunately protected landscapes of this country. Birds soar above towering monasteries perched in cliffs, and swoop and wheel over the swathes of forest, which shelter many more animals below the boughs.
9. People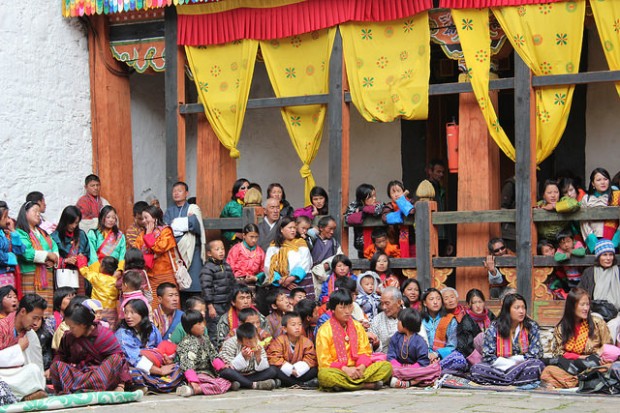 Image credit: Arian Zwegers
The people of Bhutan are welcoming, warm and friendly. While in some ways they are very much insulated from the outside world, in other ways they are very much modern global citizens, well-educated, cultured and vibrant. See people who very much follow a traditional, Buddhist way of life and feel the common humanity while at the same time rejoicing in their differences of bearing and culture in a world that gets more homogeneous every year.
10. Happiness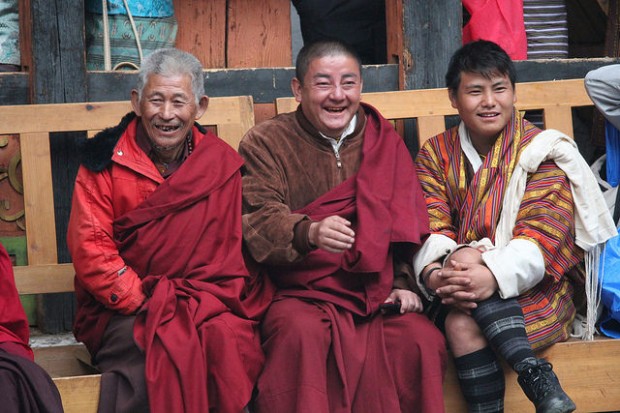 Image credit: Arian Zwegers
If you need yet more inducement to visit Bhutan, then you should know that this is a country that cares more for National Happiness than for GDP. It is dedicated to making its citizens happy, and it has to be said that they seem to be doing a very good job.