Say bye-bye to winter, folks! Flower lovers rejoice, for Spring is about to arrive. Okay, I know what you're thinking, "How can you get so excited about spring?! You live in a tropical country!"
It's true. I don't get to experience spring and flowers blooming as often as I'd like since I live in a country with only two seasons — wet and dry. But seasonal changes can be pretty relative if you love traveling. In fact, it's possible to chase a certain season all year-round if you want to!
I love spring because it's all about new beginnings and pretty flowers. This is the season to transform yourself for the better! Of course, it wouldn't hurt to check out a couple of these garden destinations in your journey through spring awakening:
Also read: The Ultimate Tokyo Bucket List: 20 Challenges For Your Next Trip
1. Keukenhof, The Netherlands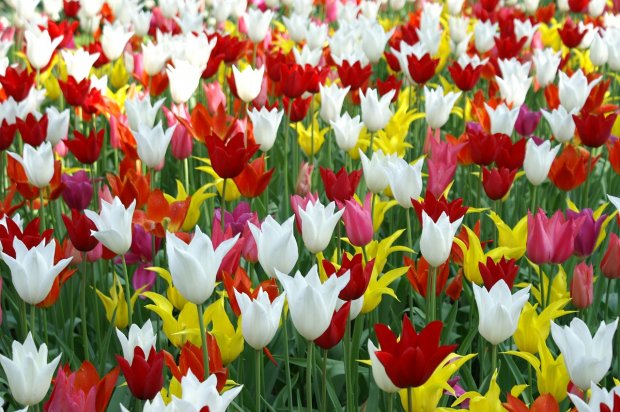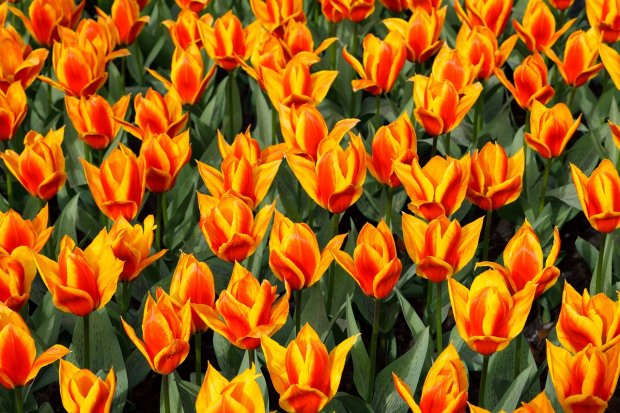 This is at the very top of my spring bucket list and I'm sure you can tell why. Keukenhof, which showcases over 7 million gorgeous flower blubs, including world-famous Holland tulips, is said to be the most beautiful garden in Europe. This year, the park's theme is centered around the late artist, Vincent van Gogh. There's a flower mosaic of him plus a modern 'Selfie garden' inspired by his self-portraits. Restaurants and cafes are scattered all over the park so you can just chill out and enjoy the wonderful scenery while sipping tea. Keukenhof will only be open from March 20 to May 17, 2015 so be sure to grab a ticket ASAP!
2. Gardens of Versailles, France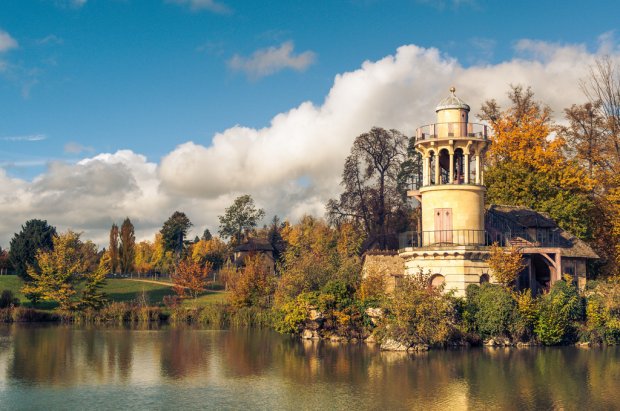 Image Credit: Eric Domond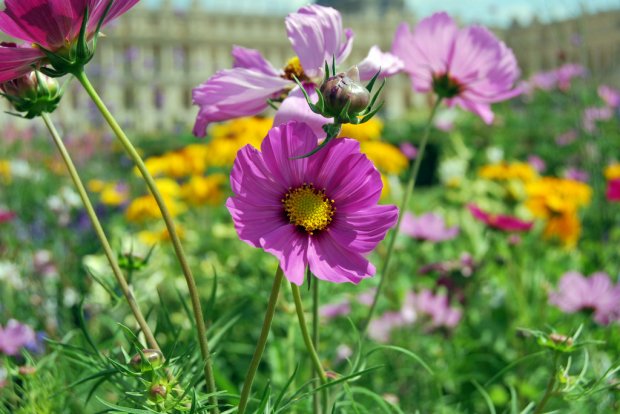 Image Credit: Zhu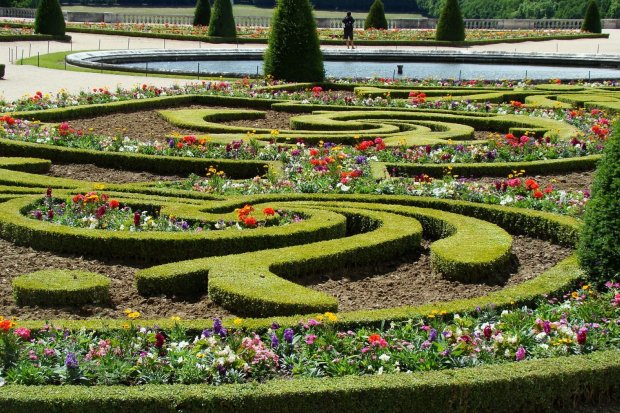 The Château de Versailles used to be the home of French kings. It was built by King Louis XIV and includes a massive garden, which is as elegant and exquisite as the palace itself. The garden, which took around 40 years to complete, is open throughout the year but it's best viewed during springtime.
3. Dubai Miracle Garden, UAE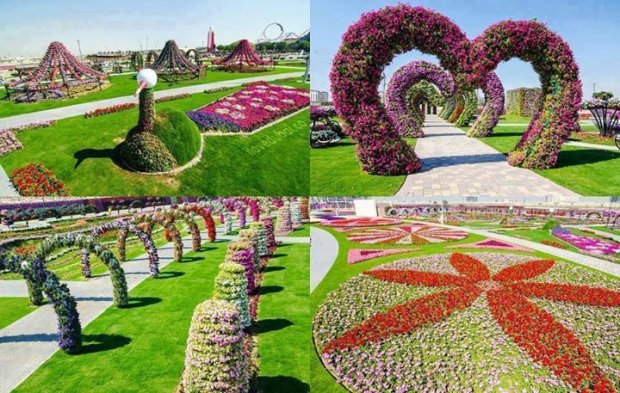 Image Credit: Junaidrao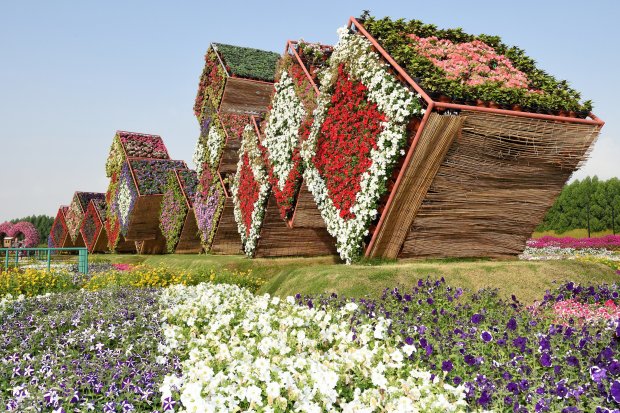 Image Credit: Tim Adams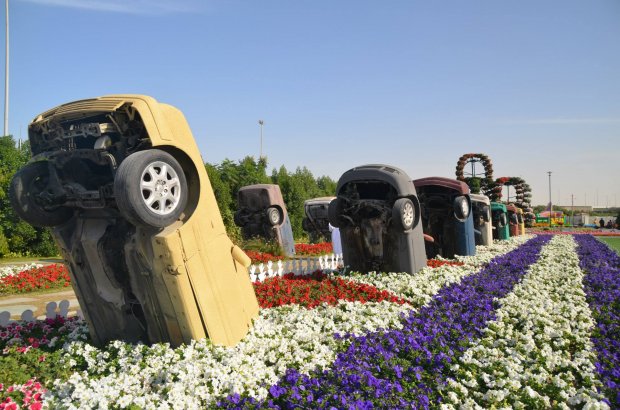 Image credit: Alexandra Craig
Dubai is known for being over-the-top and innovative. So it's no surprise that this desert country was actually able to build the largest garden complex in the world! The great thing about this garden is that it's maintained through the use of waste water. Not only is it a landscape architectural feat, it's also environmentally-friendly. Check out over 45 million flower blooms in stunning one-of-a-kind designs for only 30 UAE dirhams!
4. Shinjuku Gyoen National Garden, Japan

Image credit: Amy Jane Gustafson
In the middle of busy Tokyo and just a short walk from the Shinjuku Station is a peaceful public park called Shinjuku Gyoen. This park houses different varieties of cherry trees, making it a great location for locals and tourists to visit during sakura (cherry blossom) season, which takes place sometime in the end of March or early April. It's very hard to predict the exact blooming time of the cherry trees but if you're lucky enough to be in the area during this short season, grab your friends and have a picnic under the pretty pink and white flower blossoms.
5. Everland Resort, South Korea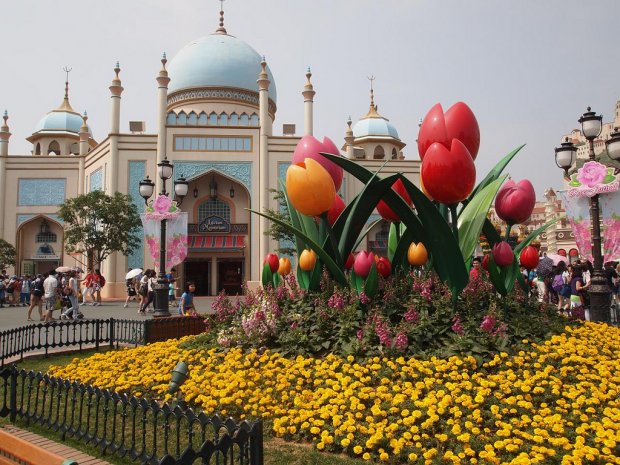 Image Credit: Walter Lim
This cute theme park, located in the Gyeonggi province of South Korea, has a Four Seasons Garden, showcasing different flower displays for different seasons. It's tulips from April to June, lilies from July to August and chrysanthemums from September to October. I was able to visit during the spring festival and the place was jaw-dropping! I think I spent more time walking around the garden and taking pictures than going on the rides! It gets even better at night when the flower displays are illuminated using colorful lights.
6. Notre-Dame de Sénanque Abbey, France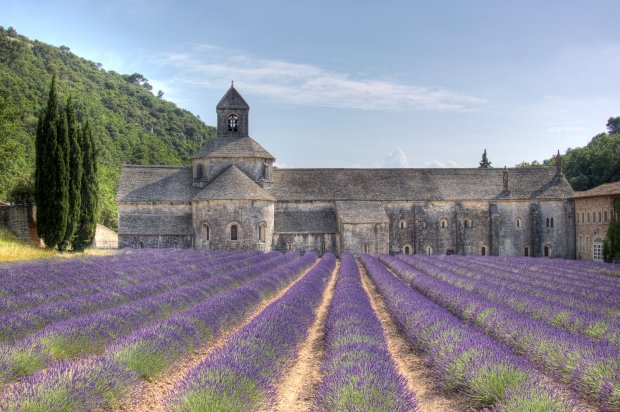 Image credit: Decar66
Picture-perfect lavender fields with the 12th century Notre-Dame de Sénanque Abbey, home to a community of Cistercian monks, as a backdrop can only be found in Provence, France. Visit this medieval monastery anytime from June to July to see the lavenders in full bloom. However, please remember that this is a place of worship, not a museum or a tourist attraction, so be respectful at all times!
7. Kew Gardens, UK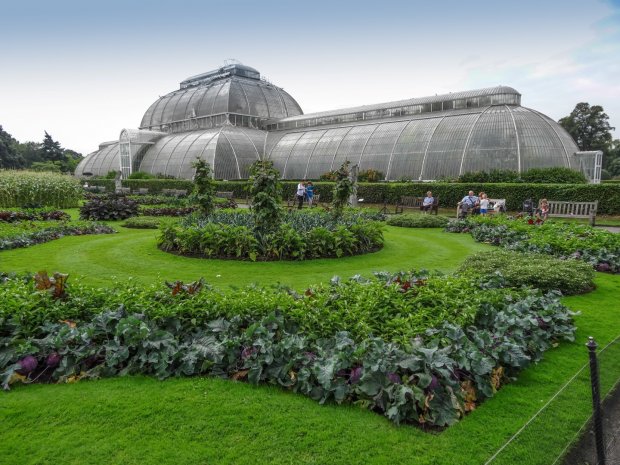 Image credit: Michael Button
This UNESCO-listed botanic garden is just a couple of minutes away from central London. During springtime, you'll see daffodils, snowdrops, magnolias and even cherry blossoms when you go on tour. Don't just look around, though. Try to also learn about scientific research and plant conservation to make your trip even more worthwhile. Other top attractions in the garden include the Palace, the Pagoda, the Palm House and Rose Garden, Queen Charlotte's Cottage and the Treetop Walkway. If you visit from February 1 to April 21, 2015, an adult (over 16 years old) ticket will cost 15 Great Britain pounds.
8. Gardens by the Bay, Singapore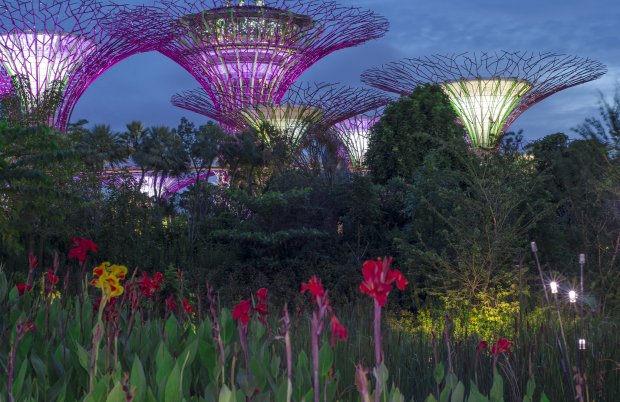 Image Credit: Jaafar Alnasser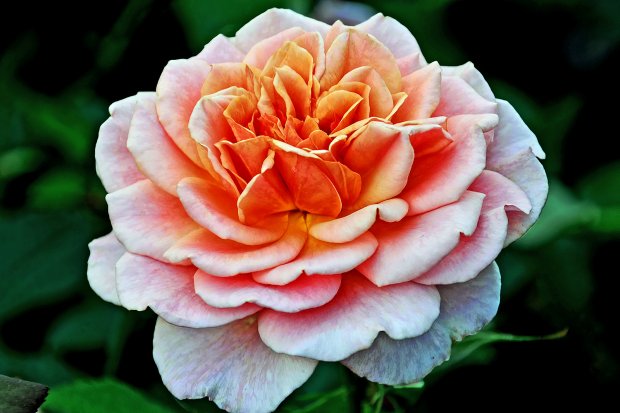 Image Credits: Choo Yut Shing
Singapore may be hot and humid but just like Dubai, climate restrictions didn't stop this country from creating an award-winning horticultural masterpiece! Aside from the towering Supertrees that can be spotted a mile away, this attraction has two cooled indoor conservatories — Flower Dome and Cloud Forest. They both mimic different climates to suit the tastes of the various exotic plants housed inside. Don't just go during the day. Be sure to come back at night to enjoy the garden's music and light show, which, for this season, is the spring edition of 'Garden Rhapsody'. It's quite an experience to witness the Supertrees come to life!
9. Butchart Gardens, Canada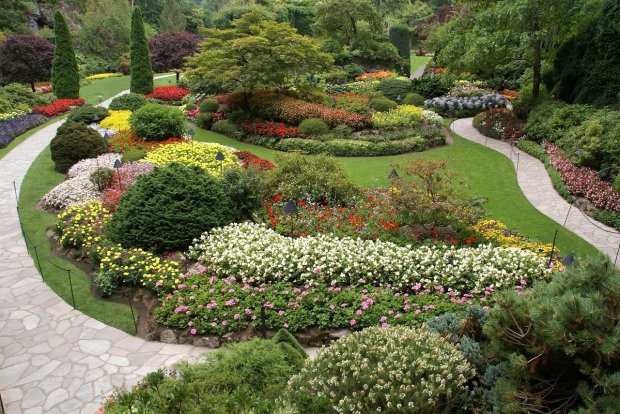 Image credit: Davgood Kirshot
This top Canadian attraction was built by Robert Pim and Jennie Butchart in the 1920s. It started as a small garden right next to their home and over the years, their family kept expanding it until it became as huge as it is today. Not only is this garden family-friendly, your dogs are welcome to wander around aimlessly with you too! After walking around, be sure to visit the restaurant and ask for their 'Taste of Spring' menu, available from January 15 to March 15, 2015, for some elegant afternoon high tea!
10. Hunter Valley Gardens, Australia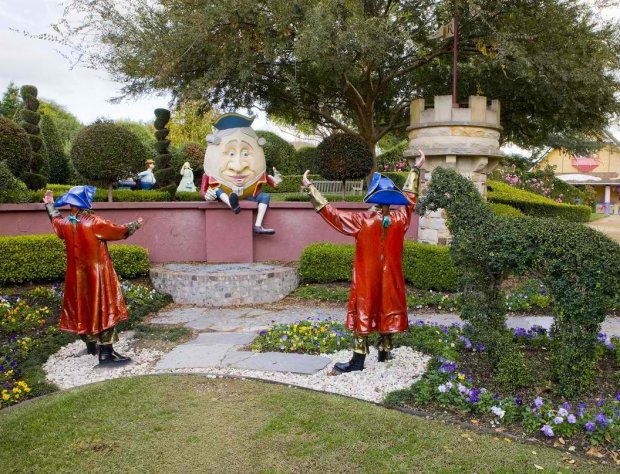 Image credit: Mitali Agarwal Mehta
Time to go back in time in Hunter Valley Gardens. You'll find the characters from your favorite nursery rhymes such as Humpty Dumpty, Jack and Jill and so much more in this 60+ acre garden. I'm sure you'll be delighted to relive your fun childhood memories when you go around!
Are there any other gardens of Eden for flower lovers that we have missed out on this list? Leave a comment and let us know!
Also read: 5 Things to do in Ho Chi Minh Without Breaking the Bank