Everyone knows that London is the undisputed food capital of the world. Be it pizza, dimsum, English tea or desserts, you are sure to find whatever you are looking for in London!  London's fame as a gastronomic paradise has naturally led to countless Instagram photos of its various eateries and the food that they serve.  However, with so many options to dine at in London, deciding whether a place is worth it or not can be difficult.
On my recent trip to the UK capital, I faced the same conundrum and decided to visit a handful of eateries that people had been raving about. While there were certain dishes that I loved, there were others that I felt didn't warrant the good reviews it had been garnering.
Here are my hits and misses on some of London's top eating places.
Hits:
On the Bao
This Korean food bistro may be small, but the food it serves sure packs a punch! With Korean waiters, chefs and songs, it felt like I had teleported to Korea. Most of the food, however, can't beat the fare offered in more traditional restaurants. Despite that, there were three dishes that I especially liked.
While Korean Fried Chicken is a dish many of us are familiar with, On the Bab does it with a twist. You can choose seasonings for your chicken, such as soy ginger, sweet spicy, garlic mayo and seasoned spring onion. I chose the spring onion seasoning, and was promptly surprised when the chicken arrived! With the generous amount of spring onions which completely hid the chicken, I thought I had mistakenly been served a salad. The chicken itself was splendid though, with a crunchy skin and a tender interior, even if it was slightly oily.  
Another dish that I loved was the bulgogi beef On The Roll. Bursting with rice, fresh veggies and of course, marinated beef, this roll was extremely satisfying and very filling. 
The star of this fusion food bistro is the soft shell crab with guacamole. Imagine a whole chunk of soft shell crab drenched in guacamole and stuffed in a  white fluffy steamed bun. Then shower it with shallot. Voila, and you got a gastronomical wonder. The crunchy shallots and soft shell crab create an added texture to the soft bread.  The guacamole does occasionally get lost in the mix of spices and flavours, but the whole dish is still fantastic . 
Besides the lovely dishes available, every table has a free-flow dip of orange coloured sauce that went perfectly well with everything. You could add the sauce into your fried chicken, your roll, or the mantou for a whole new flavour!
Flat Iron
Ah, the acclaimed Flat Iron. This famous steakhouse has only one main item on their menu, but supplements its flagship dish with daily specials written on the walls. I went for THE Flat Iron Steak, along with creamed spinach and chips as sides, and polished it off entirely! My medium-well steak was soft and tender with the perfect level of saltiness. I loved how portions served here are not as big as other steakhouses, which helped smaller-eaters like me. The dishes were also very reasonably priced at £10!
To mix things up, order the Béarnaise sauce. The sauce complemented the steak and fries without overpowering the meat. I also strongly recommend the creamed spinach. Soft, creamy and stringy, the greens are a refreshing break from the meaty meal.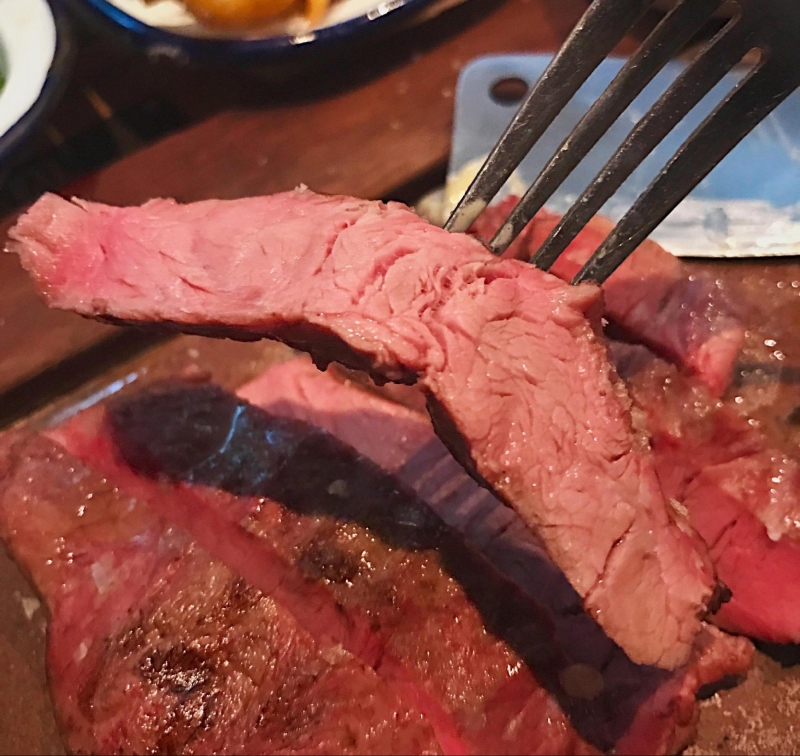 To raise their already high standards, Flat Iron recently introduced free popcorn and ice cream for every diner!  For just £10, this restaurant definitely lives up to its reputation. I highly recommend visiting the eatery – just remember to get there early to avoid the long waits during dinnertime.
Bread Ahead
With Bread Ahead pastries, it was love at first sight. Every pastry gives off a healthy brown glow with crusted edges, soft centres and splotches of colours everywhere. I immediately made a beeline for their most famous product, doughnuts. Exactly like a Berliner, these are round, fluffy, dusted with sugar and piped with cream.
Although the lady suggested the vanilla cream doughnut, which is their bestseller, I couldn't resist trying the almond and hazelnut cream. True to its name, there were bits of almond and hazelnut, giving the cream a nuttier and more interesting texture! With their addictive filling, these doughnuts are complete worth splurging on.
Chin Chin Ice Cream Lab
I admit I was initially sceptical about Chin Chin Ice Cream Lab because of all the hype and how picture-perfect their food was. This cafe at Camden Lock Market sells nitro ice cream along with a range of other desserts, and made for an enticing case of food review. Accordingly, I paid the cafe a visit and ordered both its Burnt Butter Caramel Ice Cream and Hot Chocolate with Toasted Marshmallows.
I was already blown away by the first scoop of the Burnt Butter Caramel Ice Cream! Atop a cookie base and topped with molten chocolate, the ice cream has a rich myriad of flavours. It is also creamy, and the salty tinge that came after tasting the sweet caramel made the entire ice cream perfect. Even the temperature of the ice cream was just right – it wasn't too icy or too warm. The cookie base was equally immaculate. Soft and crumbly, the cookie was soft enough to soak up any melted ice cream. 
In contrast, the Hot Chocolate with Toasted Marshmallows fell short on taste. I felt the hot chocolate was too milky and the torched marshmallows were too sweet, especially when it was heaped on top of the cup. It did, however, looked incredibly Instagram-worthy.
The ice cream is definitely worth the queue (which moves pretty fast), so do make sure to try it! Just be prepared to eat standing up because there are very few tables at this tiny café.
Britain's First and Best Beigel Shop
Located at Brick Lane Market, this Jewish bakery sells a variety of pastries like rainbow croissants, cheesecakes, banana cakes and of course, beigels. The more popular ones are the salt beef and smoked salmon with cream cheese, the former which I decided to have a bite of.
My first impression of the beigel was the overly generous serving of beef – the meat was practically spilling out of the beigel! Most beigels I've eaten were either too soft or too tough, but this one was toasted perfectly. It was crunchy and slightly browned at the top and bottom. The texture and plain taste of the bread helped to reduce the saltiness from the beef.
Do order the beigel with mustard and pickles for an added tint of sourness. If you're with friends, order only one to share too! The entire beigel is extremely filling, and you definitely want to leave space to try other food in the market.
Hummingbird Cafe
With all the dark pink hummingbird decoration, you'll spot this bakery from a mile away. But don't just stand at the door –  walk in to an impressive array of cupcakes flavours ranging from carrot cake to chocolate and of course, their bestseller, red velvet. 
I bought a single red velvet cupcake and immediately took a bite out of it. What came after was a perfect blend of dense and fluffy textures! Visually, the inside of the cupcake is a satisfying deep red colour that contrasts starkly with the pure white icing piped on top. I felt that the cupcake was good enough to eat alone without the sweet icing. A tad too granulated and sweet, the icing quickly overwhelmed the taste of the rest of the cupcake. All in all, the cupcake is definitely worth a try for the sweet-tooths.
Muffin Man Tea Shop
Serving traditional English breakfasts, this shop certainly oozes charm and class, with scones arranged beautifully on a nice elevated plate, accompanied with a pot of tea. I highly recommend the scones, which are warm, nicely browned, soft and crumbly. Do lather your scone with butter, then top with jam before popping it into your mouth for a mix of sweet, warm goodness. Then take a sip of tea for the complete English breakfast experience.
To top off my English breakfast, I tried the shop's best cake – the Queen Elizabeth Cake. Unfortunately I felt that this cake, comprising of a mixture of dates and walnuts topped with chocolate was much too dry and dense.
Misses:
Soho Grind
I heard so much about this hipster coffee shop located at Kingley Court that I was extremely excited to head there for brunch. Sadly, I was sorely disappointed with their small selection of pastries. The portuguese egg tart was too flaky, and its custard too sweet and sticky.  My dissatisfaction did not stop at just the food – the coffee in my soy cappuccino was too strong and solid.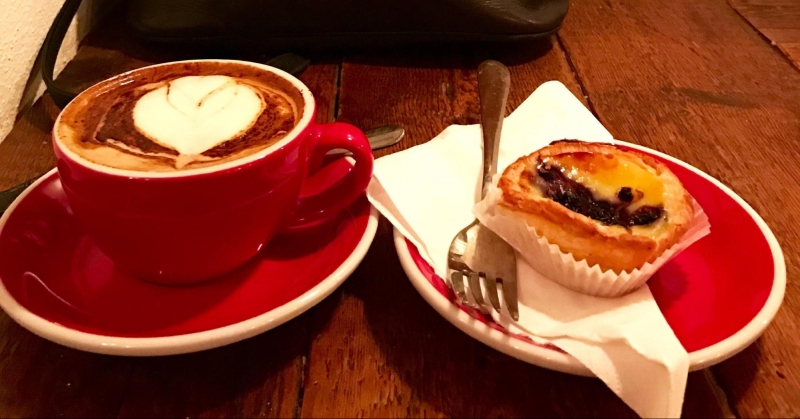 With red hue and had a dimly lit basement, this cafe is a nice place to pop by for a takeaway coffee, but probably not ideal for brunch or to settle in for a good read.
Nordic Bakery

First impressions can be deceptive, just like Nordic Bakery's gigantic cinnamon buns. However, upon first bite, the pastry was thick and hard, a far cry from my ideal cinnamon bun – warm, soft and sweet. The thinly spread cinnamon was also underwhelming and hard to find in the giant pastry. 
On the bright side, the cafe served an excellent cup of chocolate, which helped to soften the hard cinnamon bun when dipped in. The cafe's thin oat cookie was also surprisingly good despite its pale colour. There was a generous amount of hazelnuts and chocolates in the cookie, making it crunchy, soft and sweet. 
Monmouth Coffee
Located at the popular Borough market, I was drawn to the long queue in front of the Monmouth coffee stall. Disappointingly, the stall itself lacks dairy milk alternatives such as soy, almond or oat milk for its coffee. The coffee was also very ordinary. I felt it was not worth the long wait, especially with a dozen other drink options littered throughout the market. If you're a die-hard coffee fan and determined to try Monmouth, I suggest heading over to their other outlets or at a less popular time. 
Poppies
Labelled the best fish and chips in London, Poppies was bustling and full even when I visited it at 3pm. Instead of the usual fish and chips, I tried the seafood platter as strongly recommended by a friend. This fried platter looked promising, with servings of cod fish, scampi (aka prawns), calamari and white bait.
While the chunks of cod fish were substantial (much bigger than most fish and chips elsewhere), they were much too dry. Unlike ordinary cod fish, which is tender and moist beneath the crispy batter, the chunks were tough all the way down. The white bait was the only redeeming factor. This tiny fish was perfectly fried, and not too oily at all. Although it costs a little more, I recommend ordering a sauce to accompany your meal to keep the platter from being too dry.
Dominique Ansel Bakery
This French bakery has a social media star: frozen s'mores. Imagine vanilla ice cream coated in cookie crumbs then packed into a perfect frozen marshmallow and torched on order: simply delicious! Unfortunately, this theoretical gastronomy wonder tastes a lot less spectacular than it sounds. The vanilla ice cream was much too frozen (it crumbled and even had ice) while the cookie crumbs were deeply buried in the sweet, tough and gooey marshmallow cube. The entire s'more was actually difficult to eat, and tasted much too sweet. 
Thankfully, the banoffee pie saved my visit. Cooked in a paella pan, this upside-down banana and coffee mousse has a crunchy cookie base and is topped with caramelised bananas. The different textures complemented each other perfectly and every bite was exciting and delightful.
London's growing number of eateries mean new and exciting gastronomic adventures for all food lovers. But there are perils when visiting these establishments –  every delicious recipe requires years of trial and error and every eatery has their good and bad days. Despite having both excellent and dismal experiences in London's food scene, I am eager to return to the world's food capital, and satisfy my palate with its interesting and lovely food.
Till then, I hope this guide will help you in your search for good food in London!