Here are just some striking lessons I experienced during my trip to Beijing:
1. "Every single person has a different perspective when looking at the same thing." – Edward Huang
It was lunch time during our tour day and our guide brought us to this restaurant a few miles from the Great Wall. He asked us what we wanted to eat and we trusted him to order for us because he knew what the best dishes were. We only had one request and that was to order dishes that WERE NOT SPICY. He told us that Chinese loved their spicy food so some of the dishes might be A LITTLE SPICY.
That's what he said, "A little spicy, just a little".
I wasn't really a fan of spicy food but I can handle a hint of it. If the food was going to be better with a hint of spice, I agreed to have a little of it with the food orders.
When the restaurant special hot pot arrived, my mom and I were so surprised because this is what came to our table.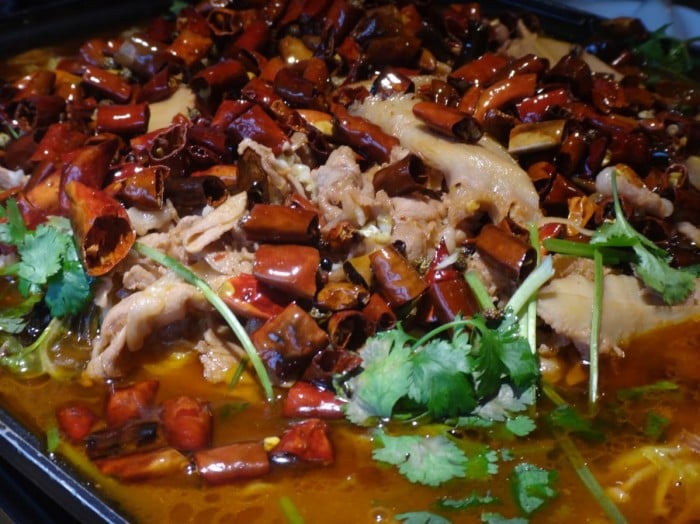 I was gaping. My mom was laughing while saying, "This is little spicy?"
Our tour guide smiled and confidently said, "Yes! Little spicy! Little spicy!" Then he started eating the peppers one by one with the soup and said, "See, not spicy". I was in disbelief. I kept repeating in my mind, "This is little spicy? Really?"
My mom tasted it first and she coughed afterwards. She said to me in Filipino, "Maanghang!" and drank her beer. The next orders came and they were all spicy. I was too embarrassed to tell my guide that everything was too spicy for us. I didn't want to hurt his feelings so I forced myself to eat the dishes.
They did taste good and were bearable at first. As I continued to eat more, it was getting harder to handle the level of spiciness. My guide noticed and he understood that their little spicy was still too spicy for us. He was kind enough to order other dishes that gratefully, had NO SPICE at all.
People have different thoughts about different things. Two people can look or speak of the same thing but have different concepts of it. When travelling or in different life situations, make sure you understand other people so you can help them understand you.
Also read: 10 Unusual Things You Will Encounter in China
2."Why is patience so important? Because it makes us pay attention." – Paulo Coelho
Whether it's a weekday or a weekend, tourist attractions in Beijing are pretty crowded. Majority of the people in these places are locals. Expect that there will be a lot of crowds and lines. But in Beijing, based on our experience, falling in line and flowing with the crowd is a bit different. Some people push. Some people cut in line. Some people block your views. This has been a common theme with every tourist attraction that we went to.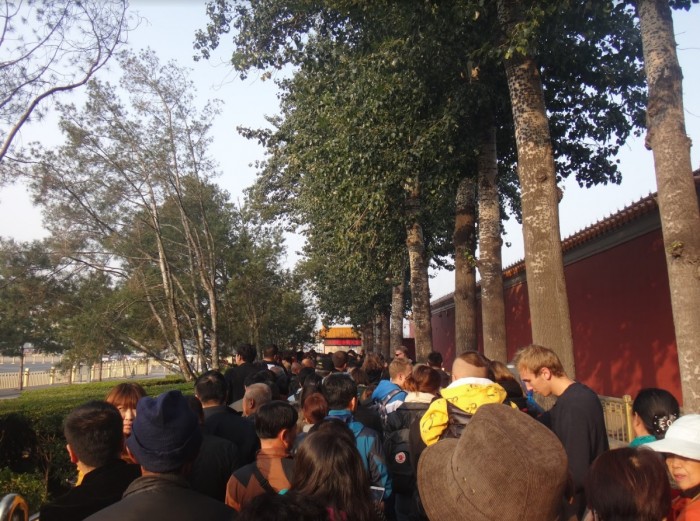 Line for security check at the Forbidden City
It was annoying at first but we stayed patient. My mom and I travel frequently so we always learn to adjust to different people and their cultures. Even if we have experienced these kinds of adjustments often, it doesn't make it easier. The struggles are still there, but somehow you see improvements in your levels of patience.
During the long lines and crowd flows, I just thought about the most positive things to get through them. I think about the fact that I am in another country experiencing first hand a different culture. I observe people and think about ways on how I could be the better person in certain situations. I think about my overall being and how my reaction can affect me and the people around me.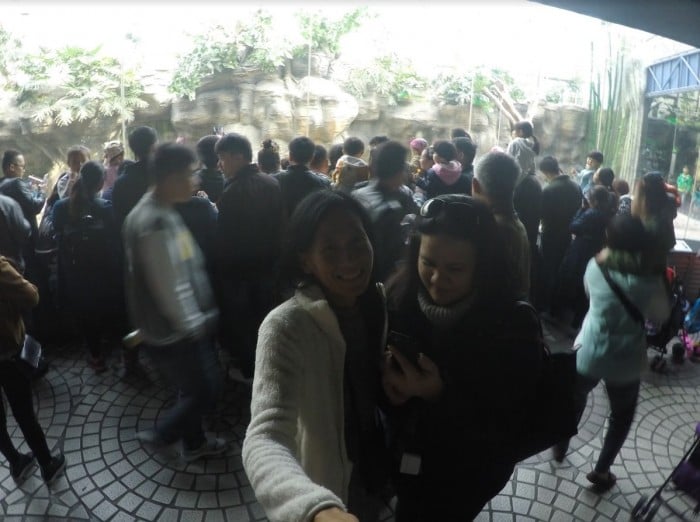 People crowding at the back to take photos of the panda
Patience and calming yourself definitely makes you think about its benefits. It makes you grateful and content. It makes you realise that waiting and the attitude while you wait can be a really significant factor in shaping the kind of person you are.
3. "Be ready for when your time comes, you will have that window of opportunity, so seize the moment, & capitalise on it!" – Anthony Anderson
As I said in #2, there are a lot of tourists in Beijing, both local and foreign. This made taking good photos really hard. There are always people in the background or people passing in front of me when I am taking pictures. Whenever I find a good angle to snap a photo, someone passes by and ruins it which forces me to start looking for another good angle. In different moments, I would wish that for just a few seconds, people would disappear. I would always hope to catch a good moment, even for just a second.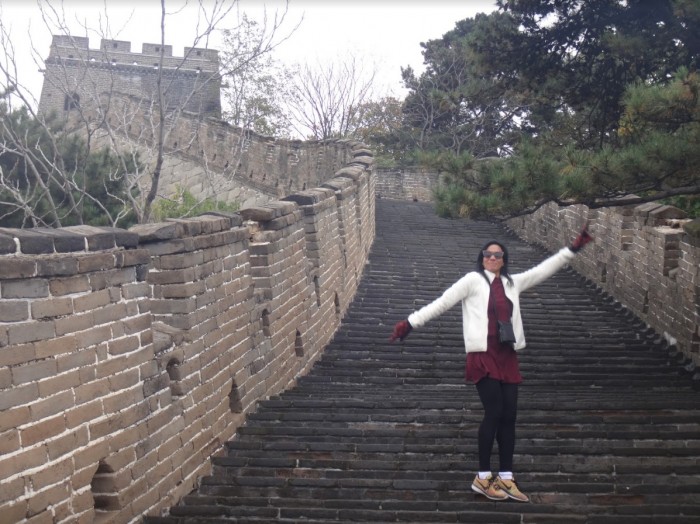 It didn't happen often during our Beijing trip but when it did, I felt so relieved. Even though time was fast, I maximised it, making it feel so fleeting. When we were at the Great Wall, we were surprised to find that it wasn't as crowded as the attractions we went to the day before (Beijing Zoo & Temple of Heaven). Although not as crowded, there were still a lot of tourists walking up and down.
While walking up, in one single moment, I noticed that my mom was in the midst of a Great Wall background with no people. I felt so giddy and shouted at my mom, "Mom! There are no people at the back! Hurry! I'll take your photo!"
Also read: 5 Challenges I Encountered on My Virgin Trip to China
The moment felt like a once in a lifetime opportunity given all that we have experienced days before. I told my mom to pose and took photos of her. After 10 seconds, a group of people were going down and people at my back going up. The moment passed. Reality set in. But I was grateful to have felt that jolt of excitement even for just a few seconds.
It may have been a small opportunity, but still an opportunity. I seized it and I was grateful for it. I was really happy in that moment. The photos I took were not that good because I was hurrying so I didn't get to capitalise but the feeling of having that window of opportunity was a more than enough memory and lesson for me to cherish.
4. "The moments of happiness we enjoy take us by surprise. It is not that we seize them, but that they seize us." – Ashley Montagu
My 8-year-old self was the biggest Mulan fan. At that age, my travel dream was to see China. I wanted to see the wall that Shan Yu invaded. I wanted to see how high it was. I wanted to figure how they could have invaded a GREAT WALL. 18 years later, I got to fulfil that travel dream of the 8-year-old me but wasn't asking the same questions anymore. Instead of asking how high it was, I was researching on how we could visit the great wall without climbing it. Instead of figuring out how they invaded the Great Wall, I was thinking about the long walks and climbs that we had to do.
Researching beforehand about touring the Great Wall, you'll find so many things. When I was a kid, I thought it would just be a long pathway in the mountains. I was very ignorant. The Great Wall has so many sections. There are parts for tourists and parts for hikers. There are open sections and closed sections. There are sections that are restored and some that are falling apart.
My mom and I decided to visit the Mutianyu section as this was the most popular for foreign tourists. Upon choosing this section, we found out that you can either take a LIFT or a CABLE CAR up to the Great Wall from the tourist base. You can also choose these to go down from the wall. What surprised me is that there is another way to go down from the Great wall and that is TO SLIDE DOWN FROM IT THROUGH THE TOBOGGAN.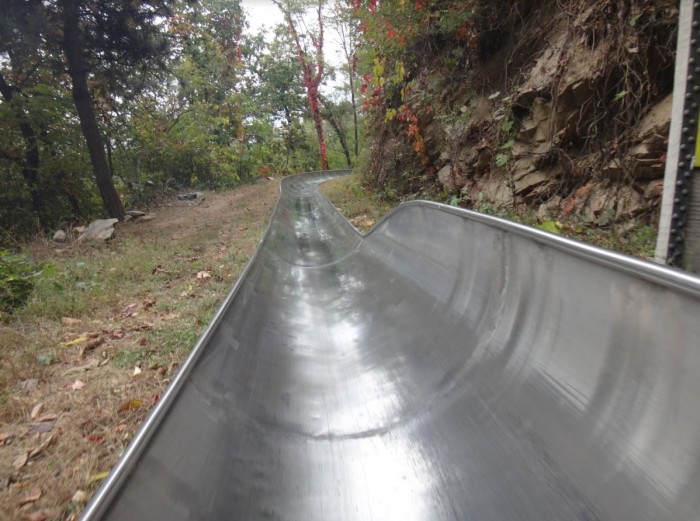 Snapped a photo of the Toboggan Slide during a Slow Down Section
I was so surprised because not a lot of people know about this. I knew I had to do this. It was different and how often can you say that you slid down on a side of a mountain from the Great Wall of China. I had no hesitations and chose this route going down.
My mom and I were scared at first. We didn't know what we would be feeling. But I'm glad that we did it. Because sliding down the Great Wall was one of the best travel experiences of my life. Sliding down the Toboggan really surprised me with so much happiness that I didn't expect. I felt so happy, grateful, content and surprised ALL AT THE SAME TIME. Not a lot of moments can make a person feel that way. My adrenaline was pumping and my heart was beating so fast! The moment was just incredible.
If my 8-year-old self knew that I would be sliding from the mountain that Shan Yu invaded, I think I would have wanted to visit China much sooner. I have sometimes planned my travels up to the most specific point but having this surprise from sliding down the Toboggan slide is a plan I'm glad I didn't specifically research on.
I'm glad the moment seized me because it is one of the best kinds of happiness I have ever experienced.
5. "Life is not measured by the number of breaths we take, but by the moments that take our breath away" – Maya Angelou
The Mutianyu section of the Great Wall had parts with pretty steep climbs. This was a bit of a challenge. In one of the steepest parts, there was a couple in front of me. The wife (tirelessly breathing hard) was ahead when she looked back and told her husband (also breathing hard), "Hey, you should stop and look back. Look at the view. Don't just keep on climbing."
Also read: Stay Connected: Apps and Sites to Overcome China's Great Firewall
Up until that point, I haven't really had time to rest. I was thinking of appreciating the view at the highest point. But I was already in a significant moment. I should have already been in my "living in the moment" mode and marvelling at the vast beautiful view around me.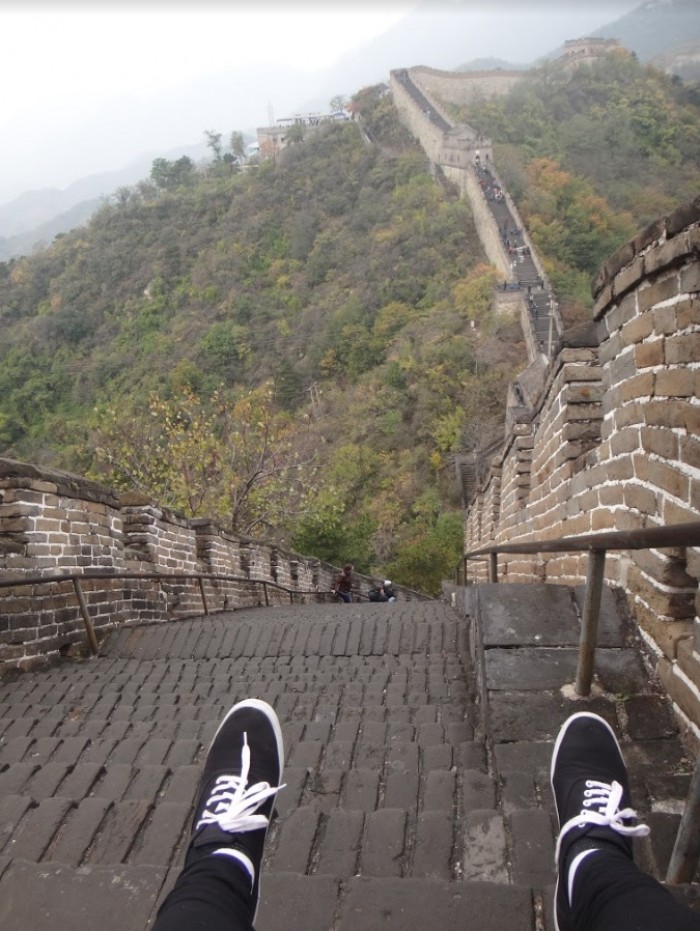 Breathing hard, I turned and stared at the view. If I was breathing fast and hard while I was climbing the steep steps, I was breathing deep and slowly while watching THAT amazing view. In some moments, I even stopped hearing my own breath. I was stunned. I was breathless. The feeling of being at the Great Wall of China was incredible.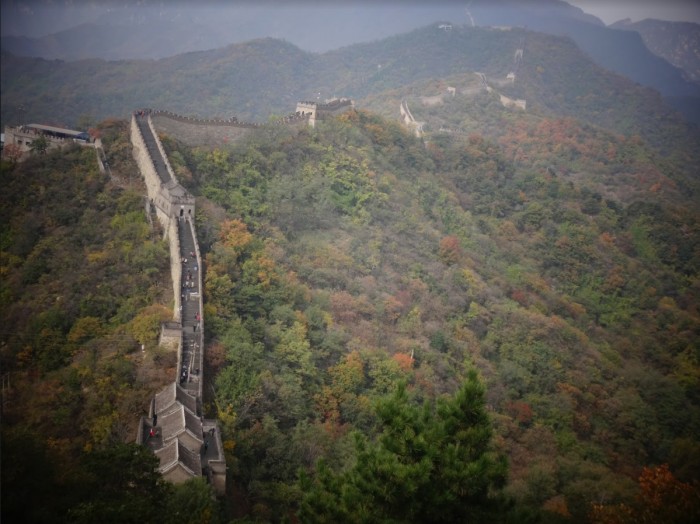 You see life at its best during these kinds of moments. We need to open our minds and see life for what it really is, something beautiful, incredible, and worthwhile.
Also read: 20 Fun Facts You Probably Didn't Know About China
Are there significant lessons you have experienced during your trips? Share them in the comments!