Thanks to Spring Airlines, I got to visit China for the first time in my life. The city of Shanghai really surprised me. I enjoyed myself thoroughly even though I was only there for 3 days and it rained most of the time! So in case you're thinking of heading to Shanghai but only have the weekend to spare, here's a rundown of what you can and should accomplish in just 48 hours!
Day 1
Morning: People's Park (Ren Min Gong Yuan)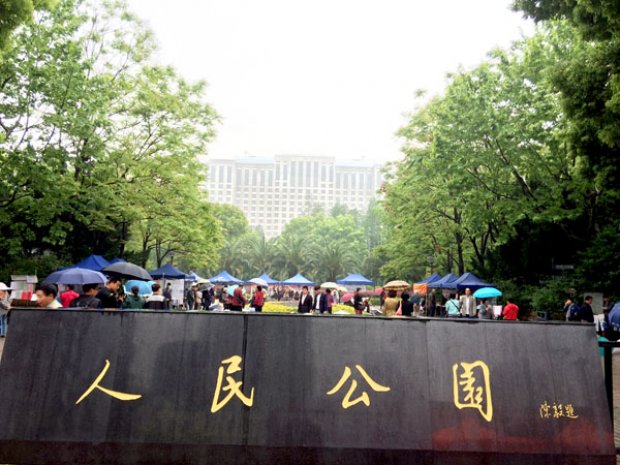 What market is happening at People's Park you ask? Read on…
Start your getaway in Shanghai with a stroll through People's Park. I took the subway to People's Square station on Line 1/2 which brings you right outside one of the park's many entrances. As I entered People's Park, I noticed a lot of booths and paper sheets lining the walkways and paths, as well as a general crowd milling around like it was a weekend market; but this is no ordinary weekend market.
The Shanghai Marriage Market has been around since 2004 as a place where Chinese people come together to find a perfect match, whether they are parents concerned about their offspring, or seasoned matchmakers with impressive resumes and clientele.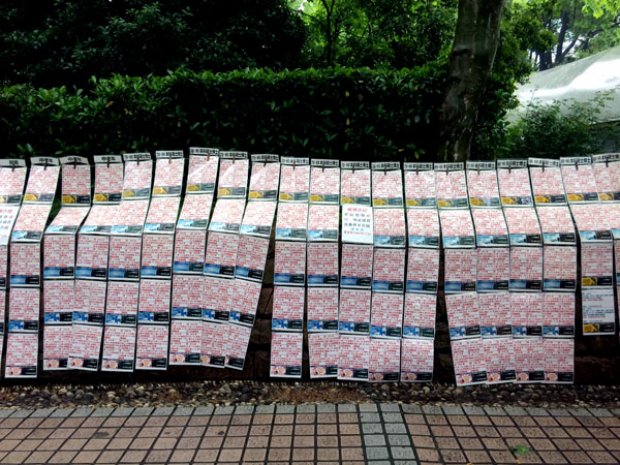 Just one of many, many rows of bulletins found around the park! Some enterprising individuals just stuck on their open umbrellas instead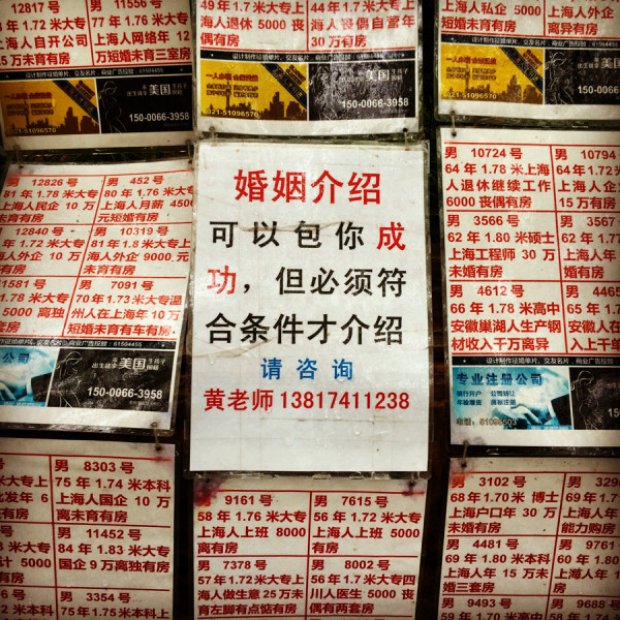 A close up of the bulletins – The middle sign translates as "Matchmaking guaranteed to succeed, but you must fulfil the criteria before we matchmake you". Around it are various advertisements for older men
There are hundreds, or possibly thousands of these bulletins in the park, and they consist of basic information about each individual person, from their age, job, personality and even stuff like whether they own a house. It's usually text only – few of these bulletins have pictures (for good reason perhaps?) and while you think they mostly cover young folk, a number of them actually feature more mature folk as well!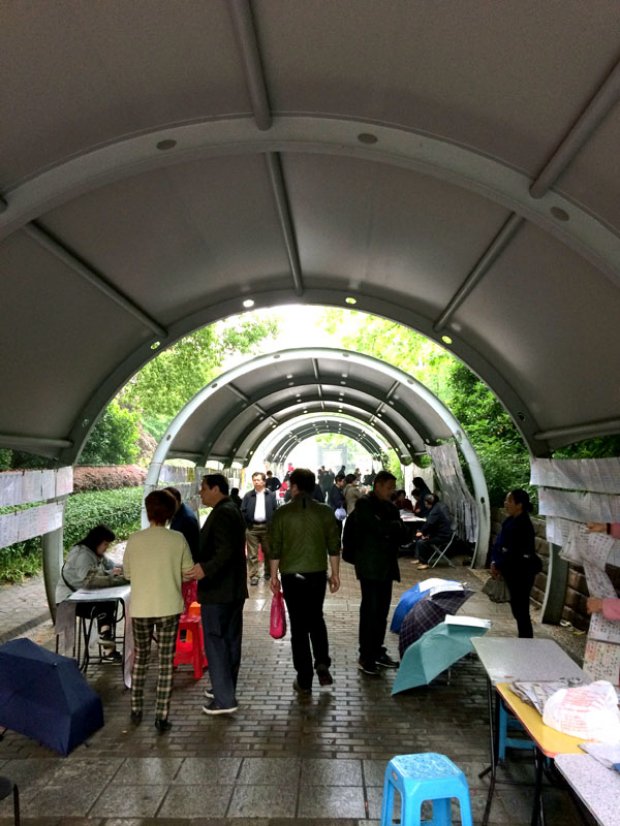 Even with the persistent drizzle, there were lots of people milling around – these lucky folk were in the shelter, but there were even more booths set up in the open air area!
Sit around and listen to the conversations if you understand Mandarin, or talk to the folk to find out more if you have the time – I overheard one lady excitedly setting up a meeting for her kid, I wish I could have found out a little bit more.
The rest of People's Park is a nice green space to just have a leisurely walk – there's a small lake in the middle of the park, and oddly enough, a fun fair as well so you can entertain the kids. Morning also sees exercising local folk, look out for the taiji and qigong happening as well.
For those looking for a broader perspective and understanding of Shanghai's history and culture and with more time to spare, there is quite a lot for you to see and do around these areas:
Afternoon: Tianzifang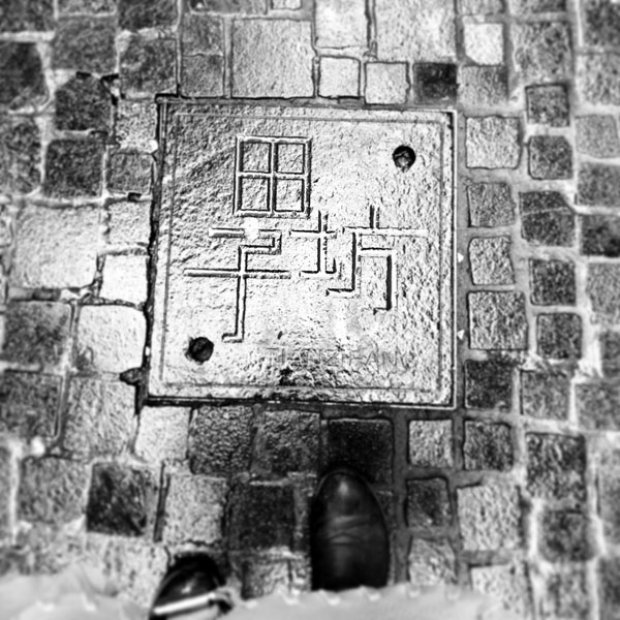 The logo of Tianzifang can be found on the floor ways
I was introduced to Tianzifang by Sue Anne of Shanghai Street Stories as an example of how Shikumen, the rapidly disappearing traditional Shanghainese housing, has been transformed into a modern arts enclave through local community efforts. This block of low stone houses in the French Concession area is also known as Taikang Road and is conveniently located on subway station Line 9's (light blue) Dapuqiao station.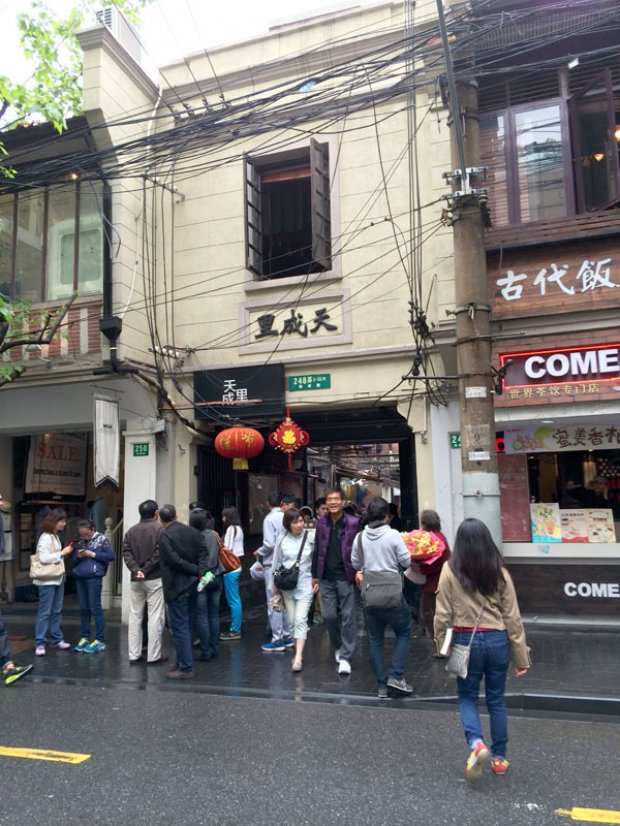 The Tianchengli entrance to Tianzifang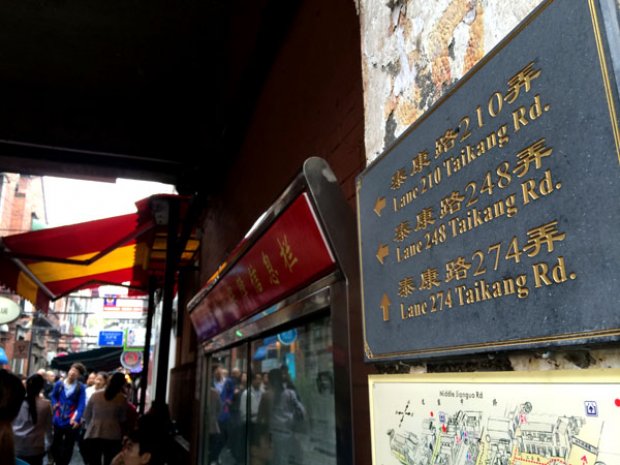 The many narrow Lilongs of Tianzifang
What was once a rather run-down residential area has since become a gentrified hip arts scene which still maintains quite an authentic local flavour – as you walk through the narrow stone-paved lanes and alleyways, take the time to look up and admire the mostly intact original stone architecture of the Shikumen. The maze-like lanes can be a bit of a nightmare to navigate sensibly but super fun if you like discovering hidden treasures and surprises, as the place is packed with a variety of creative retail stores selling quirky knick knacks, photography and art galleries as well as restaurants and food joints. It has a great vibe overall, and while stuff isn't necessarily cheap here (it gets more tourists these days!), it's great fun to just walk around and explore.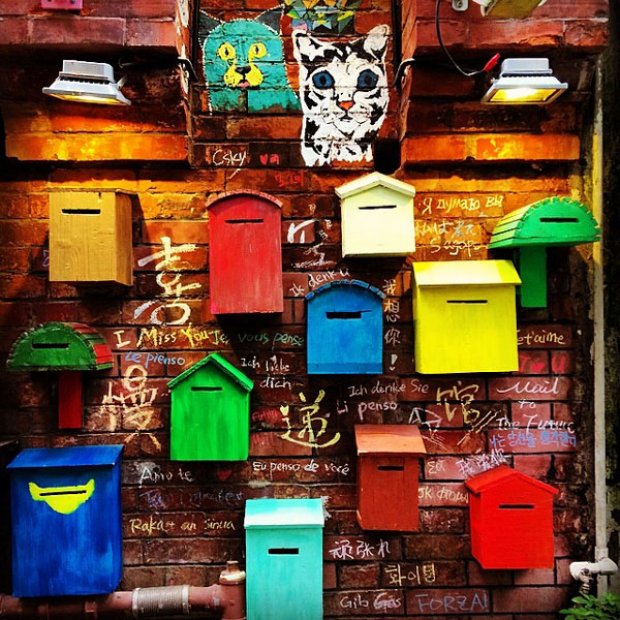 This cute little shop sold postcards which you could mail out in one of many mailboxes!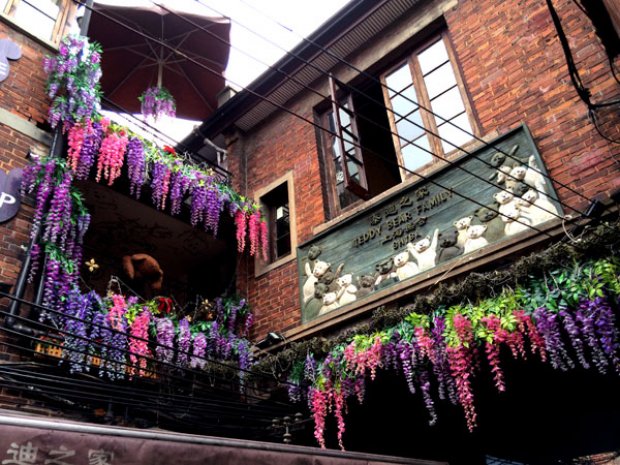 Sometimes surprises came from above – people still lived in the residences above the shops, though this one happened to be some sort of teddy bear cafe!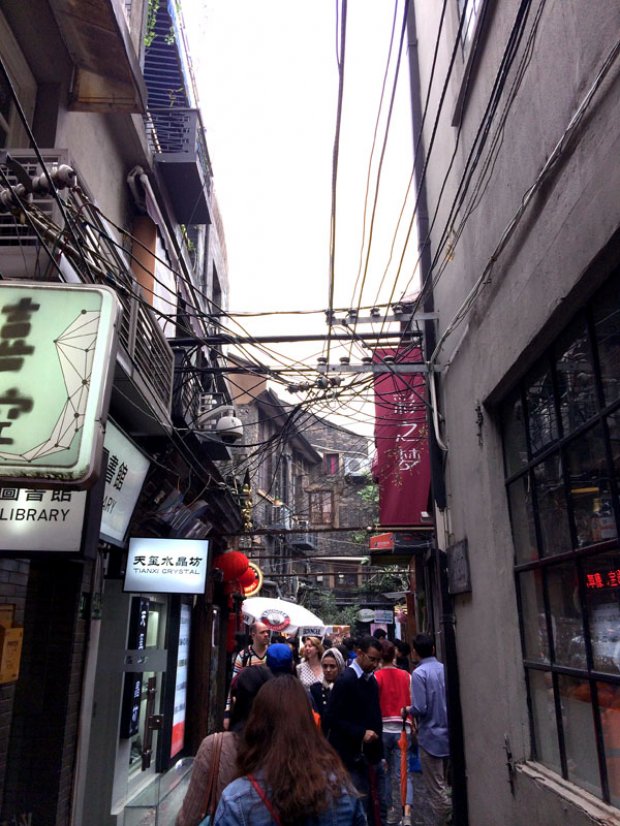 Just one of many alleyways lined with shops and tourists in Tianzifang
You could technically walk to Xintiandi (which I'll cover below),
Evening: The Bund (Wai Tan) and Oriental Pearl Tower (Dong Fang Ming Zhu)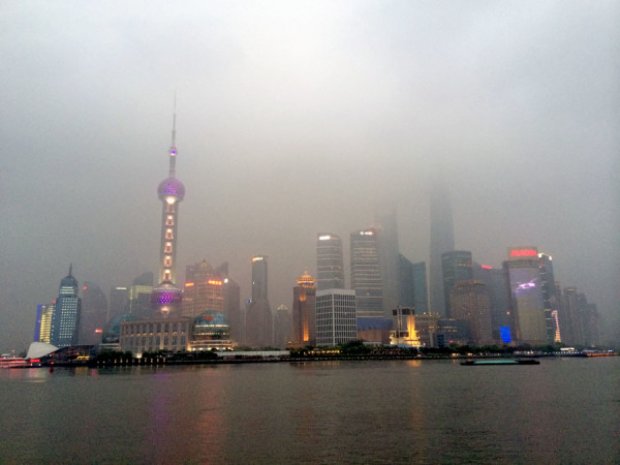 A rather foggy evening at The Bund around 7pm
You can't quite leave Shanghai without having seen The Bund! This famous waterfront stretch is located along the west bank (Puxi) side of the Huangpu River in the evening and where you can enjoy an unblocked view of Shanghai's iconic skyline. The best times for a shot of the skyline by night would be between 6 -10pm when all the building lights are switched on – the Oriental Pearl Tower's lights go off at 10pm, so don't miss that if you want a great shot! Also, remember to turn away from the water and admire the buildings along Zhongshan Road, which are quite pretty and fairly historical as well.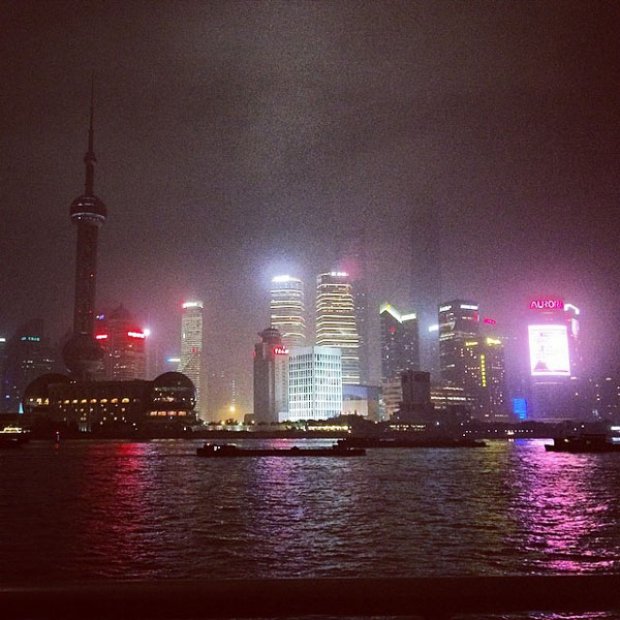 This is what happens when you reach the Bund at 10.05pm and they switch off the Oriental Pearl Tower's lights!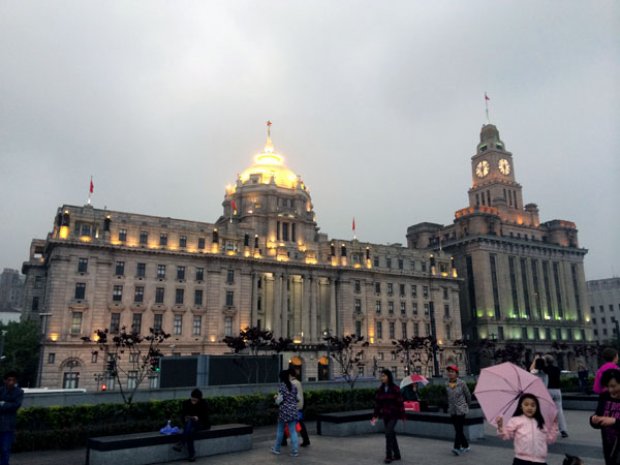 Remember not to just look out over the water! Turn around and admire the architecture behind as well.
If you're coming from the subway, the closest one is Nanjing East Road station on Line 2 (light green), but it's still around 10 mins walk at least and you'll end up closer to the Northern end. This line also brings you across the river to Lujiazui station, very close to the entrance of the Oriental Pearl Tower.
Also read: Thames Town: An English Town That Is Not Found In England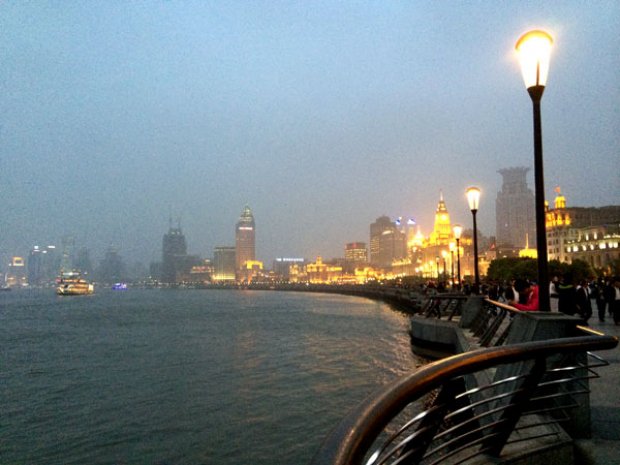 Super long stretch of The Bund facing the south end. Expect lots of tourists!
The Bund itself is quite a long stretch – around 1.6 km or 1 mile long. I suggest starting from the North end where Huangpu Park and the Monument to the People's Heroes are located, and then walking down South.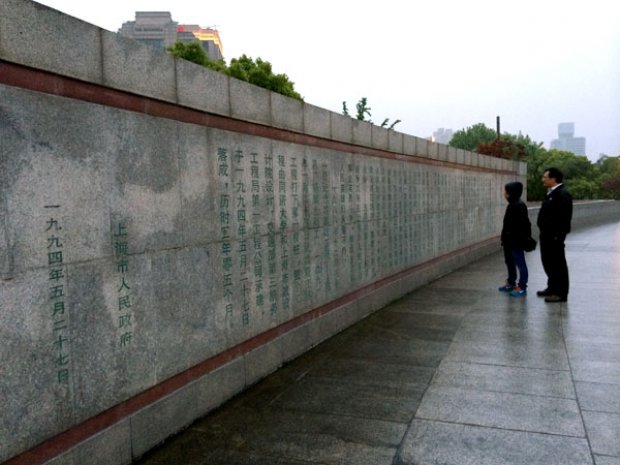 One of the memorial walls in Huangpu park
One thing you'll also pass by is the Bund Sightseeing Tunnel that connects to the opposite riverbank via little unmanned train carriages and a rather psychedelic tunnel with light effects, but in my opinion is a hugely cheesy tourist trap and rather expensive at CNY50 (approx. SGD10.5) for a one-way trip. The one thing it does have going for it is that you end up practically in front of the Oriental Pearl Tower in around 15-20mins without having to walk to the subway, ferry or take a cab.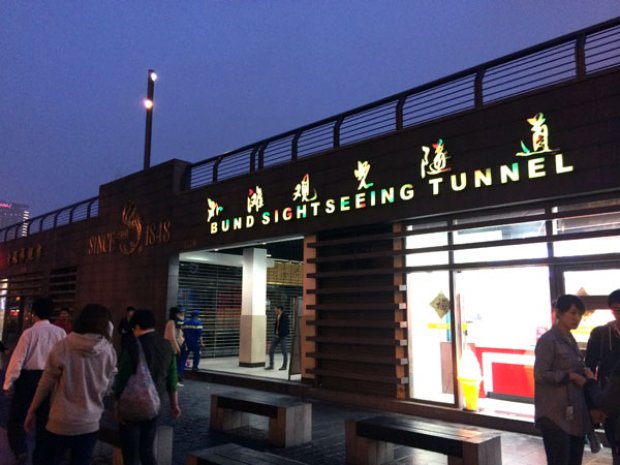 Entrance to the Bund Sightseeing Tunnel… yeah you can skip this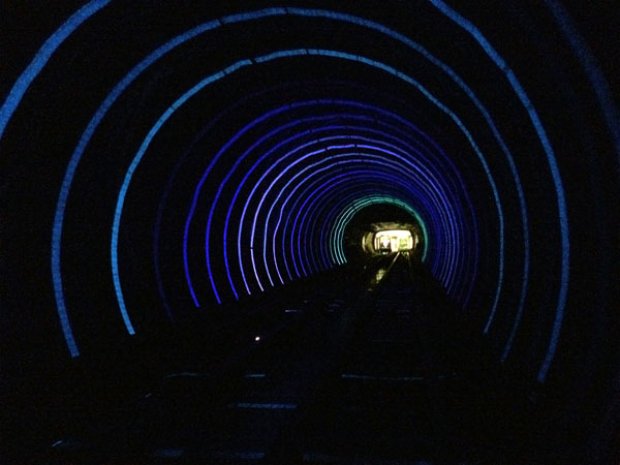 You sit in a cable car like cabin and ride through a tunnel with light effects like "MAGMA" and "GALAXY" and… I can't even~ Thankfully it's not a long ride!
A properly scenic and much cheaper way to cross the river is by ferry, and on the south end of The Bund is Jinling Road Wharf, where you can catch a ferry across the river to Dongchang Road Wharf on the southern end of Lujiazui for just CNY2 (approx. SGD0.42), which seems like a really cheap and nice way to cross the river, though it involves a fair bit of walking if you're headed to the Oriental Pearl Tower, around 15mins or so from the Dongchang road wharf. I wish I had done this instead, but unfortunately was a little short on time.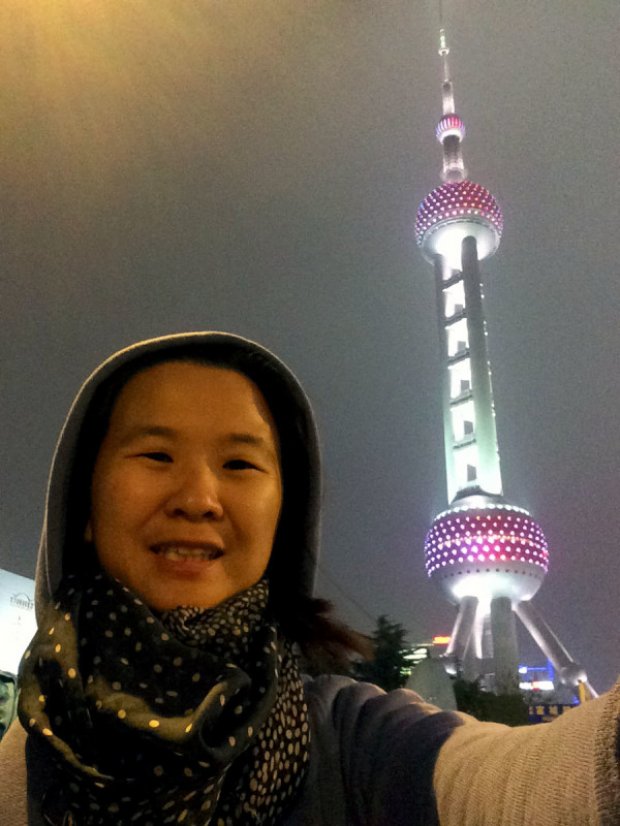 Shanghai Spring – Pearl Tower and me
The 468m tall Oriental Pearl Tower and its unique balls-on-stick architecture is quite a sight up close, and it is also a viewing tower for you to admire Shanghai from up high. There are several options for tickets, I bought Category C for CNY160 (approx. SGD34), which includes a visit up to 263m Sightseeing Galleria in the Upper Ball, the Transparent Observatory at 259m and the open air balcony in the Lower Ball at 98m. You pay extra to go up to the Space Capsule (that's the smallest ball which is also the highest up at 342m) or for dining in the revolving restaurant. As with major tourist attractions, be prepared for a fair bit of queuing inside; the lift system isn't the most efficient, as you have to transfer lifts in between the Lower and Upper Ball levels.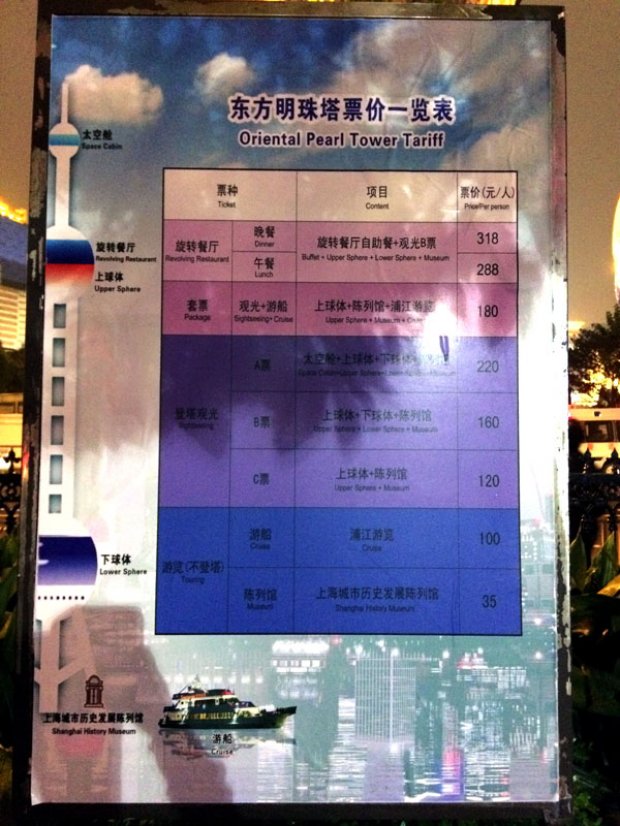 The various packages consist of the different levels of the tower, whether you wanted to dine in the restaurant or do a sightseeing cruise as well
You'll start your journey right at the top in the enclosed Upper Ball galleria and walk around for a 360 view of Shanghai below, with labelled buildings and short descriptions on prominent ones.
263m – View from the Upper Ball of The Bund and Huangpu river
What's more interesting (or freaky, depending on you) is the Transparent Observatory level just below it – look for the staircase leading downstairs – which as its name implies, is where the walls and floor of the deck going around the tower – definitely not for the acrophobic! The glass walls are pretty high but it's technically open air and can get quite cold and windy, so hang on to your stuff.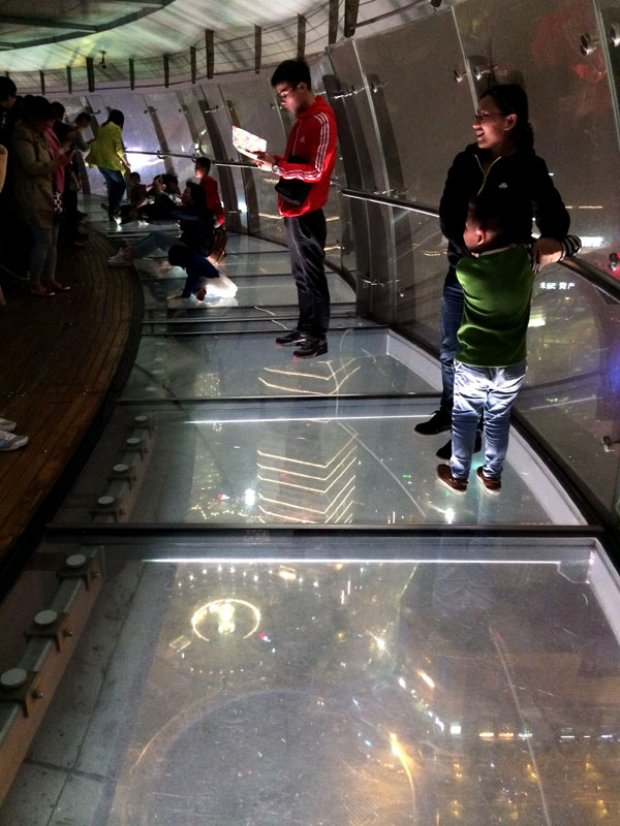 259m – Just one section of the transparent glass floor that goes around the tower. Not great for photos in the day because of all the lights reflecting below!
After that experience, the open air platform (covered only by netting) in the Lower Ball is less of a thrill, but it does give you the chance to take pretty skyline shots without being blocked by glass.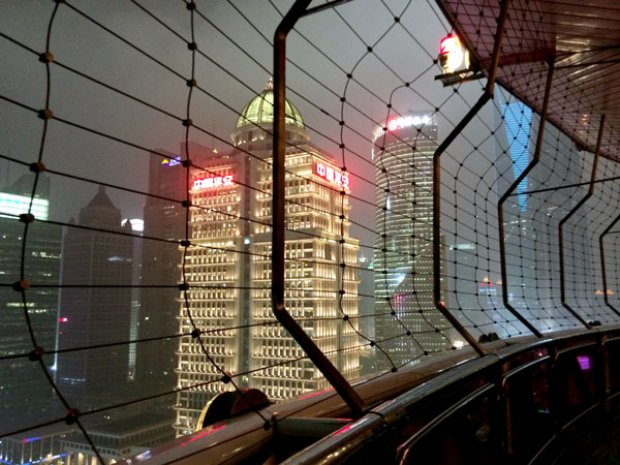 98m – enjoy the air in the Lower Ball balcony
Alternatively, if you don't want to go up the Pearl Tower, get a drink at the Vue Bar on the 32nd and 33rd floor of Hyatt on the Bund over on Huangpu Road which also commands quite amazing views of the Bund and the city below, and it closes late at 1.30am most weeknights (2.30am on weekends). I didn't get a chance to check it out, though the other bloggers on the trip loved it!
Day 2
Morning: 1933 and Duo Lun Road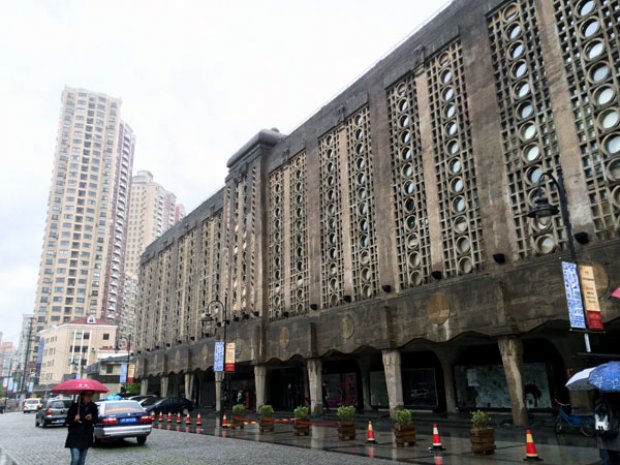 Hard to miss this building! Built by the British in 1933, it languished for a long time before being restored
1933 Old Millfun or Laochangfun along Shajing Road in the historic Hongkou district was built to be a slaughterhouse back in the day, but after restoration in 2008, is now mostly a rather atmospheric piece of architecture. It's a little bit out of the way from the main tourist attractions – you can take the subway line 4/10 to Hailun Road station to get there, and then walk about 10mins to find this building along a little river.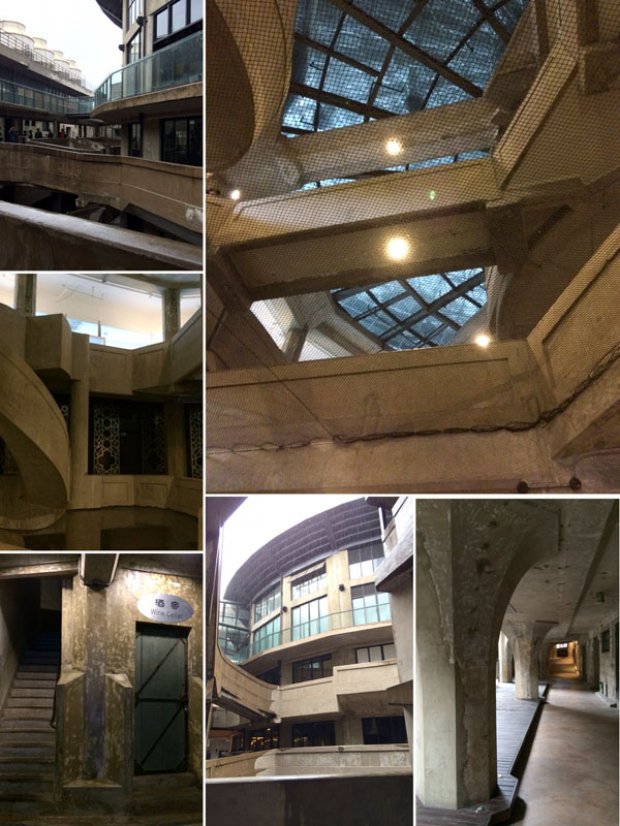 So many nooks and crannies to explore! It's an open air space and the various levels are connected by ramps, air bridges and spiral staircases
There's a rather random mix of some shops, restaurants and even a pet cafe and wedding photo shop in this 4-storey commercial space, but the main draw is really being able to wander freely amidst the impressive concrete Art Deco structure and experience the gloomy cavernous feel of this building. I spotted a fair number of local tourists all with their fancy cameras trying to get good shots of the place while I was there.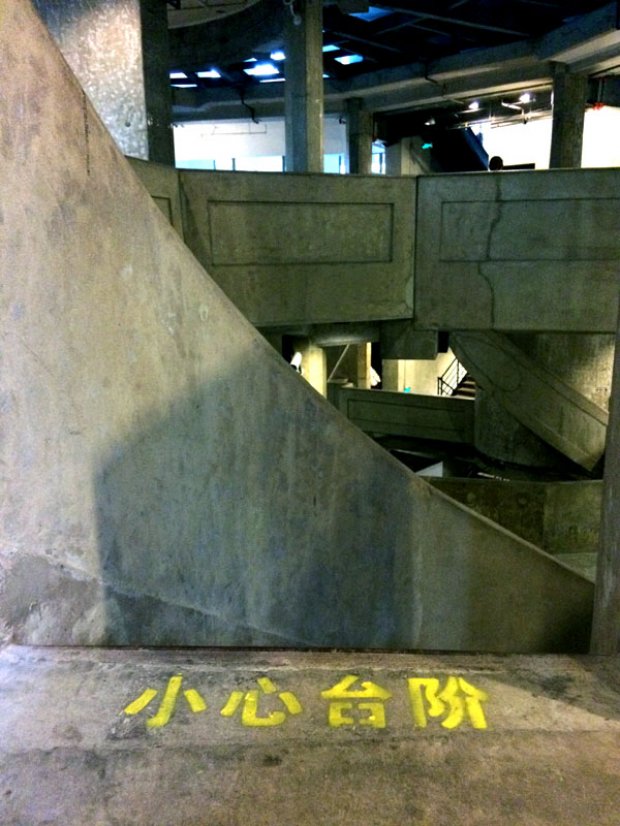 Be careful of the step, says this warning sign
Have a look at this post on La Casa Park for more pix and info of this strange building.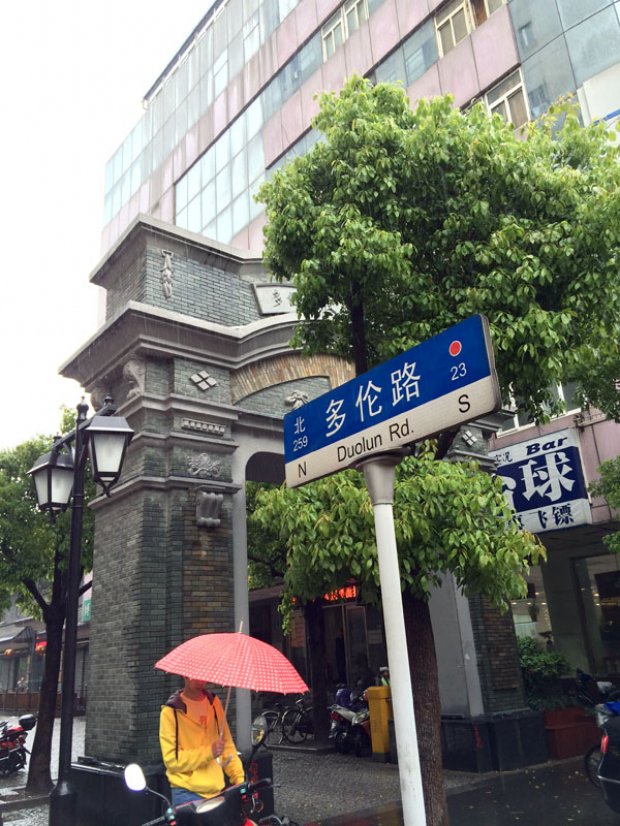 Duolun road in the rain
You can then walk about 15mins along Hailun road (grab some bites in any of the small noodle shops along the way for some local street food) or if you're coming by subway from elsewhere, to Dongbaoxing Road station on Line 3 over to Duolun Road, or noted on my map as Duolun Famous Cultural Person Street, because back in its heyday in the 1920s and 30s, many famous Chinese left-wing writers and other prominent figures took up residence along this street.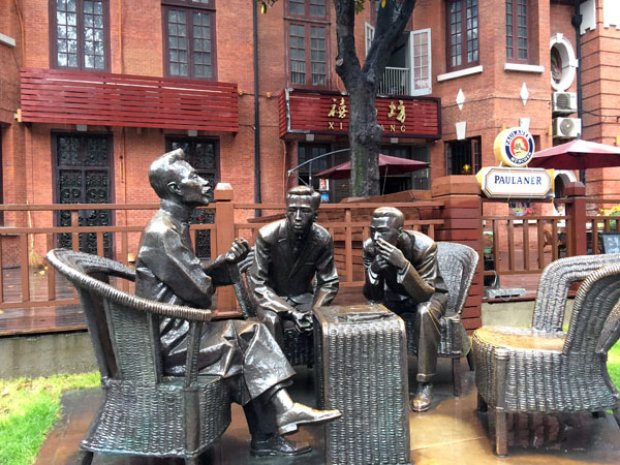 These bronze statues and other monuments are a common sight all along Duolun street
You'll find much of its history and famous people, like Chinese writer Lu Xun and Ding Ling among others, memorialized in statues and wall frescoes as you walk along the streets, so it's a nice way to pick up a little bit of local history – Duolun is quite a charming area to explore with lots of little shops to poke into. If you're keen to spend more time here, there is a Shanghai Duolun Museum of Modern Art which you can check out.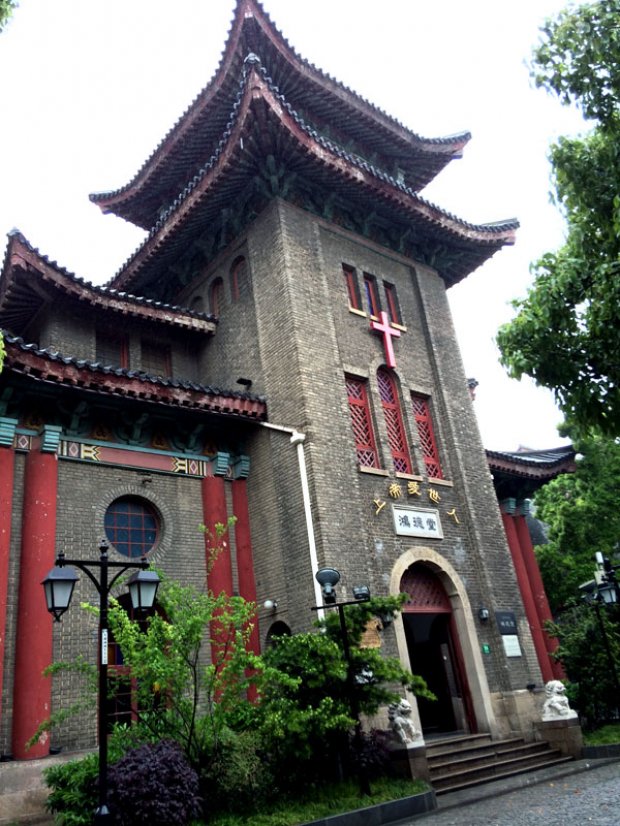 This building with traditional Chinese architecture is actually a Christian church! Hong De Tang is a church that still functions today – quite unusual mix of East and West!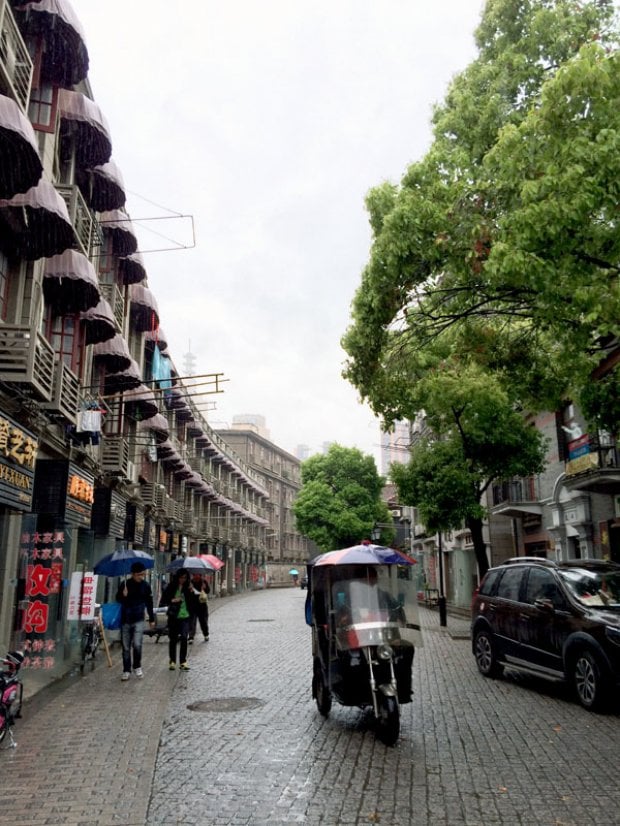 Rather charming, mostly pedestrianized street for a leisurely stroll
Afternoon: Yu Gardens (Yu Yuan)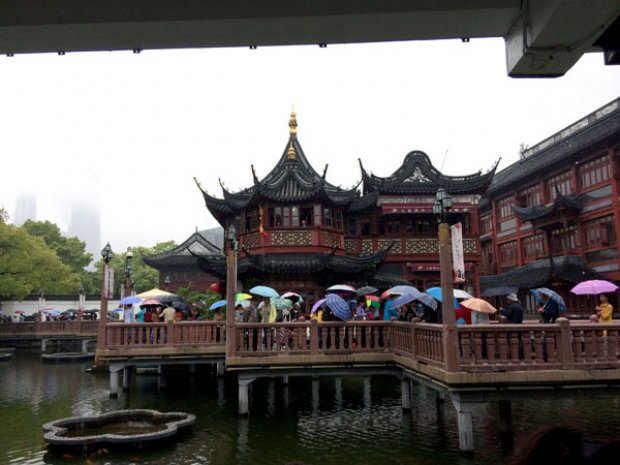 Shanghai Yuyuan Crowds
Yu Yuan or the Yu Gardens is one of the more popular places to visit in Shanghai, a classical Chinese garden that has been restored and these days sees quite a lot of tourists. Surrounding the gardens and what you're likely to encounter first once you exit the subway Line 10 at Yuyuan Garden station is Yuyuan Tourist Market, lots of reconstructed traditional Chinese structures and naturally, a whole bunch of tourists to boot! It was pretty crowded, even in the rain, so brace yourself for the crowds.
One of the more popular things to do here is to head over to Nanxiang and eat their famous Xiaolongbaos, which are basically pork and crab meat dumplings with soup in them. This 3-level structure each contains a different xiaolongbao eating experience, and the higher you go, the better the service standards and the more you have to pay!
Also read: Where to Go for the Best Halal Food in Shanghai
Level 1 is takeaway style served in boxes which you eat while standing along the side of the road. It has the longest queues and lots of people just standing around wolfing down xiaolongbaos
Level 2 (where we ended up) is casual eatery style with a bit more selection of food – you grab a table, place your order at the cashier who gives you the relevant tokens, and someone with a cart will come around eventually to serve you.
Level 3 is the classier restaurant joint with a whole menu range, xiaolongbaos with fancier ingredients and table service
xiaolongbaos galore! The small ones are xiaolongbaos, the big one in the plastic container with the straw is the guantangbao
We tried the traditional xiaolongbao soup dumplings (CNY25 / SGD5 for 8pcs) which were quite good, but the more unusual one which I haven't seen before is something called a guantangbao, literally translated into 'can soup dumpling'. It is a large dumpling around the size of your palm which is filled purely with soup that you drink through a straw. Pretty novel, and you can eat the dumpling skin after you consume all the soup though frankly it's not that tasty. Each guantangbao costs CNY15 (approx. SGD3).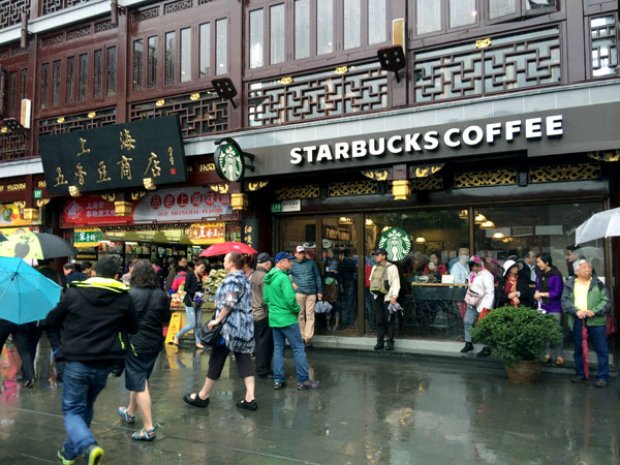 East meets West – Starbucks fans will be happy to know that it's pretty readily available here in Shanghai
There are other street food options in the area, so if you're not too fussy, just wander around and try whatever catches your fancy. If all else fails, Starbucks is always an option >_<
Also read: Coffee Lovers, Get Your Fix the Right Way at These Places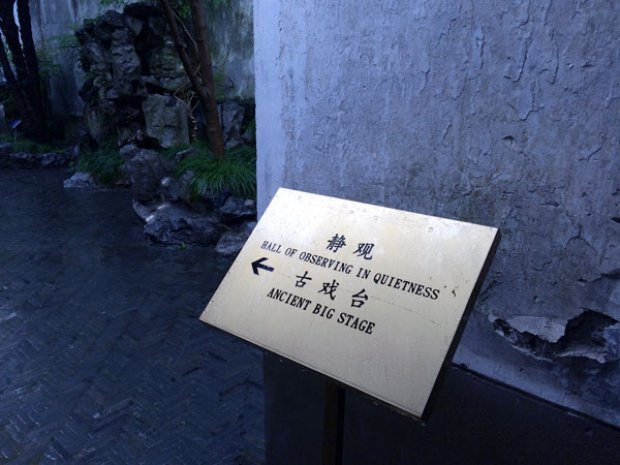 Shanghai Yuyuan Hall of Quiet
The Yu gardens itself requires a separate admission fee of CNY40 (approx. SGD8). Lots of pavilions, rock structures, as well as a surprising number of labelled 100-year old trees – it's a pretty park if that's your sort of thing.
Wandering around the Yuyuan in the rain
When you're done with Yuyuan, Old Shanghai Street is just outside the tourist market area on Fangbang Road, a stretch filled with lots of little tourist shops and street food, which will eventually lead you towards the Huangpu River and The Bund if you walk all the way along it. You will see a very large Din Tai Fung here, which though technically is a Taiwanese restaurant that we get in Singapore as well (excellent fried rice and pork chops), is known to serve up really good xiaolongbao.
Old Shanghai Street arch under construction
Evening: Xintiandi
Xintiandi is an area popular with expats, and also supposedly known for having a large number of traditional Shikumen architecture, though locals say that despite their claims, Xintiandi is not very authentic – most of the original structures were torn down and reconstructed, as compared to Tianzifang which actually maintained most of its original structures. Lots of little restaurants and bars line the main roads and small lanes, so just walk around till you find a good place to settle down.
Also read: 10 Amazing Bakeries Around the World Every Foodie Must Visit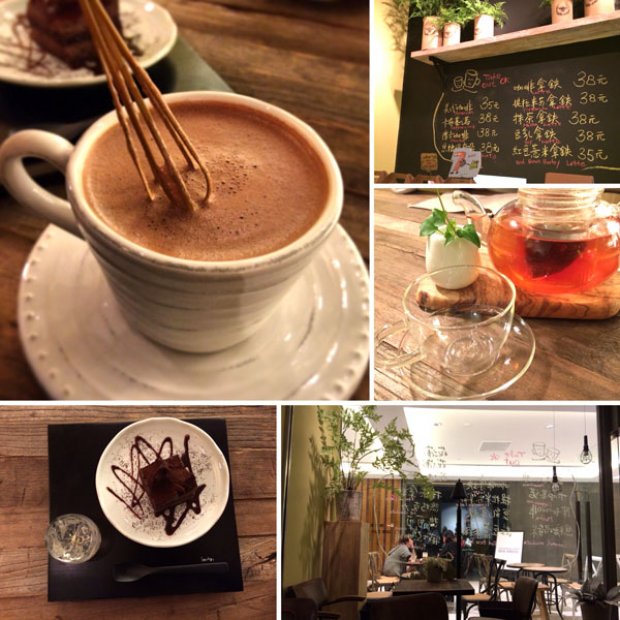 I had a delicious Hot Chocolate and chocolate cake while others had tea in this very instagram worthy cafe
One cafe we settled in was this lovely Fuwapulu (164-166 Huichang Road, in Meiguifang Shopping Centre), which is a cafe actually located in a part of a large shopping mall complex but with a great alfresco feel. Great place to just chill out at, hipster heaven and completely instagrammable type of place but with decent drinks thankfully, a much needed respite for us who've been in the pouring rain all day! Besides cakes and coffee, they also seem to specialize in flavoured jelly desserts.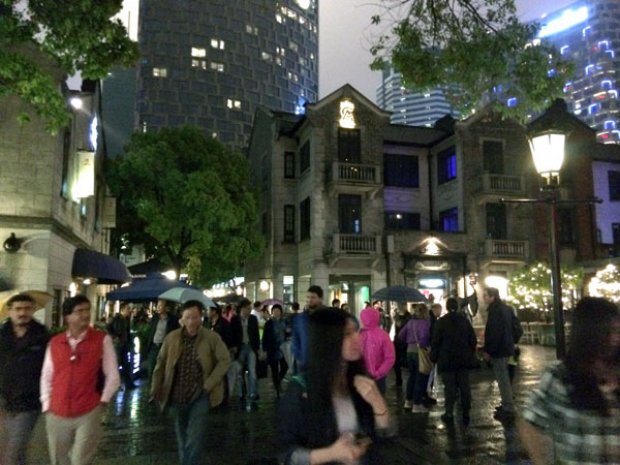 Shanghai Xintiandi Night
At night, the Xintiandi area still continues to buzz – we kinda chanced upon this enclave along Taicang Road by accident when we decided to turn down an 'interesting looking alley' and found a whole bunch of bistros, bars and restaurants packed with people. Great nightlife vibe, but as it caters mostly to tourists and expats, don't expect to get super cheap food here. See the SmartShanghai listing for places you could check out – it was really late so we ended up eating pizza at a rather quiet spot called Barcini, not quite a Chinese experience at all, but good enough to fill our bellies after a long day out.
For Shanghainese food, Jesse or Xinjishi is a pretty popular option and also comes highly recommended by our contact at Spring Airlines, and while I didn't get to try it myself, the other bloggers loved it immensely. You have to make a booking though because it gets so crowded, and they do have several outlets these days including one at Xintiandi, though the original one is at 41 Tianping Road (in Xuhui).
Getting Around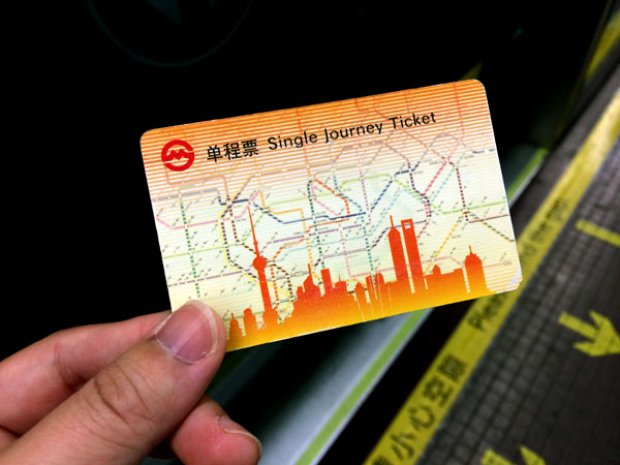 Shanghai Spring – Subway
Shanghai's Metro system is very extensive and probably the easiest way to get around in downtown Shanghai. There are 11 lines in total, and fairly well organized and well labelled so it's easy even for non-Chinese speaking tourists to find their way around. Not all the signage when you exit is in English however, so you might still have to ask your way around. I paid CNY3-4 (approx. SGD0.6-0.8) for a single trip ticket which you can buy from the English/Chinese ticket machines near the gate. If you have to make a transfer, buffer in some walking time because some stations are surprisingly large! Also, sometimes they X-ray scan your bags when you enter the station.
Taxis are pretty cheap in Shanghai, especially worthwhile if you're travelling in a group. From the airport down to our hotel in Xuhui, it cost about CNY200 (approx. SGD42), and on average most of our trips around the main Puxi area cost around CNY50 (approx. SGD10.5). Make sure you use the meter – most of them do so without asking, though some will still try to negotiate price with you but it's definitely not worthwhile.
For airport transfer, one thing you can also consider is the Maglev, which is a super fast Magnetic Levitation train system that reaches speeds up to 400+km/h! However, the station closest to downtown Shanghai is in Pudong, where you can take the subway to Longyang Road station on Line 2/4, which is still around 20mins at least from most of the popular areas. Not the most convenient, but an experience to consider, especially if you are concerned about traffic jams en route to the airport!
Did I miss out any must-sees in Shanghai that you've experienced? Tell me about it so I know where to go if I ever head back there!
Once again, thanks to Spring Airlines for flying me up there. Spring Airlines is one of the few airlines that provides a direct route from Singapore to Shanghai. If you think this 48-hour guide is useful, do share it with your friends and social circles!
Contributed by The Occasional Traveller.