Pinning down your next travel destination? Embrace the wanderlust and pick a new destination you've never been to before. Not to mention, Wyndham Hotels & Resorts has opened a slew of new hotels and resorts across the Asia Pacific region. That means new experiences await in your home away from home, too!
If you're ready to make new memories, keep scrolling; we've rounded up the Asia Pacific destinations that belong on every traveller's bucket list. Each destination promises something different — food, white sandy beaches, unspoiled forests, and extreme sports — but one thing is for sure: These eight countries make for an unforgettable vacation in this diverse region.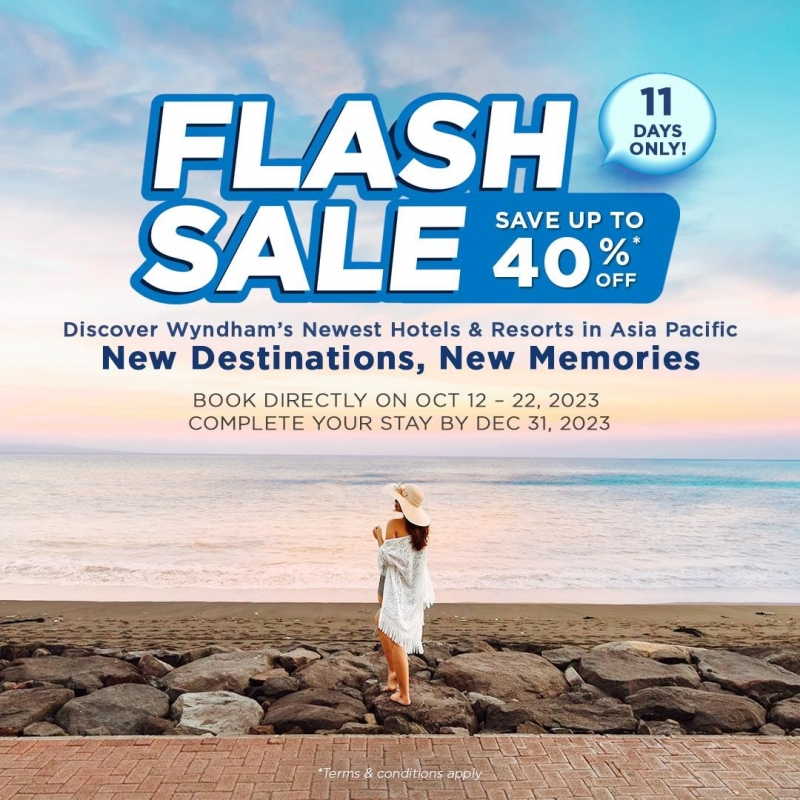 [Flash Sale Alert]
Ready to refresh your travel plans with NEW DESTINATIONS, NEW MEMORIES? Then Be one of the first travellers to experience Wyndham's newest hotels and resorts in the Asia Pacific region whilst enjoying incredible savings!
From now till 22 Oct 2023, enjoy savings up to 40% at Wyndham's Newest Hotels & Resorts (See participating hotels and resorts here) in Asia Pacific when you book a stay for one night (20% off), two nights (30% off), and three nights or more (40% off)! The more you stay, the more you save!
Booking period: Now till 22 Oct 2023; complete your stay by 31 Dec 2023
Want even more reason to make new memories with Wyndham Hotels and Resorts? We've got you covered! Wyndham Rewards Members can earn up to 30,000 Points (3x the normal amount) when they stay two or more consecutive nights at participating hotels in the Asia Pacific region! That's equivalent to four free nights!
Simply register as a Wyndham Rewards Member and book direct by 12 Jan 2024, and complete your stay by 15 Jan 2024. The 3x multiplier will be applied to base points.
These are the Asia Pacific countries travellers should visit for once-in-a-lifetime trips
1. Vietnam
Vietnam has all the elements of the perfect vacation in Asia Pacific countries: mouthwatering street food, vibrant markets, charming little villages, and spectacular natural vistas that range from rice paddies to picture-perfect beaches. Travellers typically make a beeline for the main cities Hanoi and Ho Chi Minh City, but there's much more to see in Vietnam if you're willing to go just a little bit off the beaten path. 
Historic Hoi An is our pick; the dreamy Vietnamese riverside town feels like a blast from the past. After all, its main attraction is Hoi An Ancient Town, a UNESCO World Heritage Site known for its beautiful lanterns, the Japanese Bridge, and the Museum of History and Folklore. Sun-seekers will want to experience the pristine white sand beaches of Hoi An, like the popular An Bang Beach and the tranquil Coconut Beach. 
Meanwhile, travellers who can't get enough of seaside fun can whisk away to the strikingly pretty Phu Quoc Island. Blessed with a 150-kilometre coastline, it's one of Vietnam's tropical gems, the country's best destination for sun-soaked beaches, water sports, and the thrilling rides of VinWonders Phu Quoc amusement park. Natural attractions like Phu Quoc National Park and Suoi Tranh Waterfall are other major draws of this tiny island. 
Where to stay in Vietnam
First time in Hoi An? Then, you might as well splurge on a homey resort fronting white-sand shores: Wyndham Hoi An Royal Beachfront Resort, a modern five-star sanctuary with An Bang Beach right outside its doorstep. Here, you'll get the ultimate vacation experience with facilities like a stylish beach club, an infinity pool overlooking the sea, and yummy local cuisine. A business centre is also available for digital nomads taking their work on the go. Not to mention, the convenience: Sightseers can hop on a complimentary shuttle for sightseeing trips to Hoi An Ancient Town. 
Wyndham Garden Hoi An Cua Dai is also a great choice in Hoi An, especially if you think you'd enjoy staying right across Cua Dai Beach. Excellent hotel amenities, beautiful contemporary interiors, and easy access to restaurants and other tourist spots — is there anything else you need? 
On the other hand, travellers visiting Phu Quoc will find a blissful paradise at Wyndham Grand Phu Quoc. Prepare for the VIP experience; we're talking luxurious spa treatments, exquisite local and international cuisine in four gourmet restaurants, and elegant modern bedrooms with a Smart TV, high-speed WiFi, and a bathtub.
2. Thailand
If you've never been to Thailand, then you're missing out on incredible travel experiences. Bangkok, for one, remains one of the most popular backpacking destinations among Asia Pacific countries for a myriad of reasons: gleaming temples, charming tuk-tuks zipping around, bustling markets, shopping malls of all shapes and sizes, exciting nightlife, and warm locals that gave the country its moniker the Land of Smiles. 
And when you're ready to venture beyond the buzzy capital, go ahead and fly to Phuket. The dazzling island delivers the quintessential beach getaway with a pristine white and golden coastline. Beach activities are a given, from swimming and sunbathing to scuba diving and surfing. But don't forget to see the sights, like the world-famous Big Buddha, too! At night, the island transforms into one big party. From small beach bars to raging nightclubs, partygoers can drink and dance the night away like never before in Phuket. 
Where to stay in Thailand
There are a lot of accommodation options in Phuket, but Zenamya Oceanfront Phuket, Trademark Collection by Wyndham is truly something special. Just look at those views! The boutique hotel flaunts chic contemporary interiors, but the most photogenic are when you step out the door. Five infinity pools overlook the sparkling Andaman Sea, so pick a spot, grab a fruity cocktail from the poolside bar, and soak in the summer vibes from your five-star perch. 
On the hunt for a place to stay in Bangkok? A new chic home away from home awaits at the stylish Ramada by Wyndham Bangkok Ten Ekamai Residences. First-time travellers in Bangkok will appreciate the way these serviced apartments give guests the comforts of home while providing hotel-style amenities like an indoor and outdoor pool, a fitness centre, a game room, a children's play area, meeting rooms, high-speed internet, and a novel tuk-tuk shuttle.
Plus, we're happy with how easy it is to explore Bangkok from the hotel: It has easy access to the BTS Skytrain that will take you to Bangkok's popular dining, shopping, and tourist attractions. That means you won't have to brave the city's infamous traffic when sightseeing the local hotspots! 
Another well-positioned modern hotel in the capital is Ramada by Wyndham Bangkok Sukhumvit 11. Foodie explorers can rest easy knowing that there are three in-house restaurants — you won't have to worry about skipping meals here. But the highlight? A rooftop bar and pool offer the perfect spot to unwind after a full day of sightseeing. 
3. China
Let your adventurous side take over in China. Like many other Asia Pacific countries, the sprawling country is teeming with natural attractions. For instance, a scenic landscape of dense forests and lakes covers Zhaoqing City in Guangdong Province. The best-known Zhaoqing tourist spots are the magnificent limestone pillars of Seven Star Crags, but tourists will also want to explore the 2,800-metre Zhaoqing Ancient City Wall, Panlong Gorge, and Bao Gong Temple. 
If a futuristic city sounds more enticing, then Xiong'an New Area may be more your speed. Few destinations are newer than this one: Envisioned to be a smart and technologically advanced city, China's new economic zone sits about 100 kilometres southwest of Beijing. Meanwhile, historical, cultural, and gastronomical gems in Shanghai make it one of the most mesmerising cities in Asia Pacific. A bite of Nanxiang's famed xiaolongbao is worth travelling the world over! 
Where to stay in China
Right next to the incredible Seven Star Crags is Wyndham Grand Zhaoqing Downtown, a modern escape that keeps you close to the best attractions Zhaoqing has to offer. We're not just talking about the limestone cave complex but local restaurants and shops at Star Lake Mall, too! 
And if you'd rather stay put? Wyndham Grand Zhaoqing Downtown is home to fantastic amenities: a state-of-the-art fitness centre, tennis courts, swimming pools, and a tranquil spa. Additionally, business travellers will appreciate the business centre, executive lounge, and high-speed internet. 
Modern and stylish, Wyndham Xiongan New City is the perfect representation of the future-facing Xiong'an. Novel innovations make this a memorable stay for any traveller: Each room is equipped with a smart butler system! And while work-friendly features mean business travellers can easily stay connected to the office, the main highlights of Wyndham Xiongan are its extraordinary wellness facilities: a heated pool, a sauna, a fitness centre, and even traditional moxibustion therapy available upon special request. 
Delicious dumplings, the charming Nanxiang Ancient Town, and the beautiful Guyi Garden — Wyndham Shanghai Nanxiang keeps you close to all these Shanghai delights. Savour Chinese and Western cuisine in the two in-house restaurants, or get pampered with an indulgent spa experience. This hotel is for everyone; besides playing the perfect host to leisure and business tourists, it's also especially suited to stage big events with nine venues for up to 500 guests.  
4. Taiwan
A place of boundless energy, Taiwan promises a new experience every time you come back. In dynamic Taipei, the bucket list adventures never end: spectacular museums, ancient temples, vibrant art galleries, hiking trails, and weird and wonderful street food — and these are only the tip of the iceberg! From Taipei 101 to Elephant Mountain, travellers will never run out of things to do in the city. 
And beyond Taipei extends New Taipei City. Magical little mountain towns, sleepy beaches, and a variety of museums come together to add to the wealth of natural and cultural treasures rife for exploring. Sip tea in the old-world mountain town of Jiufen, and marvel at the jaw-dropping geological formations at Yehliu Geopark. Foodies, tea drinkers, culture vultures, and adventurers — no matter what you're here for, New Taipei will deliver. 
Where to stay in Taiwan
Classy with a touch of cultural nuance, TRYP by Wyndham New Taipei Linkou offers travellers a blissful and stylish stay in the lively yet underrated Linkou District of New Taipei. Boasting superior amenities and stellar service, the non-smoking hotel is the ideal choice for avid globetrotters to discover the charms of this city in Asia Pacific. 
Shopaholics will be happy to know that the hotel is just minutes away from popular retail therapy spots such as the bustling Global Mall Linkou A9 and Mitsui Outlet Park Linkou, both of which offer plenty of shopping options. Meanwhile, the savvy concierge can help arrange for trips to Dahu Park, Yangmingshan National Park, and more. 
Retiring to your hotel at the end of a busy day of exploration doesn't mean hitting pause on your vacation either! TRYP by Wyndham New Taipei Linkou boasts plenty of modern amenities, such as a state-of-the-art gym and two stunning eateries to help pass your time on the property. 
5. Singapore
For urban explorers, Singapore is a captivating destination in the Asia Pacific region which promises new memories and fresh experiences with every visit. Whether you're a first-time visitor or a seasoned traveller, the Little Red Dot always unveils fresh and intriguing experiences, ensuring that visitors can always look forward to finding new avenues for adventure.
Be they recently-opened attractions like Skyhelix Sentosa, Scentopia, and Tropical Montane Orchidetum at the Singapore Botanic Gardens, popular locations like Gardens by The Bay and the Mandai Wildlife Reserve, or underrated cultural gems like Chinatown and Kampong Gelam, Singapore is a multi-faceted destination that can delight all travellers. Let's not forget the impressive plethora of delightful local dishes that will entice even the pickiest of foodies!   
Where to stay in Singapore
Located in the Civic District, in the heart of Singapore, is the brand new Peninsula Excelsior Singapore, A Wyndham Hotel, a stunning hotel that exemplifies the cosmopolitan charm of Singapore. It features state-of-the-art facilities, including an executive lounge, two swimming pools, and an all-day restaurant. Digital nomads will also find the well-equipped meeting rooms to be a conducive environment for work. 
What makes Peninsula Excelsior Singapore, A Wyndham Hotel stand out is how this homey abode offers spectacular views of the city. Each guest room, furnished with elegant and aesthetically pleasing decor, offers views of Marina Bay, the Singapore River, or Fort Canning Park, supplementing your rest with postcard-worthy views every time you look out the window. The chic rooftop restaurant and lounge take it a step further, offering panoramic city views that will surely stoke your wanderlust. 
In addition, the hotel is within walking distance of some of the most popular attractions in the city, such as Gardens by the Bay, Raffles Garden, and Merlion Park. Meanwhile, the Clarke Quay MRT Station, located just 10 minutes away, offers quick and easy access to the rest of the city.
6. Indonesia
Indonesia needs no elaborate introduction for island hoppers. After all, this popular country in Asia Pacific is famous for its pristine coastal havens, with Bali, in particular, being one of the most popular destinations in the region. However, looking beyond the beautiful beaches of Bali, one will surely find Yogyakarta an enticing destination promising new memories.  
Nestled in the heart of Java, Yogyakarta is an ambient city that seamlessly combines tradition and modernity, offering a rich tapestry of adventures. Some of the must-visit locations include Borobudur, a UNESCO World Heritage Site and the world's largest Buddhist temple, famous for its carved stupas and sunrise views, Mount Merapi, an active volcano which boasts exhilarating views at the summit, and Malioboro Street, known for its bustling markets and a wide array of street food.  
Alternatively, one can also visit Pekalongan, a picturesque city in Central Java known for its historical landmarks, like the 17th century Great Mosque of Pekalongan, rich batik heritage and enticing coastal views, best enjoyed at the new Pekalongan Harbour.  
Where to stay in Indonesia
For a memorable stay in Yogyakarta, look no further than the shiny new Ramada by Wyndham Yogyakarta, a family-friendly hotel that lets guests fully immerse themselves in the unforgettable vibes of the city. After all, it allows quick and easy access to Borobudur Temple, as well as Obelix Village, a family-friendly theme park that also features a mini zoo. 
Befitting the serene ambience of Yogyakarta itself, Ramada by Wyndham Yogyakarta is a blissful retreat where one can also take a break from the hustle and bustle of daily life and unwind with a full-service spa. Alternatively, guests can stay active by utilising the hotel's outdoor pool or by biking along the hotel's BMX tracks.
In addition, the homey hotel features an international restaurant with a plethora of culinary choices, a stylish and elegant bar, and a business centre with complimentary WiFi. Those looking to get around the city can also avail to the car rental or shuttle services at the hotel. 
Meanwhile, for those looking for a memorable stay in the vibrant port city of Pekalongan, consider a stay at Howard Johnson by Wyndham Pekalongan, best known for its comfortable rooms, modern amenities, and for being close to Pekalongan Train Station, which provides easy access to other locations along the northern coast of Java. 
7. New Zealand
A trip to New Zealand is one that always gets travellers excited. After all, this Asia Pacific country is famous for its alluring natural scenery and rich heritage that never fails to draw you in. 
While most travellers to New Zealand would visit Auckland, the country's leading tourist hotspot, why not make Wellington, New Zealand's vibrant capital, your next destination in the country? Located on the picturesque shores of the North Island, Wellington is a captivating travel gem that promises new memories with each passing day. 
One thing you'll notice the moment you set foot in Wellington is the rugged landscapes that surround the city — picture rolling hills, pristine beaches, and the majestic Mount Victoria in the distance, offering unforgettable vistas for outdoor enthusiasts. Beyond natural gems, Wellington is also well-known for its arts scene, with Te Papa Tongarewa being a must-visit museum for culture vultures. 
Other attractions include the Wellington Opera House, Princess Bay Beach, the Wellington Botanic Garden (which includes a scenic cable car ride), and the Zealandia Te Māra a Tāne Ecosanctuary. Foodies should also visit Cuba Street, where you'll find rows upon rows of cafes and eateries which show off the pulsating culinary scene of Wellington. 
Where to stay in New Zealand
The modern TRYP by Wyndham Wellington, Tory Street, is a new hotel that opened in 2023 in the heart of Wellington's lively business district. Mixing artful decor with contemporary amenities and well-furnished rooms, the hotel offers a restful stay as you explore new destinations in Wellington. Best of all, the hotel is near Wellington Waterfront Walk, a vibrant spot with a plethora of shops, eateries, and bars to help fill your itinerary. 
With the hotel being in the middle of the city's business district, one can expect to enjoy high-speed WiFi at the property, as well as well-equipped meeting rooms and a 24-hour gym to stay active. Before you start your day though, head to the Speakeasy Lounge to enjoy a hearty, complimentary breakfast! 
8. Australia
Much like New Zealand, Australia is one of the top countries to visit in Asia Pacific, with Sydney, Melbourne, and Brisbane all being some of the most visited cities in the region. However, if you're looking for a newer, more refreshing trip to Australia, consider making new travel memories in Adelaide, the southern gem of Australia. 
Nestled between verdant hills and pristine beaches, Adelaide is a city teeming with natural beauty, cultural heritage, and a calendar of exciting festivals and events throughout the year. The lush Adelaide Botanic Garden is a must-visit location for those who enjoy walking amidst vibrant blooms and a serene atmosphere, while Barossa Valley offers some of the best wine in the city, plus a temporary escape to swoon-worthy vineyards. 
The Art Gallery of South Australia and the South Australian Museum, meanwhile, offer visitors to dive deep into the cultural tapestry of Adelaide (and Australia) as they check out ancient artefacts and cultural masterpieces. One could also get up close and personal with koalas at Cleland Wildlife Park or paint the town red at night on Hindley Street and Rundle Street.
Where to stay in Australia
Whether you're a leisure traveller or businessman on the go, TRYP by Wyndham Pulteney Street Adelaide promises a blissful and memorable stay whenever you're in the city of Adelaide. Located in the heart of the city's central business district, the hotel puts visitors within walking distance of some of Adelaide's best restaurants, bars, and shopping locations. Both Adelaide Central Market and Rundle Mall are just 10 minutes away on foot. 
What's more, this classy, non-smoking hotel is just a short drive away from popular locations like Glenelg Beach and SkyCity Adelaide, both of which are great places to unwind after a busy day. Meanwhile, the beautiful Barossa Valley is just an hour's drive away. 
Even without leaving the hotel, one can look forward to a memorable time in Adelaide, thanks to the hotel's top-notch dining and recreational facilities. At TRYP by Wyndham Pulteney Street Adelaide, you'll find a library and game room where you can relax and unwind with your favourite hobbies, or head to the bar for a lovely drink. Regardless of your choice, the hotel has got you covered with plenty of fun things to do.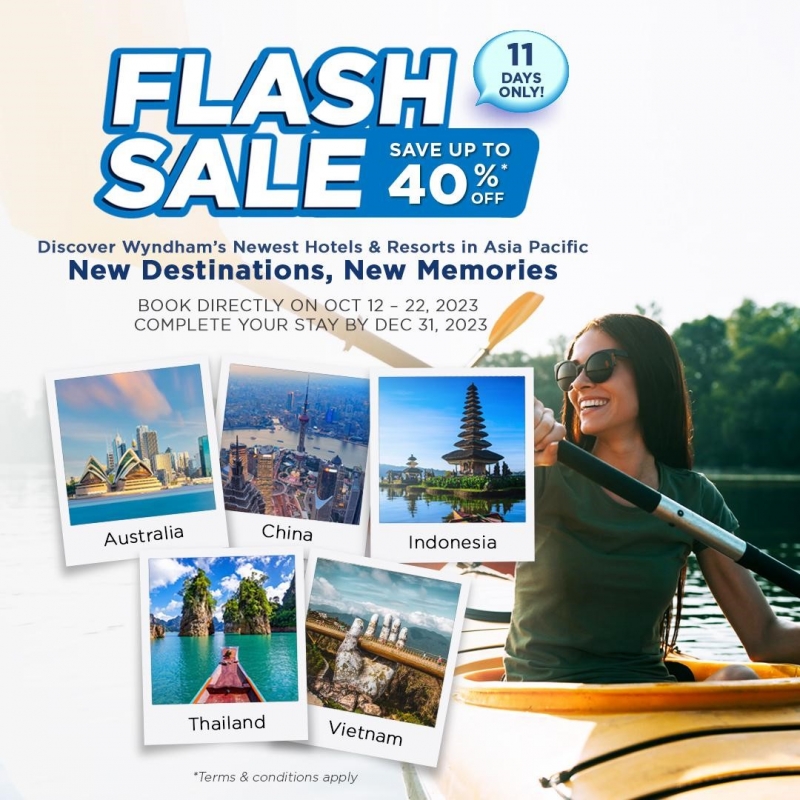 [Flash Sale Alert]
Ready to refresh your travel plans with NEW DESTINATIONS, NEW MEMORIES? Then Be one of the first travellers to experience Wyndham's newest hotels and resorts in the Asia Pacific region whilst enjoying incredible savings!
From now till 22 Oct 2023, enjoy savings up to 40% at Wyndham's Newest Hotels & Resorts (See participating hotels and resorts here) in Asia Pacific when you book a stay for one night (20% off), two nights (30% off), and three nights or more (40% off)! The more you stay, the more you save!
Booking period: Now till 22 Oct 2023; complete your stay by 31 Dec 2023
Want even more reason to make new memories with Wyndham Hotels and Resorts? We've got you covered! Wyndham Rewards Members can earn up to 30,000 Points (3x the normal amount) when they stay two or more consecutive nights at participating hotels in the Asia Pacific region! That's equivalent to four free nights!
Simply register as a Wyndham Rewards Member and book direct by 12 Jan 2024, and complete your stay by 15 Jan 2024. The 3x multiplier will be applied to base points.
---
Brought to you by Wyndham Hotels & Resorts.