Contributed by Apairofeyes
A bite of the Big Apple – how many people's dream is that? Though it can be expensive, there are still ways to help keep the expenses low in the big city.
New York budget travel tips for your upcoming visit

1. Use public transport for transits between the airport and the city
There are three major airports in NYC. A combination of:
AirTrain & Subway cost US$7.75 to/from John F. Kennedy International (JFK).
Subway and Bus cost US$2.75 (transfers are FREE between subway and the bus M60 when paying by Metro Card) to/from LaGuardia (LGA).
Bus from US$5.50, or NJ Transit and AirTrain at US$12.50 to/from Newark-Liberty International (EWR). (+US$2.75 for the subway to/from other areas that are served neither by these public transport nor express bus).
Meanwhile, shuttle service will cost you around US$13+/- each way from these airports to the city.
2. Avoid sightseeing tours
Instead, choose the FREE Staten Island Ferry for a fantastic view of the NYC Harbour, and Statue of Liberty from afar. Plus, you get to explore another area. Head down to South Street Seaport for its beautiful night view, and sights of Brooklyn, Manhattan, and Williamsburg Bridge.
Also read: New York City's Less Visited Attractions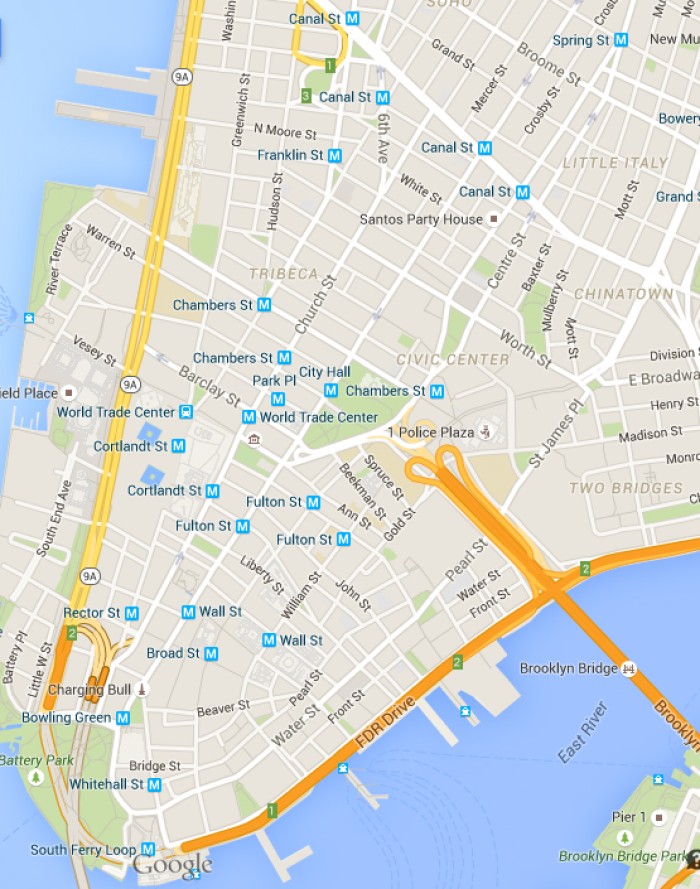 3. Round up the places that you would like to visit – and walk instead of taking the subway
This will help to cut down on your expenses for transport. For example, take the subway to Whitehall St. Station and from there, walk towards uptown, visiting places like Wall Street, South Street Seaport, Chinatown, and Little Italy. Fares have gone up recently (US$2.75/trip) and travelling to each of these places by subway will have you spending US$11 per day. Remember to get one of those Unlimited Pass if you are staying for at least seven days, starting from US$31.
4. Couchsurf – accommodations are going to be expensive
The cheapest rate I found online is around US$30 per night based on one guest. The community is huge here in this city and your chances of finding a host can be pretty high. Join the local community members for a drink at one of their regular meetups even if you cannot find a host (check the website for more details). Whenever possible, use common New York slang words when talking to them, it'll easily get their attention. An ace website called Lets Learn Slang has a pretty comprehensive list of these words for you to learn. Go check it out; we're sure your New Yorker lingo will be bussin in no time!
5. Look for FREE activities – one of the reasons why I never get bored in this city
With so much to do and see, from dance classes to kayaking on the Hudson River to Shakespeare in the park. Though most of these activities are only in the summer. You just have to keep a lookout for them. Follow TimeOut New York on Facebook, or grab that free newspaper at subway stations to check out the latest buzz such as FREE burgers from Shake Shack.
Also read: 5 Things You Can Do for Free in New York City
6. Pack lunch and light snacks for the day
Eating out can be expensive and will soon eat into your budget. Or eat at Chinatown where they have economical rice with three dishes and one soup starting from US$3.50. You may have them for to go if you cannot finish them (food portions in NYC are pretty big), and heat it up later back at the hostel. For dining out, you might want to take a look at the local mobile apps and see if you can find any coupons. Drinking in NYC can be cheap as well. They have great happy hours where you can find US$5 mojito, or check out East Village.
7. Visit museums when they are open to the public for free
It can be a day of the week or during a certain time of the day. OR check if they offer pay-as-you-wish donations as admission fee where you can pay as little as US$1. Every museum has at least one of these offers.
8. Get discounted Broadway tickets
There are many ways to do so. Get in the queue early and try your luck for RUSH and Lottery tickets. TKTS booth sells same-day tickets (except matinees, which are sold a day in advance at the South Street Seaport and Brooklyn TKTS locations) at up to 50% discount. Already discounted tickets can also be found online at websites like BroadwayBox.
9. Shop for less
When shopping at departmental stores like Macy's and Bloomingdale's, remember to get your visitor's pass which gives you at least a 10% discount (and this may be used on top of already-discounted items!). Try having the staff check and buy a particular item online for you. This may come cheaper than buying in stores (not sure if she applied staff's discount while doing so, but I got a piece of dress at 50% off plus free delivery to my place).
Also read: How New York Changed My Life
So if the cost is what keeps you from visiting New York City, make your dream trip come true with these tips.