California dreamin' of your next vacation? It doesn't get any better than a private beach house in Malibu. Famous for sun-drenched beaches and glamorous homes on the shore, the best Airbnb rentals in Malibu make the perfect year-round escapes in Southern California, where the pleasant climate will keep you safe and warm even on a winter's day. 
So put on that California road trip playlist, dip your toes back in the sand, and spend your days frolicking in the playground of the rich and famous. And if you think these coastal retreats are already fully booked, guess what? Some of the best Airbnbs in Malibu are still available, waiting to be snapped up below. 
Also read: 16 Best Beach Houses to Book on Airbnb, From California to Hawaii
Best Airbnb vacation homes in Malibu, California
1. The dreamy Airstream for epic sunsets and coastal views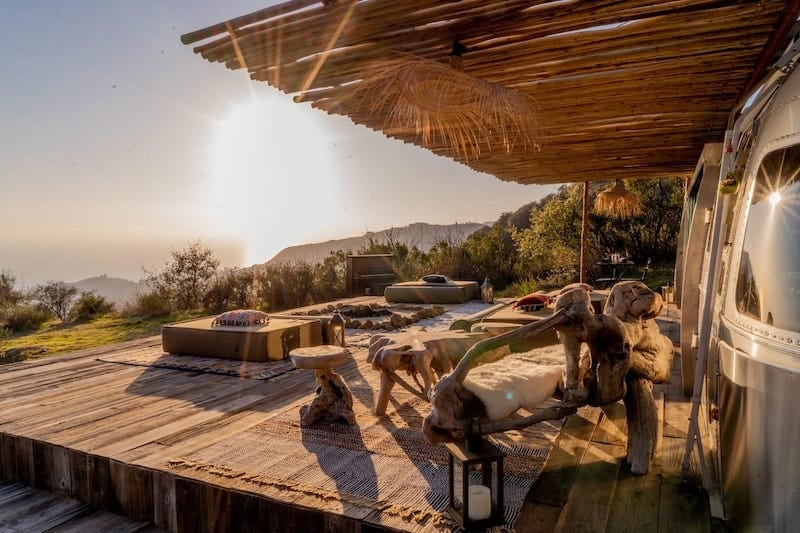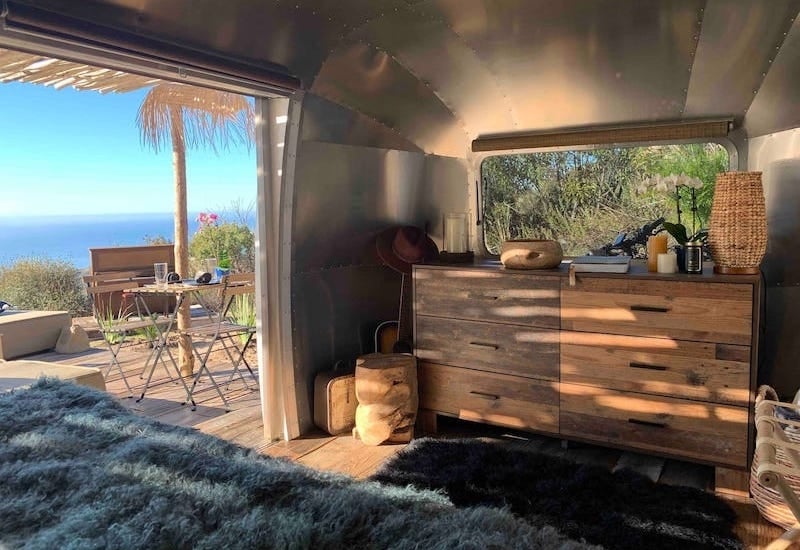 Listing name: Malibu Airstream Eco Retreat Above The Clouds
Listing type: Entire house 
Max. no. of guests: 4
No. of bedrooms: 2 
Want to take your camping trip in California up a notch? Topping our list of Airbnbs is this ultra-luxe Airstream in the hills of Malibu, a dream getaway for free-spirited travellers. 
Described as a "retreat above the clouds," the RV stands on sprawling acres of land with epic lookouts over the Pacific Ocean and the Santa Monica Mountains. Between the cosy deck with pillows and the fire pit for roasting marshmallows, glamping doesn't even begin to touch this experience. All we want to do is sink into the hot tub and drink wine as the stars come out. 
2. The chic oceanfront oasis with a dining area right on the sand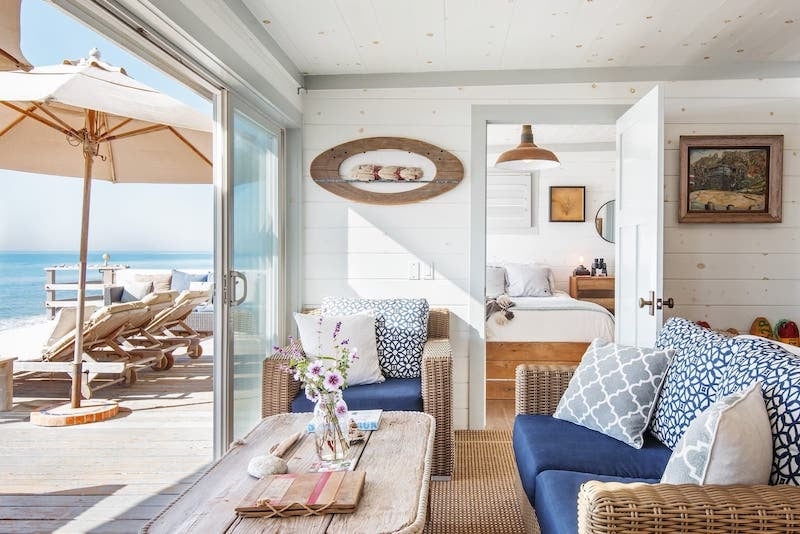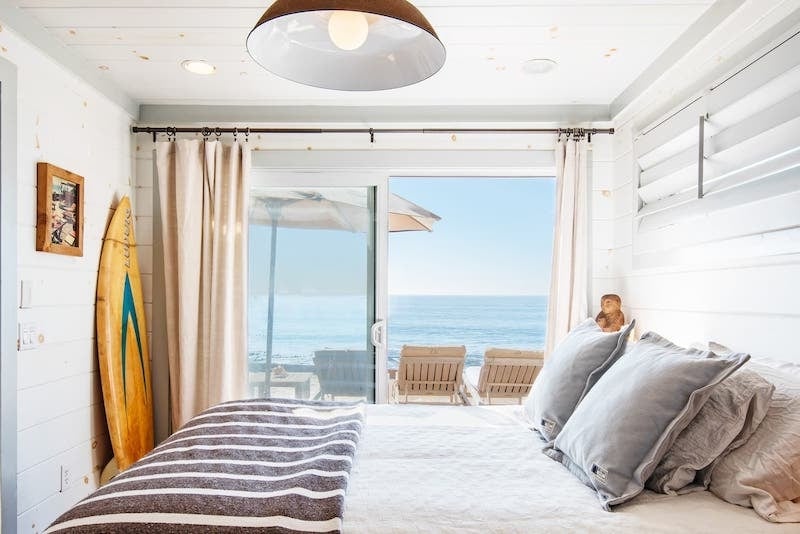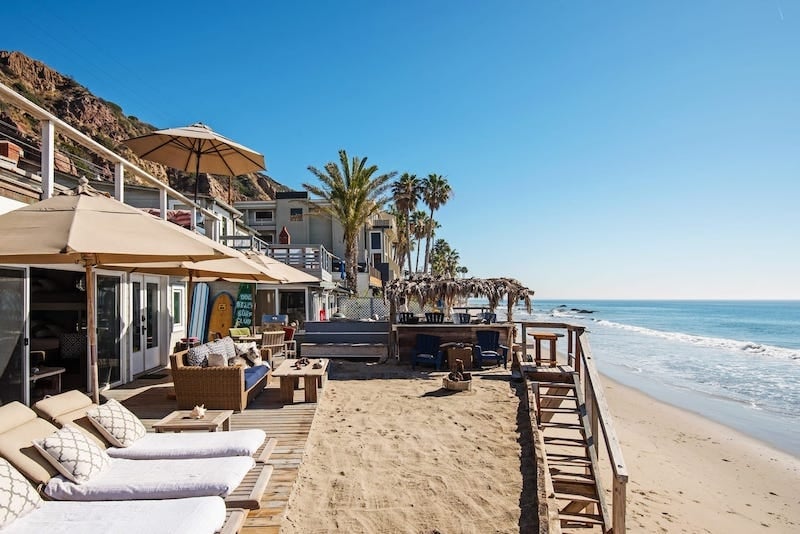 Listing name: Shabby Chic Malibu Ocean Front- Sand, Surf and Tiki Bar
Listing type: Entire house 
Max. no. of guests: 7
No. of bedrooms: 2 
Embodying the definition of barefoot luxury, this Malibu beach house is one of the finest Airbnb vacation rentals you can book in California. Built right on the sand, this chic two-bedroom oasis embraces the casual vibe and open-air flow of living right next to the ocean — even better, it's a beach you can actually swim in. Open the sliding doors to feel the sea breeze or savour your breakfast out in the private deck on the shore. The only way that you can get any closer to the water is to sleep on a boat. 
3. The beachfront retreat with the waves lapping on your porch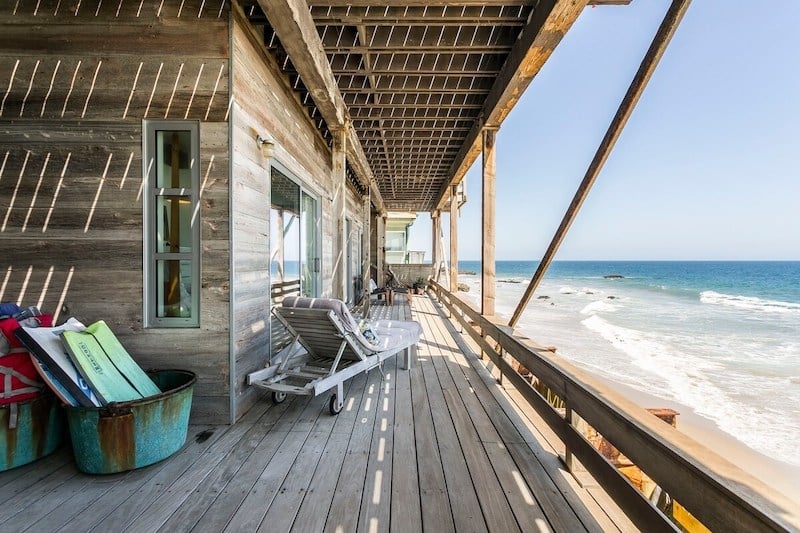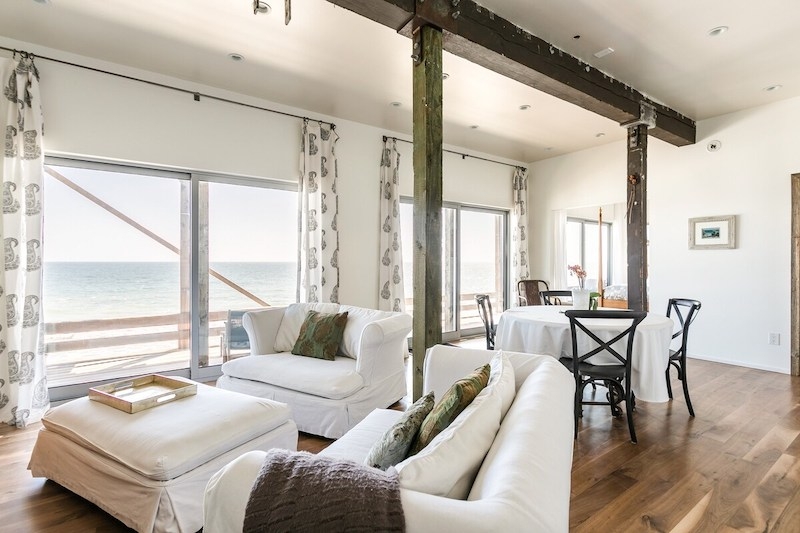 Listing name: Idyllic, Romantic Beachfront Apartment in Malibu
Listing type: Entire apartment 
Max. no. of guests: 2
No. of bedrooms: 1
Falling asleep to the sound of the ocean waves never gets old, as the guests of this Airbnb in Malibu will tell you. It's hard to say what we love more about this idyllic beachfront retreat: the breezy and laid-back interiors or the wooden porch that commands an impeccable view of the ocean. From sipping drinks on the porch to watching dolphins play in the sea, you'll soak up the sun from one of the best Airbnbs in Malibu. 
4. The stunning bungalow in front of Billionaire's Beach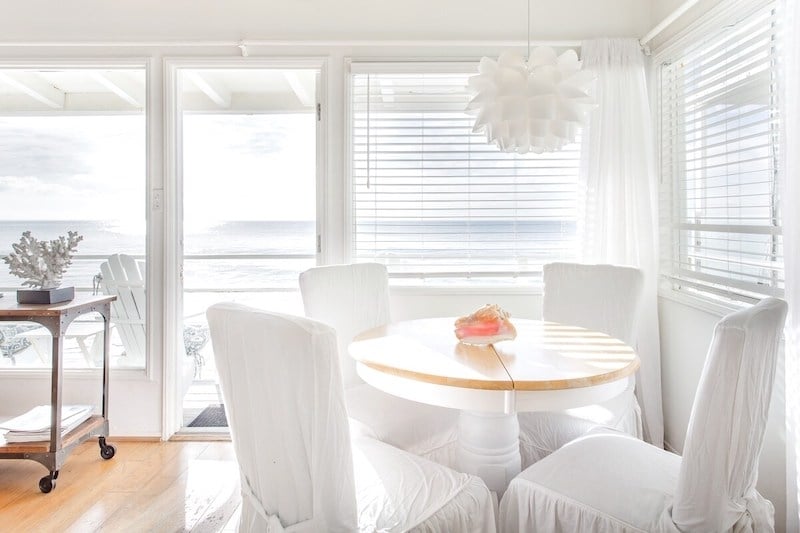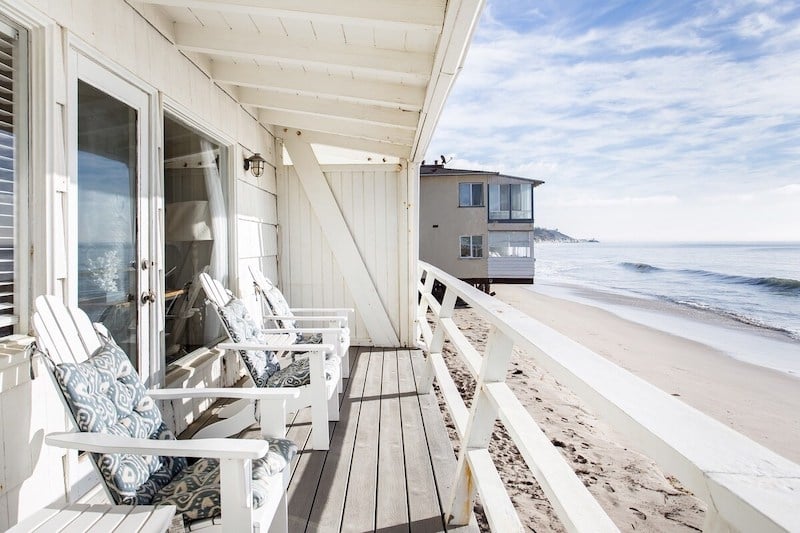 Listing name: Malibu, Carbon Beach- Bungalow Twelve
Listing type: Entire bungalow 
Max. no. of guests: 4
No. of bedrooms: 1
If the vacation rental above is already booked, try this stunning beach bungalow instead. This Airbnb in Malibu enjoys a secluded location on the sands of Carbon Beach, also known as "Billionaire's Beach" for harbouring the rich and famous. The white bungalow gives you spectacular views of the Pacific Ocean from the patio, where you can spot dolphins and sea lions without even leaving your chair. Anytime you feel like exploring the area beyond this stretch of sand, you're an easy walk to restaurants and Malibu Pier as well. 
5. The colourful mid-century studio in the Santa Monica Mountains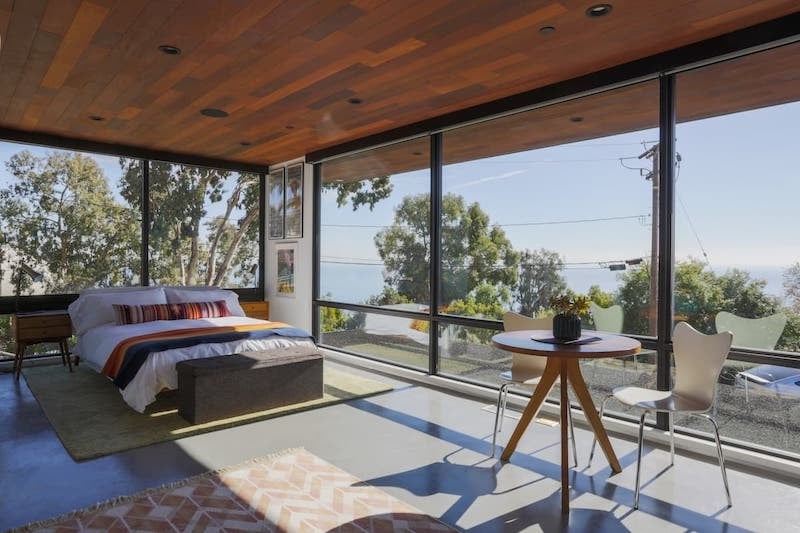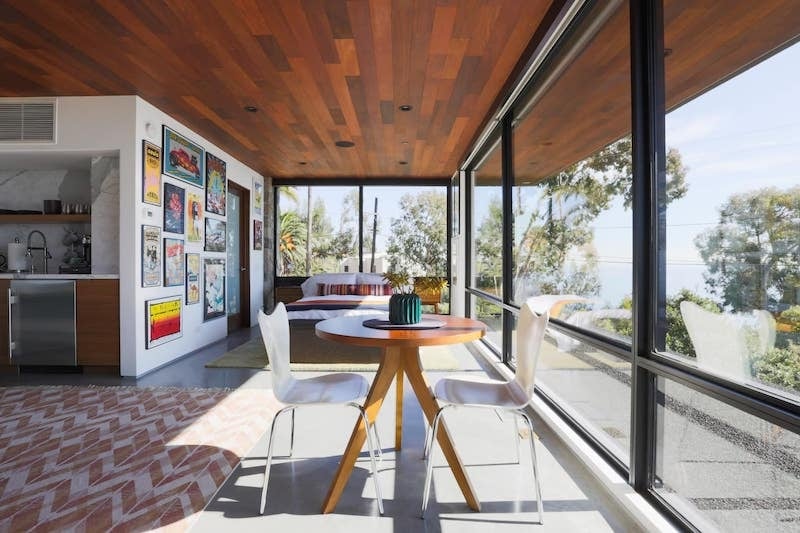 Listing name: Malibu Mid-Century Modern Studio with Ocean Views
Listing type: Entire guesthouse 
Max. no. of guests: 4 
No. of bedrooms: Studio 
Nestled in the Santa Monica Mountains, this colourful mid-century guesthouse makes the most of its location by offering panoramic views of the mountains and the sea. Retreat into this vibrant home oozing with charm and character, where you'll spend most of your time lounging in the sunlight — thanks to the floor-to-ceiling windows. 
Design lovers will surely adore the posters on the walls, an affectionate nod to California's pop culture and iconography. Malibu's famous beaches, of course, are only a short drive away. 
6. The seaside duplex only a few steps from the water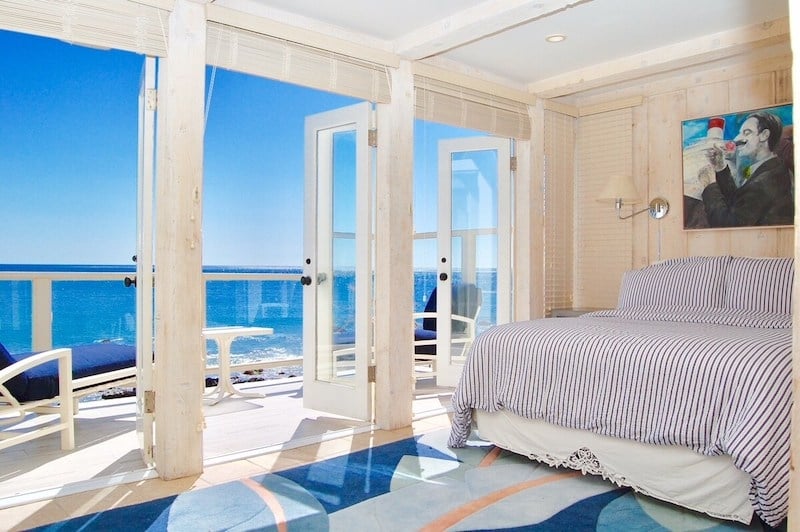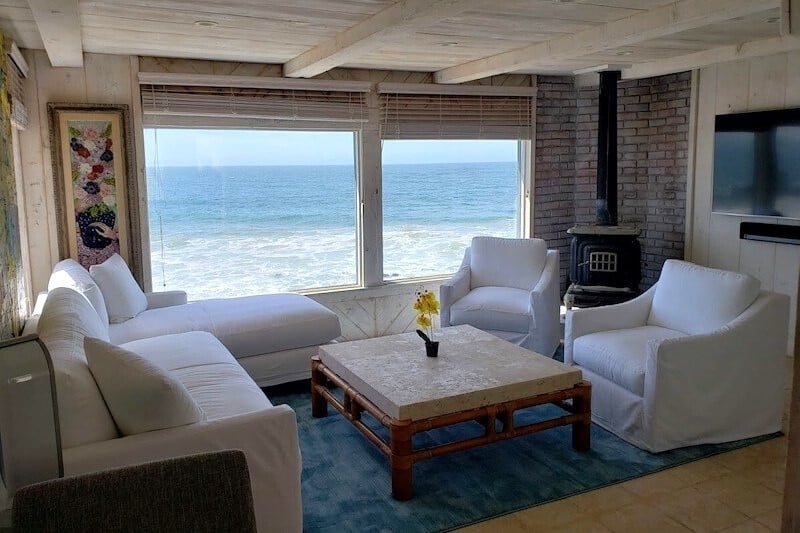 Listing name: Malibu Beachfront Serenity by the Sea!
Listing type: Entire house 
Max. no. of guests: 4
No. of bedrooms: 2
Wondering where to stay in Malibu for a seaside escape? Call this serene beach duplex your next home away from home. Fitted with modern amenities that include an Apple TV and free WiFi, this renovated two-bedroom beach house delivers ocean views from nearly every room. Imagine sparkling blue waters, sunny California skies, and the sight of seals sunbathing on the rocks about 100 yards away. 
Plus, this Airbnb in Malibu with private beach access is also ideal for exploring famous restaurants like Paradise Cove Malibu, Mastro's Ocean Club, and Moonshadows Malibu. 
7. The well-equipped beach house for a sun-drenched escape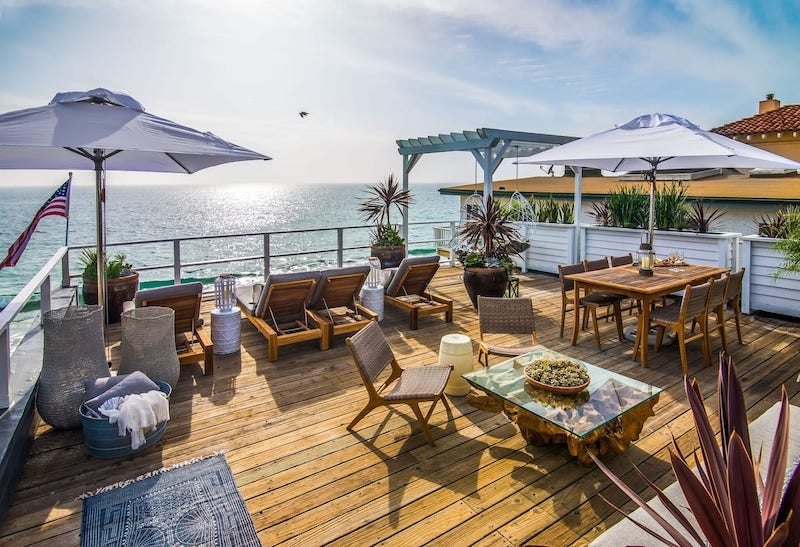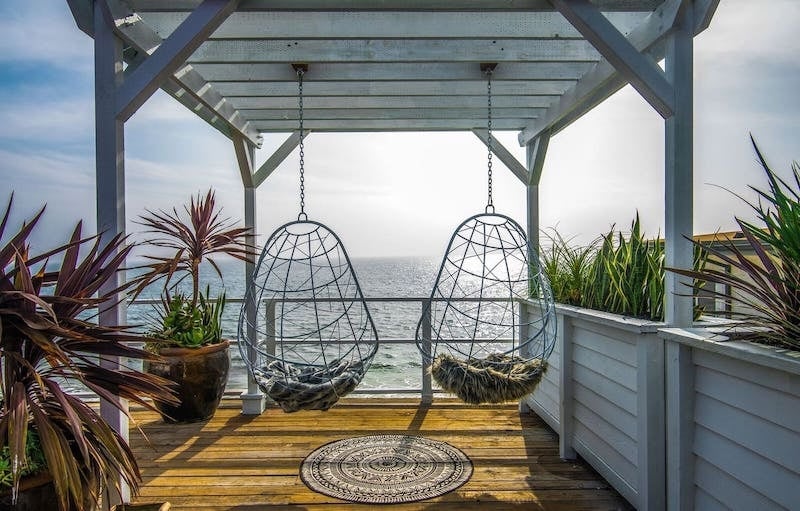 Listing name: THE BEACH HOUSE ON MALIBU RD Netflix #STAY HERE!
Listing type: Entire house 
Max. no. of guests: 4
No. of bedrooms: 2
For carefree living that embraces the Californian state of mind, look no further than this well-equipped Malibu beach house on Airbnb. It offers no shortage of spots to make your jaw drop, from the deck with an al fresco dining area to the swings facing the ocean. This vacation home throws out all the stops to keep guests immersed in nature. If it's a relaxing vacation you're after, you won't find a more splurge-worthy retreat than this. 
8. The architectural gem with magazine-worthy interiors and a Jacuzzi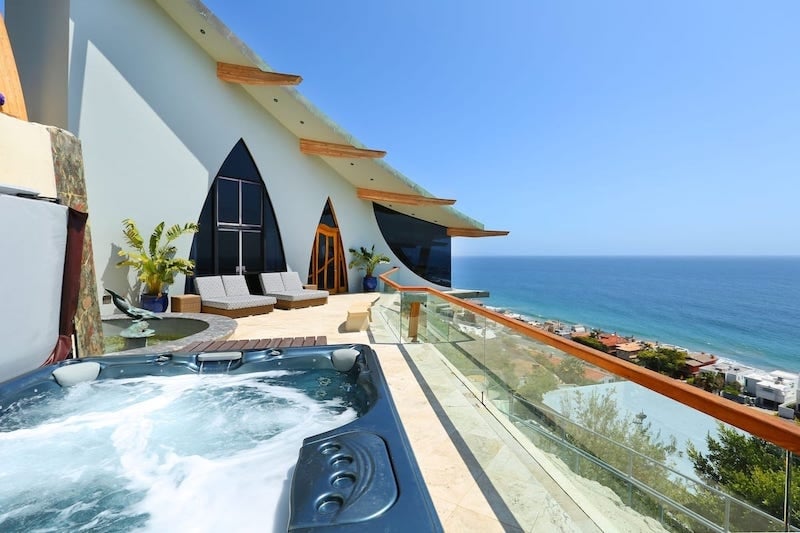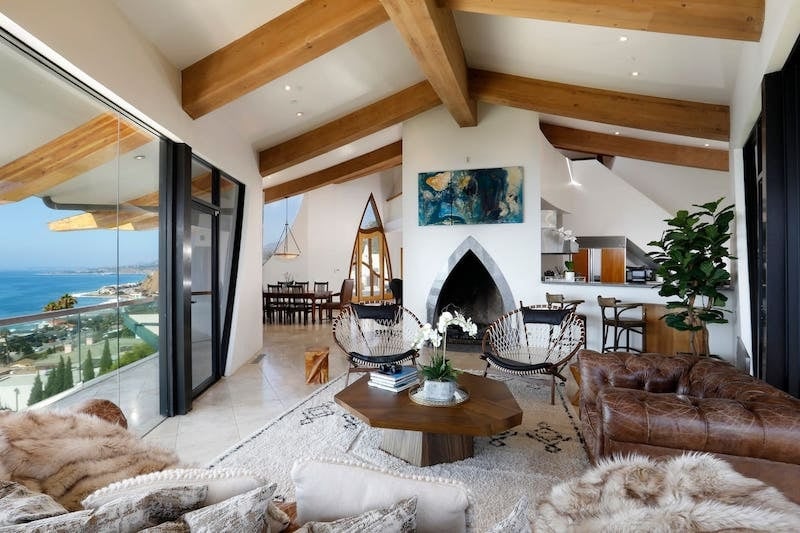 Listing name: EAGLE'S WATCH MALIBU- Architectural w/ Ocean View
Listing type: Entire house 
Max. no. of guests: 8
No. of bedrooms: 3
One of the best Airbnb rentals you'll ever book in Southern California is this architectural gem in Malibu, where coastal views meet magazine-worthy decor. Designed by renowned American architect Harry Gesner, the three-bedroom house features a spacious living room, a sprawling garden, a fully equipped kitchen, and a private Jacuzzi. Inside, the modern artworks and panoramic windows lend the home a sophisticated air. 
Planning a trip to this hidden gem overlooking the Pacific Ocean? Strike up a friendly conversation with your host Katherine, who's more than happy to give you insider's tips on the best beaches, hiking trails, and restaurants on this side of California. 
Also read: From San Francisco to Los Angeles: The Ultimate Road Trip for that Californian State of Mind
Did you find an Airbnb in Malibu that's right for you? For other sunny escapes in California, check out our best picks for Airbnb vacation homes in Los Angeles, San Francisco, and Joshua Tree to complete your trip in the Golden State.