Lazy days at the beach, hopping from one stunning island to another, getting to know a quaint town that doubles as a cultural melting pot; if this sounds like your kind of tropical getaway, then Phuket should definitely be your next destination in Thailand. An added bonus? All the amazing villas! You're bound to fall in love with one of these Phuket Airbnb stays. 
Whether you're planning a big group getaway or looking for something budget-friendly, there's definitely a gorgeous Airbnb in Phuket for you. Check out our top picks below!
Also read: 10 Best Islands in Thailand for a Beach Getaway
Best Phuket Airbnb villas for every budget level
1. This contemporary stay with exceptionally comfy beds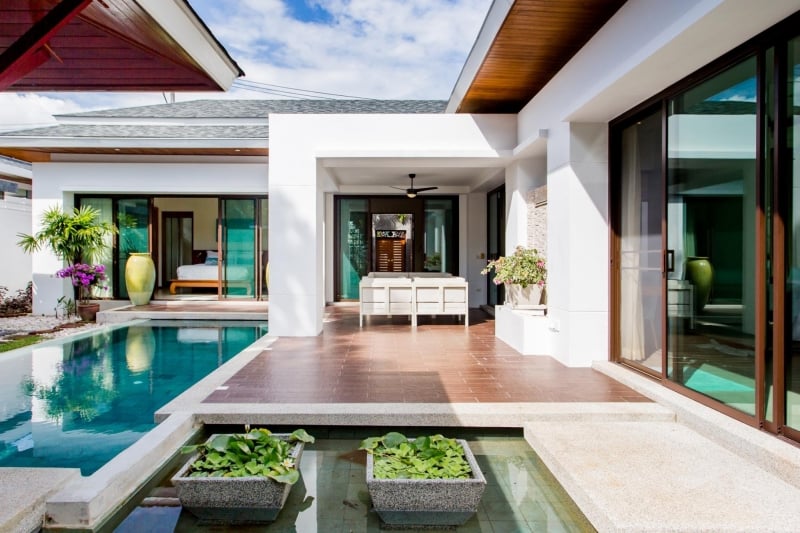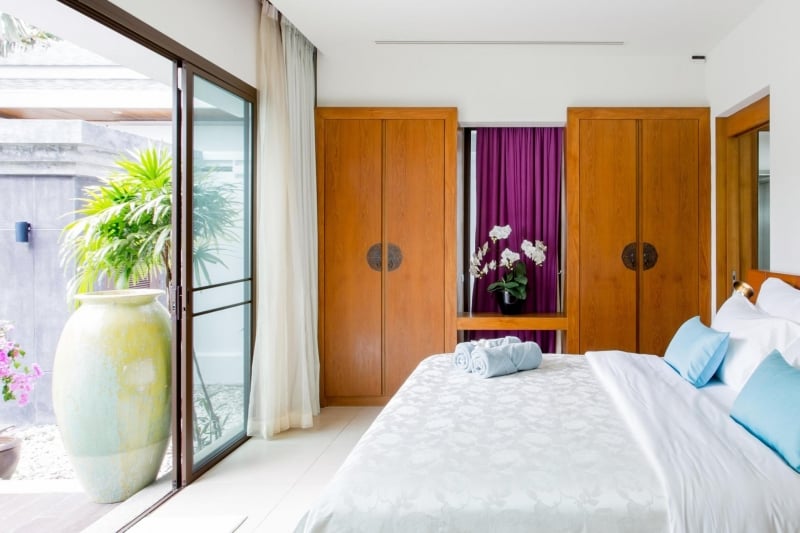 Listing name: Serene Contemporary Villa with a Swimming Pool
Listing type: Entire villa
Max. no. of guests: 4
No. of bedrooms: 2
Just like the rest of the villas on this list, this stylish home seems almost too good to be true. A gorgeous mix of modern Thai and European design, it certainly looks straight out of a glossy magazine. It's spacious, well-equipped, and even comes with a gazebo and private saltwater pool. The best part? It's actually priced quite reasonably!
What's more, this Airbnb in Phuket, Thailand isn't just pretty to look at; it's actually a cosy place to rest, too. In her review, one guest actually referred to the beds as "insanely comfy"! Sounds perfect, don't you think?
2. This eco-brutalist villa that's just minutes from Kamala Beach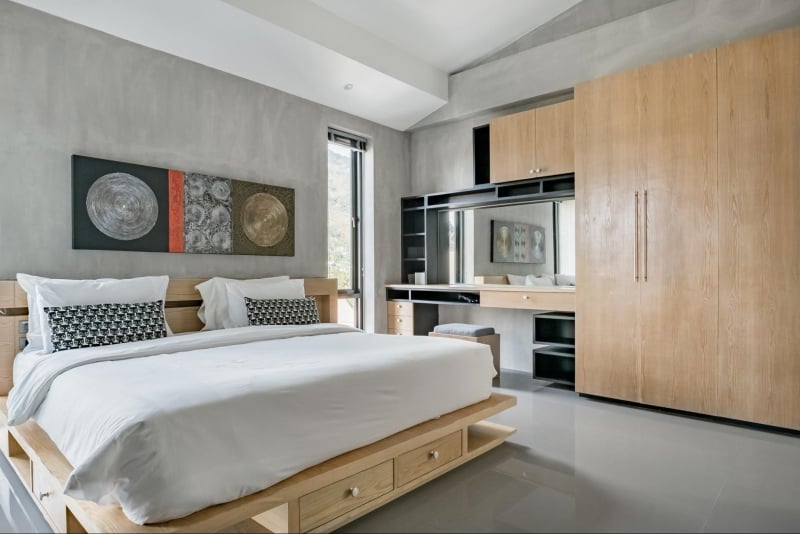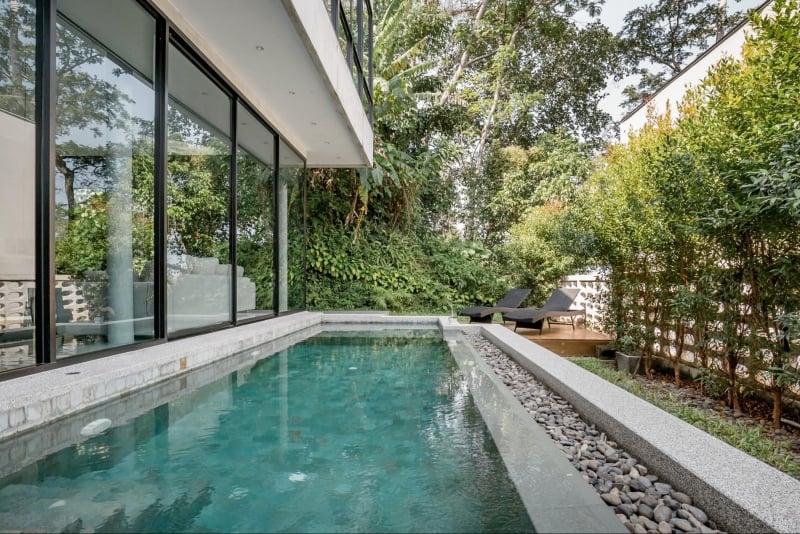 Listing name: Sleek Hillside Villa with a Pool in Kamala
Listing type: Entire villa
Max. no. of guests: 6
No. of bedrooms: 3
If spending your days at the stunning Kamala Beach is your priority, then this Phuket Airbnb with a private pool may be just the one for you. With floor-to-ceiling windows and a lush terrace, it's truly a gorgeous home you'd likely have a hard time leaving!  
Located in a peaceful neighbourhood just 20 minutes away from the bustling town of Patong, this Airbnb in Phuket is ideal for those hoping for a quiet getaway. With restaurants and massage parlours nearby, you won't have to go far to complete your island experience! 
3. This tropical-themed Phuket Airbnb near Nai Harn Beach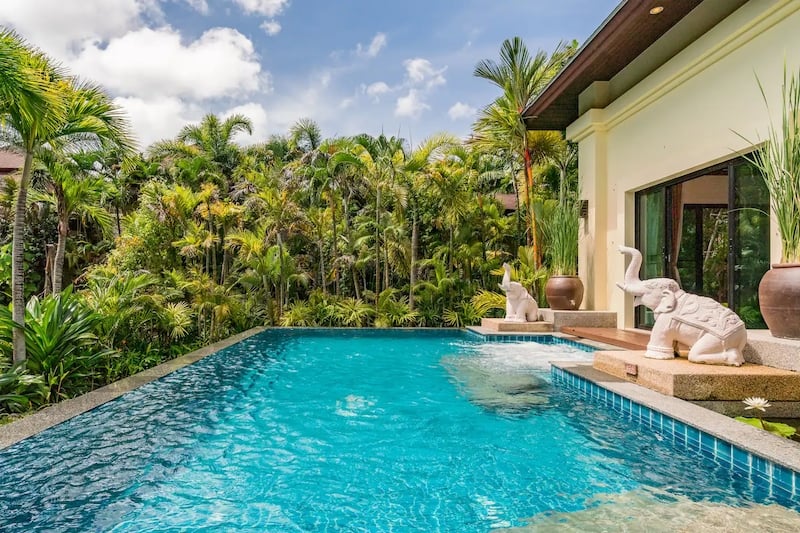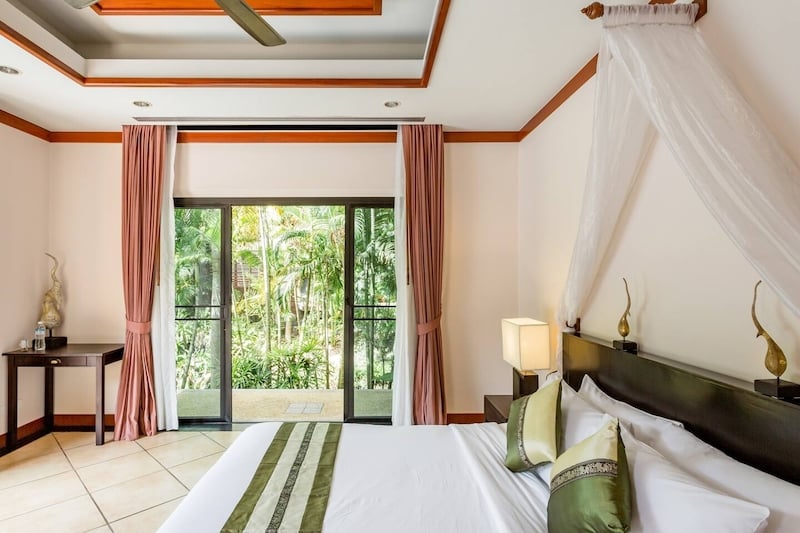 Listing name: Stroll to Nai Harn Beach from Tropical Private Pool Villa
Listing type: Entire villa
Max. no. of guests: 6
No. of bedrooms: 3
If you've always dreamt of having your own vacation home for quick escapes with friends and family, then you'll definitely love this Airbnb. This vibrant retreat can comfortably house seven guests, and comes with a luxurious pool that's made for splashing around with your travel buddies on a hot day!
With most tourist attractions just a quick drive away, it's a great base for your Phuket holiday. In particular, you'll love that this Phuket Airbnb villa is just five minutes away from Nai Harn Beach: a dreamy white sand beach that's considered one of the most beautiful in Asia!
4. This dreamy oasis tucked away from Patong's busy streets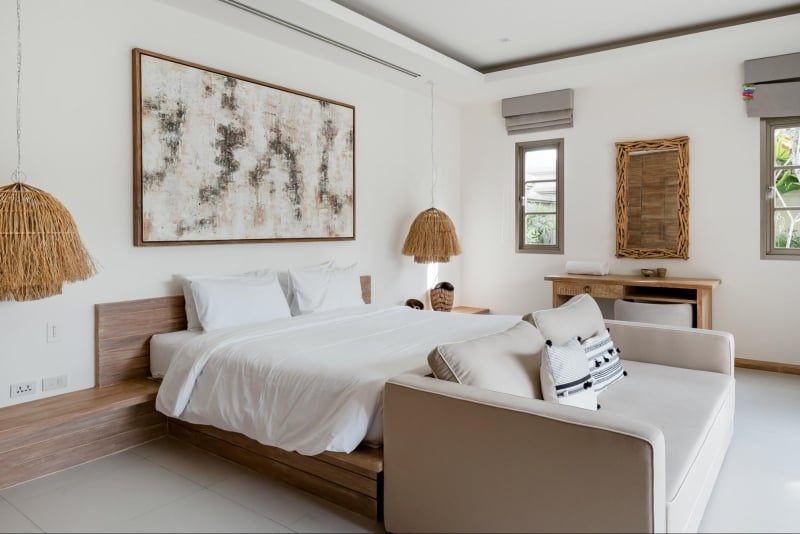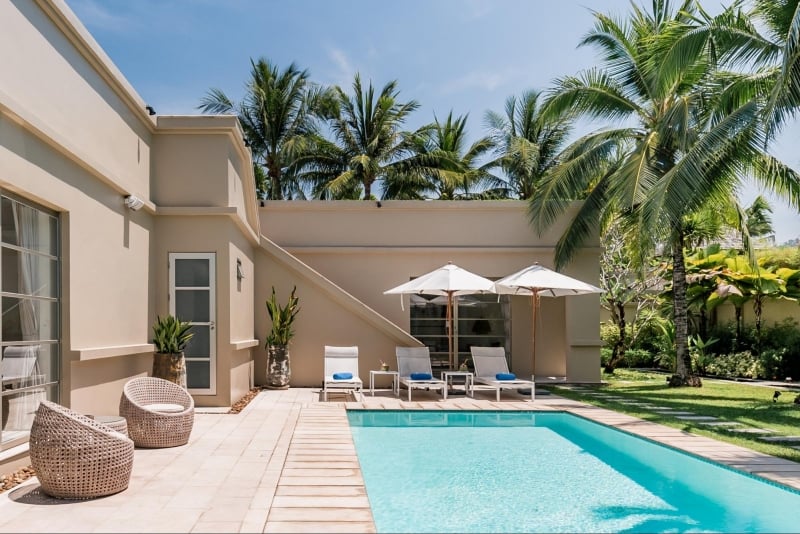 Listing name: Villa Oasis in Tambong Choeng Thale close to Bang Tao Beach
Listing type: Entire villa
Max. no. of guests: 6
No. of bedrooms: 3
Situated 40 minutes away from Phuket's central area, this tranquil villa is designed for quiet nights and peaceful mornings. Those who are after getting some much-needed rest and relaxation will surely find it at this modish hideout! With beautiful bohemian interiors, a garden lined with palm trees, a sumptuous pool, and a rooftop BBQ area, this Airbnb is definitely #HomeGoals!
From here, the stunning Bang Tao Beach is just a 10-minute walk away. Alternatively, you could cut down on travel time by renting a scooter — it's a nice way to experience life like a Phuket local!
5. This bright and airy villa located within a top resort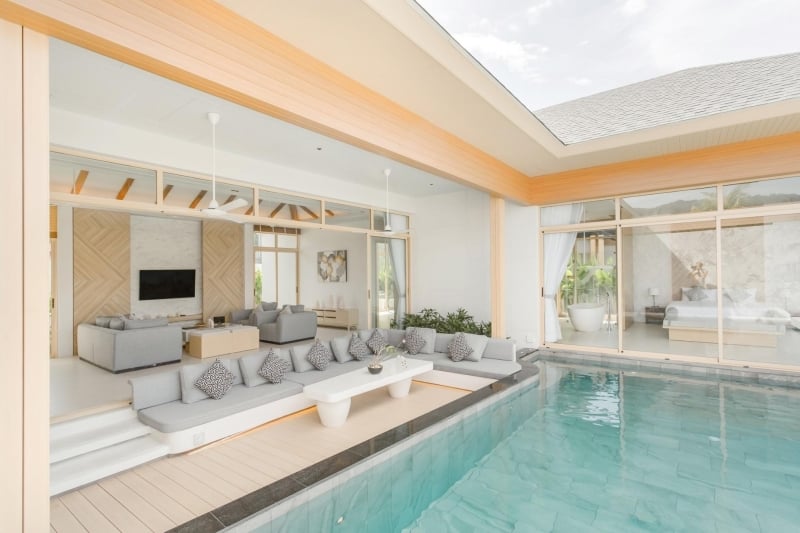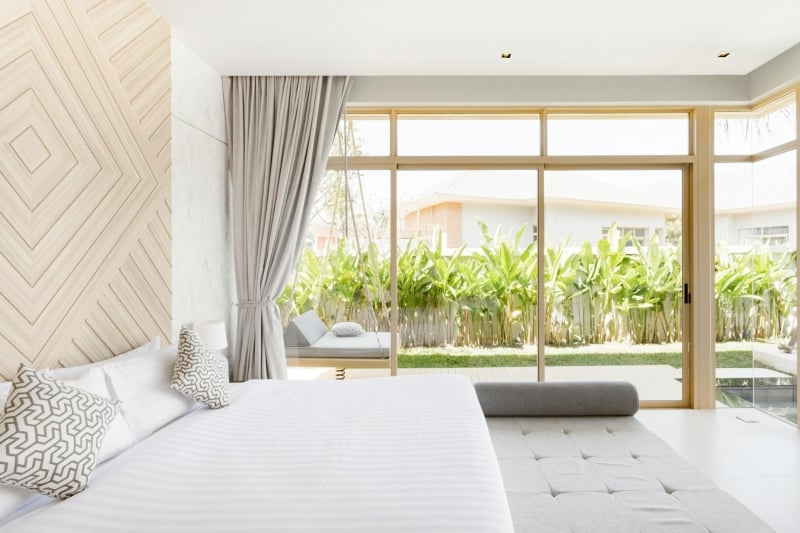 Listing name: Himmapana Luxury 3 Bedroom Villa – SHA Extra Plus
Listing type: Entire villa
Max. no. of guests: 6
No. of bedrooms: 3
We were pretty sure that homes like this Phuket Airbnb villa only existed in our dreams! A luxurious choice for six guests, it's located within one of Phuket's award-winning resorts. The laid-back Kamala Beach is just a 15-minute walk from here; in just the same amount of time, you'll also be able to reach the busy streets of Patong!
While you'll immediately fall in love with its exquisite wood and marble accents, you'll find that there's much more to love about this space. Surrounded by lush greenery and offering breathtaking mountain views, it's an excellent place to recharge after exploring the fun and excitement Phuket has to offer. A big plus? A stay at this villa comes with daily housekeeping services!
6. This slice of heaven within walking distance of Bang Tao Beach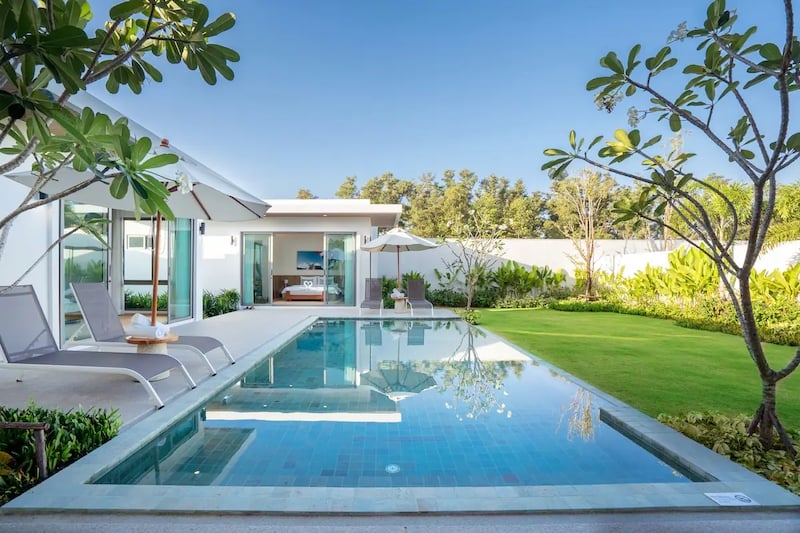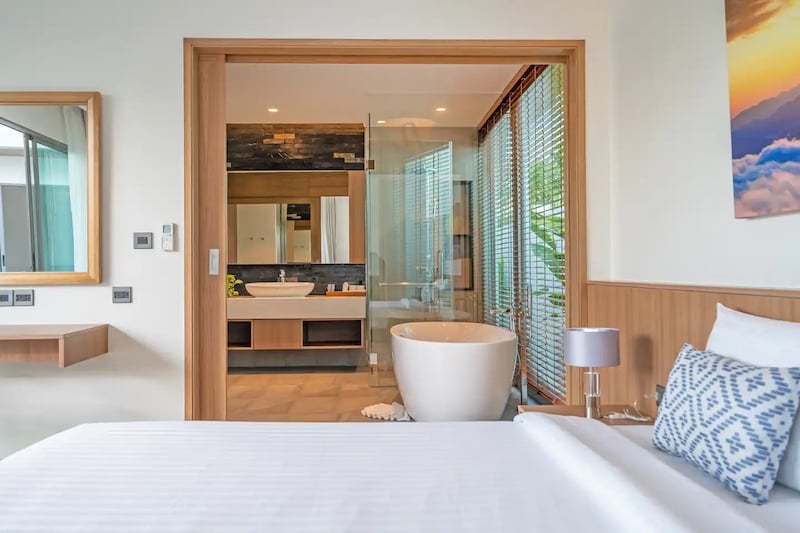 Listing name: Biggest New modern 2-BR Garden Pool Villa
Listing type: Entire villa
Max. no. of guests: 6
No. of bedrooms: 2
Fittingly called the Escape Villas, this Airbnb in Phuket is truly a place of refuge. Lovingly put together by a thoughtful Host, it's peppered with touches like a stocked kitchen, an assortment of local fruit, bath essentials, and bikes for guests to use. There's even a saltwater pool that you can have all to yourself. 
A short walk from Bang Tao Beach, this villa is located in close proximity to various beach clubs, restaurants, spas, and shops. With Patong's buzzing nightlife a safe 30 minutes away, guests will have the best of both worlds — easy access to the parties, and a quiet place to rest at night! 
7. This cosy Phuket Airbnb villa close to two popular beaches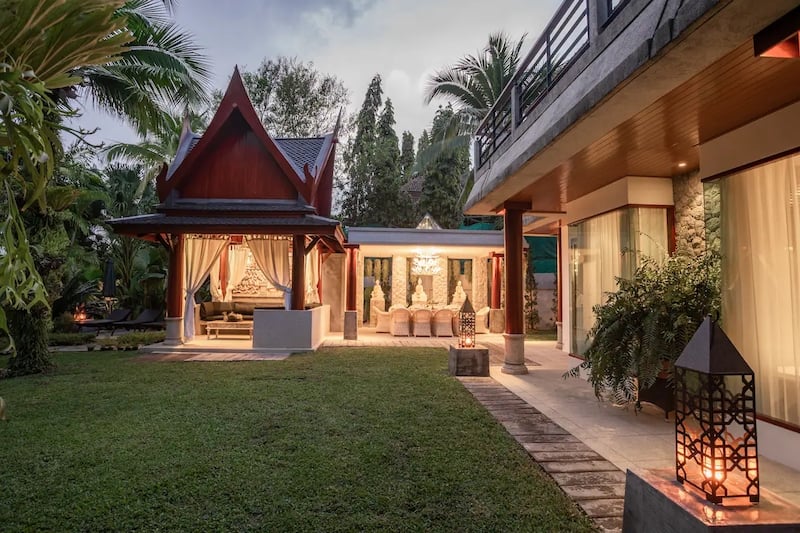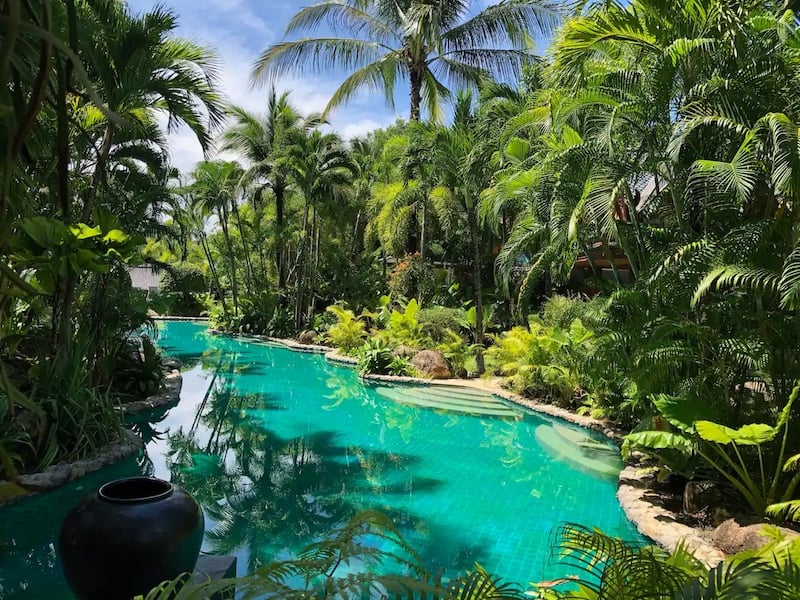 Listing name: Villa in the Park, 7 minutes walk to Surin Beach.
Listing type: Entire villa
Max. no. of guests: 8
No. of bedrooms: 4
Island boys and girls, this one's for you. This luxurious villa is situated just 10 minutes from not one, but two of Phuket's top-rated beaches: Surin and Bang Tao. Not bad for those who need their daily dose of vitamin sea!
Nestled in a quiet area away from the city centre, this Airbnb is ideal for spending uninterrupted quality time with a group of friends or family. Take advantage of the outdoor lounge area, generously sized pool in a tropical garden, and spacious living room; all of these elements make for the perfect setting for creating memories with your loved ones!  
8. This bachelorette party-worthy mansion for more than 10 guests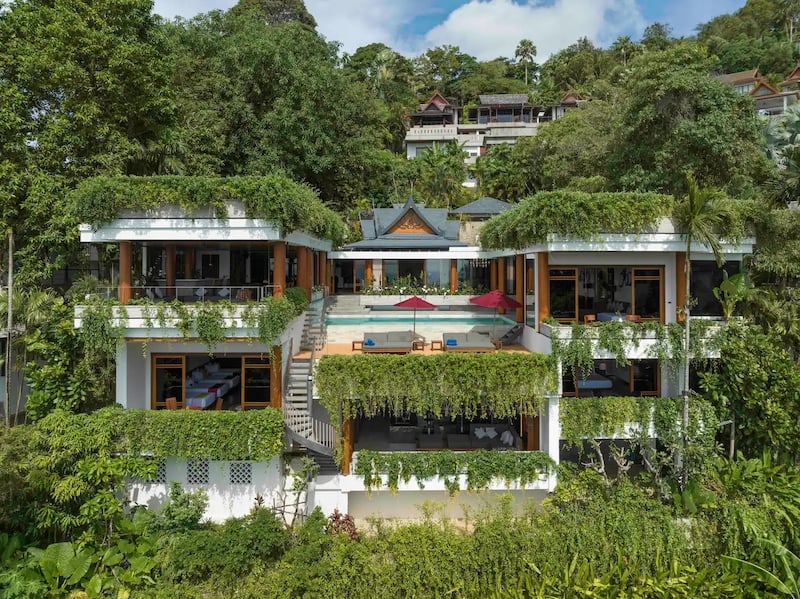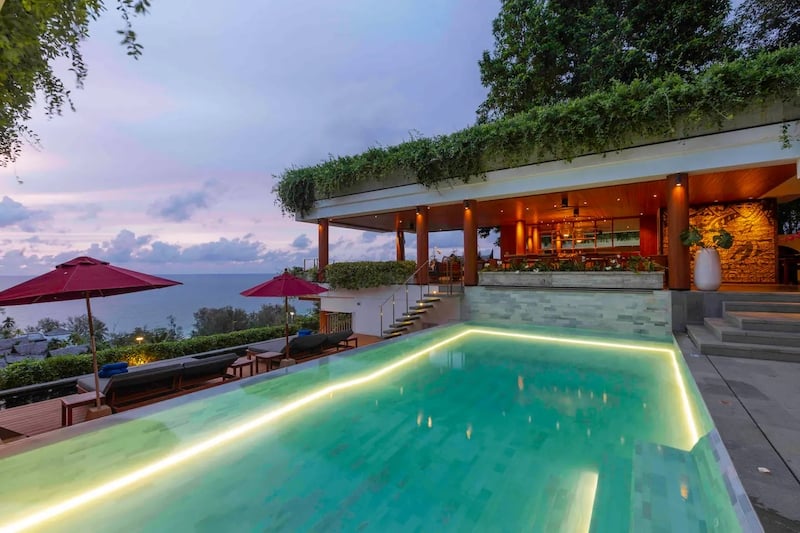 Listing name: 5brs LuxVilla, FreeTransfer|Chef|Gym|Cinema|Driver
Listing type: Entire villa
Max. no. of guests: 12
No. of bedrooms: 5
On the lookout for a villa that comfortably fits you and every one of your crew? This spacious Phuket Airbnb villa is just the place for a girls' trip — a bachelorette party, to be specific! With an Instagram-worthy aesthetic and five-star hotel-quality amenities, how could you possibly resist treating yourselves to a stay at this island retreat? We're talking an infinity pool, home theatre, sauna, gym, and more! 
Truly one of Phuket's gems, this gorgeous hilltop home is just five to 10 minutes away from popular spots like Boat Avenue, as well as Surin, Bang Tao, and Kamala Beaches. An in-house chef and a housekeeper will also be there to take care of daily needs. They can even help you book yoga classes, photo shoots, massages, van rentals, and restaurant reservations! What more could you ask for?
9. This tranquil hideout near three different beaches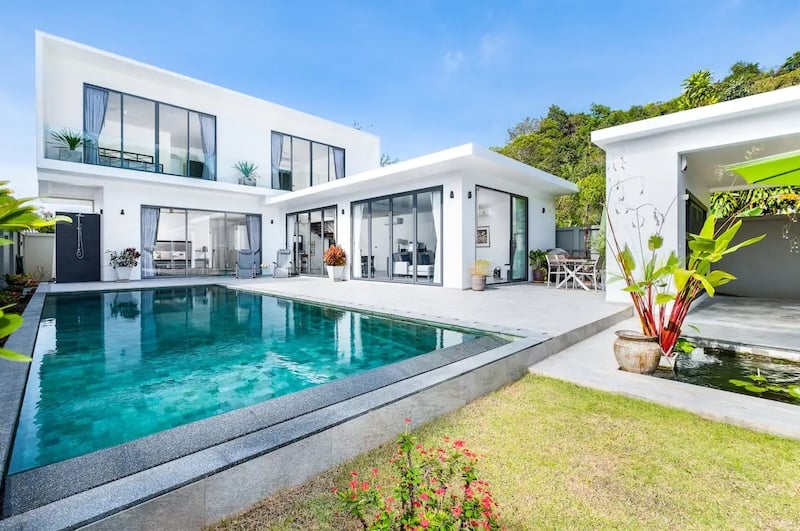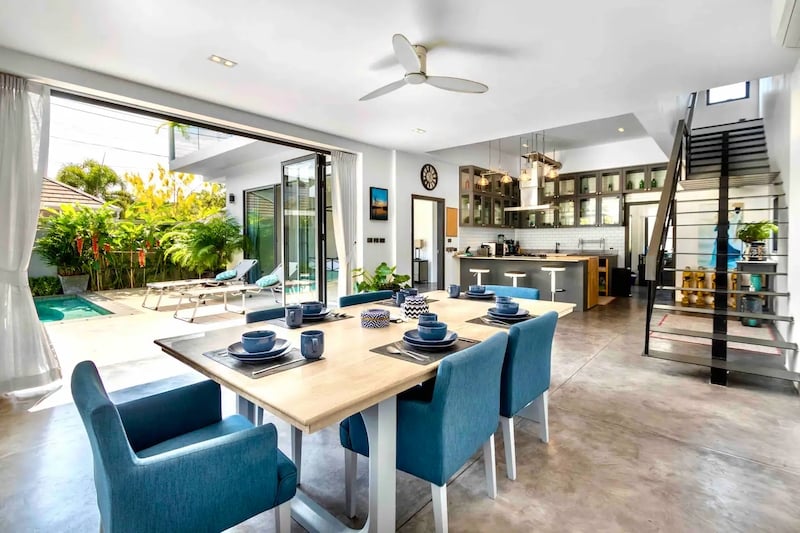 Listing name: Yanui Beach Pool Villa, Rawai, Phuket
Listing type: Entire villa
Max. no. of guests: 7
No. of bedrooms: 3
Prefer to be away from the tourist areas? This contemporary home is 20 to 35 minutes away from much of Phuket's action. Nearby, you'll find the tranquil shores of Yanui, Rawai, and Nai Harn Beaches. Be sure to head to Rawai Beach's nearby village to satisfy your seafood cravings! Other attractions within close proximity include Promthep Cape viewpoint, as well as local restaurants and boutiques.
This well-appointed home is the ultimate setting for reconnecting with your nearest and dearest, as it can fit up to seven guests! It's also a great pick if you're looking for a Phuket Airbnb with a chef to whip up some yummy local dishes. Oh, and you can even ask the Host to schedule a Thai cooking class. Sounds fun, right?
10. This traditional-style villa that looks like a palace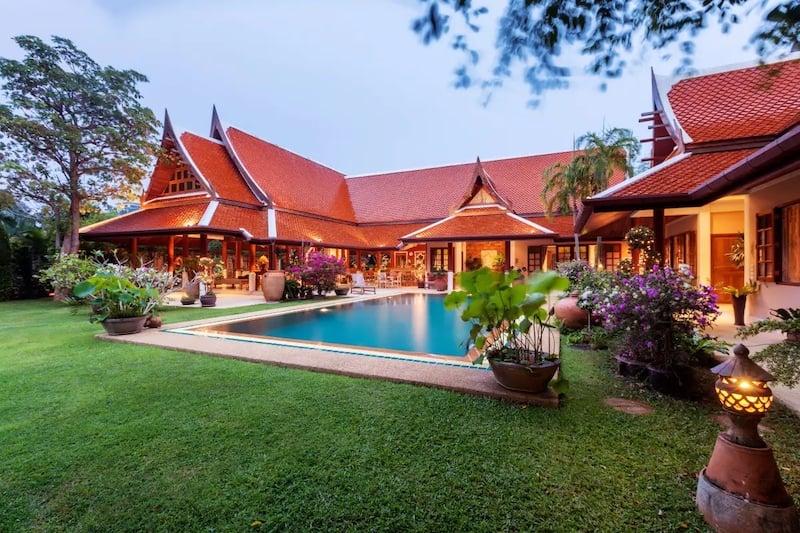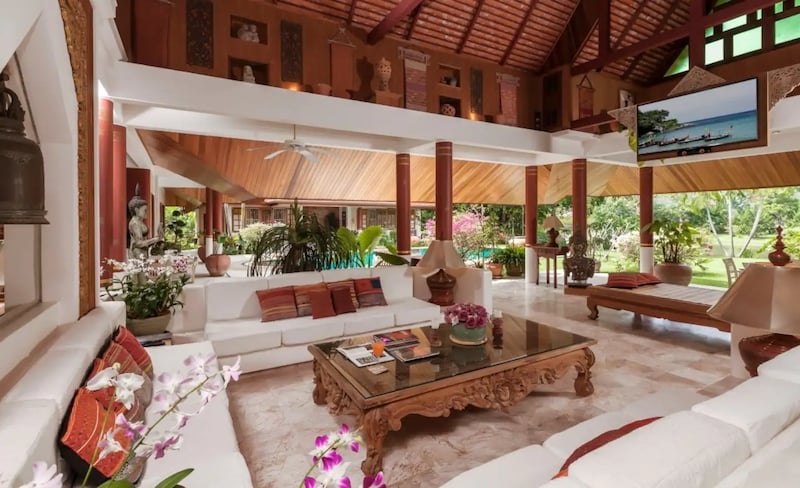 Listing name: V Semaya – Luxury Pool Villa in Large Priv. Garden
Listing type: Entire villa
Max. no. of guests: 16+
No. of bedrooms: 8
For an absolutely grand experience, look no further than this Airbnb in Phuket reminiscent of a Thai royal residence! It's the ideal spacious pick for an all-out vacation with your extended family and/or large friend group. Guests can also expect total privacy as it's located on a fenced property surrounded by a garden and a large pond. Nonetheless, top spots like Nai Harn Beach, Promthep Cape, and Old Town Phuket are less than a 25-minute drive away!
Its traditional architecture is emphasised in the open-air living area and dining room, which feature columns, sculptures, and teak furniture with intricate carvings. The bedrooms all have air conditioning and an en-suite bathroom; while four of these open directly to the swimming pool and terrace! Other fabulous amenities include a stocked bar, home cinema, massage area, pool table, and outdoor ping-pong. 
Also read: 12 Tropical Airbnbs in Asia to Experience the Best of Island Life
Other Airbnbs in Phuket with amazing views
11. This glass-walled apartment in the middle of all the action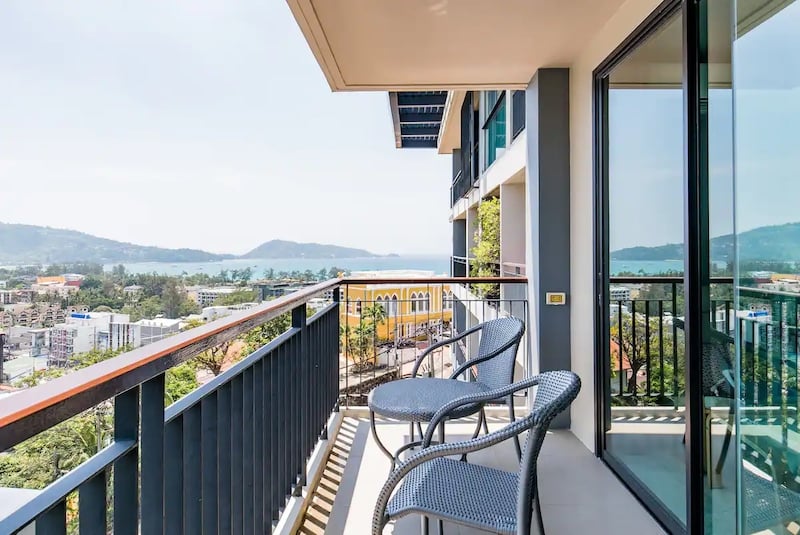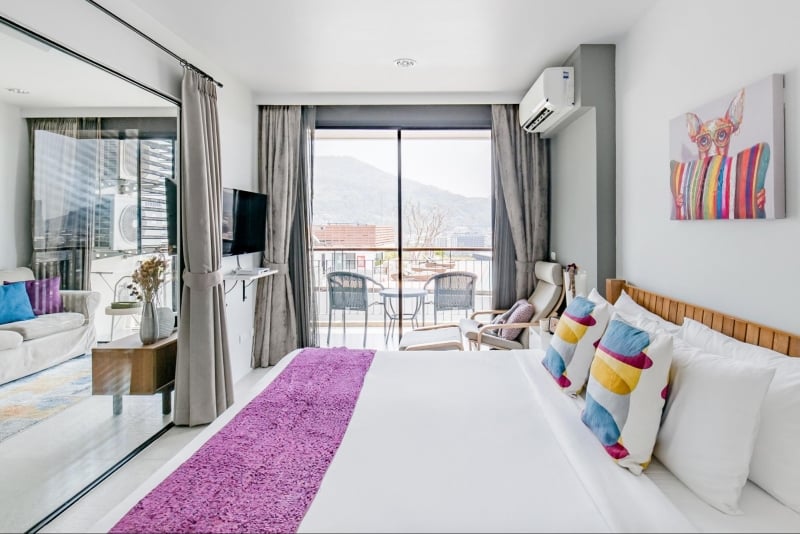 Listing name: Endless Patong Ocean View from a Hilltop Condominium, Phuket
Listing type: Entire rental unit
Max. no. of guests: 2
No. of bedrooms: 1
First things first: Before anything else, you may want to take into consideration that this Phuket Airbnb sits atop a hill. A short climb up is inevitable! But once you make your way up there, one thing's for sure: The ocean views make it totally worth it.
Close to Bangla Road's busy nightlife, this hillside home is a superb choice for travellers who prefer to be in the middle of all the action. In addition, Patong's white sand beach is just a few minutes away as well! This apartment has lots of useful amenities, but we're certain that beach lovers will particularly appreciate the Host's special touches: beach towels, a beach bag, and bottles of mineral water!
12. This spacious suite directly facing Bang Tao Beach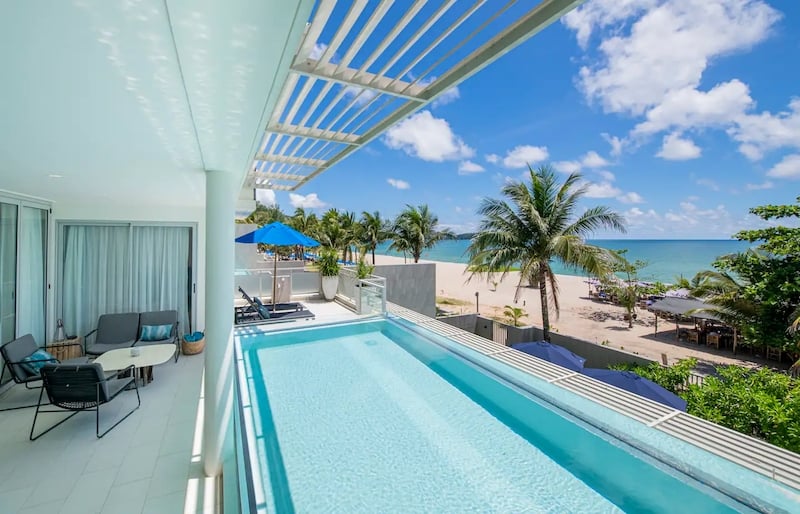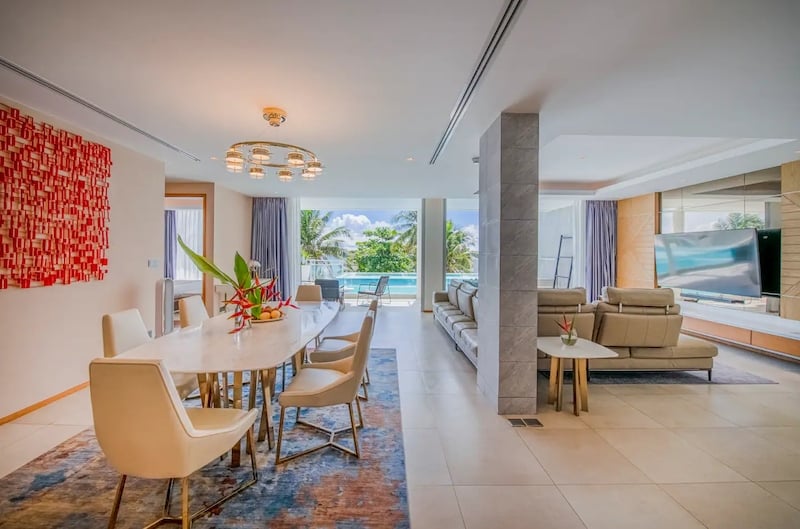 Listing name: Beachfront Sea View Residence
Listing type: Entire rental unit
Max. no. of guests: 5
No. of bedrooms: 2
A home straight out of Pinterest, this two-bedroom pad is as immaculate as it is beautifully designed. It's located within Laguna Phuket, so you and your travel buddies can enjoy a wide range of top-notch restaurants and luxury spas. Meanwhile, those who golf will be pleased to know that the estate has an award-winning 18-hole course. 
This Airbnb in Phuket with a beachfront view truly lets you bask in the sunshine. Its open-floor living and dining area leads directly to the balcony. There, you can lounge on the sunbeds and take a dip in the glass-walled plunge pool. Additionally, those looking to stay longer should take advantage of the laundry facilities for maximum convenience.
Also read: 12 Airbnbs in Chiang Mai for Every Kind of Traveller
We wish our own homes could look like these wonderful vacation stays! So, which Phuket Airbnb villa or apartment piqued your interest the most? Or better yet, are you set to book one of these pronto? Whichever you decide on, we guarantee you'll want to come back. Enjoy your stay!
Got a property you'd like TripZilla to feature? Inquire with us here.
---
This article contains affiliate links. When you book through these links, we may earn a small commission at no additional cost to you. All images courtesy of the respective property listings.