Falling Australian Dollar: A Cheaper Down Under!
Good news for those travelling to Australia – you'll be getting more bang for your buck! Australia's currency has seen itself sliding against the American dollar as well as currencies of Asian countries such as China, Malaysia, Japan and Singapore over the past few months. As of December 2014, it has fallen to a four-year low.
While the Australian currency sees a depressing outlook, its domestic tourism industry is likely to be met with rejoicing foreigners on vacation.
For those of you who have yet any solid plans for a holiday Down Under, now is a pretty good time to start planning – you might just be in time to catch the end-of-year holidays and also Australia's oh-so-glorious summer at ahem… a cheaper rate.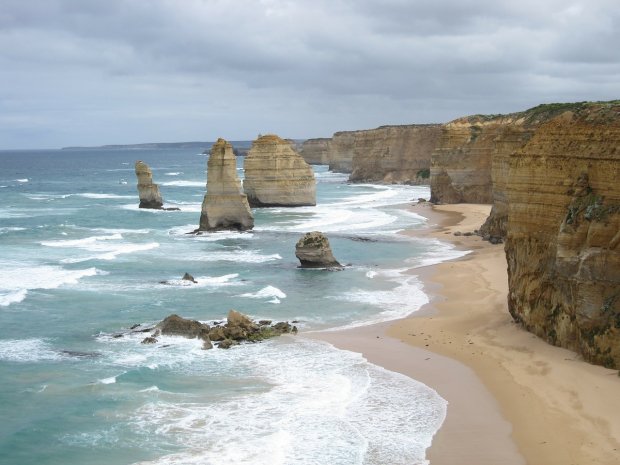 Twelve Apostles along the Great Ocean Road
Image Credits: Pixabay
So you've been to Sydney. Now where should you go?
Perhaps you are already familiar, or have travelled to major Australian cities such as Sydney, Melbourne or Brisbane, but have you fully experienced Australia yet? Here's a list of other relatively lesser-known Australian destinations that are worth a visit this year end. There's direct flights from Singapore to these destinations, and with the favourable exchange rates, what's there not to like about it?
Hobart – For the outdoor enthusiast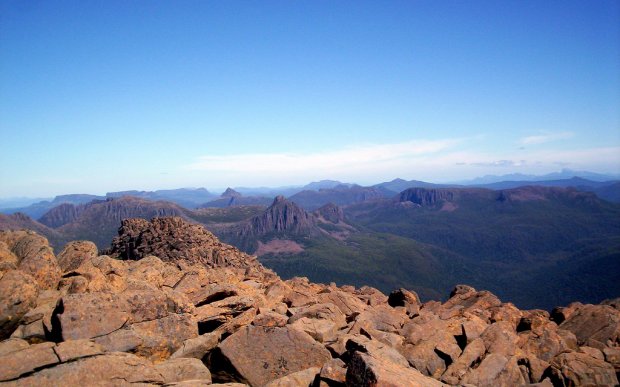 View from Mount Ossa along the Overland Track
Image Credits: Flickr
Hobart is the capital of Australia's only island-state, Tasmania. The picturesque city of Hobart rests at the foot of Mount Wellington, which serves not only as a gorgeous backdrop but also as a destination for hikers and nature lovers. Hobart exudes a laid-back vibe and travellers often use Hobart as a gateway to the rest of Tasmania.
One third of Tasmania is protected in national parks and world heritage areas, and it is a region that boasts diverse landscapes and astounding nature. Tasmania is a great place for outdoor lovers, especially those who love hiking. Australia's famous six-day Overland Track is located in Tasmania, running from Cradle Mountain and Lake St Clair. Like most challenging tracks, it is also highly rewarding – a spectacular visual feast!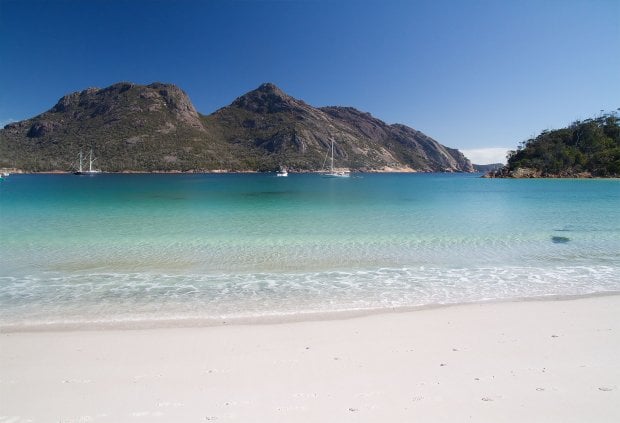 Tasmania's iconic Wineglass Bay
Image Credits: Wikipedia
Another place not to be missed in Tasmania is the iconic Wineglass Bay in Freycinet National Park. Wineglass Bay, one of Tasmania's most photographed natural beauty, is an alluring sandy beach with pristine sapphire blue waters.
Also Read: Frolic Around the Magnificent Wineglass Bay
Adelaide – For the urban chic & wildlife freaks
Often overshadowed by its urban counterparts, Adelaide is slowly gaining in popularity. Besides being named the most liveable city in Australia, it was recently ranked among the top 10 cities to be visited. Adelaide has plenty of cultural attractions as well as great dining and entertainment options. The most visited tourist destination in South Australia can also be found in the city: the bustling Adelaide Central Market, where visitors can find a huge range shops selling of fresh produce, confectionaries, pastries and specialty food.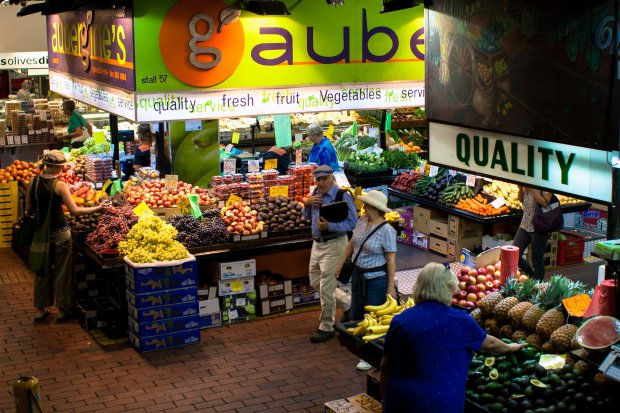 Adelaide Central Market
Image Credits: Flickr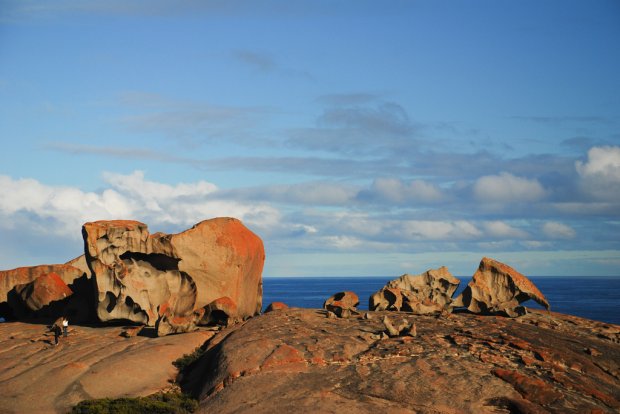 Interesting rock formations in Kangaroo Island
Image Credits: Flickr
A must-visit site just outside of Adelaide is the Kangaroo Island. This island is, of course,  home to Kangaroos, as well as other wildlife like koalas, wallabies, penguins, platypus, echidnas and sea lions. It is also features dramatic rugged cliffs, quiet sandy beaches and interesting coastal landmarks like the Remarkable Rocks and Admiral Arch.
Cairns – For the natural wonder-ers
The tropical coastal town of Cairns at the northern end of Queensland is filled with exciting urban spaces with plenty of good food, shopping and nightlife. There is heaps to do in Cairns, from activities on land like bushwalking, or that on water like swimming and kayaking, and even those that will take adventurers airborne such as bungy jumping and skydiving. Of course, Cairns is more famous for something else: being home to two magnificent natural wonders, the Great Barrier Reef and the Daintree Rainforest.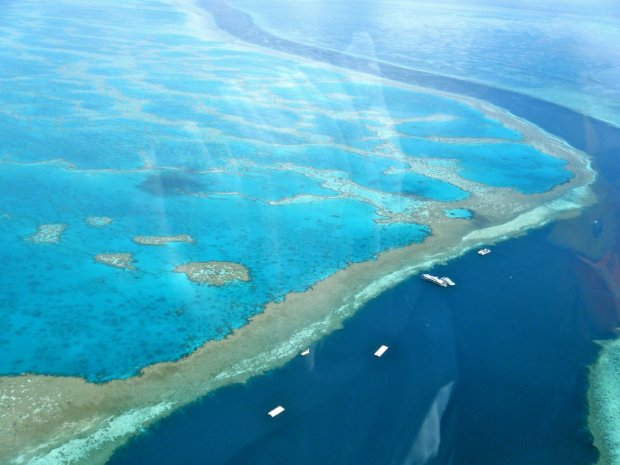 The Great Barrier Reef from above!
Image credits: Wikipedia
The Great Barrier Reef requires no lengthy introduction – it is, after all, one of the seven natural wonders of the world. It is the world's largest coral reef system, and quite amazingly, it can even be discerned from space! Swim, take a jet boat, book a helicopter, ride a shark, whatever! Just get there, whether you want to scuba dive, snorkel or just observe it from afar. There are even a few islands in the Great Barrier Reef that allows camping – a great option to consider.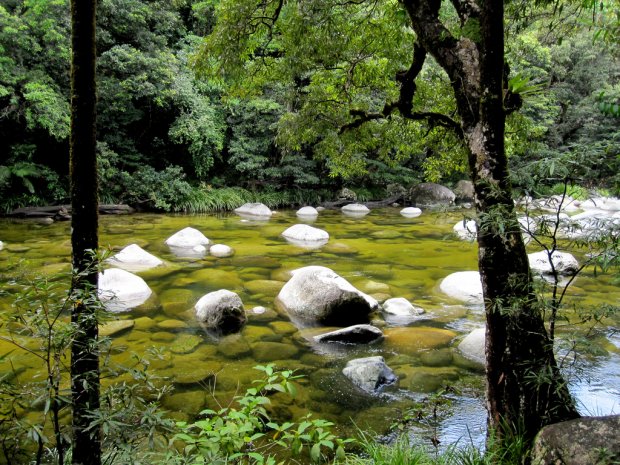 An enchanting stream running through Daintree Rainforest
Image Credits: Flickr
100 kilometres north of Cairns lies the vast expanse of Daintree Rainforest, a majestic tropical world which is also a listed World Heritage site. Daintree is the oldest tropical rainforest on Earth that is still surviving, and it is a great place for walking and viewing flora and fauna. The forest ranges also offer views of the Great Barrier Reef, which, if you ask me, is pretty damn cool.
Darwin – for the culture buffs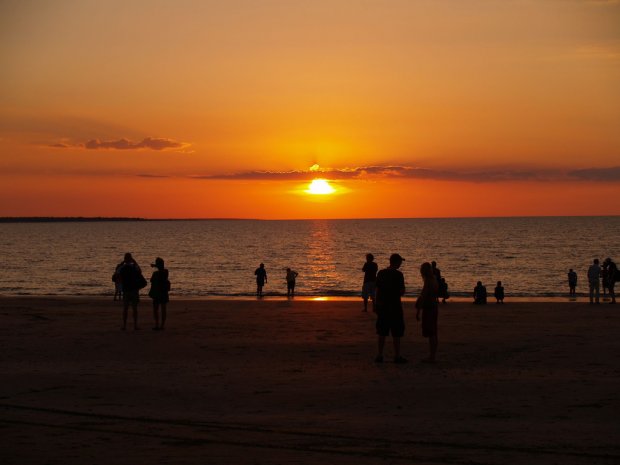 Mildil Beach Sunset in Darwin
Image Credits: Flickr
Darwin is the capital of Northern Territory State. facing the Timor Sea. It is strikingly multicultural and along with that, it boasts great festivals and cuisines. The Mindil Beach Sunset Market captures the essence Darwin's multiculturalism; the site where people and cuisines from all over the world converge, below the spectacular fiery tropical sunset.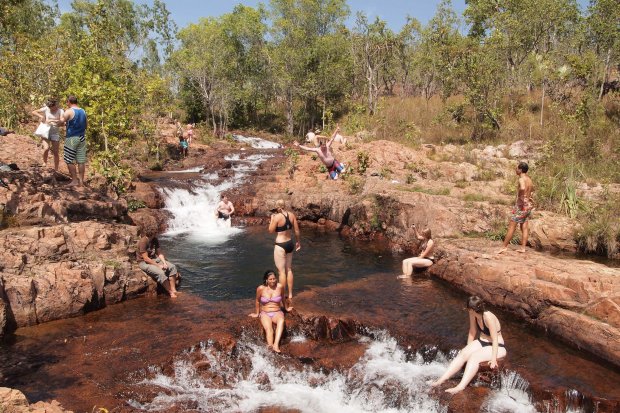 Buley Rockhole in Litchfield National Park
Image Credits: Flickr
The Litchfield National Park is a natural treasure south of Darwin which features stunning waterfalls and also waterholes. It offers a variety of walking tracks that takes visitors through stunning landscapes as well as plenty of wildlife.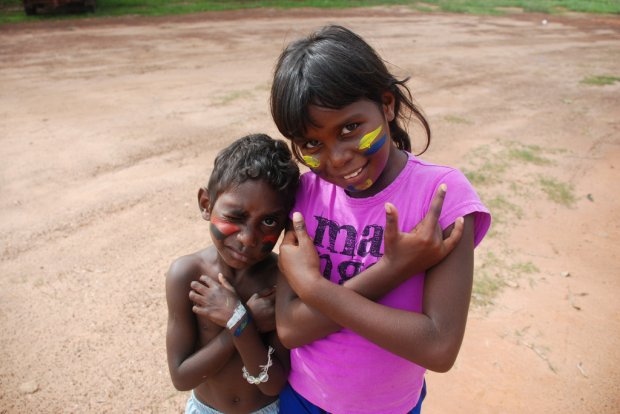 Friendly little Aboriginals in Tiwi Island
Image Credits: Flickr
A short trip from Darwin can take you to the Tiwi Islands, which comprises Bathurst and Melville Island. These two Tiwi Islands, also known as the "Island of smiles," are home to mainly Aboriginals. While tourism is restricted on the island, it is still accessible through the designated tour operators. The Tiwi Islands, with its rich history, culture and art, offer visitors an interesting and educational insight into the world of Tiwi people.
Australia is a huge country (6th largest in the world!) and travellers can only hope to skim the surface of what it offers. That doesn't mean that we shouldn't even begin to try. Besides, with the good exchange rate for Aussie dollar, all your travel expenses will be slightly more affordable – from accommodation to activities! Excuse me while I start searching for my summer travel package – an exciting Australia vacation awaits me!