I'd like to give you some information on our Amsterdam trip last April. Do consider that it was very last minute, our budget is limited, and my husband does not like to bike.
How we got there: train
We got to Amsterdam via train because it was the cheapest option. It cost around EUR 74 (approx. SGD 120) per person for return tickets without reserved seats. Using the Deutsche Bahn (a railway company), going to Amsterdam was a smooth 6 hour ride. I enjoyed the changing scenery and if you get a seat with a table in front of you, it is roomier than a plane.
However, our journey back via the Dutch Train was quite an experience:
In the train station, the signs on the platform were not working – both overhead and on the side of the train. It was entirely possible to get on the wrong train if there was a change in schedule or platform. We would ask the conductors of each train where it was headed.
It was announced that the train to Berlin would not have 1) a working dining carriage and 2) bicycle carriage. It was a bit of a hassle since we were travelling between 5pm till 12 pm and I felt a bit bad for those who thought they could buy a sandwich in the dining cart. This time we were prepared with water, wine and baked goodies from our favourite Amsterdam-bakery-find.
On the train all the seats were labelled "reserviert." Once we were en route, they announced something like this: The reservation system is not working right now. The seats you occupy may be reserved. If someone with a ticket reservation for your seat approaches you please give up your seat.
A few hours into our trip there was another announcement that we could not proceed to our next stop because of some technical issues and the train would have to go back and be re-routed. Someone from the Dutch Train staff went around with a piece of paper asking everyone where we were going so that they could call Germany to inform them and Germany would figure out how to get us to our destinations.
After going backwards and forwards again with a couple stops along the way, they announced that the next stop (finally into the Germany border) would be our last and that we needed to get off the train. There would be buses to take us to Hanover, where hopefully we could catch the last high speed bus to Berlin.
We got off the train and searched like lost sheep, asking around and were directed to where the buses would be waiting. There were 2 buses with different destinations. I hopped on the first one and TD inquired if this was indeed the bus taking us to Hanover.
Before leaving, the driver promised to do his best to get us to Hanover as fast (and presumably safely) as possible. It was a 3-hour bus ride, and throughout, the driver was coordinating our location with DB staff. When we arrived, the driver apologised because the last high speed train to Berlin had just left a little before mid-night. We almost… but not quite… made it.
Again, we were like lost lambs not sure where to go, but thankfully one guy took the lead and we followed him till we found the Deutsche Bahn information counter.
We were informed that the next high speed train to Berlin was at 5 am and we had the option to take a taxi home or stay in a hotel until the next train arrived. All paid for, of course. Most of us chose to share a taxi home. And after a 3-hour cab ride with 2 other couples, we were home!
I am sure that this was out of the ordinary and it was just bad luck, but I was sure glad to be in the German border because I knew for sure they would find a way to get us home. All in all, we got home after 10 long hours via Dutch train, bus and taxi. What a crazy adventure! Now say I took a 3-hour cab ride to get home to Berlin.
Also read: Awestruck in Amsterdam: Things to Do and Where to Go
Where we stayed: Qbic Hotel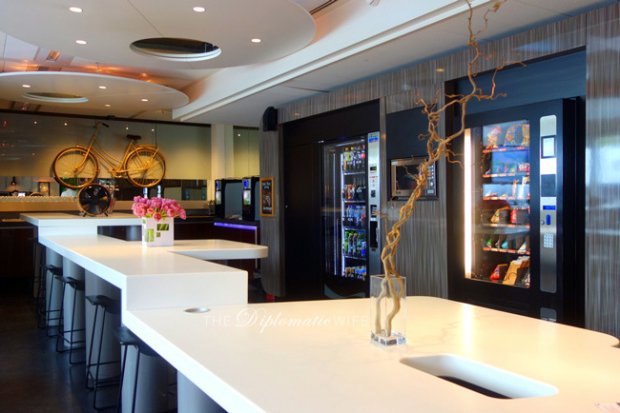 This hotel is a very basic budget hotel. If it were only EUR 60-70 (approx. SGD 97-113) a night, I would highly recommend it. However, we paid around EUR 250 (approx. SGD 406) for 2 nights. Maybe this is already cheap for Amsterdam? We didn't really have a choice because after checking many websites, this was the only available hotel room that was not too far from the city centre.
Also read: 10 Hotel Secrets They Don't Want You to Know
The good:
The room was modern and looked clean
The bed was big and comfortable
Having windows were nice
We had a TV
Free WIFI in the room and in the common area
Great accessible location, beside the Zuid Train Station and a tram station, a few stops away from Schipol airport
Quiet despite being beside the station (soundproofing)
We didn't buy breakfast from the hotel, because there were many options for breakfast close by. I especially loved this one bakery. So yummy!
Liquid soap which can be used for body and hair, and towels were provided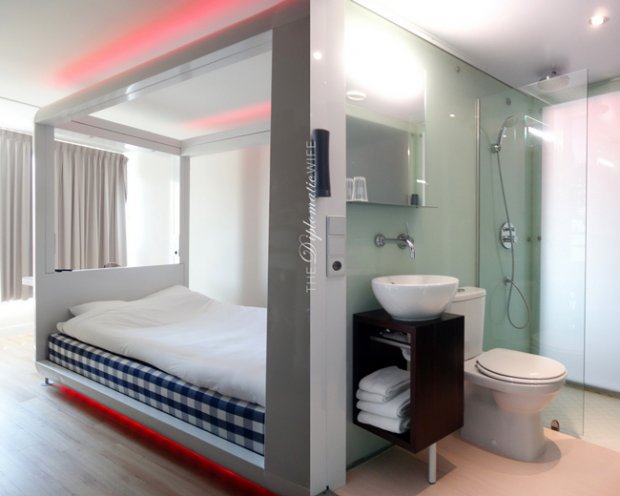 The bad:
When we arrived they had "upgraded" us to a large double room but it smelled strongly of cigarette smoke (made worse by trying to cover it up with artificial air freshener). Qbic is a non-smoking hotel. We asked to be moved to another room and thankfully they obliged and put us in a basic room with windows, which is what we originally paid for. Though it was smaller, we preferred it because it faced the courtyard of the World Trade Centre and was much cooler than the previous room facing the train station.
There is no door to the toilet which means you do your business while the other occupant can hear/smell you as you go about your private business. Good thing we brought our secret weapon and we made sure one was plugged in to music while the other was using the toilet. Sorry for the #TMI, but this is information I would like to know before booking a hotel!
The bathroom was so tiny and didn't have curtains or doors so everything got wet when used.
Centralised heating/air-conditioning is used here so there is no way to turn up/down the AC if you are feeling hot/cold
And the ugly:
The shower didn't drain well so we were standing in an inch of water while showering and there were mould on the sides of the shower floor. Quite gross. If you do get this hotel for EUR 60 (approx. SGD 97), I recommend bringing rubber slippers. Sorry for grossing you out!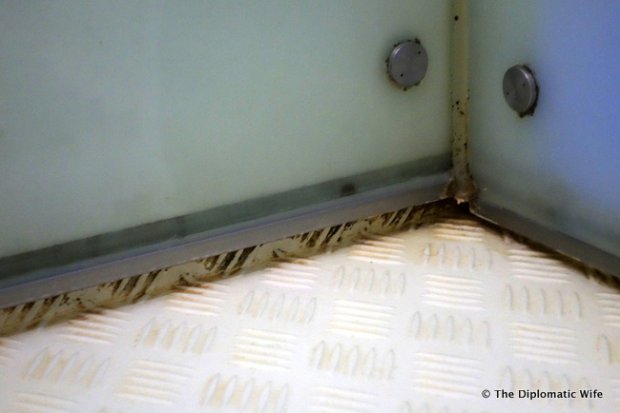 All in all we were just happy that we found a comfy bed to sleep in, had internet and easy access to public transport to explore Amsterdam at its most beautiful – the weather was amazing, flowers in full bloom and people were sunbathing.
Also read: Amsterdam Overcome With Mesmerising Colourful Tulips
Holland Pass VS I AMsterdam City Card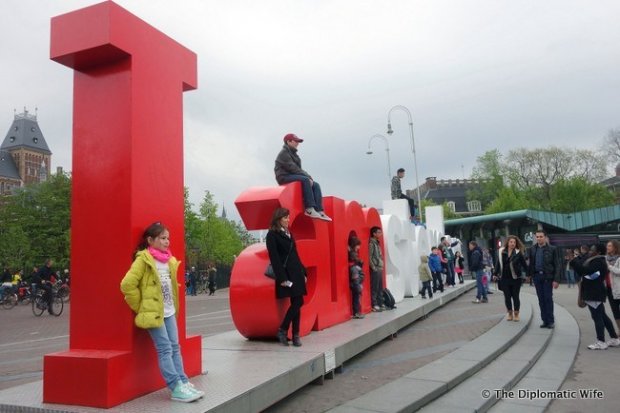 For the few things we wanted to do in Amsterdam, we decided to get the Holland Pass instead of the I AMsterdam City Card. From what I read, this is my take: If you want to visit a lot of museums in a short time, the I AMsterdam is worth it. However, if you only want to visit the Rijksmuseum and the Keukenhof, then the Holland Pass is better because…
Its use is not limited to 24-72 hours so Holland Pass holders can do activities at a more leisurely pace.
It is cheaper.
There is a special entrance for Holland Pass holders in the Rijksmuseum to avoid long lines.
Transport to and ticket into Keukenhof is included (not available in the I AMsterdam City Card)
You can also use one of the passes for a ticket from the Main station to Schipol (Where the transport to Keukenhof leaves from) but I only recommend this if your hotel is far from Schipol. If you are near Schipol, use the pass for another activity for more value.
It comes with a card that gives you a discount on many other tourist attractions and restaurants.
There are many other benefits to the 2 options so read up on them so you can decide what is best for you. It requires a bit of planning and research but the savings were worth it for me.
NOTE: The Holland Pass contains passes that need to be exchanged for the actual tickets and cannot be used directly as the ticket (with some exceptions). This is simple enough because there are many locations for you to do the exchanges. Don't worry as you will get all the information in the accompanying guidebook.
Also read: Which City Should You Visit in Western Europe?
Amsterdam public transport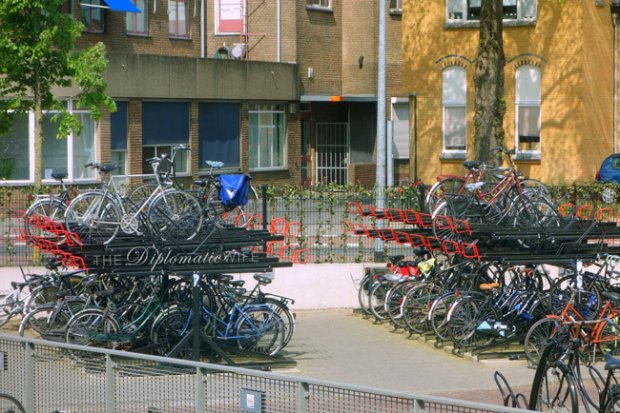 Though we didn't get around in the most famous form of transport in Amsterdam, riding bicycles, it was quite easy to get around without a bike. Taking a walk outdoors in the cool weather was also enjoyable. We observed a few quirks in Amsterdam's public transport that may be useful to keep in mind for those who might visit Amsterdam in the future:
We had a free 24 hour card included in the Holland pass, but what we didn't realise was that you must also check out each time you leave a station/bus/tram or the card will become invalid and unusable. Make sure to check out each time!
In certain buses or trams, you aren't allowed to enter some doors and we had to run to other doors at the back which led us to missing the ride entirely. It was not consistent, so as tourists, we didn't know where to stand while waiting.
When using the sprinter, you purchase a different ticket which you do not need to validate nor check out.
The schedules posted in the tram/bus stops are in a small font and hard to read at night, so bring your reading glasses!
Do you know of any other useful information and tips for visitors to Amsterdam? I'd love to hear it in the comments below!
Contributed by The Diplomatic Wife.