Aside from being home to the fabled Van Gogh Museum and Anne Frank House, Amsterdam is mainly known for its beautiful canals, historical wonders, and houses with charming gabled facades. Imagine strolling along the city's well-trodden paths and walking through the wonderful latticework of bridges and waterways with your loved one; sounds like a dream come true (and a great plan, too)! To help you book the fondest memories in the city, let us get you off on the right foot with the best Airbnbs in Amsterdam, Netherlands.
Also read: 12 Charming Airbnbs in the South of France to Fuel Your Wanderlust
Most remarkable Amsterdam Airbnb homes that will leave you in awe
1. This dreamlike abode that lets you sleep above the water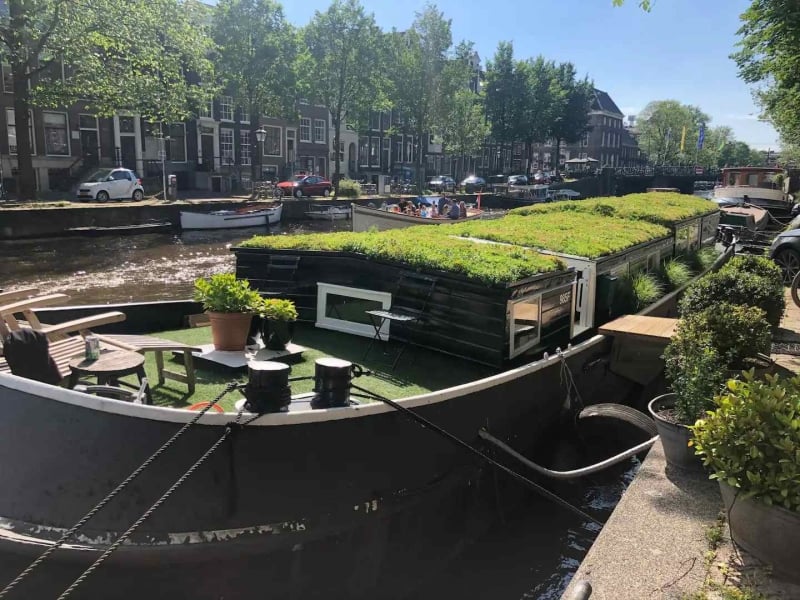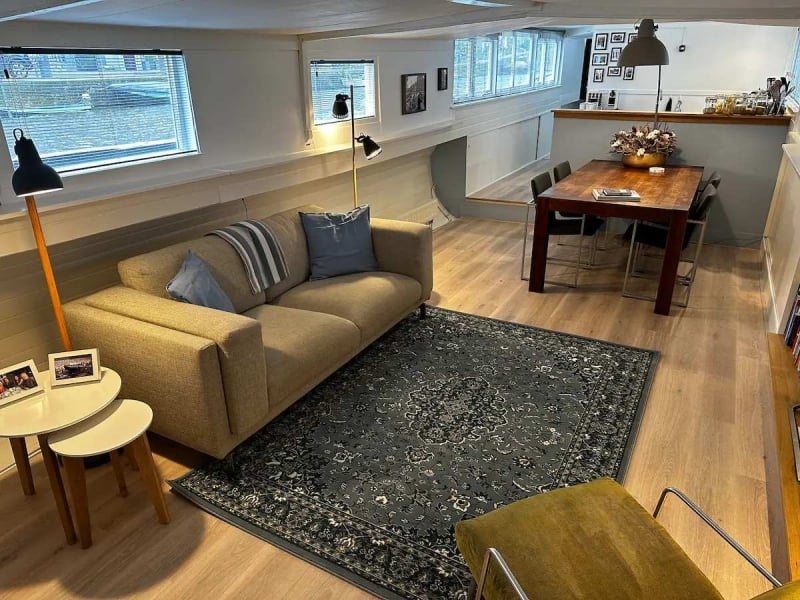 Listing name: Houseboat Trijntje, Prinsengracht, Amsterdam,
Listing type: Entire boat
Max. no. of guests: 2
No. of bedrooms: 1
Float in luxury and comfort in this gorgeous houseboat with a private flower garden. The stylish, modern interior is carefully woven with a homely vibe, thus, exuding a comforting atmosphere as soon as you walk in. So, add this lovely stay to your list of must-try Airbnbs in Amsterdam now!
You can cook with your loved one in their well-equipped kitchen and enjoy your snacks in the cosy living room. Or better yet, savour your meals in their deck garden with a 360° landscape of spectacular canal views.
When you're out of indoorsy things to do, rent a bike near the boathouse and cycle through the 17th-century merchant houses dotting the streets. And guess what? Supermarkets, cafes, and restaurants are within walking distance of your stay! Hands down the best Airbnb Amsterdam houseboat you should check out. 
2. This exquisite canal house that will take you back in time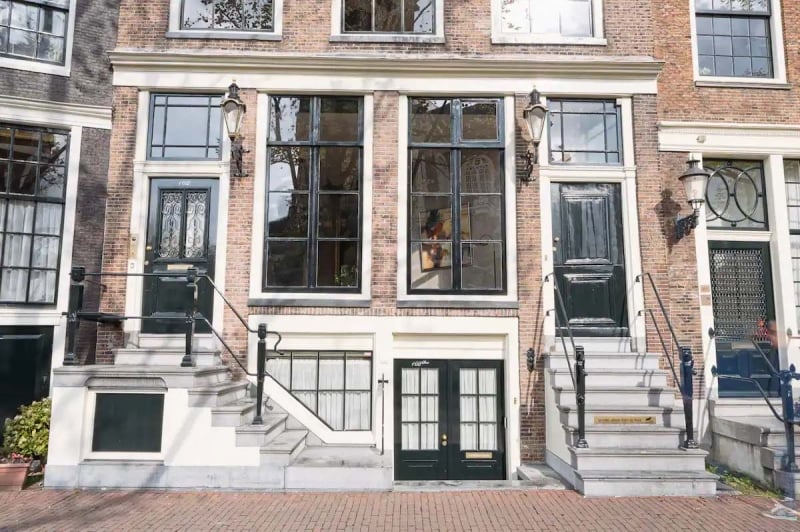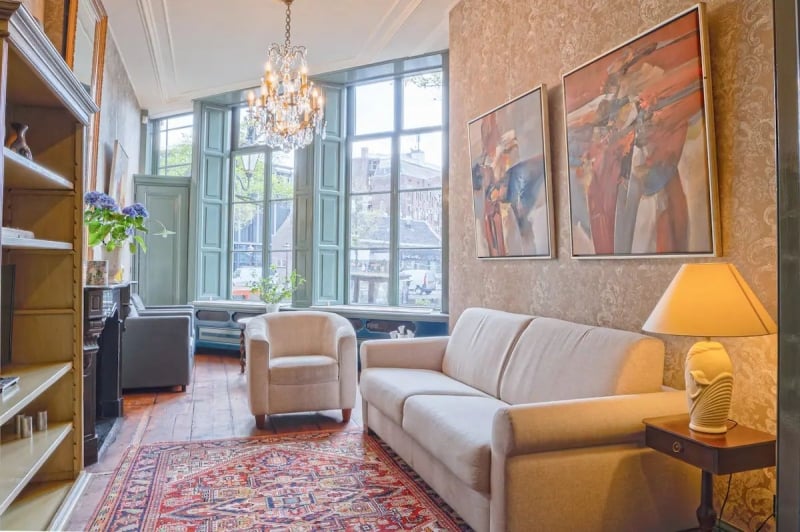 Listing name: Historic canal house in the middle of De Jordaan!
Listing type: Entire apartment
Max. no. of guests: 4
No. of bedrooms: 2
When we talk about beautiful Airbnbs in Amsterdam, this artsy apartment will always make it to the list. The interior is aesthetically pleasing, especially the walls dotted with impressive paintings and the spiral staircase leading to your room. 
Enjoy a cup of coffee in their breakfast area or munch some snacks in your living room while you take in the stunning views of Westerkerk and the Anne Frank House outside. At night, you can have a dinner cruise with your family on the canals or eat away at nearby restaurants to your heart's content. Located in De Jordaan, this stay is the best Airbnb Amsterdam city centre puts forth for an aesthete traveller!
3. This shabby-chic house next to Vondelpark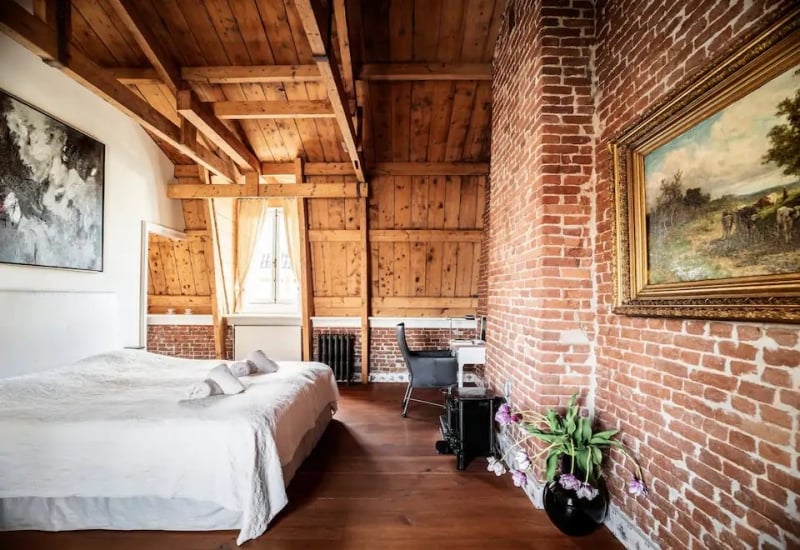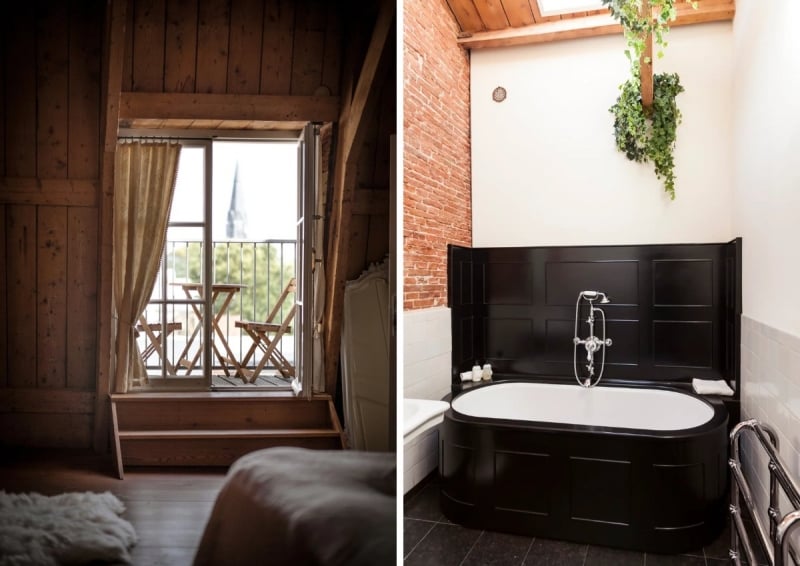 Listing name: Spectacular Loft – central & quiet!
Listing type: Entire loft
Max. no. of guests: 2
No. of bedrooms: 1
If you're looking for an Amsterdam Airbnb with exposed bricks as their main design, this vintage residence for two will be your best choice.
Start your day with a homemade breakfast in their cute kitchenette, and afterwards, take a relaxing dip in their deluxe bathtub. You can also take some fresh air on their beautiful balcony as you work on your deadline or talk to your friend. 
When you're ready to explore, famous hotspots such as Vondelpark are mostly accessible on foot. And if you're not keen on walking, buses and trams will always welcome you aboard. We kid you not, this is one of the most recommended Airbnbs in Amsterdam that gives you the best access to the city's top attractions!
4. This home away from home in the De Pijp neighbourhood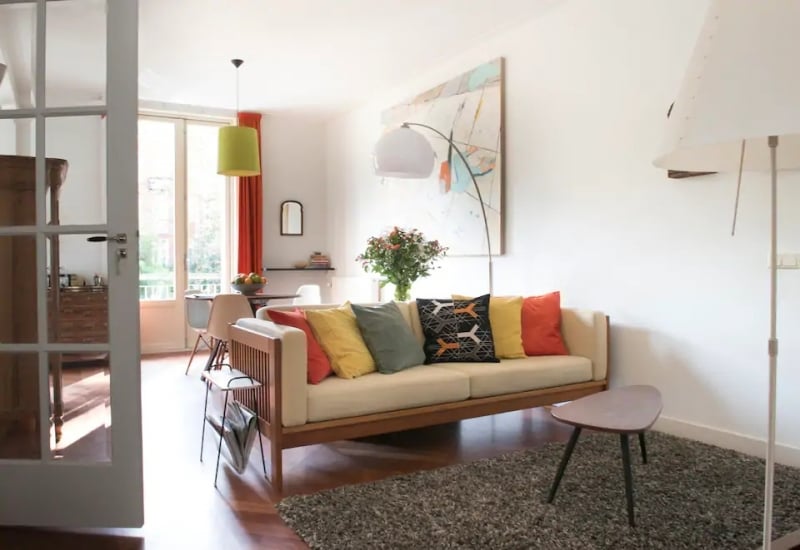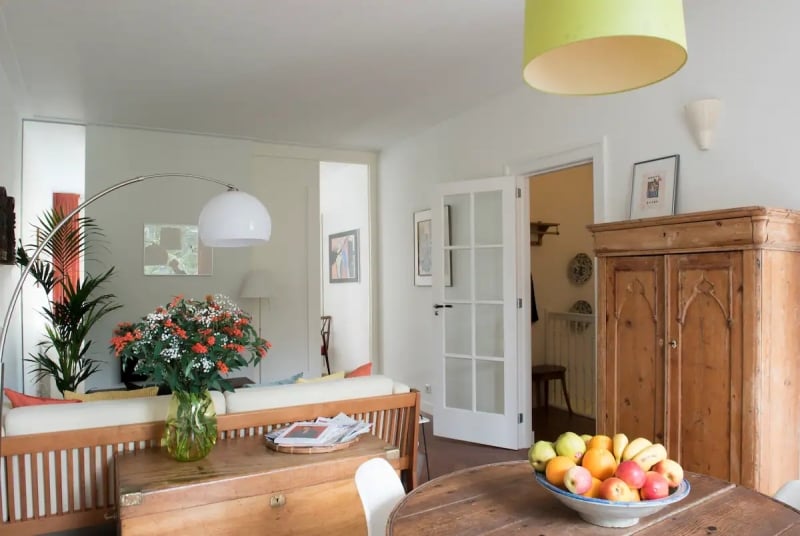 Listing name: Luxurious apartment in authentic Amsterdam house
Listing type: Entire apartment
Max. no. of guests: 2
No. of bedrooms: 1
This homely stay with a neutral-coloured backdrop and patches of bold hues is a must-add to your bucket list. Its welcoming vibe will lure anyone to laze around in their spacious bedroom all day; take our word for it!
Kick off your day with a cup of Nespresso on their open balcony overlooking a lush garden greenery bathed in the sun's rays. Afterwards, finish a book or two or simply watch the TV to kill time. When it's time to head out, be sure to visit the Rijksmuseum, Stedelijk Museum, and Van Gogh Museum within 15 minutes of walking distance from your stay. Definitely the most convenient Airbnb in De Pijp, Amsterdam you should check out!
5. This bizarre Amsterdam Airbnb inside a crane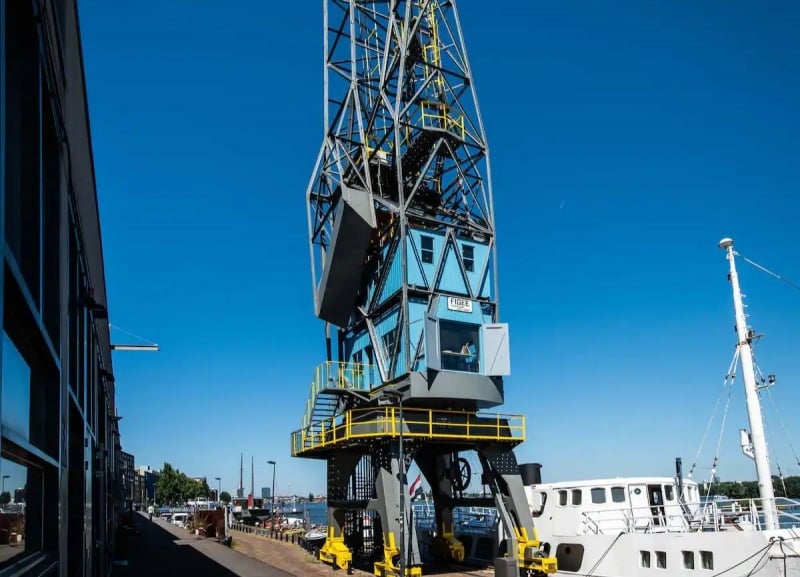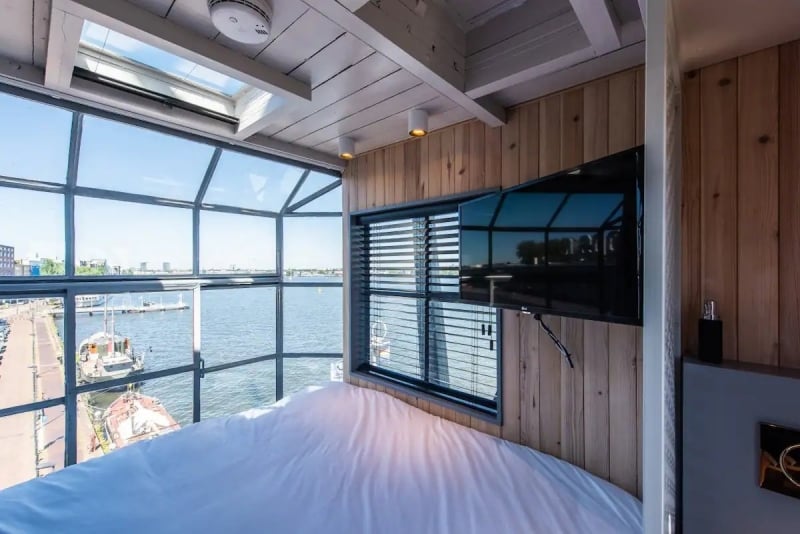 Listing name: Unique stay at Amsterdam The Crane by YAYS
Listing type: Entire home
Max. no. of guests: 2
No. of bedrooms: 1
What better way to kick off some rare adventure in Amsterdam than booking this unique three-storey crane house with stunning views? A perfect hideout for a travelling acrophile! The blend of the contemporary interior with rustic theme walls and furniture exudes a luxurious vibe to the space. Psst — don't be surprised if you find yourself sitting in the corner of your bed and admiring the spectacular view of the IJ River longer than you should! 
The stay is equipped with a kitchen and a dishwasher. Plus, you can easily find trams, buses, and bikes (to rent) around the stay. So worry not about having to knacker your feet to your desired destinations. Undoubtedly the best Airbnb Amsterdam puts forth when it comes to comfort and quirkiness. 
6. This high-end penthouse with remarkable canal views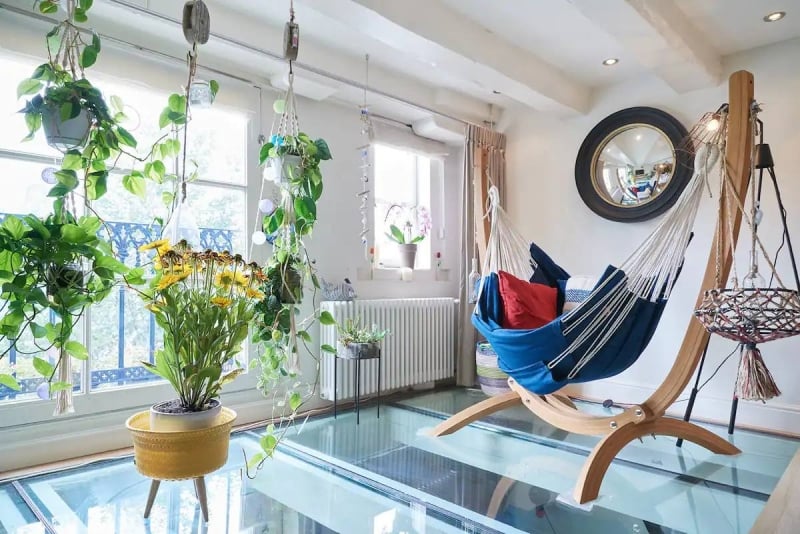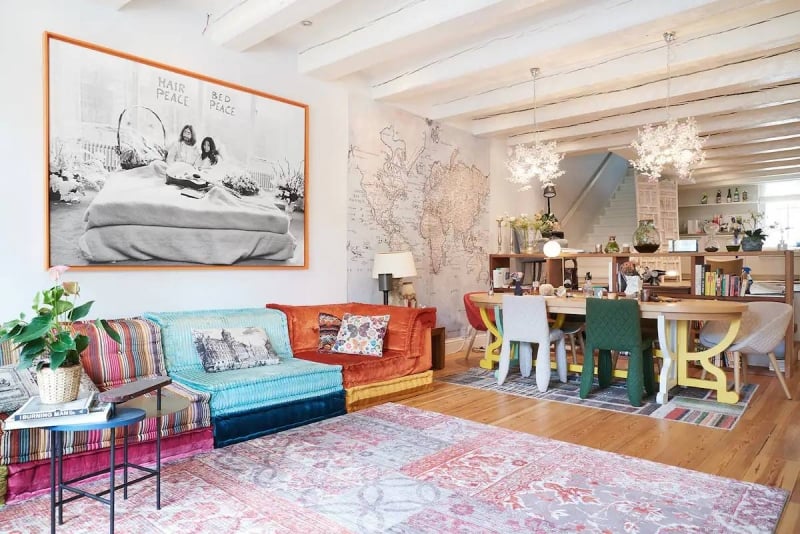 Listing name: Exclusive room with sauna, City Center-canal view
Listing type: Entire house
Max. no. of guests: 2
No. of bedrooms: 1
This fabulous abode is all you need for a vibrant holiday with your bestie. The fun mix of colours from the interior, bathed in the natural light from the sun, makes the space look warm and relaxing — a perfect choice of Airbnb in Amsterdam, Netherlands for energetic souls.
Lie in the hammock in your bedroom, binge-watching your favourite Netflix series on your phone. And when you're done, admire the stunning vista of the Prinsengracht canal outside. If you're running out of things to do, a steam sauna is always available for you on the top floor.
We assure you this is the Airbnb in Amsterdam with a canal view that's worth the splurge!
7. This modern apartment in the heart of Amsterdam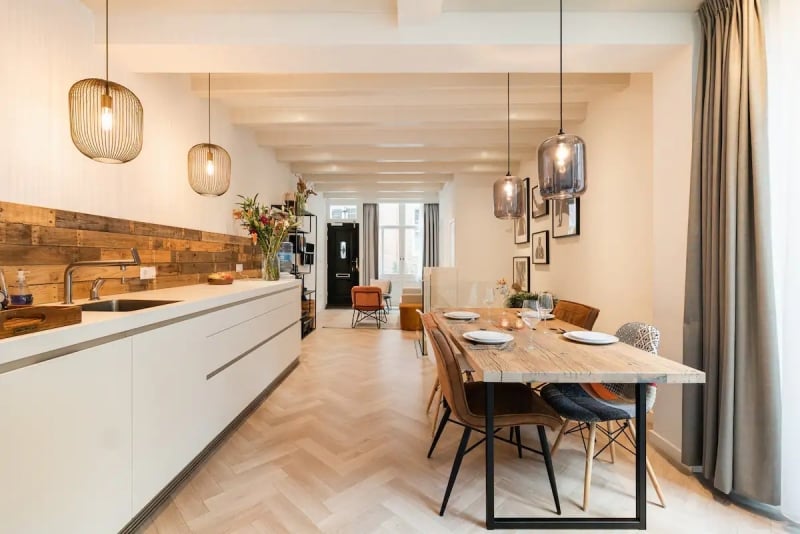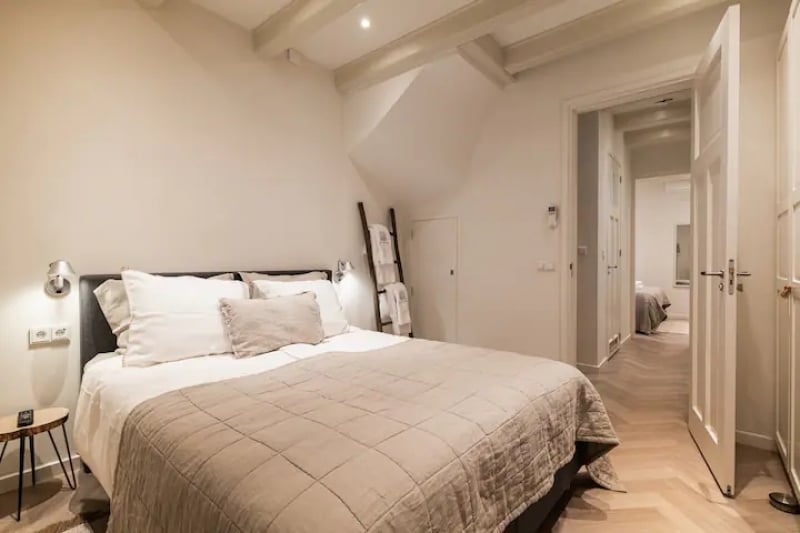 Listing name: Leidse Square 5 star Luxury-apartment
Listing type: Entire apartment
Max. no. of guests: 4
No. of bedrooms: 2
Bring your family to this high-end Amsterdam Airbnb with minimalist and contemporary design. Though it's located at the city's epicentre, many top reviews mentioned how they're undisturbed by any noise from the streets. 
Have some unfinished assignments while on holiday? Get your work done at their dedicated workspace. Afterwards, let loose with some fun shows from HBO or Disney+ on their HDTV with your family. When your stomach's rumbling, the best cafes are within walking distance from your stay.
Now that you're outside, explore the city on foot, and you'll find plenty of famous attractions around you. We're talking The Rembrandt House Museum, Nieuwe de la Mar Theatre, and Albert Cuyp Market! Definitely the Airbnb in Amsterdam city centre for a peaceful and fun time with your family.
8. This stylish dwelling on the Amstel river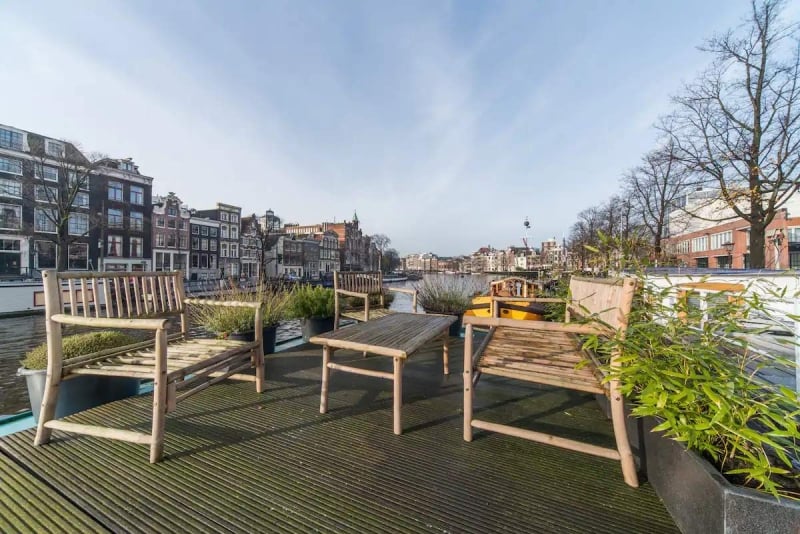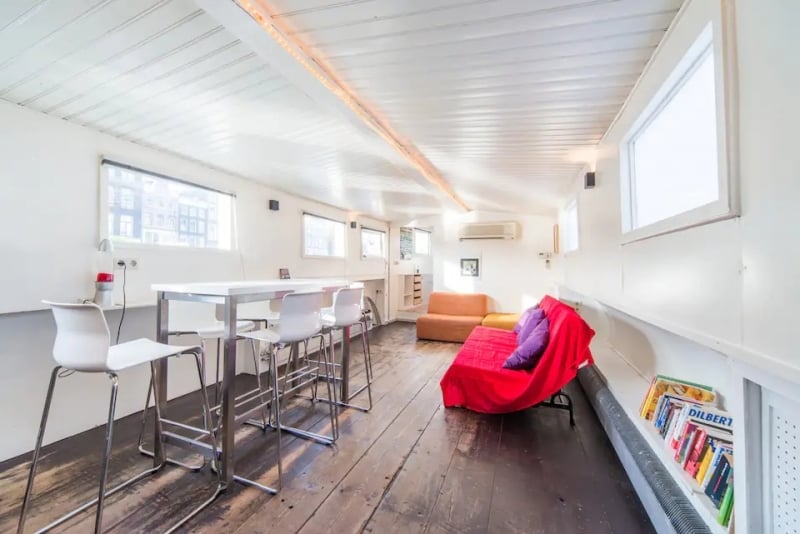 Listing name: Amsterdam Houseboat 'Centre'
Listing type: Entire house
Max. no. of guests: 4
No. of bedrooms: 2
It's almost impossible not to include this dreamy houseboat when we talk about the best Airbnbs in Amsterdam. The white-themed interior mixed with splashes of bold colours from the furniture gives the space a tranquil yet eclectic atmosphere. 
Dig into some tasty meals with your family or friends and enjoy the beautiful vista of the Amstel river outside. Afterwards, bask in the sun while you admire the views of the famous Blauwbrug (Blue Bridge) and the Opera from the terrace. Plus, there are a lot of attractions nearby for you to explore: the Rembrandtplein, Waterloo Flea Market, and the best cafes in Nieuwmarkt. So, do add this Airbnb (and Amsterdam houseboat) to your staycation list!
9. This romantic retreat blessed with outside greenery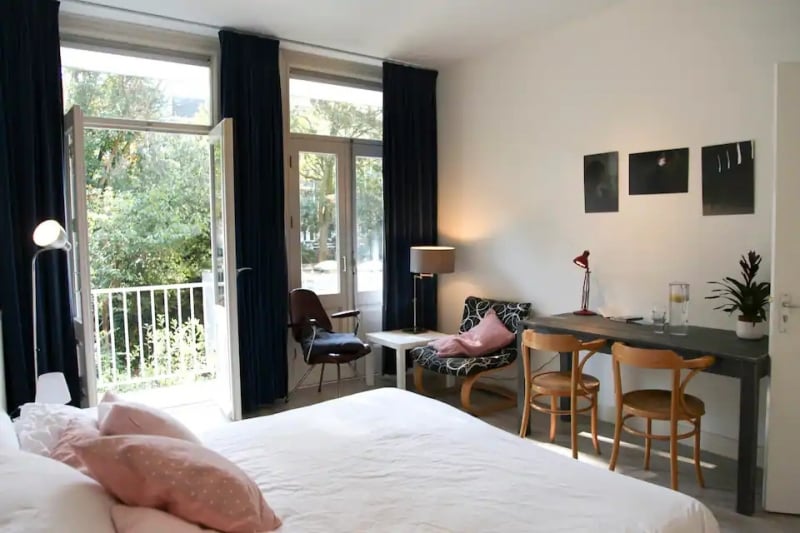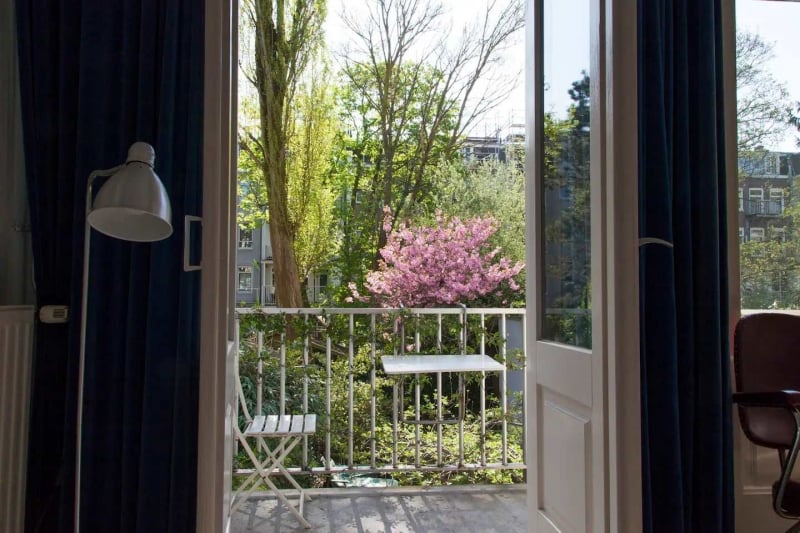 Listing name: Clean, Quiet Lovers Retreat Garden View
Listing type: Entire room
Max. no. of guests: 2
No. of bedrooms: 1
Book this lovely Amsterdam Airbnb for a romantic getaway with your S.O. Tucked away from the hectic city life, you'll find peace and comfort here. Snuggle in their premium matras to your heart's content, and then take a relaxing dip in their bathtub afterwards. 
For some quality time with your partner, sit by the window overlooking the lush garden view… and maybe talk about "the future" with them. If you're both looking for adventure, stroll along the Amstel river nearby and resume your journey further down the city centre.
Hands down, the best Airbnb in Amsterdam, Netherlands, for every couple to check out!
10. This cosy abode near Amstelpark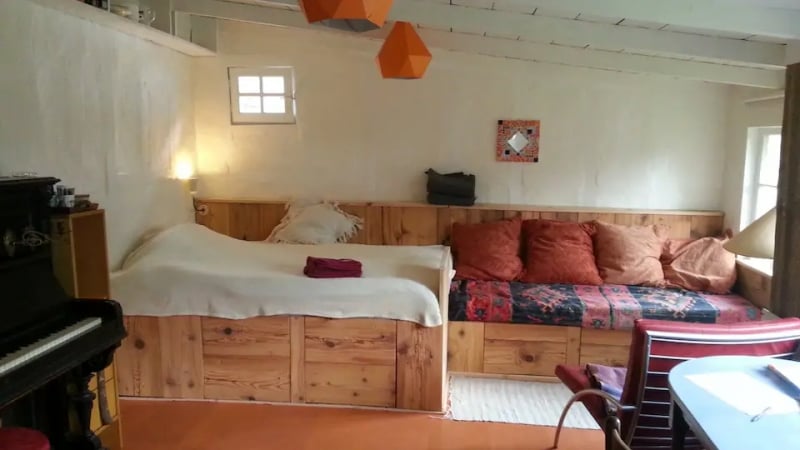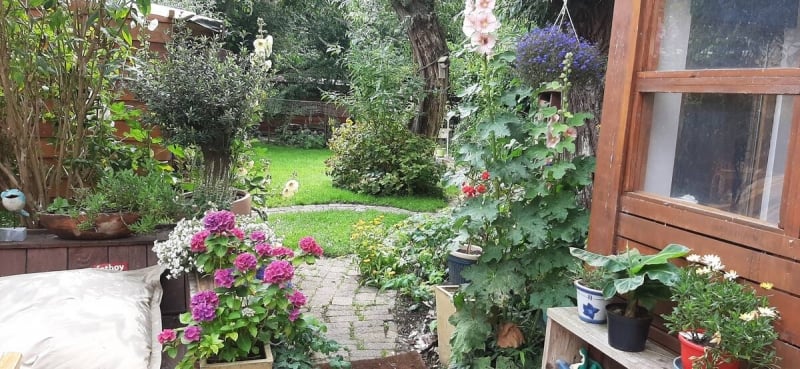 Listing name: Cosy Amstel guestroom +garden, free parking/bikes
Listing type: Entire room
Max. no. of guests: 2
No. of bedrooms: 1
Are you a solo traveller looking for a cheap Airbnb in Amsterdam? This homely guest room with free parking space is all you need. The dim atmosphere, with only some natural light penetrating through the window, exudes a calm and snuggly feel to the space. 
You can spend time with the florals in their garden or simply ride a bike (provided by the host) to the city centre. It'll take around 15-20 minutes at max, but enjoy your ride along the beautiful streets of Amsterdam as much as you can!
Also read: 10 Gorgeous Airbnbs in Upstate New York for the Perfect Weekend Escape
So, got some Airbnbs in Amsterdam you'd like to book from the list above? Great! Now, book your ticket and head for an adventure of a lifetime in the Venice of the North.
Got a property you'd like TripZilla to feature? Inquire with us here.
---
This article contains affiliate links. When you book through these links, we may earn a small commission at no additional cost to you. All images courtesy of the respective property listings.