What do you think of when someone mentions cheap and affordable food in Taiwan? I don't know about you, but jostling with the crowds in a night market and then digging in excitedly by the roadside immediately comes to my mind. What if I told you that you can get an INCREDIBLY AMAZING SPREAD of MOUTHWATERING FOOD at AFFORDABLE PRICES around Taipei?
Venture with me off the usual tracks of the night markets and tiny eateries to some of Taiwan's most inviting places for lunches, dinners and midday pick-me-ups with the best food and ambience at very reasonable prices.
1. Chamonix Restaurant
2F., No.2, Sec. 1, Yanping Rd., Pingzhen Dist., Taoyuan City, Taiwan
On our first night in Taoyuan, we made our way to Chamonix Resturant, a stylish restaurant where we had our own private room and two chefs to prepare the food right before our eyes.
The main dining area looked a little like this: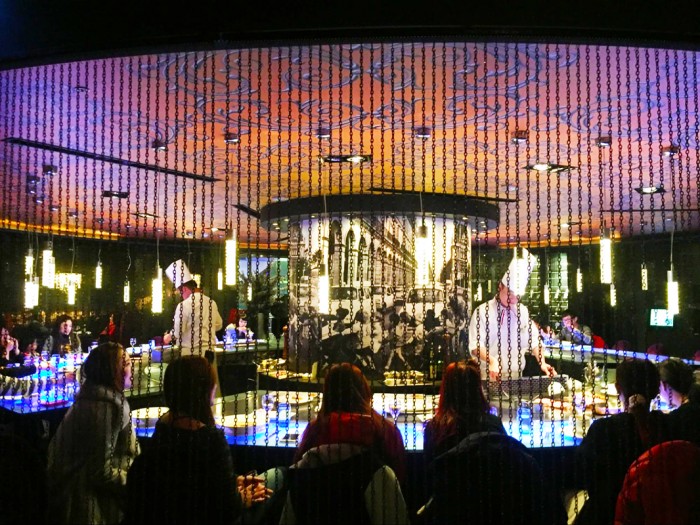 It wasn't difficult deciding what to eat because there was only one option on the menu: the signature Teppanyaki set menu of New Champ Elysees.
What I loved most, other than the food being fresh and super tasty, was the fact that the chefs were incredibly passionate, and were eloquent in sharing with us some bite-size fun facts as they cooked. They told us stories of where the fishes or meat were sourced from, how the condiments add to the taste, and how best to go about eating their intricately designed appetizers and starters. The chef prepared their fiery duck breast with brandy. It's so tender it melts in your mouth!
The set menu at Chamonix includes appetizers, breads, soups, salads, lemon sorbet, mains, seasonal fried rice, desserts, and beverages. We ate for a good two hours, and the good food and super generous portions left us all with food coma that night.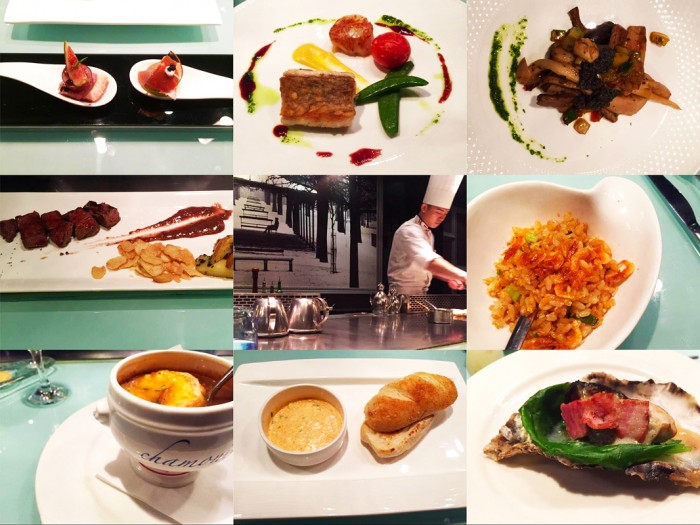 Okay now for the coolest part: this spectacular gastronomical delight costs only 1,030 NTD before a 10% service charge. With service charge, it converts into around 49 SGD. All these for less than 50 SGD? Who says you have to break the bank to indulge in good food?
Also read: 8 Must-Try Taiwanese Foods
2. 151 Highland Garden View Restaurant
338, Taiwan, Taoyuan City, Luzhu District, 山腳村7鄰81-7號
Our second day in Taiwan brought us to this quaint two-storey restaurant/cafe aptly named the 151 Highland Garden View Restaurant.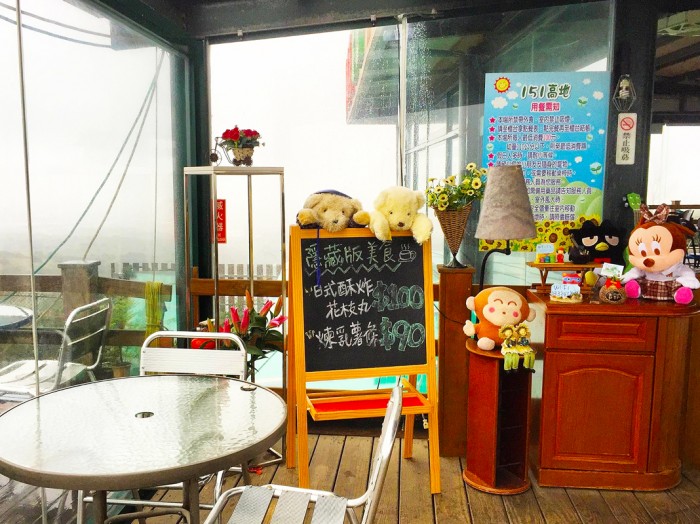 Perched 151 metres above sea level, offering 360 degrees panoramic views of the surroundings, this little lodge is really quite the perfect place for a tranquil afternoon tea session.
It was a dark and gloomy day when we visited though, and it was rather foggy, which was a shame because we've heard so much about the views of the surrounding nature and the nearby Dagu Shan (Dagu mountain).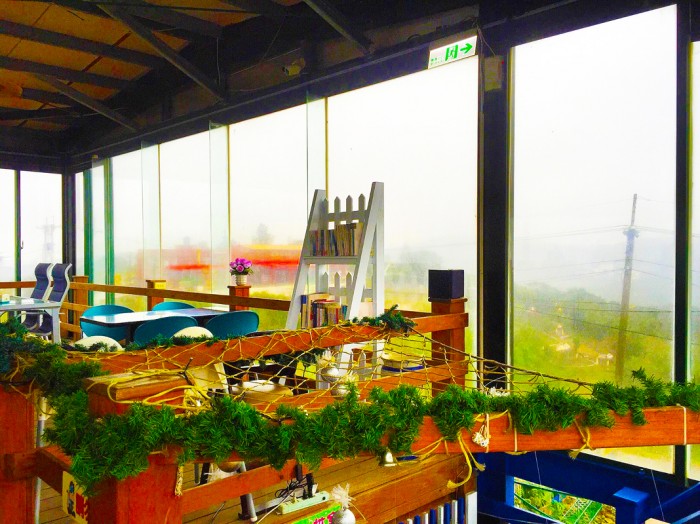 The cafe serves food like waffles and pastries, or if you just want to grab a drink, take your pick from their extensive range of drinks on offer. 
Their drinks cost from 50 NTD to 180 NTD (about 2 SGD to 7.5 SGD), while their food items range from 80 NTD to 380 NTD (about 3 SGD to 16 SGD). What are you waiting for?
3. Uefafa Hakka Food
No. 1270, Zhongzheng Rd, Taoyuan District, Taoyuan City, Taiwan 330
A few hours after sipping on hot yuzu tea and their 151 signature coffee 151 metres above sea level, we started to get dinner feels. Our guide led us to this homely restaurant called Uefafa Hakka Food, where I had one of the best soups I've had in a long time.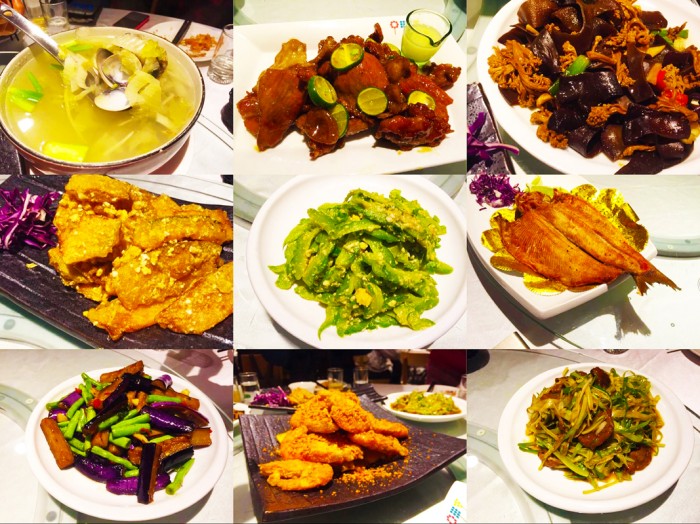 Our sumptuous dinner! Strongly recommend the fried pumpkin, salted egg cucumber. The eggplant was a burst of flavour without being overly oily. The prawns had a light basil smell to them and were so appetizing I couldn't keep my hands off them. So far so good, but my highlight of the meal was this!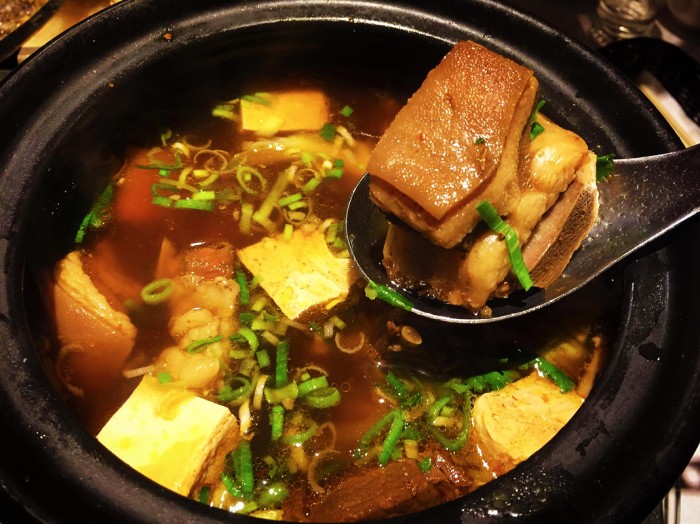 Mutton. Soup. Nothing like the 'kambing' soups or the chinese mutton soups I've tried in Singapore. I guess this is the authentic Taiwanese Hakka way of brewing mutton soups. It's so tasty without being overwhelming. It doesn't smell of MSG and the mutton was so juicy and tender. The soup was just absolute heaven.
We ended up paying about 29 SGD per person for this princely meal. I literally felt like a prince after imbibing the mutton soup which warmed the cockles of my heart. #legit
Also read: How to Travel Around Taiwan on a Budget
4. Dong Shan Nong Hui Gu Gu Tea and Rice Resort (冬山農会菇菇茶米館)
No.48, Sec. 2, Yongxing Rd., Dongshan Township, Yilan County 269, Taiwan
On our third day in Taiwan, we decided to go super healthy. After hiking out an appetite at the MaKau Ecological Park (马告生态公园), we were treated to this beautiful looking steamboat lunch at the Dong Shan Nong Hui Gu Gu Tea and Rice Resort.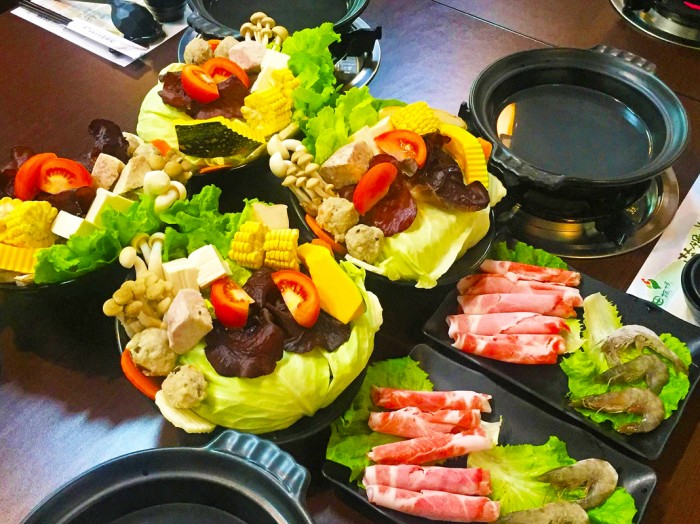 We each had our own bowl and plate of ingredients, and our own steamboat pot each. Thumbs up for hygiene and not having to share (cos sharing sucks hahaha)! The ingredients, which tasted so fresh and organic, were all sourced from within and around Yilan.
Doesn't this colourful presentation of the vegetables and meats look so appetizing?
Oh, and if you have a few hours to spare before or after your meal, you could tour around the place and have your hand at some of the activities. Experiencing mushroom picking (seasonal) or learn how to make your own super cute bento boxes like these!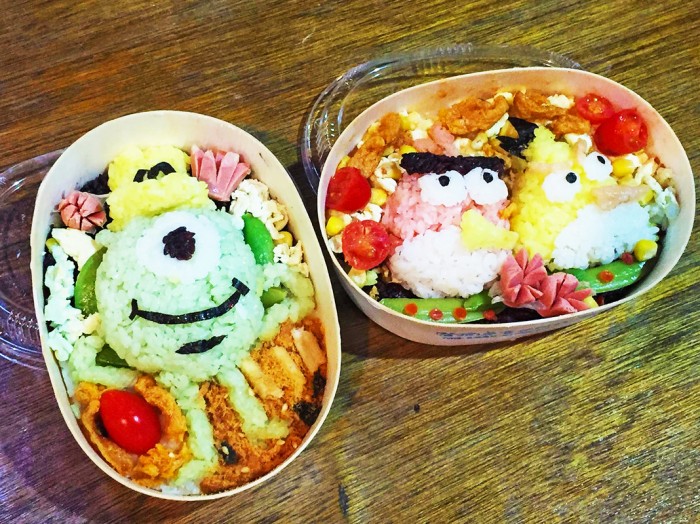 The steamboat lunch set costs 350 NTD per person, which converts to around 15 SGD. For this amount of food and quality, absolutely value for money!
5. Yilanjust Restaurant (差不多御藏私坊)
Yilan County Luodong Fuxing Road, Sec 109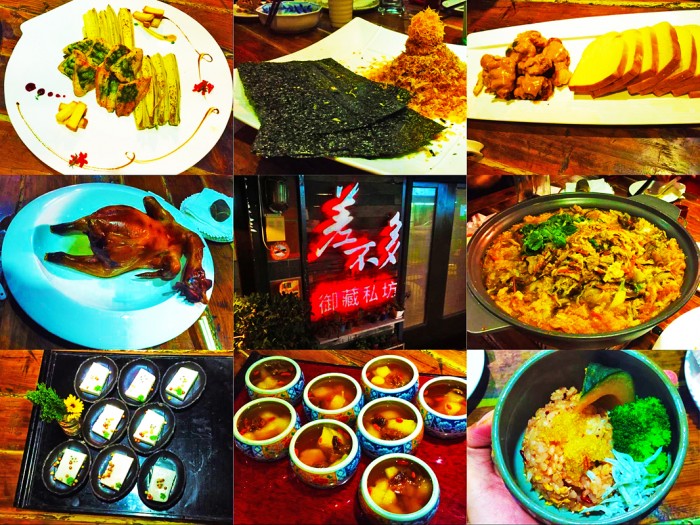 Strictly by reservations only, there are no menus in Yilanjust Restaurant. You just eat whatever the chefs serve. Adventurous, but we were certainly not disappointed. Especially not when this came up: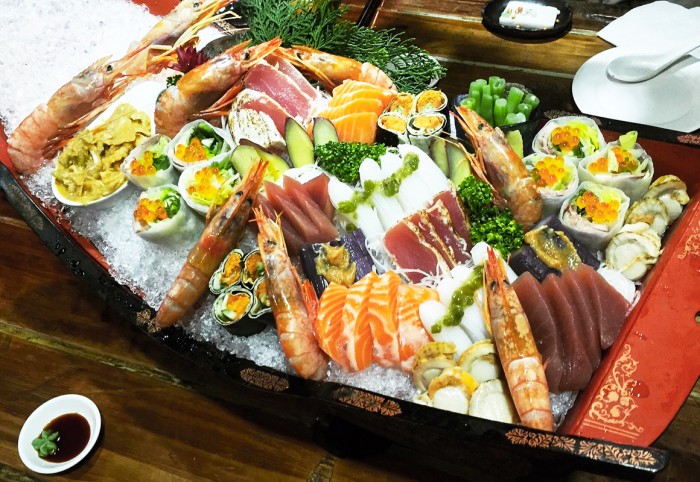 Special mention goes to the curry chicken which was just the right amount of crispy and curry without being too spicy.
Yilanjust meals range from 600 NTD to 900 NTD per person. We ate like royalty for 900 NTD each, which converts to around 38 SGD – a pretty sweet deal for a 10-course-meal of this quality.
6. Yannick Sweet Village (亚尼克梦想村)
No. 481, Lane 4, Changchun St, Shilin District, Taipei City, Taiwan 111
Saving the best for last, here's my favourite on this list – Yannick Sweet Village.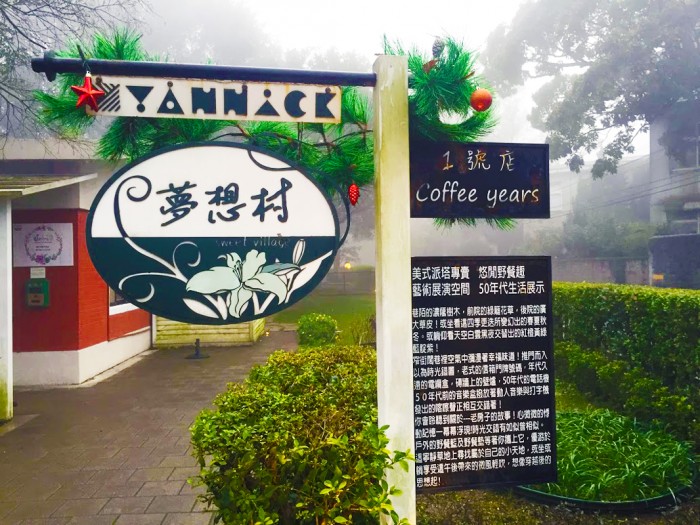 These buildings used to be American military barracks, and has since been recognised by the Taiwan government as cultural sites to be preserved for posterity.
Situated on Yang Ming Shan, the area surrounding the "village" feels nothing like the hustle that is Taipei city centre. It was foggy and drizzling slightly when we went, but the cold weather outside did nothing but to exemplify the cosiness of the cafe inside.
Also read: 3 Gorgeous Waterfalls Near Taipei You Can Hike To
Stepping inside the cafe was love at first sight (for me at least). The red brick walls, the carefully curated collection of decorations lining the walls and bookshelves. Jukeboxes, vintage photographs, car plates from around the world…
But I digress.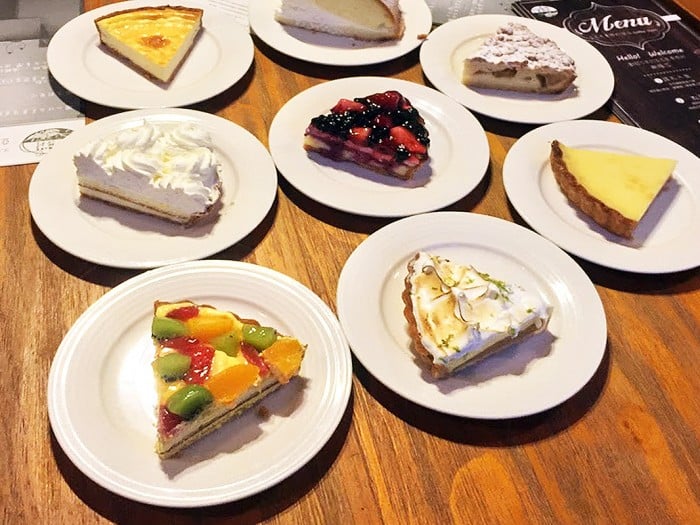 The puffs and pastries are delish. The hot chocolate I had was pretty good, but could have been thicker. But that little imperfection faded instantaneously when I bit into that perfect, perfect, lemon pie (top pic second row middle plate).
The pastries cost anywhere from 80 NTD to 108 NTD (around 3 SGD to 4.5 SGD) while drinks cost anywhere from 70 NTD to 135 NTD (3 SGD to 5.5 SGD).
And there we have it. 6 places to find happy food in Taiwan that are gentle on your wallets. Check them out the next time you're around Taiwan and let us know what you think!
Special thanks to Taiwan Tourism Bureau for sponsoring this awesome trip to Taiwan!