What's not to love about Sydney, with its fantastic weather, top-notch food, pulsing nightlife and ever-friendly Sydneysiders? Let's not forget Sydney's beautiful harbour, overlooking the Opera House and Sydney Harbour Bridge.
Another thing we especially love about Sydney are their lovely coastal walks which are easily accessible from the city centre. Here are six coastal walks in Sydney with views so picturesque, they will take your breath away.
1. Bondi to Coogee Walk
Dramatic coastlines with the coolest ocean pools
Bondi Beach is the perfect place to surf, swim or simply lie back and enjoy views of the gently-lapping waves, azure seas and sculpted bronze bodies. But once you're done with that, take on the Bondi to Coogee Walk which stretches 6 kilometres in Sydney's eastern suburbs, ending at Coogee Beach.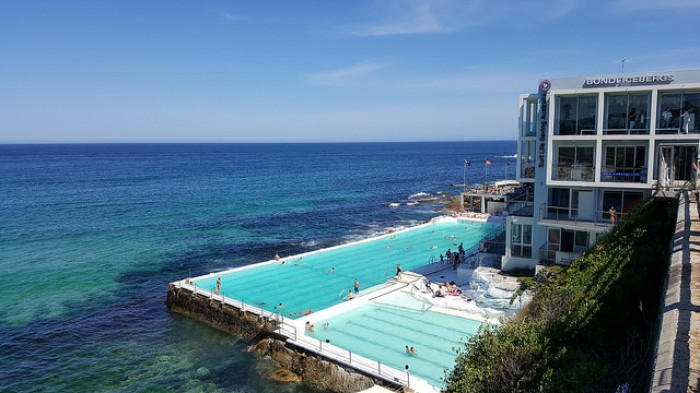 From Bondi Beach, follow the path along the waterfront, past the Bondi Icebergs Pool, and enjoy the absolutely fantastic views. Do keep a lookout for the aboriginal rock carvings near Marks Park. After curving across Mackenzie's Point Beach, you'll reach Tamarama.
From here, it's an easy short stroll to Bronte Beach, which is popular among surfers for the challenging surf. You'll reach a 500-metre boardwalk along the clifftop, where the views are bound to inspire.
Clovelly Beach, a calm beach embraced by rocky ridges, is up ahead. Make a stop here because there are some great dining options, whether you are ravenous for a meal or itching for a quick bite.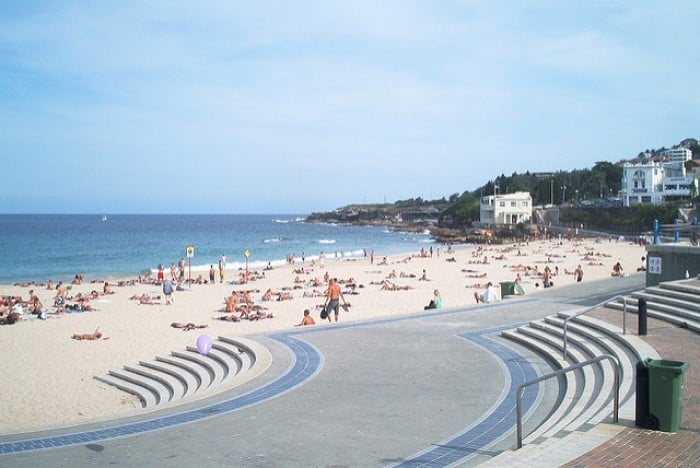 Image credit: Bri
Conquer the steep staircase to reach Gordon's Bay and brace yourself for more stunning clifftop views! It won't be long before Coogee Beach comes into sight, ending the memorable coastal walk.
2. Watsons Bay Walk
Breathtaking coastal cliffs with the finest fish & chips
The 4.9-kilometre Watsons Bay Walk passes through relatively flat terrain and can be completed in about two hours. It takes walkers to the South Head area, offering them ocean views, the city skyline and also a dose of history.
The walk begins in Robertson Park near Watsons Bay. Head north to Doyles and if you arrive on an empty stomach, fuel up with some fish & chips on the wharf before heading to Camp Cove.
Image credit: Christian Reusch
Behind this perfect swimming spot is a little story: Camp Cove is where Governor Arthur Phillip landed by boat in 1788 to pitch a tent for the night, signifying the arrival of the Europeans. Along the walk to Lady Bay Beach, you'll also find a cannon and gun emplacement, relics of what used to protect this area.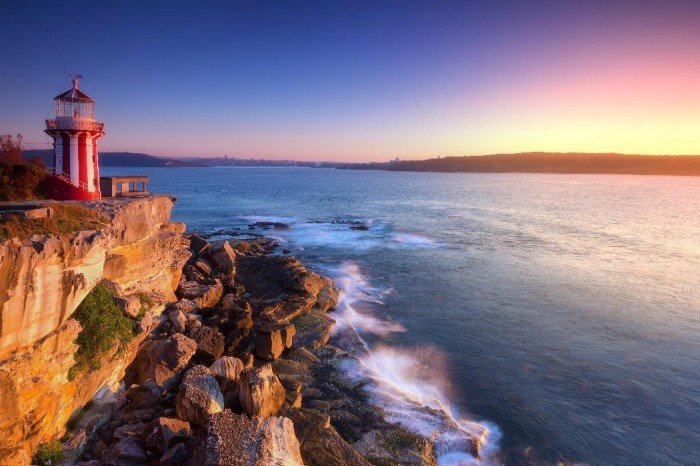 As you loop along the South Head, you are officially along the South Head Heritage Trail, where the highlight is undoubtedly the red and white Hornby Lighthouse. Take in the multi-million dollar views from here before heading back to Watsons Bay.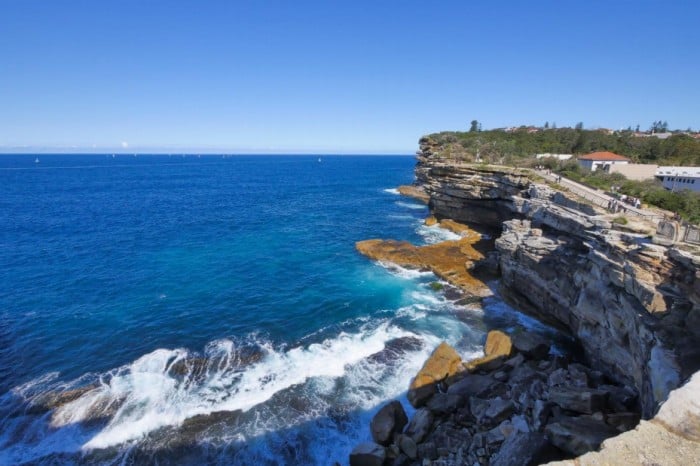 The Gap, Watsons Bay
Explore The Gap, located on the opposite side of the ferry wharf and wander around before concluding your coastal walk.
3. Manly to North Head Walk
Sand, sea, stunning lookouts and family-friendly
The Manly to North Head Walk is a coastal loop walk that covers around 10 kilometres, and it makes a great family day trip!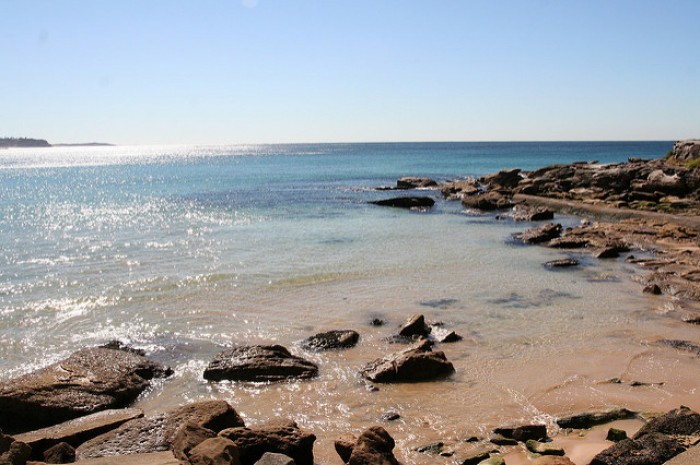 Image credit: Kim
Catch the ferry to Manly Wharf and enjoy two great beaches: Manly Beach, your official starting point and Shelly Beach, a protected marine reserve popular with snorkelers.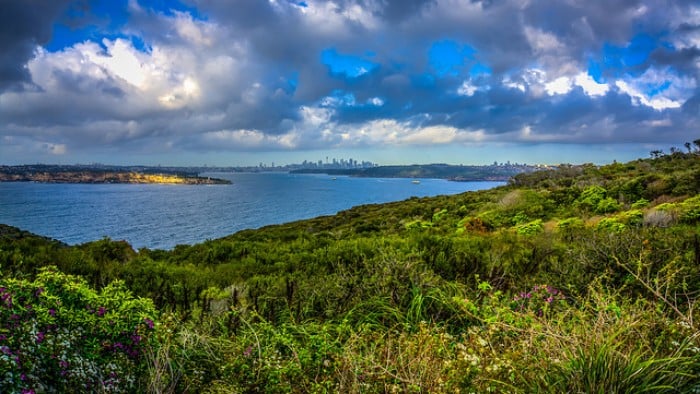 Image credit: Jeff Turner
Go along the North Head Scenic Drive which runs inland through the Sydney Harbour National Park. You'll enter the Fairfax Walk, which offers three stunning lookout points until you emerge in the North Head.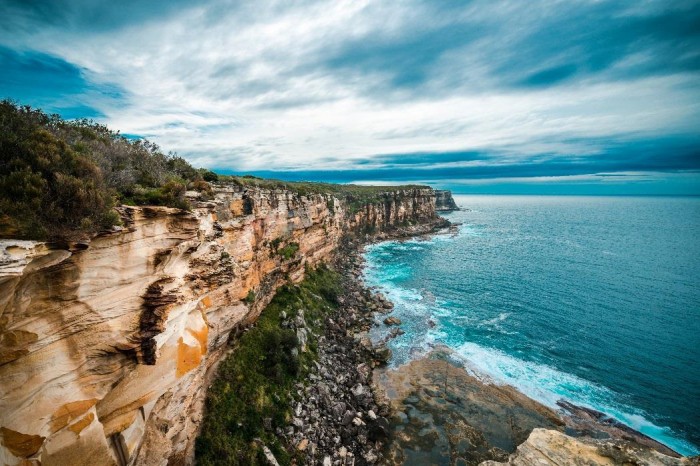 North Head Cliffs
Marvel at the superb harbour views that never fail to amaze!
History buffs should visit the nearby North Fort, an important site during the World War II, with tunnels and gun emplacements. Australia's Memorial Walk can be found here, and you can view monuments and commemorate those who have served this country.
After this extraordinary adventure, head back the same way towards Darley Road and the town centre of Manly.
4. Barangaroo Foreshore Walk
Sydney's newest waterfront park
Up for a leisurely stroll near the city centre? Take on the Barangaroo Foreshore Walk, a great way to enjoy the harbour and mix with the locals.
Image credit: Ivan Rafael Lovera
Parts of the Barangaroo Foreshore Walk, which would stretch the whole length of Barangaroo, is still under construction. However, the section known as Wulugul Walk is already open to the public. Walk along the promenade from Barangaroo South to King Street Wharf where the neighbourhood meets the harbour – this is set to be Sydney's new hottest dining destination, with new restaurants springing up one after another.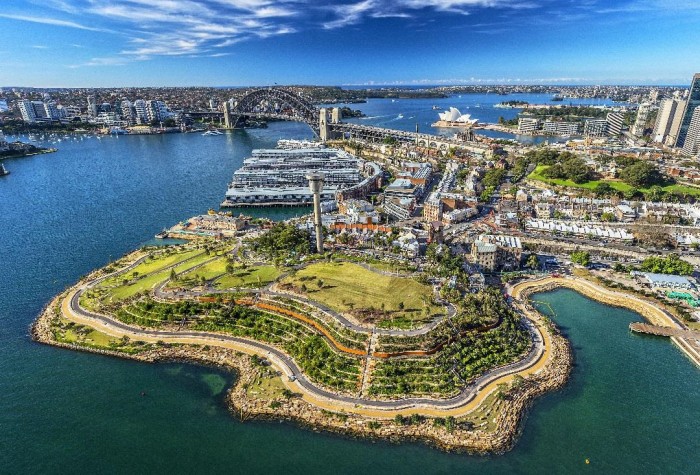 Barangaroo Headline, Sydney | Image credit: Hamilton Lund
The highlight of this walk is undoubtedly Barangaroo Reserve, a new headland park along the harbour. This previous industrial site is now a wonderful open space with picnic spots, quiet harbour coves and hiking trails amidst beautiful landscapes. There are also some cool tidal rock pools constructed using sandstone from that area itself.
When the entire foreshore walk is complete, it will be possible to walk the length of Woolloomooloo to Anzac Bridge, pass the Royal Botanic Gardens, Sydney Opera House, The Rocks, Walsh Bay, Darling Harbour and Pyrmont.
5. Cockatoo Island
Where great nature meets history classroom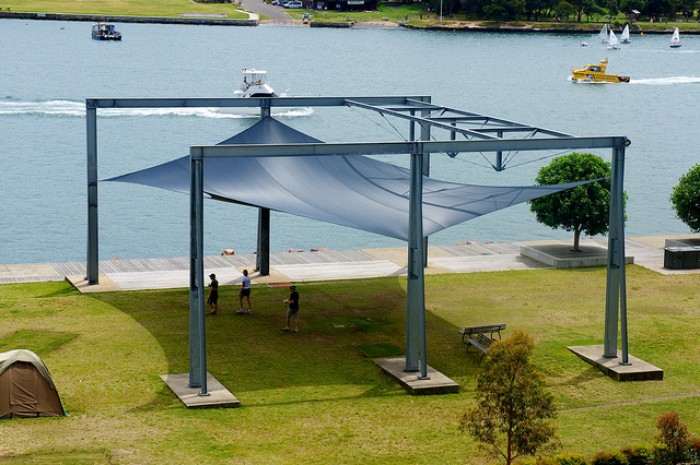 Image credit: Patrick Quinn-Graham
Ever heard of Cockatoo Island? This little gem which is nestled in Sydney Harbour was given the listing of UNESCO World Heritage Site for its deep association with the convict history. To reach here, take a short ferry ride from the city centre to the Cockatoo Island Wharf.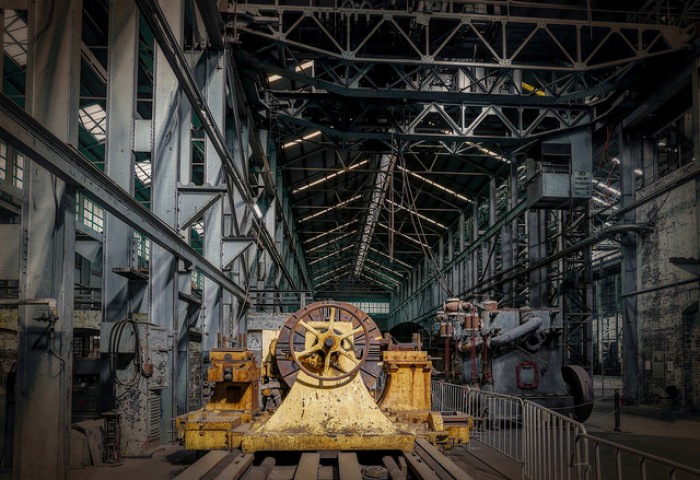 Image credit: Robert Montgomery
Delve into its history through a guided tour or a self-guided one to learn more about Cockatoo Island's convict and maritime history. Highlights include Fitzroy Dock, Mould Loft, Biloela House, Tunnel 1 and Convict Silos.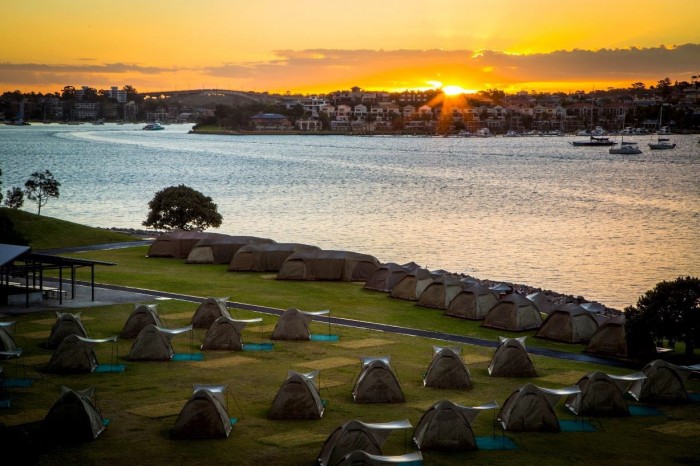 Camping at Cockatoo Island | Image credit: Destination NSW
As you amble along the coast, there will be awesome views, swimming areas and picnic spots. This island is so lovely that you won't regret camping overnight at the designated campground. For meals, head to Societé Overboard which has sandwiches, burgers and salads, or the Marina Cafe for wraps, dumplings, snacks and great coffee.
6. Royal National Park Coast Track
26 kilometres of coasts and beaches on a two-day hike
The Coast Track in the Royal National Park, the second oldest national park in the world, runs 26 kilometres from Bundeena to Otford. This two-day walk features beaches and escarpments alongside awe-inspiring coastal views.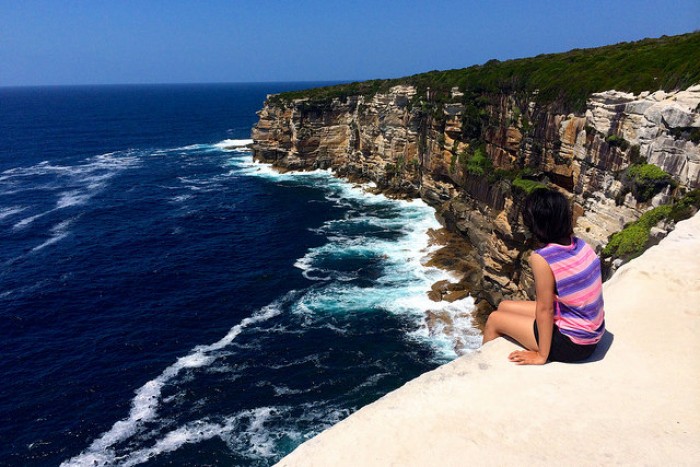 From Bundeena to the North Era Campground, it is 18 kilometres across cliffs and coasts beside deep blue waters. Start in the morning and by mid-afternoon you'll reach the beaches at Marley Head, where you can stop for lunch and a swim before trudging on.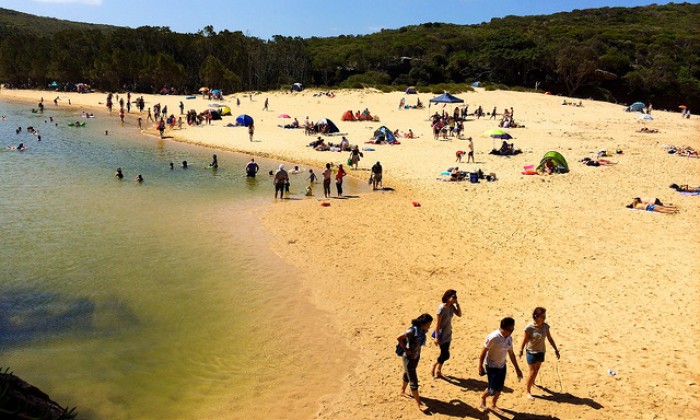 Don't be surprised to see crowds in the beautiful Wattamolla beach and lagoon – it's accessible by car and popular among locals. From Wattamolla, escape civilisation once again and navigate through the rocks and shrubs to find the trail leading to Curracurrang.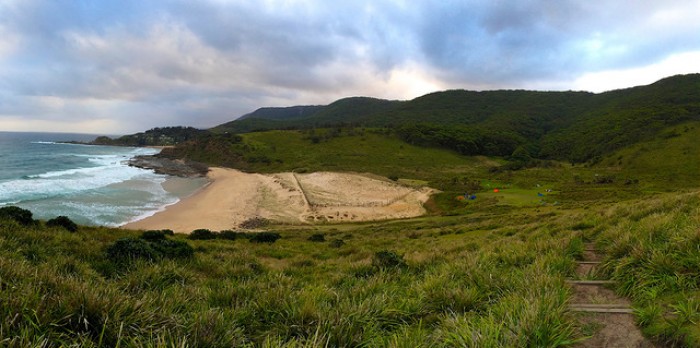 After another few hours, you will make a descent to Garie Beach, which is a short walk away from the North Era Campground.
The second day is not as strenuous as the first one. Wake up bright and early for breakfast by the beach. The remaining 8 kilometres runs through Burning Palms before the end-point which is Otford Railway Station. Look for the cool Figure of Eight Pools near the Southern end of the Burning Palm Bridge, and enjoy the last of the scenic views of the coastline at Otford Lookout.
Also Read: 5 Incredible Road Trips from Sydney
And that concludes the six incredible coastal walks in Sydney you simply have to take. Don't forget to check the weather conditions, prepare your supplies and slap on that sunscreen before you go!
To get into this lovely city, choose to fly with Qantas Airways, Australia's largest domestic and international airline! Qantas Airways fly twice daily from Singapore to Sydney direct on the Airbus A330-200. With an unparalleled standard of service, Qantas Airways will definitely offer you a comfortable and pleasant flight journey. Book your flights now from S$659 for a return trip on Economy class!
---
Brought to you by Qantas Airways