From the title above, you might be thinking, "Aren't Johor Bahru and Johor the same?" Well, you're not alone, since as a Singaporean, I've observed that many people use the two terms interchangeably (admittedly myself too, just a few years ago). 
Let me dispel the confusion: Johor Bahru refers to what Singaporeans would call "JB," i.e., the city that lies right across the border from Singapore with its abundant street food scene, cafes, shopping malls, and affordable services. Johor, on the other hand, refers to the Malaysian state. There are ten districts in Johor, of which one — and the most popular one among Singaporeans — is Johor Bahru. 
That being said, if you feel like you've explored every nook and cranny of Johor Bahru, why not go beyond and check out Johor's nine other districts — each with its own unique offerings? 
TripZilla recently had the pleasure of following Johor Economic, Tourism & Cultural Office (JETCO) on a three-day trip to Johor's districts of Pontian, Batu Pahat, Muar, and Kota Tinggi. Here are just a few of the Johor attractions to visit on your next long weekend — especially if you've got more than a few days to spare. 
Attractions in Pontian, Johor
1. Nictar Pineapple Park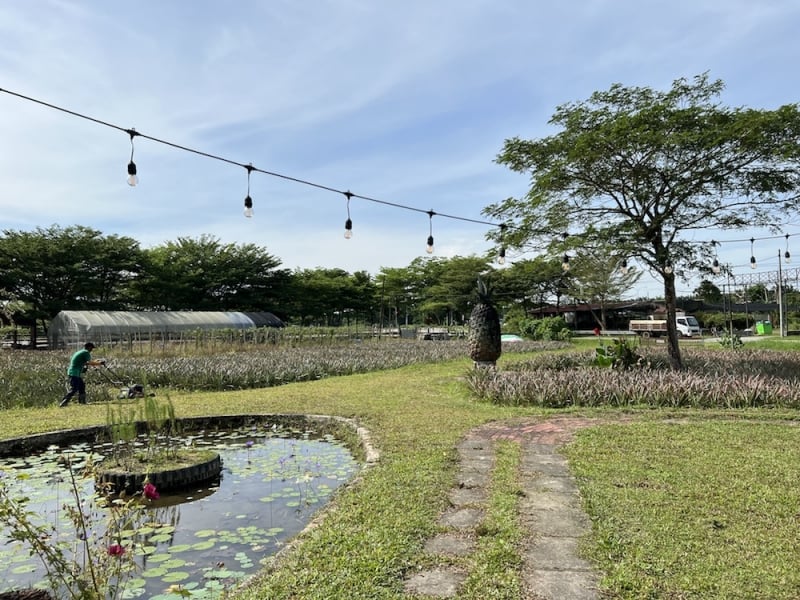 Situated in Pekan Nanas (which literally translates to Pineapple Town), Nictar Pineapple Park features more than 10 varieties of pineapple and other fruit and spice trees like calamansi (Philippine lime), roselle, and ginger. This pineapple farm — like Johor's other pineapple farms — pays homage to the fact that Malaysia used to be the world's top producer of pineapples in the 1960s and 1970s. Johor was even the top-pineapple-producing state (with Pontian as the top-producing-pineapple district) during this period!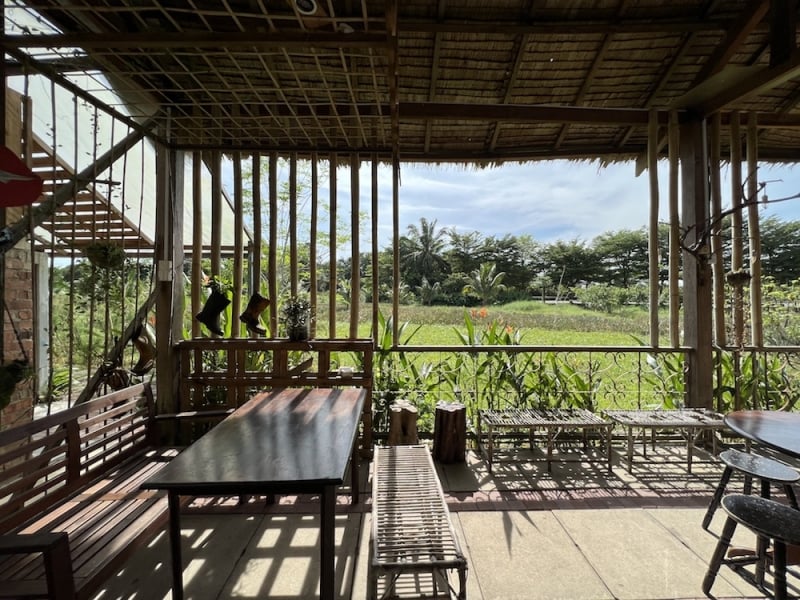 Since opening 10 years ago, Nictar Pineapple Farm has been maintaining a comfortable and welcoming space. And how do they do this? By focusing on the concept of a green building, where up to 70% of the structure consists of recycled materials.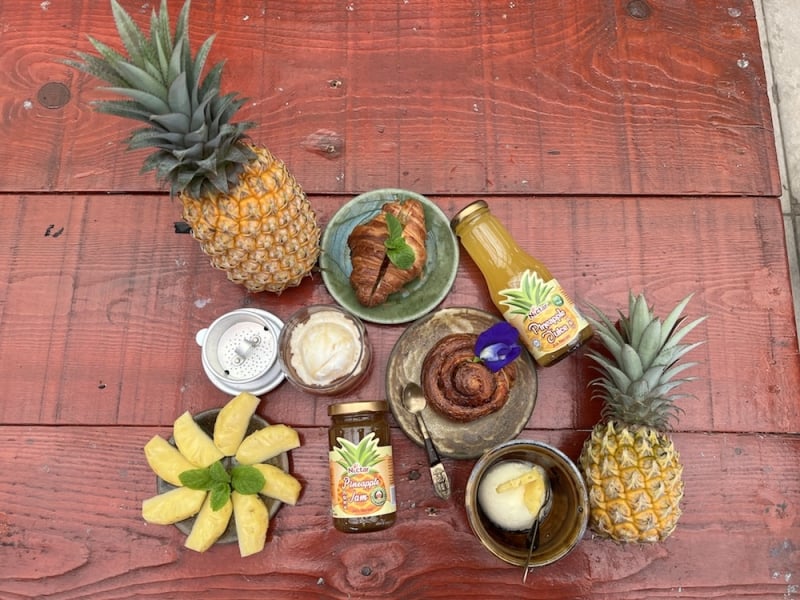 Top that off with the natural ventilation and open-air space — along with a pineapple sweet treat — and we easily felt transported away from the hustle and bustle of the city.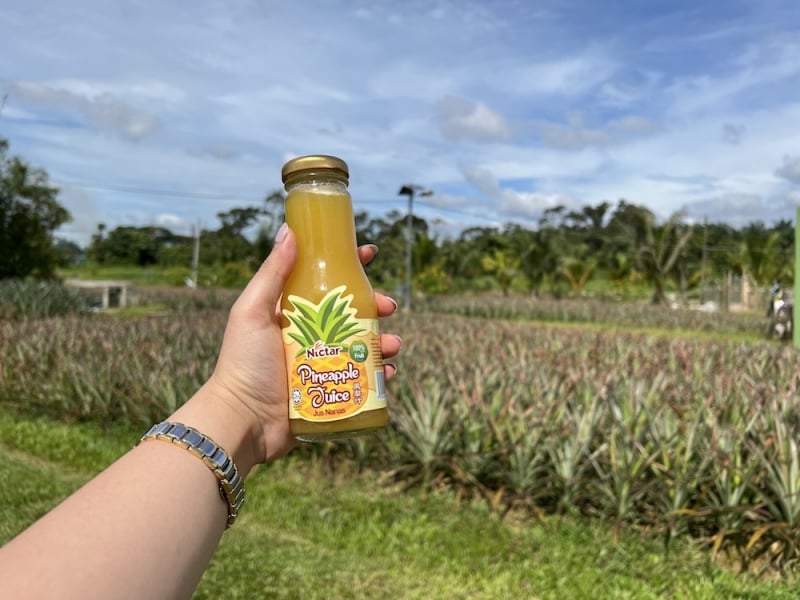 After touring the grounds, we sampled a sweet and refreshing bottle of fresh pineapple juice. This — along with every pineapple product you can think of — cooking sauce, jam, and chilli, are produced in a separate factory. 
If you're wondering when the best time to visit is, there isn't one, per se. As a worker at the pineapple farm stated, "pineapples are non-seasonal fruits, so anytime of the year is the best time to visit." 
Address: PTD 10822, Batu 24, 81500 Pekan Nanas, Johor, Malaysia
Opening hours: Daily, 8.30am to 5pm
Admission price: RM8 for a tour of the grounds, including a bottle of pineapple juice; RM6 for just the bottle of juice. 
2. Tanjung Piai National Park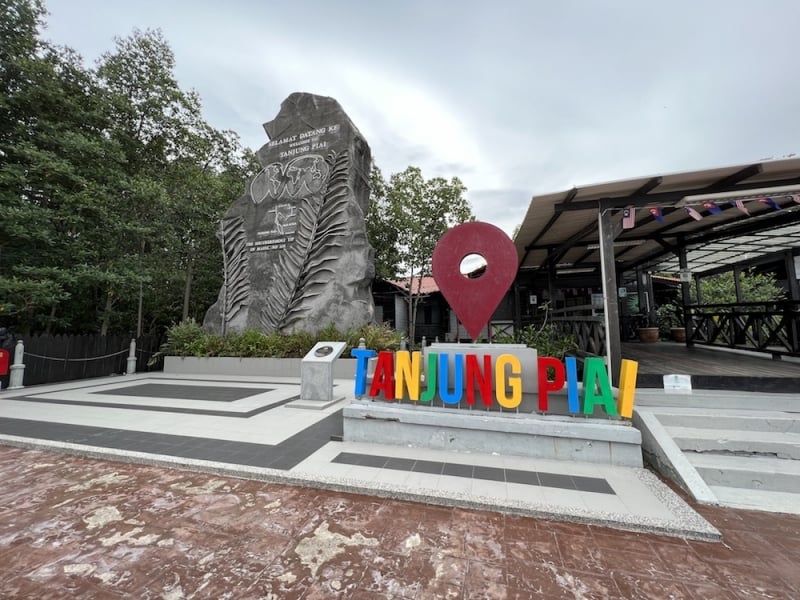 Here's something you probably didn't know: In Johor alone, there are five national parks! These range from mountain climbing terrains for adventurous travellers, to ones that are more family-friendly and laid-back, like Tanjung Piai National Park.
Also known as Johor National Park, this Johor attraction is a national heritage site of Johor and a RAMSAR site (a designated wetland site of international importance).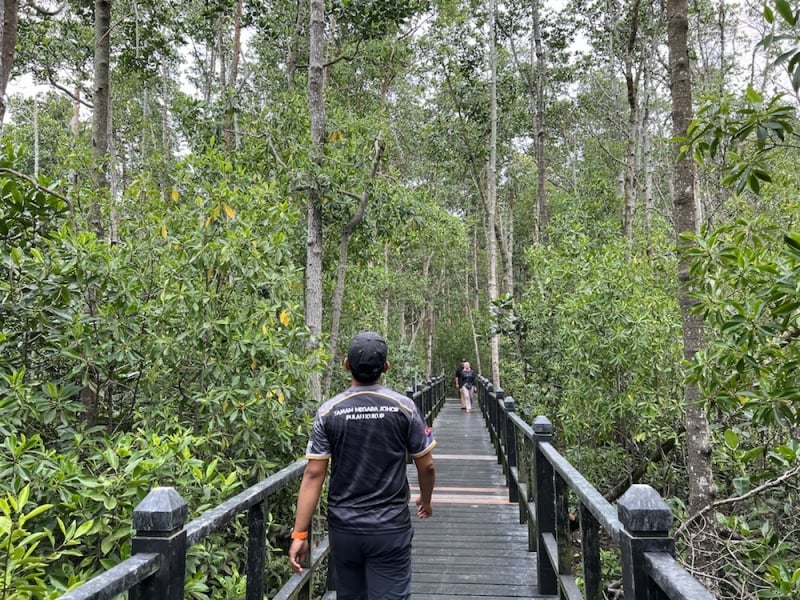 Why is this a must-visit place for all nature lovers? The 926 hectares of wetlands and mudflats where more than 29 species of mangroves lie. Our guide led us through the 1.7 kilometre-long boardwalk, and pointed out the array of fauna that call this park its home. 
Some of these include mollusks, sea snails, and birds, which migrate here between September and March every year.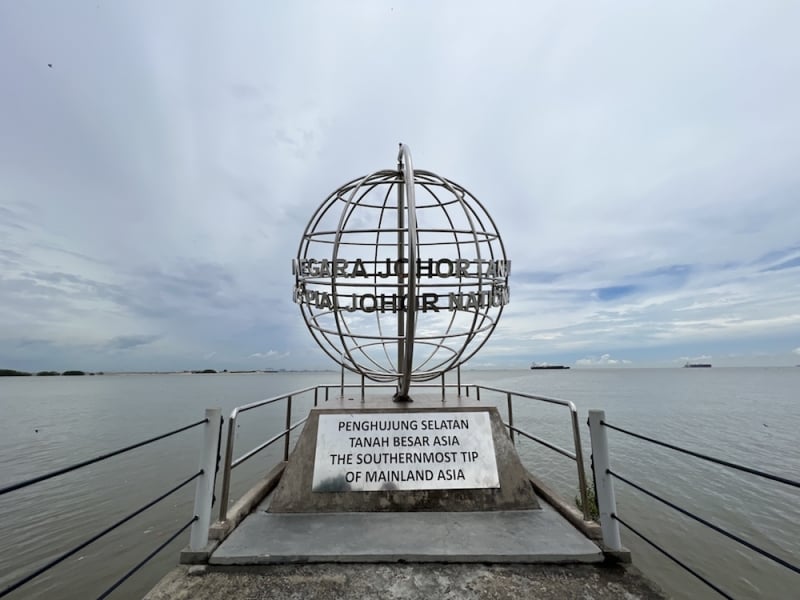 Aside from being an important site for conservation, education, and eco-tourism, this national park is also home to this Instagrammable and unique point: The Southernmost Tip Of Mainland Asia. (The globe doesn't rotate, but it sure does make for a stunning backdrop for your photoshoot!)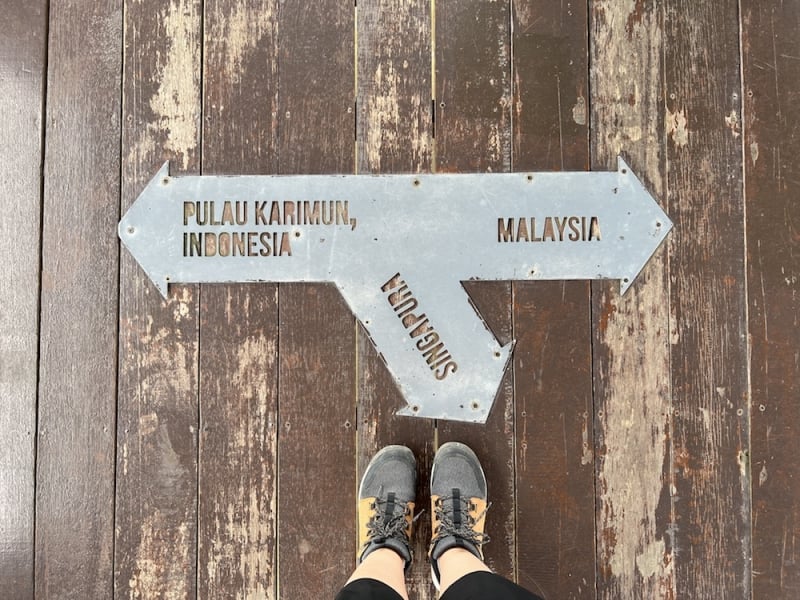 Then, before we left, we checked out the fishing jetty, and stood at the point where Indonesia, Malaysia, and Singapore are viewable from the same point. The entire walk took about an hour to complete if you plan on walking at a leisurely pace. 
Address: Taman Negara Johor Tanjung Piai, 82030 Kukup, Johor
Opening hours: Daily, 9am to 4.30pm
Admission price: RM20 for Singaporean (and other foreign) adults, RM10 for Singaporean (and other foreign) students and senior citizens, and free for children six years old and below 
Attractions in Batu Pahat, Johor
3. Bukit Soga Perdana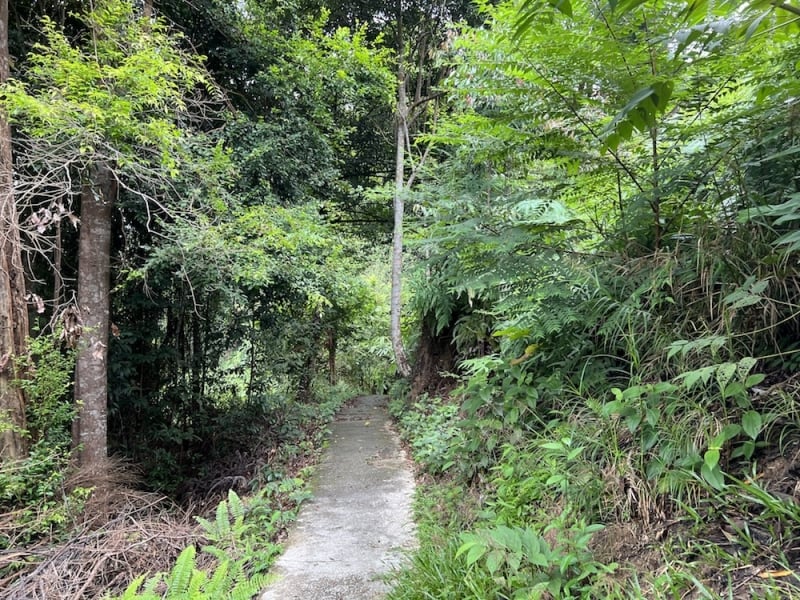 In keeping with the peaceful atmosphere of Batu Pahat, we then made our way to our next Johor attraction: Bukit Soga Perdana. Located just under two-hours away from Johor Bahru, this hiking trail was a moderately challenging one.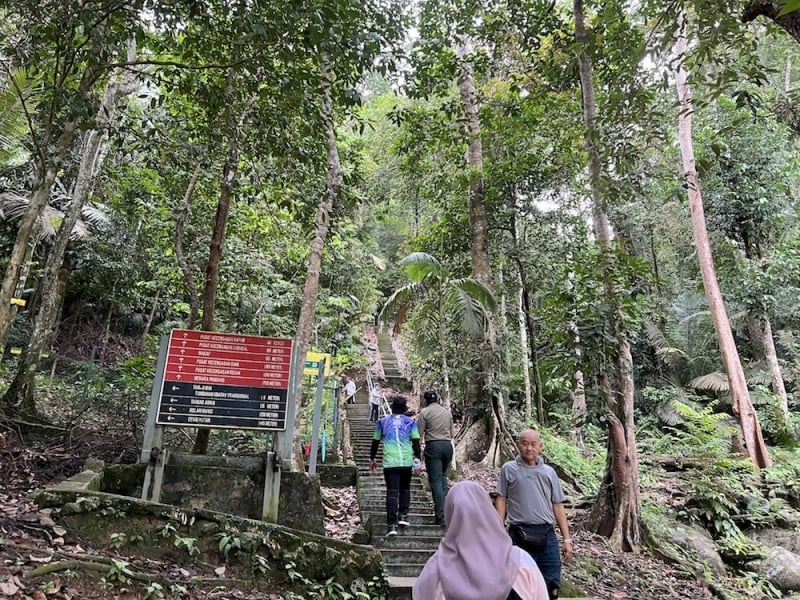 That said, we found anyone from ten-year-olds to older folks here, with trails that range from an easier 1.6 kilometre-long one to anywhere between 10 and 20 kilometres. Like Singapore's Bukit Timah Hill, the peak of Bukit Soga Perdana is just roughly 160-metres-tall. However, what made the walk challenging was not the altitude, but the steep incline, given that we completed the course back and forth — in less than two hours.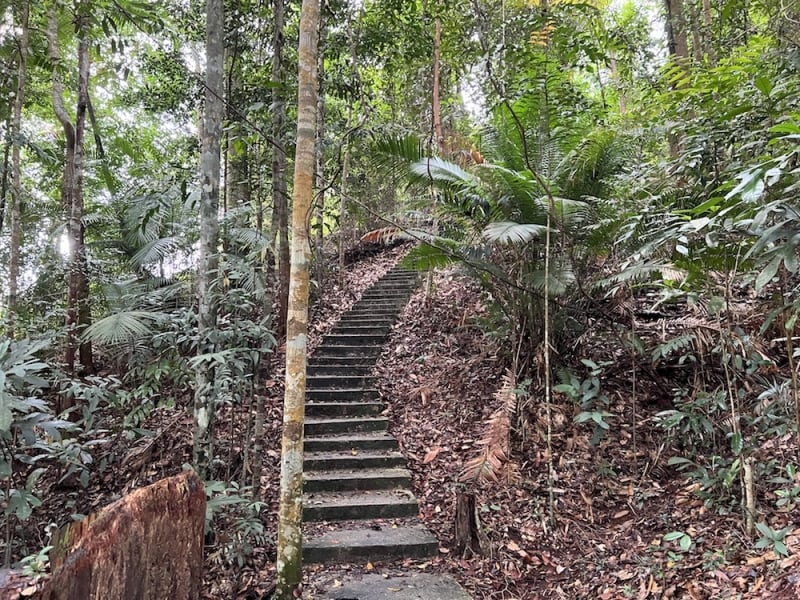 But of course, if you're opting for the 10-20 kilometre-long trail, here's something to keep in mind when accessing hiking trails in Johor (especially if it's a longer one): you'll need to apply for a permit. Permits are primarily so park operators can account for the number and safety of people entering the park.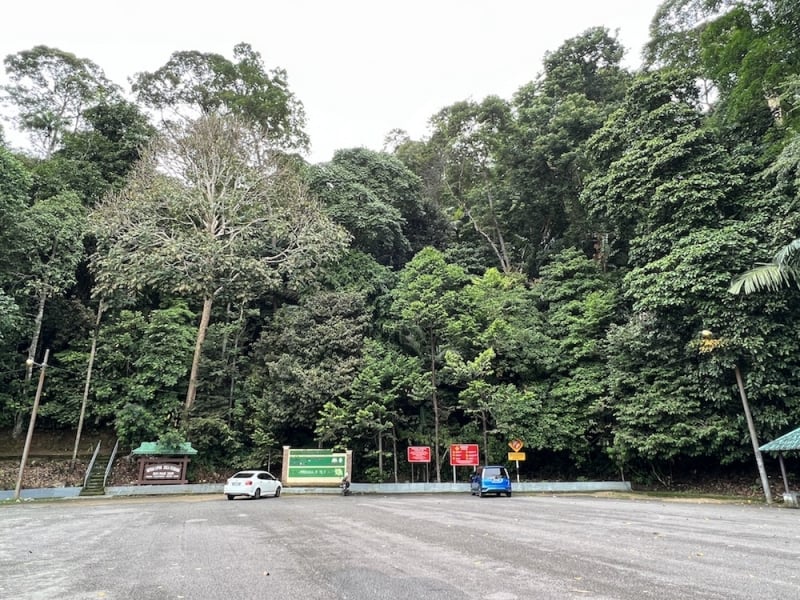 Like Bukit Soga Perdana, these permit offices can usually be found near the entry point of the park. Applying for a permit costs RM10 per head (this takes effect immediately and is only valid for one day), and the money collected goes towards conservation efforts of the park. 
And that's not all for ensuring safety: The park will also close every middle of November during the monsoon season. For timely updates, click here.
Pro tip: If you've got the time (and energy) to spare, head to the nearby Gunung Banang, which is a slightly more challenging trail than Bukit Soga Perdana. 
Address: 83000 Batu Pahat, Johor, Malaysia
Opening hours: Daily, 8am to 5pm
Admission price: RM10 per head for permit application (applicable to the tougher trails)
4. Bazar Arena Warna, Ayer Hitam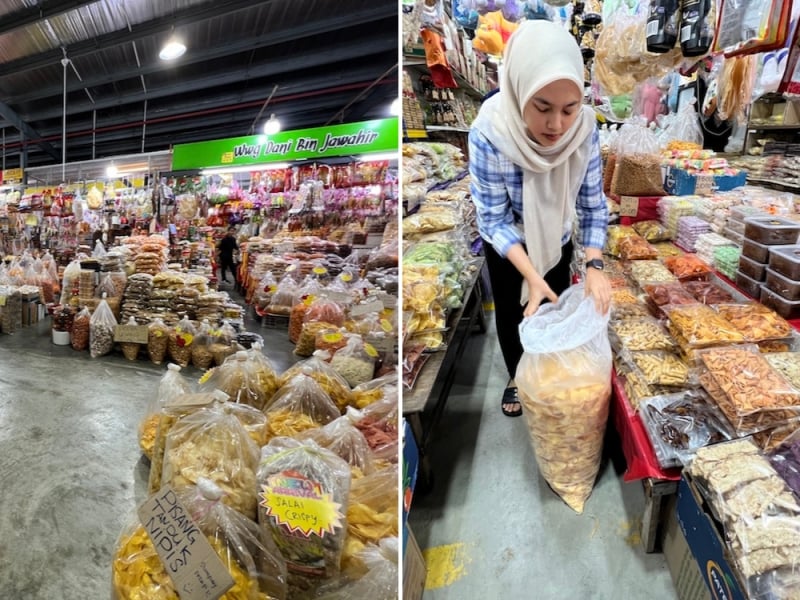 Ready to fill your tummy, and get a glimpse into the livelihood of locals in Batu Pahat? For this, we headed to Bazar Arena Warna, Ayer Hitam, a marketplace conveniently situated by the North-South Expressway (and just 20 minutes away from Yong Peng). 
We found a massive complex of 90 stalls here: 10 were food stalls, with the rest ranging from souvenirs and handmade craft items, to keropok, a famous local cracker snack. While I'm familiar with ready-sealed keropok packs, I've never seen huge bags of all different kinds of keropok laid out in front of stalls before! 
We even got to sample a few flavours of keropok: jackfruit, banana, yam, and tapioca. As someone who appreciates spicy food, my favourite was definitely the chilli tapioca one.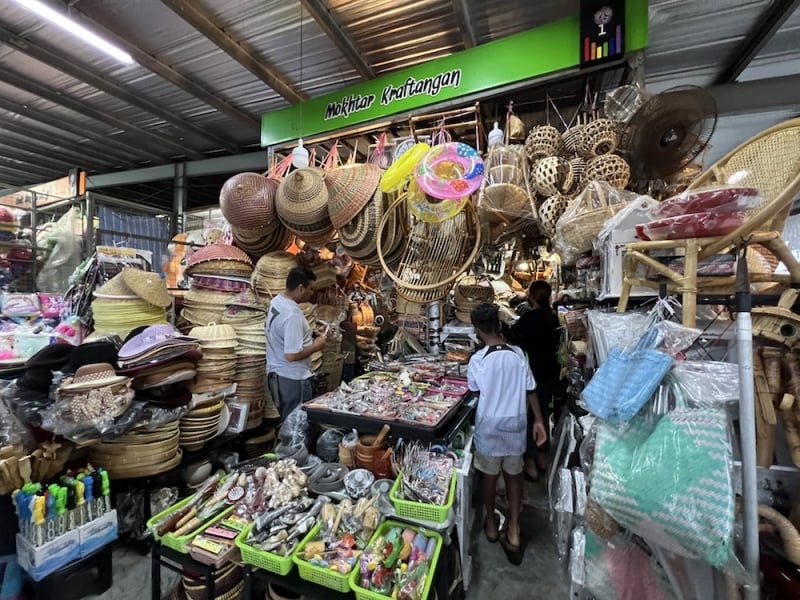 However, what was most heartening was learning that Bazar Arena Warna, Ayer Hitam began as a way to sell items made in Johor, by Johorians, in an effort towards supporting local businesses and communities.
In fact, the support for the shop owners has even extended towards granting free rental over the past two years (i.e. the pandemic). "Competition" was a word that didn't seem to exist here, with everyone imbued with the practice of looking out for each other. 
Address: Jln Bandar Baru, Pusat Bandar Baru Ayer Hitam, 86100 Ayer Hitam, Johor, Malaysia
Opening hours: Daily, 9am to 8pm
Admission price: Free
Attractions in Muar, Johor
5. Muar Cultural Walk
Once we were ready for a little art and history, we headed to Muar Cultural Walk along Jalan Meriam for an experience that was both aesthetically pleasing and educational. 
We started at this tiny alley, distinguishable from afar with its artwork and preserved brick exterior — dating back to when the building was first constructed (in the 1920s). These murals are dedicated to the Arabs who used to live and work in Muar during this time, with the artwork designed and created by a local Muar artist.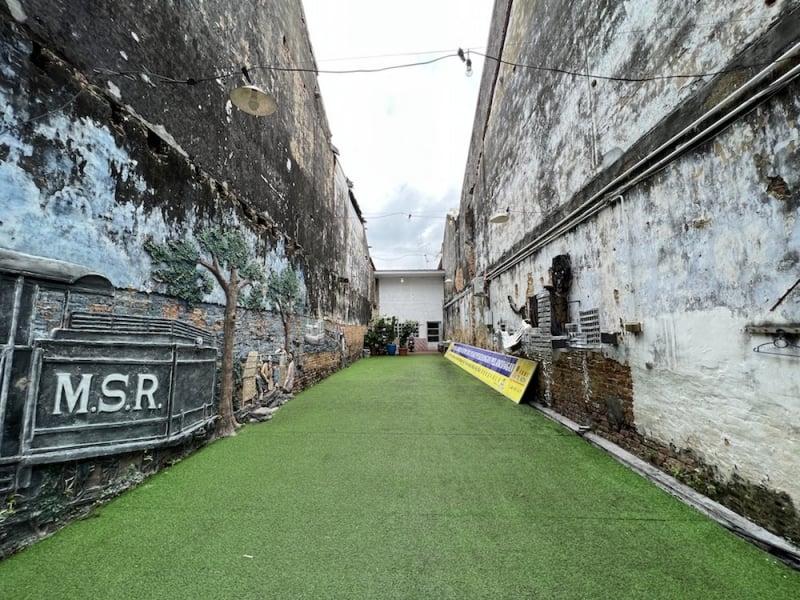 There are a few key elements to look out for when you're here: firstly, the big train painting and "MSR" sign, which stands for Muar State Railway, the second railway line to open and operate in Johor from 1890 to 1929. Second, the bright red mailbox at the entryway, which is the first-ever designed and built mailbox of Johor! Lastly, the bumpy beige wall made using Muar's beach sand and seashells.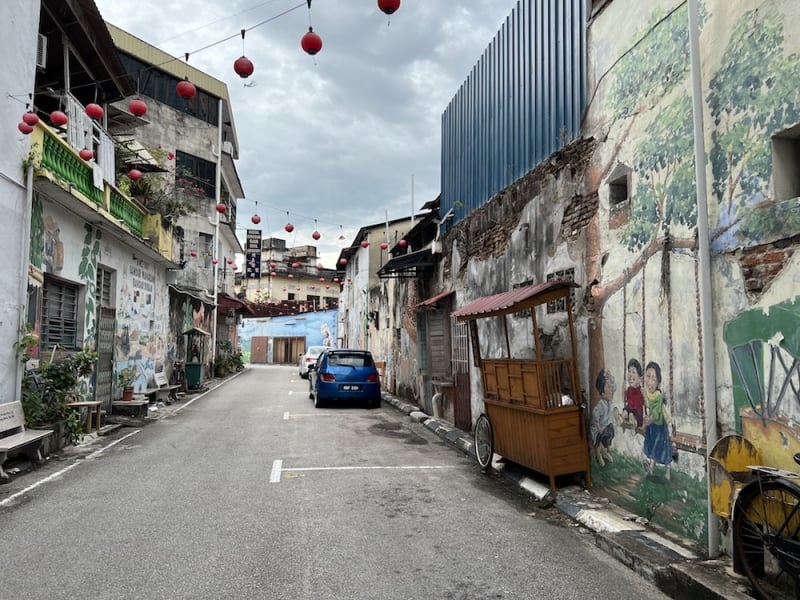 Then, we crossed the road to continue on our insightfully educational afternoon. The entire length of this Johor attraction is over 100 years old, with mural artwork devoted to the multicultural group of people who called Muar home in the 1920s.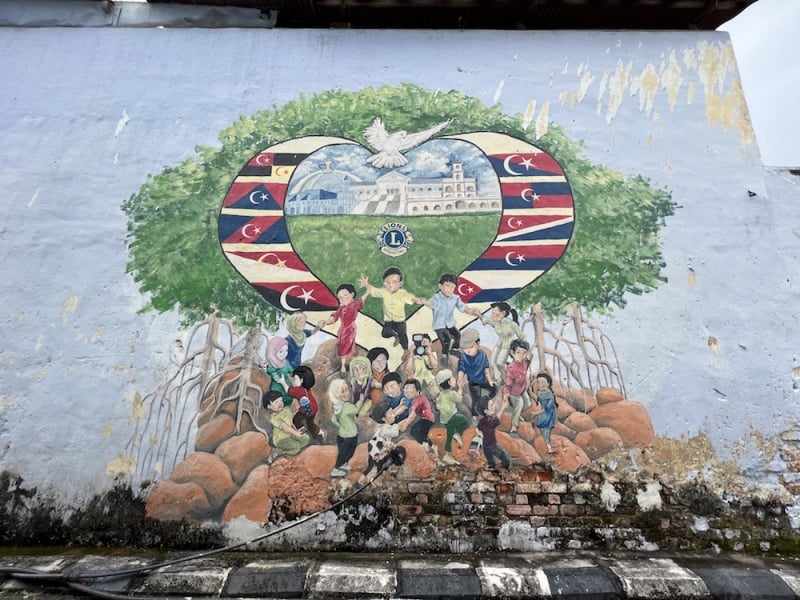 All in all, I witnessed how Muar Cultural Walk told of a place where multiculturalism thrives. It was also here where I found out that each district in Johor has its own flag! 
Address: Jalan Meriam, Pekan Muar, 84000 Muar, Johor, Malaysia
6. Muar Art Gallery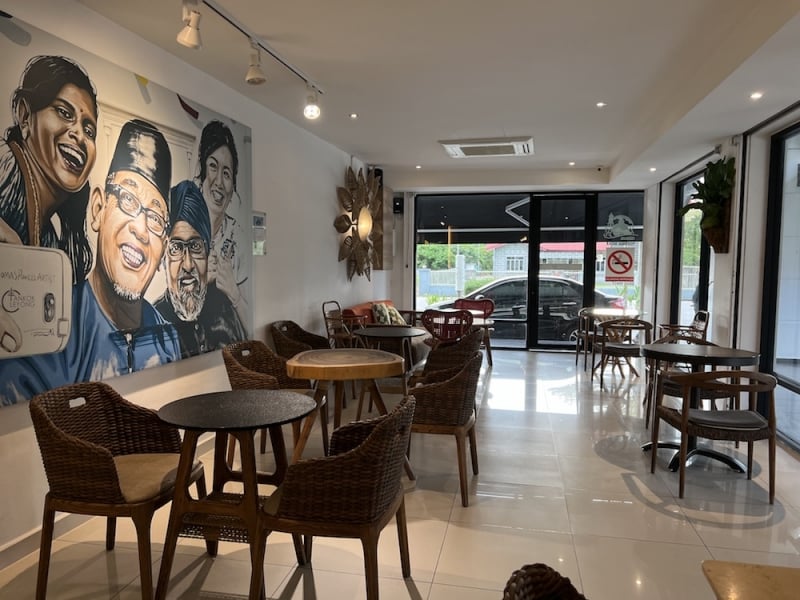 Beyond simply feeding your eyes, why not feed your tummy, too? No place in Muar does this as well as our next Johor attraction, Muar Art Gallery.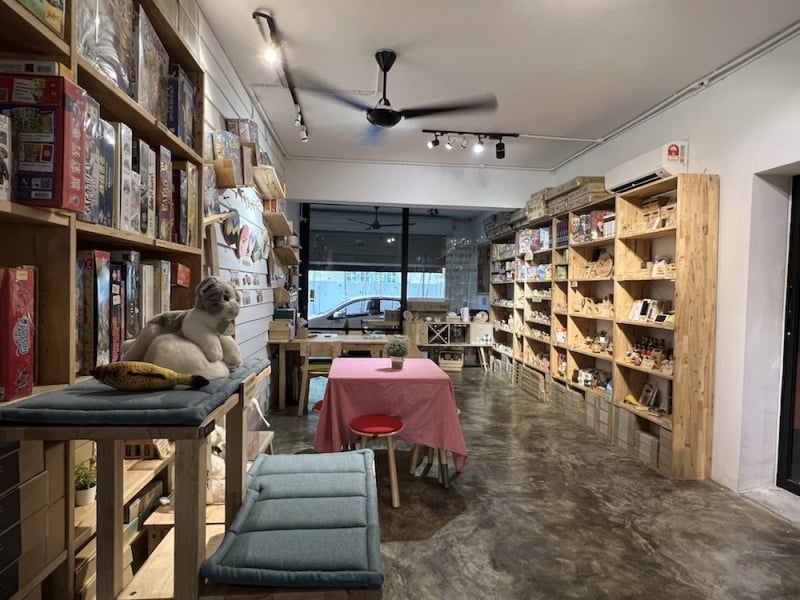 Established in 2016, Muar Art Gallery features everything art and culture-related, from the rattan and bamboo furniture gallery on the second floor and pieces used on the ground floor cafe, to the famous Muar mural recreations throughout the space. 
That said, Muar Art Gallery is truly a place that celebrates the essence of Muar — as a tourism, cultural, and arts centre. 
Plan your visit around the many different happenings at this Johor attraction: furniture gallery exhibitions, a design centre, an art space workshop, and even a rooftop sky garden! 
P.S. — When the cafe is open, order a brew from the famous local Kopi 434 for a taste of authentic Muar coffee. 
Address: 66-1, Jalan Hang Tuah, Taman Junid Perdana, 84000 Muar, Johor, Malaysia
Opening hours: Wednesday to Monday, 8am to 5pm
Admission price: Free to enter the gallery; Prices for Muar Art Cafe
7. Pantai Parit Kedondong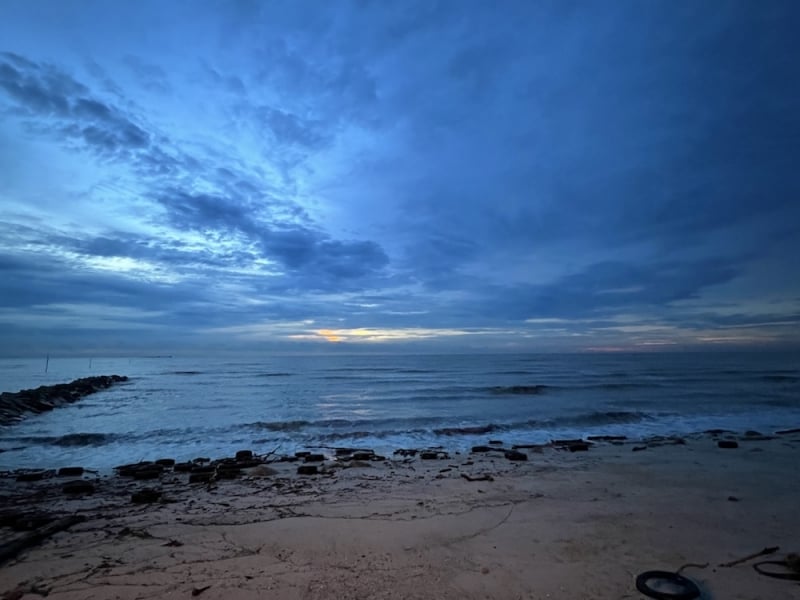 Nothing says getting away from the rush of the city by quite literally, venturing off the beaten track. At our next Johor attraction, we took a 30-minute drive (admittedly longer, since we got lost on the way) to get to Pantai Parit Kedondong. 
This beach, just like many others along the coast — Pantai Leka, Pantai Parit Penyengat, and Pantai Seri Menanti — are all best accessed with a car or motorbike. We arrived just after 7pm just after sunset (as it took us some time to find our way here), but if you can, come at 6pm and spend an hour here; and watch as the bright sky changes to a warm sunset glow.
Address: Parit Kedondong, 84150 Parit Jawa, Johor, Malaysia
8. Tomisstan Cafe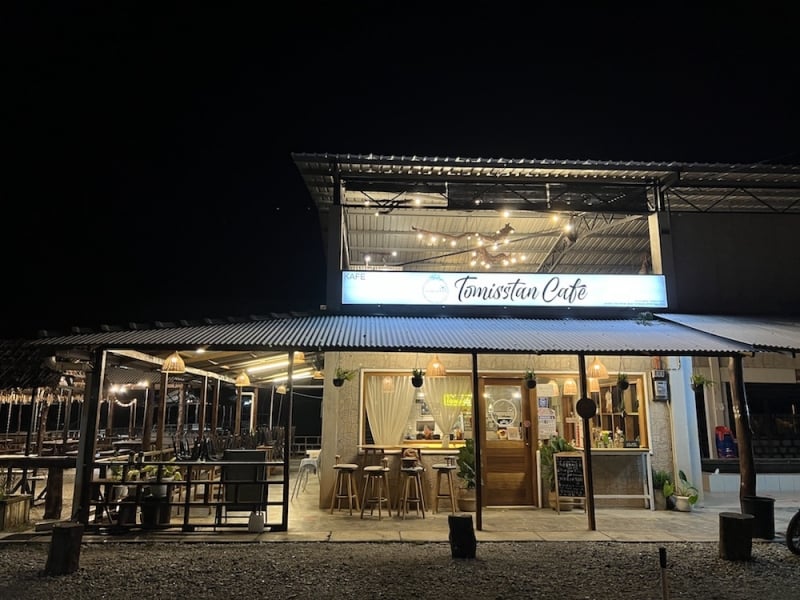 This next Johor attraction we went to surprised us, because it was situated just a two-minute drive away from Pantai Parit Kedondong, also miles away from any main road. 
We arrived at an empty Tomisstan Cafe (after operating hours), but found out that it's actually a lively joint in the day, from when it opens at 3pm till just after sunset at 7pm. Weekends are especially busy among locals, who will flock here for delicious Western and local food.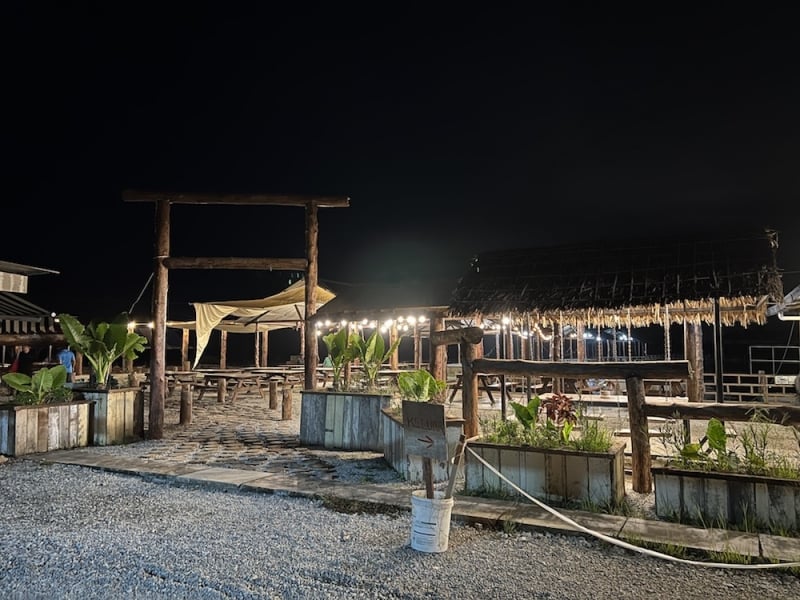 What impressed me even more, however, was this massive al fresco space next to the cafe, which also bustles with activity due to an adjacent operator here: Kolam Pancing Sina Bay; that is, a prawning and fishing business! 
Plus, that's not all: By the middle of next year, there are plans to maximise the premises by introducing a home stay, a campsite ground, and even karaoke facilities. Safe to say that this will make for a worthy weekend accommodation option — that's every bit Instagrammable! 
Address: Lot 4933, Parit Pechah, Mukim, 84160 Muar, Johor, Malaysia
Opening hours: Wednesday to Monday, 3pm to 10pm
Admission price: Prices at Tomisstan Cafe; Prices at Kolam Pancing Sina Bay
Attractions in Kota Tinggi, Johor
9. Tanjung Surat Island (Jetty Tanjung Belungkor)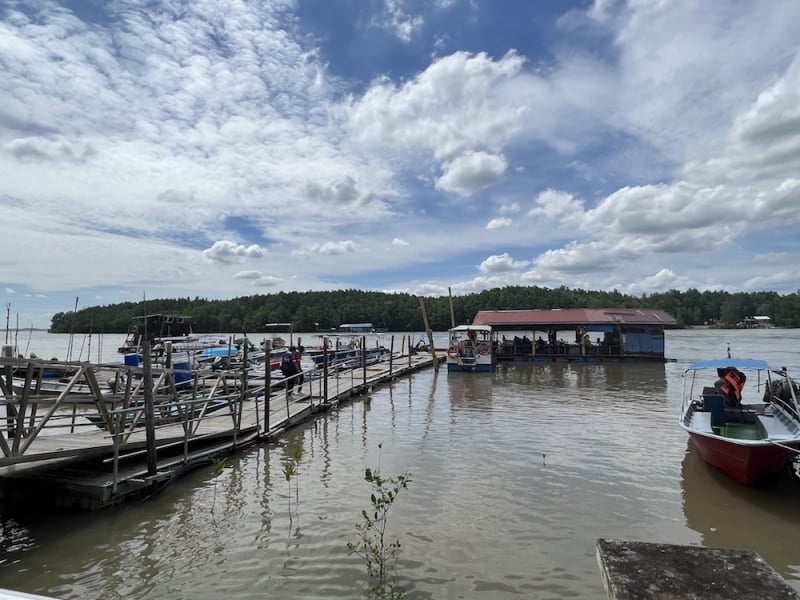 The final district on our Johor media trip was Kota Tinggi, most notably known for the beach resort of Desaru. 
However, my favourite moment in Kota Tinggi (and of the whole trip, for that matter,) was not in Desaru, but on a two-hour mangrove tour through Tanjung Surat Island — with Belungkor Venture.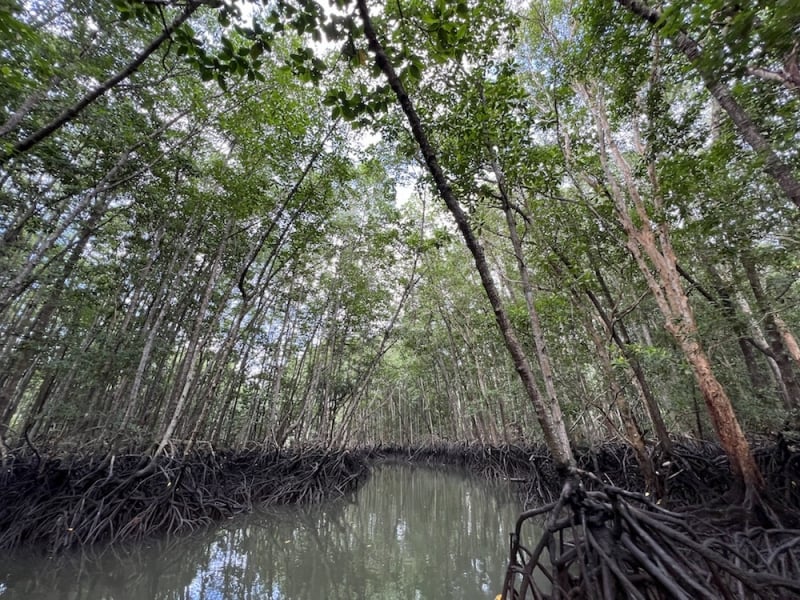 We started at Tanjung Belungkor, and set out to enjoy a very entertaining and immersive two-hour guide of learning about and seeing mangroves. 
Our tour guide even brought us up close to the floating villages along the way, where we met the locals that lived here.
For instance, we stopped at Kampung Linting, one of the docks on Tanjung Surat Island, for an afternoon feast prepared by the people who live there! Every dish (fish, seafood, and vegetables) was freshly caught or grown, and the menu changes depending on what's in season and any dietary restriction or preferences you may have. 
Then, our guide stopped at another floating house for some really unique photo opportunities. 
Plus, if you've been on river or mangrove tours before, why not opt for a full moon mangrove tour instead, held four days every month (at night)? As our tour guide put it, "the pictures you capture on this tour can't match what you see in real life." 
Address: Kampung Belungkor, 81600 Bandar Penawar, Johor, Malaysia
Opening hours: Daily, 9am to 5pm
Admission price: Contact Belungkor Venture to find out more
10. Desaru Fruit Farm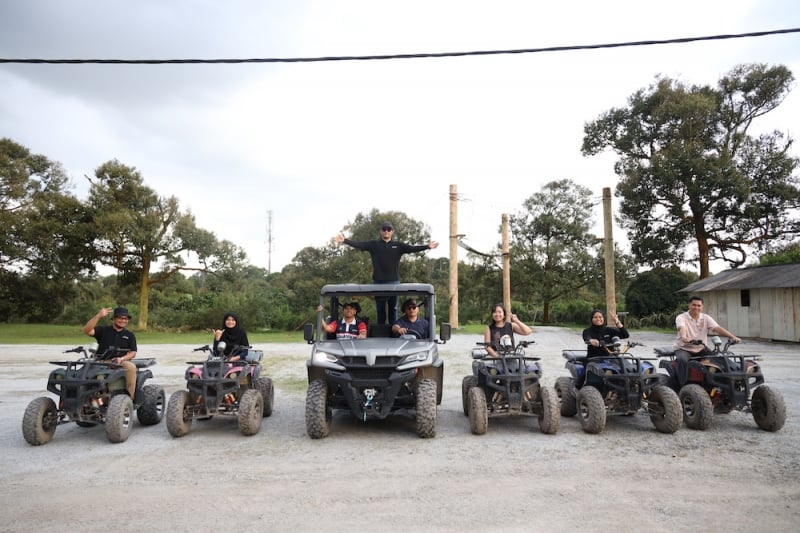 And finally, we have a Johor attraction that some of you might already be familiar with: Desaru Fruit Farm. And nope, it's not a simple walking tour of the farm, but with ATVs instead! 
It was my first time riding an ATV, so I had to learn how to do it first. Luckily, it was easy enough; and, thanks to my knowledge of driving, I picked it up pretty quickly, too! (Definitely easier due to the fact that we were going at 10 kilometres per hour, too.)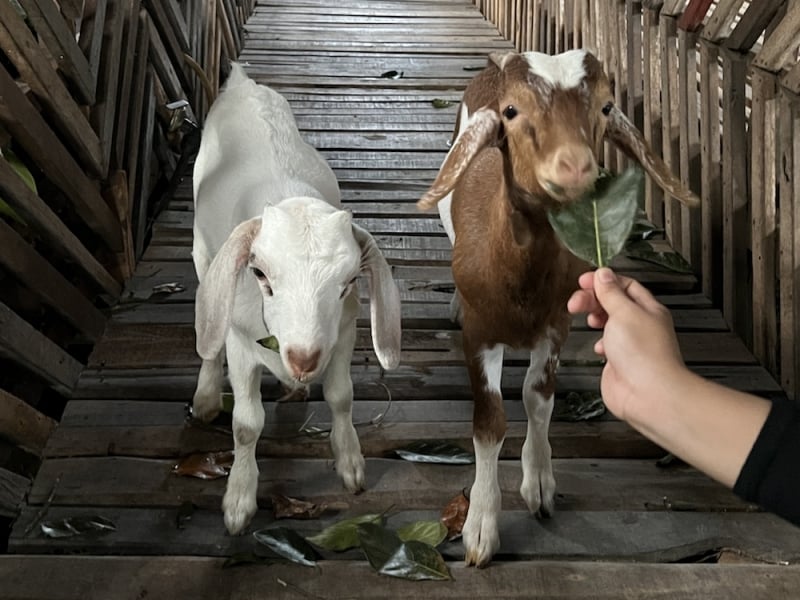 Exploring the fruit farm itself was a quick one, but what was more fun was getting to feed the goats in the hut enclosure. Whether we were feeding them carrot sticks or leaves, the animals were every bit adorable.
Before we left, we checked out the fresh produce supermarket, enjoyed freshly squeezed pineapple and watermelon juice, and even enjoyed our final meal in Johor here. 
Address: 92, 82200 Kota Tinggi, Johor, Malaysia
Opening hours: 9am to 6pm
Admission price: From RM50 for a Single ATV Riding Tour
And that concludes my three day trip exploring the other side of Johor and its many attractions! Since I know I've only scratched the surface of this multifaceted state (I've only explored five out of the 10 districts, anyway), my biggest advice would be this: Spend three days exploring just one district first, then slowly work your way around the rest of Johor! You'll slowly find that each district truly has something unique to offer. 
---
Brought to you by Johor Economic, Tourism & Cultural Office (JETCO).