Very few places in the world can claim they have it all as genuinely as Turkey. And Turkey, does have it all. From the trademark hot air balloons and moonscape of Cappadocia to the ancient ruins of the Hittite civilisation and the Roman ruins of Ephesus, these geographical formations, historic sights and natural wonders, all contribute to the magical mix that is Turkey.
With the NATAS Travel Fair 2019 coming up from 22 to 24 February 2019, Albatross World Travel & Tours has a series of special travel deals lined up for you to explore all that Turkey has to offer. Check out these comprehensive tour packages that will save you all the effort of planning – you don't only get to save on dollars, but also on the hassle!
Dates of Travel: Until 31 Mar 2020
Price: From S$1100
Engineering marvels such as the Ottoman Empire's Topkapi Palace add to the grandeur of Istanbul. Enjoy a magnificent view of Istanbul's landmark such as Dolmabahce Palace, Ortakoy, Bebek, Arnavutkoy and the Bosphorus Bridge on a Bosphorus Cruise to kick off the start of your exploration of Istanbul.
Get a glimpse of the great country of Turkey with Albatross World's 6D5N Itinerary that will bring you to not only Istanbul but also Kusadasi and Antalya.
Dates of Travel: Until 31 Mar 2020
Price: From S$1168
No travel itinerary is complete without trying the best food of your travel destination. The Spice Bazaar is one of the most famous bazaars in Istanbul and heaven for spice lovers. It's also the perfect place for those looking to sample some of Turkey's local delicacies and for a taste of exotic Turkish cuisine.
On top of that, Albatross World's 7D6N Itinerary also offers you a chance to see Canakkale, Ephesus and Pamukkale more intimately.
Dates of Travel: Until 31 Mar 2020
Price: From S$1400
Boasting the sights of Hagia Sophia, the Blue Mosque, the Hippodrome, the Obelisk of Theodosius, the Serpentine Column, the German Fountain of Wilhelm II, the Topkapi Palace and the Grand Bazaar, you'll start your trip with an eye-opening lesson on the culture and history of Turkey in the Istanbul Old City.
Then continue your journey to explore the ancient cities and ruins of Turkey and other unique attractions like the Gelibolu National Park, Lone Pine Cemetery, the Turkish Memorial, the Nek and Walker's Ridge and the Kabatepe War Museum.
With the Albatross World Gems of Turkey Tour, go on a comprehensible tour that spans Istanbul, Cappadocia, Kusadasiand Antalya.
Dates of Travel: Until 31 Mar 2020
Price: From S$1318
Albatross World's packages will also take you to explore Kusadasi. Here, don't miss the chance to visit Ephesus, a major city of the ancient world. Highlights include the Temple of Artemis – one of the seven wonders of the ancient world – and the House of the Virgin Mary, where many believe the Mother of Jesus to have spent her final years.
To discover more of Istanbul, Kusadasi, the beautiful Cappadocia and more of Turkey's sweetest delights, the Albatross World's 8D7N itinerary would be the one for you!
Dates of Travel: Until 31 Mar 2020
Price: From S$1498
Of course, a trip to Turkey would not be complete without feasting your eyes on the beauty of Cappadocia. Cappadocia is a magical destination, home to churches, underground cities and breathtaking scenic beauty.
Visit Devrent Valley and its fairy-chimneys, Monk's Valley and take a hot air balloon ride at sunrise for panoramic and awe-inspiring views of the valleys of Cappadocia. To experience the full wonder of Cappadocia and Turkey, this 10 Day Wonders of Turkey package is sure to delight!
Dates of Travel: Until 31 Mar 2020
Price: From S$1498
But that's not all that Cappadocia has to offer. The Underground City of Cappadocia features many famous valleys such as Gulludere Valley and Pigeon Valley, as well as the Red Valley – known for its famous rock-cut churches. With this 11D10N Turkey Grand Tour, you can also explore other amazing sights and views from Istanbul to Canakkale, Ephesus and Pamukkale.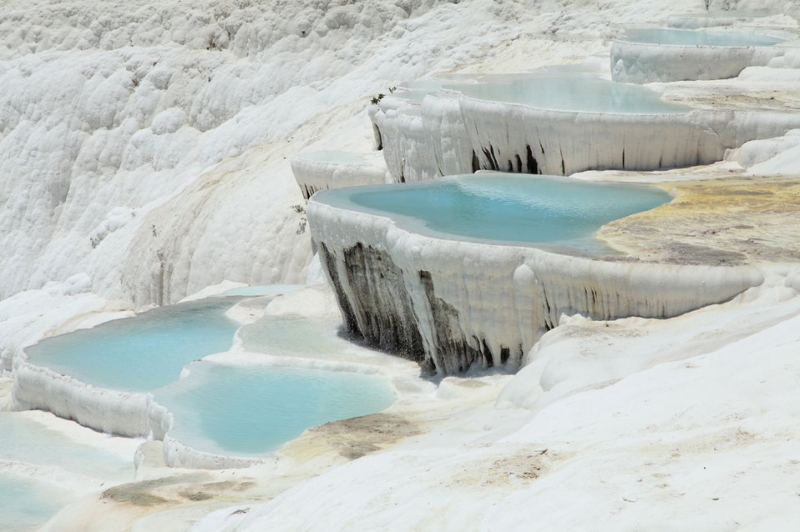 The city of Pamukkale, also known as the 'Cotton Castle', is not to be missed. Famed for its healing thermal mineral waters and gorgeous snow-white waterfalls, Pamukkale is also home to Hierapolis, the ancient city that contains Necropolis. In the gorgeous city, you will also be able to visit the Aspendos Roman Theatre and the famous Kursunlu Waterfalls.
Enjoy the full Turkish experience with this 11-day itinerary, and don't miss a single sight!
This NATAS Travel Fair, explore Turkey with these exclusive promos from Albatross World Travel & Tours! From 22 – 24 Feb 2019, enjoy 25% off package tours of Turkey, from as low as S$1100. What are you waiting for?
Get 25% off Other NATAS Packages
---
Brought to you by Albatross World Travel & Tours.