Looking for your next family vacation? A theme park is always a good pick for the brood. When you're in California, there's no doubt that Universal Studios Hollywood should be on top of your list. Boasting unmissable gems from the Wizarding World of Harry Potter to Jurassic World-themed thrills, the Los Angeles theme park is an attraction that travellers of all ages are bound to enjoy. Not to mention, it's quite easy to find a first-rate Airbnb near Universal Studios Hollywood. 
Planning a trip to Tinseltown? We've got you covered with the best picks within a stone's throw away from the world-famous theme park. 
Also read: 10 Incredible Airbnbs in Malibu, California for a Coastal Escape
Best Airbnb homes near Universal Studios Hollywood
1. This charm-filled cottage a short stroll from the theme park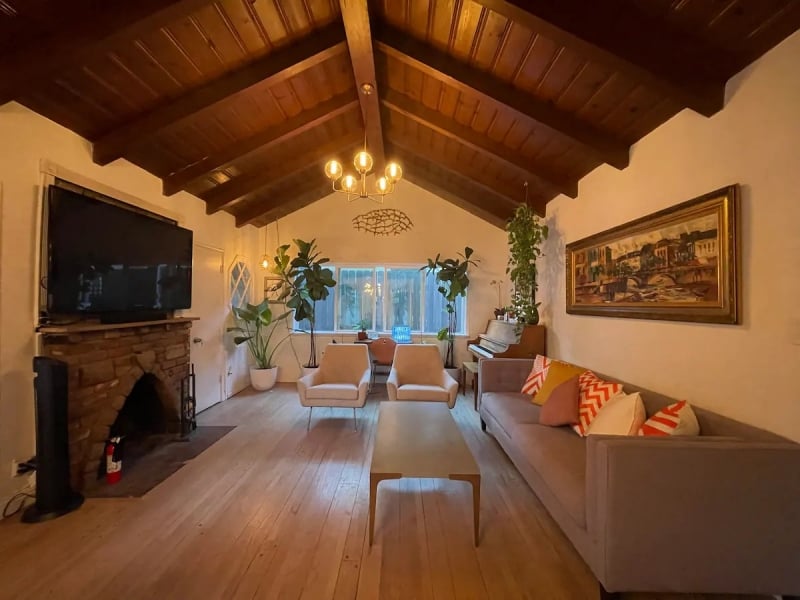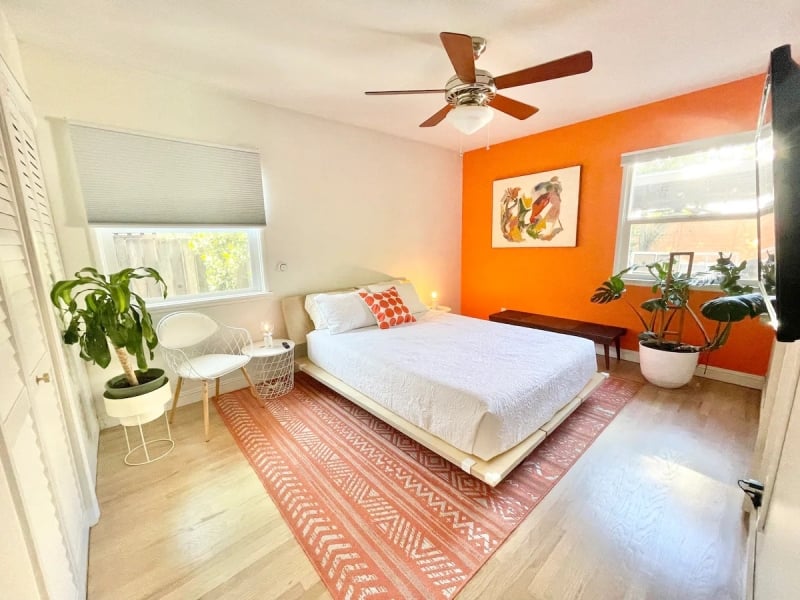 Listing name: Cool Cottage.Walk 2 Universal Studios. EV Charger
Listing type: Entire home
Max. no. of guests: 6
No. of bedrooms: 3
If your priority is to stay as close as possible to the theme park, then this Airbnb near Universal Studios Hollywood can't be beaten. It's right across the street from the popular attraction, so you won't have to deal with LA traffic or shell out cash for parking! After a day or two roaming Universal Studios, you've got plenty more to explore nearby; the Hollywood Walk of Fame, Hollywood Bowl, and Warner Bros. Studios are all a quick drive away. 
Beyond its premium location, this cosy cottage is an exceptional find. Sunny interiors, indoor plants, and touches of mid-century design promise an Airbnb experience that's as beautiful as it is comfortable. Previous guests are all praises for this little cottage; from the vintage architecture to the convenience of living minutes away from Universal Studios Hollywood and popular dining spots.   
2. This modern townhouse near Universal City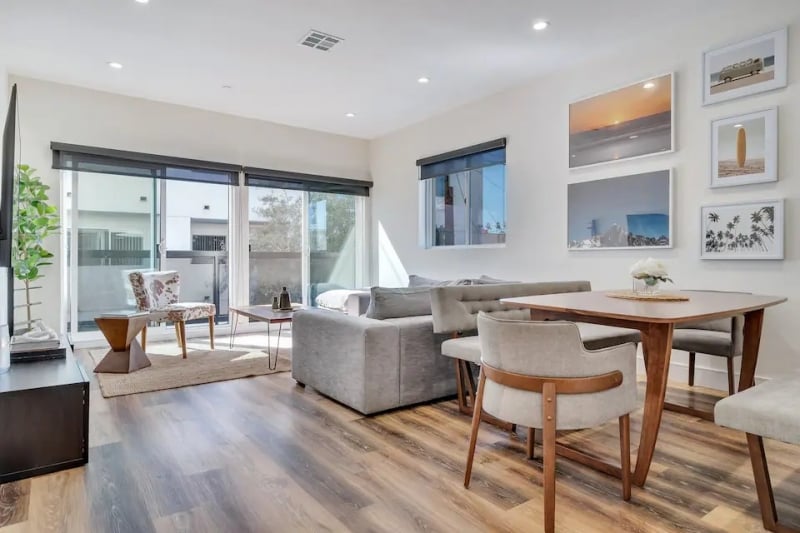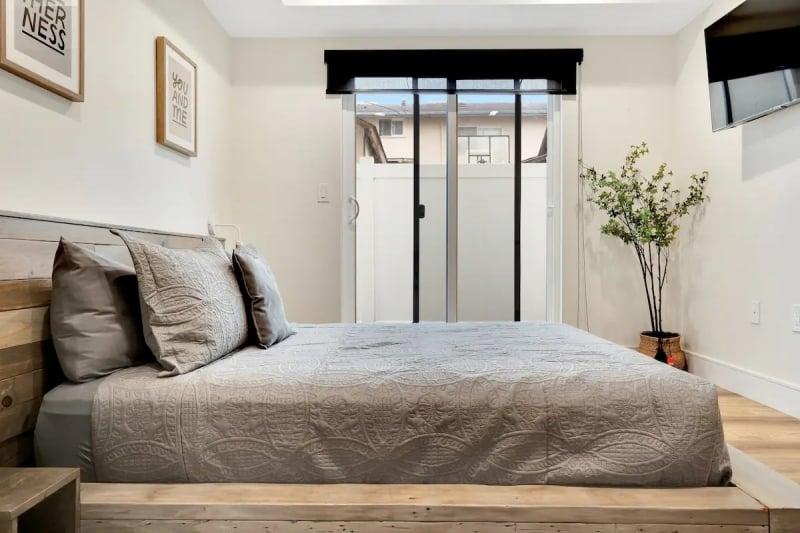 Listing name: LUXE | LA Gated Tri-Level Home in Hollywood
Listing type: Entire townhouse
Max. no. of guests: 12
No. of bedrooms: 4
If you're taking a big crew, then may we suggest this spacious modern townhouse in East Hollywood? It can host up to a dozen guests, with four tastefully appointed bedrooms allowing everyone their own comfy place to rest. The living room is a great place to hang out, but we're pretty partial to the backyard where the group can enjoy the sunny California weather while bonding. Plus, if everyone split the costs, you'll find that this holiday rental is surprisingly affordable.
And of course, the three-storey Airbnb is tantalisingly near Universal Studios Los Angeles. That means that if you end up missing out on some of the theme park attractions, it's easy to come back the next day!
3. This artsy Hollywood Hills abode with a jacuzzi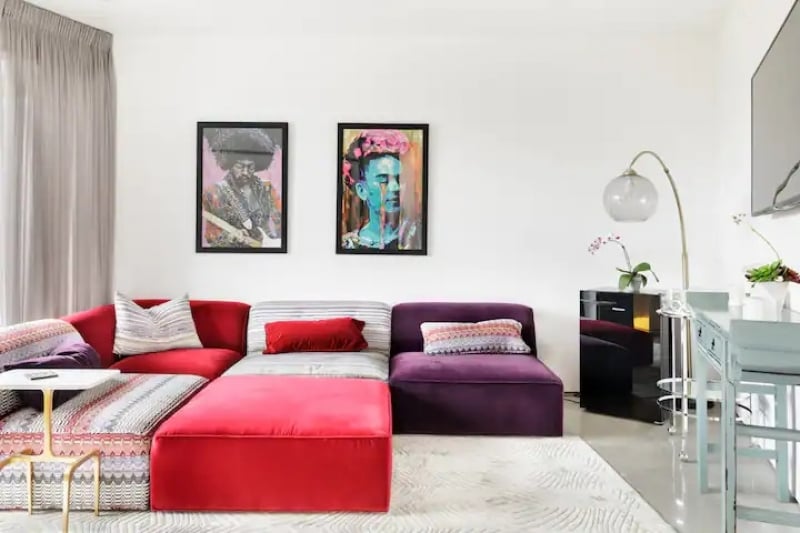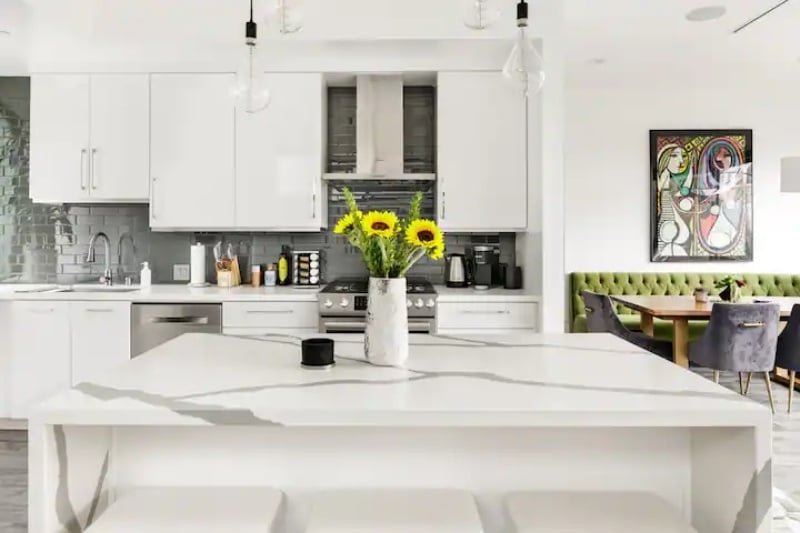 Listing name: Walk to the Hollywood Bowl from a New House with a Jacuzzi
Listing type: Entire home
Max. no. of guests: 8
No. of bedrooms: 4
Off to do a lot of sightseeing? This art-filled residence just might be the best Airbnb near Universal Studios Hollywood for you. Not only is it a five-minute drive from the world-famous theme park, but it's also within walking distance of popular Tinseltown spots such as Hollywood Boulevard, Hollywood Bowl, and the hiker's favourite Runyon Canyon. 
Inside, it's easy to be enamoured with this Hollywood Hills vacation rental. With a mix of modern amenities, pops of colour, and a well-curated collection of photographs and artworks, the residence is a top Airbnb experience. 
4. This dreamy vacation home in Hollywood Hills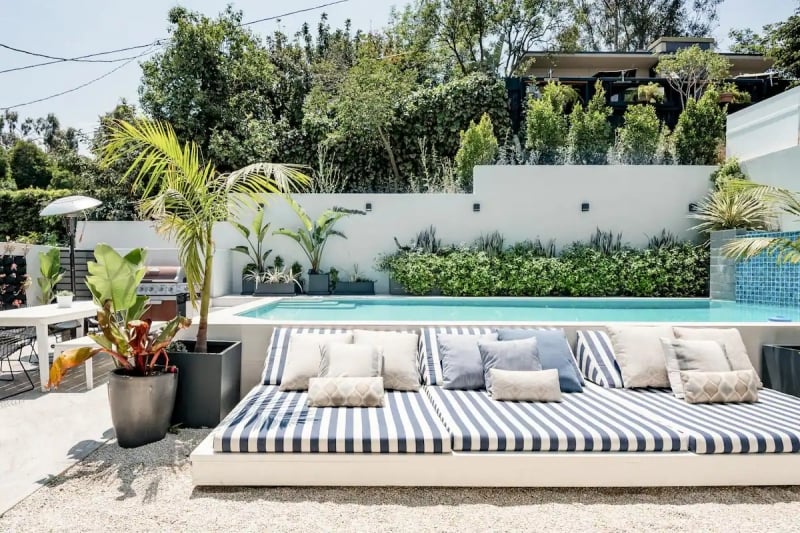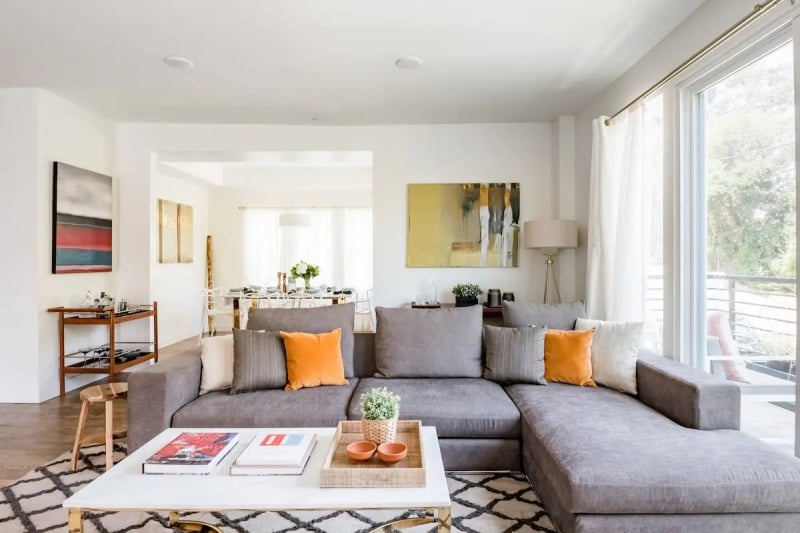 Listing name: Beautiful Hollywood Hills Home with Private Heated Pool & BBQ & Terrace
Listing type: Entire home
Max. no. of guests: 8
No. of bedrooms: 4
Featuring a heated pool and a daybed perfect for sunning, this stunning Hollywood Hills home is ready to make all your Cali dreams come true. Catch some rays in the outdoor pool area in the morning, then cook up a storm in the chef's gourmet kitchen that's exceptionally equipped with first-rate appliances. Luxe touches throughout the house promise you'll experience the city like never before — and with Netflix and board games, you won't be bored even if you're just chilling indoors.
While this Airbnb is in a quiet neighbourhood that feels like a world away from the LA hustle, it's near key city attractions, including Universal Studios Hollywood. Fantastic restaurants, parks, and beaches are also a 5- to 20-minute drive away!
Also read: My California Coastal Road Trip: What It's Like in the Summer!
5. This picturesque retreat that's the former home of a Hollywood legend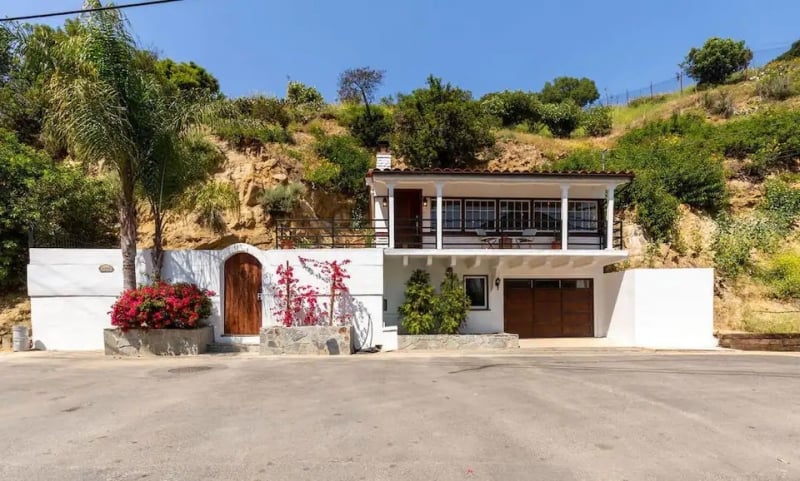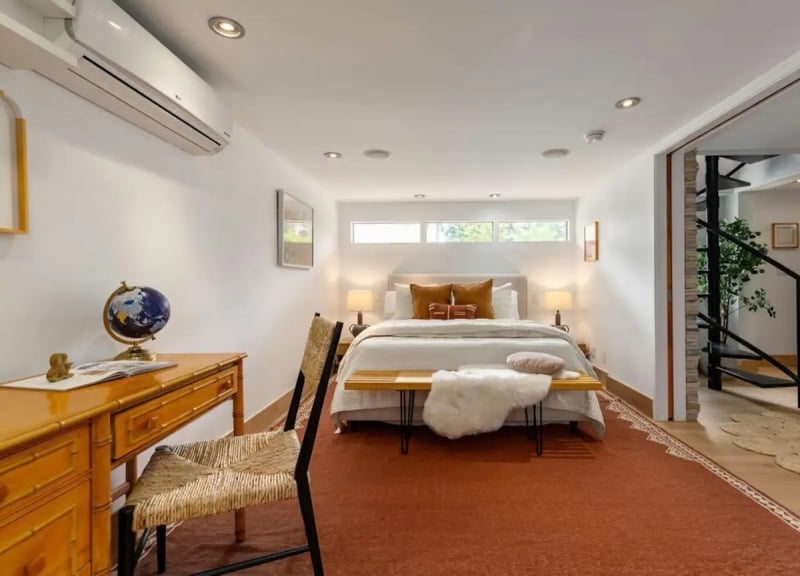 Listing name: Hollywood Hills Retreat btwn Universal&WB Studios
Listing type: Entire home
Max. no. of guests: 4
No. of bedrooms: 1
For a home with Hollywood prestige, this Mediterranean-style sanctuary in the Hollywood Hills is a catch: It used to be the love nest of Clark Gable — the King of Hollywood himself! Carved right onto the mountainside back in 1948, it's a charming blend of nature, modern design, and Old Hollywood glam.
Besides the beautiful interiors, travellers love the convenience of staying at this rental. The Airbnb sits near Universal Studios Hollywood and Warner Bros. Studios, making it a premium location for cinephiles exploring the City of Angels.
6. This beautifully designed room in Studio City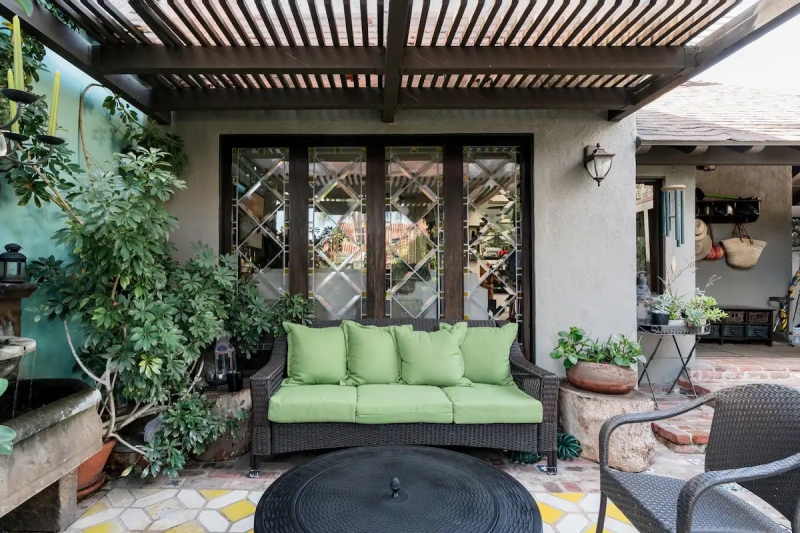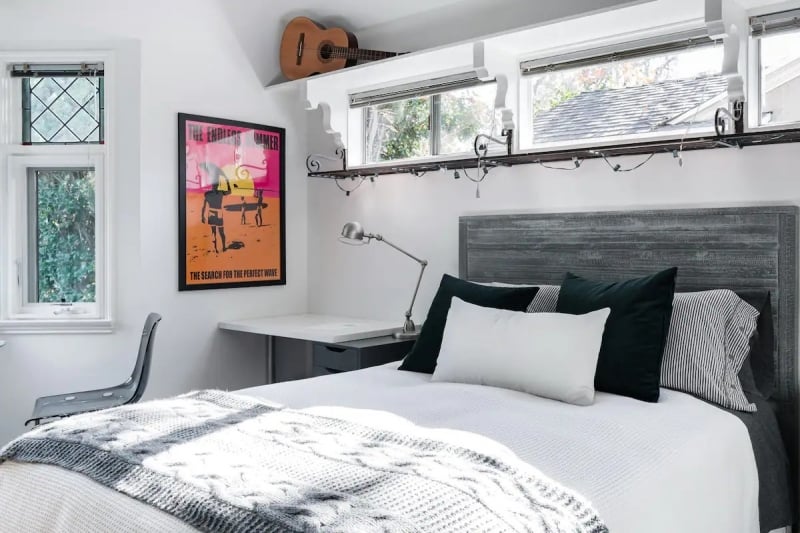 Listing name: Low-Key Apartment with a Patio in Studio City
Listing type: Room in a home
Max. no. of guests: 2
No. of bedrooms: 1
Hunker down in the heart of Studio City when you book this cosy apartment full of rustic charm. The hideout comes with hotel-inspired perks, including a luxurious queen-sized bed, a flat-screen TV, a work desk, WiFi, and air-conditioning. Ideal for solo travellers or pairs, the property features a shared patio that's our pick for the perfect morning coffee spot.  
Nestled on a low-key street in Colfax Meadows, this apartment is undoubtedly a top Airbnb near Universal Studios Los Angeles and CBS. Plus, travellers who enjoy exploring on foot will have their pick of trails at Fryman Canyon, Franklin Canyon, and Coldwater Canyon Parks. Excellent restaurants, Insta-worthy cafes, and boutique shops are all a 10-minute walk away. 
Also read: 15 Most Walkable Cities in the World to Visit or Live In
7. This zen guest suite in Beachwood Canyon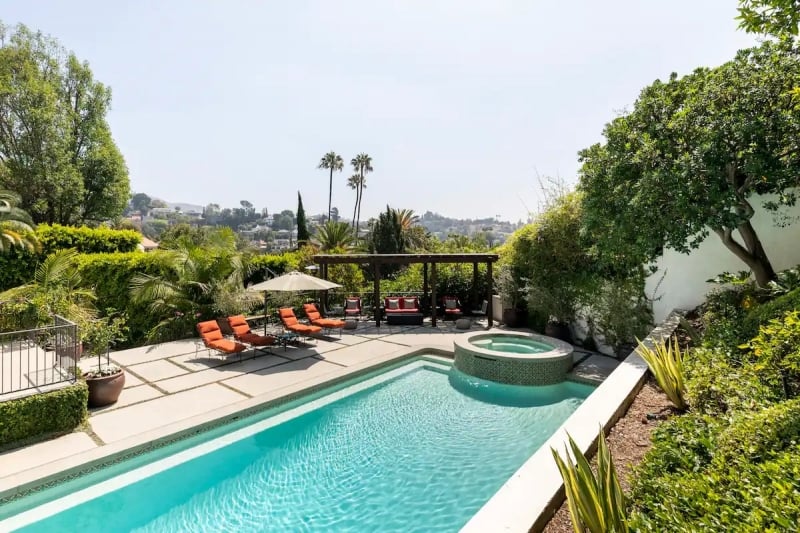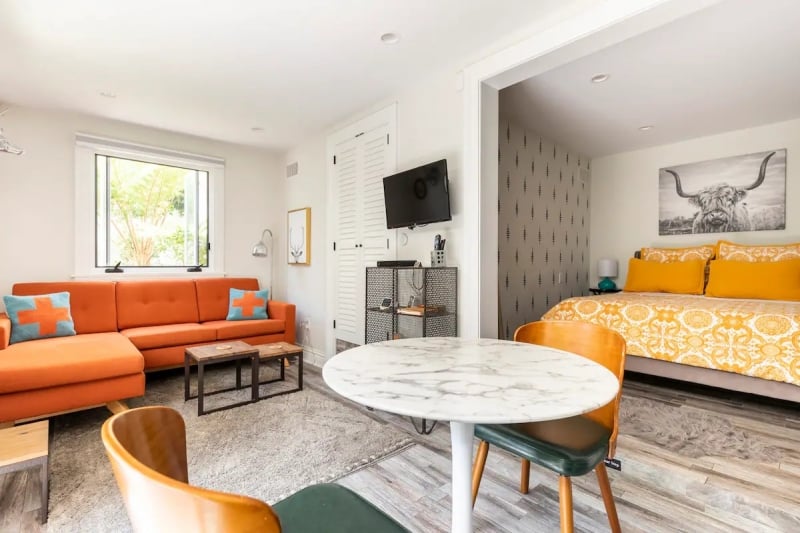 Listing name: Private Chic Guest Suite Beachwood Canyon Pool/Spa
Listing type: Entire guest suite
Max. no. of guests: 2
No. of bedrooms: 1
Looking for a little slice of tropical heaven in California? Head to Beachwood Canyon for a stay at this serene guest suite. There's plenty to love about this Airbnb near Universal Studios Hollywood, but we dare say the best part is the sweeping scenery of Hollywood from this cosy hideaway. A private patio lets you bask in LA sunshine, while a shared pool deck features a swimmer's pool, a fire pit, and a picture-perfect cabana. 
Universal Studios Hollywood is minutes away from this Airbnb, but there's a lot more to discover nearby, including the iconic Hollywood sign and the Walk of Fame. A tip from the owner: Don't miss grabbing a cuppa at the famous Beachwood Cafe just a few blocks away. 
8. This vintage bungalow in Burbank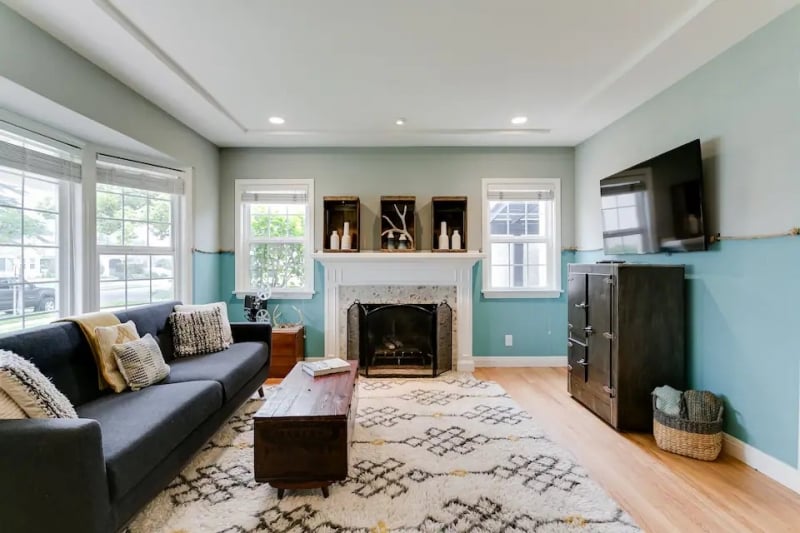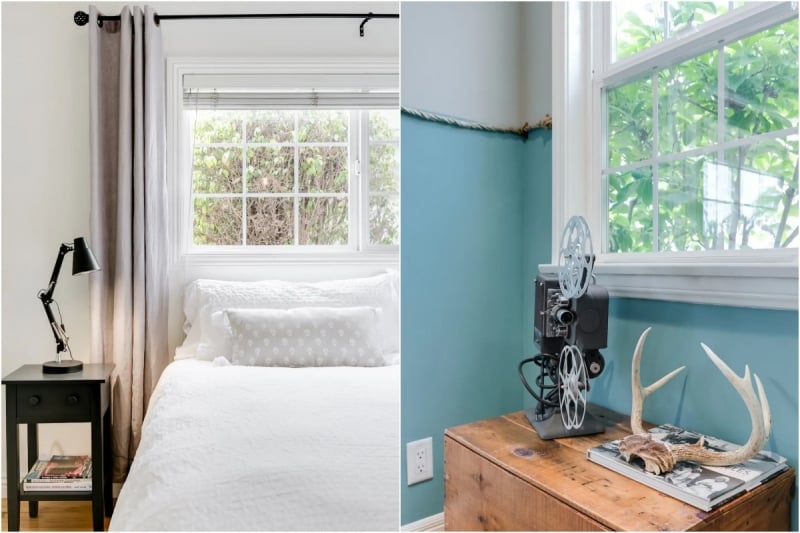 Listing name: Stay in a Retro 1960's-Inspired Los Angeles Home
Listing type: Entire home
Max. no. of guests: 6
No. of bedrooms: 3
If you're into the vintage vibe, then here's one that's worth considering. Built in 1940, this California home comes brimming with retro charm. Think old-school knick-knacks and vintage photographs on display. Plus, a brand new deck and a swimming pool offer a fantastic hangout spot on balmy summer days. 
You also won't have to worry about reaching Hollywood's hottest sightseeing stops. This Airbnb in Burbank is an easy stroll from top dining, shopping, and nightlife spots, while popular attractions are near the house, including Universal Studios and Warner Bros. Studios.
9. This French-inspired Airbnb with Hollywood prestige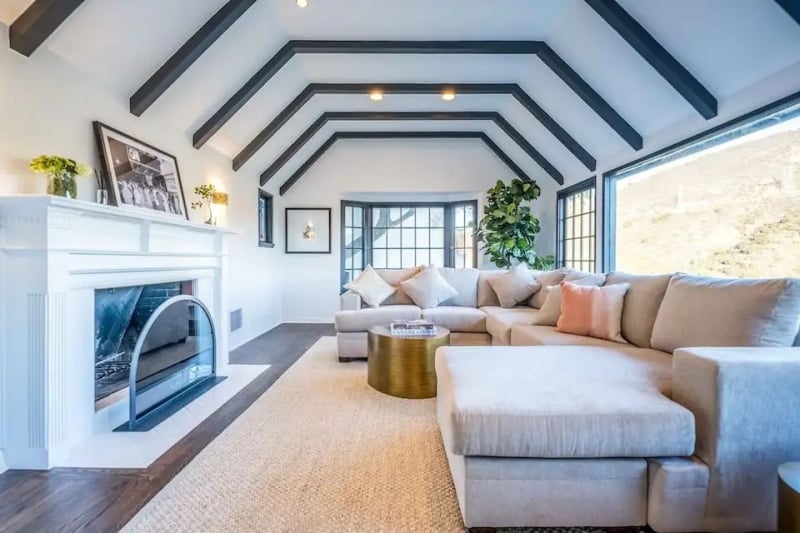 Listing name: Classic French Normandy Gem in the Hollywood Hills
Listing type: Entire home
Max. no. of guests: 6
No. of bedrooms: 3
Let's go classic with this elegant chateau! Another sanctuary that boasts Old Hollywood heritage, the hilltop house was a gift from famed film producer and pilot Howard Hughes to actress Ginger Rogers in 1925. Airbnb bios don't get any cooler than that! Moreover, this home away from home is furnished beautifully. Highlights include a sprawling living room with dramatic views, a stunning stone terrace, and a hot tub. 
Feel like a true VIP when you come home to this rental in a tranquil neighbourhood. Here, you'll be neighbours with A-List celebrities — although we can't promise sightings, of course! Truly, it's one of the best Airbnb rentals near Universal Studios for travellers visiting star-studded California. 
10. This five-star loft abode with million-dollar views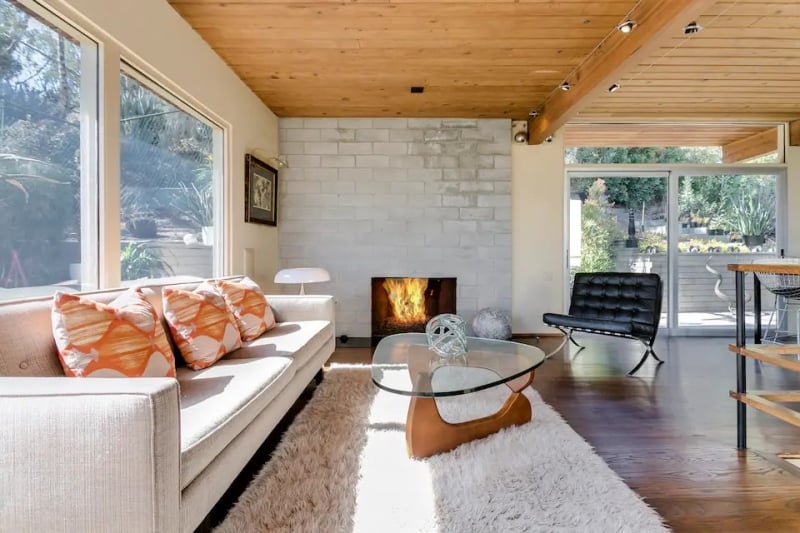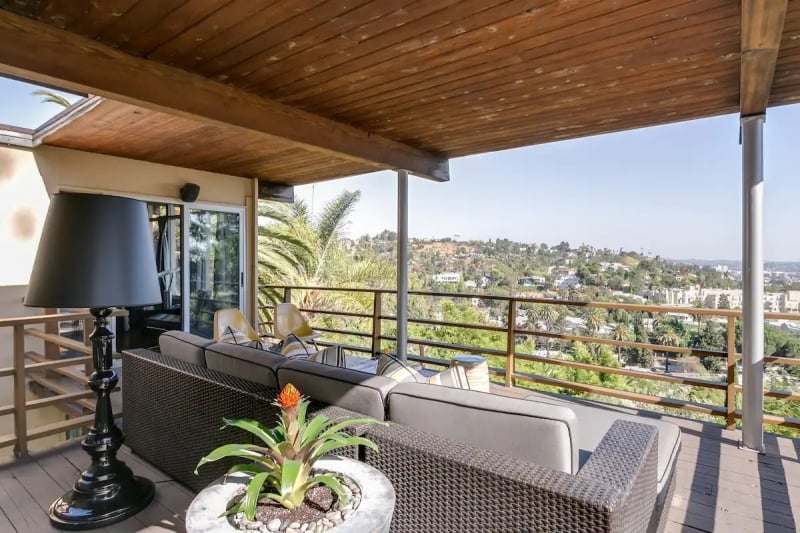 Listing name: View Hollywood Hills from Stunning Loft-Style Home
Listing type: Entire home
Max. no. of guests: 4
No. of bedrooms: 2
Last but definitely not least is this mid-century designer home perched above Hollywood. Stylish, modern, and private, it's a gem of a find — you'll be hard-pressed to find a more celeb-worthy Airbnb near Universal Studios Hollywood than this one. Each corner of the sunlit residence has been thoughtfully designed with sleek furnishings, vintage accents, and carefully curated art.
Although the rental sits in a quiet neighbourhood, it's in a central location in Beachwood Canyon. Guests can walk to Beachwood Cafe, and then explore nearby trails in Griffith Park and Runyon Canyon. 
Also read: 18 Best Beach Houses to Book on Airbnb, From California to Hawaii
If you're planning a trip to the first-ever Universal Studios, we can't be more excited for you! Whether you're visiting on your own, travelling with family, or wreaking havoc with friends, the best Airbnb near Universal Studios Hollywood for you is out there. Exploring other parts of the Golden State? Check out our favourite Airbnbs in Malibu, Palm Springs, and San Francisco.
Got a property you'd like TripZilla to feature? Inquire with us here.
---
This article contains affiliate links. When you book through these links, we may earn a small commission at no additional cost to you. All images courtesy of the respective property listings.