A scenic stretch of land along California's Highway One, Big Sur is a place of breathtaking natural beauty. It can be a challenge to pin down on Google Maps; in a nutshell, Big Sur sits between Carmel and San Simeon, flanked by the picturesque Santa Lucia Mountains on one side and the Pacific Ocean on the other. Nature lovers flock to this woodsy dreamscape to surf in wild beaches, trek majestic redwood groves, and gaze at the starlit skies at night — even in stunning California, Big Sur stands out. 

Some travellers make Big Sur a part of a greater road trip along the coast, but we recommend spending a night or two (or more) to explore the highlights of this postcard-pretty corner of California. Don't worry; there are plenty of cool places to stay here. Whether you're looking for an off-the-beaten-track cabin or a luxurious villa with spectacular Pacific views, we've handpicked the best Big Sur Airbnb homes for your great escape.
Also read: 22 Best Beach Houses to Book on Airbnb, From California to Hawaii
Dreamy Big Sur Airbnb stays for your California getaway
1. This deluxe sanctuary with breathtaking ocean views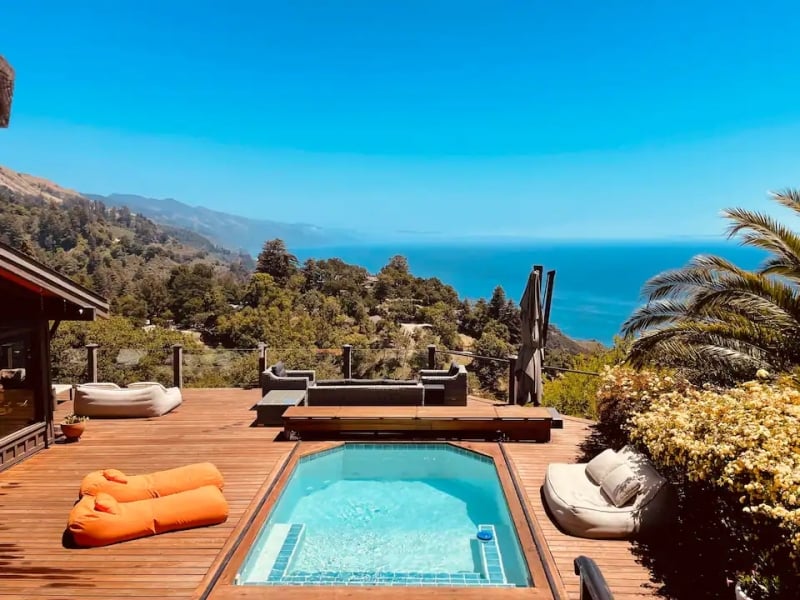 Listing name: 5 acres pool/spa, walk to all Big Sur has to offer
Listing type: Entire home
Max. no. of guests: 8
No. of bedrooms: 3
Looking for a place to stay right above the Pacific? At this resort-style abode, you can stare at the magnificent ocean from morning to night. And if the panoramic views don't sell it to you, then this VIP-worthy stay has more to offer: lushly appointed interiors, a firepit, and even a spa. It's also one of the rare Airbnbs in Big Sur with a private pool — and it's heated, too!
To add to that, the five-acre property even has a private oak forest where outdoorsy travellers can go for a trek. When it's time to explore, you'll be within walking distance of iconic hotspots such as the Big Sur Bakery and Nepenthe. 
Also read: 8 Best Airbnbs in Palm Springs, California With Private Pools
2. This eye-catching stone house for picture-perfect sunsets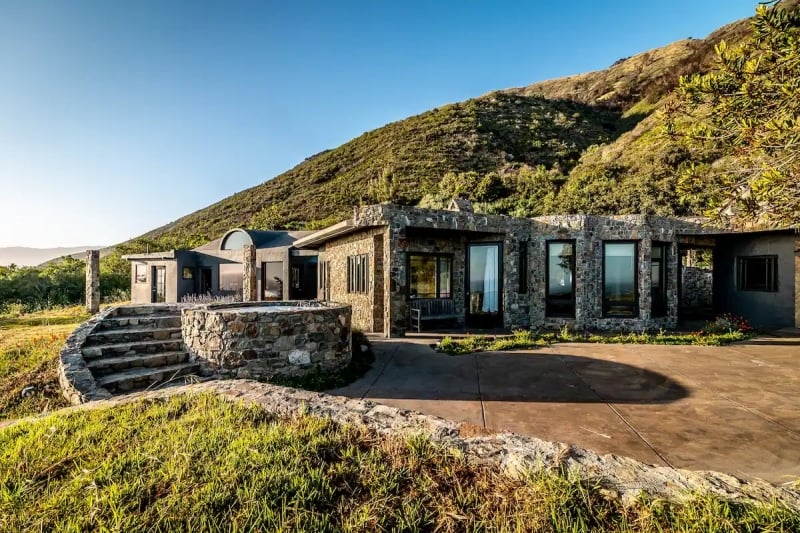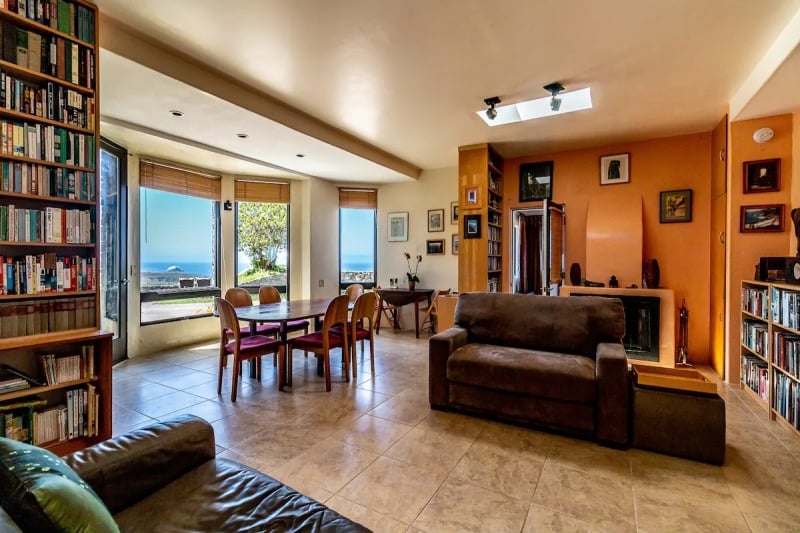 Listing name: Big Sur Stone House
Listing type: Entire home
Max. no. of guests: 6
No. of bedrooms: 3
Pack a good camera to capture your moments at this beautifully designed stone house — because trust us, you'll have plenty! The moment you arrive, sweeping vistas of the California coastline will greet you. And at the end of every day, you'll get a front-row seat to a spectacular sunset over the Pacific. 
In between, there's nothing to do in this Airbnb in Big Sur but relax. If you must get out of bed, we recommend lounging outdoors: Nap on a hammock to the sound of the crashing waves, and then enjoy a soothing soak in the outdoor tub. 
3. This unique hilltop Big Sur Airbnb with ocean views from every room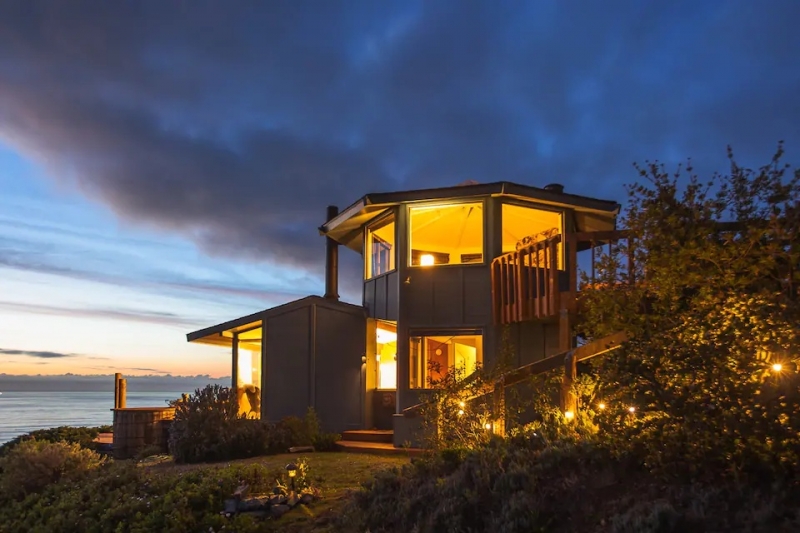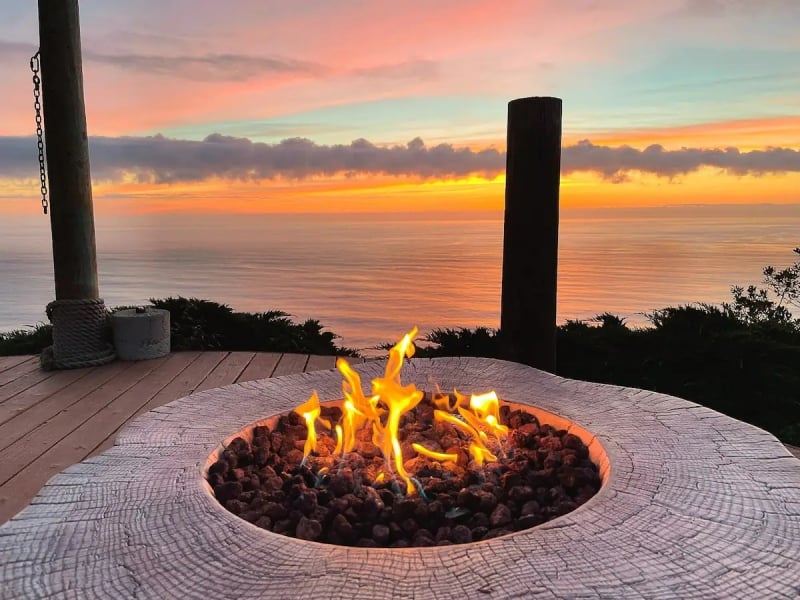 Listing name: Big Sur Blue Cottage with Ocean view
Listing type: Entire cottage
Max. no. of guests: 3
No. of bedrooms: 1
Retreat to this hidden gem on the rugged south coast. Secluded yet undoubtedly cosy, the blue cottage is the best Airbnb in Big Sur for solo travellers and couples who want to go off the beaten path — and with one bedroom and a separate loft, there's even space for a third person. Large windows promise stunning ocean views throughout the home, but we think the best spot is the outdoor deck, especially for sunsets! 
Make sure you're ready to go off-grid before driving to this part of California. Not only is it quite secluded, but there's also no mobile phone service at this Big Sur Airbnb. However, who needs to browse social media mindlessly when you get a front-row seat to that view? 
4. This cosy Big Sur yurt in a scenic venue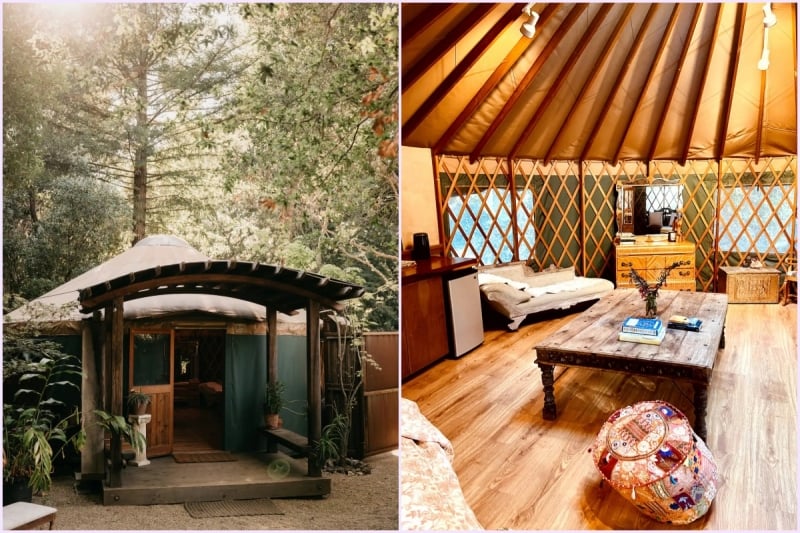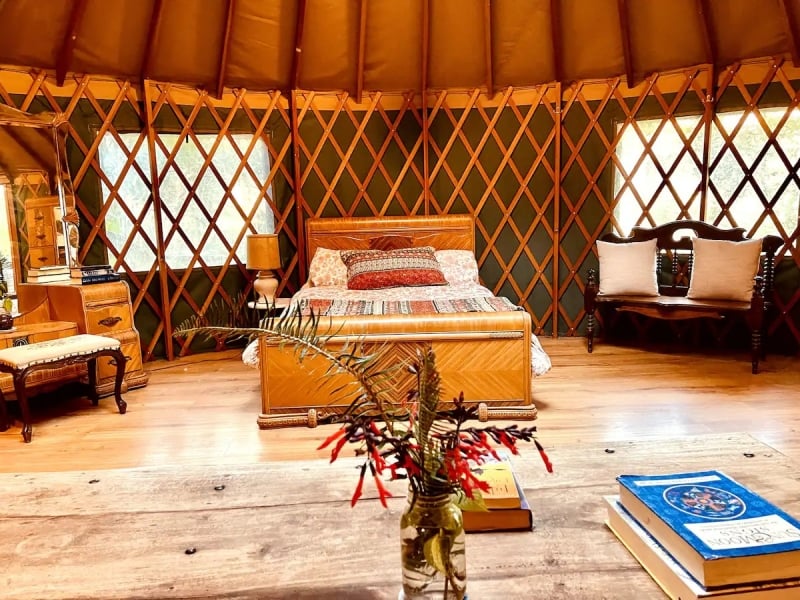 Listing name: Loma Vista Gardens – Forest Yurt
Listing type: Yurt
Max. no. of guests: 3
No. of bedrooms: 1
For a unique experience in Big Sur, how about staying in a yurt Airbnb? Find nature and tranquillity in the cosiest of places when you stay in this rustic dwelling known as the Forest Yurt. It definitely looks good on the 'Gram, with spacious interiors, fine Art Deco furnishings, and glorious mountains as the backdrop. 
More than that, it's exceptionally positioned for Big Sur adventures. Forest Yurt sits at Loma Vista Gardens, the same property where the famous Big Sur Bakery is found. Even if you want to venture further out, the best hikes, beaches, and parks in Big Sur are all a 10-minute drive away. 
5. This luxurious mansion overlooking the Pacific Ocean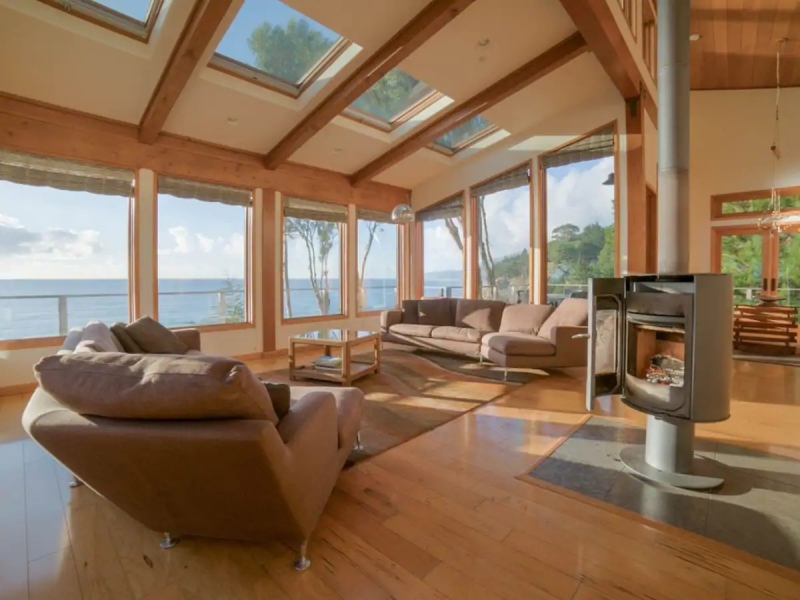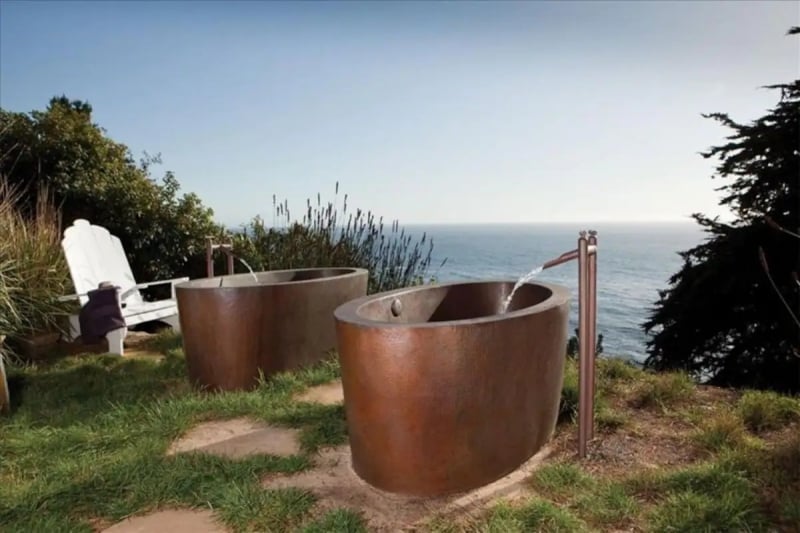 Listing name: Luxury Oceanfront Estate with Copper Tubs
Listing type: Entire home
Max. no. of guests: 12
No. of bedrooms: 4
Sun-drenched California road trips deserve the prettiest setting — and we can't think of a better base than this sprawling estate fronting the sea. This Big Sur Airbnb is almost too good to be true: It has outdoor copper tubs, a dry sauna, and an amphitheatre with a fire ring. And everywhere, awe-inspiring panoramas of the Pacific. As if that's not enough of an indulgence, groups can also book private massages and group yoga classes with the host. 
6. This charming Big Sur Airbnb for a unique farm experience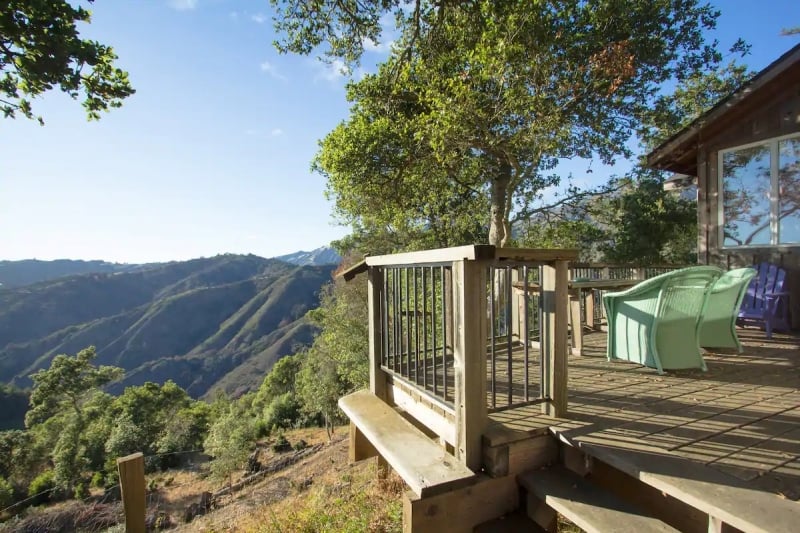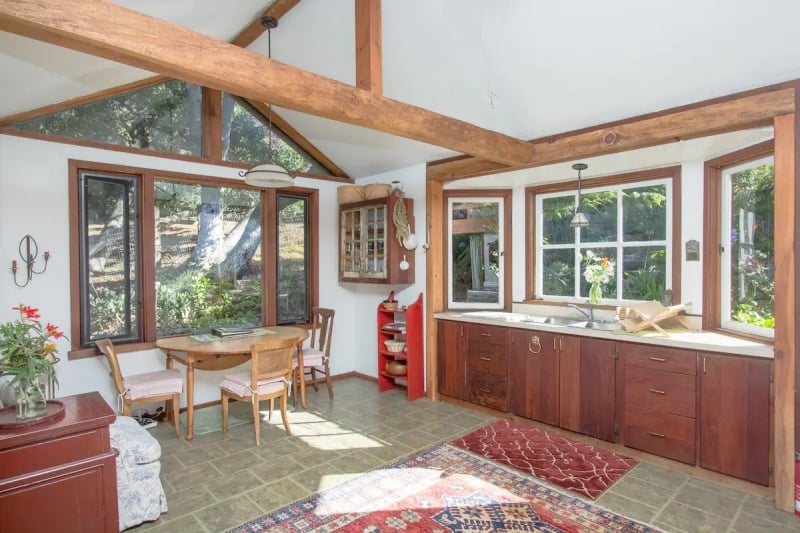 Listing name: Big Sur, Goat Farm, Ocean Views!
Listing type: Farm stay
Max. no. of guests: 4
No. of bedrooms: 2
Among the Airbnbs in Big Sur, this goat farm hideout promises the most unique experience in California. Live on a private working ranch alongside goats, horses, chickens, cows, and sheep, and immerse in the joys of farm life by helping out in day-to-day activities. If you're lucky, you can even sample some of the fresh farm produce like goat milk, goat cheese, and eggs from the chickens. 
Inside, the cabin is clean and comfortable, with a full kitchen, WiFi, and ocean-facing bedrooms. Although roads to this remote Airbnb can be quite rough, it's only a short drive to Big Sur Bakery, Pfeiffer Big Sur State Park, and the famous purple-sand Pfeiffer Beach. 
7. This off-grid gazebo amidst the redwoods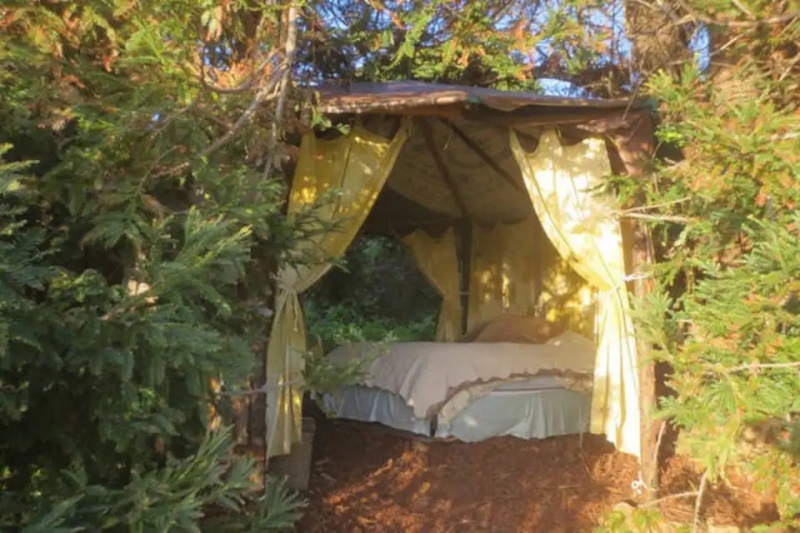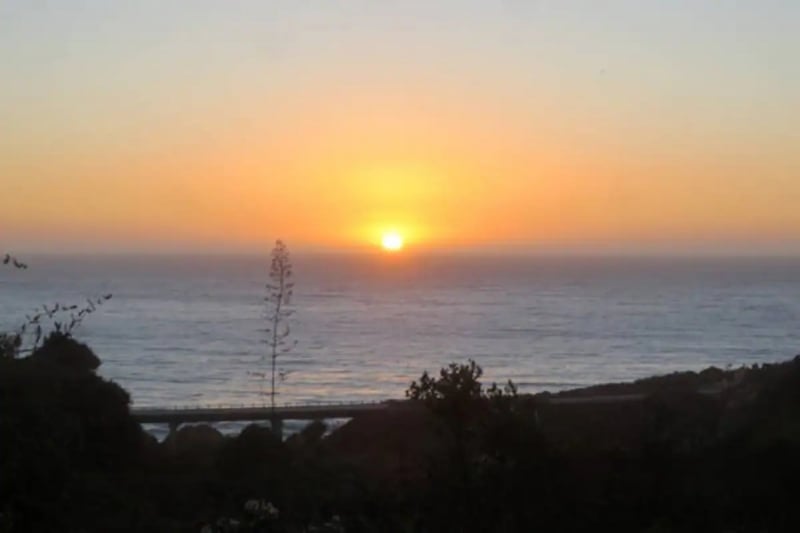 Listing name: Redwood Room Gazebo
Listing type: Place to stay
Max. no. of guests: 2
No. of bedrooms: 1
Don't mind going back to basics? If so, this off-grid hideout in Big Sur, California is the perfect Airbnb for you. A rustic gazebo housing a queen-size bed on a hill overlooking the ocean, this vacation rental is as simple as it gets. Although fresh water and a small communal kitchen are available, there's no WiFi, cell phone service, or electricity; you'll even have to bring your own pillows, blankets, and sleeping bags! 
But what this Airbnb lacks in amenities, it makes up for in natural charms: a pretty creek, the sound of the Pacific waves, a central fire pit, and beautiful beaches and hiking trails nearby. It may not be for everyone, but explorers in search of solitude will appreciate this hideaway's off-grid nature under the redwoods. 
Also read: 17 Gorgeous Airbnbs in San Francisco — From Luxury Homes to Budget Stays
Other Airbnb rentals near Big Sur
8. This charming cabin under giant trees in Carmel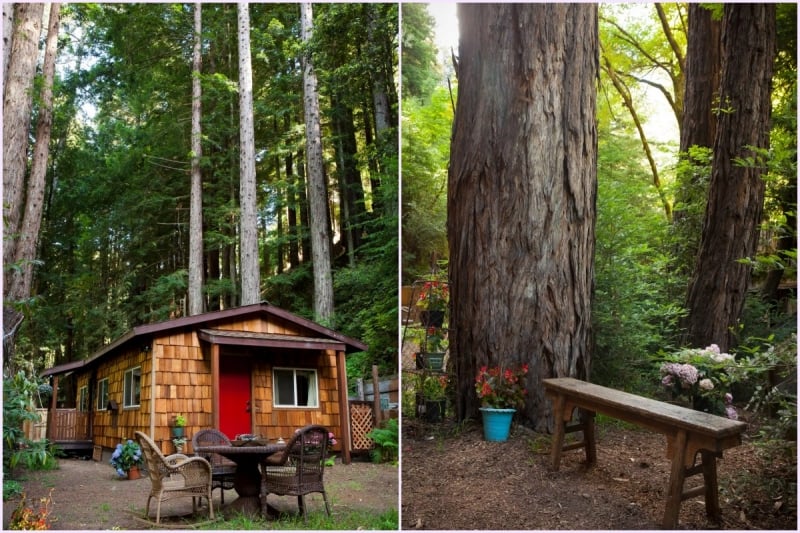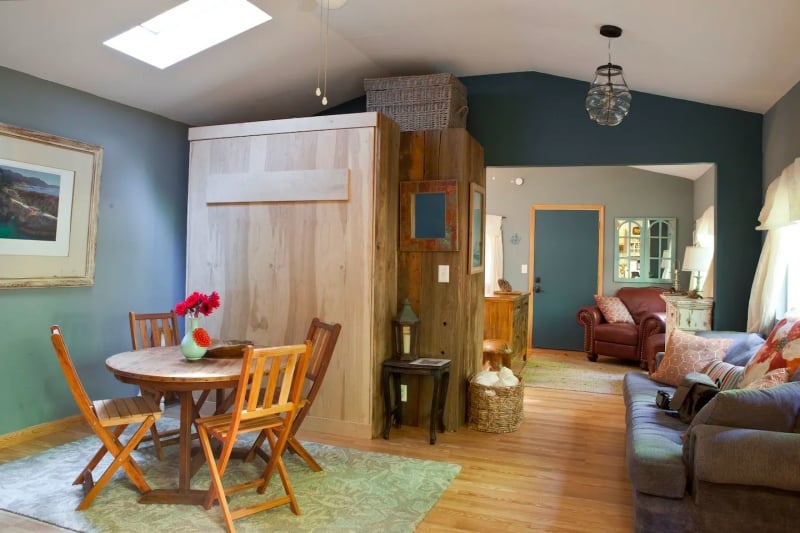 Listing name: Serene Redwood Haven in Big Sur
Listing type: Entire cabin
Max. no. of guests: 4
No. of bedrooms: 1
Nothing makes us feel as connected to the magnificence of nature than sleeping in a remote cabin under a canopy of ancient trees. If you book this rustic cottage in Carmel, you'll see what we mean: Nestled in an idyllic redwood canyon along the Big Sur coastline, this Airbnb lets travellers soak in the California woodscape to their heart's content. 
If you're planning to do a much-needed digital detox, the lack of TV and WiFi makes this home the perfect fit. Instead of surfing the net nonstop, sit back, meditate, and embrace slow living à la Henry David Thoreau. 
9. This blissful residence in the wine region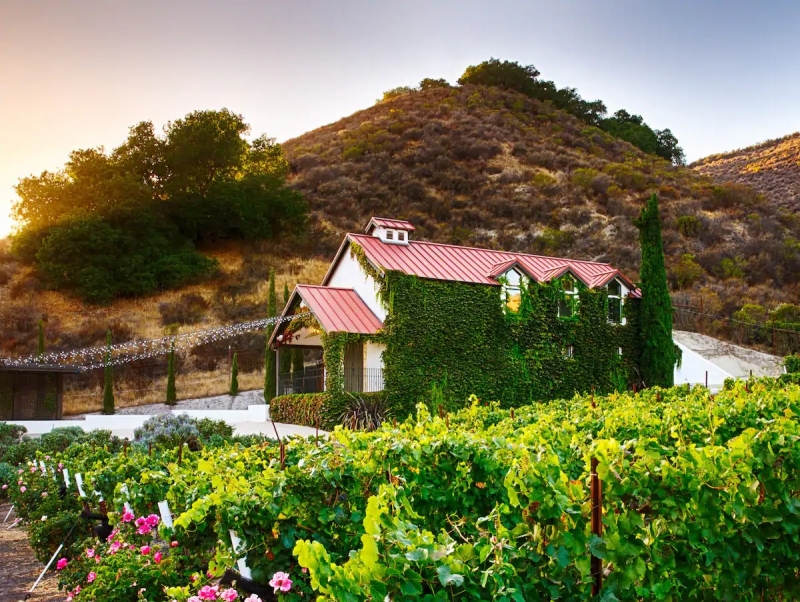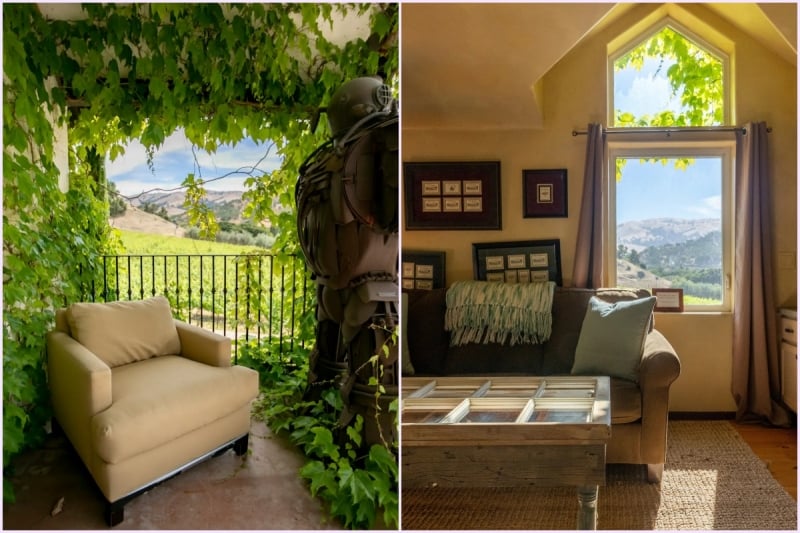 Listing name: The Vineyard House in the Pastures of Heaven
Listing type: Entire home
Max. no. of guests: 6
No. of bedrooms: 3
Tuscan vibes in Cali? Yes, please. The views are absolutely sublime at this enchanting house in Corral de Tierra. Nestled in a 10-acre boutique vineyard, the house is surrounded by verdant orchards, rolling hills, and majestic peaks — from the kitchen, you can even gaze at Mount Toro in the distance while cooking gourmet meals. 
But more than the blissful scenery, this picturesque Airbnb invites travellers to feel at home near Big Sur. Each room is bright, airy, and thoughtfully appointed with plush furnishings. Guests are even welcomed into the villa with a complimentary bottle of wine! 
Note: Bigger groups can also rent the more palatial Hacienda House on the same property.
10. This vintage cottage on a Paso Robles ranch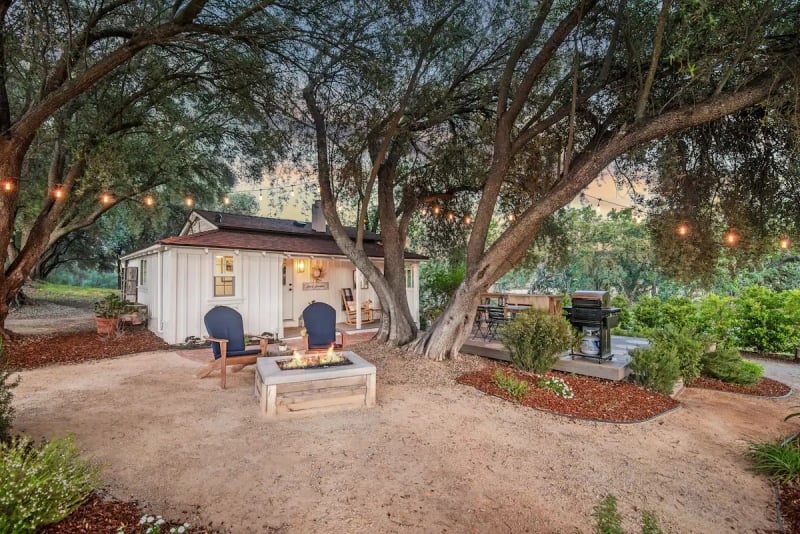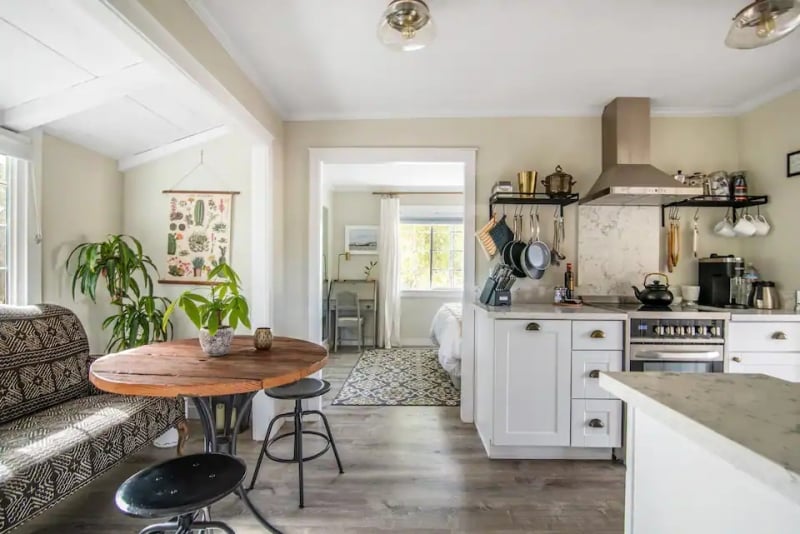 Listing name: Vintage Ranch Cottage, Paso Robles
Listing type: Entire cottage
Max. no. of guests: 2
No. of bedrooms: 1
If you're a fan of vino and nature, you'll love this charming little cottage snuggled in the heart of Paso Robles wine country. A lovely Airbnb near Big Sur, it's especially suited for couples on a romantic getaway. 
The property is only minutes away from the downtown area, the Adelaida wine trail, and Lake Nacimiento, so you won't be too remote. At the same time, you'll enjoy the run of the 66-acre Vintage Ranch without the crowds. Take in the picturesque grapevines and olive groves while sitting under an ancient oak tree — with a glass of wine, of course! 
11. This oceanfront Airbnb on the Big Sur coast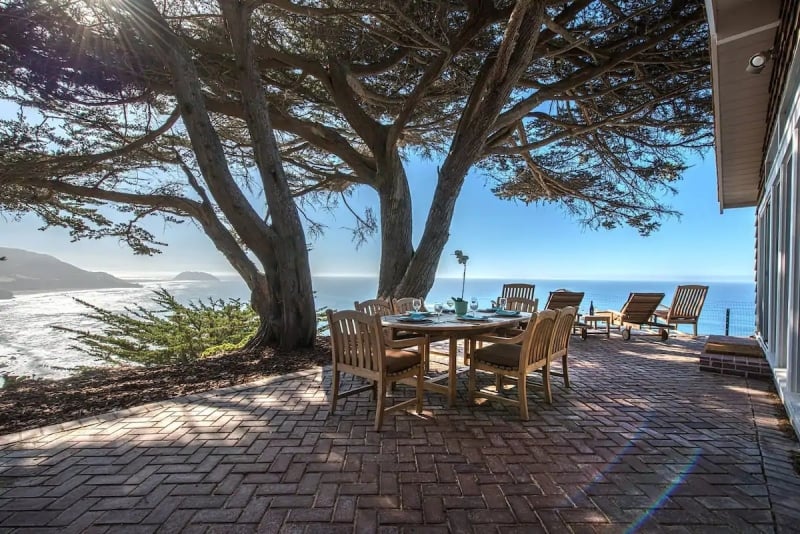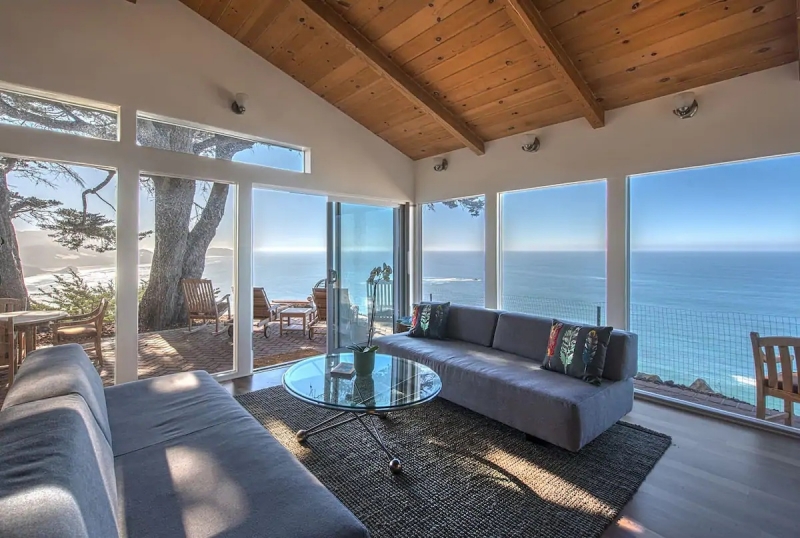 Listing name: Big Sur Coast ~ Stunning Ocean Views ~ Cliff House
Listing type: Entire home
Max. no. of guests: 6
No. of bedrooms: 4
After a long day of exploring the California coast, this clifftop residence in Monterey is the perfect place to unwind. High ceilings, huge windows, and beautifully crafted wooden furnishings — equipped with all the essentials, it's truly a beach getaway worth travelling for. But the real highlight? Undoubtedly the sweeping views of Point Sur and the Big Sur coast. 
And as if we can't love it even more, this is one of the handful of Airbnb listings in and near Big Sur that's dog-friendly! Pets are welcomed on a case-to-case basis, although fur parents should note that the yard doesn't have a secure fence.
12. This beautiful 1930s cabin tucked in a redwood grove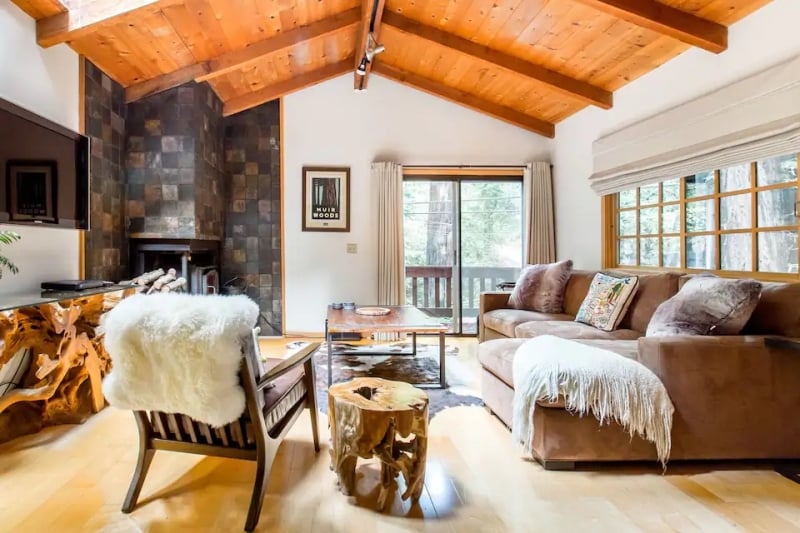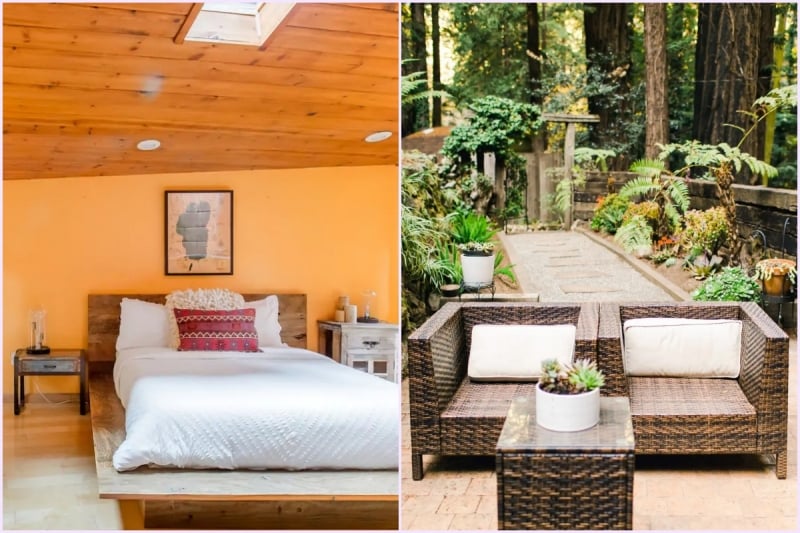 Listing name: Cabin Nestled in Forested Canyon
Listing type: Entire home
Max. no. of guests: 4
No. of bedrooms: 2
Just look at those lush nature views. Nestled amidst ancient redwood trees in Palo Colorado Canyon, this serene haven puts tree-huggers in the heart of California wilderness. Take it easy with your crew in this enchanting 1930s cabin that features carefully curated eclectic decor, a stone-tiled fireplace, and large windows looking out onto the redwood grove. Skylights keep the interiors sun-drenched and airy, but the patio might be a better spot if you want to lounge under the morning sun. 
13. This mid-century modern villa in San Simeon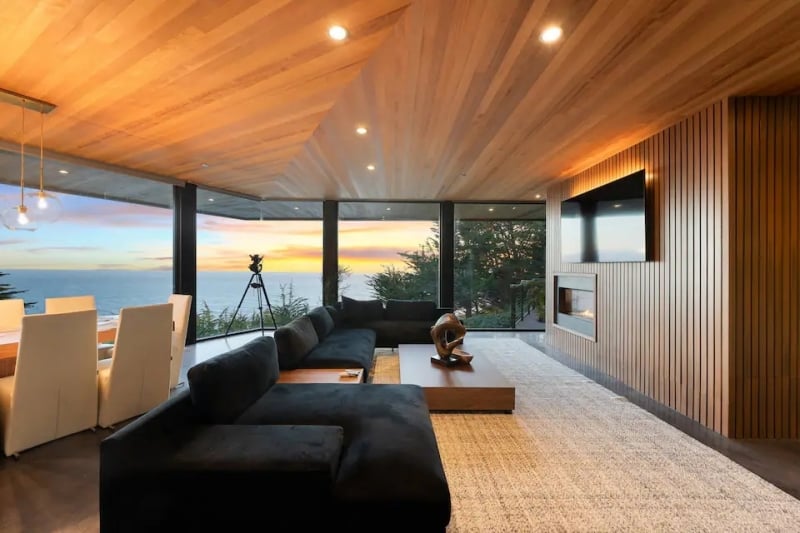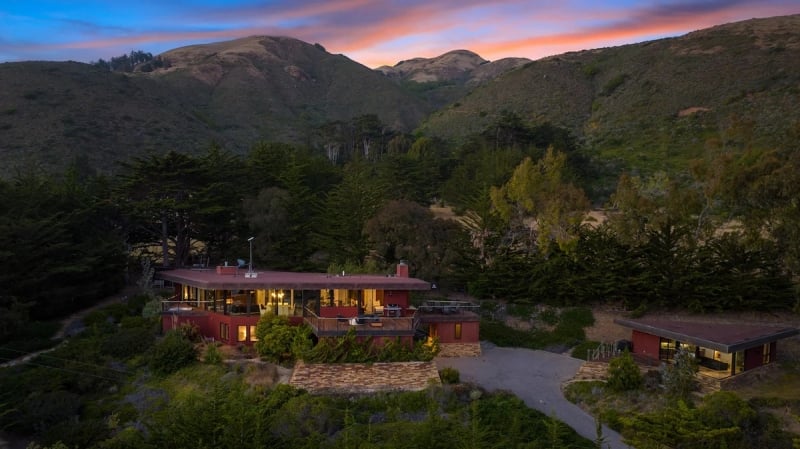 Listing name: Luxury Get-Away on the Big Sur Coast
Listing type: Entire villa
Max. no. of guests: 10
No. of bedrooms: 4
For five-star digs in Big Sur, take a look at this jaw-dropping architectural marvel in San Simeon. Perched atop a hill overlooking the Pacific, it's an extraordinary stay with dramatic views of the ocean and the Santa Lucia Mountains. Inside, this Airbnb near Big Sur is exquisitely appointed with mid-century furnishings and fine art pieces. 
The perks never end in this California beauty: a hot tub, a fire pit, a sauna, a gym, and the list goes on and on. Not to mention, spectacular ocean views from nearly every room. You'll never want to leave this house!
14. This secluded retreat in the treetops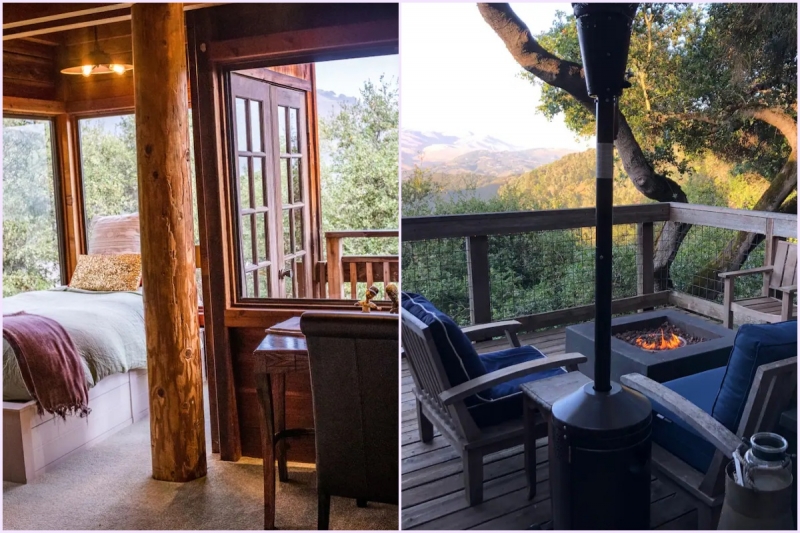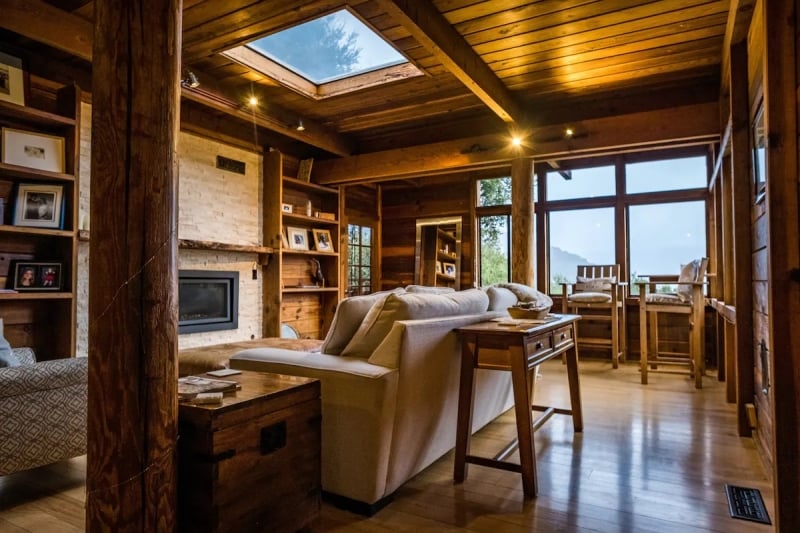 Listing name: Gorgeous Secluded Treehouse with Spectacular Views
Listing type: Entire home
Max. no. of guests: 7
No. of bedrooms: 4
When staying near the lush wilderness of Big Sur, a treehouse Airbnb just makes sense, right? Enter, this secluded treetop home tucked in a private property in Carmel Valley that's perfect for quiet contemplation. It's remote enough that your only neighbours will be local critters like turkeys, foxes, deer, and barn cats. So, if you're searching for a place where you can unplug, this is the place for you. 
There's plenty to do in and around the treehouse, too. Board games and books are provided, as well as a TV room for family movie nights and a remodelled deck ideal for alfresco wine nights. You could also trek the trail right outside the door and follow the path to a nearby waterfall! From this Airbnb, Big Sur is about an hour-long drive away.
Also read: 12 Dreamy Treehouses in Malaysia You Can Book on Airbnb
We can't help but fall a little bit in love with each of these Big Sur Airbnb listings — it's nearly impossible to pick just one! Which one caught your eye? 
Got a property you'd like TripZilla to feature? Inquire with us here.
---
This article contains affiliate links. When you book through these links, we may earn a small commission at no additional cost to you. All images courtesy of the respective property listings unless otherwise stated.