Of all the travels we've done so far, one of the most memorable ones would be our October 2012 trip to Kurseong, a hill station in the Darjeeling district in West Bengal.
Getting to Kurseong and where to stay
To get to Kurseong, we flew from Mumbai to Delhi, and onward to Bagdogra airport. From there, a jeep from the lodge picked us up for a 2 hours ride to Cochrane Place. Prior to arriving at Cochrane, I had assumed we were staying in Darjeeling itself. It was only after we arrived did I realise that while Kurseong is surrounded by lush tea gardens producing some of the best teas, it is actually 32km away from Darjeeling!
That really wasn't an issue though. Darjeeling is conveniently reachable by a car ride away. Importantly, Kurseong, at 4,500 feet above sea level, is a really charming, laid-back and idyllic place. Where we stayed – Cochrane Place, is a 32 room lodge originally meant to be the retirement spot of a dear old couple from Kolkata but turned into a hotel by their son. It also serves fantastic teas, pakoras and momos (tibetan dumplings). Nomnom!
Also read: 7 Days in Ladakh, Jammu & Kashmir, India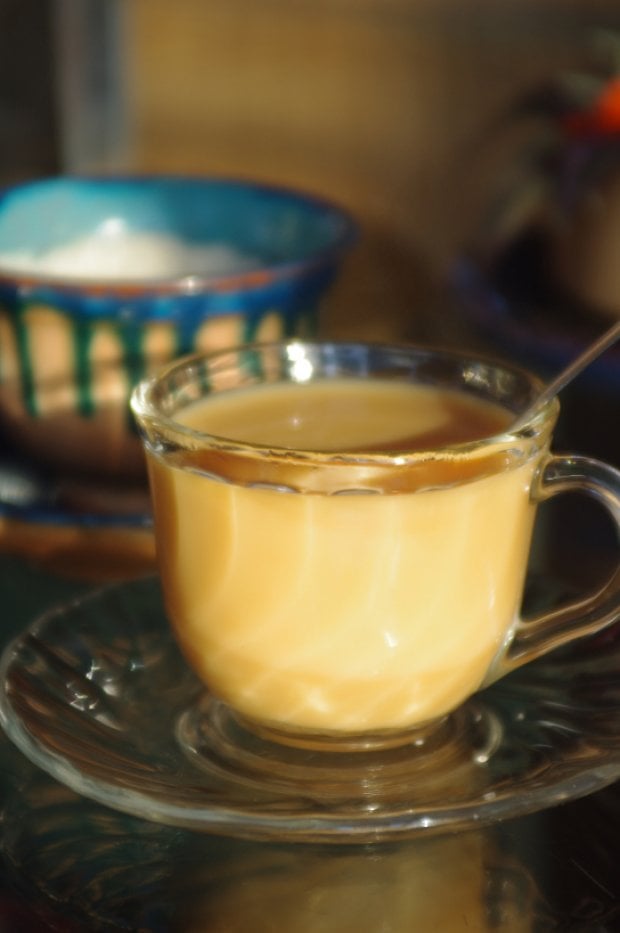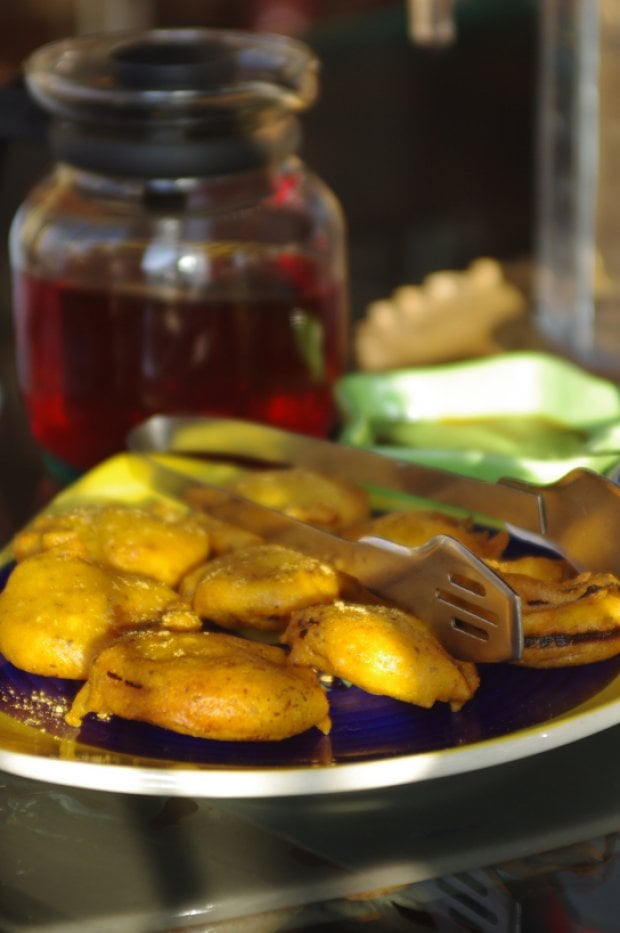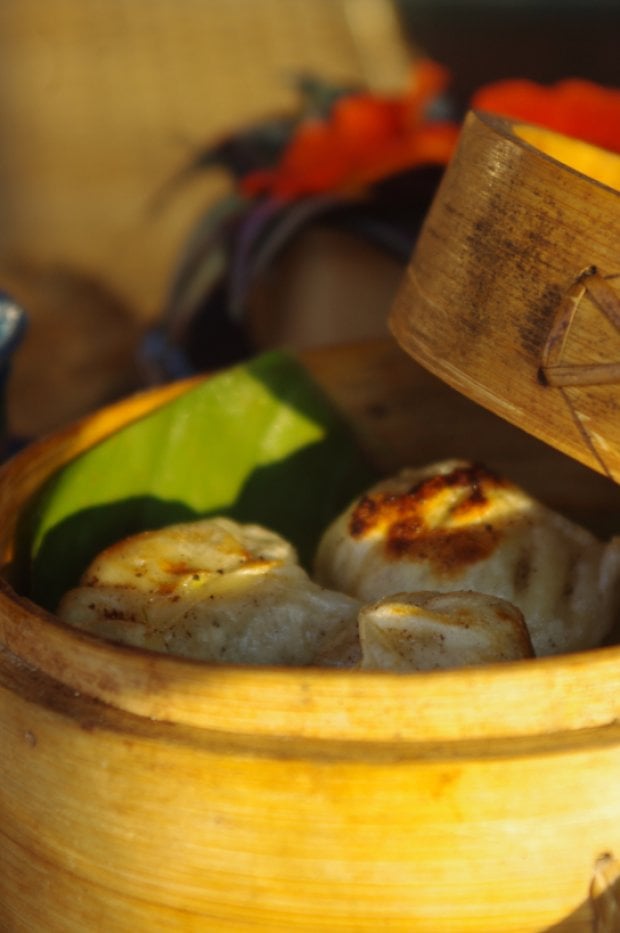 Getting the best views of Mount Everest from Tiger Hill
One of the must-sees, we were told, is to visit Tiger Hill. It is famous for the panoramic views it offers of Mount Everest along with Kangchenjunga (third highest peak in the world). To get there, we left Cochrane at 2am (yes, 2am) and was the first car to arrive (at 3:30am). Whilst it was freezing cold and dark, we were treated to a spectacular view of the star-studded night sky. At that moment, it was just us, the stars and the dark, windy silence. It was magical.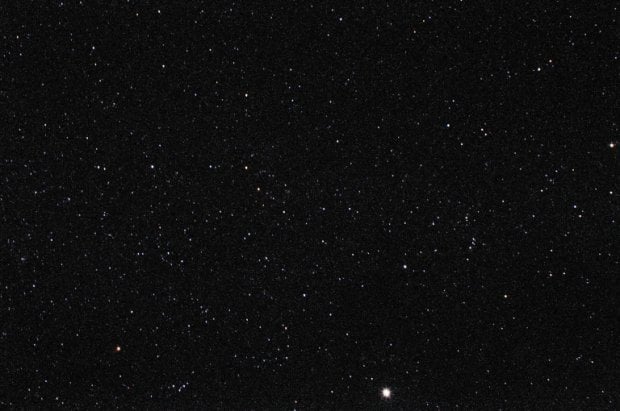 Moments later, cars started arriving and before you know it, the entire carpark at the Tiger Hill observation deck was packed and you could see rows of headlights forming a queue up the mountain top.
Perhaps it was a Saturday morning; perhaps it was an Indian holiday. The observation deck and the carpark were PACKED. I shall not go into details about our unpleasant experience "fighting" for space with the locals; but let's just say that some of them can be very pushy (in every sense of the word) and shouty. It was a long and awkward wait, but when the first rays of sun hit the Himalayan peaks and painted them pink, we forgot all angst and indulged in the beautiful painting unfolding in front of us.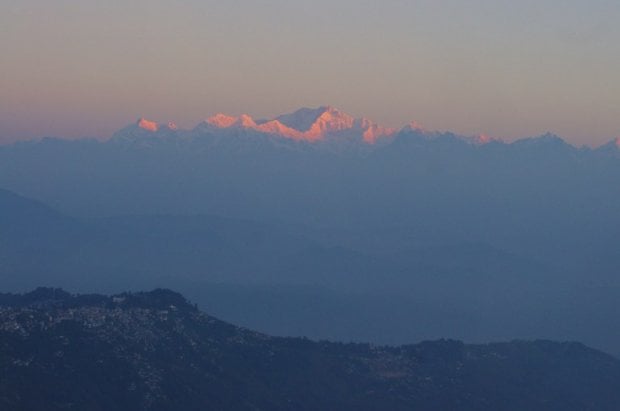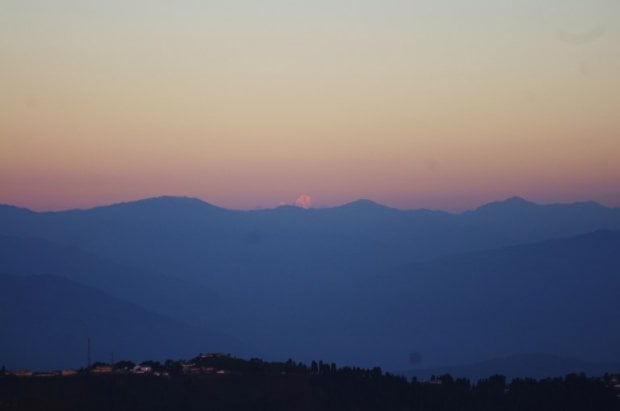 This peak, my friends, is supposed to be Mt Everest
Later, we were told that we had been very lucky to be able to see the peaks so clearly. Apparently, some people have been there twice or thrice but due to cloudy weather, had not been able to view the spectacular sunrise. So, if you are going, I wish you good luck! =)
After our Tiger Hill expedition, we decided to actually go to Darjeeling. Once there, we realised that staying at Kurseong was unexpectedly a very, very wise choice. Darjeeling, to us, was a grimy, tired, crowded and touristy place, nowhere close to the quaint and idyllic place I had in mind. It did, however, offer a magnificent view of Kangchenjunga.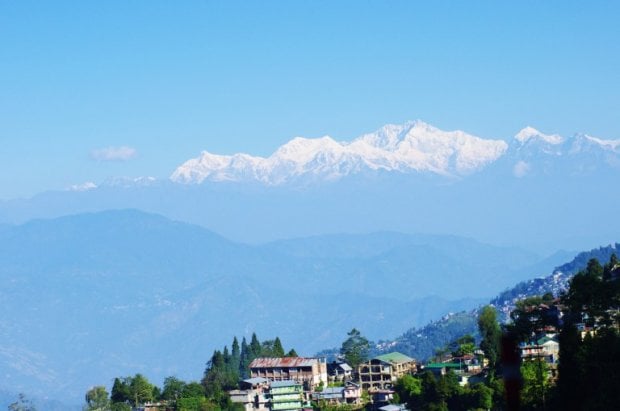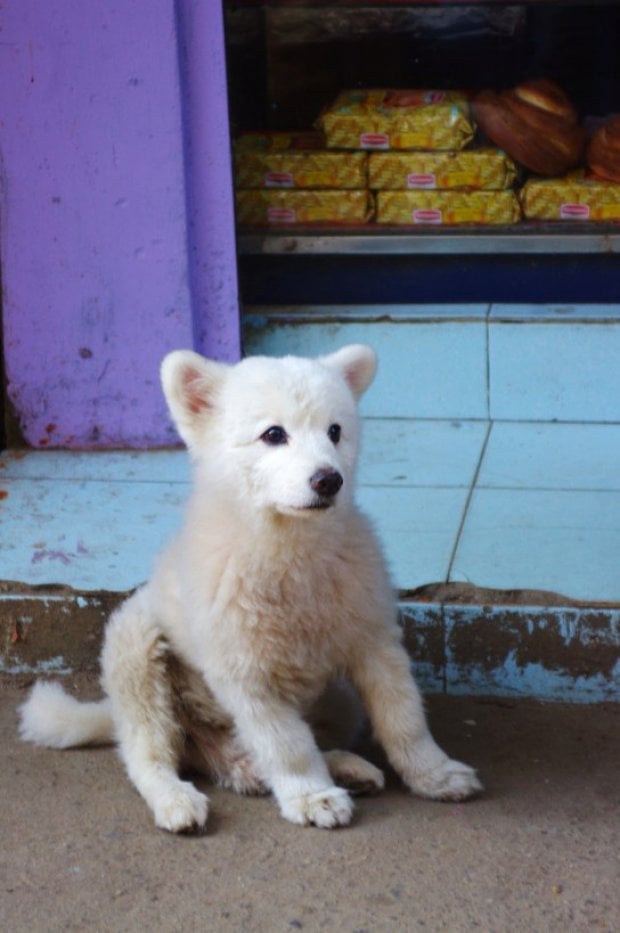 The most charming being in Darjeeling 🙂
Needless to say, we did not spend too much time in Darjeeling and was really happy when we returned back to Kurseong. For the rest of our time there, we took walks around the tea plantations & villages that dot the area, relaxed in our room or the restaurant which overlooks a village and the hills and of course, drank plenty of Darjeeling tea. 😉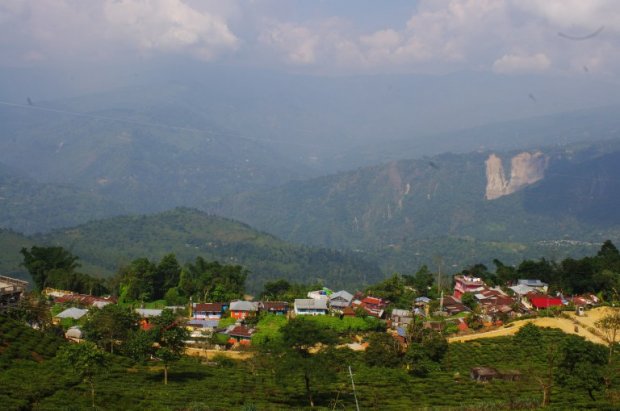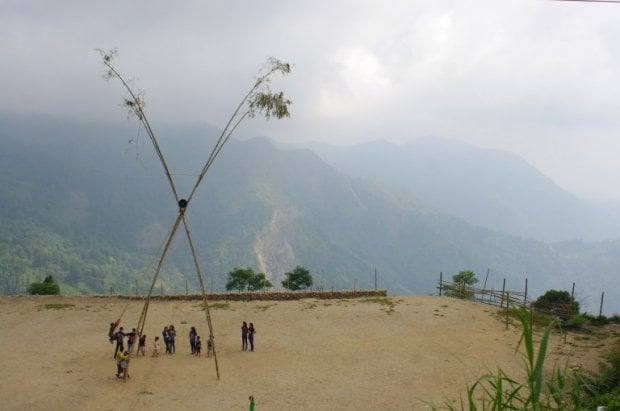 A giant swing that also acts as a public announcement speaker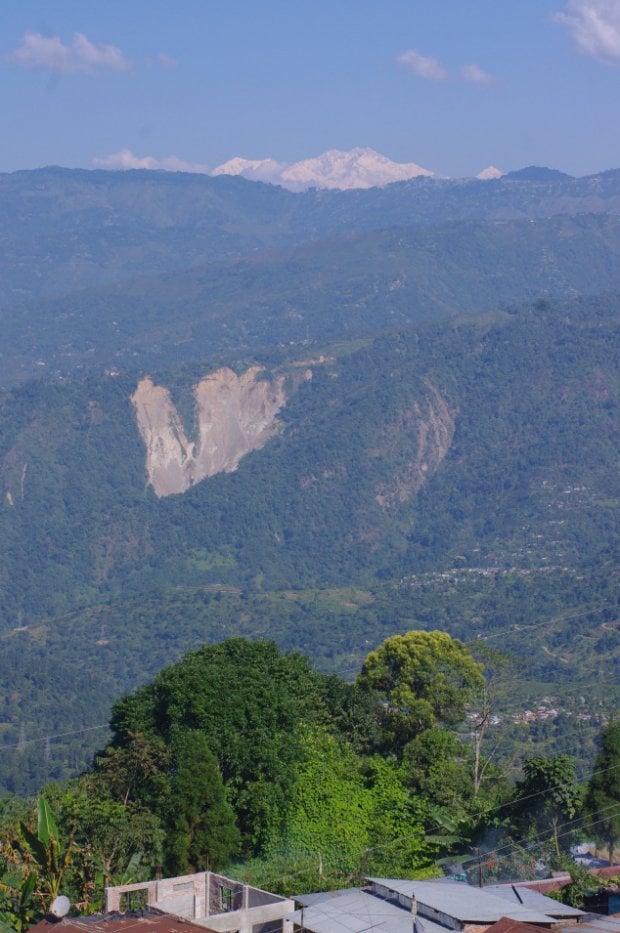 On a good day, you can also see the mountain peaks from Cochrane
To people who wish to visit Darjeeling, my strong recommendation is to stay in Kurseong and use that as a base to explore the tea plantations (check out Makaibari Tea Estates), Tiger Hill and Darjeeling; and also ride the toy train (which, unfortunately, was on strike when we visited). Your lungs will thank you, as will your heart, mind and belly.
Also read: 10 Interesting Sightings in India
Contributed by Bellyful of Love.