Just one and a half hours away from Singapore, at the southern end of Thailand on the Andaman sea, lies the coastal province of Krabi. A tropical paradise, Krabi boasts spectacular natural scenery, notably limestone cliffs that juts majestically out of emerald green waters as well as outstanding white sand beaches.
My first trip to Krabi has left a deep imprint on my memory. I find my thoughts wandering, reliving the moments where I sat on a speedboat with glorious wind in my hair and endless blue sea in front of me. It sure won't be long before I cruise through the skies aboard an AirAsia flight again, en route to Krabi. I finally understand why travellers keep going back to Krabi again and again and again, and again.
Also Read: 22 Krabi Travel Tips For The Ideal Beach Getaway
#1 154 Islands – take your pick!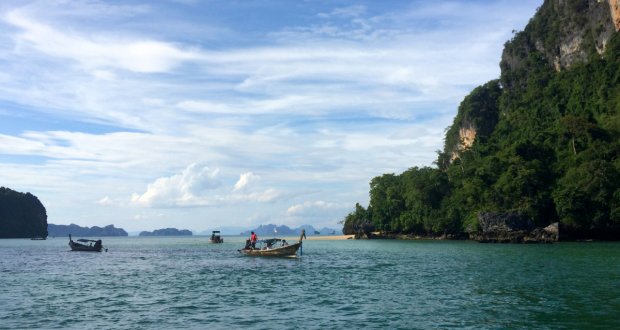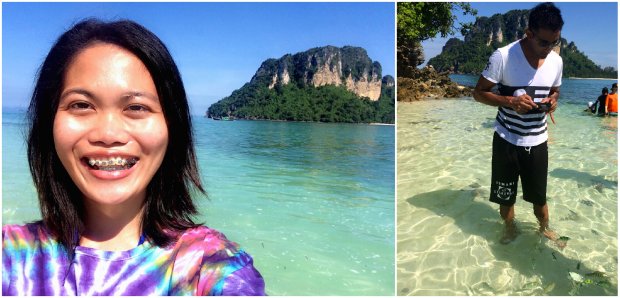 Krabi is widely known as a haven for island-hopping, with numerous gorgeous islands just off the coast. Travellers can opt to traverse the sea on the traditional long-tail boats, speed boats or cruises to visit these islands.
My entourage kicked off our island hopping adventure with Tup Island. I inhaled sharply as we approached the shore—it was Krabi as beautiful as I'd always imagined it to be, with lime green water fading out to ultramarine blue. It took just a few minutes to circle Tup Island on foot, after which I waded along a strip of elevated sand to the neighbouring Chicken Island. Along the way, I was fascinated by the school of the yellow-striped sergeant major fishes swimming around my legs.
I remember diving straight into the inviting clear waters in Poda Island, failing at my attempt to swim to the iconic outcrop that is further from the shore than I had gauged. Our boat manoeuvered into an opening to enter the secret lagoon in Hong Island, and for a few minutes the world just disappeared—I was surrounded by towering cliffs and the stillness of the lagoon engulfed me.
#2 Famed white sandy beaches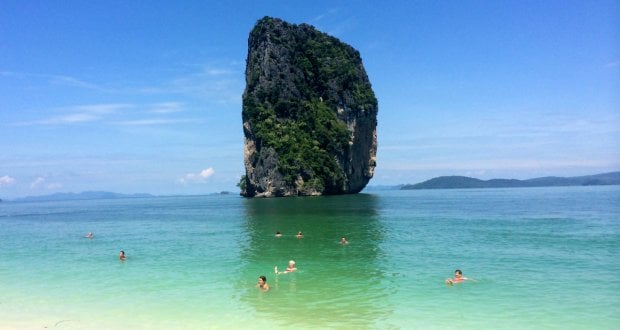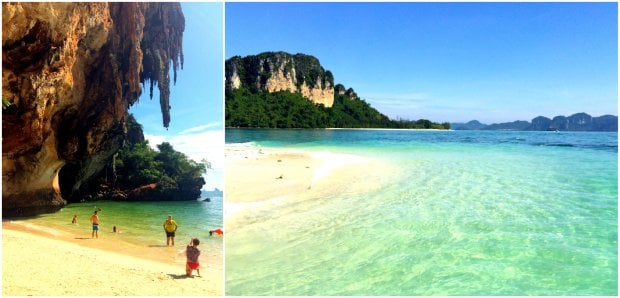 The abundance of accessible islands featuring breathtaking coastlines translate into plenty of splendid beaches to enjoy. On the more crowded beaches, long-tail boats line the sandy shore, their colourful ribbons fluttering in the wind. There are also opportunities to find quiet—even deserted—beaches if you visit those that are not frequented by tour boats, or if you arrive at the right time when the throngs of tourists have left for the day. Your best bet for a deserted beach is to hire a private boat and head down to these beaches early in the morning or late in the afternoon.
#3 Well-preserved and diverse natural environment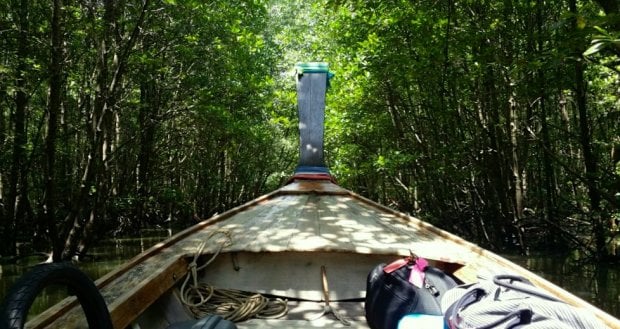 Other than the beaches and islands that visitors passionately rave about, Krabi is also home to tranquil mangrove forests, limestone canyons and caves perfect to coast through on a kayak. Tucked deep in the tropical rainforests, one can also find thermal springs and waterfalls
#4 Sunsets: Krabi does it better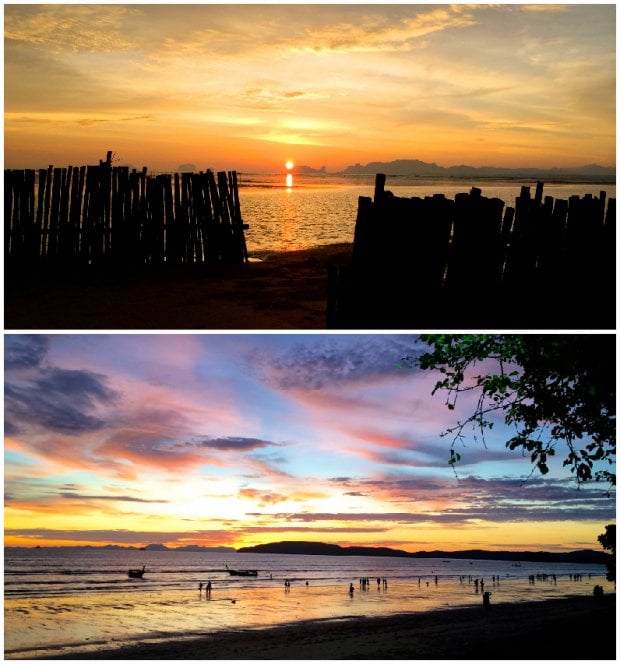 The highlight of my first night in Krabi was the stunning sunset from the beach in Koh Klang, the island nearest to Krabi's mainland. The sky was coloured in a brilliant clash of orange and blue, a masterpiece that's one of a kind. Standing in awe and marvelling at the sky, I managed to catch sight of another sunset from Ao Nang beach too. It is suffice to say that the exceptionally impressive sunsets in Krabi are enough to justify my endless wish to wake up on this paradise.
#5 A playground for adventure sports
Amidst Krabi's beautiful landscapes, travellers can partake in adventure sports such as diving, mountain biking and white-water rafting. Railay Beach is a hotspot for rock-climbers from all over the world and it is also where I had my first taste of rock-climbing. The climbing spot was right by the sea, and after an exhilarating few minutes scaling up the craggy cliffs, I staggered hot and sweaty away into the water for a refreshing swim.
#6 Utopian retreat for pampering
After a day of fun under the sun, a great way to wind-down is to step into one of the many massage parlours in Krabi. Walking along Ao Nang's beachfront road, I was greeted by various shops offering an hour's worth of Thai massage for 200 Baht (SGD 8). I wanted to spend the whole day having back-to-back massages but alas, I only had time for one session.
No other word is more apt to describe my Thai massage experience than this one: "Shiok!" Lying face-down, I zoned out into a blissful semiconscious state. The smell of Tiger Balm (a medicated ointment) wafted past my nose as a Thai lady skillfully eased away the tensions in my body. Afterwards, with tears of gratefulness in my eyes, I tipped her generously.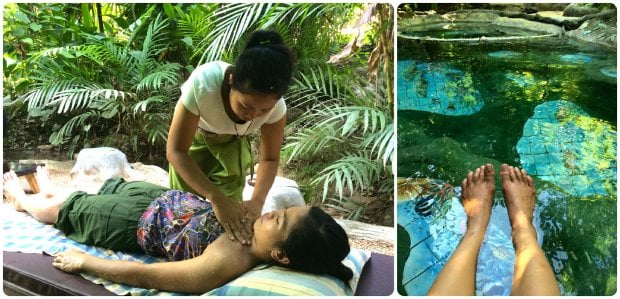 There is also an abundance of more upscale beauty establishments to get your dose of pampering, and I was fortunate enough to enjoy a session of the award-winning hydrotherapy in Wareerak Hot Spring Retreat in Khlong Thom. Soaking in the geothermal pools filled with mineral-laden water in the thick of the lush jungle was a unique spa experience. I now appreciate the magic that is hydrotherapy.
#7 Brings out the bargain aunty in me
Shopping in Krabi is an exciting affair, especially in local markets and roadside stalls where you can play the bargaining game with local vendors. If you happen to be in Krabi during the weekend, wandering around Krabi Town Walking Street at night is a must. Bustling with life and colour, the time I spent in the walking street was a feast for the senses. A cluster of stalls served a wide variety of street delicacies waiting to delight the palate, and others had handicrafts, clothes and souvenirs splayed out on tables. In the middle of the vibrant street, a group of young performers sat on a rattan mat playing traditional music instruments.
Close to the beach, at the southern corner of Ao Nang (also the aforementioned site with many massage parlours) is the tourist centre that is lined with rows after rows of shops. They sell everything you could possibly need for the beach: swimwear, swim gears, dry bags, and many more. After a while, the shops might start looking a tad similar, but it probably wouldn't stop you from walking into each and every one of them.
#8  Delectable, mouth-watering food
My time in Krabi was a delightful gastronomic journey thanks to Thai cuisine which my Singaporean taste buds absolutely loved. I had plenty of fresh seafood, including mud crabs, chewy clams and also Krabi's characteristic Hoi Chak Teen or "feet-pulling shells" which, as you may have deduced, is known to Singaporeans as "gong gong".

A must-try dish served at roadside stalls is the Thai pancakes or roti pancakes (above, left) that is fried in margarine and coated with condensed milk and sugar. Each bite will feel so sinful yet you might find yourself making an excuse to order another plate. Just as sweet is the Thai iced tea, a popular beverage which goes well with just about everything.
A recommendation I have for those who arrive early in the morning at Krabi Airport is to head for breakfast at Ko Joi, a local coffeehouse in Nua Klong District about 3km from the airport. They are open only in the mornings, and serve a type of rice noodle called "kanom jeen" (above, right) which is eaten with fried chicken and a side of greens and pickles. It tasted a little like Singapore's laksa, with less coconut and more curry—yums!
#9 I can finally use phrases like "Sawadee Ka" and "Kob Khun Ka"
Roaming around Krabi in search of food and adventure gave me plenty of chances to interact with locals as well as to experience Thai hospitality first-hand. Krabi is a welcoming, laid back town with friendly people. I felt their genuine warmth as we greeted each other with the usual Sawadee ka/krap and often found myself lapsing into jokes and conversations with the locals.
#10 A heartwarming harmony in diversity
One thing that pleasantly surprised me about Krabi and its people is the diversity. The demographics in Krabi is made up of a pluralistic mix of Buddhists, Muslims, Chinese-Thais and Sea Gypsies; a multicultural society that is reminiscent of life back in Singapore.
This diversity is not limited to race and religion—the morning when I was having my breakfast at Ko Joi coffeehouse, a group of children clad in school uniforms walked in, and to my surprise, some of the skirt-wearing ones clearly had male features. Having a Sociology background and a deep interest in gender studies, my curiosity was certainly piqued by that encounter. Evidently, diversity in Krabi society extends to gender identities as well, even for children.
Also Read: Krabi Guide – The Best Of Krabi At A Budget
#11 I love it all!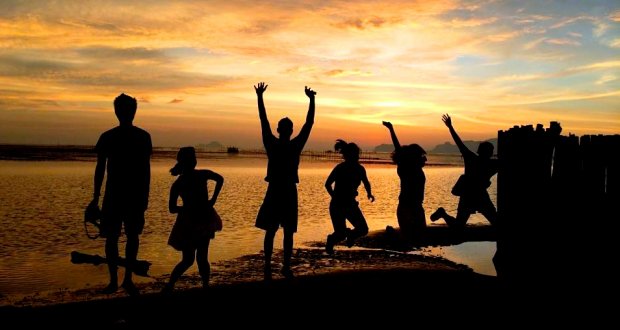 Putting everything together, from #1 to #10, from terrific adventures out in the nature to cultural treats in the laid back town, and the quirks and idiosyncrasies of Krabi that go along with it—I'M SOLD. I hope you are too, so…
It's time to get yourself to Krabi!
The only thing standing between you and Krabi is a plane ticket (and all excuses which I render invalid). AirAsia, the world's best low-cost airline, offers daily direct flights to Krabi at low fares. My prime airline choice for its great value-for-money offers, impeccable service, a mobile check-in system that ensures breezy clearance at the counters, and most importantly, airplane seats that are super comfy!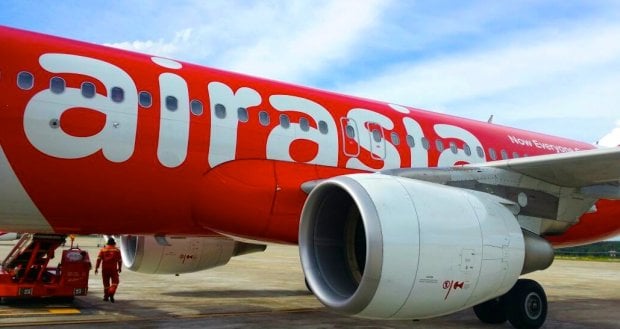 I extend my deepest thanks to AirAsia and Tourism Authority of Thailand (Singapore Office) for giving me the opportunity to discover and experience the paradise of Krabi.