With the curfew in Thailand being lifted, nightlife in Thailand is back to its glorious fun. Travellers, backpackers and tourists can now enjoy the glamorous nightlife that keeps getting city lovers back Thailand's interesting nightlife like how it used to be. Here are the top 8 things you can do at night:
1. Lounge back and gaze at the city lights atop Thailand's rooftop bars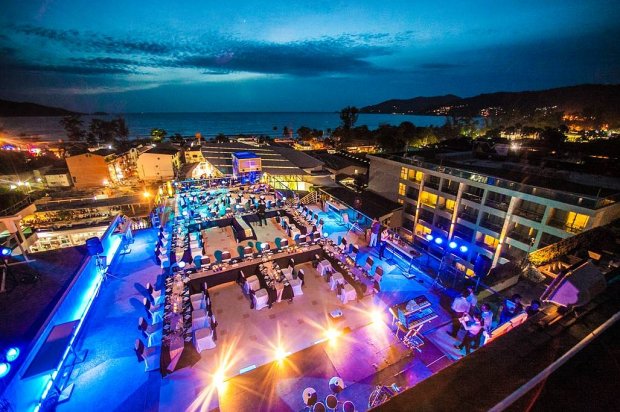 KEE Sky Lounge, Phuket's most unique rooftop venue
Image credits: http://bit.ly/1wqZudE
Vertigo and Moon Bar at Banyan Tree Hotel offers premium drinks served in great comfort and romantic ambience above Bangkok's bustling city life. For a luxurious and excellent dining experience complemented with good music, head over to the Horizon Restaurant & Bar at Hilton Pattaya Hotel.
If you're heading to Phuket, you may want to head to the KEE Sky Lounge, as the unique rooftop bar gives you a splendid view overlooking the Patong Beach. On top of that, the KEE Sky Lounge also offers creative drinks and sumptuous food to its guests.
 Also read: Where to Get the Best Panaromic Shots in Bangkok
 2. Be entertained by the glitz and glam of the ladyboy shows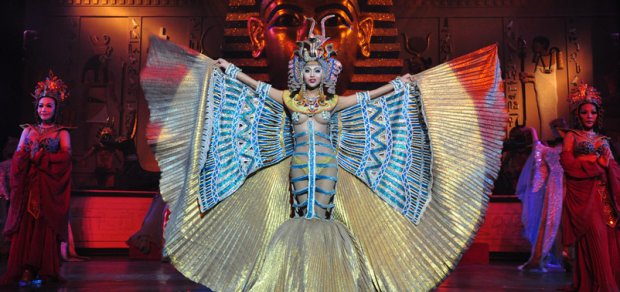 Ladyboy in Full Costume at the Simon Cabaret
Image credits: http://bit.ly/Tr4GzG
If you're in Bangkok, never miss the Calypso Cabaret Show in Asiatique. Get ready to fill your night with laughter, dazzling lights and glamourous ladyboys in shimmering costumes. You may also head to the Simon Cabaret in Phuket as it is famed as one of Southeast Asia's outstanding entertainment shows. For a world class performance, Pattaya's Tiffany Cabaret Show stands out as the world's most famous transvestite cabaret shows with thousands of people enjoying the spectacular performances every night.
3. Party like there's no tomorrow at the electrifying night clubs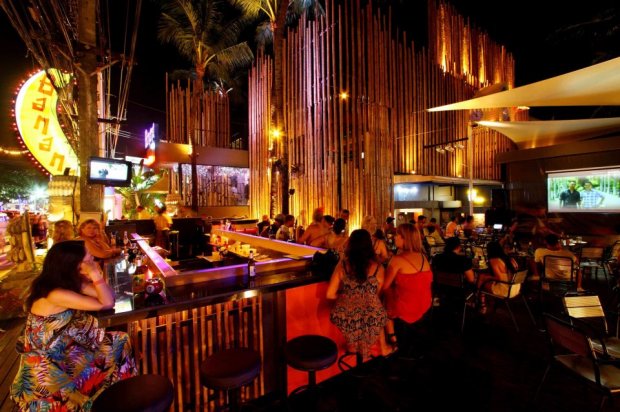 Chilling out at Banana Disco & Bar
Image credits: http://on.fb.me/1q4TXsR
Stay up late and get ready to groove at Ku De Ta Club Lounge in Bangkok. Its central cocktail bar and glamorous nightclub give you the reason to stay until the wee hours. If you're near Patong beach, chill out at Banana Disco & Bar, the longest running and one of the most popular discos in Patong Beach which has an outdoor bar area directly in front of the air-conditioned disco. Chiang Mai also has a good place to show your dance moves. Space Bubble, Porn Ping Tower lets you dance to the loud techno beats played by the in-house dj's.
4. Put your social skills to the test at the amusing gay bars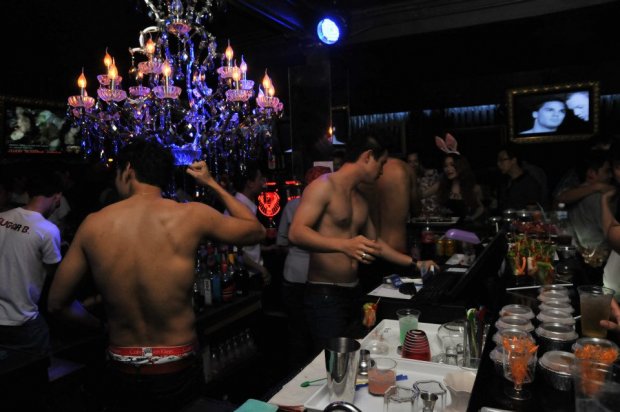 Topless guys preparing drinks at DJ Station
Image credits: http://bit.ly/1qH1Sg7
If you want to visit the most legendary gay dance club in Bangkok, go to DJ Station where a diverse crowd of guppies, money boys and foreigners all mingle together. If you don't want to pay an entrance free, Kiss Club in Phuket is good for you. Don't get intimidated if you're straight, you're most welcome there! You may also giggle your way to Boyz Boyz Boyz, a famous gay go-go and cabaret bar offering nightly shows at the center of Pattaya's nightlife scene.
5. Head to the internationally known red light districts of Thailand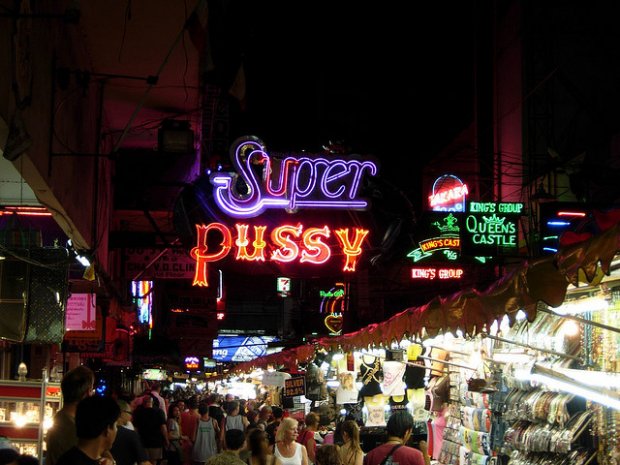 Image credits: http://bit.ly/VcCh1J
Speak of the most famous red light district in Bangkok and you'll be directed to Patpong, the heart of Bangkok's sex industry. The beach scene in Phuket is tainted with sleazy activities too. Stay in Patong and you'll know when you're there. If you're in Pattaya, head to the Walking Street where you can find the densest concentration of bars, discos and nightlife. If you want to experience some more gay action in Pattaya, Boyztown is the place to be, where pubs, restaurants, cabaret shows and go-go bars are widespread.
6. Go for after-dark shopping sprees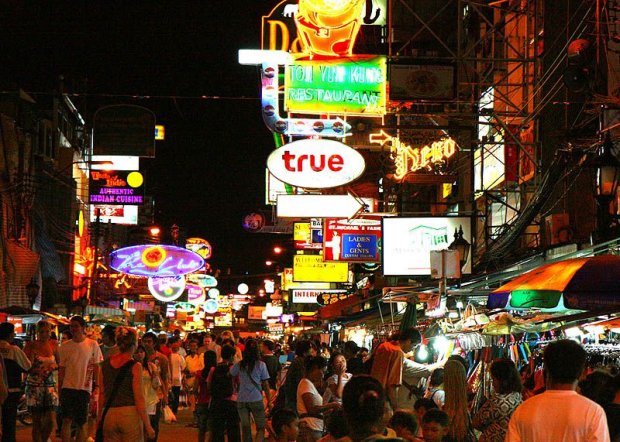 People drool over cheap goods at Khao San Road
Image credits: http://bit.ly/1q4OlyX
A place that never sleeps, Khao San Road Night Market in Bangkok offers a wide array of unique goods from food to souvenirs, clothing, books and other items. It is the place to find cheap local street food, ticketing offices, shops and more.
Other tourist-infested night markets in the middle of the Bangkok's lively night scene are Patpong Night Market, which also offers a wide range of products for tourists, and Asiatique, which lets you enjoy the convenience of a night bazaar and a shopping mall. Always remember to bargain hard so you won't be ripped off.
When heading to Chiang Mai, don't miss one of their biggest tourist attractions, the Chiang Mai Night Bazaar, which sells products from Northern Thailand and other countries, especially those associated with Thailand's hill tribes.
7. Witness the infamous ping-pong shows in Thailand's Go-Go bars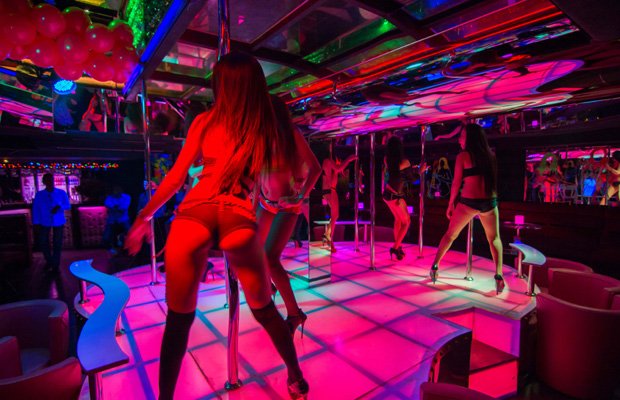 Seductive dancers performing at Bada Bing A Go Go
Image credits: http://bit.ly/1pf90R6
Bada Bing A Go Go is one of the best Go-Go bars in Bangkok located on Patpong Soi 2. Over 25 hot girls dance provocatively on stage every night. In Phuket, Devil's Playground A Go Go located in Soi Seadragon, Patong is known for its cave-like entrance guarded by some hot devilish girls. Pattaya also has its fair share of Go-Go bars. What's Up Go-Go Club is one of the top Go-Go bars found off the walking street in Soi 15, recognized for its brilliant stage set-up and lovely dancing girls.
8. If you hate the loud music and rowdy crowd, these popular classy jazz bars may please you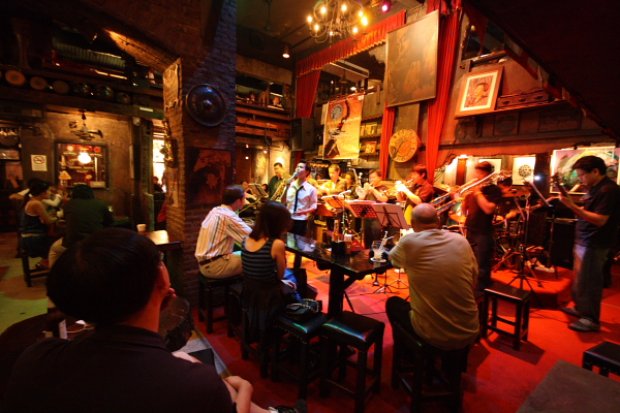 People enjoying the relaxing music and cool ambience of Saxophone Pub
Image credits: http://bit.ly/1q4YYl8
To avoid Bangkok's busy and crowded nightlife scene, you may opt to stay at Saxophone Pub, located at Victory Monument. It offers good music, food and service with a different jazz band playing a combination of jazz, blues and old classics. Another option for you is the Brown Sugar: The JazzBoutique situated in Phrasumen Road. It is a restaurant and coffee house during the day but transforms into a jazz pub at night that features live music performances and other artistic events. Jazz Happens is another famous jazz bar on Phra Atit Road set up by a group of lecturers from the nearby Silapakorn University to provide their students a place to play and listen to quality jazz music.
Planning to have a getaway in Thailand soon? Check out TripZilla Travel Packages to Thailand!