Ever wondered what's there to eat in Scandinavia? The countries of Denmark, Finland, Norway, and Sweden may seem to be all ice and grim-looking Viking people, but in actual fact hide a plethora of sumptuous food! From soups to pastries, here's what's mouthwatering in the Arctic Circle.
The Savoury:
1. Salmon soup
It's always cold in Scandinavia. Just think about it: snowstorms, hail, rain and sub-zero temperatures. The weather is supposed to be warmer in May as the Arctic Circle starts to have midnight sun, but the true blue Singaporean in me was still freezing. So it should come as no surprise that my favourite dish throughout Scandinavia is piping hot salmon soup! Consequently, I was on a hunt for the best salmon soup throughout the Nordic lands.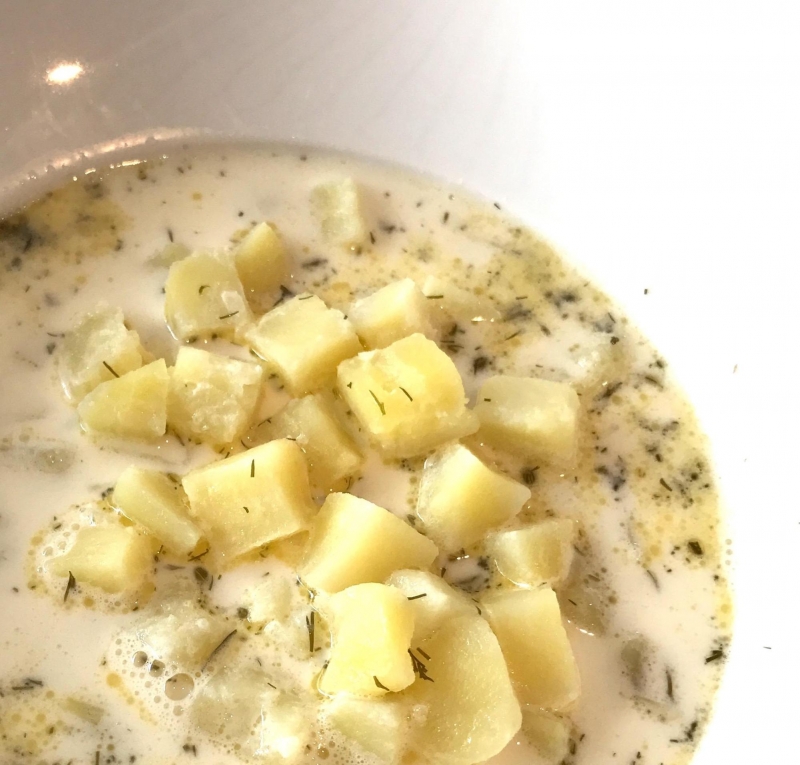 With my first spoon, I was surprised at the enormous chunks of salmon. While cooked with cream, the soup is not your typical American-style creamy mushroom soup. The soup somehow stays watery enough to tease you with glimpses of what's to come underneath. With every spoon, you will get chunks of salmon, onions, herbs and…extremely generous amount of potatoes cubes. If the soup is intended as a meal, you will definitely be full!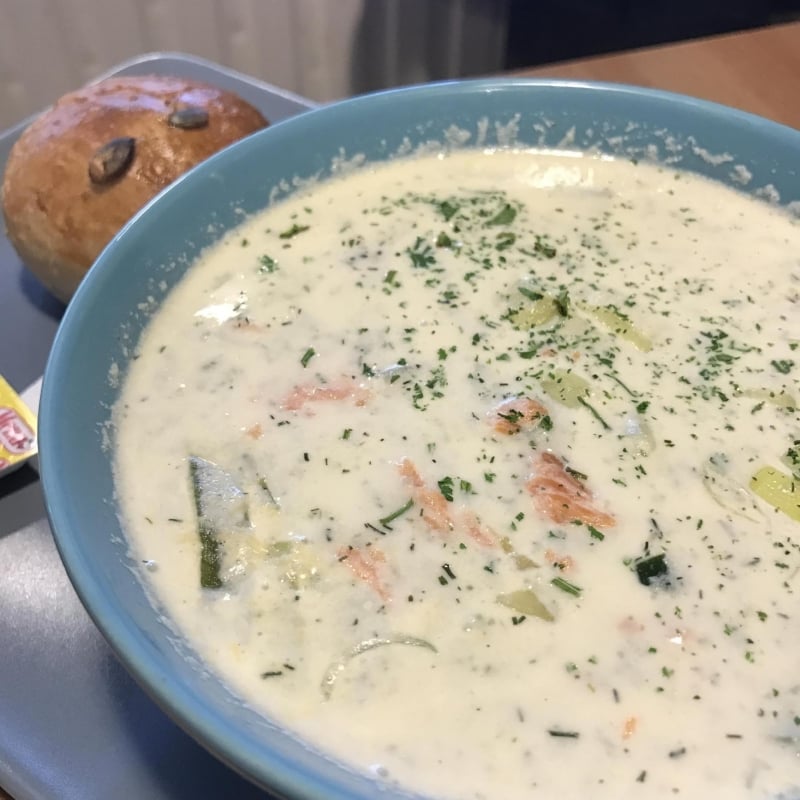 The best part of the soup, however is the salmon. Needless to say, Norwegian salmon is freely available in Norway, especially at the world-famous Bergen Fish Market. Conveniently positioned right beside the ferry terminal for a Fjord tour, the market is usually crowded with people craving for something warm after a freezing 3 hours atop a ferry. Walk into the bustling fish market and you'll be spoilt for choice on the overwhelming amount of salmon and seafood. Fight the temptation to feast, and head towards the signs screaming "fish soup + bread".
While not the main dish in the other Scandinavian countries, this delicious soup can still be found at restaurants or street markets wherever you go. It's hard to go wrong with such a great dish, so go ahead and order it every day at every meal!
2. Reindeer meat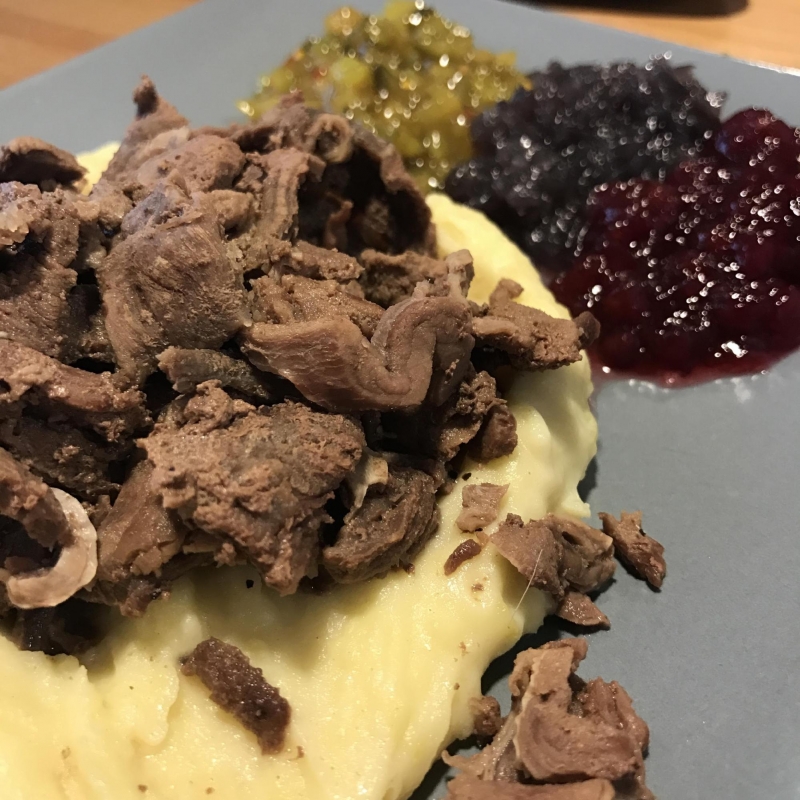 Reindeer is surprisingly common up north, especially in Lapland, Finland. And for all you meat lovers out there, good news: this exotic meat is very healthy! It's lean, with its omega-3 and fatty acid content putting it on par with fish. Reindeer is also extremely economical. Every part of the animal, from the thigh, heart, lung and brain can be used, and reindeer meat can be found in all shapes and forms in almost every Finnish eatery, ranging from cafes to restaurants to street markets. From quiches to burgers to being in chips, who knew there were so many ways to cook reindeer meat?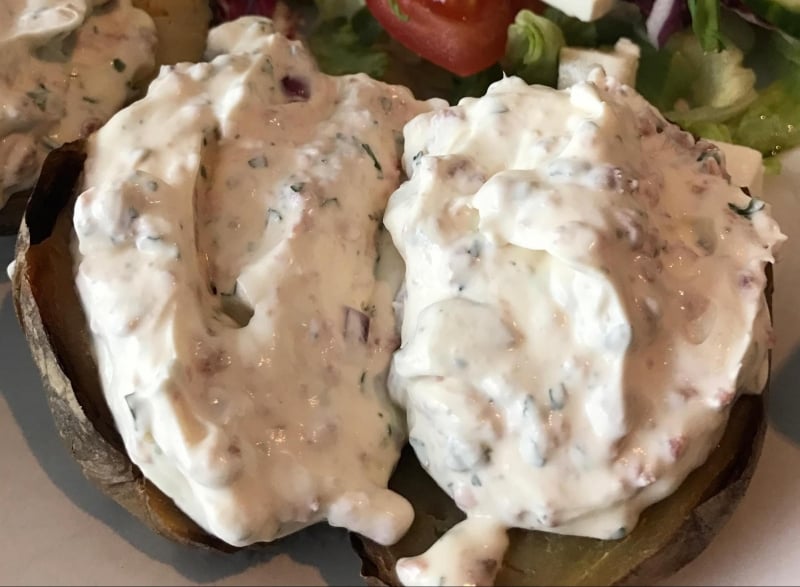 Depending on how it's cooked, reindeer meat will vary in taste. As a burger, the meat tastes slightly like a beef patty – crunchy on the outside, crumbly and meaty on the inside. When served sautéed, reindeer tastes like stir fried beef. When served with mashed potatoes, the meat is less salty, largely due to the potato base which soaks up the excess oil from cooking. In a salami, reindeer meat is much saltier and leaves an extremely strong meaty taste in your mouth. 
While I'm personally not a fan of this exotic dish, reindeer meat is definitely worth a try especially since it's not so readily available in Asia. Have a bite of this Nordic delight, and decide whether it really works for you!
3. Moose (Elk) meat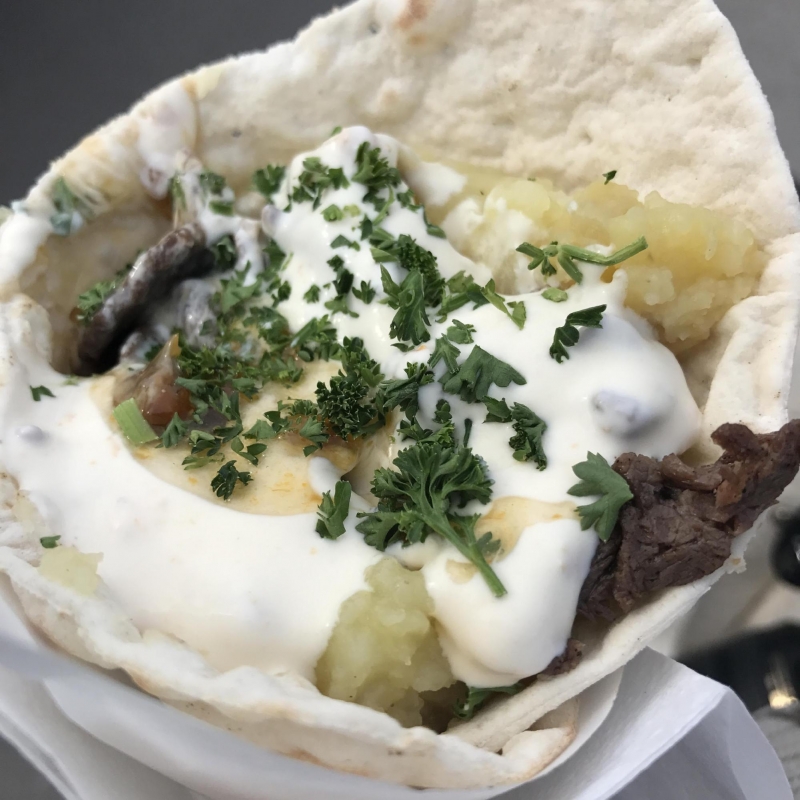 I chanced upon Elk meat at an Easter market in Skanken! It came in a wrap with potatoes, sour cream and a secret recipe sauce. The meat itself tasted like beef (again). The amount of Elk was generous, but so were the potatoes.  It was moist and very, very chewy. I'm not exaggerating when I say it was a complete jaw workout. While not as common as reindeer meat, you'll definitely be able to try it if you eat out. Otherwise, opt for the frozen version and cook it for yourself at home. 
The street stall I patronised also sold "Wild Chips" from "Wild Man". Inside these packets were slices of moose and reindeer jerky –  a perfect snack for anyone on the Paleo Diet!
4. Bear meat
I didn't try bear meat but noticed it was available frozen or in cans, albeit not as common as reindeer. According to the shopkeeper, bear meat is tougher and much meatier in terms of taste and smell when compared to reindeer. If you do decide to try the meat, remember to banish all mental images of Winnie the Pooh and Paddington Bear before taking a bite!
5. Whale meat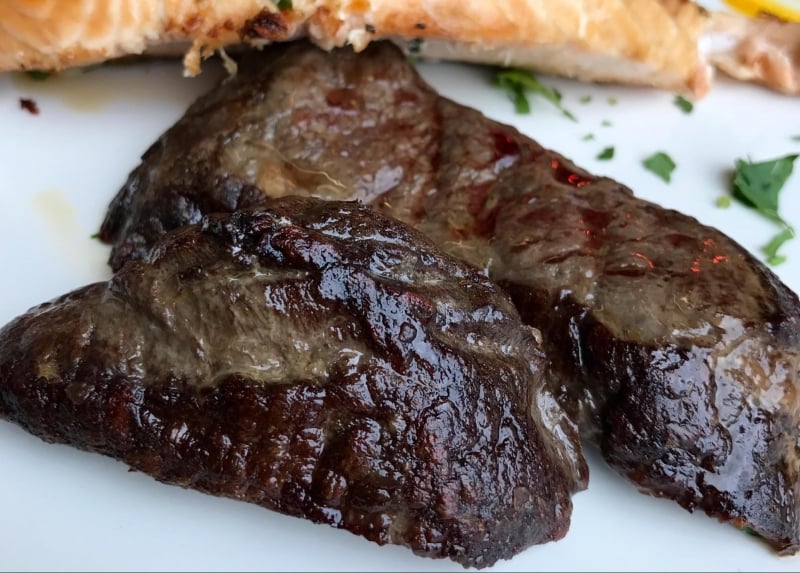 Before ordering this dish, I heard a customer grill the waiter on whether serving whale meat in Norway is legal. Sweating nervously, the waiter stammered that the whales served in Bergen are sustainably sourced and legal by law. Whale meat, a delicacy found also in Japan, is relatively common in Norway. Essentially steak with a fishy taste, I feel that Bergen offered better.
6. Smørrebrød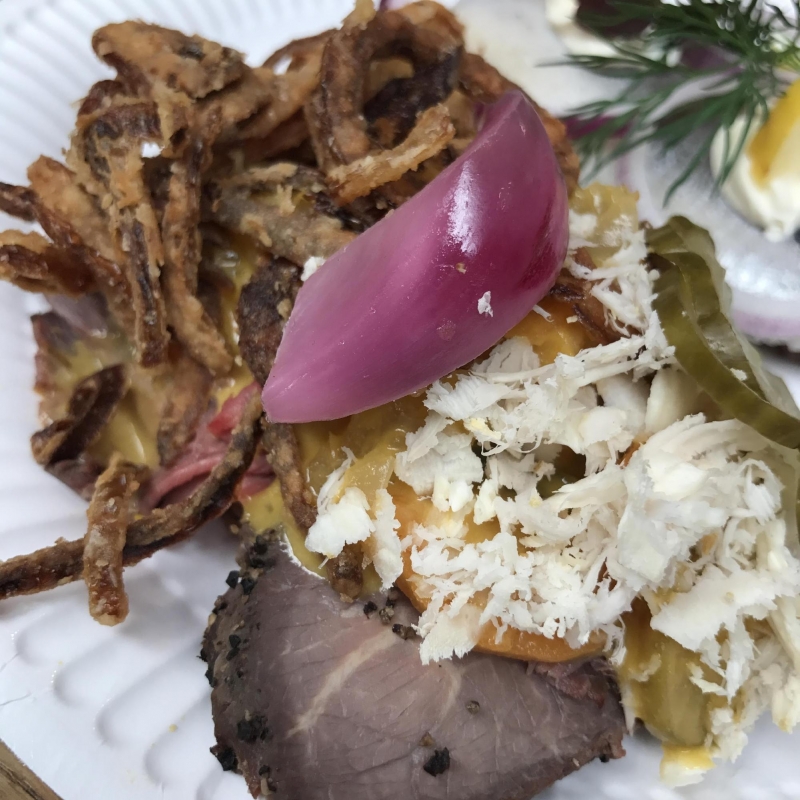 Smørrebrød: the tapas of Denmark. These breads are incredibly insta-worthy, with thinly cut meat, deconstructed onions and spirals of cream beautifully arranged on a flat bread (usually rye or white). But do note the price – these pretty looking breads cost an arm and a leg and don't fill you up! Good only as a snack and for Instagram, let your wallet decide if this luxury dish is worth the splurge.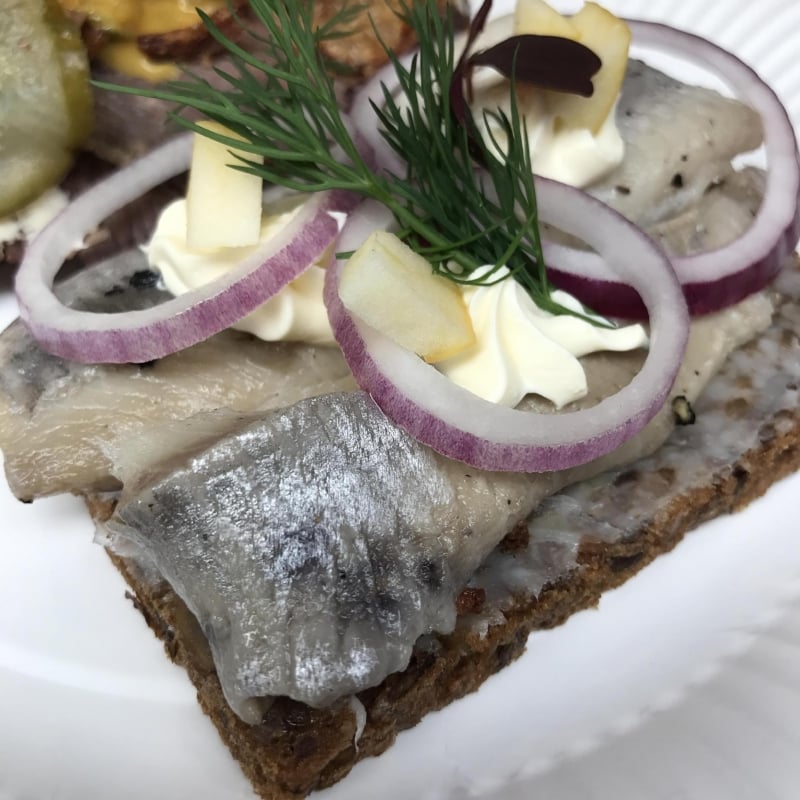 The Sweet:
7. Cloudberry 
Calling all dessert addicts: anyone with a sweet tooth will love cloudberry. This superset berry grows in temperate climates, and is made into jams, sauces, lollipops and drinks. While not a personal fan of jams, I couldn't resist buying a bottle of cloudberry jam home. Unlike other jams, cloudberry jam has seeds which give it an added crunch. While it may sound awkward, it is the seeds that make the jam absolutely amazing. Order it atop waffles or try it in a lollipop (or both) to experience the immense sweetness of this rare berry. And consume it guilt-free because cloudberry has an extremely long list of health benefits.
8. Butter sugar bun
On my last day in Rovaniemi, I chanced upon an unexpectedly lovely snack: butter sugar buns. Singaporeans may roll their eyes at this because we find butter sugar rolls at every corner of our food-filled island. But for a tired, homesick soul up in the Arctic Circle, this warm bundle of yeast and sugar was heavenly. Unfortunately, all that is amazing about the bun is the crispy and sweet melted butter centre. I felt the bun itself was ordinary and not worth the calories. 
Special feature:
9. Cinnamon roll
While not unique to Scandinavia like many other foods, cinnamon rolls are freely available everywhere! Walk into any bakery or supermarket and prepare for the pleasant smell of cinnamon to fill your nose. This popular food speaks for itself and I can only suggest that you have it with a hot cup of coffee or chocolate.
Also read: 12 Destinations to Complete Your Scandinavian Experience