Traditional festivals are joyous occasions that are full of fun and laughter! Which of these festivals do you think can win world's happiest festival? From swimming in tomatoes to throwing coloured powder at family and friends, these 5 festivals are bound to be highlights of your vacations!

1. Holi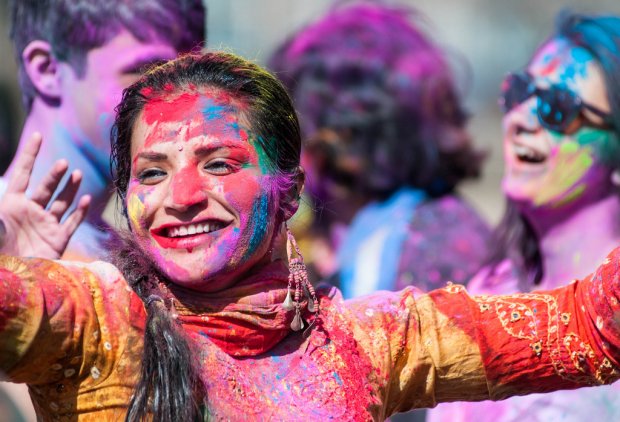 Image credits: http://bit.ly/1gxIUEd
One of the biggest festivals in India, Holi, is celebrated with enthusiasm and gaiety by throwing coloured powder at each other. Also known as 'The Festival of Colours' it is celebrated on the full moon day in the month of Phalgun and commemorates the beginning of spring, a happy time after the passing of winter. It is the best time to visit India as the whole country is flooded with joy and happiness. So come with a festive spirit and smear some colour on your family and friends.
2. Tomatina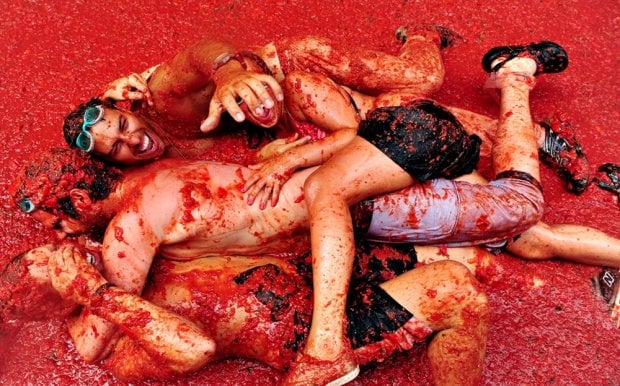 Image credits: http://bit.ly/1gVyfx9
Instead of throwing colour, Spaniards throws tomatoes! Enjoy the world's biggest food fight as hundreds of overripe tomatoes flood the streets of Bunyol, a small town in Spain. With the firing of water cannons, Tomatina begins and in less than an hour, the whole town is covered in tomatoes! Tomatina took root several years ago when a group of teenagers engaged in a street fight. Today, it has become the largest vegetable fight in the world. Enjoy this joyous festival on the last wednesday of every August and immerse yourself in the thrill of throwing tomatoes!
3. Boryeong's Mud Festival – Daecheon Beach, South Korea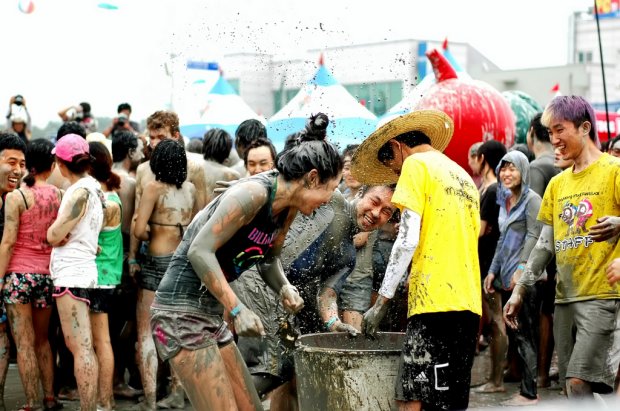 Image credits: http://bit.ly/NRAJWs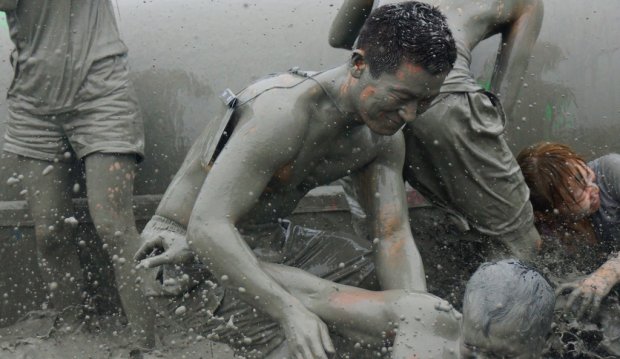 Image credits: http://bit.ly/OYgsPX
Up till now, the happiest festivals seem to feature joyous groups of people throwing things at each other. I hope you enjoy this because once again, have a blast and cover every bit of yourself in sand and mud! The Boryeong Mud Festival in Seoul is a once in a lifetime experience where you get to have the biggest mud bath in the world! This festival originally started when a range of cosmetics produced during 1996 incorporated mud from Boryeong. It was conceived to promote the products and has today become one of the happiest festivals in South Korea.
4. Oktoberfest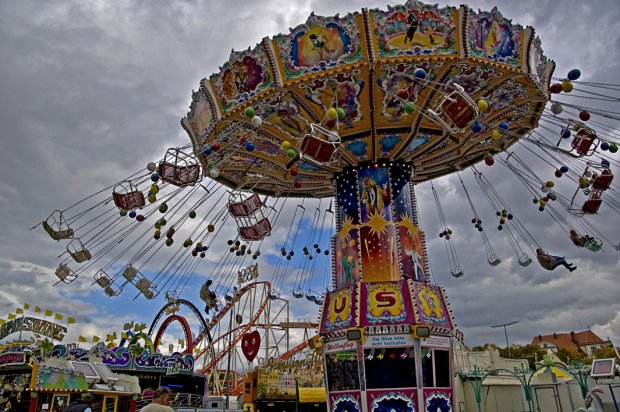 Image credits: http://bit.ly/1m5btIn
Celebrated from late September into early October, Oktoberfest is the most famous beer festival in the world. Each year, over 6 million people are invited to Germany to sit amongst locals, sing and dance to traditional German songs, and of course, are served pints and pints of beer! After all, Beer is a lot cheaper than water! The festival originally began in 1810 when Crown Prince Ludwig was married to Princess Therese; citizens were invited and thrown the great festivities of the time and till today, Oktoberfest is an event of fun and laughter, held every year.
5. The Songkran Festival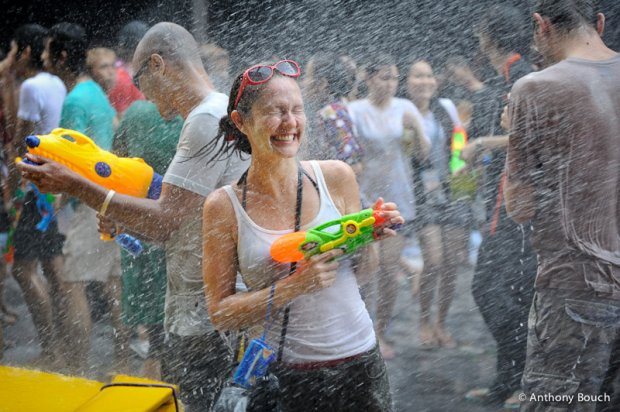 Image credits: http://bit.ly/1rxEzEm
The Songkran Festival is Thailand's most exciting festival that each year heralds a massive water fight. The festival features water-splashing, which signifies the cleaning out of the old year and welcoming a refreshed start of the new year. Every mid-April, people whip out their water guns and bombs to splash about in the world's most exciting water festival!