Contributed by I Travel Rox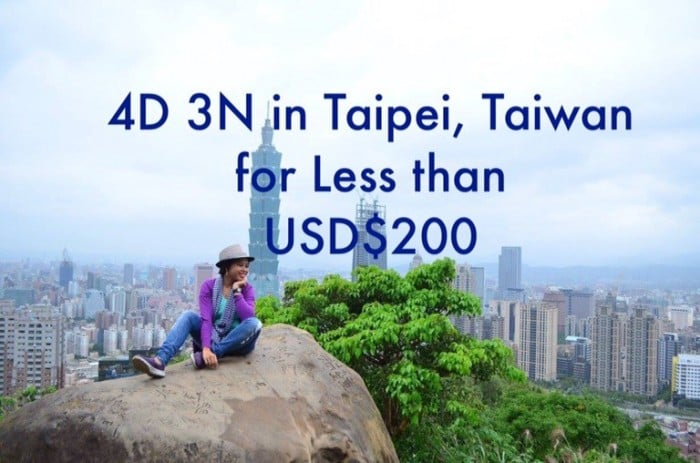 Hi, everyone! Since I've been receiving messages on how I did my 4 Days 3 Nights Taipei, Taiwan solo travel for less than US$200,  I'll share with you a summary of my trip. Everything was DIY or Do It Yourself, and I had no itinerary at first, but I just wrote a list of possible things to do.
My flight happened on 8 Nov 2016, with departure time at 9.45pm and arrival at Taiwan Taoyuan International Airport Terminal 1 at 12.25am. This flight schedule is not okay for everyone so I ended up sleeping at the airport.
Also read: How I Travelled 3 Days in Taipei for Only PHP 9,620 (All-In)
Initial expenses
AT (Airport Tax) – ₱1,620
TF (Terminal Fee) – ₱750
AFT (Airfare Ticket) – ₱1,020.80 from Cebu Pacific
Visa – free with ROC travel authorization certificate, although Taiwan visa is expensive
₱10,000 converted to US$200 – US$1 was around ₱46
US$200 converted to NTWD or New Taiwan Dollar which is NT$6,199 (minus charge of NT$30 from NT $6,229)
Purpose of this trip
A solo travel in Taiwan on my birthday week — it's a first time experience. I should be travelling with a friend, but due to unforeseen circumstances, she had to cancel.
2 Easy ways to reach Taipei Main Station
From the airport, there is a bus bound to Taipei Main Station
To experience the HSR, take a bus to HSR Taoyuan Station, purchase ticket going to Taipei Main Station
Where to stay in Taipei?
I stayed at Main Inn Taipei which I booked through Hostelworld.
4 Days 3 Nights Taipei – Budget & Itinerary
Day 1 – 9 Nov 2016
Sleeping at the airport arrival at 12.25am
EasyCard – Top up with NT$200 (Easy Card borrowed from Jeremy, a friend, who had been to Taiwan)
Taking a bus to HSR Taoyuan Station in the morning – swipe with EasyCard
Taking the High-Speed Rail from Taoyuan Station to Taipei Main Station for NT$155
Arrival at Main Inn Taipei – paid NT$1581 for 3 nights
Meet up with Janice – we got acquainted through a travel forum and met in person at last in Taipei to show me around
Beef noodles for NT$140, Bubble Tea Milk for NT$40, water for NT$20 c/o by Janice
Taking the MRT going to XianXiang for Elephant Mountain
Elephant Mountain with no cost
Family Mart lunch or snack c/o Janice
Taipei 101 Building
Chiang Kai Shek Hall at night (best to go in broad daylight)
Dinner at Ximending Night Market c/o Janice
Back to hostel at Main Inn Taipei
Drinking beer during my birthday eve c/o Yoshi from Japan until midnight
Day 2 – November 10, 2016
Hey shawty, it's my birthday!
EasyCard top up for NT$100
Woke up late because of tired legs from hiking
Sushi breakfast for NT$60
Conversation with Tony from the US talking about Philippines and US politics
Meet up with Kohei from Japan in the afternoon
Beef Ramen – Late lunch at Taipei City Mall for NT$59
Sun Yat Sen Hall at night (best to go there in broad daylight)
Taipei 101 Observatory at night for NT$600 c/o Kohei as a birthday present
Food hopping at Shilin Night Market
$50 chao fan plus drink (Chao fan is $90 c/o Kohei / drink is $30)
$40 Fresh Fruit juice
$90 (2 bubble tea milk), as you can see Kohei paid almost everything
$60 potato fries ($120 per serving)
Back to hostel
Day 3 – November 11, 2016
$60 sushi for breakfast
Easy Card top up for $100 (should have top up $200 or more)
$40 bus ($90 bus to Jiufen – use Easy Card or pay exact amount of cash on the bus as there is no change)
$400 souvenirs in Jiufen
$800 to $1000 Jioufen Tea House
$100 bus back to Taipei
Dinner at Din Tai Fung c/o Kohei
Back to hostel
Day 4 – November 12, 2016
$100 sushi for breakfast
Meet up with Ghing and Princess
MRT to Taipei Zoo
$120 Maokong Gondola
$60 Taipei Zoo entrance
McDonald's late lunch c/o Ghing
Meetup with Kohei and friends
Ice cream waffles c/o Kohei
$1300 taxi going to the airport due to unnecessary circumstances
$40 locker because I accidentally brought Kohei's pocket wifi and earphone 😂
Fortunately, I was able to catch up my flight at 1.00am the next day
A bus and HSR is going to the airport which you could pay less.
Itinerary and breakdown of expenses
Please visit this Google doc: Taiwan Itinerary and Expenses to see my itinerary and breakdown of expenses.
Personal budget in Taipei
Accommodation for three nights – NT$1581
Daily food budget right for three meals multiplied for four days – NT$500 x 4 days = NT$2,000
Daily MRT fare multiplied for four days – NT$200 x 4 days = NT$800
The rest would be miscellaneous for shopping and souvenirs
Conclusion
Four days in Taipei is not enough. I missed visiting some places because of the rain; I preferred staying in bed while waiting for the rain to stop.
Travelling on a budget in Taipei is possible. Taipei 101 Observatory, High-Speed Rail and Dinner at Din Tai Fung are optional. You might want to consider doing the FREE activities instead.
Also read: Travel Cheat Sheet: 10 FREE Things to Do in Taipei for Budget Travellers
I thank my friends for the birthday treat: Jeremy for the Easy Card, Janice for meeting me and showing me around, Yoshi for the beer, Kohei for the reunion meet-up from Cebu, Ghing and Princess for the fun at Maokong Gondola and Taipei Zoo.