Who says that you can't have fun on a tight budget? In Taiwan, this would be the exact opposite—the joy of budget travel is that you get to see and experience things that you wouldn't normally see on an expensive tour, isn't it? If you're itching to go on an amazing trip to Taiwan without breaking the piggy, but have no idea where to start, these budget travel tips are for you.
While in Taiwan, stay connected and save more with Singtel's ReadyRoam Deal. For just $20, you'll enjoy 1GB data for 30 days!

Getting There:
There are many airlines which fly to Taiwan daily, and depending on where you'd like to start your journey, the airlines and corresponding prices differ. Book your tickets early, about 3 months in advance, to enjoy early bird promotions. I suggest using a third party flight comparison site to help you with this. Be sure to also monitor the prices over a couple of months, so you get a good gauge of how the prices are increasing as the days pass, so you can be sure when exactly to get them at the best price! Do take note to clear your cookies after every recce session, just in case.
Alternatively, if you don't mind having your inbox having an influx of airline-related promotions every day, sign up for all those newsletters! They do give you valuable information on when you should get your tickets for the best value. I myself use a combination of both strategies. For example, Scoot always has Morning Glory Tuesdays, during which their prices for flights to certain destinations are jaw-dropping! I've heard of friends who've managed to snag tickets to Taiwan for less than SGD 100!
Also read: 10 Things About Taiwan You Never Knew
Accommodation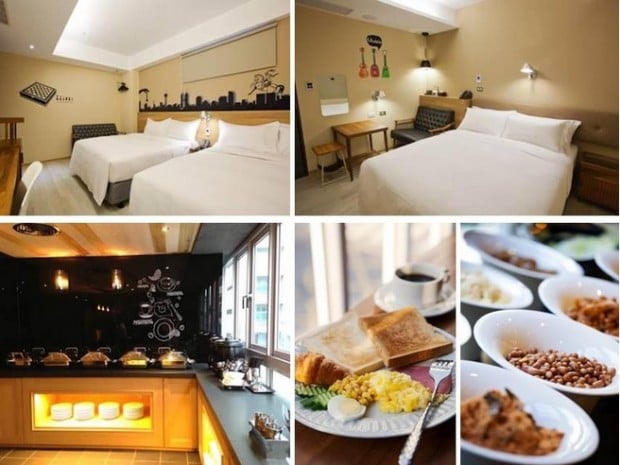 Photos Credit: Jia's Inn-Liouhe
There are many affordable hotels in Taiwan in central locations, and many of them provide delicious buffet breakfasts too. On my previous trip to Taiwan, I was able to get tastefully-decorated hotel rooms for less than SGD 25/pax, inclusive of breakfast. I wasn't even trying to save. Believe me, hotels with breakfasts are almost a god-send when you have a bus to catch at 8am and you have no idea where to get some of the morning goodness save for convenience stores.
Hostels are also a good bet—cheap and clean. Plus, you get to make friends with other like-minded travelers all over the world, over a cuppa or two in the common area. A good number of hostels are actually located in residential blocks, which means you actually get to enjoy the local experience of returning home after a long day! Imagine the sight that greets you as you step through the door: soft orange light bathing the living room, the groaning of the washing machine in the kitchen, a couple of your fellow travel mates sprawled across the couch, muttering away and discussing the next day's plans, and the TV droning on in the background. Feels like home, doesn't it? Taiwan's hostels, though small, are cozy, and give you that back-in-my-home feeling, just what you'd want after a long day of walking, shopping, and eating!
Getting Around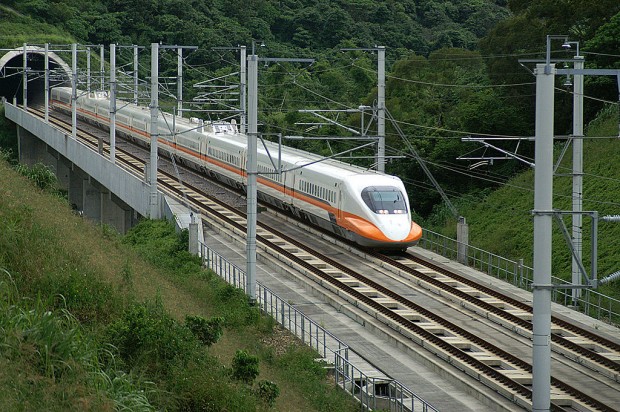 Photo Credit: Encino
Taiwan has a plethora of transport choices to suit everyone's travels across the country. In a rush? Take the high-speed train (高铁), which can bring you from the north to the south in a couple of hours.
But of course, the tickets are pretty expensive. Budget travellers will prefer the more wallet-friendly Taiwan Railways System (台铁).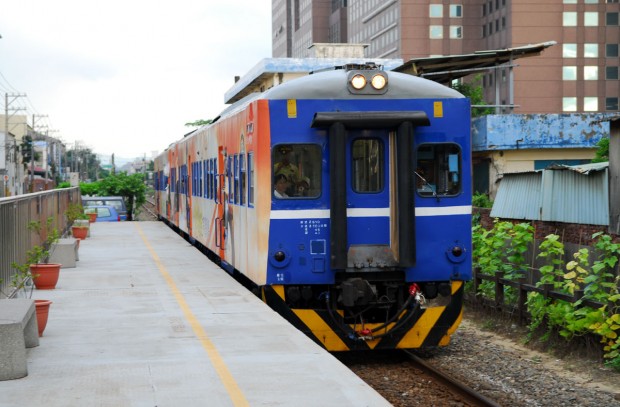 Photo Credit: SElefant
It may take longer to reach your destination, but you do get a relatively comfortable seat and scenic foot-of-the-mountain views of Taiwan's countryside.
If you're one for the road, how about the intercity buses? Besides being the cheapest option of intercity travel, they can also get you to far-flung places where the trains are unable to reach. Another plus point is that some get you to the same place for a shorter amount of time than the Taiwan Railways trains do, depending on traffic. The King Bus Company (国光客运) has the largest network of buses, and can probably get you to most cities, or even small towns and villages.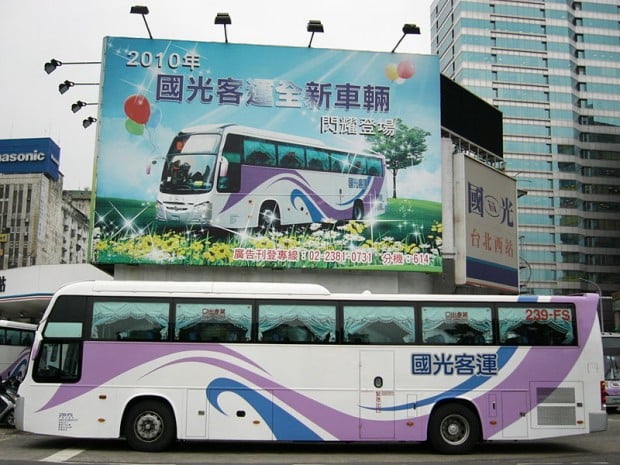 Photo Credit: Solomon203
Within the cities, a good way to get around is through their intra-city buses. Their underground railways (捷运) are also useful, but this mostly applies to busier and more developed cities such as Taipei and Kaohsiung. Some cities may not even have a underground railway; their bus system is comprehensive enough. Get the EasyCard (悠游卡), Taiwan's equivalent to our Ezlink card.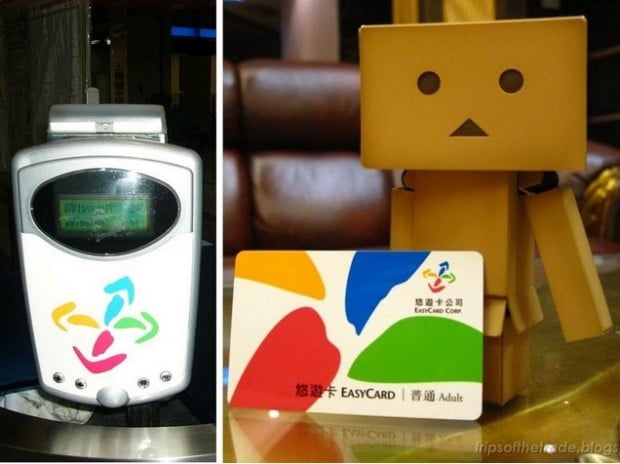 Photo Credits: Solomon203, gnet
They're widely available, just step into any one of the convenience stores that sell them. You can even top-up your cards there. The Easycard can be used for both public buses and intra-city trains. The card can even be used for some intercity buses. Just ask the driver, or other passengers. While this is the case for now, soon, we may not even need to get them. Ezlink and Easycard are in the midst of developing cross-border usage of cards, which means that in future we could well just use our Ezlink cards to access the transportation system in Taiwan, and vice versa!
Food
Taiwan is famous for food, and that's well within reason. Not only is the food delicious, it is very easy on the pocket, especially if you know where to look. On average, your three meals a day would set you back about NTD 300 (approx. SGD 13). And if you have free breakfast in your accommodation, it would decrease even further to NTD 250. That's me being generous. If you know where to go for food, you could well halve that amount. The one thing to remember is that you should not step into a fast-food restaurant chain if you're on a mission to save money. One meal there could be worth an entire day's three meals.  
Also read: 8 Must-Try Taiwanese Foods
The first meal of the day is always well-spent at a breakfast shop/truck (早餐店/车). Egg rolls (蛋卷), fried vermicelli (炒米粉), carrot cake (萝卜糕), egg and ham on toast (鸡蛋火腿吐司), etc.—each of these would only cost about NTD 25–35 (approx. SGD 1–1.50). Their morning drinks such as soya bean milk (豆浆) or brown rice drink (米浆) are less than 1 Singapore dollar.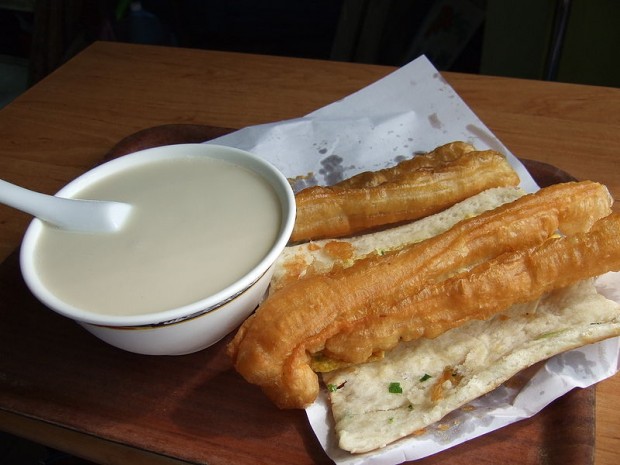 Photo Credit: Veggieburgerfan
For lunch, step into one of the mom-and-pop shops that specialize in a couple of dishes. A big bowl of braised pork rice (卤肉饭) is probably about NTD 35, give or take a little.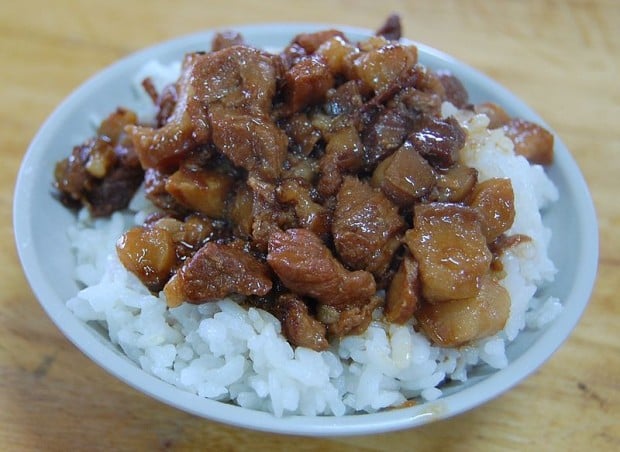 Photo Credit: Kawanet
Or try a bowl of beef noodles (牛肉面) for about NTD 50 (approx. SGD 2), one of Taiwan's specialties.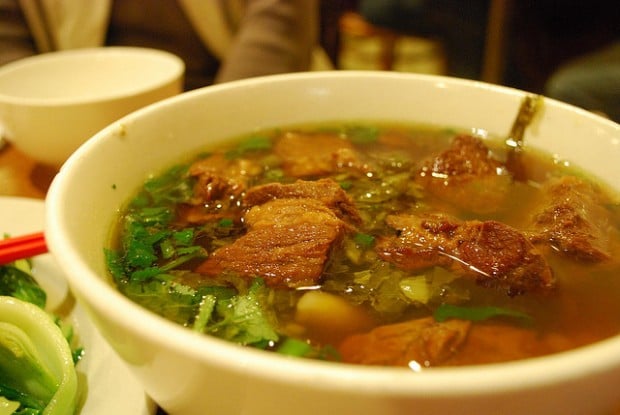 Photo Credit: Alpha
For a fast lunch, there is always the ubiquitous convenience store, which always has promotional onigiri-and-drink packages, or oden, where you can pick as many sticks as you want (each at NTD 10). This oden thing is so popular, it even has a website!   
Dinner is most definitely a no-brainer. The go-to choice for many backpackers is the night markets. In Taipei alone, the number of night markets is astounding. You could go to a different night market every day for a week and still not be able to cover them. Some of the must-try things are:
Fried Chicken Cutlet (炸鸡扒)
Photo Credit: Brian Jeffery Beggarly
Sausage—Black Pork/ Kaoliang, Duck, Wrapped with glutinous rice etc. (香肠—黑猪肉/高梁, 鸭, 大肠包小肠)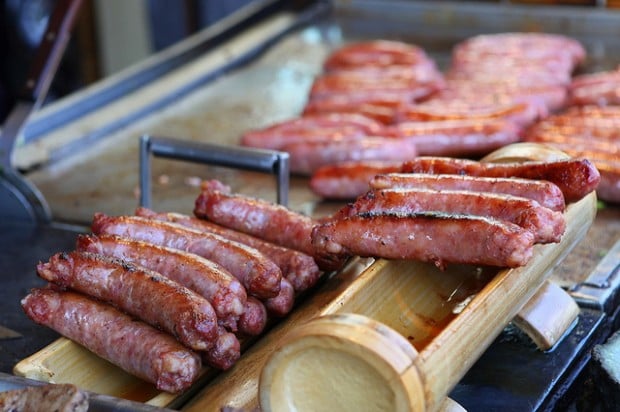 Photo Credit: Y.L. Yeh
Pork Soup Dumplings (小龙包)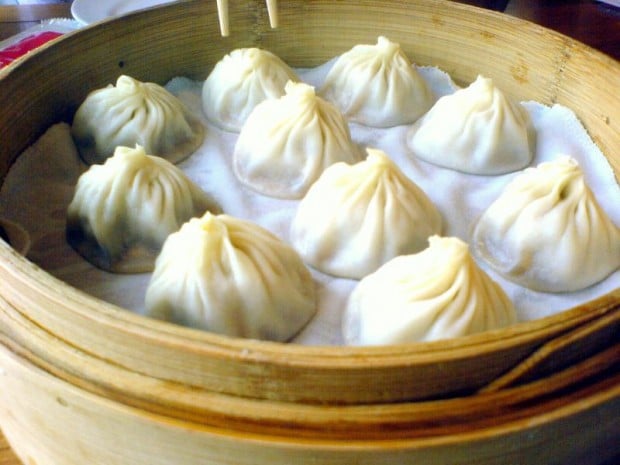 Photo Credit: Junhao!
Oyster Mee Sua (蚵仔面线)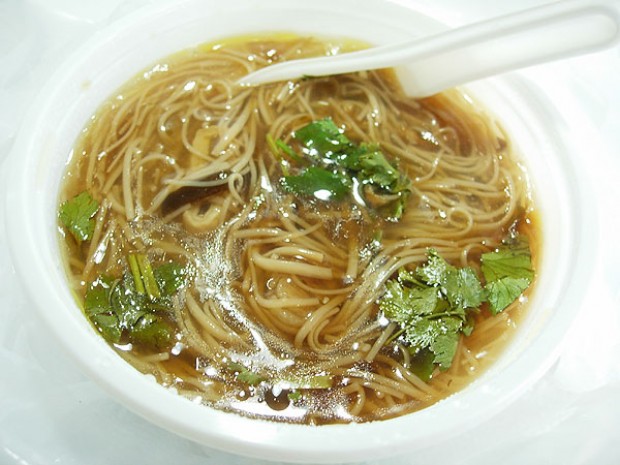 Photo Credit: Prattflora
Deep Fried Milk (炸牛奶)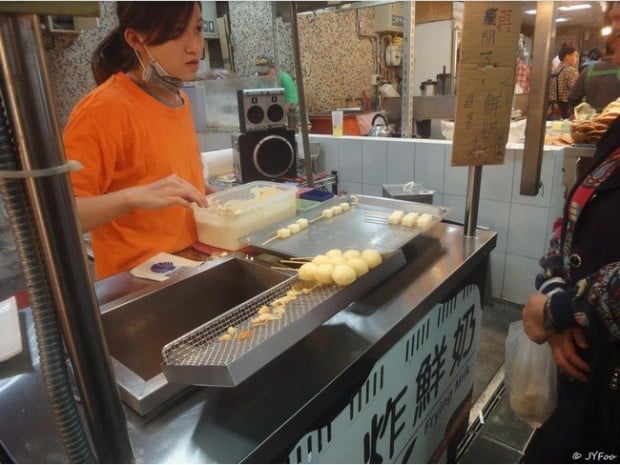 Photo Credit: Foo Jiun Yang
Smelly Tofu (臭豆腐)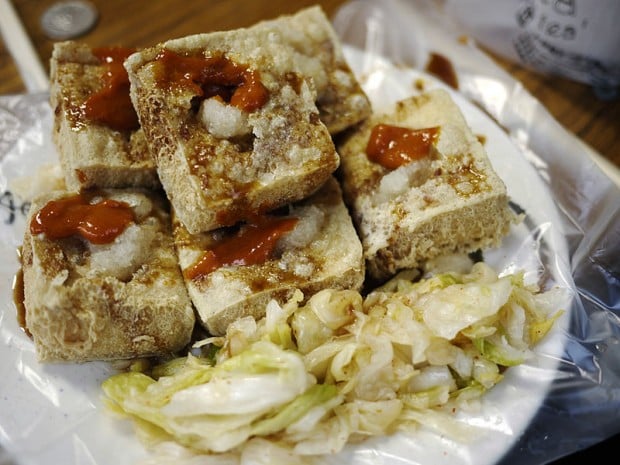 Photo Credit: Wikipedia
Mango Shaved Ice (芒果冰)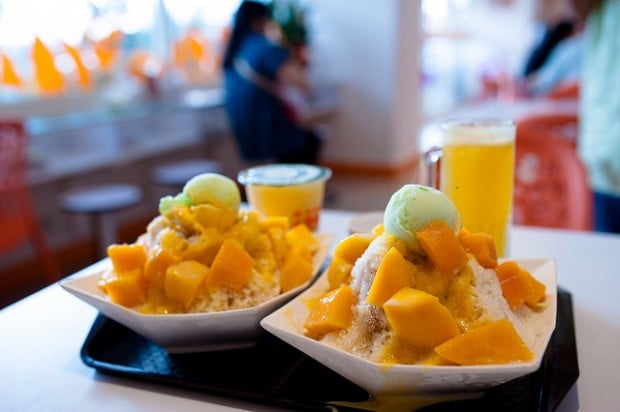 Photo Credit: 龜澎湖
Coffin-Shaped Bread (棺材板)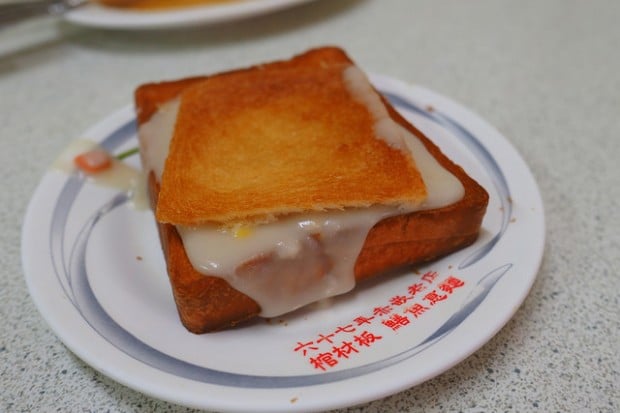 Photo Credit: Othree
But, and I kid you not, there is something known as night-market fatigue. What happens then? That's when you go for cheap and filling food in eateries and restaurants! Ever heard of SGD 10 eat-all-you-want buffets? Never, in Singapore. Some western restaurants in Taiwan, on the other hand, sell steak and pasta at NTD 230 (approx. SGD 10), with an all-you-can-eat buffet for your appetizers, sides, drinks, and dessert needs. And the main that you paid for isn't a small portion either—it's about twice of what you'd get in a food court in Singapore.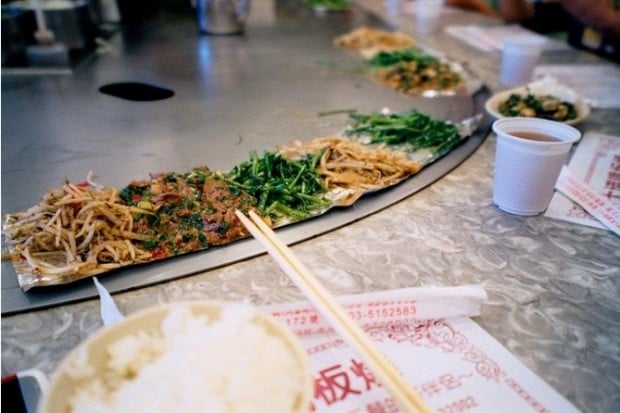 Photo Credit: Slayer
Or you could go for the ever-popular teppanyaki (铁板烧)! With rice, soup, 2 sides of vegetables and your choice of meat for about NTD 230–300 (approx. SGD 10–13), you get a very well-balanced full meal. At least your stomach won't be screaming for food at 1am in the morning.
Shopping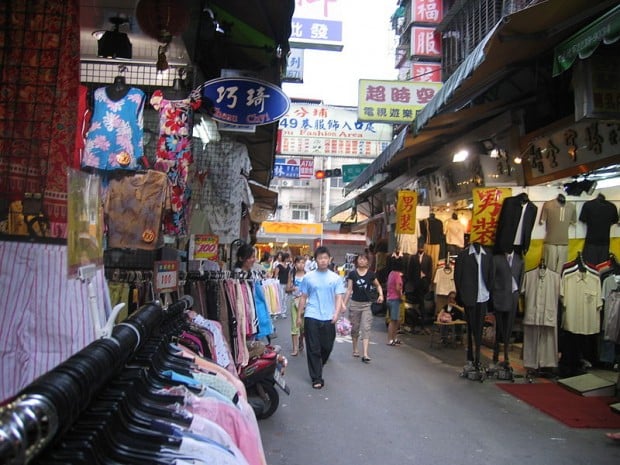 Photo Credit: Jiang
Weeelll, I don't think we'll be doing this anyway if we're on a tight budget, but hey, who am I to judge? We all have our shopping urges, some more than the others, and if we really can't control them, what better way than to at least let our shopaholic selves go crazy at bargain sites, right? Where night markets are, there is usually some shopping to be done, and I don't just mean for food—clothes, beauty and skincare products are plentiful.
Also read: 13 Unconventional Things To Do In Taiwan For A Smashing Vacation
The Wu Fen Pu (五分埔) area is very well-known for its bargain hunts. As the place du jour for most Taipei retailers, if not all, to get their clothes from, their clothes are usually one of the cheapest around, at least in Taipei. The place is a maze, and one day isn't nearly enough to cover the area. Think Bugis Street and multiply by three. Getting there is easy, but getting out without losing your bearings is no mean feat. But while you're there, remember to check out the bargain off-season clearance racks. Most pieces on those racks go for NTD 100–150 (approx. SGD 5), and they're of pretty good quality. I managed to get two corporate-wear tops at SGD 5 each. A similar top would have set me back about SGD 35 in Singapore. I checked. They also sell well-made leather boots and shoes at a fraction of the prices you'd see elsewhere. Oh yes, a word of advice—stay away from the area on Mondays, as it is their designated wholesale days. Ain't nobody got the time to let you haggle with them on those days!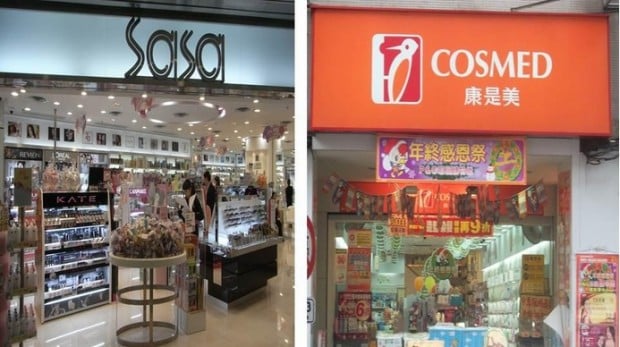 Photo Credits: Hongkerman, 龍本
Sasa, I'm told, is a great place for beauty and skincare products. Yes, they do have branches in Singapore as well. But the range there is wayyy larger than what we see here. It's probably more like the UK's Boots, or Hong Kong's Mannings. Another great place to splurge on skincare is Cosmed (康是美). They often have 1-for-1 or 50% promotions for masks and other products, great for stocking up on them!
General Tips
Language
Photo Credit: Yusuke Kawasaki
Taiwan is mostly conversant in Mandarin and Taiwanese, a variety of Hokkien. Though majority of younger Taiwanese learnt English in school, they are not as confident in the language. While you wouldn't find much trouble getting around using the underground/high-speed trains, some of the local buses and intercity buses make their announcements only in Mandarin, Taiwanese, and Hakka. This also applies to most of the small eateries you see by the roadside; most only list their offerings in Mandarin.
Outside of Taipei, the chances of you meeting someone who would willingly reply you in English are even smaller. As such, it would do you much good if you picked up a few Taiwan-specific Mandarin Chinese phrases here and there, especially if you need to get directions.
Hello – Ni Hao 你好

Excuse me- Bu Hao Yi Si不好意思
Please- Ma Fan Ni Le 麻烦你了
Thank You- Xie Xie 谢谢
You're Welcome- Bu Yong 不用
Yes- Shi/ Hao 是/ 好
No- Bu Shi 不是
May I know how to get to ______? –Qing Wen Wo Yao Zen Me Qu_______? 请问我要怎么去________?
MRT Station- Jie Yun Zhan 捷运站
High Speed Train Station- Gao Tie Zhan 高铁站
Taiwan Railway Station- Tai Tie Zhan 台铁站
Bus Interchange- Ba Shi Zong Zhan巴士總站
Intercity Bus Station- Ke Yun Zhan 客运站
Water- Shui 水
Takeaway- Dai Zou/ Wai Dai 带走/外带
Toilet- Wei Sheng Jian/ Hua Zhuang Shi 卫生间/化妝室
Extra: As Taiwan is not a Muslim country, Muslim and other non-pork/meat eating friends who do not speak Mandarin might take note of the following words:
Pork- Zhu Rou豬肉

Vegetarian- Su/ Zhai 素/齋
Seafood- Hai Xian 海鲜
People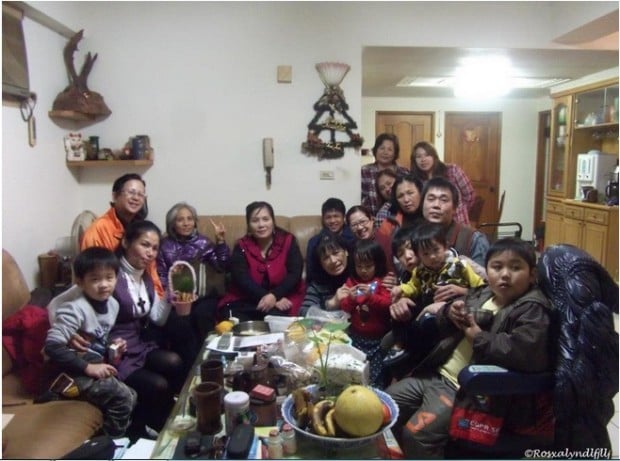 Taiwanese are generally a friendly bunch towards foreigners and tourists, so don't be too surprised or be wary if they start to strike up a conversation with you during those long bus/train trips! I made many friends that way during my travels there. And if in doubt, just ask them! Even if all you know is halting Chinese and they halting English, they will gladly help you, or even bring you to your destination if they're able to!
Phone cards
Data access is always good to have, especially in a foreign country. In Taiwan, unlimited 3G data access doesn't come at a premium. They have various special packages to suit your length of stay, and these are readily available at the Taoyuan Airport, as well as in the retailers' shops around. From my experience, Chunghwa Telecom (中華電信), Taiwan Mobile(台灣大哥大), and Far EasTone(遠傳) have the best deals around. They offer comparable prices for similar packages of 3, 5, 7, and 30-day prepaid cards. The connectivity and signals are pretty stable too. Remember to bring your passport and a secondary ID (visa, IC, Driver's License, etc.).
Alternatively, if you intend to stay only in Taipei, you may choose to go without the extra expenditure. Instead, you can simply create an account with the Taipei Free Public Wifi Access website using your native phone number. And when you reach Taiwan, you'll be able to easily access the iTaiwan Wifi service!
Money Exchange:
Personally, I advocate changing your money in Singapore first, as the rate is generally better. That said, there are certain money exchangers in Taiwan that offer comparable rates, if not better, to those in Singapore. It's good to always take note of these money changers, just in case of emergency. Try not to withdraw money from Plus/Cirrus-compatible ATMs if possible, as the processing fee is quite substantial (approx. SGD 5 per withdrawal) and even more for Maestro (approx. 2% of the withdrawn amount). The best scenario would be if you were able to locate a DBS ATM in Taiwan, as there will be no administrative charge.
With all that said and done, I wish all of you the best time and fun of your lives in Taiwan! Come back and regale me with all your escapades!