Calling all Marvel fans and board game enthusiasts: Changi Airport has a slew of activities in store for you this June! 

Start by catching the Marvel Avengers at Jewel Changi Airport (Jewel) through a massive Marvel-themed event happening from now to 13 Aug 2023. 
Then, over at Changi Airport Terminal 3 (T3), visitors can take part in larger-than-life versions of classic Hasbro board games from now to 16 Jul 2023. The terminal's Departure Hall will be turned into a Hall of Games with "phygital" (physical and digital) versions of beloved games such as Monopoly, Guess Who?, Hungry Hungry Hippos, and more. 
Read on to find out more about these exciting events!
Also read: The Free Singapore Tour Relaunches for Transit Passengers at Changi Airport
What can I expect from Marvel Avengers at Jewel Changi?
3D displays and sculptures at Shiseido Forest Valley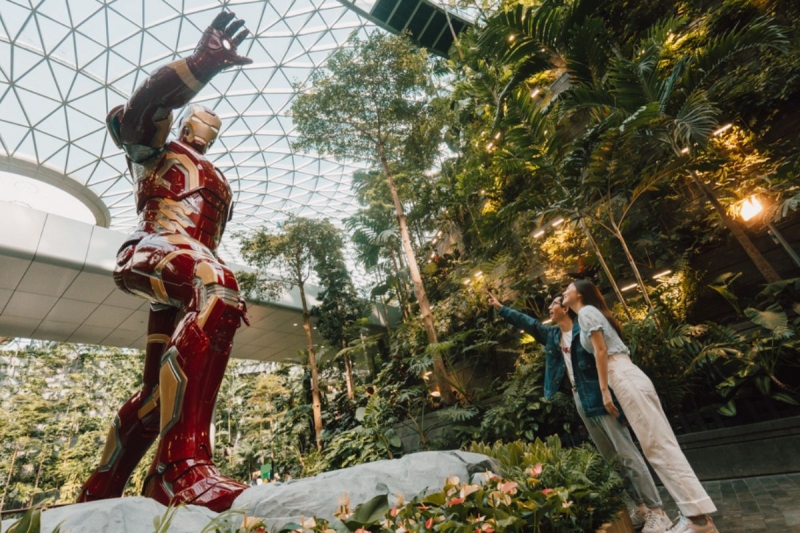 At the Shiseido Forest Valley (ground floor), you will find 3D Marvel installations and interactive displays. Upon entering the exhibition, visitors will be greeted by a five-metre-tall red and gold Iron Man statue. When you're here, snap IG-worthy photos with Earth's mightiest heroes and pose beside awe-inspiring sculptures!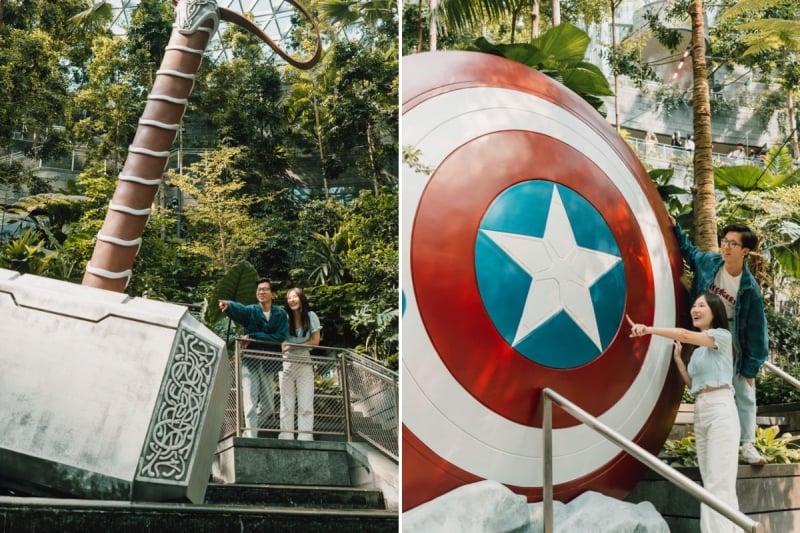 Equally impressive are three-metre-tall replicas of Thor's Mjölnir hammer and Captain America's indestructible shield.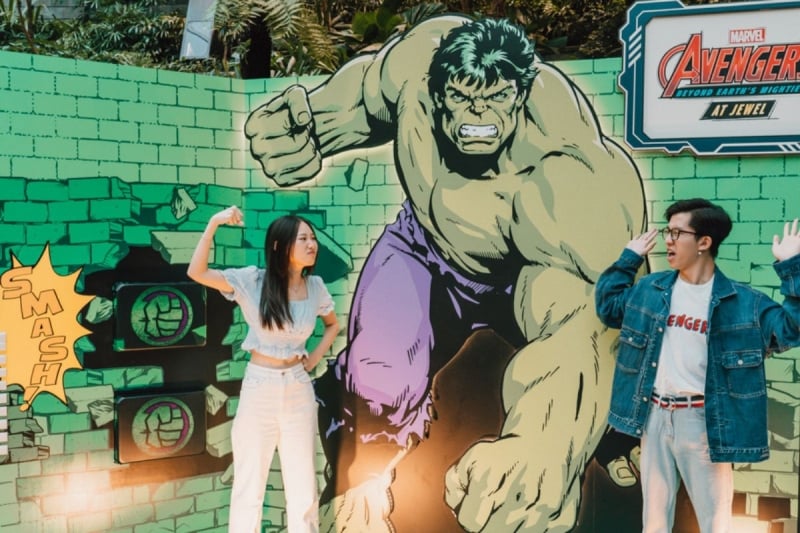 Don't forget to snap memorable pics at photo booths featuring Marvel heroes such as The Incredible Hulk, Black Panther, Ant Man, Doctor Strange, and The Wasp. Test your strength against The Hulk by punching a strength meter or sit on Black Panther's throne. Put simply, there's no shortage of thrilling ways to spend your time here!
Also read: Singapore Cable Car Celebrates 50th Anniversary With Pokémon-Themed Cable Cars
Exhibits and photo spots at Canopy Park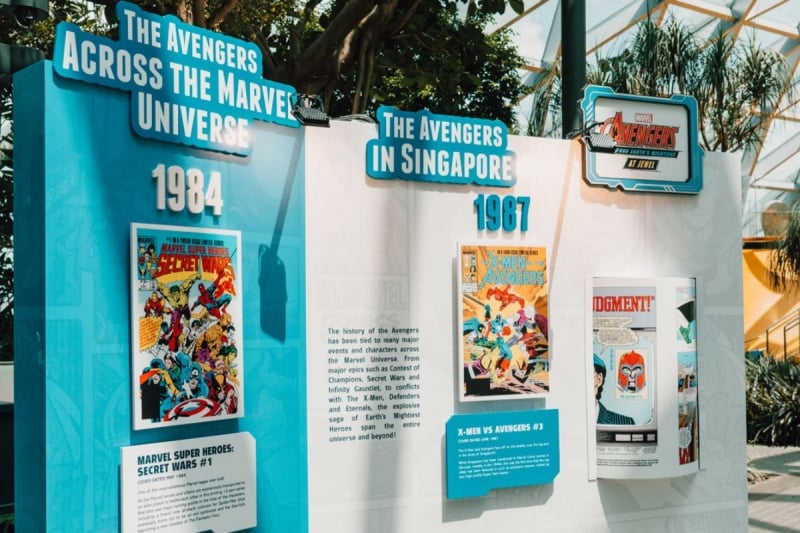 Next, if you're curious about the history of Marvel's Avengers, head to Jewel's Canopy Park. Up there, you'll see exhibits detailing the development of the iconic franchise from the introduction of Captain America in 1941 to the formation of the Avengers in 1963.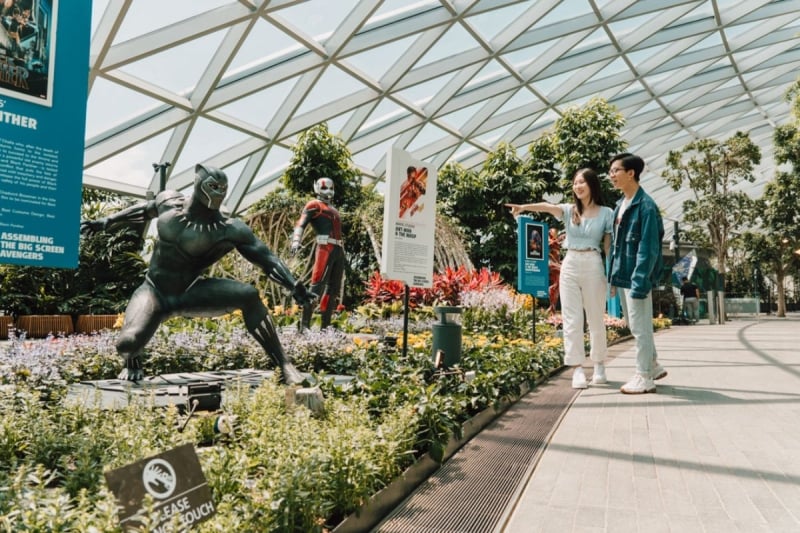 Within the Canopy Park, life-sized displays of Marvel superheroes have also been set up as photo spots. You can take photos with Black Panther or Captain America against the lush backdrop of the park's Petal Garden!
Light and sound showcase at HSBC Rain Vortex
Finally, stick around till evening for the Marvel-inspired light and sound showcase at the HSBC Rain Vortex! Watch Marvel heroes come to life through dazzling light projections on the world's tallest indoor waterfall. The show will be the perfect ending to your Marvel Avengers Changi adventure. 
The Light & Sound showcase will run from now to 13 Aug 2023 at 8pm on weekdays (Mon–Thu) and 8pm and 10pm on weekends (Fri–Sun). 
Enjoy promos related to Marvel Avengers at Jewel Changi!
Vote for your favourite Avenger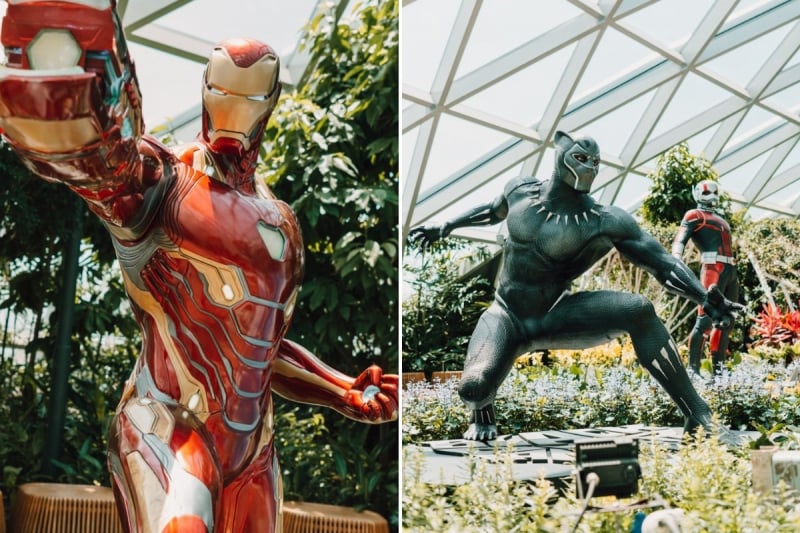 Spot the information panels at each Marvel superhero display and scan the QR codes here to vote for your favourite Avenger. After scanning the code, you can take photos or videos with an Avengers-themed photo frame.
Then, share these photos on your social media accounts, follow Jewel on Facebook and Instagram, and present a same-day receipt of S$100 nett (paid with Mastercard) at the Level 1 Jewel Concierge to receive a S$5 tenant voucher!
Plus, there'll be an additional perk for Changi Pay (Changi Airport's e-wallet) users! Simply make a minimum net spend of S$100 at Jewel to receive a S$2 Changi Pay eVoucher. 
Rewards on Capitastar app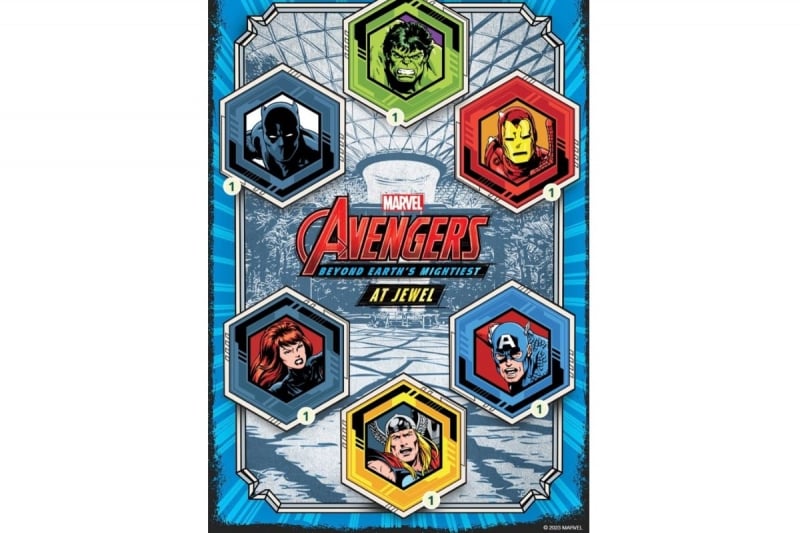 Download the Capitastar app to claim attractive rewards when you shop and dine at Jewel Changi! Simply complete the spending missions on the app to collect six Marvel Avengers stamps. 
After you've collected all six stamps, you can get an additional 25,000 STAR$ (equivalent to S$25). STAR$ can be used to redeem shopping rewards at participating malls and retailers. 
What's more: Jewel Changi offers double rewards for users of the Capitastar app and Changi Rewards app. Basically, for the same transaction, you can get rewards on both apps! 
What activities await at the Hasbro Gaming Terminal 3 event?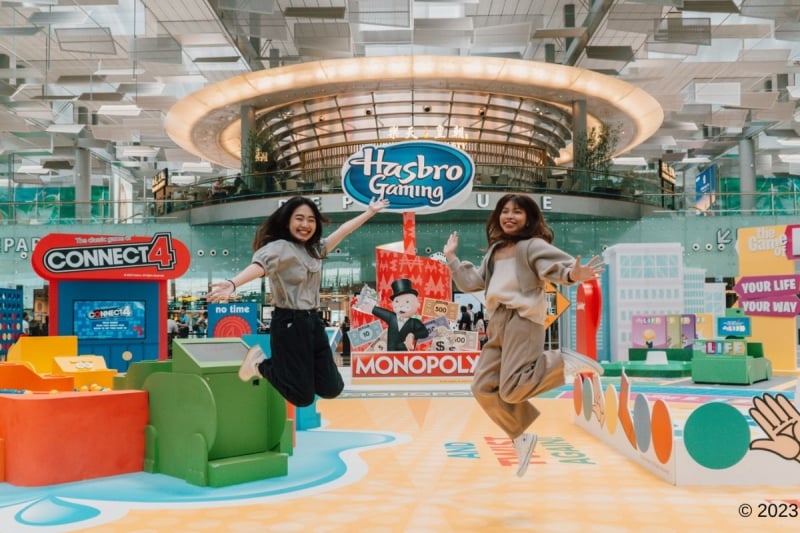 From now to 16 Jul 2023, T3 will turn into a board game wonderland as part of a Hasbro Gaming event! In the terminal's departure hall, visitors can play "phygital" versions of beloved popular games.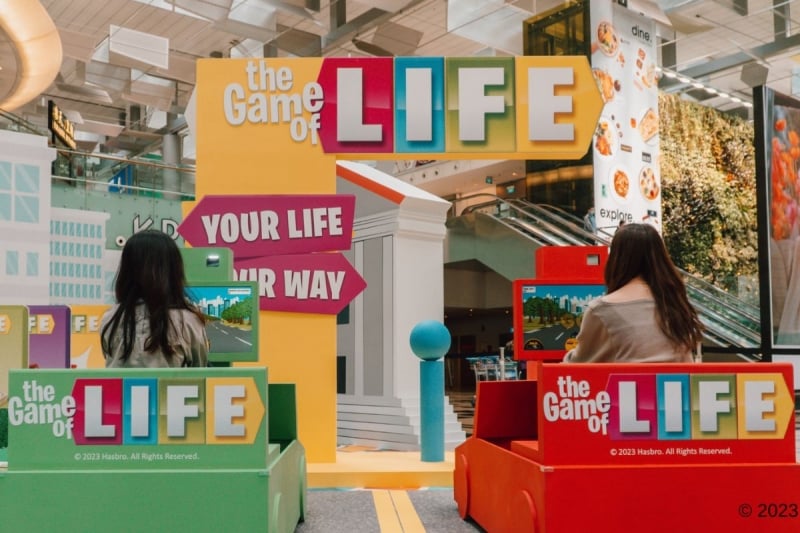 First up, the "phygital" version of The Game of Life lets participants buckle into giant game cars and race to collect points while avoiding obstacles. 
Also, if you're there with friends, challenge them to a game of Hungry Hungry Hippos; but move fast, as the one who gobbles up the most marbles wins!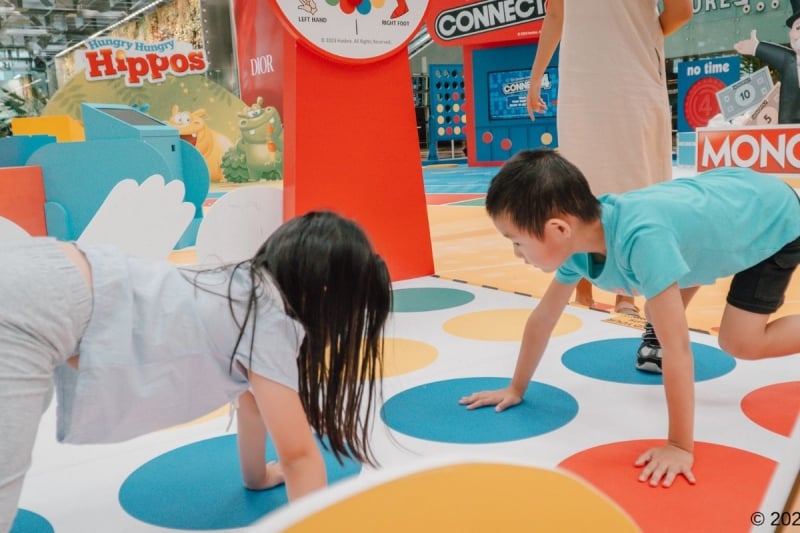 Next, to test your flexibility, try a round of the classic game Twister. Spin a wheel to decide which spots (pun intended) to stand on — and do your best to be the last one standing!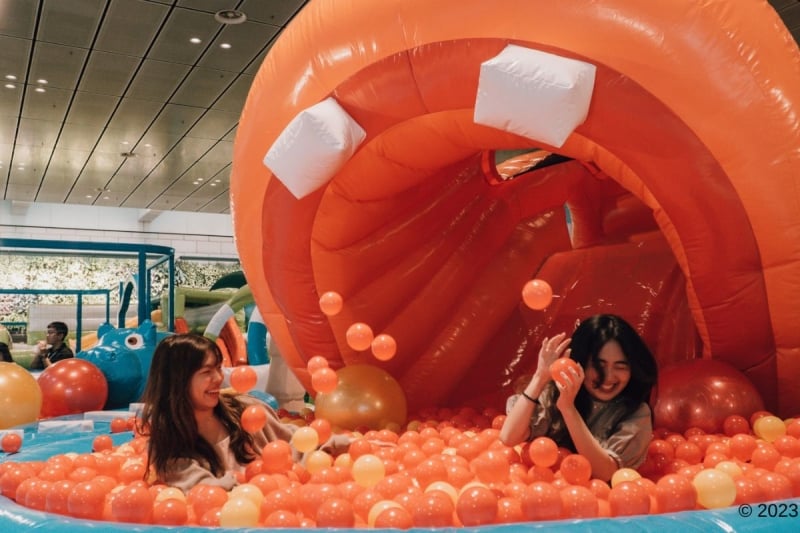 The activities offered by Hasbro Gaming at Terminal 3 doesn't stop at board games. At check-in row 11, a magical world of inflatable animals and ball pits awaits. At the Mega Bounce Playground, adults and kids alike can let loose in a bouncy arena of Hungry Hungry Hippos and Chutes and Ladders.
How can I play the "phygital" board games at Terminal 3?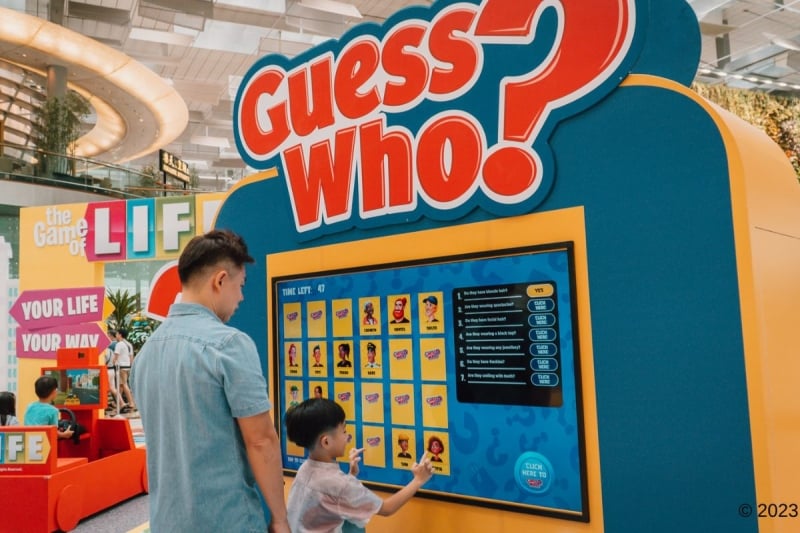 To enjoy the "phygital" games at T3, first acquire a Gamer Pass. One Gamer Pass can be redeemed with a minimum spend of S$50 (or S$80 for supermarket purchases) in a single receipt at participating outlets in the public areas of Terminals 1 to 4 (excluding Jewel Changi Airport). 
Plus, if you pay with Changi Pay or Mastercard®, you can redeem one additional Gamer Pass. Alternatively, you can purchase Gamer Passes at S$5 each.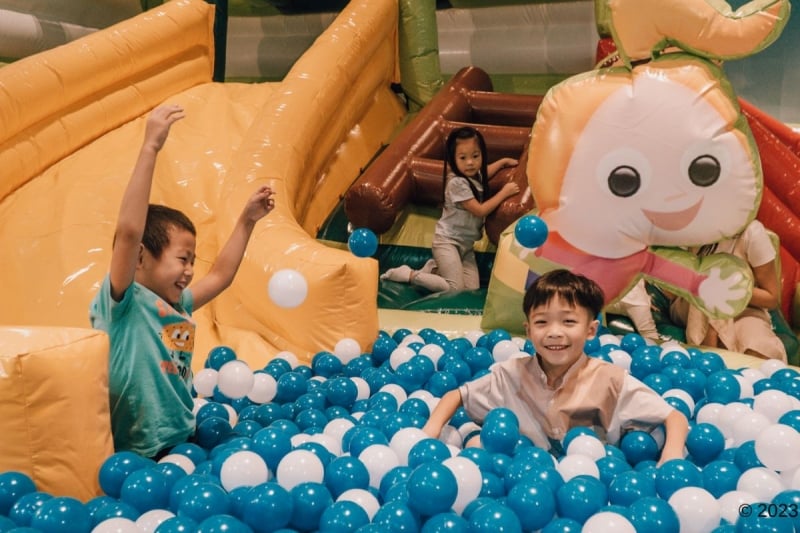 In addition, access to the Mega Bounce Playground requires a Mega Bounce Pass. You can purchase one Mega Bounce pass at S$5 with every S$50 (S$80 for supermarket) spent in a single receipt at participating outlets in the public areas of Terminals 1 to 4 (excluding Jewel Changi Airport), capped at three passes per receipt. 
An additional pass can be purchased with payments made by Changi Pay or Mastercard®. Direct purchases of passes can be made at S$15 each. 
Are there exclusive Hasbro goods up for grabs?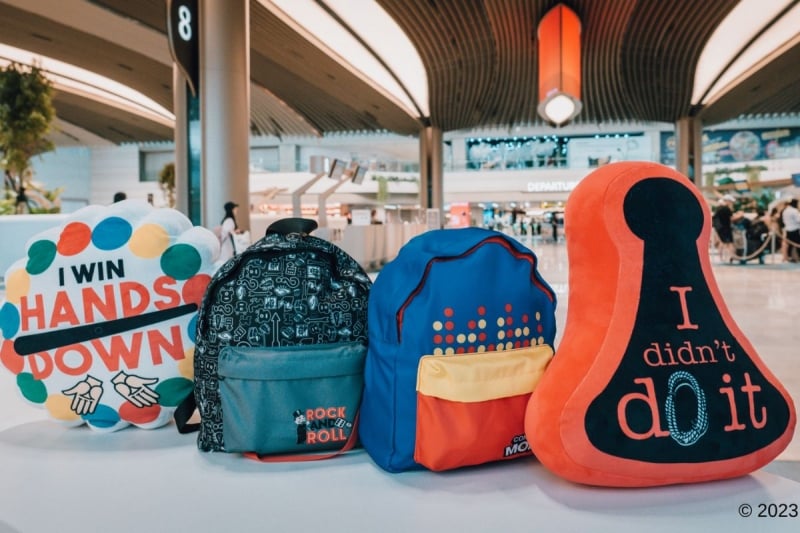 Want to bring home a memento from your day of fun? All you need to do is meet the qualifying spend for the Gamer Pass or Mega Bounce Pass, and the Changi-exclusive Hasbro Gaming premiums are up for grabs! There are four premiums available for S$11.90 each: a Twister or Cluedo cushion, or a Monopoly or Connect 4 backpack. 
Each receipt allows you to buy up to three premiums. However, those who pay with Changi Pay or Mastercard® can purchase all four premiums. 
Also read: 14 Things to Do at Changi Airport That Most Travellers Don't Know About
Even if you aren't flying off this June, these events will give you plenty of reasons to visit Changi Airport. Catch both Marvel Avengers at Jewel Changi and Hasbro Gaming at Terminal 3 in the same visit — and get ready for a blast with your friends and family! 
---
Information and select images extracted from a press release by Changi Airport Group.