Jjimjilbangs (South Korea's sauna houses) are becoming increasingly popular with many foreigners. They're known to be clean, hygienic and affordable for tourists to have a real taste of the Korean lifestyle. However, Jjimjilbangs can also be one of the top places in South Korea that gives you a major culture and time shock.
To save you from shock and possible embarrassment, we've got some tips here to get you ready for that steamy, hot soup that you're getting into.
1. Get cosy around naked bodies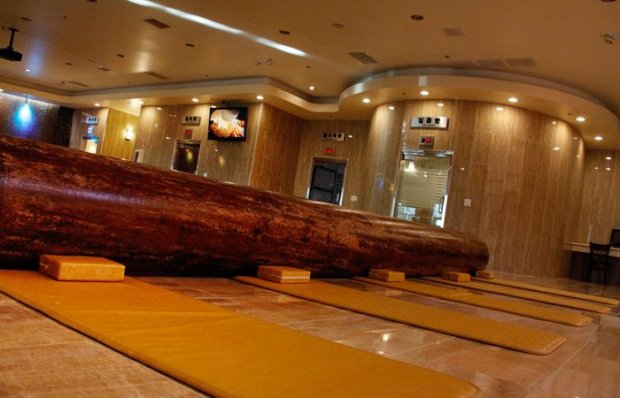 South Koreans are generally open to being naked in the gender-segregated halls. You may feel a little shy and over-exposed at first, but you'll soon get used to it as with the Koreans who are sauntering around naked and minding their own business.
In fact, if you try to cover yourself with a towel, you'll be attracting many eyeballs. The trick is to fake that you're comfortable until you actually feel comfortable.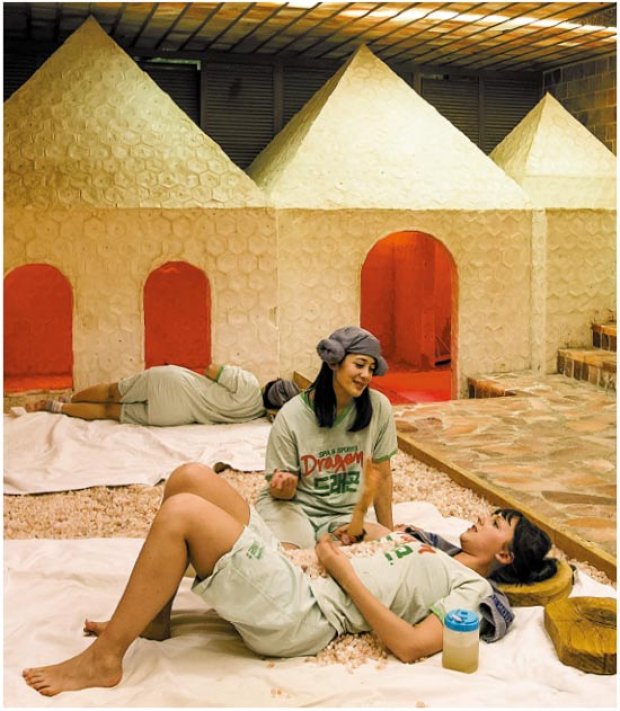 In more established Jjimjilbangs, the closet hall provides grooming equipment such as hair dryers and combs for public use. Don't worry about hygiene. The equipment are kept in autoclaves that sterilise the equipment each time after they are used.
2. Jjimjilbang is a full-day event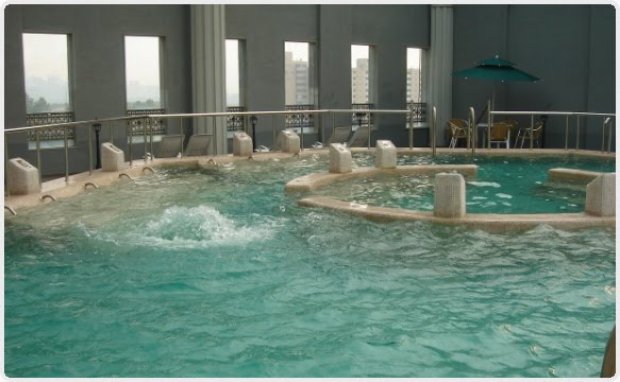 Besides the bathtubs, saunas and spas, there are also other subsidiary services to indulge yourself in for just a small fee. Some services include barber shops, massage room and Sitz bath (used to relieve discomfort and pain in the lower part of the body). These services are usually priced between  ₩10,000 to ₩25,000 (around SGD11 to SGD29).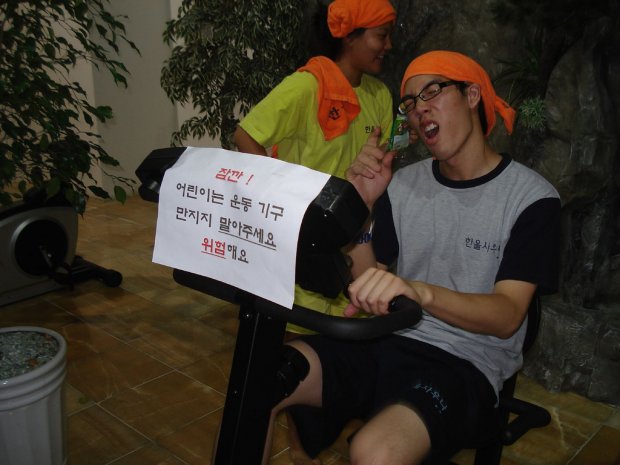 Image credits: http://bit.ly/1gZfj0K
There are also other recreational facilities that are free for public use, such as gyms, mini arcades, TV viewing halls and movie viewing halls. If you get peckish, in-house restaurants and snack bars are conveniently located at every level of the building.
For a full rejuvenation experience, allocate the last day for your Jjimjilbang experience.
3. Perspiring is not by choice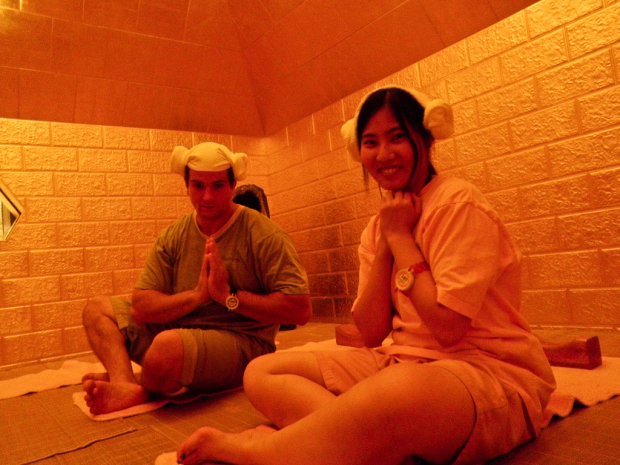 Image credits: http://bit.ly/1gExT3R
You haven't truly experiences the Korean-style sauna if you don't visit their sweating bath. These scalding 98°C baths are effective in controlling all kinds of diseases, soothing the nerves and preventing many kinds of women-related diseases.
You'll probably feel stuffy, stale and suffocated because of the heat circulating the room. So you should only stay in the room for at most 30 minutes.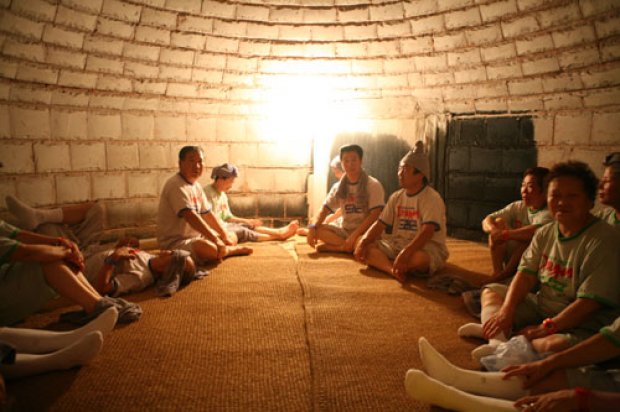 Don't be surprised to see Koreans chitchatting or even reading a book at one corner. After all, it has become part of their lifestyle and they're probably used to the heat.
4. And you're hot and you're cold (repeat)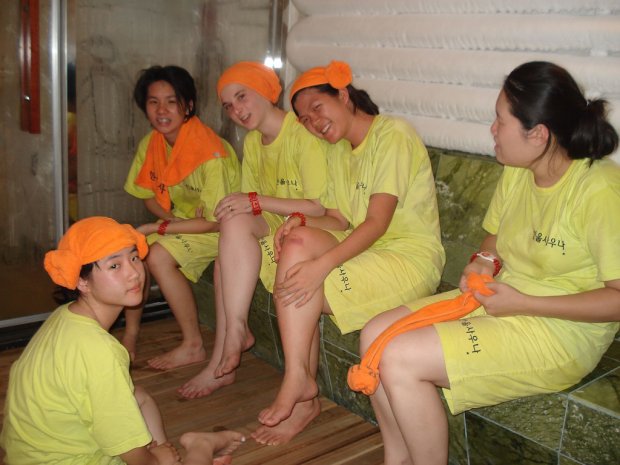 Image credits: http://bit.ly/1gZfj0K
Immediately after going into the sweating bath, you must enter the ice room (that's usually next to the sweating bath). These ice rooms can reach a temperature as low as -11°C. You can literally feel the hot air escaping through the pores of your skin.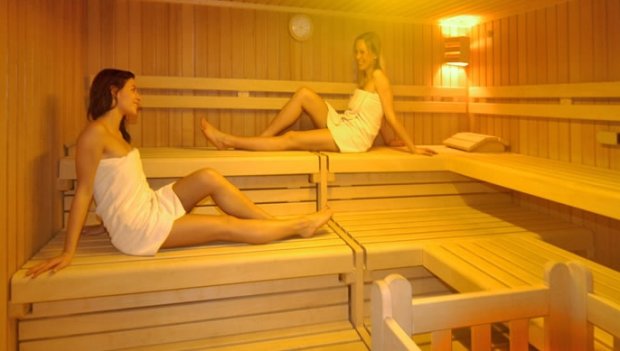 Going to and fro the sweating bath and ice room improves your immune system and keeps you calm. You'll also find yourself mentally active and be able to think better.