Who said travelling outside the country is the only way to enjoy your year-end holidays? These unprecedented times have provided us with the perfect opportunity to rediscover Singapore with our family. And indulging in a luxurious staycation that is not too painful on the pocket whilst on this rediscovery journey is a great added perk. What's more, you can enjoy this complete family holiday at a budget of under S$400! So don't worry if you haven't started planning yet, we have a 3D2N Singapore itinerary for you that is guaranteed to help you make the most of your well-deserved break. 
Wouldn't it be great to explore some of the more remote locations in Singapore as part of your family holiday? Begin your Singapore rediscovery journey by exploring the Zhongshan Park area located in Balestier. Coupled with a staycation at Ramada by Wyndham Singapore at Zhongshan Park, this is the perfect getaway for those looking to get away from the hustle and bustle of city life. Let the adventure begin! 
Day 1: Relax, shop, and explore Zhongshan Park
In the morning
Head to Ramada by Wyndham Singapore at Zhongshan Park to drop off your luggage before making your way to explore the area around the hotel. Zhongshan Park is a great place for you to head out to for a relaxing stroll. You'll notice two existing Banyan trees on your walk that further add to the serenity of this park. A timbre-decked walkway is especially designed for those looking to take a nice, relaxing stroll in this peaceful and scenic sanctuary. 
Did we mention that there are many lesser frequented attractions near the park for you to explore? The park is within walking distance from the Sun Yat Sen Nanyang Memorial Hall and Burmese Buddhist Temple. These heritage sites are some of Singapore's hidden gems and are surely going to make your visit here an enriching one! 
The Sun Yat Sen Nanyang Memorial Hall is a great way to dive into Singapore's rich history. Gazetted as a national monument is 1994, the Memorial Hall informs visitors on the lesser-known details of Singapore and Nanyang involvement in the 1911 revolution. The place recently underwent enhancement and now features more artefacts and new multimedia features such as hologram projection and 3D mapping. Who thought a history lesson could be so much fun? What's more, the admission to this place is free for Singaporeans, PRs and Ramada Hotel guests, and you can even sign up for their free guided tours. 
Tip: Visit the Sun Yat Sen Nanyang Memorial Hall website for information regarding exclusive activities and exhibitions that will be held during your visit!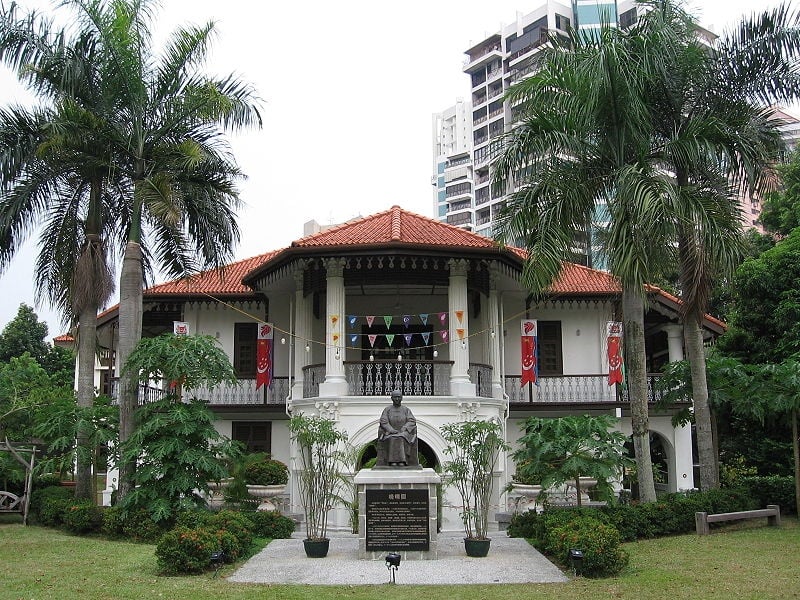 All that exploration is sure to make you feel hungry. Good news — the Balestier Market has an array of stalls selling various popular Singapore street food items that will satisfy all your hawker food cravings. Located only five minutes away from the memorial hall, the market is a great way to enjoy an authentic hawker stall hopping experience! 
Some of the local favourites include the Roasted Chicken Rice at Bugis Street Chuen Chuen Chicken Rice, the Soup Prawn Noodles from Ah Hui Big Prawn Noodle Longhouse and the Pu Tian Mee Sua from Pu Tian Shou Gong Mian. For a sweet delight, you can indulge in the Nian Gao and Yam Goreng from Boon Pisang Goreng. The best part is that all the dishes here are under S$10, with some of the mains being under S$5! 
Also read: 11 SEA Holiday Staycation Ideas for a Safe Year-End Getaway Close to Home!
In the afternoon
Following the delectable hawker stall hopping experience, dive right back into serenity and spirituality when you visit the Burmese Buddhist Temple. What makes the temple so special is that it is the first and only Burmese Buddhist temple built outside of Myanmar in the traditional style. The temple's understated grandeur only grows as you step inside and see the magnificent marble of the Buddha image before your eyes. Declared as a national heritage site of Singapore, this unique temple is the biggest enshrine outside of Myanmar. 
Visiting these lesser-frequented heritage sites is a great way to learn and rediscover Singapore for the entire family!
Now that you have explored Zhongshan Park, it's time to begin your luxurious and rejuvenating staycation by checking in at Ramada by Wyndham Singapore at Zhongshan Park! Located in a quiet, tranquil setting, this hotel is filled with attractive rooms and modern, lavish amenities that are sure to guarantee you a relaxing and rejuvenating experience. The hotel rooms overlook gorgeous views of the lush greenery on the park grounds that surround the hotel. Additionally, in light of the COVID-19 situation, the hotel also has a Count On Us initiative to ensure cleanliness and hygiene so that all hotel guests can have a safe experience. 
Looking for a great deal for your staycation? Save up to 25% when you book across all participating hotels by Wyndham across Southeast Asia and the Pacific Rim region. Earn 3,000 Wyndham Rewards bonus points when you make your booking! 
Book Period: Now – 31st March 2021
Stay Period: Now – 31st May 2021
Apart from the various amenities that the hotel room offers, there is also an on-site restaurant and bar, an outdoor lap pool, and a fitness centre. Additionally, the hotel is also located in close proximity to Zhongshan Park and a shopping mall. The hotel also provides convenient access to commercial and shopping hubs like Orchard, Novena, and Toa Payoh, making it an ideal place to relax and begin your Singapore rediscovery journey! Want to know more about the history, attractions and places to eat around this area? Click here for more information about the Ramada by Wyndham Singapore at Zhongshan Park and the Balestier area! 
At night
How about a little shopping and dining at night after your hotel check-in? Head on to the Zhongshan Mall which is located right next to the Zhongshan Park. With numerous shops and dining options inside the mall, you are sure to be spoilt for choice! You can satiate with authentic Asian cuisine, indulge in fast food, shop at the various retail stores or even pamper yourself with a soothing massage. Zhongshan Mall is definitely the ideal destination for everyone to shop, dine and relax! That's just the beginning of your 3D2N family holiday consisting of a staycation experience and domestic tourism. 
Tip: Be sure to check out the Noodle Thai Thai Kitchen located at Zhongshan Mall for a delicious Asian fusion meal! You must try one of their authentic northern Thai noodles, all of which are under S$10. 
Cost of Day 1:
Sun Yat Sen Nanyang Memorial Hall (inclusive of guided tours): Free for PRs, Singaporeans, and Ramada hotel guests. 

Balestier Market meal: Under S$10 per person

Burmese Buddhist Temple: Free for everyone
Day 2: Long hikes, spa sessions, and Orchard lights
In the morning
Your second day here is sure to bring you a range of experiences. Begin your day with a long hike at MacRitchie Reservoir! A glorious nature trail that surrounds Singapore's largest reservoir is the perfect start to your morning. This trail is a treat for avid marathoners and novice hikers alike. Enjoy the tranquillity and lush green foliage as you walk this path. You'll also get the opportunity to venture out to their 250-metre aerial free-standing suspension bridge to capture some stunning views. The bridge is spread across the two highest points within MacRitchie and is free for all visitors!
Tip: Plan ahead of your hike with this map of all the walking trails to maximise your MacRitchie adventure. Keep your eyes open for long-tailed macaque monkeys, squirrels, monitor lizards, and even flying lemurs or owls on the various walking trails!
In the afternoon
That thrilling excursion calls for some relaxation, right? Why not take a peaceful walk at the aromatic Herb Garden located at level 3 of the hotel! The herb garden offers fresh produce that ranges from fruits to herbs and vegetables. The garden includes lemon, soursop, starfruit, and curry leaves, which are harvested and used in dishes made at the hotel.
You can even pamper yourself with a unique curry leaf mojito at the hotel's Heritage Bar & Lounge — they use freshly harvested curry leaves from the garden. If you're looking to cool yourself after your stroll, you can head out for a refreshing dip at their outdoor pool. This magical blend of bliss and rejuvenation is your surefire guide to ultimate relaxation this year-end holiday! 
At night
What better time to shop and stroll through Orchard than the holiday season? The hotel provides convenient access to Orchard Road — the perfect place to begin your holiday shopping adventure. ION Orchard consists of numerous stores for you to shop till you drop. You can also dine along Orchard Road with an array of eateries, ranging from fine dining to holiday street food! Your night here is a visual treat of the intricately embellished street filled with eye-catching ornaments and holiday-themed decor.
You'll get the chance to walk along a beautifully decorated 3.88-kilometre stretch from Tanglin Mall to Plaza Singapura, giving you the opportunity to take in the sensory feast. This scenic walk is a great way for you to take some vibrant pictures and discover your holiday spirit! The stunning light up, "Love this Christmas", will run from 13 Nov 2020 to 1 Jan 2021. You can also partake in other events like the Christmas Countdown Party which will feature mesmerising performances by live bands and dance groups. 
If you are yet to finish up your holiday shopping, the malls on Orchard Road are just for you! You can enjoy abundant offers and shop your hearts out at various malls like Paragon, [email protected], and more as part of the Festive deals at Orchard Road! 
The highlight of the many festivities here will definitely have to be The Great Christmas Village. Running from 23 Nov to 26 Dec 2020, this carnival will let you indulge in Christmas street food, Christmas-themed activities, and festivities. And from 16 Dec to 26 Dec 2020, you can enjoy multimedia performances, Christmas carolling, and interactive activities along the walkway from ION Orchard to Wisma Atria. Doesn't that sound like a fantastic family affair? For more information regarding the Orchard Road festivities, visit this website.
Tip: Head on to the front entrance of Paragon on Orchard Road featuring an enormous Christmas tree — it makes for a great place to capture festive moments for your social media feeds! 
Cost of Day 2:
Bus to MacRitchie Reservoir:  Adult ~ S$1.31, Student ~ S$0.6

MacRitchie Reservoir: Free for all

MRT to Orchard Road: Adult ~ S$0.92, Student ~ S$0.42
Day 3: Fine dining and garden tour
In the morning
How do you make the most of your last day here? Head on to the Singapore Botanic Gardens for a stroll amid nature and gorgeous flora! Even better, visit the National Orchid Garden located at the highest hill of the Botanic Gardens. This place is truly nature at its finest, with a beautiful setting consisting of over 1,000 species and 2,000 hybrids, with about 600 of them on display. 
Tip: Not far from the National Orchid Garden entrance is the Golden Arches. This beautiful backdrop makes for some Instagram-worthy pictures! 
The Mist Garden, Crane Fountain, and Silver Arches Display all consist of various types of flower providing a visual treat for the eyes and an impressive background for your pictures! The entrance to this garden is free for students during the first week of every school term holiday and a mere S$5 for adults, so the timing couldn't be more perfect. On all other days, the ticket stands at S$1 for students. Truly worth the visual treat if you ask us!
Also read: 16 Instagrammable Places in Malaysia: Where to go, Eat and Stay in KL and Klang!
In the afternoon
After your morning excursion, head back to the hotel and enjoy a well-deserved break. Following your mid-morning lounge session, enjoy a scrumptious meal at the hotel's restaurant. The New Ubin Zhongshan Park, the first outlet of the New Ubin Seafood Group located in the hotel, will treat you to a truly Singaporean dining experience. Enjoy a hearty meal made with the freshest produce amid a relaxing environment.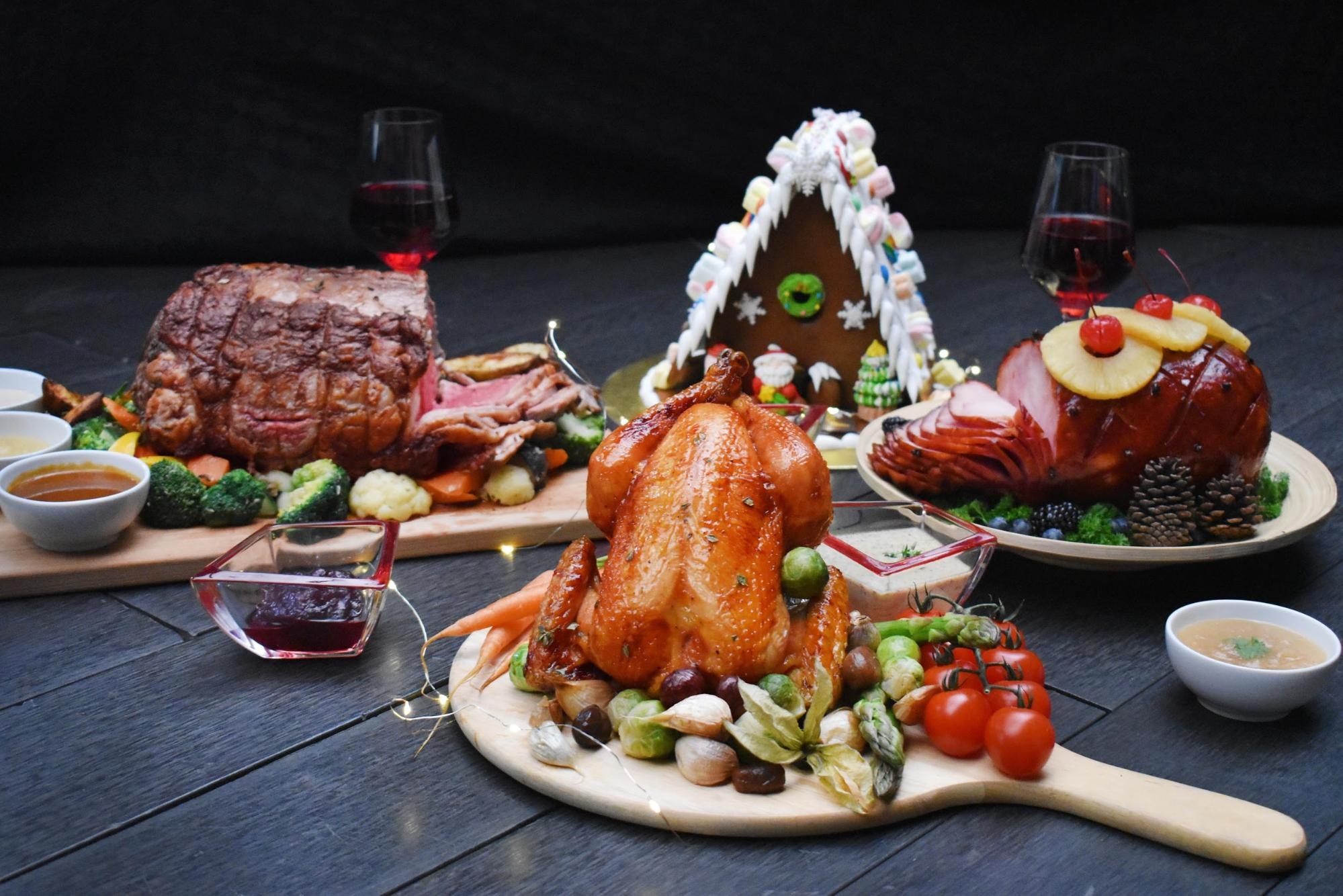 After your relaxing vacation, why not indulge in a delicious festive meal. Serve up a feast to your loved ones this holiday without breaking a sweat with Ramada by Wyndham Singapore at Zhongshan Park's Festive Takeaways Bundle serving up to 10 people. Not sure whether you want beef or ham? Well, don't worry as you have two different bundles to choose from complete with potato wedges, dressing sauce, and a delicious cake. 
Psst, since this is a voucher-based purchase, you can even choose to buy it as a gift for a friend!
The signature dishes here include the USDA Black Angus "Choice" Ribeye with Heart Attack Fried Rice and the Hokkien Mee Special. If you're looking to eat at places nearby, you can head to the Founder Bak Kut Teh Restaurant, Loy Kee Best Chicken Rice or Whampoa Keng Fish Head Steamboat for a delectable local dining experience!
Cost of Day 3:
Bus to Botanical Gardens: Adult ~ S$1.32, Student ~ S$0.47

National Orchid Garden: Kids under 12 – Free, Student – S$1, Adult – S$5

Executive Set Lunch Menu for 2-4 pax: S$68++ (For individual food prices, visit their

website

)
Approximate Cost of 3D2N Itinerary: 
Accommodation: From S$128++, 3D2N = S$256 ++

Attraction: S$12

Transportation: S$20.16++

Food: S$110++

Grand Total =  ~S$398
Who would have thought that rediscovering so many places around Singapore could be so enriching and light on the pockets? With so many great experiences ranging from physical activities and heritage site visits to fine dining and shopping, your year-end holiday will truly have it all. We are sure you won't miss your yearly travel plans with your relaxing 3D2N staycation and local exploration, all under S$400! So what are you waiting for? Start packing now for a great holiday experience!
Book your Wyndham Staycation Now!
---
Brought to you by Wyndham Hotels & Resorts