Let's be real here, how many of you have actually heard of Sukhothai, let alone been there?
Admittedly, we didn't know much either. As Singaporeans, we unabashedly love our shopping, which is why Bangkok remains one of the most popular tourist destinations in Thailand to date. Yet when it comes to the UNESCO Heritage City, our knowledge of Siam's first capital is limited by what Google tells us.
So when the Tourism Authority of Thailand (TAT) invited us to take part in their "Experience New Variety and Family Fun in Amazing Thailand 2019 – Explore North to South" familiarisation trip as part of their initiative to introduce their emerging tourist destinations, our answer was a resounding "yes!"
Thanks to Bangkok Airways, we got the chance to board a propeller plane for the first time in our lives. Upon touching down in Sukhothai, we were even greeted by the most unlikely of faces – those of Zebras and Giraffes! That's right, just outside the baggage claim is the Sukhothai Airport Zoo which you'll shuttle pass on the way from the plane.
If there's one word to describe Sukhothai, it's got to be "quaint". The quiet rural city is bursting with Thailand's rustic charm, an assurance for a fun-filled adventure that waited ahead of us.
Getting to and around Sukhothai!
Granted, thanks to its location (427km north of Bangkok, landlocked and pretty much sitting in the middle of nowhere), getting to and around Sukhothai definitely isn't exactly convenient.
In order to get to Sukhothai, we had to transit at Bangkok to board a much smaller aircraft. Thankfully, Bangkok Airways' boutique lounge is fully furnished with plush seats, power points and a selection of local food and beverages. We had such an enjoyable time chatting over snacks that the waiting time passed in a flash and we got on the plane in no time.
It's our first time boarding a propeller flight, so it goes without saying that we had our faces plastered against the window watching the propellers whir to life. It's definitely noisier than your usual Airbus, but it's so much cooler.
In order to get around Sukhothai, it's highly recommended to hire a tuk-tuk (motorised three-wheeler) or a songtaew (passenger mini trucks). As we had a rather large group, we opted to rent a van instead.
On the bright side, as Sukhothai sees to a smaller volume of travellers, the price of food, travel and accommodation is incredibly affordable here. Hotels and comfortable resorts average around S$60, though there are plenty of backpacker inns offering rooms at S$30 for the budget travellers. S$30 is more than sufficient to cover a day's worth of meals; even flight prices from Bangkok to Sukhothai range from just S$150-180, and S$200 during peak periods.
Day 1:
Chinatown
As the flight to Sukhothai from Bangkok is only slightly over an hour, we'd highly recommend dressing your best and head straight to Chinatown to grab some fantastic Instagram-worthy shots!
The entirety of Walking Street is decorated with graffiti art done by talented artists from all across the ASEAN region. Not only is this a popular spot among travellers, but locals too. Though we were only there for a short while, there were plenty of locals taking their #ootd shots for one another. In fact, there was even a couple taking their pre-wedding photos too! Perhaps you too could consider having your special photo shoot here?
The artworks don't stop at just the big pieces. Look a little further and you'll see how the artworks bleed into everyday life here, perfectly in line with the TAT's 'Amazing Thailand Go Local' campaign".
Sukhothai Historical Park
(Left) The sun setting over Wat Mahathat, the most important and impressive temple in Sukhothai Historical Park.
(Right) Exterior shot of Wat Si Chum.
Trust us when we say you'd want to allocate a whole day to this as the park is nothing short of enormous. It is, after all, the actual ruins of Sukhothai, the capital city of the Sukhothai Kingdom from the 13th and 14th century. Within the city walls alone are 26 temples and the Royal Palace, and holds a total of 190 historical ruins in the entire Historical Park.
Fortunately, you don't have to trudge around the area as there are bicycles and buggies for rent, or if you'd like to have a relaxing guided tour, just hop onto one of their shuttle trams!
Our guide gave us an incredibly informative rundown of each of the temples we visited, as well as more insights with regards to the history of the Sukhothai Kingdom. It might be biased of us as we're history nerds ourselves, but walking through all these temples definitely sent positive shivers down our spines. Everything is incredibly well preserved, and the sights were nothing short of breathtaking.
Our favourite attraction was definitely Wat Si Chum. At a whopping 11 metres wide and 15 metres high, the Buddha statue is the largest seated statue around. Even the fingers of the Buddha are taller than us! What we really loved about it is that from afar, the statue looked as though the eyes were closed; yet when we stepped into the mandapa, the statue is actually bestowing a faint smile upon you.
We visited Wat Si Chum during the later hours of the morning when there were lesser people around, which allowed us to take our time to walk around the place. Outside the mandapa are ruins of vihara as well as smaller images of Buddha too. What's truly amazing though, is this hidden passage in the southern wall containing over 50 slates in which the lives of Buddha are engraved on, and are the oldest surviving examples of Thai art.
Needless to say, we weren't able to cover the entirety of the park due to the extreme April weather condition and the sheer size of it, which is why we'd highly suggest dedicating an entire day to exploring the ruins. Of course, don't forget to pack along sunscreen, hats and a water bottle!
Not to fear though, as they've also got an airconditioned welcome centre with videos and displays to introduce you to the Historical Park. Take our word for it though, catching the sunset shining down on the ruins is definitely not something you'd want to miss.
Day 2:
Wat Traphang Thong
No sane human would wake up at 5am on a holiday except for two things – to chase a sunrise, or for a completely unique experience. Here, we did it for both.
Wat Traphang Thong is the only temple in the Historical Park where an active community of monks live. These monks spend the entire sundown reciting prayers till day break before they journey out to receive blessings from the people. As the monks do not indulge in any worldly desires, they subsist entirely on alms.
Images of a Merit Making Session in progress.
We joined the locals and lined up along the bridge connecting the temple to the city, with bags of food and necessities packaged into individual bags. Once the bells rang, the monks made their way out and past us, where we would carefully put the bags into their baskets and offered our well wishes. It's also important to note physical contact with the monks, their baskets or even the strap is completely forbidden, so do take extra care when presenting the offerings.
At the end of it, the monks lined up in front of all of us to express their gratitude before returning back to their duties.
Wat Traphang Thong Market
Just next to the temple is the morning market, with tons of fresh local produce for you to peruse from. From flowers to temple offerings, fruits to different cuts of meats, there were plenty that we had never seen before. The Thai Mangoes, however, was something some of our more eagle-eyed travel mates spotted from across the market and happily bought at least 3kg's worth.
For breakfast, we had a delicious bag full of delightfully sweet and savoury pork strips on sticks, with another bag of glutinous rice while walking around the entire market. When we headed back out, we realised there were plenty of backpacker inns and homestays along the area. Our guide informed us that this area is popular with foreign tourists, in particular, so if you're looking for a place to stay that's close to the city centre, you know where to hit up!
Workshops, Workshops Galore
When in Rome, do as the Romans do, so that's how we found ourselves spending our afternoon hiding away from the midday heat and dabbling in local art.
We were warmly welcomed into a local artist's private museum where he introduced us to the various types of Phra Phim (Buddhist Votive Tablets), some of which are so incredibly dated that they were worth well into the hundreds of thousands. Of course, we also got a chance to make our very own amulets! The artist definitely made it look easy, as we all struggled left and right to form the terracotta images of Buddha.
He also offered us the opportunity to try out an ancient style of archery, as well as starting a fire without any modern lighting tools. With a spark from striking a flint, he quickly blows at a handful of fine dried straw and almost immediately does it start burning. The smoking straw is then stuffed into a wooden carrier with more dried straw, and suddenly he handed it to us!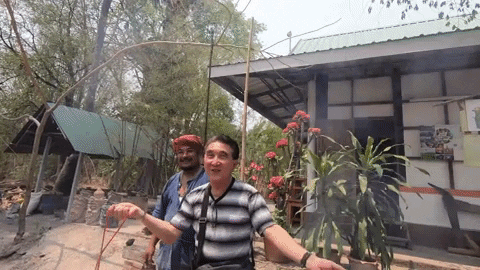 We were tasked with swinging the entire contraption to encourage the burning. Don't be fooled though, it takes a lot more strength than you'd expect.
We received an in-depth step-by-step guide on how to draw the traditional Sukhothai fish at Ganesha Sukhothai Thailand. These fishes are said to bring good luck!
Next up, our painting skills were put to the test as the teacher over at Ganesha Sukhothai Thailand presented us with a clay plate and a pot of ink. While she guided us pretty much stroke by stroke, controlling a finicky brush on a curved surface proved to be quite a daunting challenge. Our creations turned out looking more like deformed goldfishes, but we all had a good laugh anyway.
With our stomachs rumbling by now, a cupcake decorating workshop was a welcome change. The bakers demonstrated how to decorate two different designs (Sukhothai fish and a Lotus) with a remarkably professional flair. Our attempts on the other hand… looked more like a rose and a crayon scribble. Nonetheless, we stuffed our faces with the cakes. Even with our dismal decorating skills, it didn't mask the moist fluffy sponge below at all.
Baan Na Ton Chan
For a real taste of rural village life, head on down to the village of Nan Ton Chan. Over the years the village has transformed itself into a tourist attraction in its own right, without having to sacrifice any of its traditions.
We were taken around the village on an E-Taek – a multi-purpose farm tractor. It was incredibly cool to see how it was driven!
(Left) Bamboo Chopsticks straight out of the machine. (Right) Intricately hand-woven traditional cloth.
Hardly anyone thinks about where chopsticks come from, but here we were treated first hand to how they turned bamboos into chopsticks and skewers! We even got to use some freshly made skewers to feast on salted lime slices with.
Over at Suntree Thai Weaving Centre, the guides explained to us about the hand-woven fabric of the Thai Puan Tribe. Due to the intricacies of the fabric, as well as how time-consuming it is to harvest and dye the cotton, the average time it takes to make a piece of cloth is around two months! We tried our hand at weaving the cloth too, but our handicraft was really nothing compared to the experts. Indeed, every individual piece of fabric is a piece of artwork made with the weaver's heart and soul.
Should you be interested, they've repurposed the cloth into modern office day wear, as well as furniture items! Even the smallest scraps of cloth weren't wasted and turned into adorable accessories.
Baan Thong Somsamai Gold Shop
Of course, you can't visit Sukhothai without checking out their locally assembled gold accessories. Somsamai Gold Shop, in particular, creates preciously exquisite design ornaments by hand. There, they brought us to the back of the shop where the factory was, and everyone was diligently putting together a range of accessories. Some of the gold pieces were so small and delicate, we didn't even dare to breathe while peering close.
Day 3:
Si Satchanalai Elephant Back Ordination Procession
We were treated to a truly special experience as we had the privilege of attending the Elephant Back Ordination Procession! It's a joyous festival of over 175 years, where even the governor is in attendance.
As part of this ordination procession, monks-to-be don sunglasses as they parade atop colourfully-suited elephants into the river and out onto the streets. Ahead of the multi-coloured elephants, locals in traditional costumes lead the procession with a festive dance, moving and swaying to the beat of the live band procession.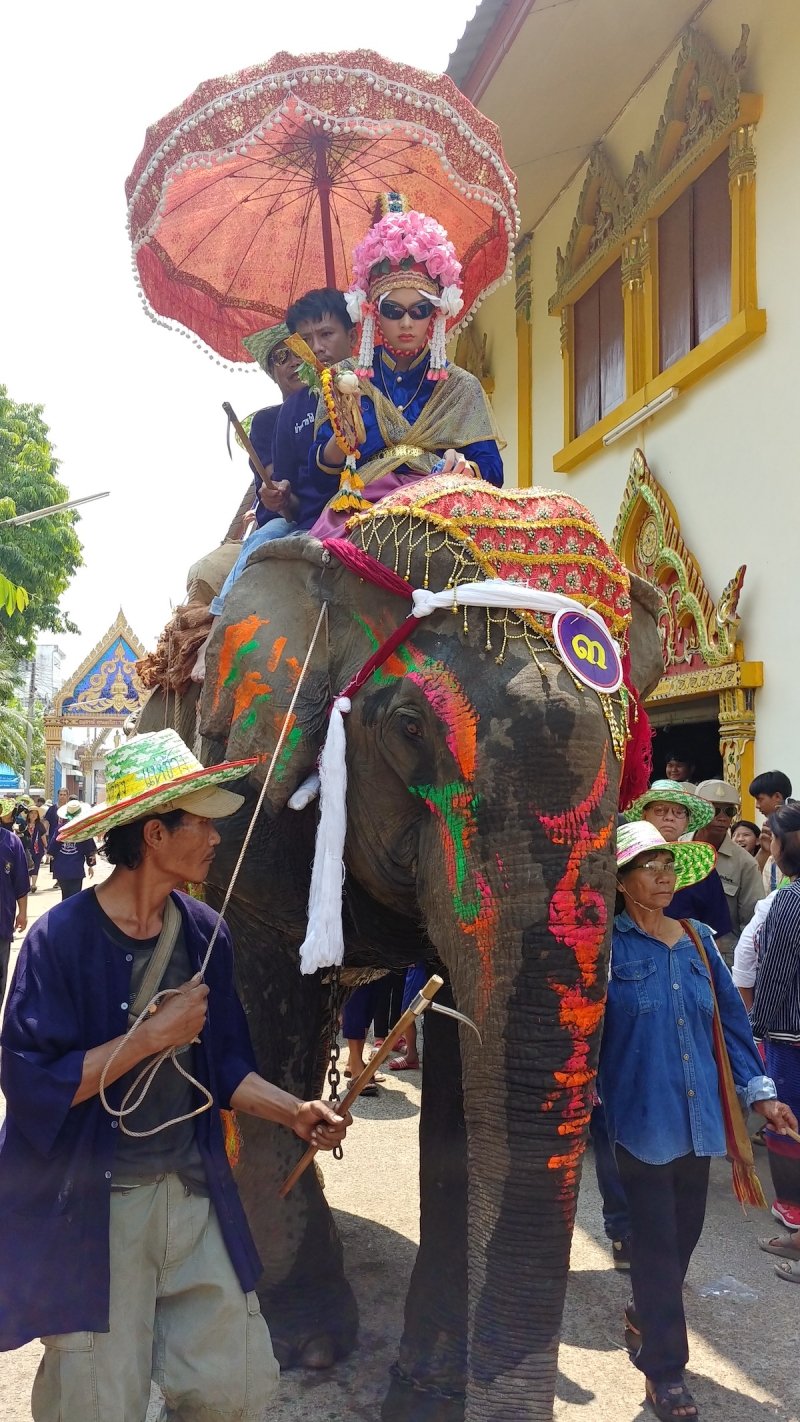 The locals took great delight in splashing water at the elephants, and we too got a little soaked by the end of the procession. Even with the pulsating beats of the music and how lively the atmosphere was, nothing could compare to the moment where the elephants ambled up to the VIP box and the governor presented it with a comb of bananas!
Organic Agriculture Project Sukhothai Airport
After a morning's worth of excitement, we decided to chill out over at the Organic Agriculture Project, where we had a laid back meal with produce fresh from the farm!
The view overlooking the farm, there's even a live water buffalo ambling around the vicinity!
The weather was much too hot for us to get down and dirty, but you'd be delighted to know that they've got farm stays for those looking to get some hands-on experience being a farmer. Rice-planting, fruit harvesting, collecting duck eggs and riding water buffaloes, you name it, they've got it!
If you'd like to know more about the Organic Agriculture Project, you can check out our review in our previous trip here!
Need a place to stay?
There's plenty of options to choose from here in Sukhothai!
Located within airport grounds is Sukhothai Heritage Resort, a resort on such a grand scale you won't even miss the beach! They offer unparalleled comfort and privacy while providing luxury.
For something a little out of the ordinary, why not Sabai Sabai Sukhothai? Also located on airport grounds, they offer a completely different experience with an Asian Chinese theme. Not to mention, they've got "dinosaurs" right outside too!
Sukhothai Treasure Resort & Spa is more closely located to the city centre, and also where we called home for the two nights we spent in Sukhothai! Nestled in rice fields and ringed in by mountains, it was the perfect place to embark on our daily adventures from.
There's so much more to discover, and even with this extensive 3D2N Sukhothai itinerary, we've really only scratched the surface of what they have to offer! Whether you're a history junkie or just someone looking to have a good time, Sukhothai is bound to amaze you.
So how about that? Our 3D2N trip in Sukhothai was extremely enriching and fruitful, we'd definitely hop on a plane back the next chance we get! Until then, kob-khun ka (thank you) and laaeo phohp gan mai (see you again)!
---
This trip was made possible thanks to the Tourism Authority of Thailand and Bangkok Airways.