What's better than a chill night out at a bar? A chill night out at a bar with an absolutely breathtaking view, of course. If you think you've seen it all when it comes to bars, this article will totally change your mind! Read on to find out more about bars with the best views EVER from around the globe!
1. Subsix, Maldives
Image credit: PER AQUUM Niyama
This bar totally brings the idea of seaview to another level – by taking it underwater! Submerged 6 metres below the surface of Maldive's crystal-clear waters, this pretty rad bar has windows all around to give you a breathtaking view of the surrounding oceanic life. With Subsix apparently being the first bar of its kind, this is seriously one to have on your bucket list! Pretty surreal-looking, huh?
2. Halfway Guesthouse Bar and Restaurant, China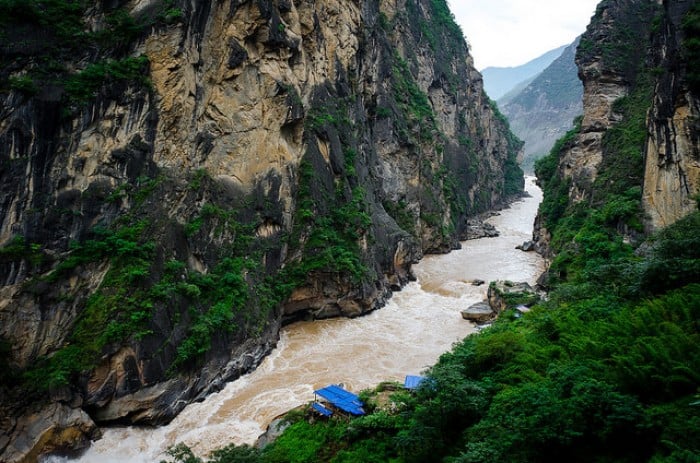 Image credit: Luca Casartelli
Ever heard of the Tiger Leaping Gorge? No? Well, just FYI, it's one of the most stunning (and deepest!) gorges in the world!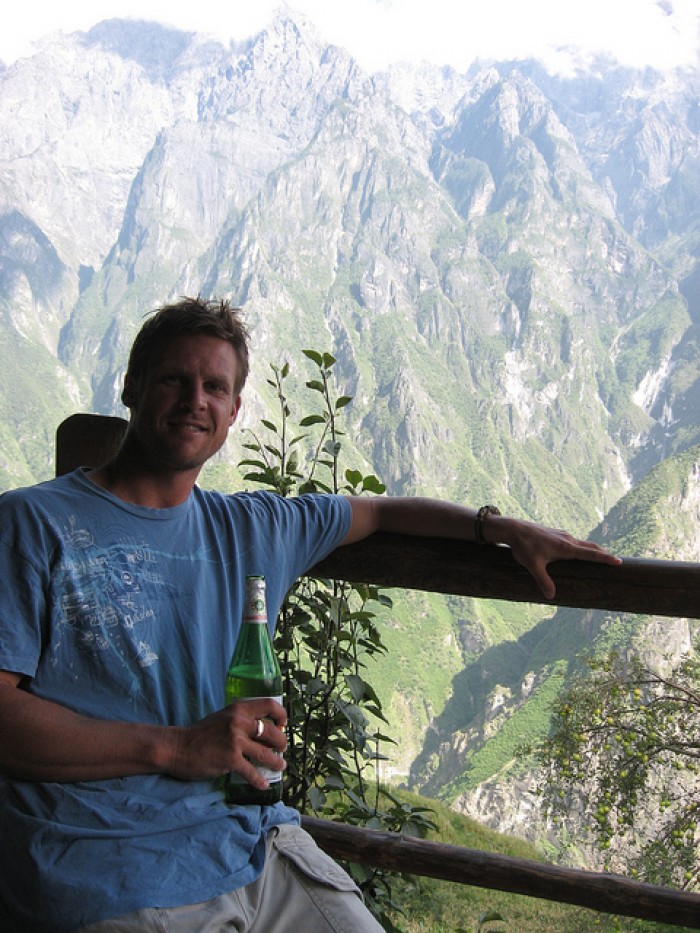 Image credit: Caz and Craig Makepeace
With the mountains on both sides of the Yangtze River standing at a peak of, oh, you know, 5000 metres tall, enjoy this dramatic scenery with a few beers in hand at the Halfway Guesthouse Bar and Restaurant. Fun fact: I heard that the friendly owner, Frankie, is pretty good at catching flies with amazing speed! Maybe something to do with the mountain air?
3. Rock Bar, Bali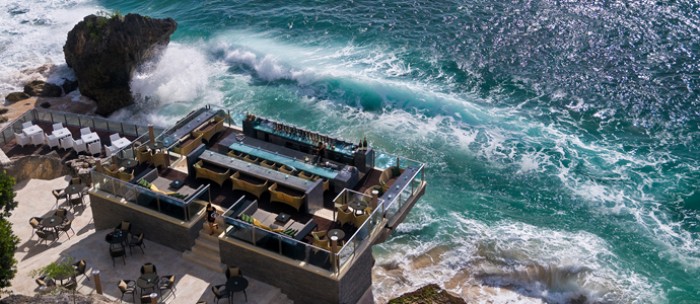 Image credit: AYANA Resort and Spa Bali
Located at AYANA Resort and Spa Bali, the Rock Bar hovers 14 metres above the Indian Ocean, built upon naturally formed rocks.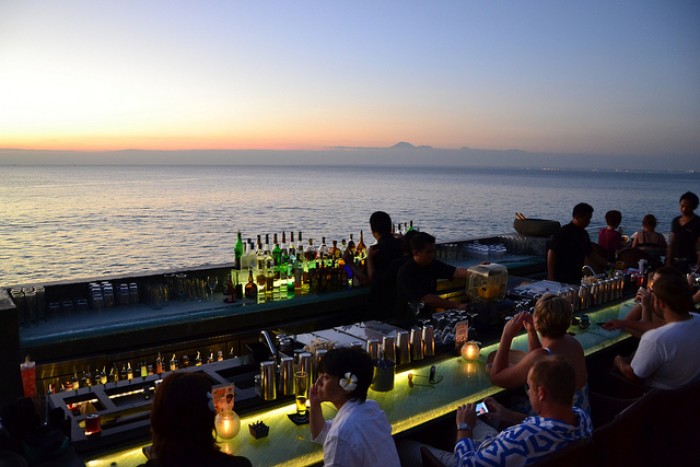 Image credit: Simon_sees
With Bali being well-known for its magnificent sunsets and beautiful blue waters, be sure not to give this spectacular view a miss the next time you find yourself on this island! And what better place to soak in the drop-dead gorgeous scenery of the rosy twilight and lapping azure waves than at this super posh bar?
4. Northern Lights Bar, Iceland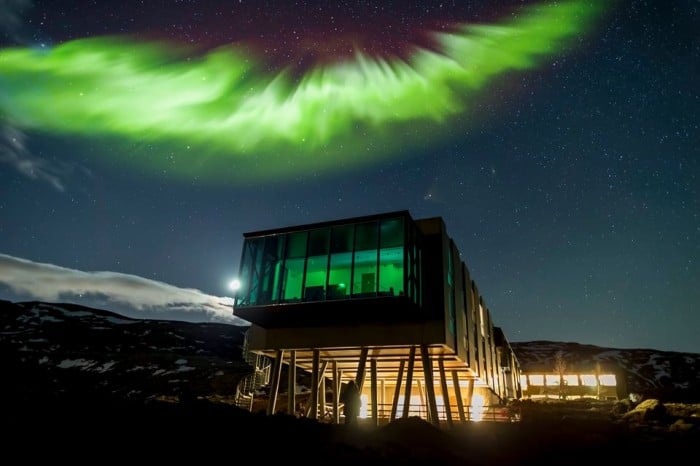 Image credit: ION Luxury Adventure Hotel Facebook
The Northern Lights Bar, located at the ION Luxury Adventure Hotel, is simply spectacular – as the name suggests, chill out on the cosy cushioned chairs of this chic bar-cum-restaurant as you gaze out at the northern lights through the floor-to-ceiling windows right beside. Always wanted to catch this stunning sight, but deathly scared of the frigid cold? Well, not to worry, a much more comfortable version of chasing the northern lights awaits you here!
Also read: Northern Lights in Iceland: It's Now or Never!
5. ELECTRIC, France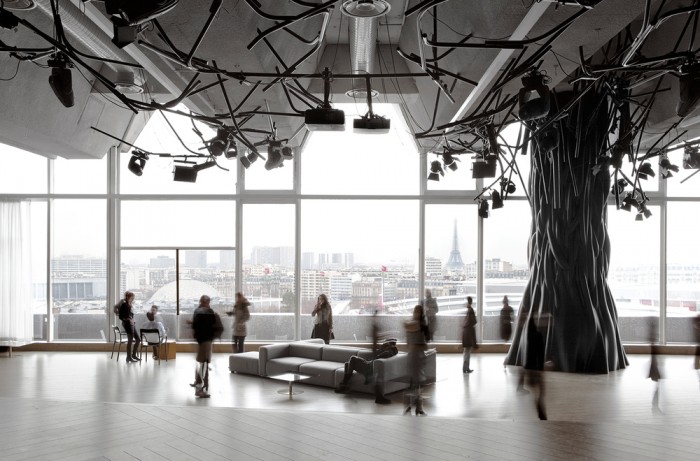 Image credit: Electric Paris
An extremely chic and stylish hangout (of course, we expect nothing less from the top fashion capital of the world), this post-industrial penthouse bar is nestled at a prime spot in Paris, such that the floor-to-ceiling windows open up to a très magnifique panoramic view of the city of love. And yes, you can most definitely see the Eiffel Tower from ELECTRIC as you laze around in this totally hip setting. If you ever find yourself there, make sure you take a photo with their iconic Electric Tree!
6. White Rabbit Restaurant & Bar, Russia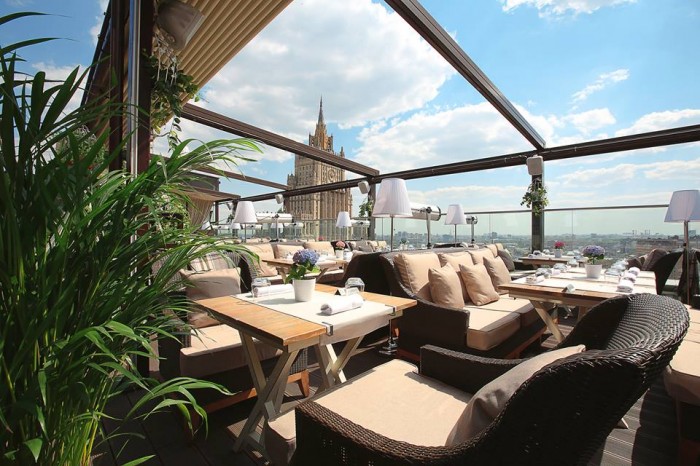 Image credit: White Rabbit Restaurant & Bar Facebook
Featuring a three hundred and sixty degree view of central Moscow, talk about being an all-rounder with this bar! Marvel at this architectural beauty as you sip on some champagne from their bar – and, of course, the accompanying view of brilliant Moscow from the 16th floor of the White Rabbit.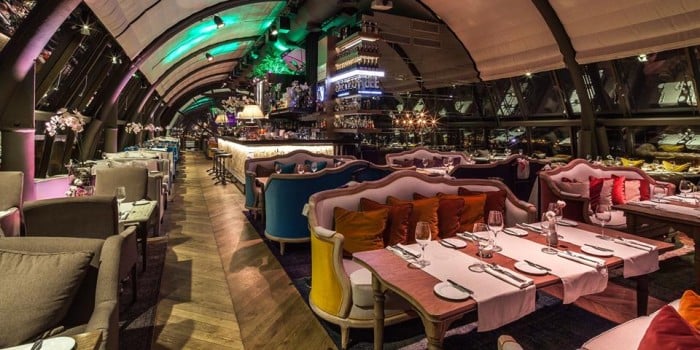 Image credit: White Rabbit Restaurant & Bar Facebook
Plus point for Alice in Wonderland lovers: this whimsical place is modelled after the enigmatic fairytale itself! Like, duh, with a name like White Rabbit, how can it not be?
7. Cova d'en Xoroi, Spain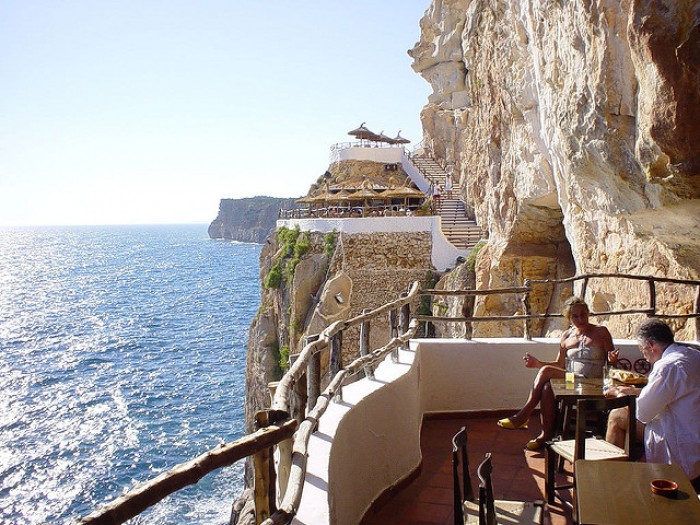 Image credit: Iñigo Gonzalez
A literal cliffhanger, Cova d'en Xoroi, or The Caves, is perched high up on the cliffs above Cala'n Porter, a village-cum-beach-resort. Marvel at the amazing bird's eye view from this hole-in-the-wall (again, literally) as you soak in the fantastic atmosphere both inside and out – for one, the pretty surreal caves that Cova d'en Xoroi calls home, and for another, the far-reaching stretch of its dreamy blue sea. So sit back, relax, and enjoy your on-the-rocks martini while on the rocks yourself!
Also Read: 7 Once In A Lifetime Fiestas You Should Experience in Spain 
8. Bab Al Shams, Dubai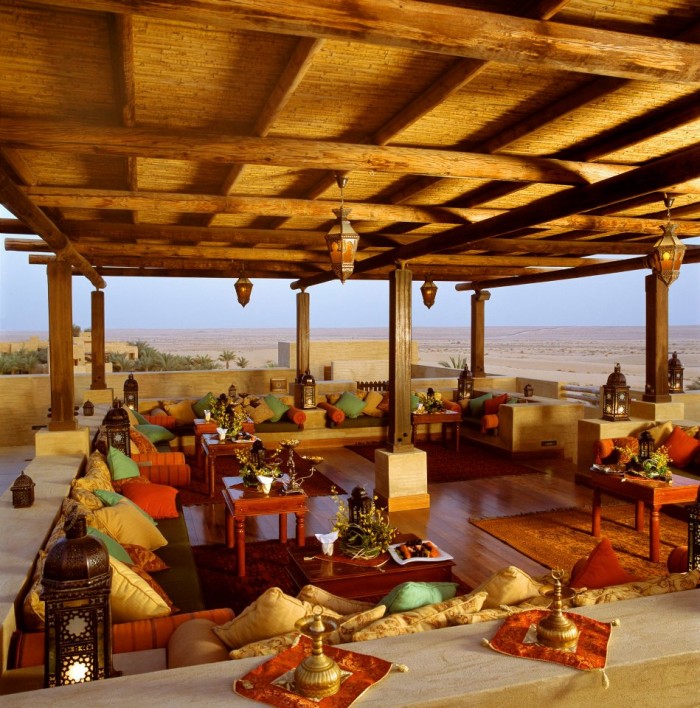 Image credit: Bab Al Shams Desert Resort & Spa Facebook
At Bab Al Shams Desert Resort & Spa, there are, in fact, a handful of places for you to choose from to live out your Arabian Nights daydream! Take for example: the two-storeyed Al Sarab Rooftop Lounge provides a cosy ambience for you to relax into your sofas and cushions, and indulge in the dreamy desert haze.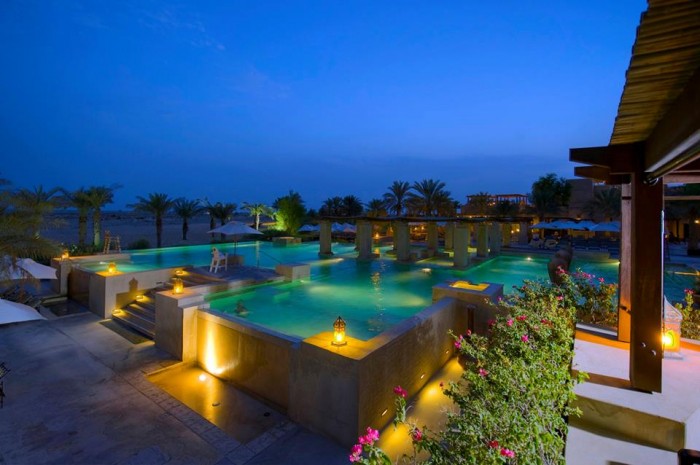 Image credit: Bab Al Shams Desert Resort & Spa Facebook
If not, head on over to the Pool Bar, the perfect place for you to cool off in the day, as well as to swim around to catch sights from all around! And, of course, they all feature the magnificent Arabian Desert!
9. Lagoon Bar, Iceland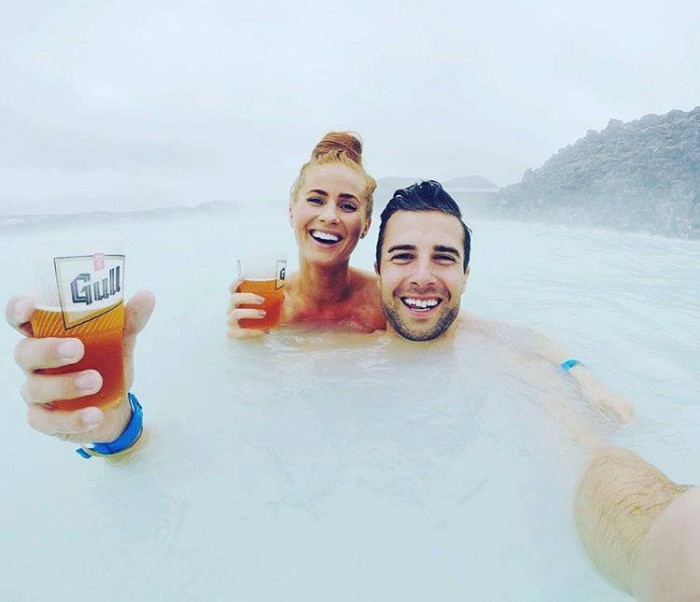 Image credit: Blue Lagoon Iceland Facebook
What's even better than a swim-up bar? A swim-up bar that doubles up as a geothermal spa, of course. Bathe in the Blue Lagoon and its iconic opaque-blue waters, a magnificent view in itself, and gain access to the Lagoon Bar without even lifting a foot out of the waters!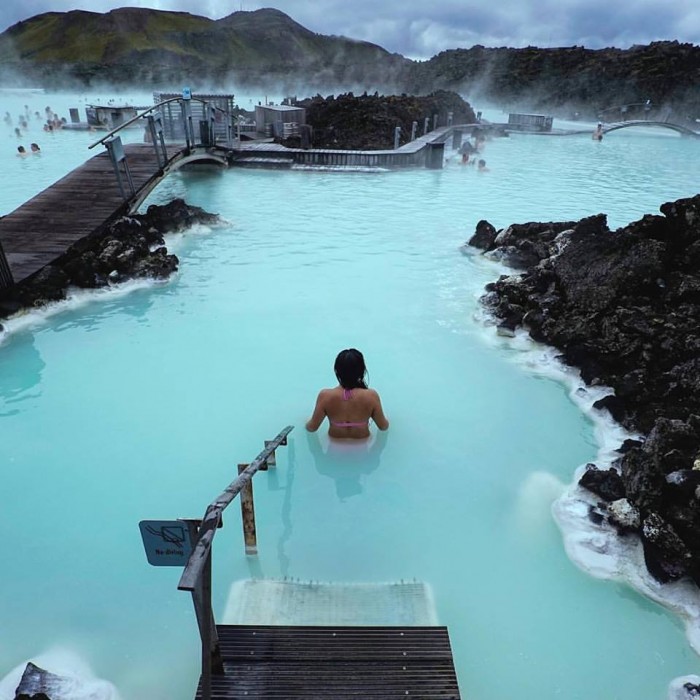 Image credit: Blue Lagoon Iceland Facebook
With the accompanying view of the towering mountains and and expansive blue skies overhead, this place would definitely be a treat for your soul.
10. Perlan, Iceland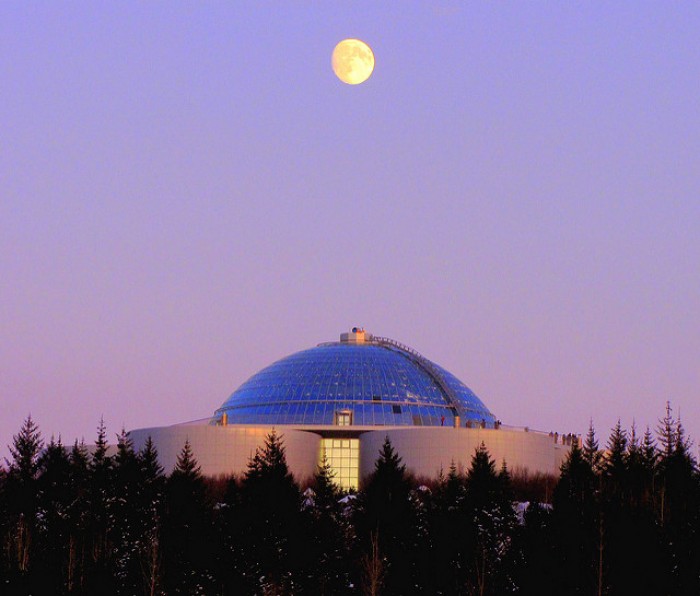 Image credit: O Palsson
Perlan is a super cool revolving glass-dome building located at a park, with features such as a restaurant, a gourmet shop and of course a cocktail bar, located at the top floor of this gigantic beauty.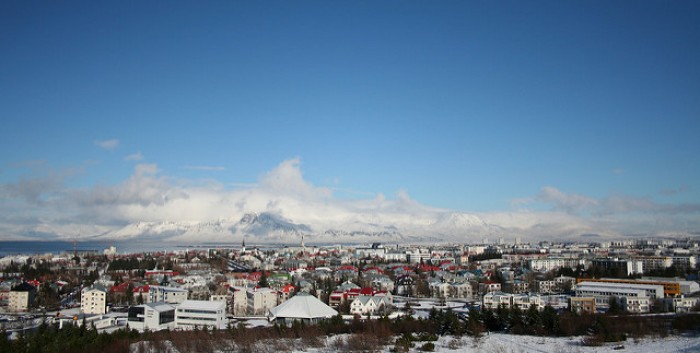 Image credit: Thorlakur Ludviksson
So sit back and relax with a drink in hand as you soak in the beauty of the gorgeous Christmas Wonderland-like town!
Also read: 23 Photos That Show Why Iceland Is The Last Place You Should Ever Visit
11. OZONE, Hong Kong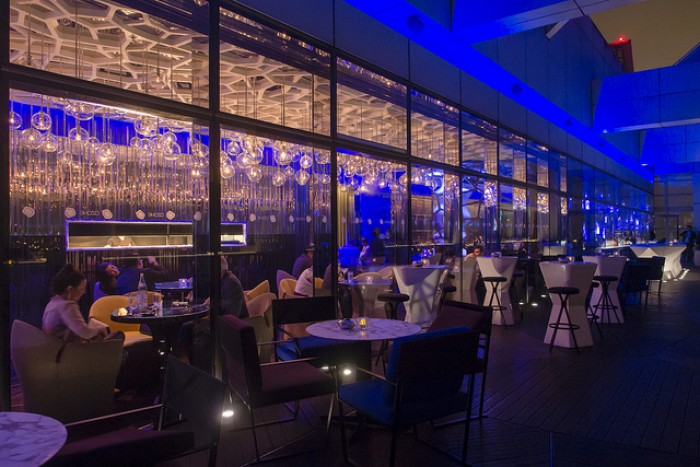 Image credit: Adrian R. Tan
Can you think of a better way to spend your night at Hong Kong, other than at the highest bar in the world? Nope, me neither. Located on the 118th floor of The Ritz-Carlton, this bar promises to wow you with a spectacular, unparalleled sight of Hong Kong's cityscape from the comfort of your seat! So ditch the idea of heading over to Victoria's Peak for the same view, albeit amongst shoving tourists, and head on over to Ozone instead!
12. A for Athens, Greece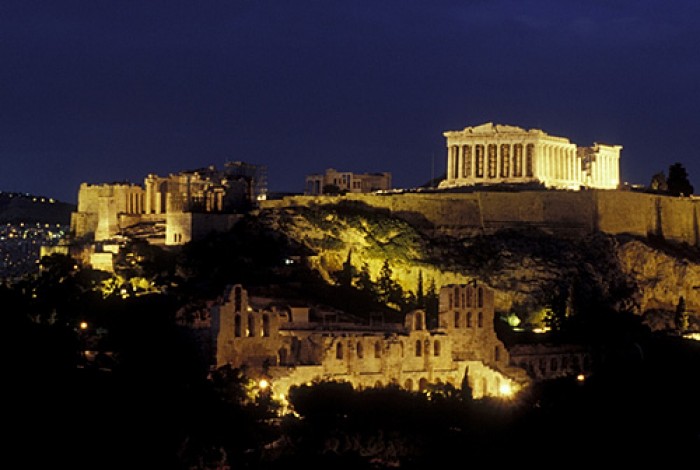 Image credit: Mark Goebel
History buffs, alert! This is truly a gem for all those out there who are madly into Greek mythology, history, architecture, etc. Why so, you may ask? Well, for the simple reason that it provides a phenomenal full view of the Acropolis hill! Marvel at the beauty of this time-worn yet still magnificent ruins of the Acropolis, especially at night when the hill lights up to dazzle and jazz up your night!
13. Top Mountain Star, Austria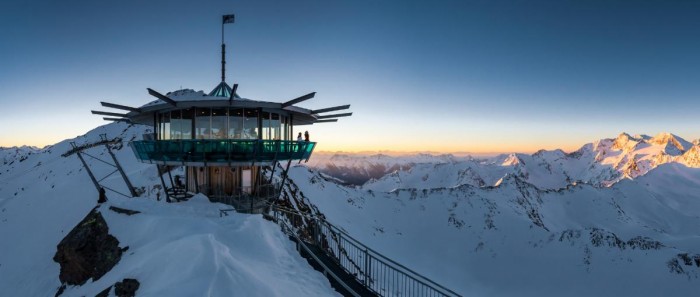 Image credit: Obergurgl-Hochgurgl
Top Mountain Star, which is literally at the top of a mountain at the Alps, is really one that you simply cannot miss when you find yourself in Hochgurgl to ski. Okay, so it's kinda scary, especially if you have an intense fear of heights like me… But I suppose it's worth it for the stunning view of the Alps all the way back to Italy? And, come on, how often do you get to drink atop a mountain!?
14. Refinery Rooftop, U.S.A.
Image credit: In Good Company
Located at New York, where bars and pubs are aplenty, how on earth are you supposed to choose one (or a few, even) to chill at for the night?? Well, don't worry about that, because we've got your back with the Refinery Rooftop bar, perched atop the Refinery Hotel right next to Times Square!

Image credit: craig Cloutier
Marvel at the dramatic skyline of The City That Never Sleeps in this glassy enclosure as you sip your margarita in the romantic dim fairy lights hanging above you, and be sure to snap tons of photos of the Empire State Building while you're at it!
15. Oblix, London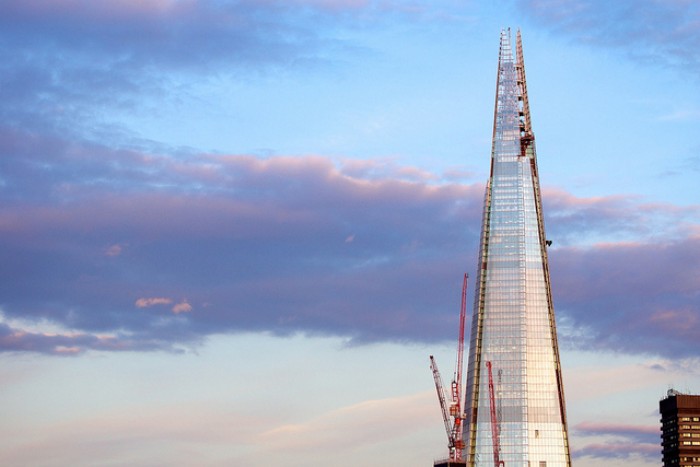 Image credit: Paul Hudson
Perched on the 32nd floor of The Shard, it provides a killer view of the city skyline of London. And, of course, the opportunity to drink in the tallest building in the EU! (Without breaking the bank – the drinks here are surprisingly reasonably priced.)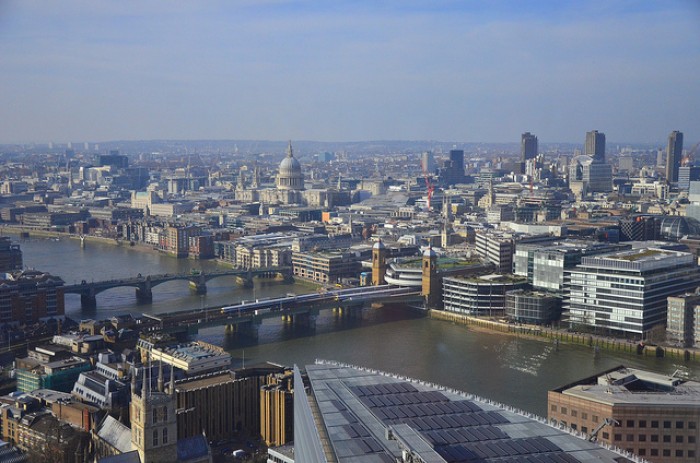 Image credit: Ben Sutherland
So the next time you ever find yourself in London doing a pub crawl, be sure not to give this a miss!
16. Dive Bar, U.S.A.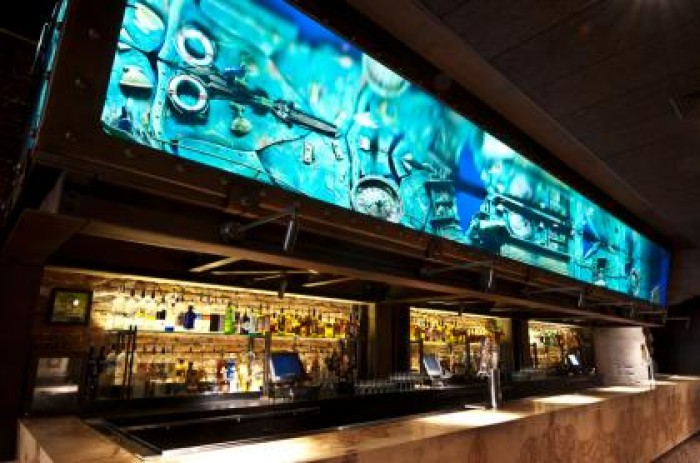 Image credit: Dive Bar Sacramento
Dive Bar truly provides a magical view for all its guests! Why magical? Well, this extremely chill bar offers something that no other bar on our list thus far has provided – a view of mermaids.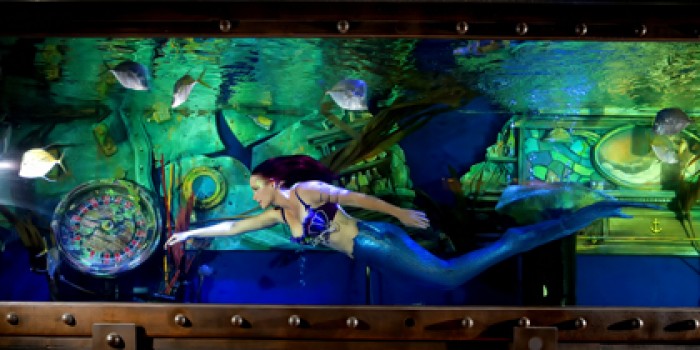 Image credit: Dive Bar Sacramento
That's right, at Dive Bar, Sacramento, it's best to keep your eyes glued to the huge aquarium above the bar to catch a glimpse of these magical creatures swimming overhead! Of course, these aren't real mermaids… But close enough.
17. Grotto Bar, Hawaii

Image credit: Hyatt Regency Maui Resort and Spa
This little gem at the Hyatt Regency Maui Resort and Spa is hidden between waterfalls, inside a cave. Wow! Does that sound absolutely fantastic to you or what?? Swim up (yep, it's a swim-up bar as well) to get a few chilled drinks while you lounge around lazily inside this cavern, as you glance at the accompanying view of the waterfall from the inside!
Also Read: 12 of the Most Awe-Inspiring Waterfalls Around the World
18. LeVel 33, Singapore
Image credit: LeVel 33
Let's not forget our very own sunny Singapore. Think you've seen some pretty good rooftop bars in town? Well, you ain't seen nothing like LeVel 33. Located on, well, level 33 of the Marina Bay Financial Centre, this is the highest craft-brewery in the world! Honestly, I had little hopes of this place impressing me when I first went up – after all, there's only so many times you can be wow-ed by the different views of the CBD. Boy, was I wrong!
Image credit: LeVel 33
The view had my mouth literally hanging open, as my eyes darted from the Esplanade to Gardens by the Bay to Marina Bay Sands to the Merlion Park – basically, all the views I ever had of the CBD combined into one. Along with the excellent craft beer, 10/10 would recommend!
Also read: 9 Singapore Bars where you can Drink without going Broke
So which one is your favourite? Pretty hard to choose, eh? Well, time to get down to business and check all these off your bucket list! HAPPY BAR HOPPING, EVERYONE!