Mother's Day is just around the corner and it is the day which many of us show our appreciation to our mothers for their hard work and dedication to the family over the past year. If you have no idea what to do, give your mother some time off and allow her to indulge in the ultimate in relaxation by bringing her to a spa instead of settling for just boring old dinners and flowers.
For the mothers who want to be pampered
1. Banyan Tree Spa Singapore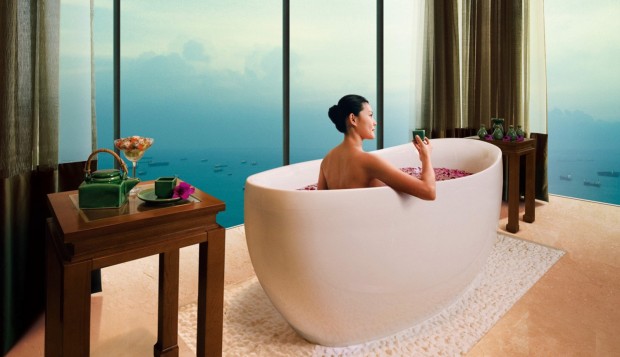 Image Credits: Marina Bay Sands
Boasting stunning views of the Central Business District on the 55th floor of Marina Bay Sands, Banyan Tree Spa claims to be an "oasis in the sky". Its spa menu offers unique treatments like the rainmist experience which will provide full physical and mental relaxation for your mother, allowing her to fully rewind from the hectic pace of Singaporean life.
Address: 10 Bayfront Ave, Marina Bay Sands Hotel Tower 1 55/L, Singapore 018956
Opening hours: Sunday to Thursday: 10:00am to 11:00pm, Friday and Saturday: 10:00am to 2:00am
2. G Spa

Image Credits: G Spa
The G Spa will provide your mother with a hollistic spa experience this Mother's day. Besides the general massages, you can also opt to complete your treatment by soaking in the hot or cold pools before the treatment and then indulging in the gourmet offerings which the spa provides. This not only provides a hollistic wellness experience for your mother, it also saves you the problem of racking your brain to figuring out where to bring your mother right after the spa.
Address: 102 Guillemard Road, #02-02, Singapore 399719
Opening hours: 24 hours
3. Ikeda Spa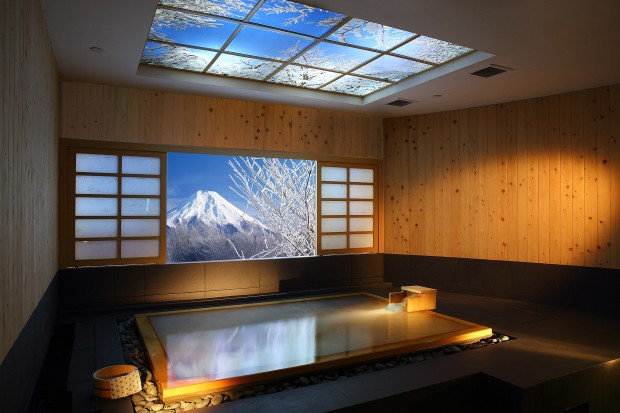 Image Credit: Ikeda Spa
The first traditional Japanese spa in Singapore, Ikeda is the epitome of Japanese relaxation right here in Singapore. Your mother is guaranteed to enjoy the quality of facilities and the spa services provided here (including a real Onsen!), given that Ikeda was the winner of the Best Luxury Day Spa in the 2014 Luxury Spa Awards. With their ongoing Mother's Day promotion, you can also accompany your mother and give her the gift of your undivided attention in addition to the spa treatment.
Address: 787 Bukit Timah Rd, Singapore 269762
Opening hours: 1:30pm to 10:30pm
Also read: 5 Best Spa Destinations that Offer You the Royal Treatment
4. My Cozy Room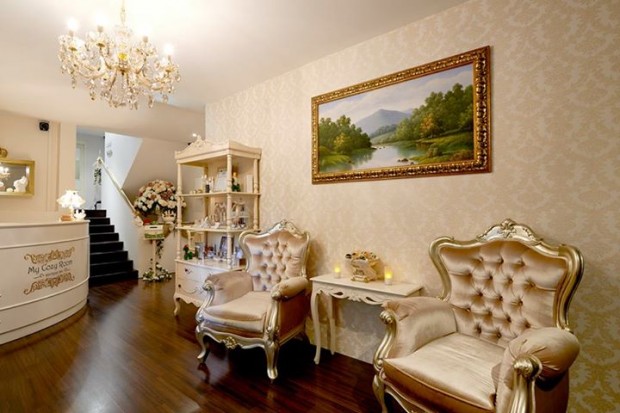 Image Credits: My Cozy Room
My Cozy Room is situated in a pre-war terrace house tucked away in Cairnhill Circle and it strives to create, as its name suggests, the cosy spa experience which will make your mother feel right at home. However, don't let this fool you into thinking that their service and treatment are substandard! My Cozy Room is dedicated to using only effective skincare products and therapists who can empathise with their customers. My Cozy Room will ensure that your mother's spa experience is a pleasant one this coming Mother's Day.
Address: 56A Cairnhill Rd, Singapore 229667
Opening hours: 11:00am to 9:00pm
5. Rem
è

de Spa

Located at St Regis Singapore, Remede creates an environment of calm amidst the bustle of Singapore. Its commitment to providing personalised services will make your mother feel pampered and special on Mother's Day. The availability of a wide range of treatments will leave your mother spoilt for choice. And don't just stop there. Your mother can also indulge in pedicure treatments formulated by the world-renowned Bastien Gonzalez and get the head-to-toe ultimate in pampering.

Address: 29 Tanglin Road, The St Regis Singapore, Singapore 247911
Opening hours: 9:00 am to 12:00 am

Also read: Most Value-for-Money Spas You Must Visit in Singapore
For mothers who want to get away from the city
6. Aramsa~The Garden Spa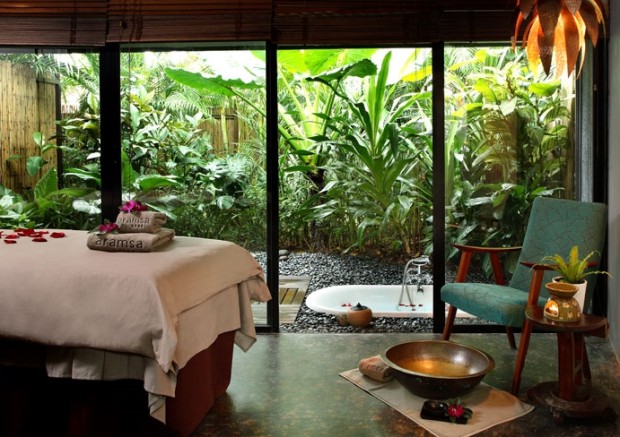 Image Credits: Aramsa Spas
Located within the gorgeous landscape of Bishan Park 2, Aramsa has been claimed to be one of Singapore's top spas. The award-winning design of the rooms integrates beautifully with the natural backdrop of the park, creating the perfect environment for relaxation within nature. Additionally, the services provided by the spa complement its excellent design. Winner of many awards, including the 2006 award for Best Spa Experience by the Singapore Tourism Board, Aramsa Spa is definitely a place where you can be sure that your mother is in good hands.
Address: 1382 Ang Mo Kio Avenue 1, Bishan Park 2, Singapore 569931
Opening hours: 11:00 am – 10:00 pm
7. Auriga Spa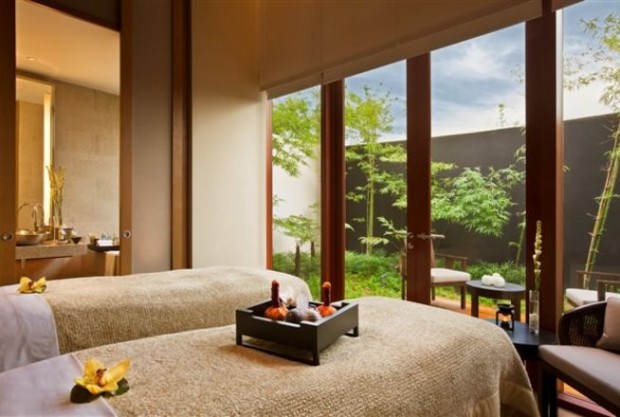 Image Credits: Capella Hotels Singapore
Auriga Spa in Sentosa is an excellent choice if you want to bring your mom for a weekend getaway. Located away from Singapore altogether, Auriga Spa in Capella Hotel is surrounded by greenery, making it the perfect place for those who simply wish to get away from the city. Its Signature spa treatments, unique blend of modern products and time-tested treatments will also help your mom relax and rejuvenate. Auriga Spa's fully organic treatment products will make it well worth the effort for those who may be reluctant to make the trip down.
Address: 1 The Knolls, Capella Singapore, Singapore 098297
Opening hours: 10:00 am – 10:00 pm
8. ESPA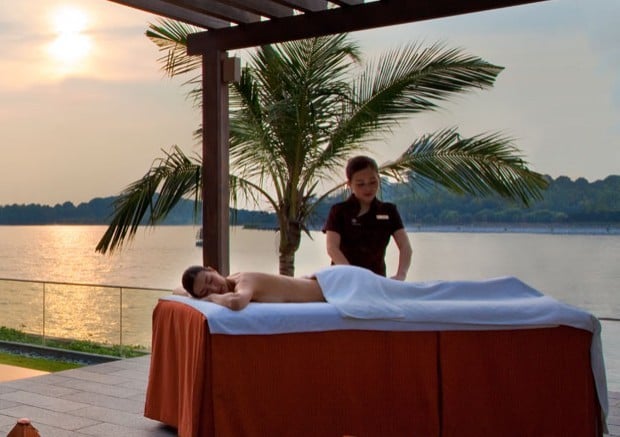 Image Credits: ESPA
ESPA is also located in Sentosa, spread across 10,000 square miles of verdant forest and creating a relaxing, natural environment. Besides offering regular spa treatments, ESPA also allows your mother to personalise her lifestyle retreat which helps to achieve her goal of relaxation and wellness.
Address: 8 Sentosa Gateway, Singapore 098269
Opening hours: 10:00 am – 10:00 pm
For the adventurous mothers or those who want something different
9. Fish Reflexology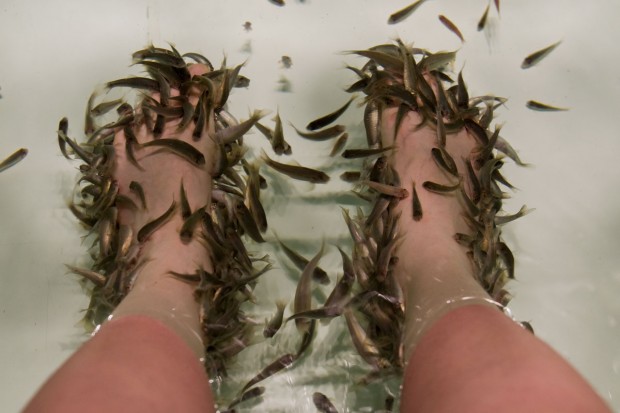 Image Credits: Lynn D. Rosentrater
If your mom is the adventurous sort, a day at the fish spa might just be what she needs. Located right beside Underwater World, this small but cosy spa has tiny fishes eating the dead skin right off your feet, which is sure to draw a smile, if not laughter, from your mother. And there's no need to worry about after-spa activities. Underwater World and Resort World Sentosa are just nearby!
Address: 80 Siloso Road, Sentosa, Singapore 098969
Opening hours: 10:00 am – 7:00 pm daily
10. Palm Ave Float Club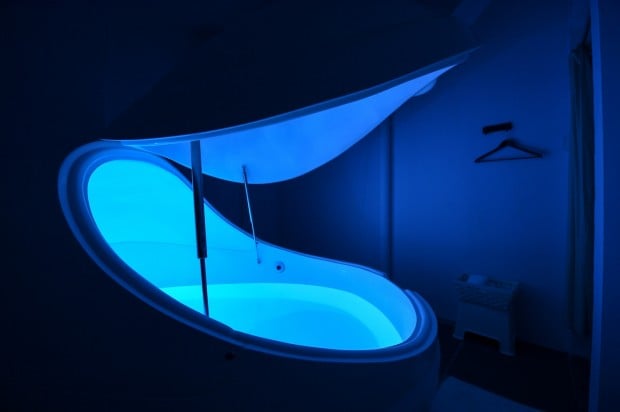 Image Credits: Palm Ave Float Club
While not exactly the treatment that comes to mind when we think of a spa, flotation therapy has gained popularity in recent years as a way to rejuvenate the mind and get away from the daily monotony of work. So for something a little different, bring your mother to the Palm Ave Float Club, the first flotation pod spa in Singapore, to allow her to relax and get away from the stress from work and family.
Address: 20 Waringin Park, Singapore 416333
Opening hours: 10:00 am – 10:00 pm daily