"G'day mate!" This quintessential greeting somehow sums up the entire Australian experience: friendly and heartwarming with a little dose of quirkiness that makes the continent exactly what it is. The best part? Travelling around Australia is a piece of cake, especially since everyone speaks the English language i.e. no cumbersome language barrier!
I've travelled quite a fair bit around Australia – to places such as Melbourne, Sydney, Perth, Tasmania and even Cairns – but Sydney has got to be my favourite of the lot. There are so many things to do in and around Sydney, so much so that this dynamic city is guaranteed to stay in your heart even long after your trip.
NOTE: THIS SALE HAS EXPIRED, BUT DON'T MISS THE NEXT ONE! FOR INSIDER INFORMATION ABOUT THE NEXT FLASH DEAL, JUST:
These 12 fun things to do in Sydney will more than prove why this is so. Here in Sydney, you can…
1. Hop between cafés that are one-of-a-kind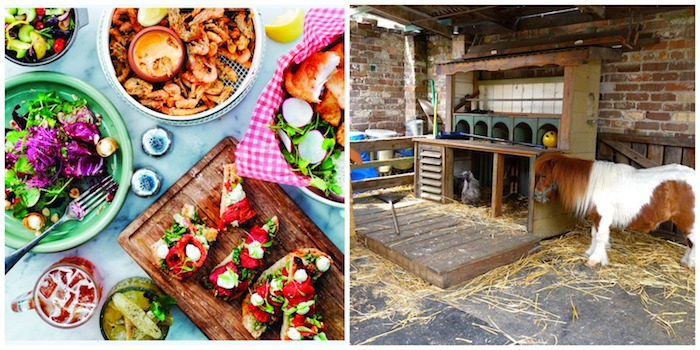 Cafés are a dime a dozen, so kudos to Sydney for churning out cafés that are each cooler than the last! My top pick is The Grounds of Alexandria, which serves a mean eggs benedict. However, unbeknownst to many, the cafe is also home to an adorable pig, a shaggy horse and a curious goat! You are welcome to pat them any time you like! Fun fact: Kevin Bacon the pig and Bradley the goat were actually stolen from the Grounds of Alexandria back in 2013. Needless to say, they were eventually found and returned safe and sound.

Image credit: (left) Speedos Cafe (instagram): @sophhirose; (center) Speedos Cafe; (right) Speedos Cafe Facebook
Speedos Café, on the other hand, serves delightful food creations that come in all hues of the rainbow. Basically consisting of colours on steroids, any meal here will provide an instant perk-me-up for even the blue-est of Mondays. The café overlooks Bondi Beach and is a great spot for people- (or surfer-) watching.
Travel Cheat Sheet tip: If you're the health-conscious sort, you'd be relieved to know that the Speedos Café allows you to choose between three options: mean (richer options), lean (lighter options) or in-between (for a little bit of both).
2. Soar through the skies on a seaplane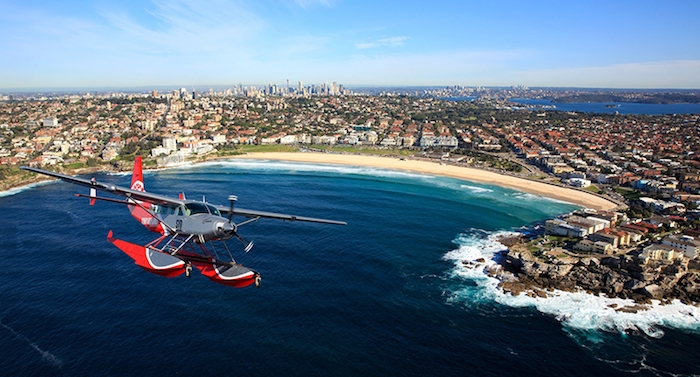 Image credit: Sydney Seaplanes
Now this is a unique way to take in all of Sydney's sights and sounds! Take off from Rose Bay in Sydney Harbour on a seaplane and soar high into the skies. Unlike the usual planes that take off from a runway, the seaplane sails out into the harbour before taking off!  The feeling of being up in the air was indescribable; our pilot even did a couple of nerve-wrecking turns and dips that got me clinging onto the edge of my seat! Other than that, the ride was smooth and super enjoyable. I highly recommend this for anyone wanting a novel experience in Sydney!

Image credit: Sydney Seaplanes
There are a couple of different flights to choose from: one where you will fly over Sydney's iconic sights such as Bondi Beach and the Sydney Opera House, one where you can fly and stay the night at the quaint Cottage Point Inn on Hawkesbury River, or another where you'll fly over Sydney's Northern Beaches. For those that prefer to stay grounded, enjoy a glass of champagne at Empire Lounge in Rose Bay where you can watch the seaplanes take off and land right before your very eyes.
Travel Cheat Sheet tip: Couples looking for something to spice up their relationship can opt for a flight to Palm Beach, where they can indulge in a two-hour boat cruise and a romantic picnic. For special occasions such as anniversaries or even proposals, you can also opt to fly to a secluded spot.
3. Be dazzled by Vivid Sydney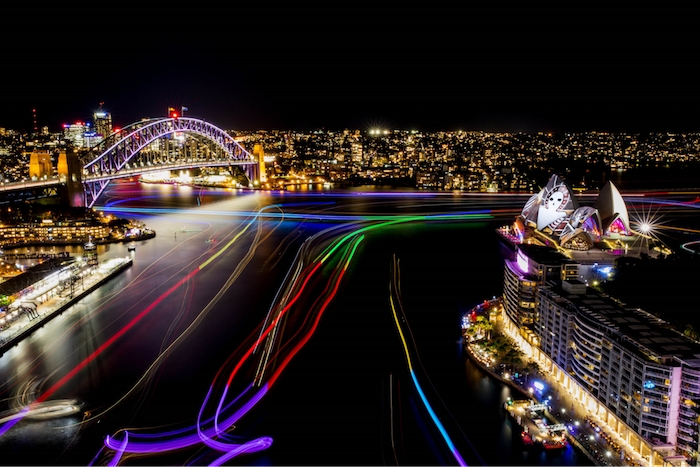 Image credit: Vivid Sydney
From 26 May to 17 June 2017, watch as the city erupts in an electric three-part extravaganza of light, music and ideas in the form of the Vivid Sydney festival. 2.3 million visitors thronged the city during 2016's festival, and the 2017 installment is gearing up to be bigger and much much better!

Image credit: Vivid Sydney
There are tons of activities happening all around the city during the festival – LIGHT: striking LED lights adorn ships as they go by in the harbour, and every corner of the city is draped with lighting of all colours; MUSIC: rock out to cabaret tunes and go wild at rooftop music parties at various events happening all around the city and finally, IDEAS: the city comes alive in an explosion of creativity, innovation and the challenging of boundaries as people from all walks of life come together to disrupt convention and take risks with ground-breaking ideas and concepts. For more information, check out Vivid Sydney's official website.
Travel Cheat Sheet tip: Flight prices to Sydney often soar during this period so if you're planning to be in the city for the festival, it's best to book your tickets early! And what better time to do so with flights to Sydney going from just S$765 with Qantas on ZUJI? The first 50 customers will even get an additional S$100 off with the exclusive coupon code "SYDNEYQANTAS", making the tickets even cheaper!
4. Try glamping at Cockatoo Island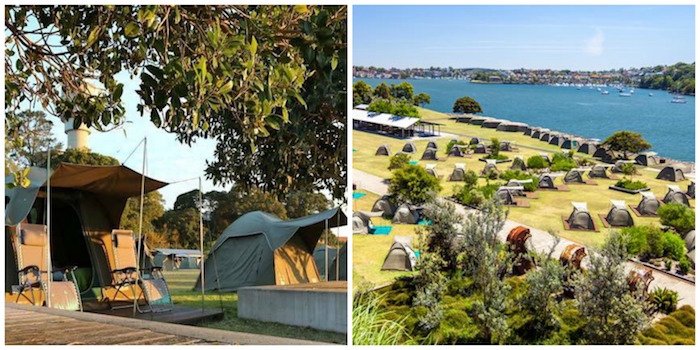 Image credit: Cockatoo Island
Glamping, otherwise known as glamorous camping, is the new rough-it-out-in-comfort activity that has taken the world by storm. I've always wanted to try this, so imagine my delight when I discovered that I could at Sydney's Cockatoo Island! Cockatoo Island is located a mere 15-minute ferry ride away from Circular Quay and boasts spectacular views of the Sydney Harbour.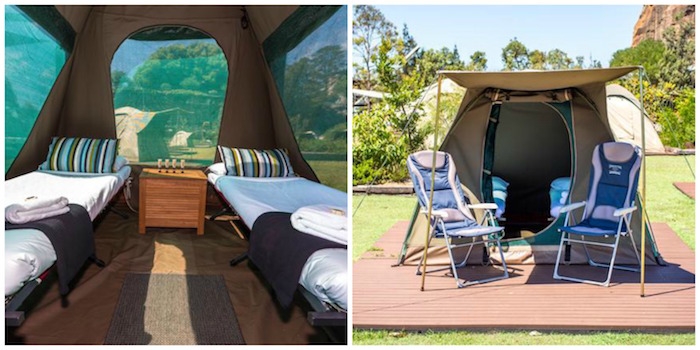 Image credit: Cockatoo Island
For about $150 a night, I got my very own glamping tent (large enough for two) with two camp beds, two sun lounges outside the tent, a lantern, a cool box for food and drinks, as well as toiletries. If you're planning to come in a group, the island also offers two-bedroom tents that can fit four people. I loved that I could camp out in the wilderness without all the hassle of pitching my own tent! There is plenty to do on the island – the place is a UNESCO World Heritage site, and was previously, in no particular order, a naval shipyard, a penitentiary for repeat offenders as well as the site for a girls' reformatory.
Travel Cheat Sheet tip: I recommend having a barbeque to enhance your whole glamping experience. Barbeque packs can be ordered from 'Societé Overboard', a cafe located on the island. Just be sure to place your order at least 48 hours in advance!
5. Traverse dramatic cliffs along a coastal walk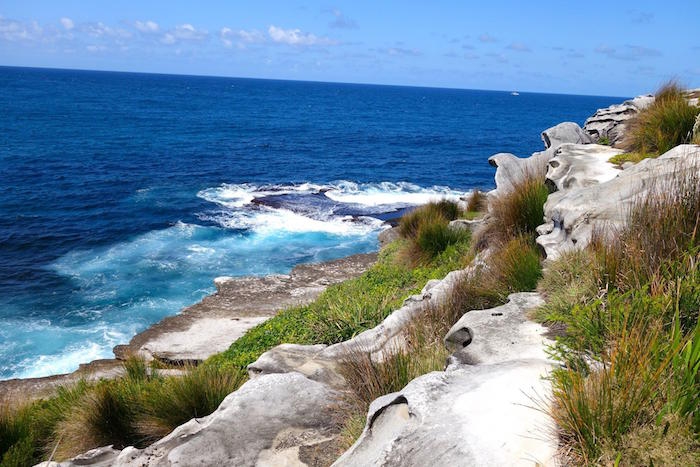 This is one thing that really sets Sydney apart from the other Australian cities – the abundance of coastal walks! Take your pick from the Watsons Bay Walk, Barangaroo Foreshore Walk or my personal favourite, the Bondi to Coogee Walk.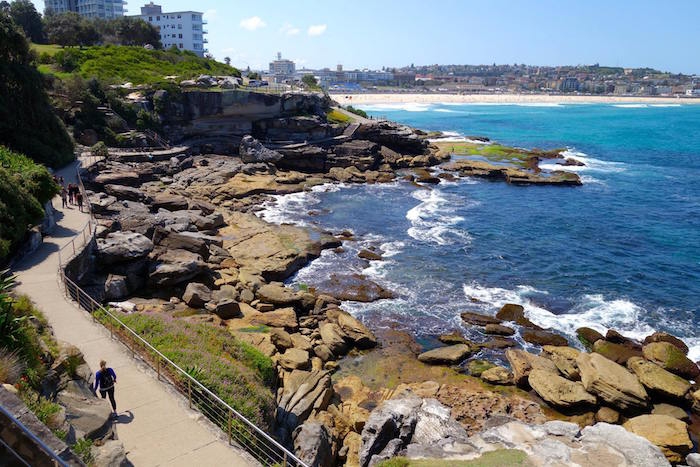 The Bondi to Coogee Walk is six kilometres long and runs along some pretty drop dead gorgeous scenery. It's a fairly leisurely walk, with some flights of stairs from time to time. You can easily spend an entire afternoon doing the walk – my advice for you is not to rush through it but to spend some time chilling on the cliffs with your legs dangling over the edge. It's extremely therapeutic to say the least, especially with the sound of crashing waves in the foreground. The sun does get pretty hot around midday, so do remember to pack that sunscreen!
Travel Cheat Sheet tip: Most people start from Bondi Beach, but I recommend doing the walk in reverse and starting at Coogee. Bondi Beach is home to an eclectic range of cafes, as well as the picturesque Bondi Icebergs pool. A dip in this pool will be the perfect way to cool off after your long walk!
6. Visit a zoo perched on top of a hill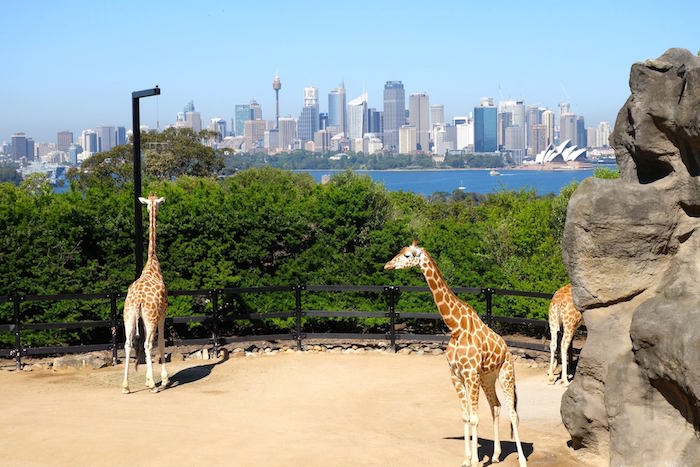 Sydney's Taronga Zoo is perched on top of a hill, having a unique design where guests have to start from the top and work their way down to the very bottom. The zoo is located on an island, and can be reached via ferry from Circular Quay. You can choose to walk through the zoo or take a Zoo Train; I recommend the former as it allows you to explore at your own pace. The giraffe exhibit, in particular, is worth quite a bit of time – the enclosure is situated against a backdrop of the city skyline and makes for a picture-perfect vantage point!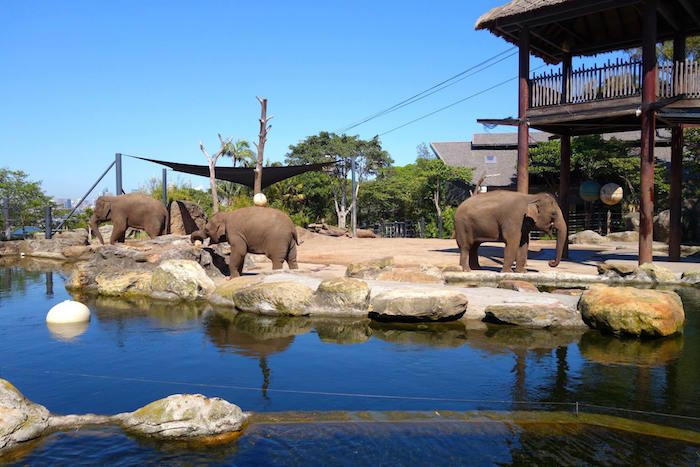 One interesting thing to do at the zoo would be the 'Keeper for a Day' activity that's great for adults and children alike. I tried it out and did really cool things such as preparing food for elephants and cleaning out a zebra pen. True to its name, this activity allows you to literally step into the shoes of a zookeeper for a day!
Travel Cheat Sheet tip: For an interesting experience, take the Sky Safari cable car that passes right over the animals. For the more adventurous types, embark on the 'Wild Ropes' encounter where you'll tackle an obstacle course that hovers over the animal enclosures.
Fly with Qantas to Sydney
from just S$765 on ZUJI
— it doesn't get any better than this! Plus, get an extra S$100 off your flight with the exclusive coupon code "
SYDNEYQANTAS
". Qantas is a full-service airline, which means this fare has baggage and food all-in. Have your Australian escapade start the minute you step on board; indulge in the finest Australian meats and wine and experience the famous Aussie hospitality with stewardesses who are always ready to cater to your every need.
One thing I really like about Qantas is the leg-room; one grouse that I have about long-range flights is that my legs always tend to get numb due to being cramped in one position for so long. Yet, on my recent Qantas flight, I was able to stretch out in comfort – even when I was in the middle seat! If this isn't enough for you, opt for the seats with Extra Legroom for guaranteed comfort. Qantas is THE airline to fly to Sydney with. Don't believe us? Try it for yourself – remember, flights to Sydney are going from just S$765 on ZUJI so snap them up before they're all gone!
7. Stumble across Instagram-worthy OOTD backdrops EVERYWHERE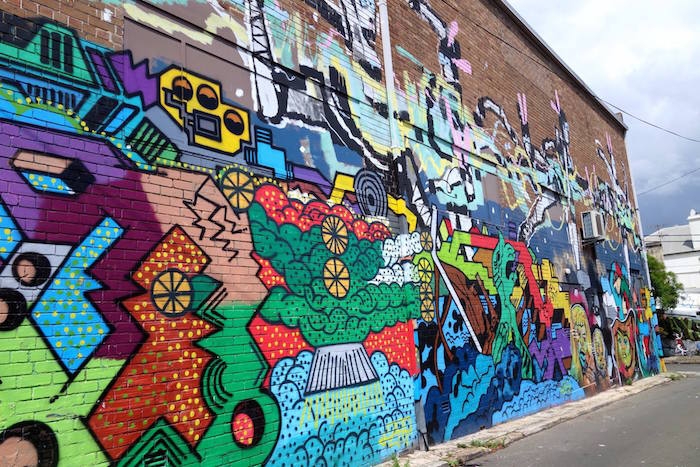 Hordes of tourists and locals alike swarm to Sydney's Newtown in a bid for a taste of Black Star Pastry's famed strawberry-watermelon cake. However, the next time you're there, do take some time to wander around the neighbourhood! This bohemian district is basically Sydney's art central and is filled with giant vibrant murals splattered all over alleys, smaller side streets and even the walls of buildings.
Wander the streets and spam OOTDs around every corner. However, what makes this graffiti hunt so memorable is the fleeting quality of each mural; graffiti artists regularly paint over existing art, making no two visits to the area the same. I managed to snap a picture of Ironman on my last visit and on my next, it was gone!
Travel Cheat Sheet tip: If you can't get enough, venture outwards to the adjacent graffiti-filled neighbourhoods of St Peters, Erskineville, Enmore and Camperdown as well.
8. Climb to the top of the Sydney Harbour Bridge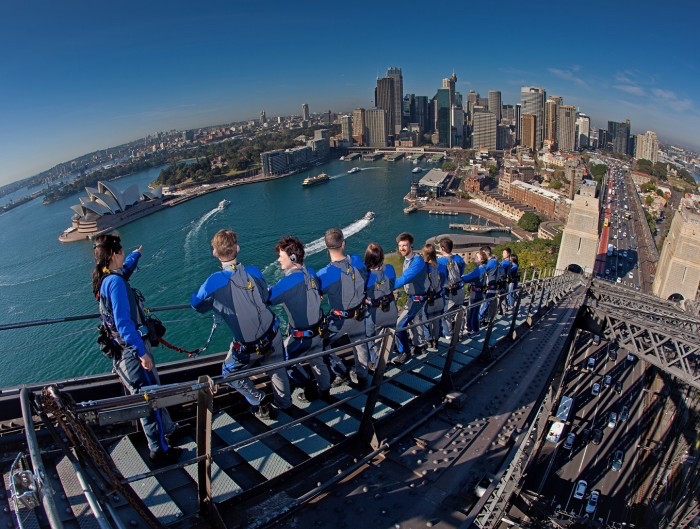 Image credit: Bridgeclimb Sydney
This is THE activity to do in Sydney – if you dare! Visitors are offered the chance to climb all the way to the top of the Sydney Harbour Bridge, which is a whopping 134 metres above the Sydney Harbour. It takes 1,332 steps to reach the peak – this number was daunting at first, but the spectacular views from the top made every drop of sweat worth it. The bridge has been affectionately named the 'Coathanger' due to its arched shape, and is truly an iconic symbol of the city itself.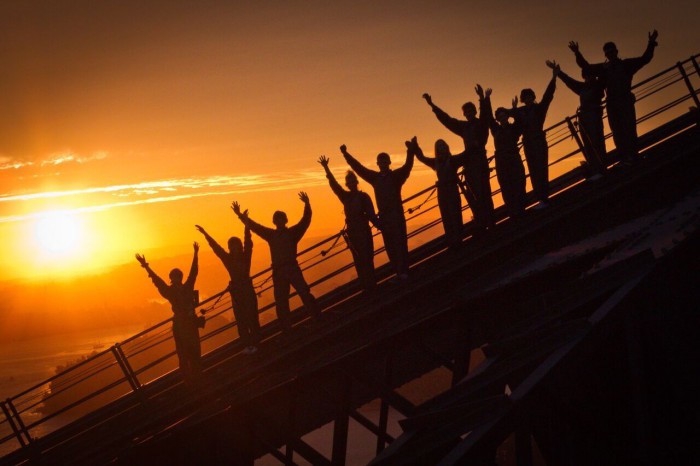 Image credit: Bridgeclimb Sydney
There are climbs throughout the day (and night!) to suit whatever you fancy – choose from day, twilight, night and dawn climbs. No two climbs will be the same! If you have a fear of heights, don't worry, you'll be guided by an adept Climb leader every step of the way. If you need more reassurance, why not try the Bridgeclimb Sampler first? This takes less time, and will only go to a vantage point that is halfway to the summit. Fun fact: over 4000 couples have been engaged on top of the bridge, making it the city's most popular engagement spot!
Travel Cheat Sheet Tip: All climbs are conducted in the English language, but there is a Bridgeclimb Mandarin option conducted by a Mandarin-speaking leader for those more comfortable with the language.
9. Dine in an atas Mcdonald's that has chandeliers
I walked past this place expecting a magnificent restaurant but lo and behold, the chandeliers were adorning a spiffy little Macdonald's! I don't really get what's the reason for all that grandeur – the selection of food still stayed the same. The ambience was pretty swell, though! I don't know about you, but this definitely puts Sydney one notch higher than the rest.
Seriously, a Macdonald's with chandeliers. Enough said.
10. Thunder along on a Jet Boat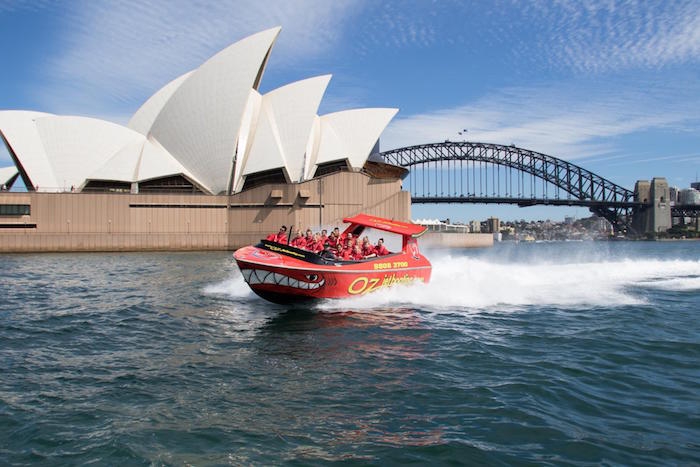 If you're an adrenaline seeker, then this activity is the one for you – OZ Jet Boating offers a 30-minute 'Shark Attack Thrill Ride' which combines both sightseeing and adrenaline to give a wild ride that's guaranteed to get your heart racing. On top of coming dangerously close to the Sydney Opera House, Clark and Shark Islands, Taronga Zoo, Sydney Harbour Bridge as well as the harbourside mansions, the boat went through a series of twists, power brake stops, sweeps and fishtail spins that had everyone on board holding on for dear life!
The ride departs daily every hour from 11am to 4pm in the winter and to 5pm in the summer. The boats are known as shark boats and are even affectionately named "Sharkie"!
Travel Cheat Sheet tip: There is a Gopro camera mounted at the front of the boat that will capture every minute of your ride! These photos and videos will be available for purchase in the form of a USB drive at the end of your journey. You are allowed to bring your own (waterproof!) cameras but be warned that this is at your own risk – there's no guaranteeing that your camera won't be flung overboard during a spin!
11. Take to the seas on a whale-watching cruise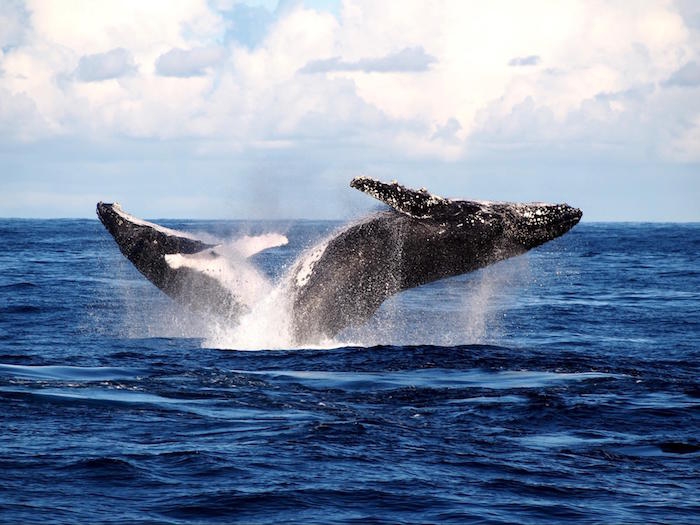 I've always found whales to be magnificent creatures, and on my last trip to Sydney, I got the chance to see them up close! During the months of late May to early November every year, giant humpback whales swim up north from Antarctica to breed in warmer waters, only returning back down with their calves at the end of the season. Grab the chance to see them for yourself – if you're lucky, you might be able to glimpse the whale jumping out of the water!
I went on a whale-watching cruise, where I managed to spot a couple of whales! Be alert at all times, for the whales are often only visible for a split second – allow yourself to be distracted and all you'll be left with is the spray from their blowholes. If you're not the cruising sort, I heard that you're able to spot these creatures from Sydney's cliffs, and the whales sometimes even swim right into the Sydney Harbour!
Travel Cheat Sheet tip: The currents do tend to get a little rocky at times, so do bring along some medication if you're prone to sea sickness. In addition, always opt for a seat in the open i.e. on the deck instead of indoors to help ease that queasy feeling.
12. Take your pick from plenty of day trips

Located two and a half to three hours away from Sydney is Port Stephens, a charming area most known for its towering sand dunes. I took an all-terrain vehicle (ATV) deep into the dunes where sand boards were waiting at the bottom of the slopes. It was my first time sandboarding, and I was a bag of nerves before I started. Warning: the climb up the dunes is actually a lot more tiring than it looks! The trick is to start sliding down once you reach the top; the more you hesitate, the more nervous you'll get! If sandboarding isn't your thing, you can opt to ride a camel for those true blue #desertfeels.
Travel Cheat Sheet tip: If you're planning on sandboarding, do wear long pants to prevent sand from getting into your… unmentionables. This also prevents any abrasions from the sand due to friction with the board!
Choose to combine your day trip to Port Stephens with a stop at Nelson Bay, which lies en route from Sydney! Indulge in a platter of fresh seafood and take to the seas on a dolphin-watching cruise. Most days, you'll be able to spot one, if not a few, eager creatures swimming alongside the ship! If you visit in the summer, you'll even get to slide down a swirly slide into a net half-submerged in the sea.
BONUS: Stay in apartments with views like these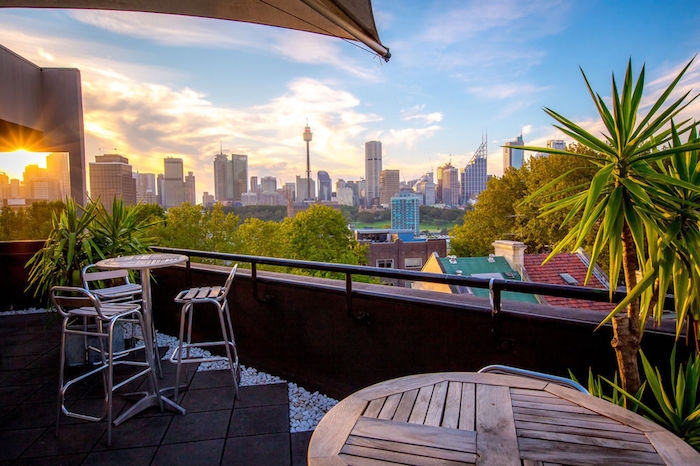 Image credit: ZUJI
Because who needs observatories when you can rent apartments with views like these? Quest Potts Point are is a serviced apartment that offer studio or one/two-bedroom units. The property is located close to Sydney Opera House, Sydney Harbour Bridge and Circular Quay, which is essentially central Sydney in itself. Feel (literally) on top of the world as you sit snug on the rooftop terrace with a hot cup of tea. No better way to end the day, I say!
What's even better, now you can enjoy a 12% hotel coupon code when you
book your flights to Sydney with Qantas on ZUJI
. Savings upon savings – I'm lovin' it!
Plus, don't forget that flights to Sydney are going from just S$765 with Qantas on ZUJI, with an additional S$100 off when you use the exclusive coupon code "SYDNEYQANTAS".
I had so much fun in Sydney, and I just can't wait to go back! Now's your turn to discover the city and all its wonders – stop procrastinating and…
For first-hand information about ZUJI's upcoming deals and promotions, simply subscribe to their mailing list right here and have them delivered right to your doorstep: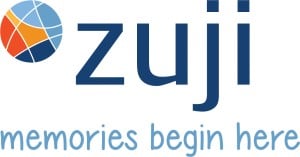 Thank you for your subscription.
By subscribing to ZUJI's mailing list, you will:
Be the FIRST to know about flash sales, special conditions, and exclusive airfares/promotions

Receive hints about flash sale timings – every minute counts!

Have first-hand information about ZUJI special promotions
So the next time you're in Sydney, it's time to realise that there's so much more to the city than the Sydney Opera House and the Sydney Fish Market. Happy exploring!
---
Brought to you by Destination NSW, Qantas & ZUJI.