Contributed by A Girl and a Bald Traveller
Let me be honest here. I don't even know why I'm blogging about this place.
After all, the Singaporean readers among you will probably never set foot on this island, least of all make this a part of their honeymoon like we did. Why am I so sure? Well, simply because it's not the Maldives or Mauritius.
Oh, and also probably because this amazing beach destination is found in Africa, a continent supposedly rife with danger, robberies, rapes and probably terrorists. Why would anyone visit this place?
Getting there and getting around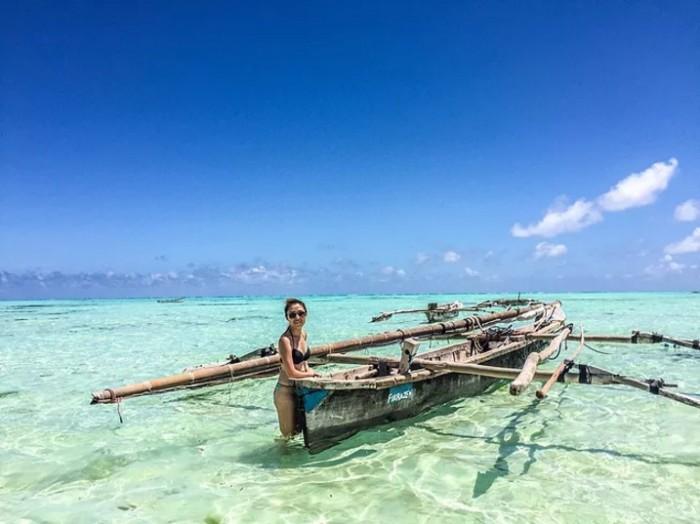 This is Zanzibar.
Because I'm pretty certain 90% of Singaporeans have no idea where Zanzibar is – let alone know of its existence. I'll elaborate a little more in this section.

For starters, Zanzibar is part of Tanzania. And fortunately for Singaporeans, we don't require a visa. For most other nationalities, it's going to cost you US$50.
The cheapest way to get to Zanzibar from Singapore is to first catch a flight to Dubai (return tickets from Singapore should cost around SG$700 with Emirates). From there, Flydubai will take you directly to Zanzibar for less than SG$500. The other way is to fly into Dar Es Salaam, Tanzania's largest airport, and sail across by ferry. It takes a couple of hours and will cost you US$35. Be warned, though, the traffic from the airport is crazy. It could take anywhere from 30 mins to over an hour to transfer from the airport to the ferry terminal.
Should I book online?
Never! Everything in Africa is about negotiating.
In Bangkok, you negotiate the prices for tuk-tuks and 3rd rate Louis Vuitton rip offs. Here in Africa, even the price of your hotel room can be negotiated. If it's listed online as US$70 a night, you'll get it for US$40 if you negotiate upon arrival. Even at the airport, the official prices for taxis can be negotiated downward by at least another 30%.
Prices for tours are even more ridiculous. What's listed as a US$50 tour can be negotiated down to as low as US$20 in person. Heck, even domestic flight tickets can be negotiated!
What's there to do and see?
Unlike the Maldives, a beach vacation in Zanzibar isn't about rotting away in an overpriced "all-inclusive water bungalow". We spent three days on this amazing island and wished we had at least a week. Here's our "Zanzibar Checklist" on how you can laze your week away.
Here's our "Zanzibar Checklist" on how you can laze your week away.
Top priority: Visit "The Rock" of Zanzibar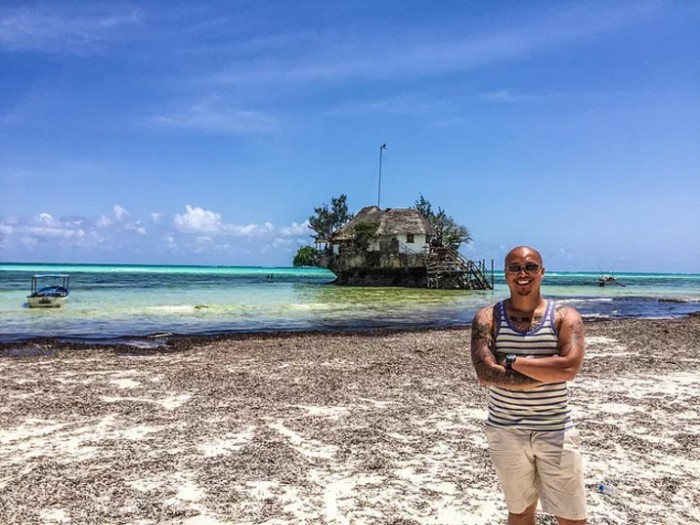 If you're a Facebook addict, this picture might look somewhat familiar to you. It often pops up on "Top 10 Most Amazing Places To Visit", or one of those typical bucket list posts like "Places to see before you die".
The Rock Restaurant is arguably Zanzibar's most iconic "landmark" (if you can call a restaurant a landmark). Travelling to this island without visiting "The Rock of Zanzibar" is akin to visiting Paris without seeing the Eiffel Tower.
I don't know about you, but having a seafood lunch at "The Rock" definitely ranks way up on my bucket list. I'm just glad I finally get to cross this one off. (More details on "The Rock" later.)
Walk "kilometres" out into the ocean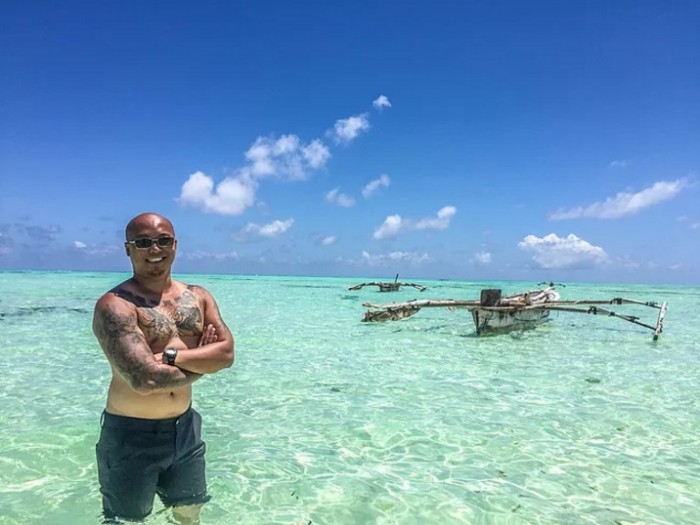 There are numerous beaches in Zanzibar; the most beautiful among them are found in the north of the island.
We didn't have time to go up north, but wherever we were, it was amazing enough. Crystal clear water aside, we could walk kilometres out into the ocean and still have the sea at knee level. It came to a point where the island was starting look really really small and we decided to give up and head back. I couldn't even get my back wet!
The beach at low tide.
Here's a safety tip, though. If you're planning to play a game of "let's see how out into the ocean I can walk", remember to wear shoes. The seabed is the home of numerous sea urchins. A bare foot on one of its poisonous spikes is a sure way to have a holiday come to an end significantly ahead of schedule.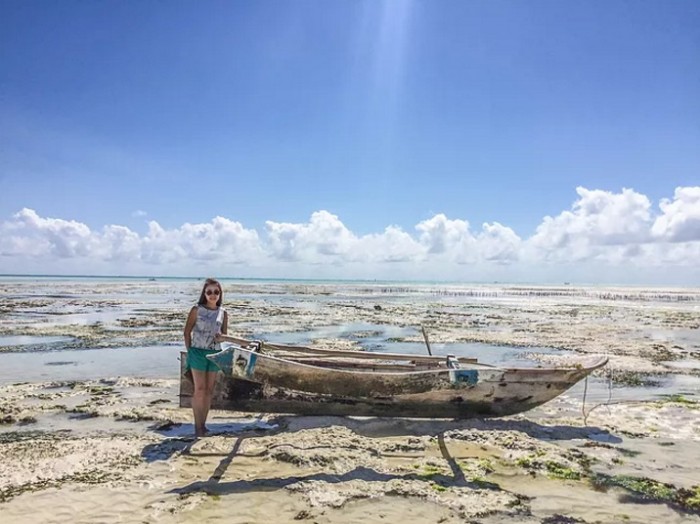 Oh, and safety tip number two: keep an eye on the tide; it comes in really fast. You could be up to your neck in "ocean water" before you know it. Ever played that game on the beach where you run in before the tide gets you? It's the same thing here, just on a way larger scale.
Experience the gorgeous Zanzibar sunset from a traditional Tanzanian fishing boat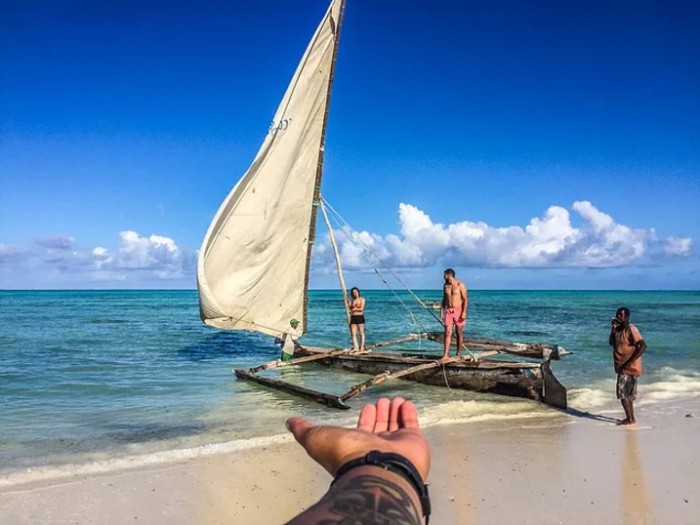 We've all seen sunsets while lying on the beach or from the comforts of our hotel room. What about from a raft? Experiencing a sunset cruise was one of my main objectives (if you can put it that way), but paying the US$50 I'd seen thrown about online wasn't exactly my idea of money well spent.
(If you get sea sick easily, there are larger boats also known as dhows)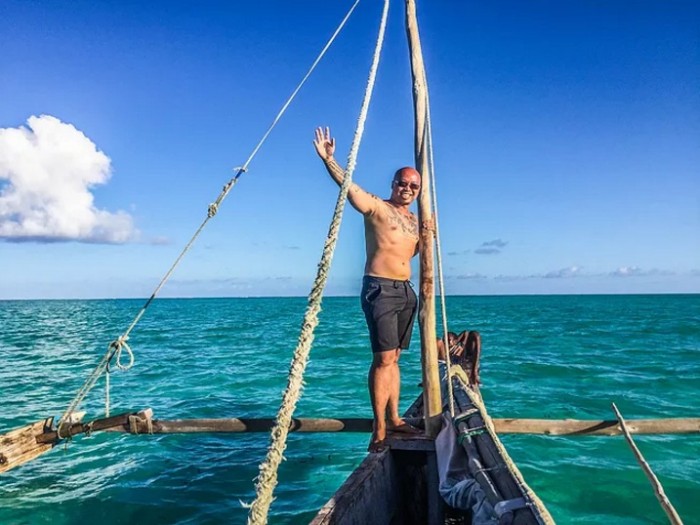 Somehow though as luck would have it, I managed to score myself a cruise for US$7.50.
Along the beaches, there are many locals trying to proposition you "tours" with varying prices. I kept telling them, "Let me think about it. It's still too expensive". At around 5pm, one of the locals came to me and said two people (who incidentally were acquaintances of ours but staying at a different hotel) had "rented a cruise" and I could join them if I paid my share of US$7.50.
Wow! US$7.50 for a sunset cruise? I was more than happy to oblige.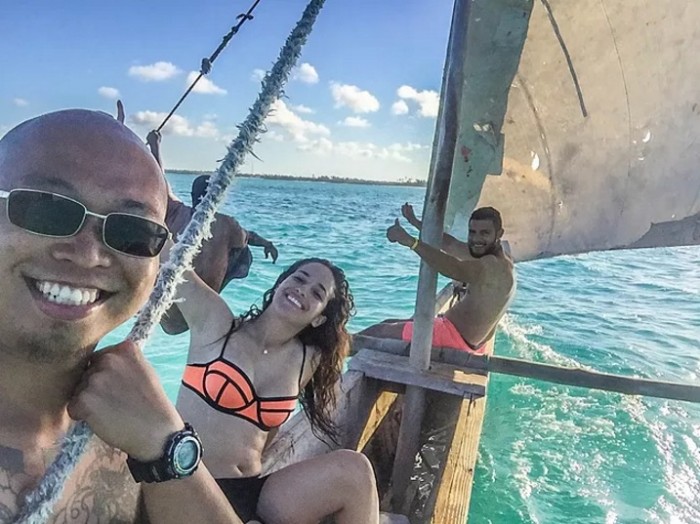 Selfie at sea with my two other "boat mates"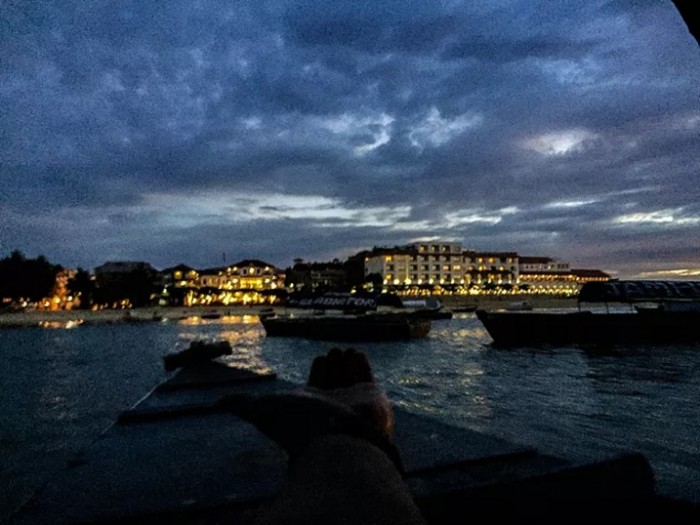 Obviously, there are differences between a US$50 cruise and a US$7.50 cruise. You'll have to weigh what you want. The more expensive ones are run by "real travel operators", are out at sea on a bigger boat for a couple of hours, and feed you with light snacks and coke. My US$7.50 cruise lasted about an hour, had no snacks, and is run by any random fisherman on the beach.
Your holiday, you decide.
Visit Stone Town, the "capital" of Zanzibar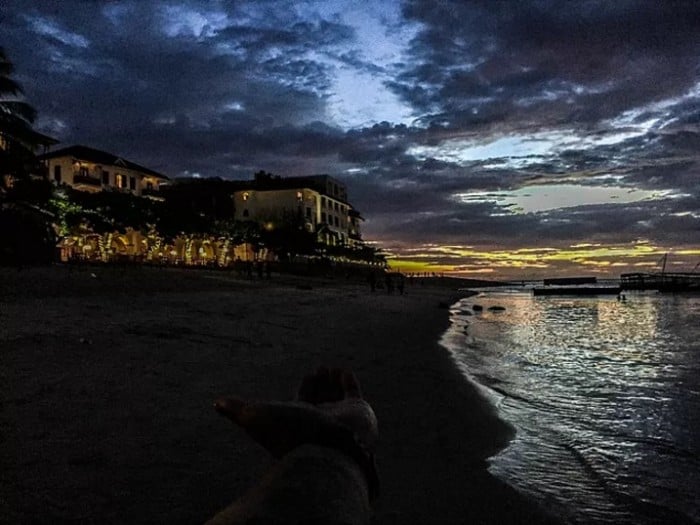 The port of Stone Town in the evening. Charming!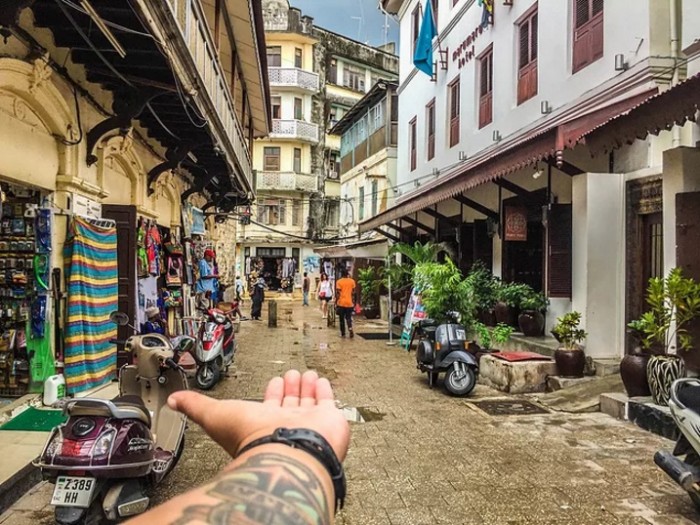 Stone Town is a charming East African city of historical significance. As its name suggests, the town is a maze of old stone buildings. And when I say maze, I mean it's a literal maze. There is an old fort, museums, markets, baths, and over-enthusiastic locals trying to ask you to take up a tour with them.
Stone Town is the nearest city from the airport and most hotels and tour agencies are found here. It's pretty much the tourist trap of Zanzibar. That aside, it's still worth a day of stumbling around the old buildings. If you'd like to swim with dolphins or go on the Safari Blue Tour (in the next point), Stone Town is the nearest city to get started.
Swim with the dolphins/safari blue/scuba diving

You've heard of Africa's land safaris; where you ride on a bucking, groaning 4×4 in the search of Africa's big five. Here in Zanzibar, you experience the Blue Safari; basically a water safari where a big traditional fishing boat (a dhow) sails to different islands for you to snorkel among the fishes, swim with the dolphins and enjoy a seafood lunch of lobster and the like.
A Blue Safari with a professional tour agent should cost you around US$70 for a whole day tour, starting at 8.30am and ending at 5.30pm. If you take the tour from the locals, though, you're looking at paying anywhere between US$30–40 instead.
Just relax; enjoy the resort & beach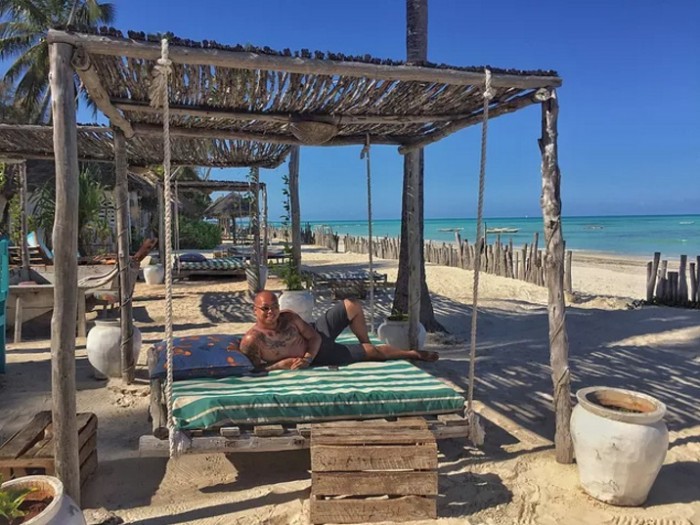 Being Singaporean we (myself included) have this tendency to rush to see as many things as we can, or complete as many activities as humanly possible. So much so that we sometimes forget to relax.
The Girl & I chose to spend one full day of doing absolutely nothing but getting massages, lazing on the beach with the occasional swim, and lounging at the resort's beach bar with a book in one hand and a beer in the other.
Relaxing. That's how a vacation should be like.
Accommodation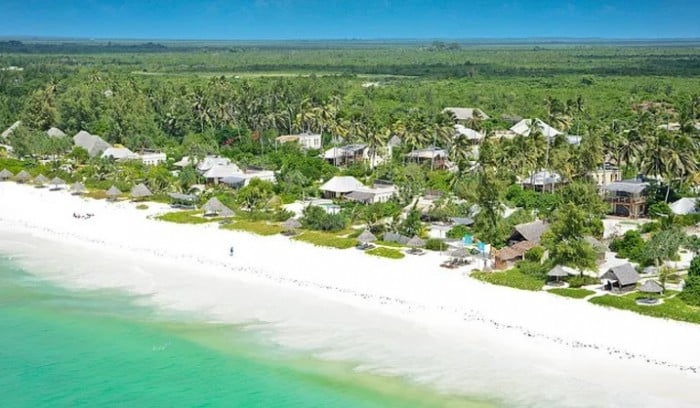 Image credit: Africantraveresources.com 
Resort pricing in Zanzibar is seasonal. Luxury accommodation can be anything from US$800/night in low season to over US$3000/night in high season. Sounds crazy? You aren't alone, "The Girl" and I think so too.
Despite it being our honeymoon, we figured that the prices thrown about weren't anything near what we could afford. We decided to look for cheap, acceptable housing near the beach. Oh, and of course, we didn't book them online. We walked in and got our rooms at US$25/night for the both of us.
Amazing right? I think so too. Suddenly, a honeymoon in Zanzibar isn't so expensive after all.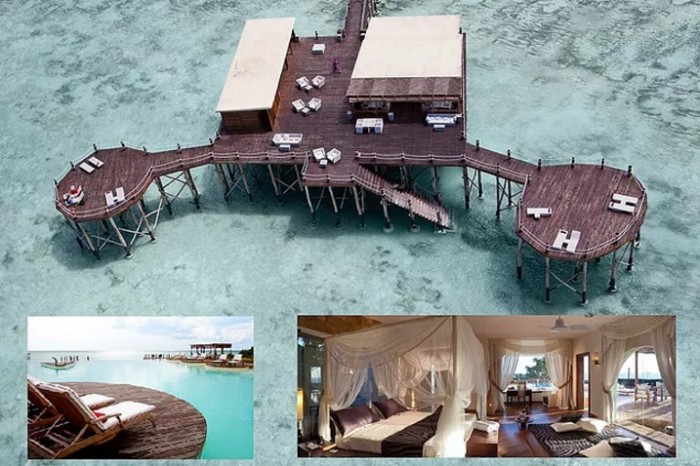 Above (Essque Zalu Zanzibar) is an example of luxury accommodation.
It's for Singaporeans who earn way more than we do, or for those who are planning to be waist deep in debt faster than you can say "luxurious". What? Maldives is expensive?
Here's (above) what you can get for US$40/night (after bargaining; its list price online is US$70–90 depending on the season). This should be decent enough by Singaporean standards, spoilt as we are. A couple on our safari group stayed in this guesthouse by Jambiani beach. We paid US$25 because we chose the rooms which were undergoing renovation.
I can see the look of horror on Singaporeans' faces. What? A room under renovation on your honeymoon? It wasn't bad, to be honest, and certainly wasn't dusty or anything. There was a huge bed and a bathroom, all we needed. We had our experience of a luxury tented camp in Kenya earlier on anyway.
Singaporeans, take the US$40 one if you wish. I'm sure you can't settle for anything less. You are a wealthy group of people anyway.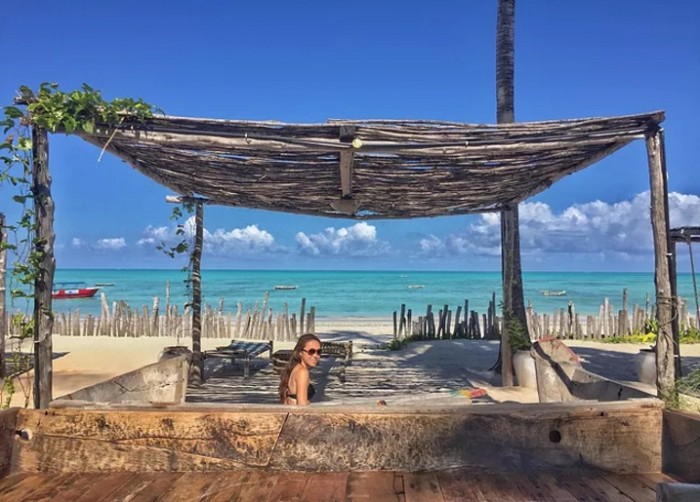 Our beach resort. Beautiful isn't it? Who bothers about a US$25 room when you can laze in such beauty for most of the day?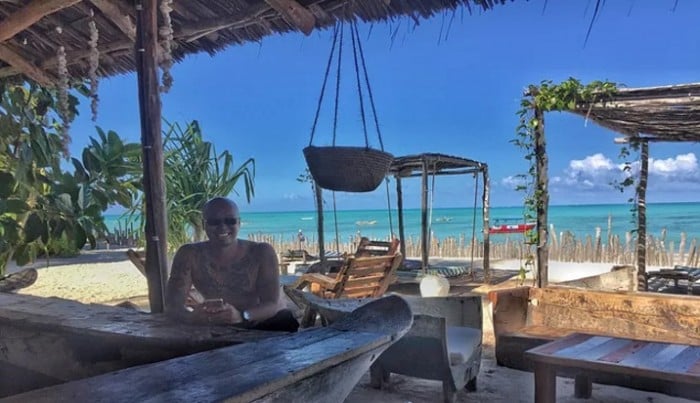 Waiting for my beer at the resort's beach bar.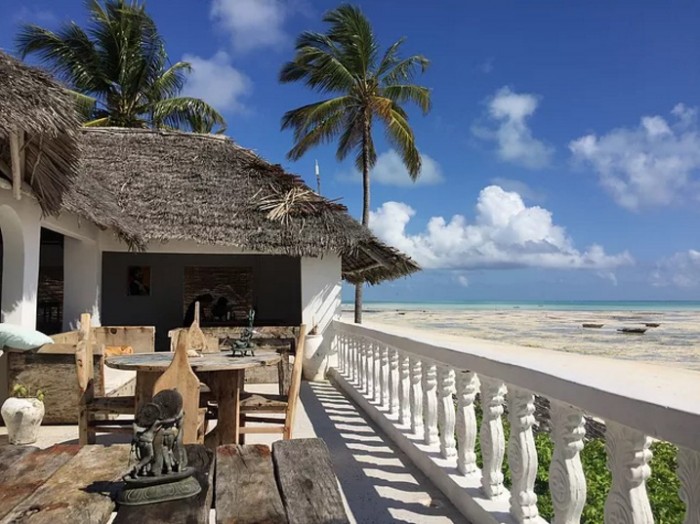 Our resort's restaurant. We stayed at Uhuru Beach Resort, along Jambiani Beach.
Breakfast was provided in every hotel we stayed at in Africa. For budget resorts/guesthouses though, it's usually fruits, eggs, and toast, so don't get your hopes up. It was great to have a sunny side up and wash it down with hot coffee while enjoying a view of the ocean, though.
Food and restaurants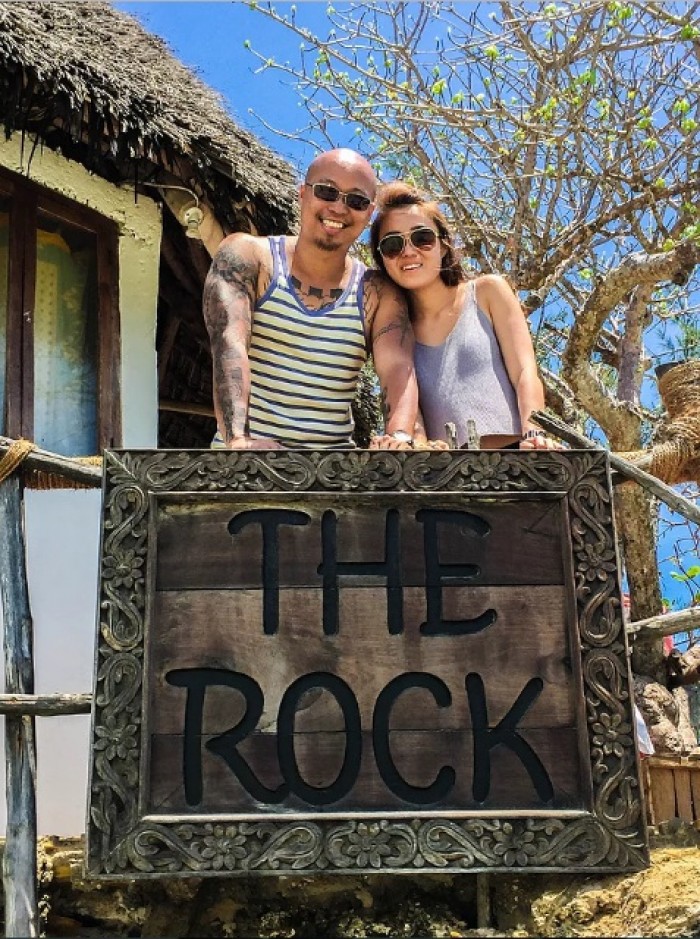 "The Rock".
An island with its own restaurant? Or a restaurant with its own island?
Whichever your conclusion, let's just say it doesn't change the fact it probably ranks among the World's Top 10 Restaurants to dine at. Forget Gordon Ramsey or Jaime Oliver, this Instagram-worthy restaurant draws crowds celebrity chefs can only dream of.
There's only one problem, or two perhaps. First, it's in Tanzania (where??). Next, it only seats 45 at any one time.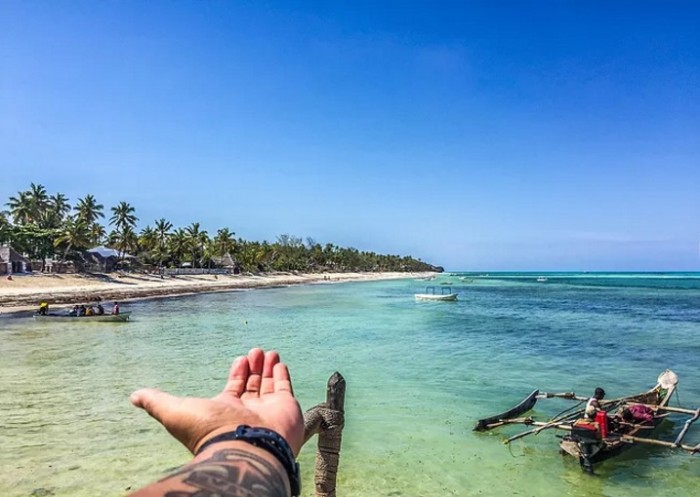 The distance between "The Rock" and the beach. You won't need sea sick pills!
We set off from Stone Town (Zanzibar's capital and the city nearest to the airport), dropped our bags at our resort in Jambiani (15 minutes away from "The Rock"), and finally, after an hour's drive, we arrived. It cost us (six in total) US$45 by private car after a few rounds of negotiations.
After, say, 10 minutes of photo taking, "oohing & ahhing", and giving yourself a pat on the back for finally crossing this off your bucket list, it's time to make your way to the island. But how?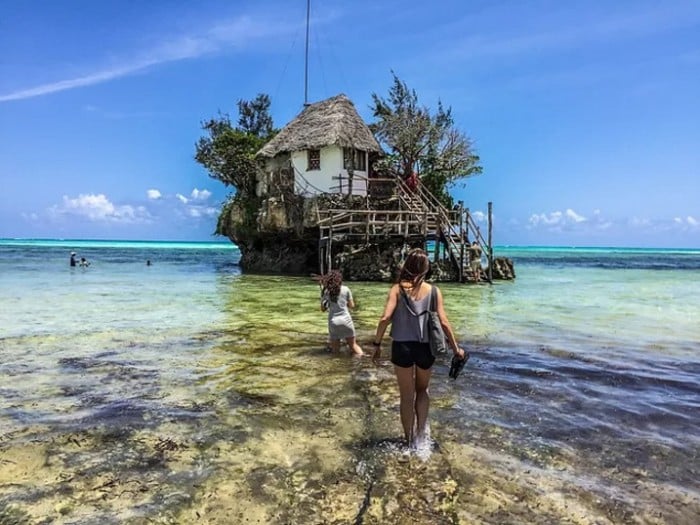 "The Rock" at low tide. Just wade across.
"The Rock" is accessible at low tide on foot. The water level is knee high at best with flat rocks and soft sand beneath your feet. No sea urchins spotted here.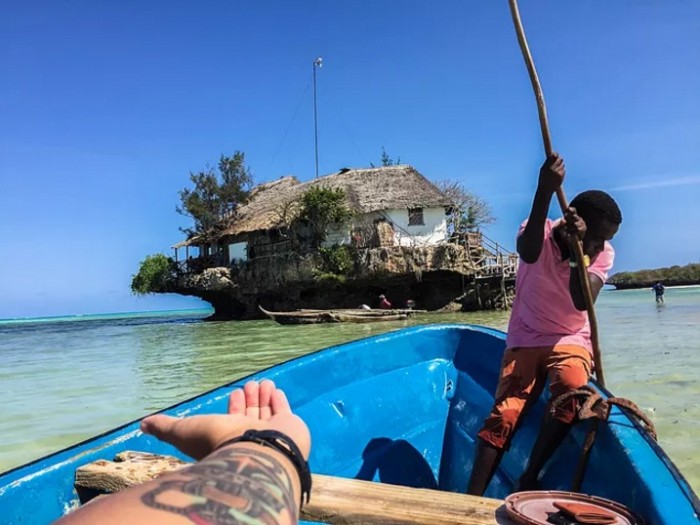 However, at high tide, you might want to take a boat. It's free.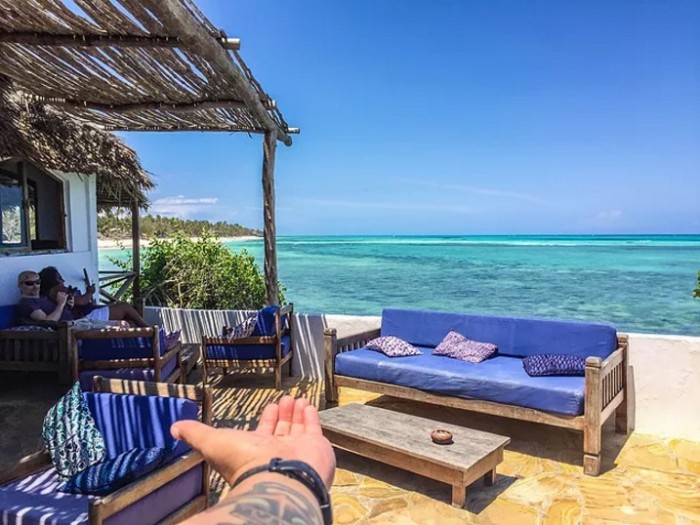 It's not just a restaurant. There is an outdoor bar/lounge area with magnificent views of the Indian Ocean. A cocktail in one hand and a cigarette in the other. Perfect.
If you were wondering how much food at "The Rock" costs, here's the menu. It's obviously more expensive than local Tanzanian cuisine, but nothing a typical Singaporean with an iPhone or a Gucci wallet can't afford.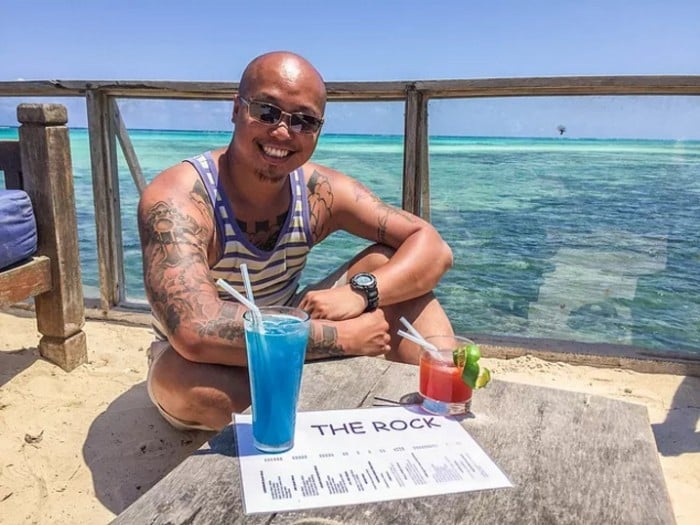 This blue cocktail here called "The Rock" is the restaurant's trademark drink (I'm guessing).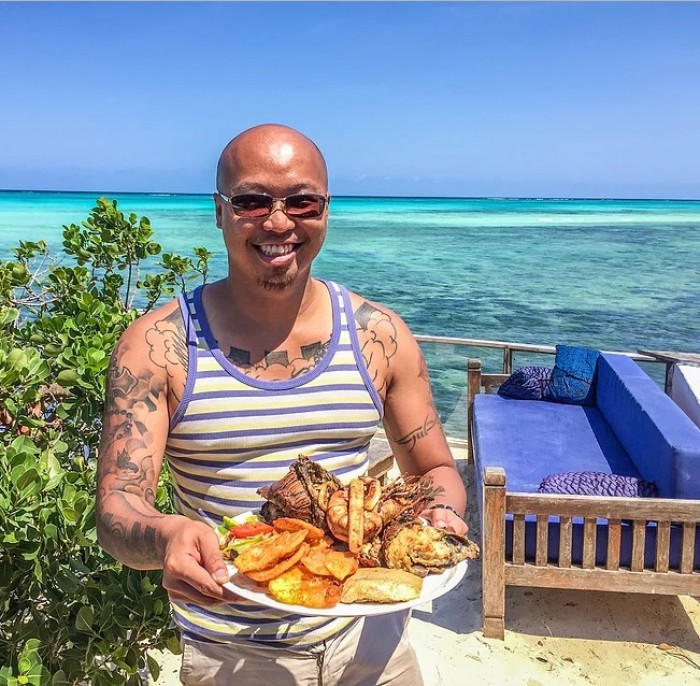 Besides breathtaking views, "The Rock" is particularly famous for probably the freshest seafood in Tanzania; caught from the very waters that surround it. The restaurant's "must-try" dish will set you back US$55, and they call it "The Rock Special" (no prizes for guessing). It consists of an entire lobster, calamari, chips, fish, and the largest prawns I'd ever seen.
Our tip? Share it with your partner. You can't finish it.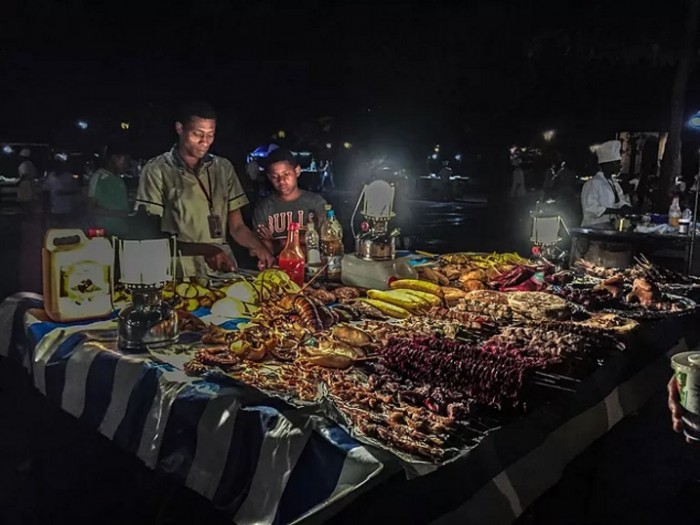 Alright, enough about "The Rock". Let's talk about food and restaurants in Stone Town. If the city is a labyrinth of alleys filled with touts in the day. By night, the aroma of grilled seafood fills the air, stalls spring up near the port, with chefs beckoning any nearby tourist to dine on their overpriced food.
When a kebab (just one miserly stick) costs around US$5, it tells me I don't even have to bother with the seafood. Only one dish was worth the money spent, though – Zanzibar's signature dish, a pizza. It costs just US$2 and tourists rave about it non-stop. (For Singaporean readers, it tastes pretty much like roti john that resembles a pizza.)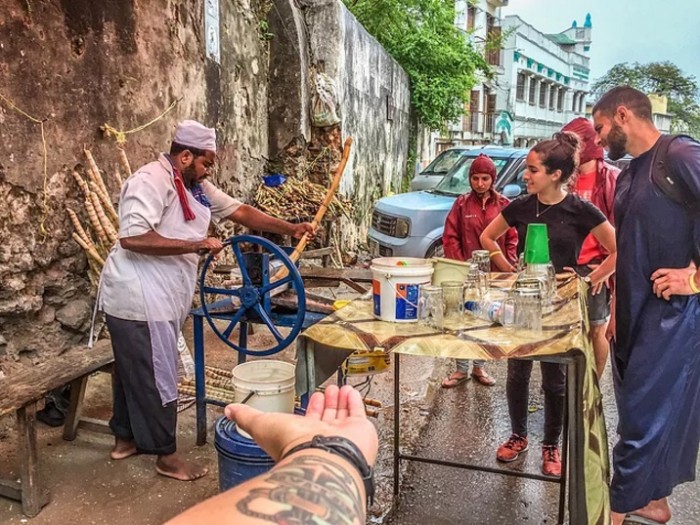 Street food/drink can be found various corners of the city, I can't vouch for its cleanliness, though. Try at your own risk. The sugarcane juice here is a lot thicker and less green than those we have here in Singapore.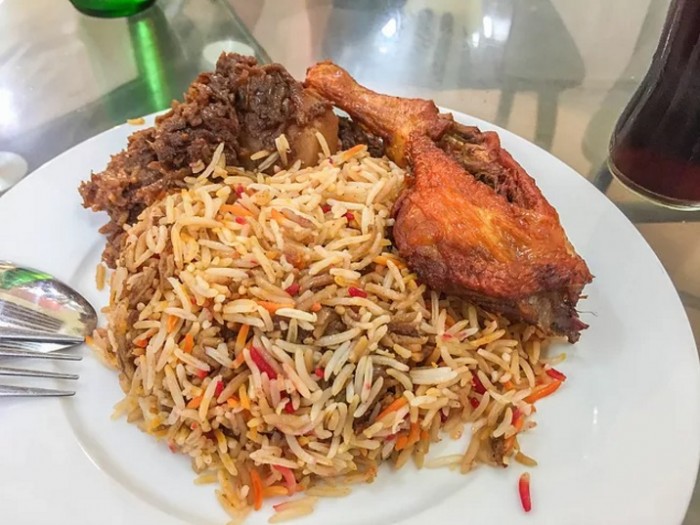 Zanzibar being 90% Muslim offers biryani! By now, it was probably our 15th day away from home. This was the first meal that tasted anything like our own local food back home. It cost us US$3.
Just in case you're wondering, Zanzibar uses Tanzanian shillings. I'm just doing the conversion to USD so readers can relate to this better.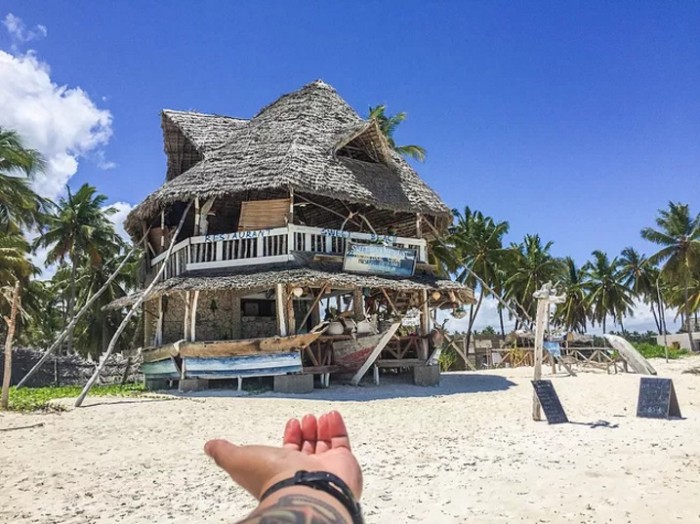 While every resort has their own restaurant, you aren't "encouraged" to stick to your own resort for your meals unlike some countries we've travelled to.
Simply stroll along the beach, and you'll find a number of interesting-looking restaurants for your consideration. The main problem was that every local was coming up and selling how great the food in their restaurant was. After a while, we gave up and decided on the restaurant in the above picture. We didn't choose it for its food, we choose it because it looked interesting.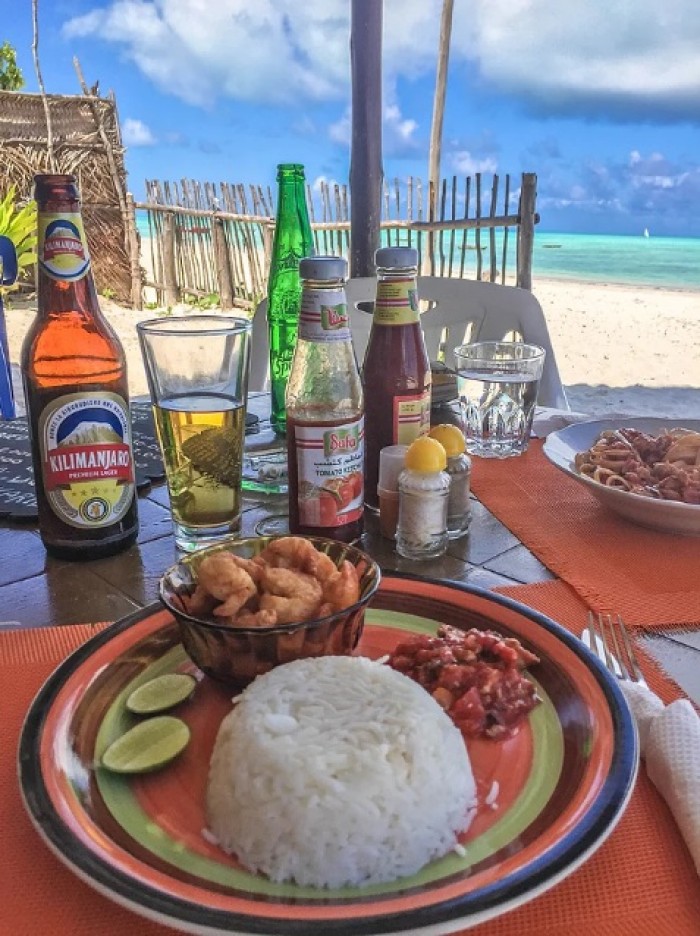 Be prepared, though, the average restaurant meal on the beach cost US$15 and up.
As a rule of thumb, budget US$90 for two at "The Rock", US$8 on an average for meals in Stone Town, and US$15–$20 for a meal on the beach. Or, you could always walk further inland and dine where the locals do. That should save you a few dollars.
Who should go?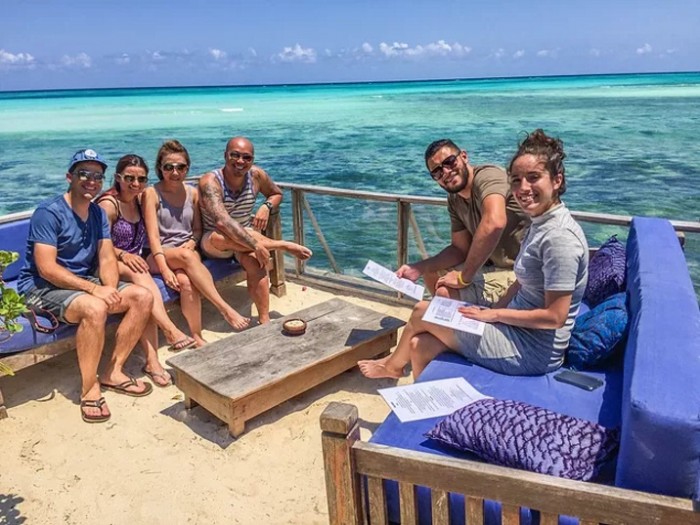 Now, since I started this blog, many people have told me, "it's really great, but the places you guys travel to, I can't do it because I have a family."
Well, here's the good news. Zanzibar isn't just a place for adventurers, surfers and beachgoers. It's a vacation destination for honeymooners or even families.
For a start, it's safe; by African standards at least. Just exercise the usual precautions and all should be good. You wouldn't let your kids run about on their own in Paris, would you? Good, it's the same for Zanzibar. In fact, you're more likely to get robbed at gunpoint on vacation in the USA than along Zanzibar's white sand beaches.
Next, communication isn't going to be an issue because most people speak English. The island is filled with family-friendly activities like snorkelling and sailing. Tours are cheap, accommodation is value for money, almost everything can be negotiated amicably. They have a saying, "hakuna matata", meaning, "no worries".
Is there anything more?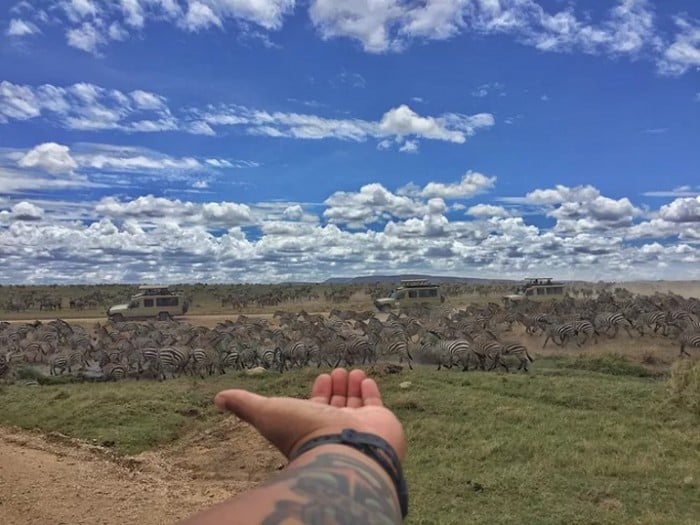 If you're like most people, experiencing a game drive is probably somewhere on your bucket list. Arusha, the gateway to the "Serengeti", (by far the most famous national park in the world) is less than 1.5 hours away from Zanzibar by plane
If you're relatively fit and love great sceneries, Mt Kilimanjaro, Africa's highest mountain at 5895m is a one-hour flight away. (The airport, not the mountain of course.)
Conclusion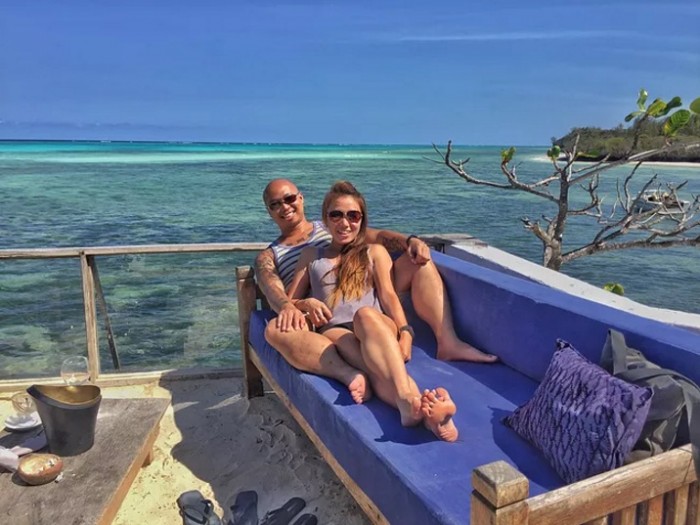 Zanzibar is gradually getting popular among tourists (I don't mean Singaporean tourists with their herd mentality) whose idea of a vacation fall along the lines of white sandy beaches and crystal clear water. And if you bothered to read my post, it's no surprise why.
The current "popular" choice, the Maldives, isn't exactly cheap. While there are people who claim to visit the Maldives for "small money", you get sub-standard accommodation to go with your "small money". Oh, and good luck trying to negotiate prices with your "resort". Seychelles? Singaporeans haven't even heard of it. And Bora Bora, French Polynesia? You'd better earn more than I do.
Here's what I suggest if you have five days of leave to clear, from Monday to Friday. When you add in weekends, you should have about nine days and seven nights in total. (Fly on Friday night, arrive on Saturday afternoon. Depart for home the following Saturday and arrive back in Singapore on Sunday morning.) Spend 3 days in Zanzibar, four days doing a safari in the Serengeti, and the other day for getting from Zanzibar to Arusha.
The world's most famous national park + the world most amazing beach destination. Now, where else could possibly make a more amazing vacation?
Also read: How to Travel Luxuriously in Africa for 11 Days Under SGD 2000