A second Wyndham Hotels and Resorts flag has risen with the opening of the 177-room Wyndham Dreamland Resort near Dreamland Beach, one of Bali's most idyllic hidden coves.
Owned by PT. Accolades Lakshmi Resort, the addition of Wyndham Dreamland Resort will further enhance the resort-like vibe on Bali, one of the most sought-after beach holiday destinations.
To save you the hassle, we have come up with a comprehensive guide on this Bali resort.
Rooms
The upscale 177-room Wyndham Dreamland Resort features seven spacious room categories with a striking fusion of traditional Balinese and modern design.
Every stylishly designed Deluxe Room offers 36 square metres of space with king or twin beds, working desks and a plush chaise lounge for guests to recline on and enjoy the garden views. The larger 72-square metre suites offer extended living areas and deep soaking bathtubs as well as outdoor jacuzzis for the ground level units.
With a total of eight luxurious villas, encompassing one or two bedrooms and private swimming pools set in verdant gardens, Wyndham Dreamland Resort opens just in time for honeymooners and couples looking for a lavish Valentine's Day retreat.
Facilities and amenities
Whether it is enjoying a dip in the outdoor swimming pool or pampering oneself with a spa session, Wyndham Dreamland Bali offers a wide range of luxurious facilities for guests to revel in.
For guests who love a good morning swim, the resort houses two outdoor swimming pools overlooking the tranquil gardens for your enjoyment. Guests can also bring their kids along as there is a dipping pool specially catered for kids.
Guests can also indulge in a rejuvenating spa and massage session at the Tirta Spa, a complex with a total of six single and couple treatment rooms, plus a yoga deck. Treatments at Tirta Spa are designed to help guests achieve balance and holistic wellbeing with traditional Balinese techniques that refresh the body, mind and soul.
Besides the recreational facilities, business travellers can also make use of the four well-equipped seminar and meeting venues. The largest function room, which is flanked by floor to ceiling windows, can accommodate up to 300 people for a seminar or 250 for a banquet.  There are also three small meeting rooms which are perfect for boardroom discussions or break-out sessions.
Food
Foodies, rejoice! With three food and beverage outlets ranging from an international buffet restaurant to a quaint cafe and bar, Wyndham Dreamland Resort offers a feast of delicious gourmet offerings that are bound to satisfy your palate.
Rayunan Restaurant offers a sumptuous buffet spread for breakfast and is also open for dinner with a varied selection of international dishes. The restaurant also specialises in the unique Nusantara Cuisine, with signature dishes like Sop Buntut (oxtail soup), an aromatic broth stewed for hours with freshly picked local spices and pan-fried oxtail.
For guests who would like some quick bites and a chill-out session, Dreamland Café and Ulu Bar are the ideal places to go. Guests can lounge at the alfresco Dreamland Café, which has a perfect view of the poolside, and unwind with snacks and refreshing beverages. In the evening, guests can enjoy music and cocktails in the lively Ulu Bar.
Bonus: A 24-hour room service is also available for those who prefer to retreat into the comforts of their guestroom or call for a midnight snack.
Location and surrounding area
Living up to its name, the famous Dreamland Beach is framed by dramatic limestone cliffs that hug the rugged coastline of the southern Bukit Peninsula. Characterised by glorious stretches of unspoiled white sands, breathtaking sunsets and some of Bali's most iconic beach clubs and surf breaks, it is little wonder that this slice of paradise is now home to Wyndham Dreamland Resort.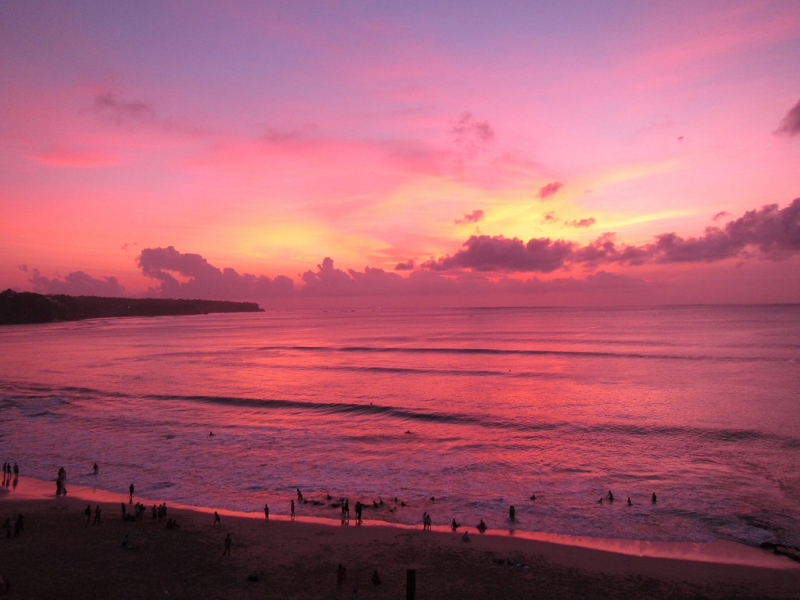 Wyndham Dreamland Bali's strategic location on this pristine coastline offers guests the tranquillity of a resort sanctuary, along with world-class comforts and amenities that are synonymous with the Wyndham brand.
Opposite the resort, aspiring golfers can try their hands on the award-winning 18-hole New Kuta Golf Course that overlooks panoramic views of the Indian Ocean. If you are looking for more adrenaline-pumping activities, the Bingin Beach and Padang Padang surf breaks are approximately 10 minutes away, making it ideal for an impromptu surf trip. The legendary Uluwatu temple is a 15-minute drive away for those seeking cultural adventures and stunning sunsets.
To celebrate its opening, Wyndham Dreamland Bali's opening rate will start from IDR 888,000 nett (US$66.77) per night for a Deluxe Room, including breakfast for two.
---
Information extracted from press release issued by Wyndham Hotel Group South East Asia and Pacific Rim