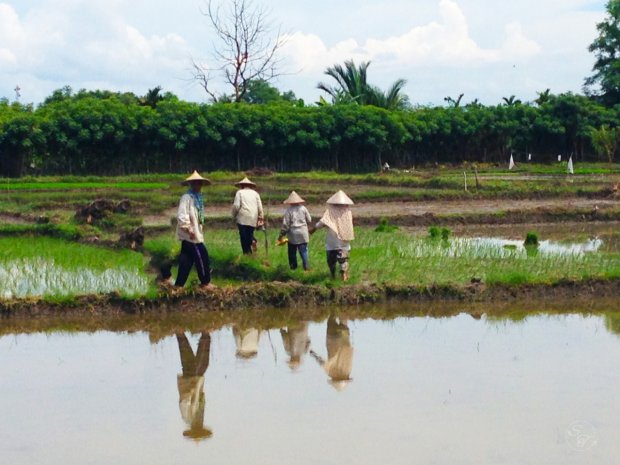 Recently, I had the opportunity to visit Aceh, Indonesia. It is an easy destination to get to from Singapore. Both SilkAir and Garuda Indonesia offer flights from Singapore to Banda Aceh's Sultan Iskandar Muda Airport, with a short stop in Jakarta or Medan.
Located at the northern tip of Sumatra, the rich historical province of Aceh is believed to be where Islam was first established. During the seventeenth century, the Sultanate of Aceh was the wealthiest and most influential person in Indonesia, and Aceh was one of the most powerful state in the Malay Archipelago.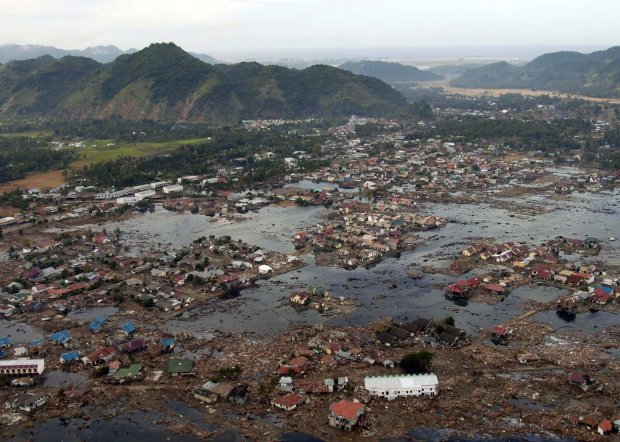 Aftermath of the 2004 Indian Ocean Tsunami
If the name Banda Aceh rings a bell with you, it is probably because Aceh was the epicentre of the Indian Ocean earthquake and tsunami, which rocked the city to its core on December 26, 2004, leaving hundreds of thousands of people dead, lost, or homeless. Once devastated and barren, Aceh has since developed into a safe, peaceful destination and is eager to share its rich history, charming villages and lush rainforests and mountains with the rest of the world.
What to do in Aceh
Sparkling blue seas surround Aceh, and the crystal clear waters and miles of white sand beaches are a paradise for swimmers, snorkellers, and scuba fanatics. One must-visit beach is Lampu'uk, located just 15 km from Banda Aceh. While I was there, I enjoyed virtually empty beaches with a breathtaking backdrop of dramatic cliffs. I was told that during the weekends, locals flock to Lampu'uk with family and friends as it is a perfect location for surfing, social gatherings and picnics. There are several small stalls and shacks along the beachfront that sell water, coffee and local snacks.
The must-see mosque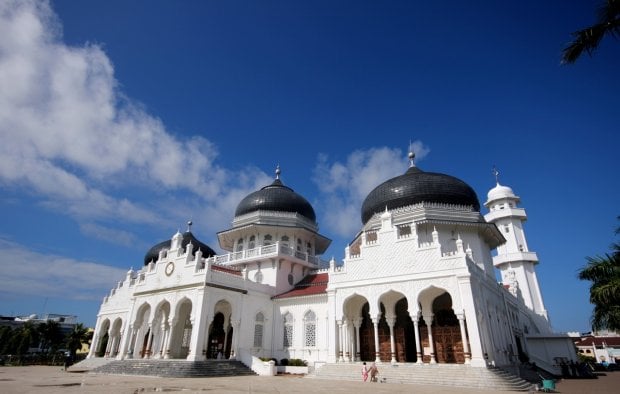 During my stay, I visited the grand Mesjid Raya Baiturrahman, a heritage site and also a must-see tourist attraction. Mesjid Raya Baiturrahman was built during Sultan Iskandar Muda's reign in 1612. The Dutch destroyed the original mosque in 1873 during an invasion, and its reconstruction was completed in 1883. An Italian took its design from the North Indian Moghul style and fabricated the intricate detail and architecture.
During the 2004 tsunami, hundreds of people took refuge in this mosque, and many Muslims view the minimal damage that this mosque incurred as a sign from the Divine. As I happened to visit Mesjid Raya Baiturrahman during the Muslim New Year, I was able to mingle with hundreds of people as they celebrated this special event. The children were happily playing on the massive lawn that surrounds the mosque while their families picnicked nearby.
Location: Jalan Mohammad Jam, Banda Aceh
Scuba diving and snorkelling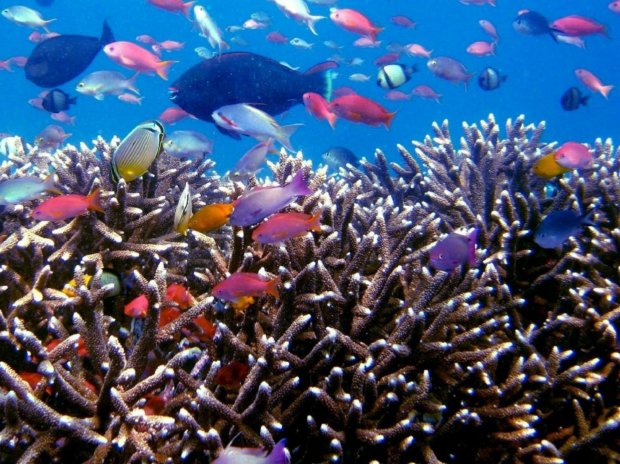 I'm a scuba and snorkelling enthusiast and the small islands off Banda Aceh are truly a paradise. There is a plethora of dive sites in the Andaman sea where giant sea fans, friendly fishes, shipwrecks, and huge collections of corals can be seen in the clear waters. The best dive spots near Aceh are Sabang and Weh Islands. Travellers can find a number of reputable diving centres, such as Lumba Lumba, with knowledgeable staff happy to show the best that these islands have to offer. I took a glass-bottom boat ride to Sabang and was rendered speechless at the sight of the turquoise blue water and the multitude of fish just under my feet.
Tsunami Museum
A truly humbling experience was my visit to the Aceh Tsunami Museum, which offers visitors a visual and audio representation of the devastating events and aftermath of the tsunami. It explains how the tsunami destroyed the city and the measures to reduce such extensive damages if such a natural disaster is to occur again. It is also a tribute to the strength, faith, and determination of the people of Aceh and their will to pick up the pieces and make a better life for their families.
Location: Jalan Sultan Iskandar Muda, Banda Aceh
Aceh Coffee
I can never get enough of coffee and I love trying new versions of this caffeinated beverage.
While I was there, I would always catch whiffs of the delicious coffee aroma in the air, and I couldn't wait to try out Aceh's coffee which I heard tastes amazing. I was glad that there is a coffee house, cafe, or beverage stand at nearly every corner of the city, so I didn't have to wait long before I could grab a cup of this homegrown treasure. To my pleasure, I found that all the rave was for a good reason – the coffee grown in Aceh has a distinct, rich flavour I have not tasted elsewhere. I drank my fill and bought a few pounds of coffee beans to bring home.
Some great places to grab a cuppa
Premium Coffee Tower is an unassuming coffee shop with comfy sofas and excellent service, sure to delight all the coffee lovers in Aceh. The atmosphere is quiet during the day and bustling at night. Spend some time here and you're likely to make friends with the chatty locals who are eager to share with you some insights about life in Aceh.
Location: Jl. H. Dhimurtala (samping Pante Pirak), Banda Aceh
Five Corner Cafe, located at the heart of the city, is a good spot to sit and watch people passing by the streets outside, especially at night when it is most lively. They also offer customers free WiFi.
Location: Jl. T. Hamzah Bendahara (Jl. T. Daud Beureueh), Banda Aceh
Solong Coffee is one of the most famous coffee shops in Banda Aceh, and first-time customers often find themselves coming back for more. Here, you can watch the barista strain the coffee through sock-like sieves before pouring the delicious, steaming liquid directly into your mug. The homegrown coffee beans are available for purchase and it might just make you forget about visiting popular coffee chains like Starbucks.
Location: Jl. T. Iskandar No. 13-14, Ulee Kareng, Banda Aceh
Where to stay
Aceh has a variety of accommodation types which will suit all budget and tastes, such as hotels, hostels and guesthouses.
I stayed at the city's only four-star hotel, Hermes Palace Hotel, which has an impeccable staff and reasonable room rates. The rooms are large and comfortable, with plenty of amenities like cable TV, toiletries, in-room dining and laundry services. I thoroughly enjoyed the excellent buffet breakfast, as well as the variety available in the restaurant including Indonesian, American, Asian and Continental cuisine. The hotel also has a nice bakery and lounge where guests can enjoy homemade coffee, local delicacies and free WiFi.  There is also a terrific spa available, which I thoroughly enjoyed.
Location: Jl. T. Panglima Nyak Makam, Banda Aceh, 23117
Options for the budget-conscious
Wisma PMI is a hostel with simple and clean rooms, and a great location – it is within walking distance to most attractions in Banda Aceh. As with the majority of hostels, the bathrooms are shared and it is advisable to bring your own toiletries. Their low rates, free WiFI access and air-conditioned rooms makes it an ideal place to lay your head after a long day of touring.
They also offer free airport shuttle service which is a definite bonus!
Location: Komplek PMI Provinsi Aceh, Jalan Jeumpit Ajun No.58, Darul Imarah, Aceh Besar, 23352
Another affordable option is the Crystal Guesthouse, which offers basic rooms with air conditioning, shared bathrooms and free WiFi access. It also has a great location; a short five minutes walk to many attractions. In-room massage and laundry services are available upon request as well.
Location: Jalan Sultan Iskandar Muda, Aceh 23231
What to eat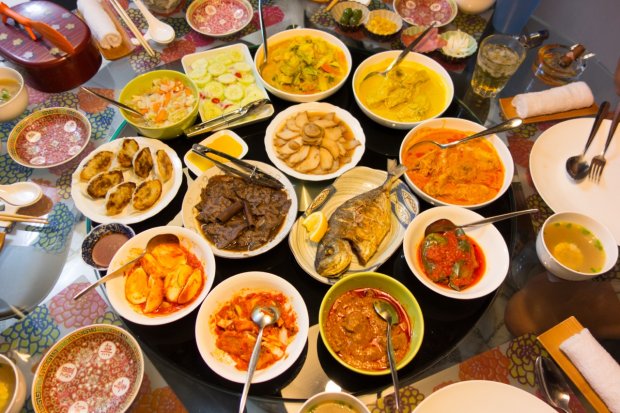 A curry spread
Aceh is a perfect destination for food junkies like me. Acehnese food is derived from Arab, Indian, Siamese, Dutch, and Spanish influences, and it offers something for every palate.
Curries are popular throughout Indonesia and in Aceh you can find them mixed with a variety of meat. Duck, mutton, tuna, and chicken curry are commonly found in many cafes, street markets, and restaurants. The perfect combination of coconut milk, spices and vegetables create a unique Indonesian delicacy that is absolutely delicious.
These are some Acehnese dishes to try:
Mie Aceh (Acehnese Noodles) is a curry-based dish with fresh spicy shrimps and crabs. You can enjoy it either fried or with soup. The spices and rich taste has made it renown not only in Aceh, but also throughout Indonesia.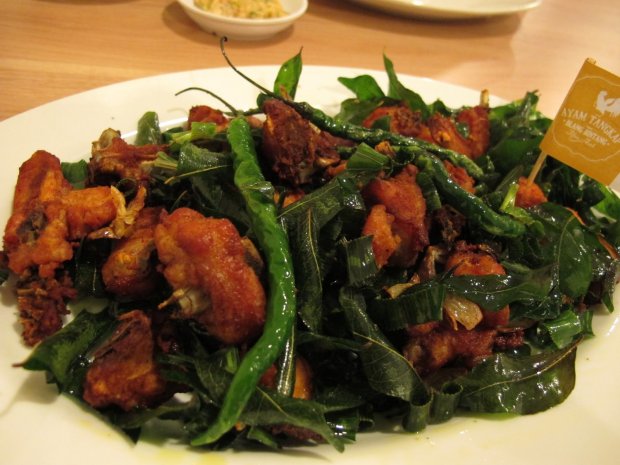 Ayam Tangkap
Ayam Tangkap is a chicken dish with a tantalising aroma. The fresh chicken is marinated overnight with traditional Indonesian spices and coconut water. It is then fried with curry leaves, green chillies, and sliced shallots. The explosion of flavour on your taste buds might just make you order another portion.
A destination that is still greatly unexplored by travellers and untainted by commercialism, Banda Aceh is perfect for the explorers at heart who craves for a cultural and laidback vacation, accompanied with a tinge of realism as well as a reflection on the locals' resilience. So why not a visit to Aceh now, and maybe again in a few years?
Many thanks to VITO-Singapore, Taman Simalem Resort, PT Lovely and TripZilla for making this eye-opening trip to Aceh possible for me.